March 5, 2005
I was looking forward to running in the Old Pueblo 50 because it would also be a great excuse to return to my former home in Tucson.   I had lived there for nine years, but had not visited for the past six years.   We made it a quick family vacation, driving down from Utah, and were able to visit many old friends and rekindle many fond memories of the desert southwest.
Only four weeks had passed since my first 100-mile finish at the Rocky Raccoon 100, and I was a little apprehensive about running another ultra so soon after the 100.   My recovery seemed to go well, but worries about some minor aches and pains limited my training miles to only 40 miles between the races because of my injury paranoia.  This would be my second attempt at a 50-mile race.
The Old Pueblo 50 is held in the Santa Rita Mountains southwest of Tucson.  I'm embarrassed to say that during my nine (non-running) years in Tucson, I never ventured into those hills.  
Very early Saturday morning, I drove with my wife and three of my six kids to the start/finish at Kentucky Camp near Sonoita, Arizona, at 5,142 feet.  We arrived early and from our car watched the parade of headlights making their way up the mountain.  The kids (including two teens) opted to snooze in the car rather than walking a quarter mile to the start to cheer their crazy dad on his way.   But my wife made the walk with me to the start to see me off.  She rolled her eyes as I donned my coonskin hat, just as I had also done at the Rocky Raccoon 100.  The hat was again a great crowd-pleaser, especially to the "fans" at the aid stations. 
The weather had been pretty crazy for the last several weeks in Arizona, plenty of rain.  The forecast called for possible showers during the race so I opted to take a long sleeve jacket.   I was glad I did. 
The well-organized event began promptly at 6 a.m. in the dark.   I like to start out a little fast to rub shoulders with runners for a while who are stronger than me.   The first four miles were mostly uphill along 4WD roads through two gulches.  Matt Crownover, from Texas, joined me, recognized the hat, and said he saw me at the Rocky Raccoon.  I was surprised how many runners had also been at the Rocky Raccoon.  Because of the hat, they would greet me, laugh about the hat and my name, and talk about the race in Texas last month.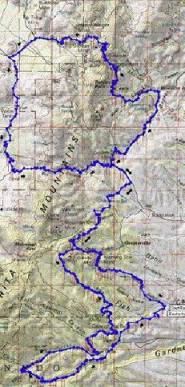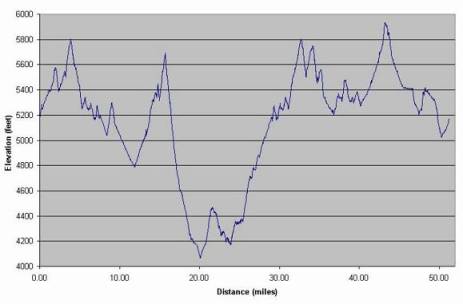 The initial uphill stretch helped to tighten up my problem knees and I was hopeful that they wouldn't cause me much grief during the day.  I reached the Granite Mountain station (3 miles) at 32 minutes.  I called out my number, didn't stop, and continued my fairly quick pace.   The 50-mile course is laid out in a giant figure eight, with a stretch between the two loops that we would run on in both directions.   We hit this stretch, a fun single-track portion of the Arizona Trail that will one day stretch all the way from the Mexican border to the Utah/Arizona border.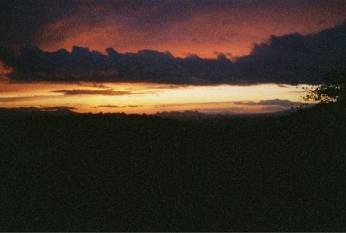 Sunrise view from Arizona Trail
As I ran up and down the trail, a beautiful sunrise appeared through the mostly cloudy Arizona skies.   I discovered several things.  First, this would be a challenging race because of all the rocks on the trails and 4WD roads.  Second, the winter months without hill training would take its toll on me today.  There were plenty of hills on this course.   I was pleased with my speed on the downhill portions of this section.  The course would have 7000 ft of climb and 7000 ft of descent over the 50 miles through rugged mountains.  I leapfrogged many times with another runner who took the downhills slower but would catch up on the uphills.  Third, I would have to be a complete idiot to get lost on this course because the trail was so well marked.  I never was worried about going off course.
I reached the California Gulch Aid Station (mile 7.3) at about 1:15.  I was five minutes ahead of my goal time.  The volunteers were very lively and helpful, and got a kick out of my hat.  They quickly filled my water bottle, I stuffed my face with some food, and I was on my way within a minute.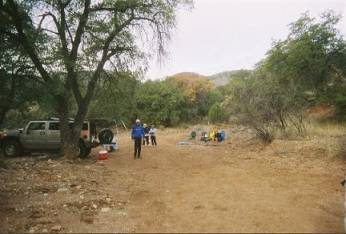 Wasp Canyon Aid Station
The next stretch was a nice run down Barrel Canyon.  Sections of this stretch were sandy.  I started to be passed by more runners as my pace started to slow.  I also began to have painful GI problems.  I decided to just run through it and hope it would pass.  I reached Wasp Canyon station (mile 13) at 2:15.  I was 15 minutes ahead of schedule.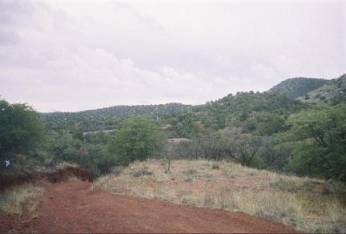 View from the trail
Next up was a series of switchback roads up to Gunsight Pass.   The knees were holding up OK.  The pains would shift around.  I developed a hot spot on my big toe and that kept my mind off my knees for a while.  But my problems continued to slow me.   Above me in the sky screamed by an A-10 jet from Davis Monthan Air Base.   It returned very low and made an amazing tight turn making the air vaporize across its wings.  The G forces must have been incredible.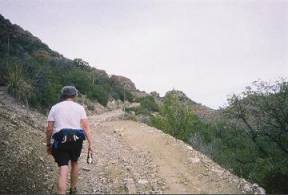 Me, climbing up to Gunsight Pass (taken by Linda Hurd)
Linda Hurd from Texas caught up with me as I approached the top of Gunsight Pass this point.  She had been in charge of an aid station at the Rocky Raccoon 100 and recognized my coonskin hat.  She wrote a race report about the Old Pueblo last year and I had hoped to keep up with her pace, but she passed on by.  I paused at the top of the pass to snap a few pictures and take in the nice view of Tucson.  Another kind runner took an action shot of me going over the pass.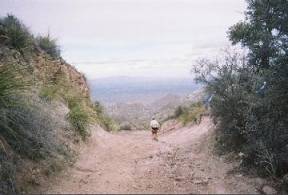 Heading down from Gunsight Pass
The next five miles would be solid rocky downhill running, losing 1,600 feet of elevation.  I finally had to stop and deal with my GI problem.  I lost a bunch of time but the long stop also refreshed my legs and I was able to pound the long downhill with quick feet dodging rocks and I passed a couple runners.   It was a pleasant change to pass people instead of being passed.  The views of the desert foothills were incredible and I wound my way through canyons near old mines.
I reached Helvetia Aid Station (mile 19.4) at about 3:50.   I was surprised that despite my problems, I was only five minutes behind my goal schedule.   I had a longer stop there to solve the hot spot problem on my toe.  A nice volunteer helped me with my shoe and I smeared more bag balm onto my toes.  Soon, I was on my way.  The sun was out and the morning was warming up nicely.  I caught up with a runner from Prescott, Arizona who was walking all the uphills.  His knee was bothering him.   I walked with him for a while and we shared some nice conversation.  Soon my knee aches and pains started to bug me too, but I still was able to maintain a 12-minute mile pace during this stretch.  We reached Box Canyon aid station (24.3 miles) together at about 4:55.   I had a drop bag at this station and changed to the shoes I used at the Rocky Raccoon.  That was a good move.  I had no more feet problems.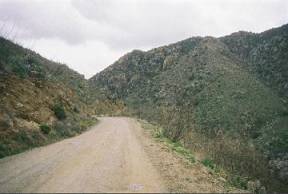 The long road up Box Canyon
Next up was a steep climb up Box Canyon.   The temperature dropped, the winds picked up, and dark clouds appeared ahead.  The hills and the cold slowed me somewhat as I tried to keep a brisk power walk up the mountain.  Several people along this stretch passed me.   I wondered how in the world I finished 100 miles last month, because this 50 seemed to be plenty far. As I neared the top, the rain began to fall and I put my jacket back on.  With the top loop of the figure 8 completed, I again reached the California Gulch Aid Station (mile 28.8) at 6:10 elapsed time.
On my return trip along the Arizona Trail, the weather really kicked in.  Wind, rain, sleet, hail, and thunder.  I pulled out a garbage bag and made myself a nice rain jacket that worked very well for the rest of the race.  I would be pelted many more times by sleet.   A group of three runners passed me and I tried to keep up but failed.   My energy level was fading and my pace slowed some more.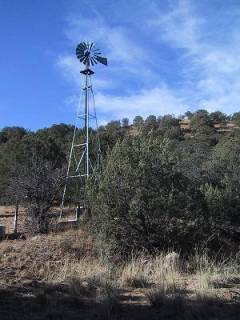 The windmill (on a sunny day)
I reached the Granite Mountain station (mile 33) at 7:20.  I was 20 minutes behind my schedule for an 11-hour finish and was pretty much convinced I wouldn't be able to catch up.  I caught up with Matt Watts who I recognized from the Rocky Raccoon.  He mentioned that he thought the second half of this race was tougher because of all the rocks in the trail.  I thought, "oh great."  The first 33 miles were plenty tough for me.   I soon felt pretty good and I thought I was finally getting my second wind.  But the trail had other plans for me.  A steep rocky section took all the renewed energy out of my legs.   Matt pressed on ahead.   I was able to keep up a respectable pace and ran up some of the hills.  Another runner kept up with me for several miles as we crossed many creeks and wound our way through the canyons.  I passed by an amazing windmill in the middle of nowhere that took me by surprise.
Because there was seven miles between aid stations, I ran out of water with more than two miles to go.   When I become dehydrated, my left ear clogs.  It clogged and my running slowed to a fast walk for the rest of the stretch.
As I began to drag, I appreciated seeing a couple signs letting us know how far it was to the next station.  One of the signs read "Just 10.5 miles to go for that SWEET buckle!".   I laughed when I read that.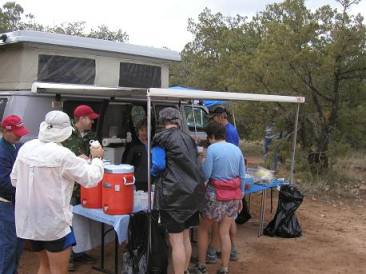 Me (in garbage bag), at the Cave Canyon Station
I arrived at Cave Canyon station (mile 40) at 9:15 elapsed time.  The energy level among the volunteers was great.  Bagpipe music blared from a boom box.  I drank plenty, stocked up for the next six miles, and pushed on.   I soon had to stop for about fifteen minutes because the GI problem returned.   After the long delay, I pushed on, climbing a long hill, seeking for new energy.
I caught up with a friendly runner (Anita-Marie Fromm, from California).  We talked for a while about various races.  I asked her about the rest of this course and she mentioned that the section we were on was a good stretch for making good time.   I decided to dig down and kick it into gear, leaving her behind.  I was shocked that the faster gear worked!   I felt no pain and had a ton of energy.  Obviously my dehydration problem was solved.  I kicked it into even a higher gear.  Wow, it also worked!  At the Rocky Raccoon 100, I felt the same energy at mile 57.  This time, it kicked in at mile 42.  
I really started to cruise!   I was surprised to discover that there were many runners within a mile ahead of me.   One by one I passed them.  They would hear or see me roaring up or down the trail and would step aside as I approached.  I explained that I was experiencing a rare case of second wind.  One guy said he would follow in my draft.  A minute later I looked back and he was nowhere to be seen.  I was having a blast scampering up and down the hills, leaning into turns, making great time.  I feared that if I slowed down, I would feel pain again, so I just kept pushing hard.  I knew the next station would be coming up quickly at the pace I was cruising and I almost wished it wasn't there.   But I needed to refuel.   My stop was quick at Gardner Canyon station (mile 46.2) at 11:10 or so.   Next ahead was the last hill, a 600-foot climb to the top of the ridge.  I ran almost all the way to the top.   From there, I could see the cars parked off in the distance above Kentucky Camp.  The end was in sight.   I slowed somewhat, but still passed one more runner (Matt Moore, from Colorado).   I felt super and as I approached the finish, I sprinted with ease up the hill toward the finish.  Cheers broke out as they realized that Davy Crockett and his crazy coonskin hat were arriving.  I finished before dusk at 12 hours and 15 minutes.  (Actual miles believed to be 50.6).  I finished in 58th place.  111 runners started, and 100 finished.
What a strange feeling.  All I can compare it to is sinking a par or birdie putt on the 18th hole of a so-so round of golf.  It is what brings you back again.  It felt like I had so much strength left in the bank that I could have continued on for another 50.  Obviously I need to figure out this 50-mile distance better and find a way to kick into that higher gear much sooner.  I didn't leave enough on the course.
My family was at the finish line and my wife was surprised to see me full of energy.  At my previous 50-mile finish last summer, I was dragging at the finish.  Duane (the race director) shook my sweaty hand and gave me a very "sweet" belt buckle.  Also to take home was a potted cactus.   The Old Pueblo 50 race is unique and I hope to return.