May 21, 2005
I linked up with Jeff Gerke of Sandy, Utah for a run in Zion National Park.   I met Jeff on the Internet on the ultra list.   This would be the first of many running adventures that I would have with Jeff.   We planned to do an end-to-end run through Zion National Park starting at Lees Pass in the northwest end of the Park, run along the West Rim and then descend into the Canyon at Angels Landing. 
After a nice night at a nearby campground, and a few hours sleep, Garth (our crew) dropped us (me and Jeff) off at Lee's Pass, at 5:30 a.m.  It was still pretty dark, so we had a little trouble finding the trailhead. We began on a trail that eventually disappeared, but finally found the main trail.   We ran cautiously until the morning light aided our vision.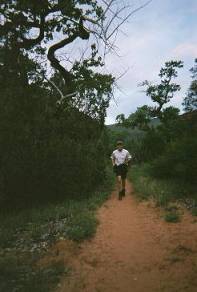 Me, approaching La Verkin Creek
Jeff photo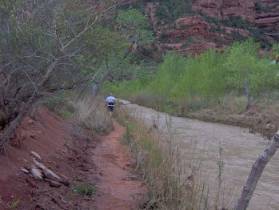 Jeff running along La Verkin Creek
We soon reached La Verkin Creek which was roaring through the canyon. I thought, "Wow, we have to cross this?"   I had run through this canyon a couple years ago and I was amazed at how much more water was flowing this time.   Our trail was now sandy, but very runable and we were able to pick up the pace.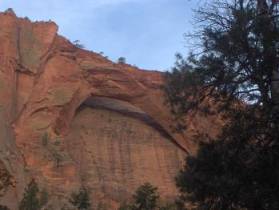 Kolab Arch
We reached the junction to Kolob Arch (6.6 miles) right on schedule 1:15 (elapsed time).  We decided to take a quick look at the arch and ran/hiked the rugged out-and-back trail, adding one mile to our adventure.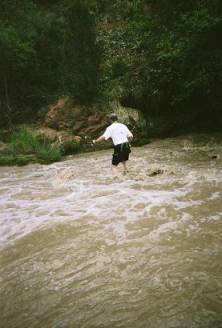 Me, making the crossing
Jeff photo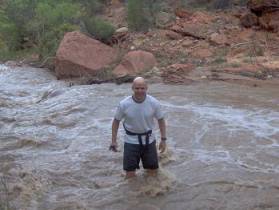 Jeff, in the cold Creek
Next we were faced with fording La Verkin Creek.  We searched for a few minutes to find the best place to cross.  Finally, I just chose the widest area and plunged in up to my thighs and struggled across.  Jeff soon followed.  I made him stay in longer so I could snap a picture.  Brrrr….it was cold water.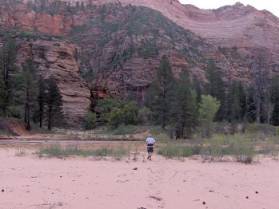 Jeff in Hop Canyon
Next up, was Hop Canyon.  Lots of uphill, 1350 feet.   It was a beautiful canyon with plenty of sandy trails to slow us down.   The sun started to shine on the valley walls.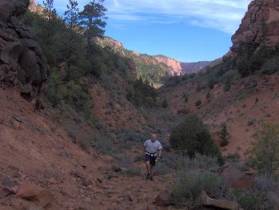 Jeff on a steep climb up the canyon
The valley eventually opened up wide and we could feel the sun start to bake us.   Who was that dude bounding down the trail?  Wynn Shooter, another local runner.   Wynn ran in a couple miles to greet us, and join us for the rest of the run.  We made our way to the Hop Canyon trailhead where Garth was there to give us aid.   We arrived about right on schedule considering our detour to see Kolob Arch.  14.6 fairly tough miles in 3:40.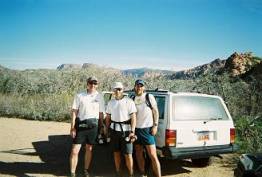 Me, Jeff, and Wynn at Garth's aid station
Jeff photo
The heat was getting to me.   I only drank one water bottle up to that point.   At Garth's aid station, I drank, ate, drank, and ate some more.  It was a nice extended aid stop.   We bid good-bye to Garth and hoped to see him in six hours.   With a full stomach, I had a tough time kicking into gear.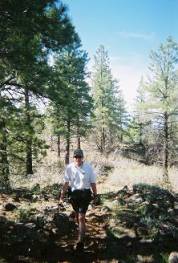 Me, dragging on the connector trail
Jeff photo
For a half hour or so, I dragged behind Jeff and Wynn on the connector trail.   I marveled that they were carrying on a nice conversation and I was huffing and puffing trying to find energy and keep up.   We climbed up to a saddle between two valleys, making pretty good time, and then skirted the slopes of a couple canyons, eventually descending down into Wildcat Canyon.
Finally, with a little downhill, I found that extra running gear again.  I discovered that my legs loved pounding the downhills today.  That was a little odd, because usually my knees don't let me pound them.  But today I really used gravity well, avoided braking very much, just through caution to the wind, and bounded down the hills.  It was a blast.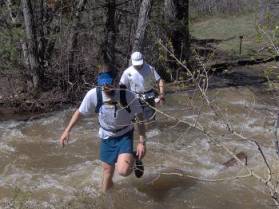 Wynn and Jeff making the river crossing
I cruised ahead of Wynn and Jeff and quickly reached another major river crossing, Wildcat Canyon (mile 21.8).   I crossed and set up for a photo opportunity of the others at the river crossing.  The trail next took us up and out of Wildcat Canyon. 
At a junction for the first spring, we decided to skip it.  Wrong decision!  It was hot and I eventually ran out of water.   I would use only two water bottles for over ten miles in the heat.   No wonder I was dragging.   The views of the west rim were incredible!  Wow!  The trail was mostly level along the rim, presenting spectacular views for us to the west.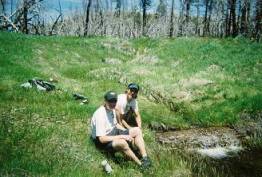 Me and Wynn resting at Potato Hollow Spring
Jeff photo
Finally, we reached Potato Hollow Spring (mile 28.3).   Just in time.   I was headed toward major dehydration and Jeff's stomach was revolting.   We pulled out the water pump and filtered lots of water and did our best to eat and regain strength.   We all felt much better after a short stop and pressed on ahead.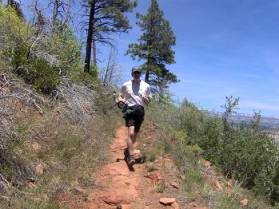 Me, starting the run down
One more major uphill and then it would be mostly downhill.  Finally, my second wind kicked in and I loved pounding down the hills again.   Strangely, no pain to be felt anywhere.   At West Rim Spring (mile 32.6), we checked our water supply and felt we just had enough to finish the hot 4.4-mile steep downhill ahead.  
| | |
| --- | --- |
| Jeff and Wynn | Me running along a cliff |
My energy level felt good.  I was like a puppy dog with a camera.  I would bound on ahead, wait for the others, shoot photos, catch up and pass, and do it all again.   The trail was pretty steep, carved into the cliffs, and after awhile was hard on the legs.   We looked forward to sandy stretches.
With about two miles to go, there was another long uphill stretch.  Sadly, I ran out of water going up and fell way behind.   At the top I took a wrong turn and started heading toward a cliff.   I could see Jeff and Wynn, far down below and asked them where the trail was.   They made some incoherent motions, and finally I backtracked and found the trail.   I again pounded the downhill and finally caught up with them right after Angel's Landing. 
The last major obstacles were tourists.   We dodged them left and right.  Crazy tourists hiking up in the heat.   We looked very out of place – runners with muddy feet and legs.  Finally with a half mile to go, my body shut down, dehydrated, unwilling to run anymore.  Jeff and Wynn caught up.  Wynn gave me the last of his precious water, helping me to reach the finish line.
It was a great adventure!   The heat really took its toll on me.  I have not trained enough in the heat and didn't push the fluids enough on this day.  But still, we made out goal to reach The Grotto trailhead in six hours.   Total adventure time was about 9.5 hours.