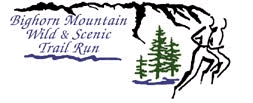 "I have seen at least a couple runners who have looked worse than you."
– comment from an aid station volunteer at mile 92.5 after seeing several hundred runners before me. 
I ran in the Bighorn 100-mile trail run for the 4th time.   Many times these race reports are a means for me to write about an achievement, perhaps setting a new personal best time for a course or a distance.  This is not one of those times.  The 100-mile distance is such an unpredictable adventure that you never are very sure what the end result will be.   I learned a lot about overcoming adversity and not giving up on a goal.  For me, this story is a victory — just not the victory I went into the race hoping for.