The fastest 100-mile ultrarunners during the 1970's, 80's and 90's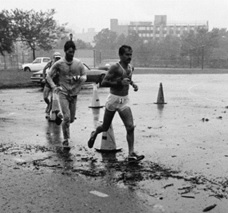 I am always drawn toward the stories of the early pioneers of ultrarunning. I think it is important to take time to appreciate the history and accomplishments of the runners who paved the way before us. The birth of the 100-mile trail race has been attributed to Gordy Ainsleigh, who in 1974 wanted to see if he could run a 100-mile horse race in California, the Western States Trail Ride, on foot, instead of riding a horse. He was successful, finishing in 23:42, proving that a person could run 100 miles in the mountains in less than a day.
But ultrarunning, including 100-mile races, did not start there….
This started out to be a blog post, but turned into a free online book.
7,000 downloads since May 3, 2017
This book shares the running histories for the 70 fastest 100-mile runners that ran in America from 1970-1999.  It answers questions such as: Where did they come from? How did they became runners? What races did they run? How many years did they run 100-milers? How did they train? What became of them?  Where are they now?
A few of these fast ultrarunning pioneers have now passed on. By 2016, many were in their 70s and 80s. At times I have run with these ultrarunning legends on the same courses and never realized it. Their storied accomplishments are fading from the history of ultrarunning. Most of the current generation of runners have never heard of most of these runners. I hope they won't be forgotten. Please take the time to learn about those who have paved the way for all ultrarunners of today.
These amazing runners came from all walks of life.  There were doctors, teachers, computer programmers, seven individuals with Ph.D.s, lawyers, mothers, coaches, a pilot, a bar owner, a bus driver, a nuclear chemist, a weatherman, a green beret, a brother of a U.S. vice-president candidate, several who became extremely wealthy, and one who now is homeless on the streets of Los Angeles.  When they were running together, they were the same, very fast 100-mile runners.
This book profiles these runners listed with their fastest 100-mile times during these early years. To find a list of the fastest early 100-mile runners, my search criteria was: Runners who finished a race in the U.S. faster than 15 hours (for the men), and faster than 17 hours (for the women) during the '70s, '80s, or '90s. I counted 100-mile split times for longer races, if published.
The Men
| | | | | |
| --- | --- | --- | --- | --- |
| 1 | Don Ritchie | 11:30 | 1977 | Track |
| 2 | Yiannis Kouros | 11:46 | 1984 | Road |
| 3 | Andy Jones | 12:05 | 1997 | Road |
| 4 | Rae Clark | 12:12 | 1989 | Road |
| 5 | Bernd Heinrich | 12:27 | 1984 | Track |
| 6 | Jose Cortez | 12:54 | 1971 | Road |
| 7 | Stu Mittleman | 12:56 | 1982 | Road |
| 8 | Ray Scannell | 13:06 | 1983 | Road |
| 9 | Roy Pirrung | 13:15 | 1989 | Road |
| 10 | Eric Clifton | 13:16 | 1996 | Trail |
| 11 | Terry Martin | 13:18 | 1988 | Road |
| 12 | Lion Caldwell | 13:19 | 1986 | Road |
| 13 | George Gardiner | 13:22 | 1981 | Track |
| 14 | Ted Corbitt | 13:33 | 1968 | Track |
| 15 | Cahit Yeter | 13:35 | 1986 | Road |
| 16 | Don Marvel | 13:36 | 1980 | Road |
| 17 | Kevin Eagleton | 13:40 | 1982 | Road |
| 18 | Fred Savitz | 13:40 | 1980 | Road |
| 19 | Park Barner | 13:40 | 1974 | Road |
| 20 | Ben Hian | 13:42 | 1997 | Trail |
| 21 | Tom Possert | 13:44 | 1989 | Road |
| 22 | Jack Bristol | 13:46 | 1974 | Track |
| 23 | Max Telford | 13:53 | 1979 | Road |
| 24 | Don Aycock | 13:53 | 1988 | Road |
| 25 | Steve Warshawer | 13:54 | 1983 | Track |
| 26 | Kevin Setnes | 13:54 | 1995 | Trail |
| 27 | Ray Krolewicz | 13:58 | 1988 | Road |
| 28 | Mike Morton | 14:08 | 1995 | Trail |
| 29 | Nick Marshall | 14:11 | 1983 | Road |
| 30 | Paul Fendler | 14:11 | 1989 | Road |
| 31 | Tom Chiaro | 14:13 | 1983 | Road |
| 32 | Ken Young | 14:14 | 1972 | Track |
| 33 | Mark Godale | 14:15 | 1999 | Road |
| 34 | Bob VandeKieft | 14:19 | 1981 | Road |
| 35 | Brian Purcell | 14:23 | 1989 | Track |
| 36 | Don Jewell | 14:25 | 1984 | Road |
| 37 | David Horton | 14:26 | 1986 | Road |
| 38 | James "Echo" Edmonson | 14:27 | 1990 | Track |
| 39 | Bob Emmons | 14:34 | 1995 | Road |
| 40 | Neil Weygandt | 14:35 | 1982 | Road |
| 41 | Joe Schlereth | 14:38 | 1991 | Road |
| 42 | David Luljak | 14:38 | 1999 | Trail |
| 43 | Paul Ryan | 14:42 | 1979 | Road |
| 44 | Paul Soskind | 14:42 | 1979 | Track |
| 45 | Don Choi | 14:44 | 1978 | Track |
| 46 | Carl Andersen | 14:46 | 1993 | Trail |
| 47 | Joe Hildebrand | 14:47 | 1999 | Trail |
| 48 | Frank DeLeo | 14:48 | 1989 | Road |
| 49 | Dave Obelkevich | 14:35 | 1980 | Road |
| 50 | Mike Fedak | 14:51 | 1986 | Road |
| 51 | Eric Rappold | 14:51 | 1997 | Trail |
| 52 | Tom McGrath | 14:52 | 1984 | Road |
| 53 | Jim King | 14:54 | 1984 | Trail |
| 54 | Chris Gibson | 14:54 | 1987 | Road |
| 55 | Gary Krosch | 14:54 | 1983 | Road |
| 56 | Gard Leighton | 14:56 | 1985 | Track |
| 57 | Roger Welch | 14:57 | 1991 | Road |
The Women
| | | | | |
| --- | --- | --- | --- | --- |
| 1 | Ann Trason | 13:47 | 1991 | Road |
| 2 | Sue-Ellen Trapp | 15:05 | 1990 | Road |
| 3 | Sandra Kiddy | 15:12 | 1985 | Road |
| 4 | Donna Hudson | 15:31 | 1983 | Road |
| 5 | Marcy Schwam | 15:44 | 1980 | Track |
| 6 | Randi (Bromka) Young | 15:45 | 1992 |  Road |
| 7 | Sue Medaglia | 15:51 | 1983 | Road |
| 8 | Susan Olsen | 15:55 | 1991 | Track |
| 9 | Natalie Cullimore | 16:11 | 1971 | Road |
| 10 | Christine Gibbons | 16:41 | 1989 | Road |
| 11 | Ruth Anderson | 16:50 | 1978 | Track |
| 12 | Kay Moore | 16:54 | 1986 | Road |
| 13 | Linda Elam | 16:58 | 1989 | Track |