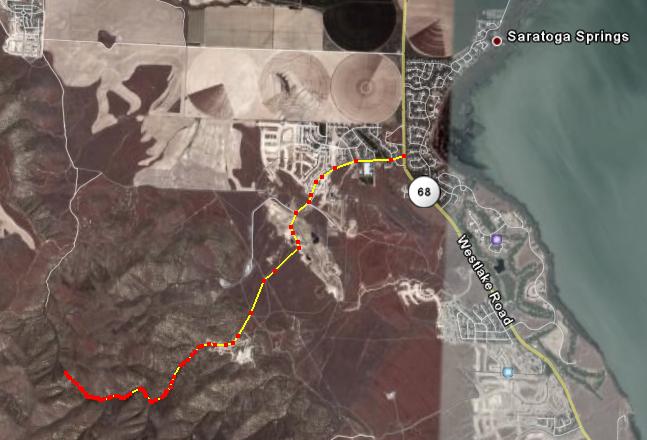 The nearest mountain canyon to my home is Lott Canyon, a canyon on Lake Mountain.  This run is an ideal tough run.  When I do it, I usually run it before going to work in the morning.  It is about a seven-mile round trip and climbs about 1,500 feet from my home.  It can be run at any time of the year.  In the winter there can be a few inches of snow to make things fun.
Directions
I start this run at the intersection of Redwood Road and Grandview Blvd.   You run up the paved Grandview Blvd until you reach the entrance of the gravel pit.   You go around the gate and run through the pit, sticking slightly to the right until you reach a dirt road that starts climbing up the foothills.   It goes under the powerlines and reaches another gate at the entrance of Lott Canyon.  After going around the gate, you continue climbing up the canyon toward the right.   The canyon begins to narrow as more trees start to line the road.   There are a couple intersections along the way, but always stay to the right.  The last quarter mile to the top of the ridge is pretty steep and fairly rocky.   At the top you have a nice view of The Ranches in Eagle Mountain City.   
The run down can be a blast.  Once you get past the steep section, you can really push the run hard.   As you exit the canyon, you get a great view of Utah Lake.   This run is a great workout for hill training.   I've only run all the way to the top of the ridge once without walking.  It is pretty tough.  Typically it will take me 1:30 round trip.
My PR is  1:08:17, 41:39 up, 26:38 down
| | | |
| --- | --- | --- |
| Number | Date | Time |
| 1 | Feb, 2003 |   |
| 2 | May 18, 2004 |   |
| 3 | May 20, 2004 |   |
| 4 | May 21, 2004 |   |
| 5 | May 24, 2004 |   |
| 6 | Jun 9, 2004 |   |
| 7 | Apr 15, 2005 |   |
| 8 | May 23, 2006 |   |
| 9 | Feb 14, 2007 |   |
| 10 | Mar 15, 2007 |   |
| 11 | Mar 19, 2007 |   |
| 12 | May 23, 2007 | 1:18:40 |
| 13 | May 24, 2007 | 1:08:17 (PR) |
| 14 | Jun 9, 2007 |   |
| 15 | Dec 6, 2007 |  1:28 (Snow) |
|   |   |   |
|   |   |   |
|   |   |   |
|   |   |   |
|   |   |   |