Running the Pony Express Trail – Part 2
Davy Crockett
Other Crockett running adventures
<![if !supportEmptyParas]> <![endif]>
Introduction
<![if !supportEmptyParas]> <![endif]>
This is the story of an attempt to combine two of my passions:  American history and ultrarunning.  Bringing these two passions together seemed possible by running the historic Pony Express Trail that travels within three miles of my home in Saratoga Springs, Utah.  I was determined to run a 145-mile stretch of the trail starting near my home, ending at the Utah/Nevada state border. On Day One, I covered 31 miles, from Saratoga Springs, through Cedar Valley, into Rush Valley.   I passed by three Pony Express Station sites. 
<![if !supportEmptyParas]> <![endif]>
Day 2 (December 11, 2004): Rush Valley to Simpson Springs – 29 miles
<![if !supportEmptyParas]> <![endif]>
<![if !vml]>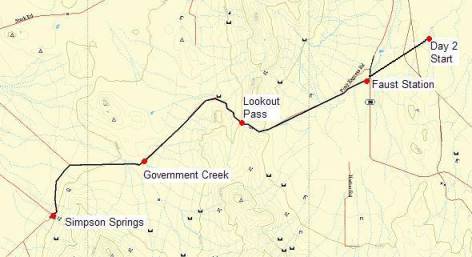 <![endif]>
<![if !supportEmptyParas]> <![endif]>
I restart my run back into history where I left off a week ago, four miles west of the East Rush Valley Pony Express station site.   The weather is ideal for a run, temperatures starting out at 30 degrees, warming up toward 50.   During the past week, several inches of snow fell, but the unseasonable warm weather has melted most of it.  For this leg of the journey, my son helped me shuttle a car to the finishing point for the day, and then drove me back to my starting point.  I stashed my lunch at the halfway point so I could run with only a lightweight two-liter camelback.
<![if !supportEmptyParas]> <![endif]>
The next Pony Express destination along my run would be five miles to Faust Station, also known as the Rush Valley Station.  Through my research, I determined that the historic trail along this section veered away from the main road.  I say good-bye to my son, leave the paved road, and begin a very enjoyable jaunt along faint wagon roads and trails.  At some point the trail disappears and I bushwhack through the sage covered with morning frost.   It is easy for me to visualize Pony Express riders, galloping along this untouched stretch.  I can hear an occasional car pass by on the road to the north and I wonder if they see me, a lone runner frolicking among the brush in the middle of nowhere.
<![if !supportEmptyParas]> <![endif]>
I soon reach a 20th century obstacle, the Union Pacific Railroad.  Amazingly, just as I reach it, a swift-moving train approaches before I pass.  I wave to the engineer and hear the horn blow loudly.  As I climb up and over the tracks, I think about how the railroad dramatically changed this area of the country in the 1860s, providing a fast alternative to long wagon treks across the country.
<![if !supportEmptyParas]> <![endif]>
One of the most famous Pony Express rides across this trail and also one of the swiftest occurred in November 1860.   Billy Fisher galloping west along this stretch of the trail carrying the news that Abraham Lincoln had been elected president of the United States.   He made the trip from Salt Lake to Faust Station in only 4 hours, 20 minutes.  He charged down the trail averaging 3.4-minute miles, just a tad faster than my 12-minute mile pace.   Billy Fisher rode this stretch many times for the Pony Express.<![if !supportFootnotes]>[1]<![endif]>
<![if !supportEmptyParas]> <![endif]>
<![if !vml]>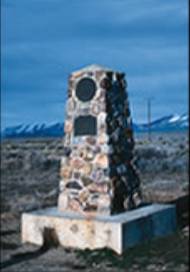 <![endif]>
<![if !supportEmptyParas]> <![endif]>
Misplaced monument for Faust Station
<![if !supportEmptyParas]> <![endif]>
My direct course along the actual trail route requires me to hop over several ranch fences, which I hope the owners don't mind.  I reach State Highway 36 (running north/south) and the site of the Faust Station comes into view.  Most travelers along the trail do not know where the true site is because a marker was misplaced on the main highway, 1.5 miles to the north.   I see a "Pony Express crossing" sign on the highway, not far from the point where I exited a field.  I'm pleased that a historian correctly marked the location.   I detect, with the help of my GPS where Faust Station was located.  On its site today is a large cattle ranch.  I am not bold enough to run all the way to this private ranch, but I do want to locate the cemetery described by visitors years ago, so I run along the road partway into the ranch.
<![if !supportEmptyParas]> <![endif]>
James P. Sharp recalled visiting this cemetery over one hundred years ago.  He would listen to the old timer tell him about "the number of persons buried in a small cemetery, situated on the low hills a short distance to the east—who was buried here, who there—and the causes of the sudden departure from this life of some of them. When I first went there with those old timers, there was a sort of fence around the plot and a few old headboards with faint names on some, marking the graves; but as years went by the fence disappeared and the headboards were no more."<![if !supportFootnotes]>[2]<![endif]>
<![if !supportEmptyParas]> <![endif]>
<![if !vml]>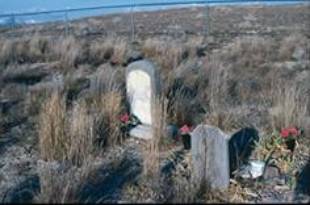 <![endif]>
Faust Ranch Cemetery
<![if !supportEmptyParas]> <![endif]>
I am delighted to discover that my research was correct.  The waypoint I entered into my GPS takes me to the cemetery.  Today this small plot is surrounded with a chain link fence.  I open a gate and enter this sacred resting place.   There are a few scattered markers, including two old and weathered wooden headboards that likely once included words, long worn off.  The lonely plot makes me think of dusty graveyards depicted in western movies.  There is one large modern monument that helps visitors know that they are at the Faust Ranch Cemetery.  There is now no doubt now.  I am at the right place.  The monument mentions that unknown settlers from the 1860 are buried there along with later settlers from the 1880s.   I carefully close the gate, gaze several hundred yards to the west at the actual site of Faust Station.
<![if !supportEmptyParas]> <![endif]>
Faust Station was the first Pony Express "home station" west of Salt Lake City. A home station (as opposed to a relay station) was the location where riders switched places with fresh riders.  These stations also usually doubled as stagecoach stations.  The rider then stayed at the home station until another rider came from the other direction.  In this way riders, like Billy Fisher, were able to cover the same stretch over and over again.  At each station resided a station keeper, a stock tender, and at least two fresh horses. 
<![if !supportEmptyParas]> <![endif]>
I enjoy running in ultra marathon trail races.   I've run in races of lengths between 32 and 100 miles.   These races are highly organized with wonderful volunteers who staff aid stations every five to ten miles apart. When the Pony Express began, stations were placed about every twenty-five miles, but later the average distance was ten to twelve miles.   Pony Express riders changed onto fresh horses at relay stations.  Ultrarunners change to fresh socks and refill water bottles at their aid stations.  The main purpose for these runner aid stations is to provide food, drink and other necessities.  Racers can use personal items in "drop bags" delivered ahead of time by volunteers to these aid stations.  On long adventure runs I like to drop off some supplies every fifteen miles to reduce the amount of weight carried on my back.  Such is the case today.  I have my lunch waiting for me ten miles further to the west.
<![if !supportEmptyParas]> <![endif]>
For the Pony Express rider, "a mere two minutes was allowed for changing horses at stations along the route, but most changes took thirty seconds or less.  The relief horse was ready to go and saddled, and all that was necessary was to swing the mochila (mail pouch) from the back of one horse to another."<![if !supportFootnotes]>[3]<![endif]>  Ultrarunners try to minimize their time in each aid stations.  For long races they may use friends as "crews" who drive between selected aid stations and help the runner quickly eat, refill water bottles or camelbacks, fix blisters, and anything else needed.  Well-trained crews work with precision, like a pit crew, that can drastically minimize the amount of time spent by runners at these stopping points.
<![if !supportEmptyParas]> <![endif]>
Faust Station, now long gone, was a very small two-story stone structure.  It was built in 1858 and sold to Henry J. Faust, who was later known as Doc Faust.  The house stood on flat, dry land, with no trees as far as the eye could see. Hay was cut here and sometimes hauled to the other stations to the west. Doc Faust served as the station keeper and lived on the land until 1870.<![if !supportFootnotes]>[4]<![endif]>   He often had to serve as a substitute rider.
<![if !supportEmptyParas]> <![endif]>
While at this remote location, the Fausts often came in contact with the local Indians.  Mrs Faust had established a friendship with some Indian women and gave them several pies.  "A few became very ill, being unused to pastry, and the braves imagined that 'bad medicine' had been placed in the pies. The leader of the tribe, accompanied by many tribesmen, came to the station and informed the Fausts that they were going to die because the pies had made the squaws so ill. First, they insisted that Mrs. Faust cook food for them which she was about to do when her husband interfered. He informed the chief that if they were to die they were prepared to do so, but would do no favors for their killers. In the distance, over Point Lookout, 'Doc' Faust could see the dust of approaching horsemen and knew if he could parley long enough help would arrive). Not long after Chief Pe Awnum, of a friendly tribe, rode up with his braves. His intervention saved the lives of the Fausts."<![if !supportFootnotes]>[5]<![endif]>
<![if !supportEmptyParas]> <![endif]>
During his trip along the trail, famed New York Tribune editor, Horace Greeley visited Faust Station in 1859.  "Knowing that Mr. Greeley would very likely bury himself in books and not wish to carry on a conversation, Mr. Faust took great care to see that all the tallow candles were hidden, leaving the house in darkness. Mr. Greeley, unable to read, then made a delightful companion for the remainder of the evening with interesting accounts of his travels."<![if !supportFootnotes]>[6]<![endif]>
<![if !supportEmptyParas]> <![endif]>
The legendary frontiersman Porter Rockwell left his stamp on history at Faust's Station.   Rockwell had served as a bodyguard for Mormon leaders, Joseph Smith and Brigham Young.  His nickname was "The Destroying Angel" and legends charge him with hundreds of killings.  In 1861 Utah Territory Governor John W. Dawson left the territory in disgrace after being charged with making indecent advances to a Mormon widow. As he was traveling east, a gang of rowdies robbed and assaulted him.  During early January 1861, officials asked Rockwell to help hunt the gang down.  Their trail took Rockwell to Cedar Valley and he believed the men headed to Faust's Station.  Once he arrived, "Rockwell placed his men at once in strategic positions surrounding the buildings . . . about the haystacks, corrals and sheds for observation and shelter from the bitter chill of the night wind."
<![if !supportEmptyParas]> <![endif]>
In the morning, Doc Faust came out of the house. Rockwell got his attention and asked him who was in the house.  Indeed, the three men were in the house eating breakfast.  Rockwell told Doc Faust to go in and tell the men to come out and surrender.  After a long time, Lot Huntington, a known outlaw, stepped out with a pistol in his hand, "with eyes searching shrewdly and swiftly every detail of the corrals and outbuilding for sign of his foes."  As Huntington walked toward a horse in the stable, Rockwell called out for him to surrender.  Huntington laughed, went in and brought out a horse.  Using the horse as a shield, he made his way to the exit of the corral.  Rockwell kept repeating that he would be shot if he tried to get out of the corral.  As Huntington pulled at the gate, the pole struck the horse, it moved away from him, and "exposed the outlaw to [Rockwell's] hiding place.  In that instant the bad man got a half-dozen buckshot in the chest.  He fell dead across the slanting bars."  The other two men surrendered without a problem.<![if !supportFootnotes]>[7]<![endif]>
<![if !supportEmptyParas]> <![endif]>
After thinking about these events for a few minutes, I return to my run.  I avoid running toward the ranch structures, but do hop over a fence, scamper across wide range, passing cattle that start a short stampede as I approach.  I reach the paved Pony Express Road and visit a roadside scenic overlook site constructed by the BLM in the 1990s.  A Pony Express display tells the story of the trail and provides a map, shot up by thoughtless visitors, that incorrectly pinpoints the location of Faust Station several miles to the north.  The overlook has a wonderful view of the true historic spot that is unrecognized by the display.
<![if !supportEmptyParas]> <![endif]>
My run continues along a very straight five-mile climb up toward Lookout Pass.   The warm sun continues to rise and I enjoy seeing the shimmering reflection of the sun on the moist desert floor.  Snow banks increase in size as the road climbs into the hills.   I cannot help but run backwards for a while to look back on the view to the east.   I'm amazed at how straight the trail is, and how it points directly back to my starting point now obscured by mountains.  I've run past Lake Mountain, past the Oquirrh mountains, and now would pass over the Onaqui mountain range.  This would be my last view along the trail of majestic 11,749-foot Mount Timpanogos, clearly seen 51 miles to the east.  I gaze down at the expansive, remote Rush Valley, and reflect on my long run across its entire expanse.
<![if !supportEmptyParas]> <![endif]>
The road becomes steeper, climbing into cedar-covered foothills.  I'm elated by the change and push the run, welcoming the feeling of strength coming from my quads.  The paved road ends and I now would run on dirt roads for the remainder of my journey.  Nearby, loud explosions from high-powered rifles startle me.  I run by a father and son enjoying their guns and I try to make noise so they know that I am there.  I pick up my pace to get away and hope they don't take aim toward the road.  As I climb higher, the dirt road turns into a mud road from the runoff of the melting snow. 
<![if !supportEmptyParas]> <![endif]>
I soon reach 6191-foot Lookout Pass and am presented with a partial view of Skull Valley on the other side.   Legends explains that an Indian once took a shot at one of the riders or a stagecoach driver near this place, so whenever a new rider or driver was put to work he was told to lookout here.  Thus, the name:  Lookout Pass.  In pioneer days, this next wasteland section was referred to as "Paiute Hell."  
<![if !supportEmptyParas]> <![endif]>
Frank C. Robertson described this country "From Lookout Pass you look out over forbidding deserts of mountains and flats. . . . It is hot as the hinges of hell in summer, cold as the polar regions in winter. In winter, blizzards block the roads; in summer, cloudbursts wash them out."<![if !supportFootnotes]>[8]<![endif]>
<![if !supportEmptyParas]> <![endif]>
At the pass, I find a large rock with a memorial plaque attached for E. Ray Staley, 1920-1993.  It recognized that a million sheep had passed along this point of "The Pony Express Sheep Trail" to desert winter ranges.  A visitors' log stands next to it.  I sign my name and make mention of my run on the trail.
<![if !supportEmptyParas]> <![endif]>
A smile appears on my face as I enjoy pounding the fast downhill on the other side of the pass.  I cruise by small frozen ponds and soon reach the next Pony Express relay station site:  Lookout Pass or Point Lookout.   This site is situated in a small, beautiful mountain valley, covered with cedars.   I read the plaque on the monument that was placed there in 1939 and dedicated by Kate Carter, president of the Daughters of the Utah Pioneers.  In 1940, a caravan of nearly 1,000 Utah and American Pioneer Trails and Landmarks Association members traveled to the various stations in Utah, dedicating them one-by-one.  The plaque explained that this site was an important watering station for the Butterfield and Wells Fargo overland stages (1851-1859), as well as the Pony Express (1860-1861).
<![if !supportEmptyParas]> <![endif]>
<![if !vml]>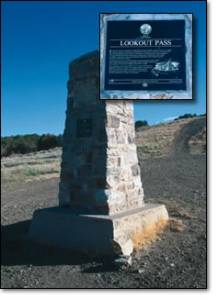 <![endif]>
Monument for Lookout Pass Station
<![if !supportEmptyParas]> <![endif]>
The original station consisted of a small log cabin, a stable, and a small spring just a few feet away. The station manager was a Mr. Jackson.  From 1866 to 1900 Horace Rockwell (Porter's brother) and his wife Libby Rockwell ran an Overland Stage Station at this site.  Since "Aunt" Libby had no children, she filled the void with pet dogs and cats. As her pets died over the years, she buried them in a cemetery.  Also in the cemetery are three human graves, two adults and one child.
<![if !supportEmptyParas]> <![endif]>
<![if !vml]>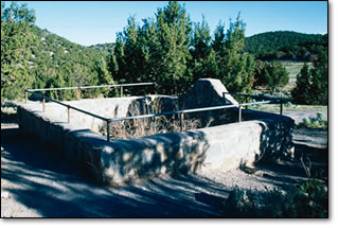 <![endif]>
Aunt Libby's Dog Cemetery
<![if !supportEmptyParas]> <![endif]>
In 1885 James P. Sharp visited the Rockwells when he was a boy and wrote:  "They had no children but did have a whole colony of black-and-tan dogs; I believe they said they were of the Fiste breed. You know the kind, with short hair, and always trying to stand on three legs, shivering, to keep from freezing to death in July. But I'd better not get started on stories about those two strange characters, their dogs, and dog cemetery."<![if !supportFootnotes]>[9]<![endif]>
<![if !supportEmptyParas]> <![endif]>
A sign "Pet Cemetery" points the way.  I chuckle as I run toward the cemetery, thinking of the Stephen King novel by the same name.  I hope to NOT find a zombie dog coming out of the ground!  The small walled cemetery only contains weeds.   I salute the memory of Aunt Libby's dogs, laugh some more, and continue my run.  At mile 15 (46 total), after three hours of an easy sightseeing run, I reach beautiful Little Valley where I have stashed my lunch.   I find a dry spot underneath a cedar tree and feast upon hot soup, Ensure, chips, and cookies.  After a fifteen-minute break, I shed my long-sleeve shirt.  I continue my warm winter run along the historic trail in running shorts and short sleeves.
<![if !supportEmptyParas]> <![endif]>
The downhill stretch is easier on my full stomach compared to the uphill stretch after lunch on day one.  I finally reach the desert floor of Skull Valley.   An occasional recreation vehicle passes me with ATVs in tow, driving for a fun outing in the west desert of Utah.  One vehicle slows and pulls up along side me.  I see that it is a Park Ranger truck, pulling a trailer with two motorcycles.  One of the two rangers asks me, "Are you lost?  Or are you doing this for fun?"   I laugh and explain that I'm on my second day of a run originating from Utah Lake.  They are flabbergasted.  I tell them that I am doing fine, that I would end up for the day at Simpson Springs.  They wish me well, tell me to be careful, and drive down the road to the west.
<![if !supportEmptyParas]> <![endif]>
Off in the distance, I can see the 8,150-foot, rugged, snow-capped Indian Peak.  I know that my destination for the day is on the other side of that mountain.  I gaze at the vast tree-less valley, covered with sage.  The brown colorful shades are striking.  To many people, the landscape would seem like a barren, God-forsaken wasteland.  To me, I am struck by its untouched beauty and its quiet peace.    At the 20-mile mark (51 total) I feel strong and decide to pick up the pace for a while.  I turn a few 9-minute miles, feeling wonderful.  I soon arrive at Government Creek.
<![if !supportEmptyParas]> <![endif]>
<![if !vml]>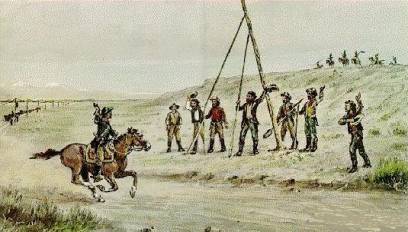 <![endif]>
Telegraph crew waves to rider
<![if !supportEmptyParas]> <![endif]>
Some claim Government Creek had been a Pony Express relay station site, but it is more likely that it was a relay station for the Overland Telegraph Line.  In the early days of the telegraph, a message could only be sent so far and then it would have to be relayed by an operator at the station.<![if !supportFootnotes]>[10]<![endif]>   In 1861 the telegraph line to California was established along this route.  James Gamble was in charge of the crews stringing telegraph line across the deserts of Nevada and Utah.  The crews were spread out along the entire route, stringing line simultaneously in several places.  The entire line across the west was constructed in an amazing four and a half months.<![if !supportFootnotes]>[11]<![endif]>
<![if !supportEmptyParas]> <![endif]>
"A base camp [for the telegraph crews] was established in Rush Valley in the charge of an old freighter, one of the contractors, who was a Scotchman. From this camp the long wagon trains were cut up into smaller units, each unit being about twenty wagons, each loaded with from thirty to forty poles, and drawn by three and four yoke of oxen. . . . Usually after one trip into the desert the drivers were ready to quit."<![if !supportFootnotes]>[12]<![endif]>
<![if !supportEmptyParas]> <![endif]>
Seventy years ago, visitors along this route mentioned still seeing stumps of telegraph poles and occasional pieces of wire to be found.  I keep an eye out, but those historic treasures are long gone.  As I run on the road along Government Creek, cutting its way through the low hills, I think about another piece of history about this site.
<![if !supportEmptyParas]> <![endif]>
In the early 1860s, John Bennion, the legendary Porter Rockwell, and fifteen other men explored these valleys.   Porter Rockwell decided to establish a ranch at Government Creek.  In commenting about his choice of location, he said, "For a cattle ranch you want a place where you can track'em out."  Certainly with this wide-open range, tracking would have been easier.   The Bennions lived up over Lookout Pass in Vernon.  Israel Bennion recalled,  "As a boy, I with others rode and camped at round-up times with the Rockwell outfit. 'Old Port' was a good neighbor, a picturesque, stately rider. . . . Having heard stories, my home folk were a little 'leery' of our neighbor, but for me, I thought he was just fine—despite his long hair neatly done up at the back, and his high, squeaky voice."<![if !supportFootnotes]>[13]<![endif]>
<![if !supportEmptyParas]> <![endif]>
I try to imagine where Porter Rockwell might have put his ranch house.  Surely it wouldn't have been down near the creek, exposed to ambush attacks on the hills above.   As I run over the next low divide, into my view comes yet another series of mountain ranges to the west:  First Dugway Range, then Fish Springs Range, and, finally, Deep Creek Range, sixty miles away.   I am determined to pass all three on future days.
<![if !supportEmptyParas]> <![endif]>
I pick up my pace and again the park rangers visit me.  They ask me how I feel.  I assure them that I am doing great, heading into the home stretch.
<![if !supportEmptyParas]> <![endif]>
My final two miles for the day take me on a nice uphill climb toward Simpson Springs.  I am resolute to finish strong, avoiding walking spells.  I trot up over the final rise and am relieved to see that my car is still standing in one piece, free from any vandalism.   I sprint the last stretch with a finishing time of 5:50 for 29 miles.  As I arrive at my car, the park rangers again pull up.  I can tell they are interested to find out more about my run.  I tell them about my goal to run the trail all the way to Nevada.  They ask how I feel after running thirty miles.  I tell them honestly that I feel great, not sore at all.   They seem very impressed and think what I am doing is very cool.  They also appreciate the beauty of this remote section of the state.  Their duty today was to patrol for off-road vehicle abuse.  We bid good-bye.  With a spring still in my step, I explore the historic site of the Simpson Spring Pony Express Station and then begin my long drive home.  It takes me 1.5 hours to drive the long 60-mile stretch of trail that I ran in 13 hours, over two days.
<![if !supportEmptyParas]> <![endif]>