Running the Pony Express Trail – Part 3
Davy Crockett
Other Crockett running adventures
<![if !supportEmptyParas]> <![endif]>
Introduction
<![if !supportEmptyParas]> <![endif]>
This is the story of an attempt to combine two of my passions:  American history and ultrarunning.  Bringing these two passions together seemed possible by running the historic Pony Express Trail that travels within three miles of my home in Saratoga Springs, Utah.  I was determined to run a 145-mile stretch of the trail starting near my home, ending at the Utah/Nevada state border. On days one and two, I covered a total of 60 miles, from Saratoga Springs, through Cedar Valley, through Rush Valley, and into Skull Valley.   On those days I passed by six Pony Express Station sites. 
<![if !supportEmptyParas]> <![endif]>
Day 3 (December 18, 2004): Simpson Spring to Dugway Geode Beds – 25 miles
<![if !supportEmptyParas]> <![endif]>
<![if !vml]>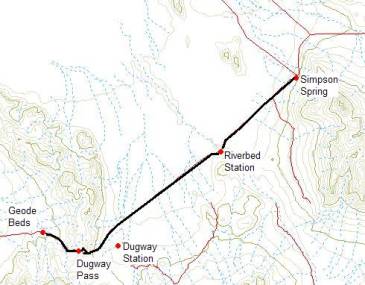 <![endif]>
<![if !supportEmptyParas]> <![endif]>
<![if !vml]>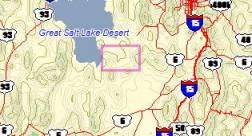 <![endif]>
<![if !supportEmptyParas]> <![endif]>
My son helps me shuttle a car to my ending point for the day.  Unfortunately, one of our cars gets a flat tire on the way.  We discover that a critical piece of the car's jack is missing.   With some ingenuity, during the dark early morning hours, I use a sledgehammer to pound a piece of metal into shape to be used as a tool.  After an hour delay, we are on our way again.  At 9 a.m. my son drops me off at Simpson Spring where I resume my running journey along the historic trail.
<![if !supportEmptyParas]> <![endif]>
<![if !vml]>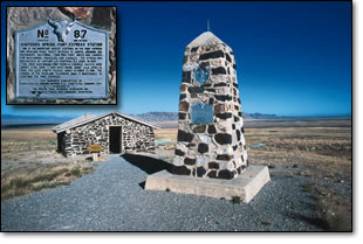 <![endif]>
Simpson Spring Station reconstruction
<![if !supportEmptyParas]> <![endif]>
Simpson Spring was named for James H. Simpson, a topographical engineer, who was sent out from Camp Floyd (Fairfield) in 1859 in search of a route to Carson Valley, Nevada.  On the site, the rock station was recreated in recent years.   It has two doors, one window, and a post in the middle holding up a roof made out of logs.  Across the street is a fence protecting the crumbling ruins of a home built by Alvin Anderson in 1893 with stone from the original Pony Express station.  
<![if !supportEmptyParas]> <![endif]>
I am impressed with the historic preservation efforts at Simpson Springs.  Clearly this is the premier location to visit along the trail in western Utah.  Not far from the station, I run by the remains of many foundations and walls for buildings, built during World War II.
<![if !supportEmptyParas]> <![endif]>
<![if !vml]>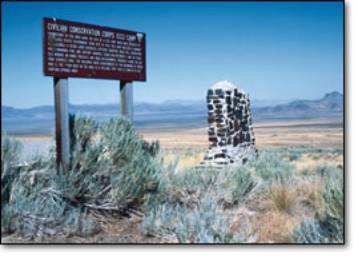 <![endif]>
Civilian Conservation Corp (CCC) Camp
<![if !supportEmptyParas]> <![endif]>
The Civilian Conservation Corp (CCC) Camp was established here for young men ages 17-20, who worked on range projects and roads.  They were responsible for constructing many of the monuments recognizing the Pony Express. 
<![if !supportEmptyParas]> <![endif]>
Their camp is quiet today.  I try to envision a dozen barracks, officer's quarters, the mess hall, recreation hall, and swimming pool nestled on the foothills of Indian Peak. 
<![if !supportEmptyParas]> <![endif]>
My first day running on the Pony Express Trail was bitter cold.  My second day was warm like spring.  Today has yet another variation – ice fog.   The first portion of my run is a nice downhill stretch of a long, straight road that disappears into the fog.   The sun begins to warm me, despite the 25-degree temperature, and I question whether I have dressed too warm. 
<![if !supportEmptyParas]> <![endif]>
The landscape is dotted with sparse vegetation.  As my muscles go through their usual complaining at the beginning of a run, I shudder and cringe to think that I am now running across land that was affected by chemical weapons testing.
<![if !supportEmptyParas]> <![endif]>
Dugway Proving Ground, 30 miles to the north, was built in 1942 for chemical weapons testing during World War II.   In March 1968, 6,400 sheep were found dead after grazing in this section of south Skull Valley. It was discovered that a deadly nerve agent called VX had poisoned the sheep.  Farmers were compensated $1 million dollars for their losses, and a safety investigation was launched at the Dugway military site.  In May 1969 rare antibodies of a disease called Venezuelan Encephalitis were found in birds, cattle, sheep, and rodents in the valley.  The entire region was contaminated.  Dugway's budget was cut and the eventually the government banned open-air testing of all chemical and biological agents.  In the 1980's Dugway was modernized and weapons research continues to be a controversial presence.<![if !supportFootnotes]>[1]<![endif]>  Recent controversy has charged that anthrax produced at Dugway might have been stolen and could have been the source of the anthrax scare of 2001.<![if !supportFootnotes]>[2]<![endif]>
<![if !supportEmptyParas]> <![endif]>
The Dugway Proving Ground website states:  "The Department of Defense has designated U.S. Army Dugway Proving Ground (D.P.G) as a major range and testing facility, and the primary chemical and biological defense testing center under the Reliance Program.  Testers here determine the reliability and survivability of all types of military equipment n a chemical or biological environment."<![if !supportFootnotes]>[3]<![endif]>
<![if !supportEmptyParas]> <![endif]>
I am pleased to see that today the wildlife in the area is numerous.  As I run by a fenced field, I notice that the fence causes wildlife to channel their travels near the road.  On the roadway shoulder, I see thousands of footprints from rabbits, deer, elk, and other critters.  My run continues along this very straight road heading toward the next Pony Express station at Riverbed.
<![if !supportEmptyParas]> <![endif]>
In 1931, a local settler, Kenneth S. Bennion wrote: "The long, straight road leading down from Simpson to Riverbed stands out on [a moon-lit] night with startling clearness. [The mountains] stand at attention in the weird light. The whole desert seems tense, as if waiting expectantly for something; and one finds himself scanning earnestly the far-off shadows that seem to form and move, and then dissolve again, down the broad white road toward Riverbed."<![if !supportFootnotes]>[4]<![endif]>
<![if !supportEmptyParas]> <![endif]>
Another traveler described this section:  "We could see the white line of road which led down to the dried river bed. Below us lay white alkali fiats and ancient mountains, looking like dinosaurs half sunk in mire."<![if !supportFootnotes]>[5]<![endif]>
<![if !supportEmptyParas]> <![endif]>
My view today is obstructed by fog.  I soon run into the gray icy billows and notice a significant drop in temperature.  The ground and sage is covered in crystal white frost.   I can only see about one hundred yards in all directions.  The outline of the sun shines through the icy fog, but its efforts are frustrated and its warmth is blocked.     
<![if !supportEmptyParas]> <![endif]>
One might wonder why at this point the Pony Express Trail didn't take a straight 50-mile westerly route from Simpson Springs to Willow Springs.  Pony Express rider, Howard Ranson Egan, son of Howard Egan, explained:
<![if !vml]>

<![endif]>
"After leaving Simpson's about three miles I thought (as I had many times thought before) it was a shame we had to go so many miles around to get a little ways to the west. At any rate, boy fashion, I left the road and took a straight line to Willow Springs. The first half of the distance I was able to make very good time, then the desert began to get softer as I went, 'till finally about one inch of water was standing all over the surface as far as I could see in any direction. The pony sank to his fetlocks in the mud—that made it slow traveling.  After about five miles of this kind, I came to a little higher ground where I could make better time. In looking back, I could see the little knobs of mud sticking up above the water. It seemed to me that I could see them for miles. Well, I made Willow Springs all right and had saved a good many hours' time. I expected to get considerable praise for this exploit—but nix. The next time I saw Father he asked me what kind of traveling I found it to be across the way I took with that express. After telling him he said, 'Well, don't ever do anything like that again without orders.' That was all and plenty."<![if !supportFootnotes]>[6]<![endif]>
<![if !supportEmptyParas]> <![endif]>
As I continue to plod along in the frosty fog, running on a road that appears to drop off the end of the world, I think about a tragic event that occurred only a few miles from this spot.
<![if !supportEmptyParas]> <![endif]>
In 1863 some soldiers from Camp Douglas in Salt Lake City were quartered at the Simpson Spring station.  For reasons unknown, it has been accused that the soldiers and the station manager, Bill Riley, massacred a peaceful Indian tribe located six miles to the south at Coyote Springs.  It was reported that they killed men, women and children.  One Indian escaped, Peahnamp, the leader of the tribe.  He had been away from the camp at the time.  When he heard the shots and the screams, he tried to return and help, but ended up as the sole survivor.  The soldiers pursued him, but he escaped.  Two days, they searched and then returned to Coyote Springs.  They discovered that all the dead had been buried according to Indian customs.  The tracks led them to believe that the survivor they had pursued performed the labor.  Back at the station, the soldiers told others that they had been attacked by the Indians, while out scouting.   A few months later, Bill Riley was transferred to a station 60 miles to the west.  It is presumed that Peahnamp recognized him.  He and others at the station were killed by a surprise attack.<![if !supportFootnotes]>[7]<![endif]>
<![if !supportEmptyParas]> <![endif]>
I started my run with a good pace, running almost seven miles during the first hour.  I now feel warmed up.  My muscles participate in what almost feels like an effortless rhythm.  I try to take a drink from my camelback, but discover that the hose and nozzle have become frozen from the chilly air.  I bury the hose in my warm fleece vest to thaw.  No drink for now.   My route starts to descend into a large ancient dry riverbed.
<![if !supportEmptyParas]> <![endif]>
Anciently, the Sevier River, 50 miles to the south, drained into the ancient Lake Bonneville that once covered much of western Utah.  The river route was changed after a lava flow altered the river's course into the Delta and Sevier Lake area. 
<![if !supportEmptyParas]> <![endif]>
As I have been running, I have noticed many four-foot cement posts placed about a mile apart along the road.  The posts have been vandalized and partially destroyed.  I run up to one, but cannot determine its purpose.  But now I notice a post through the fog about one hundred yards off the road and its purpose dawns on me.  I run out to it and see that it is in good condition with clear lettering indicating that it is a marker for the route of the historic Pony Express Trail.   I later realize that these markers have existed for the past 30 miles of my route.  I wish that they were placed closer together to aid in running along the true route that does not always follow the existing modern dirt road.   I next see a large monument to the west marking the location of the Riverbed Pony Express Trail.
<![if !supportEmptyParas]> <![endif]>
<![if !vml]>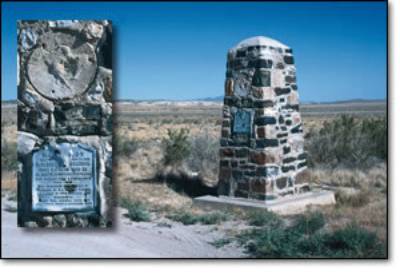 <![endif]>
Riverbed Station Monument
<![if !supportEmptyParas]> <![endif]>
According folklore, this site was difficult to man because of its reputation of being regularly visited by desert spirits.  Three former operators claimed they were afraid of the "desert fairies." <![if !supportFootnotes]>[8]<![endif]>
<![if !supportEmptyParas]> <![endif]>
The place does give me an eerie feeling as I look at it shrouded in the gloomy fog.  My run takes me away from the ancient riverbed (and its fairies) and continues on a straight course through the fog.  In Pony Express days, the road ahead was so straight that it was said, "a person can see a rabbit miles away."  Not so today in the fog.  I chuckle as I think about the Roadrunner cartoon.  As the coyote chases the roadrunner, the background landscape repeats over and over again.  That is exactly what it seems to me, here in the fog.  The flat barren landscape stays the same with no change.  I feel like I'm caught in an old repeating cartoon.   The gloomy surroundings and icy temperature drains me and slows my pace.
<![if !supportEmptyParas]> <![endif]>
Monotony also plagued the historic riders on this trail.  "For hundred of miles it seemed as if nothing in the way of vegetation would grow . . . For a considerable distance only the stations where a change of animals was made, broke the monotony of the dreary ride."<![if !supportFootnotes]>[9]<![endif]>
<![if !supportEmptyParas]> <![endif]>
Finally, I see a change, a ten-foot high mudflow mound where I have deposited my lunch at the 15-mile mark for the day.   I only stop for ten minutes, but thoroughly enjoy some hot chicken noodle soup.
<![if !supportEmptyParas]> <![endif]>
As I reach the site of the modern Dugway Topaz well (a couple of structures and a corral) I think of another well that was probably a mile away:   "A well some said over one hundred feet deep, dug through solid clay, and the dirt at the bottom was no more moist than it had been at the top, so it was a dry one."  I think about the following story.
<![if !supportEmptyParas]> <![endif]>
Along this stretch, the story is told that during the 1860s a lone woman passenger on a stagecoach awoke to find the horses and coach standing still.   She could not find the driver and ended up driving the coach to Simpson Spring.  Legendary frontiersman Porter Rockwell greeted her there.  "She was a noted character known to carry a revolver and was also known to be able to take care of herself under any and all conditions. Port examined the gun and found one empty shell in it, listened to her story, and let her continue east while he went to investigate."  Porter found the driver's body about one mile west of the Dugway Station, drove to the well and dumped the body down it.  Later, stagecoach officials in Salt Lake City demanded that Rockwell go retrieve the body so they could investigate the death. "He told them it was too hot to attempt to haul a dead body that distance, but if any of them wished to investigate, he would be glad to go back with them and lower them down the well and let them carry on all the investigating they wanted to alone with the body. No one wanted to go."  The story speculates that Rockwell didn't arrest the woman because he believed that Indians had killed the stage driver.  Rockwell found an arrow shot into the driver's heart."<![if !supportFootnotes]>[10]<![endif]>
<![if !supportEmptyParas]> <![endif]>
Finally, after three hours, I run out of the fog.  The contrast is startling.  I emerge into bright warmth and can see the Dugway Mountain Range ahead against beautiful blue sky.  I wasn't sure where the next station, (Dugway Station) was located.  My research seemed to indicate that it was some distance away from the modern road.   I look carefully to the south and see the small figure of a monument 1.5 miles to the south, standing lonely on a barren basin.   I now understand that the original trail swung further to the south.  I wish that I had more time to visit the site.  That would have to wait for another day.
<![if !supportEmptyParas]> <![endif]>
Horace Greeley visited there in 1859 and said that Dugway Station was "about the forlonest spot I ever saw."  Sir Richard Burton visited in 1860 and described the station as "a hole, four feet deep, roofed over with split cedar trunks and with a rough adobe chimney.  Water had to be brought in casks."
<![if !supportEmptyParas]> <![endif]>
<![if !vml]>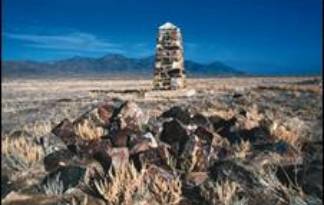 <![endif]>
<![if !supportEmptyParas]> <![endif]>
Dugway Staion Monument
Original foundation of stage station in the foreground
<![if !supportEmptyParas]> <![endif]>
<![if !supportEmptyParas]> <![endif]>
My run starts to take me up the foothills of the Dugway Mountains.   A truck passes me.  The driver leans out his window, gives me a smile and a big thumbs-up sign.  Certainly I am a strange sight to see, a lone runner in the wilderness.  I look back and see the long straight road disappearing into the gloomy gray fog.   Floating above the fog, I can see the snow-capped Indian Peak far to the east across Skull Valley.  I had started by day's run just below that mountain.   As I look at the road below, I think of another Porter Rockwell story attributed to this location.
A secret shipment of gold was being sent east from California.  It was believed that a telegraph operator leaked out information about the shipment.   Porter Rockwell was to take the shipment from Rush Valley to Fort Bridger, Wyoming.   But as the stage driver descended from Dugway Pass, he saw a lone horse out on Riverbed flat.   A man was lying on the ground.  As the stage pulled up, they went to investigate.  Before reaching the man, he arose, drew a gun, and stole the gold.  Porter Rockwell later captured the man, recovered the gold, but the man ended up escaping from Rockwell's ranch at Government Creek when a guard fell asleep.  Legend says that this was the only man that got away from Rockwell.<![if !supportFootnotes]>[11]<![endif]>
As I continue to ascend into the Dugway Mountains, I enjoy the uphill challenge.  It feels like I have had a lazy run today.  I commit to finish hard and run non-stop to the top of Dugway Pass, a 500-foot climb in a mile.   The road enters a steep valley and makes a large horseshoe-shaped switchback on its way to the top.  I notice that the original wagon road follows a little below the route of the modern wide dirt road.   I pick the historic route, a narrow road carved into the hill.  It is now covered with brush and at times blocked by rockslides presenting me with some tricky obstacles.   I think about a horse thief chase that occurred on this very spot.
<![if !supportEmptyParas]> <![endif]>
In 1885, a horse was stolen from the town of Vernon, in Rush Valley, to the east.  Men followed the trail of the horse to Simpson Springs.  They arrived there shortly after midnight and awoke Ed Meredith, who maintained the station.  Meredith mentioned that a man had been there but must have left abruptly while Meredith slept.  The men continued along the long road to Riverbed and toward Dugway Station.  As they rode down from the bench,  "they saw a man hastily throw a saddle on his horse, mount, and speed away, possibly one-quarter of a mile from them.  What a race and what a racetrack—level as a barn floor with nowhere to hide before Dugway Mountains were reached, ten miles away! . . . Mile after mile it continued with little change in position."
<![if !supportEmptyParas]> <![endif]>
As they chased him toward the horseshoe switchback in the road, one of the chasers took a shortcut directly up the hill as the thief continued on the bended road.  The chaser reached the road above, jumped off his horse, hid behind a large rock and waited.   As the thief approached he called out for him to surrender.  "Taken completely by surprise, the thief turned in his saddle only to find himself looking right into the business end of a pistol sticking over a large rock. Automatically up went two hands as the tired horse came to a stop."  They tied up the thief and took him back to face justice.<![if !supportFootnotes]>[12]<![endif]>
<![if !supportEmptyParas]> <![endif]>
As I near the top of the pass, the historic road disappears into the hill created by bulldozed earth from the wide modern road.  I'm forced to stop my uphill run and do a short steep hike up to the main road.  At the pass, a new view comes into my gaze.  Valleys to the west are dotted with cedars.   Toward the horizon I see the snow-capped Fish Springs Mountain range rising above another bank of fog.   I don't stop, and now enjoy a very fast run down the other side of the pass.  I notice that the rocks along the way are different, with much more color.   I push hard and am relieved to see my car where I shuttled it, at the turnoff to the Dugway Geode beds, with no flat tires.
<![if !supportEmptyParas]> <![endif]>
<![if !supportEmptyParas]> <![endif]>
<![if !vml]>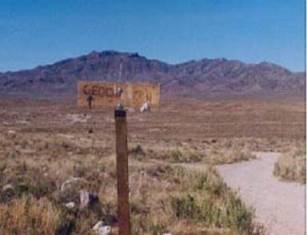 <![endif]>
Turnoff to Dugway Geode Beds
<![if !supportEmptyParas]> <![endif]>
Scientists believe that approximately 6 to 8 million years ago, volcanic activity occurred in western Utah and deposited an igneous rock called rhyolite.  "Trapped gasses formed cavities within the rhyolite, and millions of years of ground-water circulation allowed minerals to gather into the cavities. The result is geodes with spherical shapes and crystal-lined cavities. Roughly 32,000 to 14,000 thousand years ago, a large body of water known as Lake Bonneville covered most of western Utah. The lake's wave activity eroded the geode-bearing rhyolite and redeposited the geodes several miles away in the Dugway geode bed area as lake sediments.   Most geodes are typically hollow whereas others are completely filled with massive, banded quartz. The most common mineral found within the geodes is quartz in various colors: clear (rock crystal), purple (amethyst), and pink (rose)."<![if !supportFootnotes]>[13]<![endif]>
<![if !supportEmptyParas]> <![endif]>
<![if !vml]>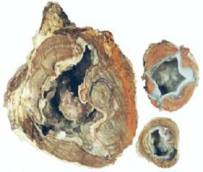 <![endif]>
Geodes
<![if !supportEmptyParas]> <![endif]>
My run for the day concludes at this point.  I have covered 25 miles in 4:50.  I wish I had time to go out to the beds and gather geodes, but that will have to wait for another day.   It takes me 2.5 hours to drive home along the long 85-mile stretch of trail that I ran in under 17.5 hours, over three days.
<![if !supportEmptyParas]> <![endif]>
Continued on another day.
<![if !supportEmptyParas]> <![endif]>