Grand Canyon 100 II
North Kaibab to Hermits Rest and back
November 24-25, 2006
Davy Crockett
Other Crockett running adventures
The Grand Canyon again beckoned me to run in its depths.  With the road to the North Rim still open and a long Thanksgiving weekend, I took the opportunity to travel one more time this season to experience this wonder of the world.   I hoped to accomplish my 10th double crossing.   But this time, I wanted to do a more extreme variation.  Instead of doing the typical double crossing along the corridor trails (Bright Angel or South Kaibab), I planned to accomplish probably the first double crossing from North Kaibab to Hermits Rest and back.
Planned Route
A direct double crossing from North Kaibab to Hermits Rest and back would be about 77 miles.   About 39 of those miles are on "unmaintained" backcountry trails outside the heavily traveled corridor trails.   The Tonto Trail and Hermit Trail are much more remote and rough.  The risks are higher for a solo adventure like this. I understood the dangers well.  But I considered that because of the Thanksgiving weekend, I would probably run into many backpackers using the Tonto Trail to explore the region west of Bright Angel Trail.  The temperature would be ideal.  I should experience inner-canyon temperatures between 60-35 degrees F.
<![if !vml]>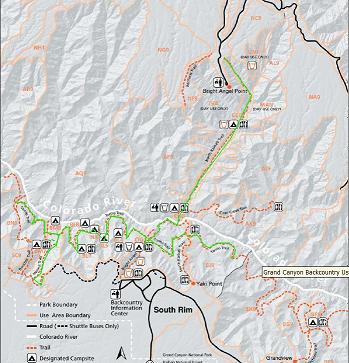 <![endif]>
Planned route (in green)
Since I would be running 77 miles, why not round it up to 100 miles?   I could accomplish my 6th 100-miler of the year.   I looked at various alternatives to stretch the run out and decided on this plan:  I would do a direct run from the North Rim to Hermits Rest and then if I still felt strong, I would add additional miles on the Tonto Trail by doing an out-and-back further west to Boucher Creek and then run all the way east to Cremation Creek before heading back to the North Rim.   That would be more than 50 miles of running on the Tonto Trail.  If I was successful, this would be the second time I had run 100 miles in one stretch in the Grand Canyon.  (See my double-double (4 trips) crossing.)
I carefully planned my run.   This double-crossing would require filtering water in creeks and springs, and I would have to carry all of my food.  I probably would be able to buy something at Hermits Rest, but I didn't want to count on it.  Usually I run doubles with just a waist pack, but this time I would add a 6-pound day pack.   Included in the pack would be some emergency items:  A blanket if I needed to bivouac, a CD for signaling, and a whistle.   If I was going any more remote, I would rent a satellite phone, but I felt I would be fine because I should still see people on the trail during the day.   I would take food/powder/gel enough to intake 4,000 calories.
Planning Chart
| | | | | | | | |
| --- | --- | --- | --- | --- | --- | --- | --- |
| Location | Miles | split | clock | time | water | temp ºF | light |
| North Kaibab TH | 0 | 0 | 4:00 AM | 0:00:00 | | 20 | Dark |
| Cottonwood CG | 6.9 | 6.9 | 5:30 AM | 1:30:00 | water | 40 | Dark |
| Phantom Ranch | 14 | 7.1 | 6:55 AM | 2:55:00 | water | 45 | Dawn |
| Indian Garden CG | 19.2 | 5.2 | 8:25 AM | 4:25:00 | water | 45 | |
| Salt Creek | 26.5 | 7.3 | 10:15 AM | 6:15:00 | | 55 | |
| Monument Creek | 29.9 | 3.4 | 11:15 AM | 7:15:00 | creek | 60 | |
| Hermit Trail | 32.2 | 2.3 | 11:55 AM | 7:55:00 | | 65 | |
| Santa Maria Springs | 36.4 | 4.2 | 2:25 PM | 10:25:00 | spring | 60 | |
| Hermits Rest | 38.6 | 2.2 | 2:55 PM | 10:55:00 | water | 55 | |
| Santa Maria Springs | 40.6 | 2 | 3:35 PM | 11:35:00 | spring | 55 | |
| Hermit Creek | 46.2 | 5.6 | 5:50 PM | 13:50:00 | creek | 60 | Dusk |
| Boucher Creek | 51.5 | 5.3 | 7:20 PM | 15:20:00 | creek | 55 | Dark |
| Hermit Creek | 56.8 | 5.3 | 8:50 PM | 16:50:00 | creek | 50 | Dark |
| Monument Creek | 60.6 | 3.8 | 9:55 PM | 17:55:00 | creek | 45 | Dark |
| Salt Creek | 64 | 3.4 | 10:55 PM | 18:55:00 | | 45 | Dark |
| Plateau Point | 71.3 | 7.3 | 12:55 AM | 20:55:00 | | 45 | Dark |
| Indian Garden CG | 72.8 | 1.5 | 1:20 AM | 21:20:00 | water | 40 | Dark |
| S. Kaibab | 77.6 | 4.8 | 2:35 AM | 22:35:00 | | 40 | Dark |
| Cremation Creek | 80.2 | 2.6 | 3:15 AM | 23:15:00 | | 35 | Dark |
| S. Kaibab | 82.8 | 2.6 | 4:05 AM | 24:05:00 | | 35 | Dark |
| Phantom Ranch | 85.7 | 2.9 | 5:00 AM | 25:00:00 | water | 40 | Dark |
| Cottonwood CG | 92.8 | 7.1 | 7:00 AM | 27:00:00 | water | 40 | Dawn |
| North Kaibab TH | 99.7 | 6.9 | 10:30 AM | 30:30:00 | | 30 | |
I carefully considered what sections of the run would have sunlight.  If I timed it right, the sun would be up on the sections of trail that I had never seen before.  I hoped to ascend and descend the difficult Hermit Trail during the daylight.
Hermit Trail History
My ascent up the South Rim would be on the Hermit Trail.  The Hermit Trail, like many other Grand Canyon trails, began as an Indian route. The trail was improved by prospectors and was originally know as Horsethief Trail. A prospector, Dan Hogan, began construction of the modern Hermit Trail in 1896. The trail was further improved by the Santa Fe Railroad about fifteen years later. They used this trail as an entry into the Canyon in an effort to bypass the toll that was currently being charged for use of the Bright Angel Trail.  A small camp, Hermit Camp, was constructed at the end of the trail near Hermit Creek.  Hermit Camp provided a stop-over point for parties headed for the river.  Visitors were brought down on mules while an aerial tram lowered supplies from the rim.  The camp was active until the 1930's. At that point the National Park Service had acquired the Bright Angel Trail. With trailheads closer to the railhead, the Santa Fe decided to move their tourist operations into the Grand Canyon Village area.  Hermit Camp is now abandoned and the structures have been removed. Some of the foundations still remain and can be seen from many points along the Hermit.
Don't try this at home kids
I worry that some unprepared readers may want to attempt this route too.  This adventure requires rugged 100-mile ultra-level fitness and advanced experience in the Grand Canyon.  Timing is critical.  I would never attempt a long run on the Tonto trail in the heat.   Springs and creeks need to be flowing.   Late November to March would be the safest time.   Attempting it in May and June would be foolish.  For my run, the temperature would be perfect, never reaching more than 60 degrees.
Recently, marathon runner Margaret Bradley died during a run on the Tonto Trail, just east of South Kaibab Trail, in the Cremation Creek Drainage.   This 24-year-old University of Chicago medical student attempted a 27-mile run down Grandview Trail, across Tonto Trail, and up South Kaibab.  A few months earlier Bradley had placed 31st of all women at the Boston Marathon 3:04:54.  She was ill-prepared and attempted it on July 9, 2004, in the heat of the summer.  She only took with her two water bottles, some fruit, and three protein bars.  At that time of the year all the seasonal water sources were dry.  Temperatures in the Cremation Creek Drainage likely reached 120 degrees.  Her coach later said, "I think growing up in New England and living in Chicago, she didn't have an appreciation for the heat there."  Halfway into the run, she and her companion, Brian, ran low on water and decided to separate.  Brian stayed in some shade and Margaret went on to get help.  Apparently when she reached Cremation Creek, she decided to hike down the drainage toward the river instead continuing up the trail just a couple more miles to South Kaibab.   After 14 hours, Brian made it out of the canyon , but Margaret, far off the trail was found dead two days later.  A memorial 10K is now held in Chicago to remember her.
North Rim to Indian Garden (miles 0-19.2)
After a wonderful Thanksgiving dinner with my family, I packed up my car, bid goodbye and started the drive south to the North Rim.   I made good time and arrived in six hours, just after midnight.   I experienced lonely feelings of isolation.   The trailhead parking lot was empty and I had not seen any cars on the highway to the canyon since Fredonia.   I was really on my own.  
I attempted to get some rest in my car at the trailhead, but sleep wouldn't come.   Finally I decided to get an early start.  Why not instead take a nap on the trail tomorrow night when I would really be sleepy?   I gathered my things and checked the temperature.  It was above freezing, so I decided to leave my warmest clothes behind.   At 2:00 a.m., I started my run down the North Kaibab trail.   This was my 10th time running down the trail in the past 18 months, so I was becoming very familiar with every turn.
Near the bridge over Roaring Spring Canyon, I took out my mini-recorder and said, "Feeling real good – strong and rested.  Going down, the only noise that I can hear is the breeze through the trees.  The stars are out.  Orion is blazing overhead.  I can see the dark rim against the starlit sky.  The rim gets higher and higher, covering the stars as I get deeper.  It is pleasant.  I'll turn my tunes on to give me some company.   It is taking a little while to get used to this pack. I'm taking it kind of slow on this upper section.  I don't want to do anything stupid.  It is going to be a long, long day.   It looks like it will be a beautiful day."
<![if !vml]>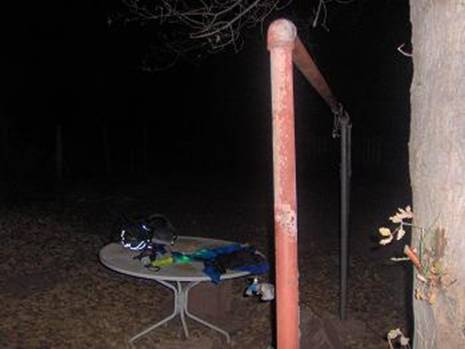 <![endif]>
My junk on the table at the Roaring Spring house
I stayed right on schedule, arriving at Cottonwood Campground at 3:30 a.m. and at Phantom Ranch at 4:55 a.m.    When I reached the house below Roaring Spring, I shed my jacket, hat, and gloves.  It was getting warm.   At Cottonwood Campground, I planned to stash some food for the return trip in one of the campground metal containers, but I was dismayed to discover that somehow the bag had fallen out of my pack.  (I later found it in my car.)  This was troubling, but I knew that I could buy some more food in the afternoon at Hermits Rest at the South Rim.  I continued on and really enjoyed my run through The Box, along Bright Angel Creek.  Some hikers were stirring at Phantom Ranch, getting ready for the day ahead, but the trail ahead of me was dark and quiet.  
When I reached the silver bridge over the Colorado River, I recorded:  "I'm over the Colorado River (can hear the noise of the river).  I look down to the river and it is black as black can be, you can't see a thing down there.  Quite a contrast with a few weeks ago when the full moon was out and I could see the whole canyon and the river flowing…  It feels like it is about 50 degrees, a little chill, but nothing bad.  Just a real pleasant temperature for a run."
My climb up the trail to Indian Garden went well.   I didn't see anyone on the trail.   As usual, the temperature dropped as I entered the drainage before Indian Garden but I knew it would warm up once I ran out of the drainage.   I drank plenty and filled both my water bottles.  For the next 55 miles or so I would have to filter water from creeks along the way.
Indian Garden to Hermits Rest (mile 19.2-38.6)
As I left Indian Garden I almost ran right into a deer.  It wasn't startled and didn't run away.  I soon arrived at the West Tonto Trail.  It was my first experience on the trail and it was so good to be off of the high-traffic mule trails.  I started to really have a blast running away from the developed region of the canyon, out into the remote untamed country.  I turned off my flashlight at 7:00 a.m.  The magnificent colors of the canyon started to fill my eyes.  Clouds had rolled in during the past hour.
<![if !vml]>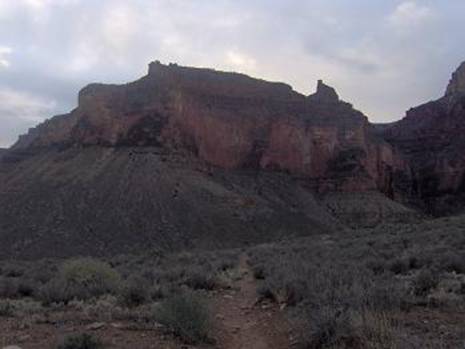 <![endif]>
The Battleship (ridge between Indian Garden and Horn Creek)
At 7:19 a.m. I pulled out my recorder and said, "I'm nearing Horn Creek.  Boy, running on this Tonto Trail is just like heaven!  It is so good to get away from the corridor trails with their mule stuff.  This trail is soft and technical.  There is a lot of brush on the side, but because I have my long pants on, it isn't a problem.  It gives you a desolate feeling.  There is nothing here.  The little trees still have some leaves on, but they are golden and beautiful.  The Tonto Trail weaves in and out of drainages and rolls up and down.  Up above I can see the rim including the remnants of a mining operation – probably the uranium mine that now has polluted the water here.  The red rock is gorgeous as the sun starts to cast light this way.  Looking down is an amazing sight!  The gorge, the cliffs with water stains.  The contrast of green and red.  This is amazing!"
When I reached Horn Creek, I was very surprised to see someone camping there.  They were still asleep in their tent.  I hoped that they weren't drinking the radioactive water that the guidebooks warn you against.   The silence in this canyon was astonishing.   At times I would stop just to listen to nothing.   It was peaceful stillness.  No wind, no birds, just the sound of blood pumping in my body.
<![if !vml]>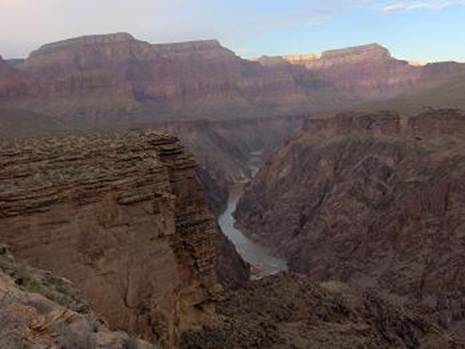 <![endif]>
The Colorado River comes into view
I reached Salt Creek (mile 26.5) at 8:44 a.m.   There was some water running in the creek.  I still had a water bottle almost full, so I didn't stop to pump water yet.  I would wait until Monument Creek.   As the trail went away from the drainage, it came much closer to the Colorado River presenting me with stunning views.  At 9:18 a.m. I laughed with delight into my recorder:  "The Colorado River came into view with a beautiful gorge heading west.  It's just amazing.  The cliffs are steep down into the gorge.  Up here on the Tonto Trail it is peaceful and cool.  I'm just having a wonderful time!   The rays of light are appearing and the blue sky is coming out.   I'm not moving very fast because there is just so much to see.  If I run fast, I start missing things.  This is just incredible!  Wow!   I'm looking down into the gorge.  Oh, Wow!   I'm getting out on the edge a little closer.  I can see the Colorado River meandering down there about 1,000 feet down."
I continued on and soon ran into another human, a guy backpacking toward me.  I really startled him when I called out a greeting.   He wondered where I was coming from.  I explained that I started at the North Rim early in the morning.  He was impressed and said I was making very good time.   He had just come up from Granite Rapids and told me that I would have a great view of them around the next bend.   We wished each other well and I continued my run to the west.
<![if !vml]>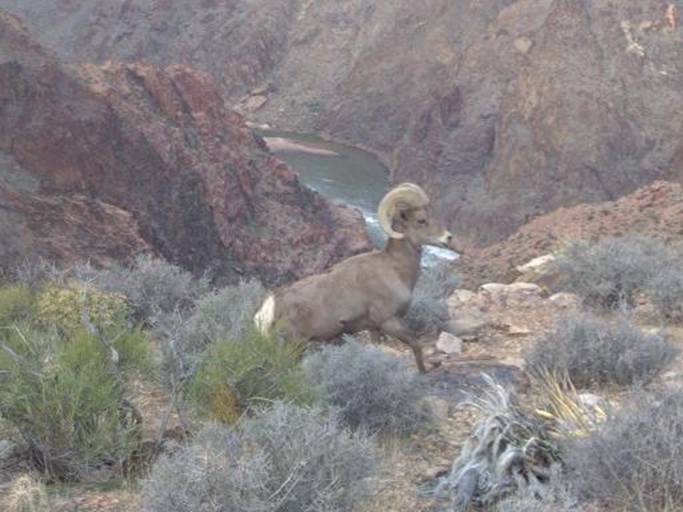 <![endif]>
Desert Bighorn Sheep with Colorado River and Granite Rapids in the background
As Granite Rapids came into view, I pulled out my camera to set up for a picture.  To my delight, a desert bighorn sheep appeared on the trail ahead.  It didn't fear me at all and started to approach me.  It circled around me and came into position with the river in the background.  I snapped the amazing picture above.  Wow!  I thanked the sheep for the great photo and it pranced away on the ridge.  Can it get any better than this?
The sun started to peak over the rim but the temperature continued to be very pleasant for running.  For some reason my shoulder started to hurt quiet a bit, like it was partially separated.  This was puzzling because I had not taken any falls.  I guessed that the constant jarring from running must have pulled something.  Well, there was nothing I could do except put up with the pain and try to restrict its movement.  (In a few hours it really wasn't a problem anymore.)
<![if !vml]>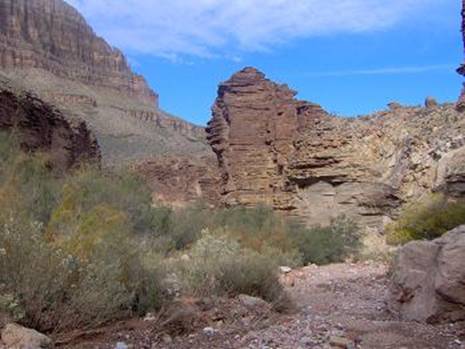 <![endif]>
Monument Creek bed
As I was descending into Monument Creek (mile 29.9), I could see some backpackers on the other side.  I took a long stop at the creek to filter water, eat, and fix a gaiter.  I was distressed to discover that my second flask of Hammer Gel was missing.  I hoped that I wouldn't run low on food.  Peace and quiet was disappearing because I was nearing the zone that allowed planes and helicopters to fly over the canyon.  As I ran on the other side of the creek, I again saw the backpackers.   They were taking pictures by the huge monolith that Monument Creek got its name for.   I ran down to them and said hi.  There were six of them and they were all speaking German.   I had them take a picture of me (it didn't turn out), and then I continued up a significant climb out of Monument Creek Canyon.
<![if !vml]>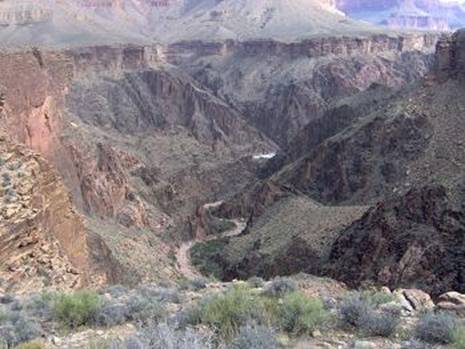 <![endif]>
View down Monument Creek to Granite Rapids
As I neared the Hermit Trail, I saw a group of young backpackers resting on a ridge.  They watched me as I ran up a hill.  I'm sure I was an odd sight, a runner coming from east with only a small pack.   We exchanged greetings and I explained that I had come from the North Rim.  They had just come down from Hermits Rest on the South Rim.  They wondered where I was heading.  I explained that I was going up to the rim and then going to head back to the North Rim.  They looked at me with stunned looks, trying to comprehend what I was saying.  I didn't stay long and ran on ahead.
<![if !vml]>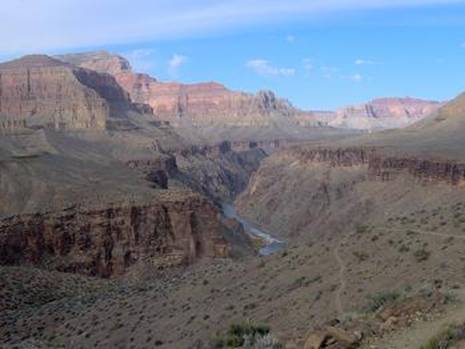 <![endif]>
Looking down toward Hermit Rapids
I arrived at Hermit Trail (mile 32.2) at 9:55 a.m.   I decided to stash my pack behind a boulder so I wouldn't have to haul it up to the rim.   As I pushed on ahead up the steep Hermit Trail, I started to worry.  This is typical during a long run.  I will worry about silly things.  My worry was whether the kids on the ridge had seen me stash my day pack.   What if they went and took it away?  I was now up too far to turn back.  I should have kept it with me.   It had my warm clothes, the food I needed for the return trip and my flashlights.   I considered that it was foolish for me to be going up to the rim and back without a flashlight.   I had plenty of time before dusk but what if I twisted an ankle coming down?  I vowed to be more careful in the future, making sure I always had emergency items with me.
<![if !vml]>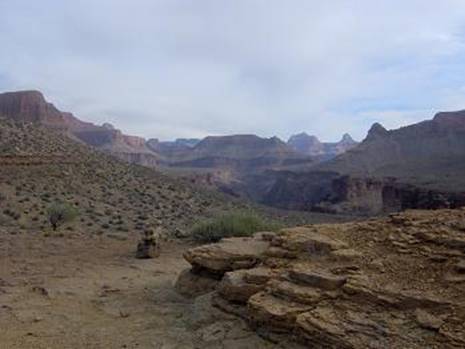 <![endif]>
View on Hermit Trail
The Hermit Trail was an interesting experience.  I can't say that I really enjoyed it.  It was a lot of work.  The trail was very rugged and unmaintained.  There was plenty of boulder hopping and route-finding, looking for the next cairn.  Some sections were nice, but there wasn't much running happening. 
<![if !vml]>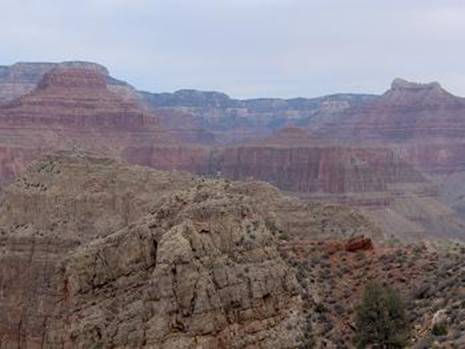 <![endif]>
Halfway up Hermit Trail
The views were not as impressive as Bright Angel because the trail took you deep into a side canyon that covered views of the canyon below.   I ran into many backpackers making their way down the trail and even some day hikers as I came closer to the top.   It was hard work.  
<![if !vml]>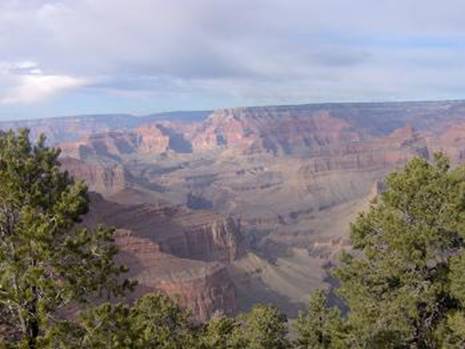 <![endif]>
View from Hermits Rest
Hermits Rest to Indian Garden (miles 38.6-72.8)
Finally I reached the top, Hermits Rest (mile 38.6) at 2 p.m.  There were probably about 50 people at the top.  It was chilly on the rim.  I found a snack shop and quickly bought a Coke, a danish, a muffin, and a candy bar.    There were some chairs near a warm fireplace in the gift shop, so I took advantage of the warmth as I ate some snacks.  I must have looked like a terrible mess.  My stop was quick.  Too quick.  I forgot to call my wife -- something else to worry about.  I remembered that I forgot when I was about a half mile back down the trail.  
<![if !vml]>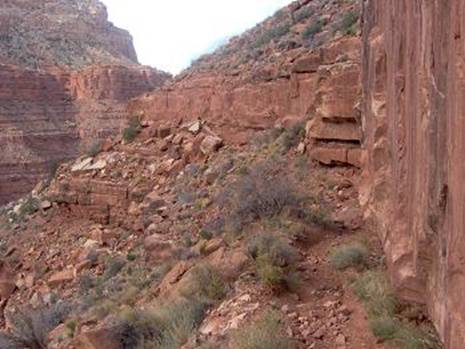 <![endif]>
Hermit Trail along a cliff
Now it was a race against time.   I needed to get back down to find my pack before dark set in.   It was a long tough descent.  I tried hard to keep a good pace going.  With relief, I found my pack undisturbed at 4:45 p.m.   I now had everything I needed to continue my adventure.   As I thought about the trip up and back to Hermits Rest, I thought, "Been there, done that."   I had no desire to ever do that again.
<![if !vml]>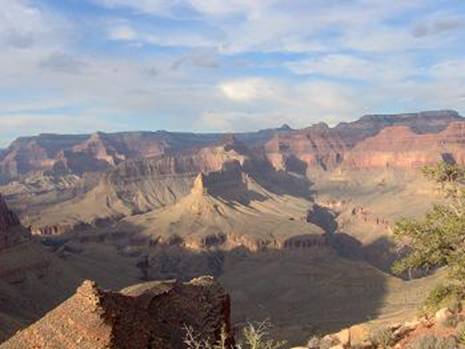 <![endif]>
The sun is setting on the Grand Canyon
As I swung the pack onto my back, I caught up with some backpackers who remembered seeing me heading up the trail.   I told them the story and they were full of questions.   They were heading to camp at Hermit Creek.  I went on ahead and said I would see them again.   At Hermit Creek there was a large group of about ten backpackers setting up camp and starting dinner.  I sat down to take a rest and had fun telling them about my adventure.   One lady insisted that I take some food from her.  I finally accepted a granola bar.   What I secretly wished for was some hot soup, but they didn't have any dinner ready yet.   They were fascinated with my green flashlight.  I told them that I was going to run further west to Boucher Creek, about five miles ahead.  They hoped to see me when I returned. 
Darkness had arrived.  I located the Tonto Trail west of Hermit Creek and all of the backpackers watched my green light disappear above the creek.  The trail was now quite rugged.  It obviously didn't receive as much traffic as the Tonto trail to the east.  I was truly entering an even more remote section of the Canyon.  I knew that I needed to be very careful.   As the last light was disappearing, I looked up to a dark ridge above me and saw an amazing silhouette of a deer walking on the ridge.  Wow!  The night was quiet.  The helicopters were gone.   The trail was difficult to follow as it crossed the drainages.  The cairns were few.  My pace was slow because of the route finding.   It was lonely and I almost turned back several times, but I knew that I needed these extra miles to reach my 100-mile goal.   The trail swung out close to a cliff above the Colorado River.  It was now too dark to see, but I could hear the roar below.  At one point the trail was pretty narrow along a steep cliff.   Finally I arrived at Boucher Creek. 
Boucher Creek was named after "the hermit," Louis Boucher, a French-Canadian prospector.  He operated a copper mine at Boucher Creek and used to live in the vicinity of Dripping Springs. His camp at Boucher Creek consisted of a stone cabin (a good portion of which can still be seen), some tents where he would put up guests, a garden, and an orchard  I had no desire to explore, I just wanted to head back away from this isolated place.
I had a fun trip back to Hermit Creek.  Now knowing the route, I ran much faster.  Far off in the distance across the Hermit Creek Canyon, I noticed a lone flashlight shining toward me.  I shined my light back.  As I continued on, I could see the light following my quick progress across the plateau.  I arrived back at Hermit Creek (mile 56.8) at about 7:15 p.m.  The backpackers were waiting for me.  They said that they kept talking about me and they were anxious to see how I was doing.  I explained that I was now on mile 56, feeling pooped, but doing fine.  It was fun to just sit down and talk with the group for awhile.   I wasn't really worrying about my pace time anymore.  I was over an hour short of my goal time, but I was doing fine and just wanted to enjoy the experience.   I got up and said it was time for me to return to Indian Garden.  My new friends offered me anything I needed, but I assured them that I would be fine with what I had.  "Will you make it all the way?"  "No problem," I replied.
As I ran up from the drainage, I discovered that my leg was covered in cactus needles.  They really hurt.  I had to sit down for more than ten minutes to take out as many of the tiny needles that I could.  Ouch!   Soon, on my way again, I again noticed that lone flashlight far ahead up on a hill.   I pushed hard to try to catch up.  It is so funny how my energy level increases when there is something to race against.   I did catch up because the light was no longer moving.   I came upon a lone backpacker, Lyle, who had set up a little camp on the hill.  He thought I was the ranger and was probably nervous because he wasn't camping in a campground.  He explained that he was trying to catch up to some campers at Monument Creek but his light was going dim and he decided to stop for the night.   I told him that I was only a runner.  He knew what ultrarunning was and we had a fun conversation.   Like the others, he offered me food.   I took him up on the offer and ate a delicious cookie.  He asked me to send a message ahead to his friends at Monument Creek.  No problem, I could be the trail messenger.
I arrived at Monument Creek (mile 60.6) again at about 9:30 p.m.   I located the campers and asked them if they were looking for Lyle.  They were very relieved to hear that their friend was fine, camping back a couple miles.  They thanked me for my kindness.   I found the creek, pumped some water and then became very frustrated because I couldn't find the continuing trail on the other side.  After about ten minutes, I finally found it.  At this point, I was cold and tired.  I decided to head back to the campground, lie down for awhile and try to regroup.  I was at a low point.  The ground was hard and I could only stay still for a couple minutes.  One of my shoes was full of grit so I spent time cleaning my feet.   I mixed some drinks (Gatorade and Instant Breakfast) for the road ahead.  After a very long stop, I finally pulled myself up and climbed out of the Monument Creek Canyon.
The next eleven miles were rough.  At Salt Creek I took a wrong turn and couldn't figure out where the trail continued on the other side of the drainage.  After about 15 minutes of wandering around, I finally decided to go back to a point on the trail that I was sure about.  I arrived at a junction with some signs and saw what the problem was.   The sign said the trail went down and to the right.  Because there was no trail down and to the right, I went up and to the right.  It turns out that the correct trail was down and to the left.  I guess in the light you could see that the trail did wind down and to the right, but in the dark, you could only see it heading to the left.  That was very frustrating.  Oh well.   I soon found water in the creek and stopped to pump some more.   The next seven miles were hard.  My stomach shut down and refused to accept any more Gatorade.  I tried every trick I could think to get my stomach working again.  My energy level was going down fast.  I threw up once, but that didn't help.   Finally, I discovered that drinking Instant Breakfast worked fine.  Little, by little, I started to feel better.
<![if !vml]>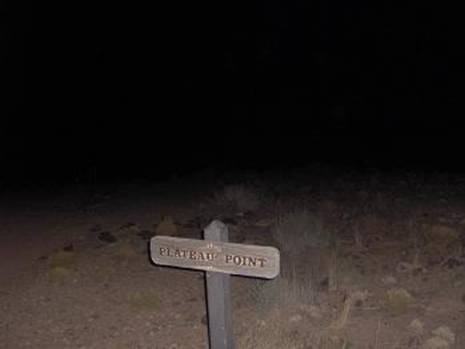 <![endif]>
Plateau Point
I made the "run" out to Plateau Point in order to get additional distance for my 100-mile goal. It was very comforting to see the lights of the South Rim again, high up in the sky.  When I arrived back at Indian Garden (mile 72.8) at about 3 a.m., I was still in pretty rough shape still bonking.  I considered my options.   I wasn't feeling good enough to attack more miles of the Tonto trail to the east.   I finally decided that I would head directly to Phantom Ranch down Bright Angel Trail.  This would cut out a few miles off my planned route, but I could instead tack on some miles on the flat trails at the North Rim to meet my 100-mile goal.  I felt good about that idea.  I could run the West Tonto Trail on another day.
Indian Garden to the finish
Little by little, I started to feel better as I headed down Devil's Corkscrew and then ran along the River Trail toward Phantom Ranch.  I arrived at Phantom Ranch (mile 78) at about 6 a.m.  I called my wife to let her know that I was doing fine and would crash at a nearby motel when I finished.
OK, I knew what was left, the huge climb up North Kaibab.  Dawn arrived as I tried to make progress through The Box.  Finally, I was so sleepy that I stopped to rest.  I quickly fell asleep several times, but only for about one minute each time.   Finally, I woke up to the sound of feet running on the trail.   I got up and greeted a couple guys who were running a double crossing.   My mind was so sleepy that I had great difficulty explaining where I had come from.  They asked if I was doing OK, and I explained that now I was just sleepy.   They ran on ahead and I tried my best to keep up with them for about a mile, but then had to back off.
I wanted to avoid the "death march" mode, so I slowed down, looked around, and tried to enjoy the rest of the trip.  I was fascinated by the layers of rocks in the cliffs as I ascended.  I used those layers to track my progress.   Near Roaring Spring, a woman came running up the trail pretty fast.  I was impressed.  She stopped to walk with me and hear about my crazy adventure.   She was doing a double crossing with a group of four.   She went on ahead.  A guy soon caught up with me.  I kept up with his pace for awhile and he liked hearing about my escapade.   None of these runners had any clue where Hermits Trail was, so I did my best to explain.
Up and up I went.  The first two runners greeted me again coming down below Supai Tunnel.  The other two runners met me again with only a mile to go.  The guy said that he would keep thinking about how many miles I had accomplished as he returned to the South Rim.
<![if !vml]>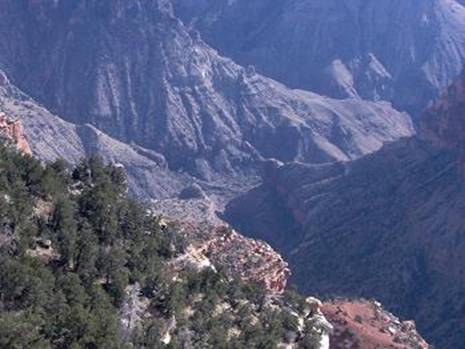 <![endif]>
From North Rim, looking down to Roaring Spring
Finally, the trailhead arrived.  After cleaning up, eating and drinking plenty, and getting a high-powered pain killer in my system, I put on a winter coat and headed out again on the North Rim to do a few remaining miles to round up the adventure to 100-miles.   I enjoyed looking down into the canyon and marveled at the distance that I had covered over the past 36 hours.   That is a long time, but I've concluded that it is a good time for a self-supported, solo 100-miler in the Grand Canyon.  There was plenty of route-finding and amazing views to slow down the pace.  Also, it took extra time finding water sources and filtering water.  I also really enjoyed stopping to talk with the backpackers along the way.  I had reached my goal.  I had accomplished a double-crossing that probably is a first in history.   There was one casualty – my voice.   Congestion settled in so bad that I couldn't talk for the next 24 hours.  It was pretty amusing trying to order food at the McDonalds drive-through in Kanab.  I could only whisper as I checked into the motel.