March 29-30, 2008

I ran in the Moab 100.  I chose this race because it is only a few hours drive from my home and I knew I couldn't go wrong with a race near scenic Moab, Utah.   The race is put on by Gemini Adventures, the same group that does the Laramie and Boulder events, both 24-hour races, and 100-mile races.  
At the Moab race, there were actually three types of races running at the same time on the same 5.47-mile loop course.  In addition to those running the 100-solo event, there were runners running the 24-hour solo (as many miles as you can do in 24 hours), and 24-hour relay teams.   Any 100-miler who didn't finish, was credited a 24-hour finish for the miles finished in under 24-hours.
I opted to run the 100, to push myself to again reach the 100-mile distance, and hopefully my 16th 100-mile finish in just over three years.  I also wanted to finish these 100 miles in under 24 hours.   In February, The Rocky Raccoon 100 left me disappointed with my 25:38 finish.   I knew I could do better depending on the difficulty of the course. My only goal was to run a sub-24-hour race.   But I didn't set my heart on it.  I would do my best, but I knew the day and night would dictate what would actually happen.
Preparation
My training during February and March was frustrating.  The snow and cold chased me indoors.   I ended up training 106 miles on the treadmill until one day after a long session I screamed a vow that I would no longer run on those crazy machines this season.  The next morning I pushed myself outside in the cold, snow, and ice.   My usual trail routes were still deep in snow and frustrating to run on, so I turned my attention to a road that climbs up a mountain near my home.   I discovered that a snow cat had recently been up the access road making an ideal running surface.   I decided to use that road for my training.  The method I chose was to run up the road as far as I could in one hour and then blast down the road as fast as I could, hopefully for a time in 1.5 hours.   These weren't long training runs, but I could fit them in before or after work.  They were very challenging because I would climb about 2500 feet.     I ended up doing this run about seven times, each time pushing myself to go further and faster.  I could feel myself getting stronger.  Another thing I concentrated on was weight loss.  I managed to lose about eight pounds during the past couple months.  That would make me lighter on my feet.
To satisfy my competitive spirit, I also ran in several short races during this time.  I first ran in the Moab Red Hot 50K.   I wasn't fully recovered from Rocky Raccoon, but I still finished in 6:26 on that beautiful course.   I also ran in a 15k, and two 10k road races to work on my foot speed.   In one of those 10Ks, with 424 runners, I actually took home the gold for my age group and set a PR of 44:12.   Finally, the week before the Moab 100, I ran a slow 36 miles as trail sweep at the Antelope Island Buffalo Run.   With a 100-mile finish, this would be my highest mileage month ever.
I went into the Moab 100 feeling well-prepared and injury-free.  My only worry was a very sore butt due to a hard fall while skiing three days before the race.   This didn't turn out to be a problem.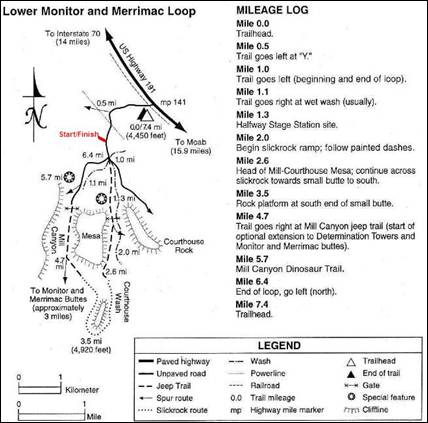 Map of the course.  Mileage needs to be adjusted due to start placement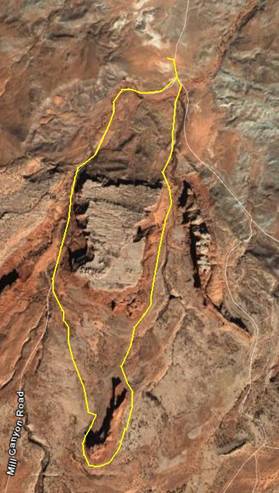 Course Description
The Moab 100 course is laid out on the Monitor and Merrimac Loop, a popular trail for jeepers and mountain bikers.  The course is a loop with an out-and-back tail, like a lollipop.  The route goes clockwise around the loop and first passes by the ruins of the historic Halfway Stagecoach Station.  It then ascends up and down over a small ridge via a rutted jeep trail with scattered rocks.   With huge Courthouse rock on the left and gigantic Mill-Courthouse Mesa on the right, the route crosses through several deep sandy washes and then climbs up a slickrock ramp to the base of the Mesa.  The views below are terrific.  The route then heads south toward Camel Butte which we would circle around on the slickrock, giving us views of the Monitor and Merrimac mesas named after the Cival War ships, off on the horizon.   Most of the first half of the course up to this point is a runnable uphill 450-climb.   From there it is mostly downhill.   First up is a long run down a massive slickrock slope that leads to the Mill Canyon dirt jeep road that rolls up and down through a beautiful canyon with occasional small stream crossings.   Finally you reach the main dirt road that passes by campsites and leads you back to the start/finish area.
For 100 miles, I would need to run 18 of these loops and then an out-and-back to bring the mileage to an even 100.  One would think that you would get bored running these loops over and over again.  But I never did.  There is so much variation under your feet during the route and so much to see, that I never got bored with it.  I thought it was an amazing course.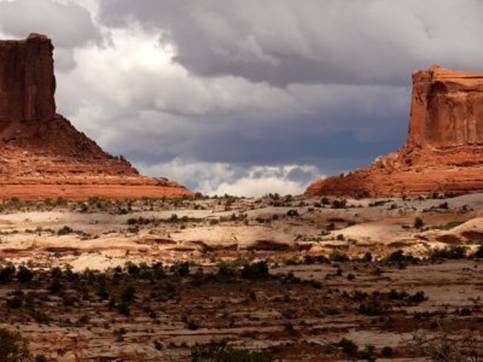 Monitor and Merrimac Buttes off in the distance
Pre-race
Two of my backpacking buddies, Carl and Brad made the trip to Moab with me to help crew my race.   They are both experienced ultrarunning pacers and crew.   With some of our kids, we spent Friday doing rock climbing with ropes up the sides of redrock cliffs.   After a fun afternoon, we found the start/finish area and set up our tents.    I had a good-night's rest and woke up at 5 a.m. to get ready for the 7 a.m. start.    It was chilly in the tent so I took my stuff out to get ready in my warm car.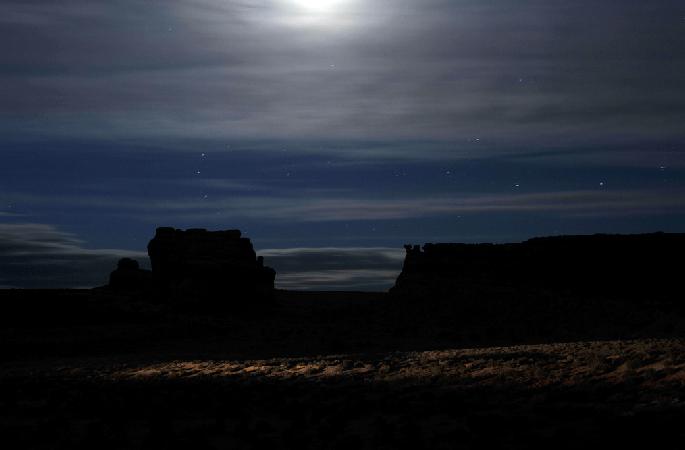 The moon rises over Courthouse Rock as the dawn approaches
The pre-race meeting was at 6:45 a.m.  I wish more races held their mandatory meeting on the day of the race.  It was short and sweet.  On the downside, the race directors let us know that the loop was actually 5.37 miles, not 6 miles as published on the website.  That invalidated my pacing goals.  Also on the downside, no entrants list was published before the race so we had no idea who was coming.  I was pleased to see one of my training buddies, Jarom Thurston who would be running in the solo-24-hour race.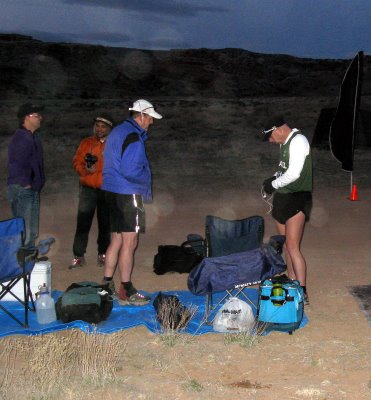 Jarom and I setting up our aid station
One very good thing that I did was to set up a tarp near the start/finish area.  On the tarp I had a chair, a cooler, and my bags.   Jarom followed my example and also set up on my tarp.  This turned out to save me many minutes compared to other runners who went to their campsites or cars.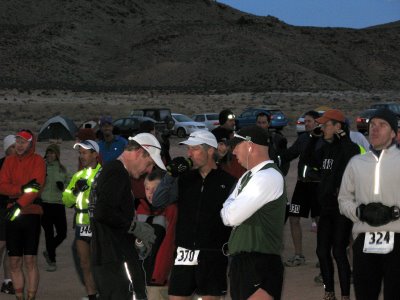 Seconds before the start, I'm looking for the starting blocks
The race
At 7 a.m. we were off.   I was very surprised to see a woman runner sprint off like she was shot out of a cannon!  I quickly concluded that she was a relay runner.  (She was part of the Eagle Five relay team.  She finished the first loop in only 39 minutes.)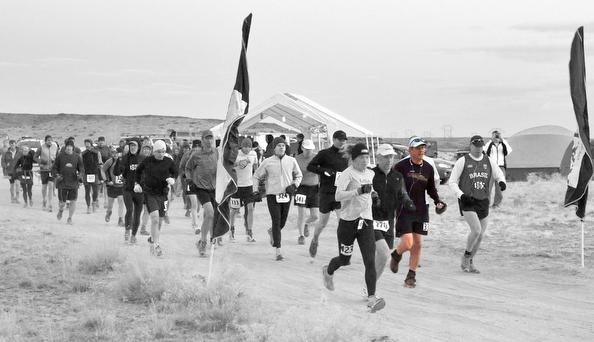 The race is on!
Jarom and I ran together for the entire first loop.  We had a great time talking and were impressed by the beauty of the course.   It felt like we were going at a leisurely pace and the hills seemed like no big deal.  After the steepest hill, I commented that if this was the toughest hill on the course that this wouldn't be too tough.  A runner behind us heard my comment and said, "Let's see if you think that at hour 22."   Yes, this small hill would definitely make me groan later in the race. 
The course was definitely tougher than Rocky Raccoon.   Jarom gave this good description:  "This was quite a technical and difficult 5.37 mile loop with a lot of variation. There were lots of climbs and descents, rocks and sand, and the downhill section was all on rough slickrock sandstone, harder than concrete and with lots of empty water holes and cracks and drop-offs. The easiest section was a soft dirt path that crossed a stream several times."
The run down through Mill Canyon was fun on the soft winding trail.  I checked my watch and was surprised to see how fast we were going.   We completed the first loop in 50:32, almost nine-minute miles.   My crew was surprised and chastised me for going too fast.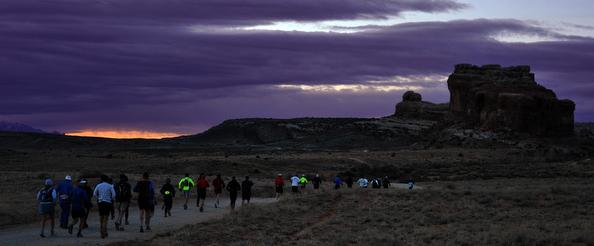 Away we go, headed toward Courthouse Rock and the Mesa
The starters included, 20 solo 100-miler runners, 16 solo 24-hour runners, and 5 relay teams of 5-8 runners.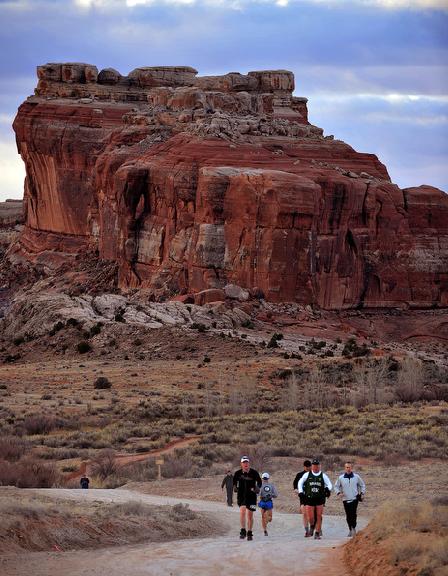 Jarom and I finishing up Loop 1
For Loop 2, I knew what to expect better and took advantage of the knowledge to pace myself better.   Jarom and I hung together for the first half of the loop until I fell behind as I started to mess around with my MP3.   I finally got it working and I could see Jarom far ahead striking up a conversation with another runner.   As we hit the downhill on the slickrock, I really kicked it into gear to catch up.   I was flying!   I soon caught up and just kept on going and going, leaving Jarom far behind.   Soon I caught up with a pair of walkers (The Barnetts).  Wow, I had already lapped someone!   I continued running pretty hard and finished the second loop (including my aid station stop) in 49:45.  I did it so fast, that my crew wasn't even ready for me.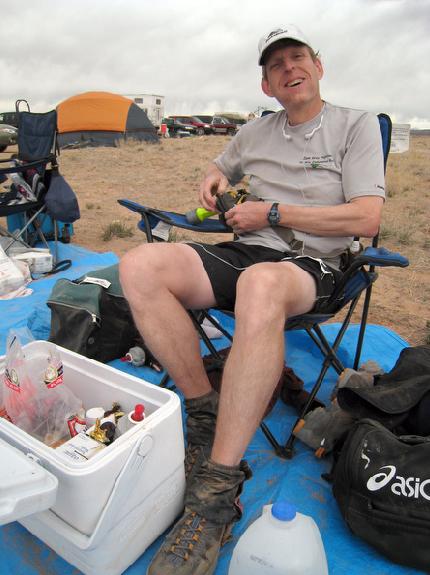 I was very glad that I brought my own aid station food and drink.  The selection of food and drink was very limited at the race-provided aid station.   I ended up using mostly my own stuff.   For each stop, I would sit down in my chair, open the cooler in front of it, drink some Coke, eat a bagel with cream cheese and turkey, or eat some chips with guacamole dip, take a shot of Hammer Gel, and then would be on my way again.   This was the first race that I didn't wear a waist pack.  I only carried one water bottle filled with either diluted Ensure or Heed – about 250 calories.  I made sure that I drank the entire bottle each loop.   It was very convenient to have all my stuff at every 5.37-mile stop.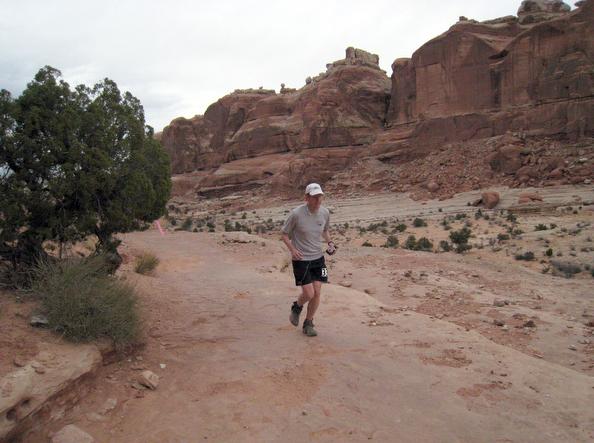 Running up the slickrock ramp above Courthouse Pasture
I was very surprised to not see Jarom on the out-and-back section from the aid station.   That meant that he was probably at least a mile behind.  I still ran the third loop pretty hard.  Earlier as I was running on the slick rock, I thought, "A face-plant on this stuff would really hurt, I better be careful."  On this loop as I was running fast down the slickrock, keeping ahead of a fast-moving woman relay runner, sure enough, I took a dive.   Luckly, my water bottle took the brunt of the force and then I did a very nice shoulder roll.   The runner asked if I was OK.   I assured her that I was fine, just a bruised ego.  I took it easier for the rest of the Loop 3 but still finished in 53:11.   I ran the first 16 miles in 2.5 hours. (I didn't know this, but at the time I was running in third place, just 14 minutes behind the leader.)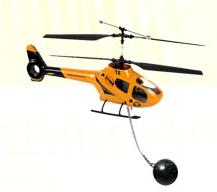 I didn't see my crew after the loop, but I knew they were sight-seeing at Arches National Park.   It turned out that my buddy Carl spent the day corrupting my 11-year-old son Connor.   On the following Monday in school, during a class discussion about erosion, Connor piped up and told the class that arches were created by helicopters and wrecking balls.
Despite a long bathroom break, Loop 4 continued to go well.  I believe it was during that loop that I lapped famed ultra-walker Ulli Kamm.  His walking pace in impressive!   For my pace, I was trying very hard to see how long I could average (including stops) less than 1 hour per loop.   I finished Loop 4 in 1:00, for a 3:34 total for 17.5 miles.   It was a little discouraging watching speedy relay teams lap me.  Their bib numbers were in the 400-500 range, so I learned to just ignore them as they blazed by me full of energy.  But the speedy women team (Eagle Five) was just a sight to see.  It seemed like they were all turning seven-minute miles.   (They went on to finish with 161 miles in 24 hours).  But up to that point I was keeping up with two of the relay teams.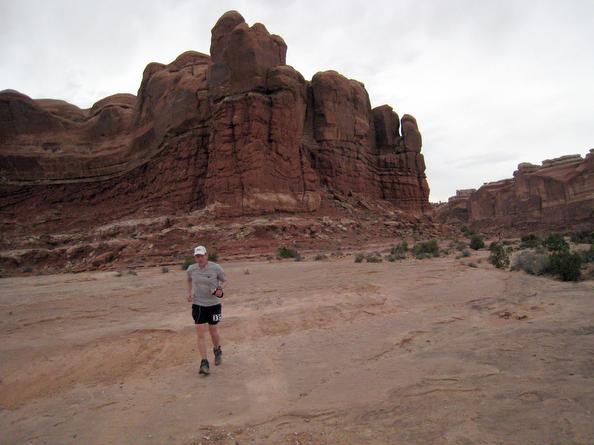 Running on the flat slickrock away from Mill-Courthouse Mesa
On Loop 5, Paul Grimm caught up and passed me on the uphill half of the loop. (I didn't realize at the time that I was actually one lap ahead of him.)   I knew that he was a very talented runner.  We eventually chatted for awhile.  He was running in the 24-hour solo race and planned to treat it like a training run.   For the next several loops, the pattern was very consistent.   Paul would pass me during the uphill half of the loop.  I would do my best to keep him in my sights and then blast by him on the downhill half, usually finishing a couple minutes ahead of him.   This was a great motivator as I started to get lazy.  Paul had a very consistent pace both up and down and I used that to help push me.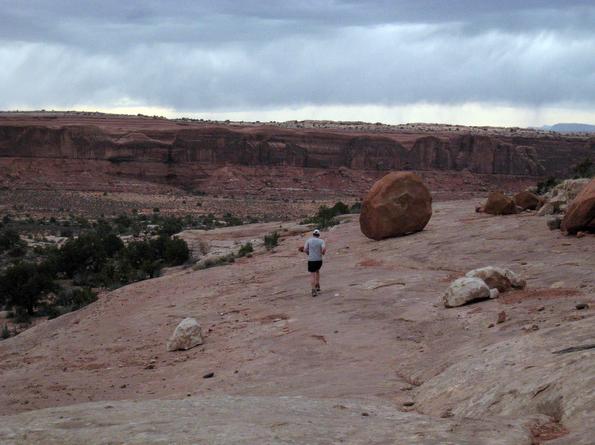 Circling around Camel Butte at the start of the downhill
But during Loop 5 I started to slow down compared to my fast initial loops.  The day was warming up.  When the sun peeked behind the clouds it really started to feel hot.  Thankfully clouds hung around most of the day and there was a nice breeze.  I finished Loop 5 in 1:08.   My feet were really starting to bother me and I was worried about sand in my socks.  I made a long stop cleaning my feet, putting on dry socks, and changing to another pair of shoes.   Those five minutes made a huge difference, well worth the investment.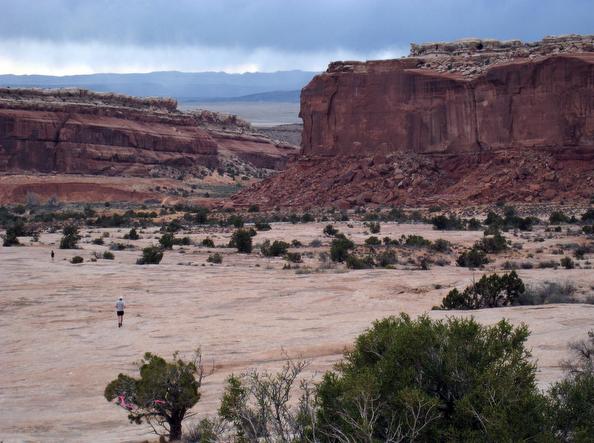 My favorite part, running hard down the slickrock slope toward Mill Canyon
During the day, we came in contact with many mountain bikers and ATV riders.   Most of them were very nice and courteous.  I enjoyed watching a group of ATV riders attempt to ride up a massive sand dune that had been blown by the wind against a cliff.   On another occasion I saw a mother on an ATV trying to coax what looked like a 5-year old driving another ATV down some technical slickrock.  The poor kid was terrified.  Later two more ATVers passed me on the trail and stopped ahead of me, two-wide at a trail junction, making it very difficult for me to get around.   I said, "Please don't block the trail."  The woman cussed me out.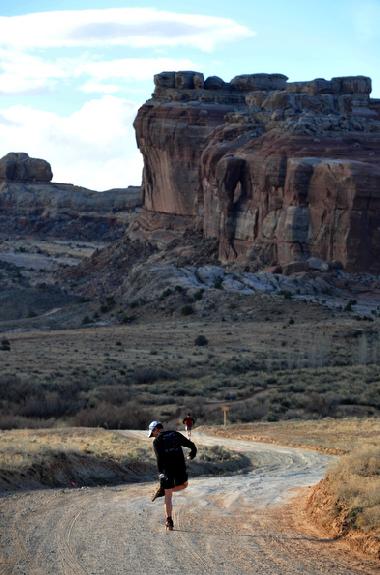 I continued to keep Paul Grimm in my sights as we played leapfrog on each loop.  Loop 6 was a slower loop, 1:12.   I watched my hour-per loop time average slip to 5:55 total.  Pual and I finished the loop together.   Continuing on,  I finished Loop 7 in 1:06 with a 7:01 total.   As I approached my chair, I saw Jarom sitting next to me.   "Don't tell me you just finished Loop 7!"   I sheepishly replied that I did.   He groaned and told his Dad that I had lapped him.   He had really struggled on Loop 4.   I encouraged him on and believed that he could easily keep up with me.  I pointed out Paul Grimm, already leaving for Loop 8, and told Jarom that I was doing all I could do to keep up with Paul.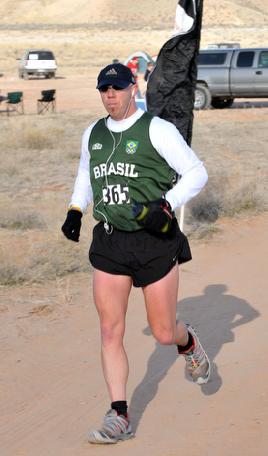 Jarom leaving for another loop
Having Jarom in my sights energized me.   I was able to push the hills pretty hard and ended the loop several minutes ahead of both Jarom and Paul.  My Loop 8 time was 1:07.    I noticed that they had posted current standings as of two hours earlier.  At that time I was running in 4th place!   I was shocked.   Not bad.   That fact drove me on.   The leader, Jimmy Edwards, was almost a full lap ahead of me (five miles).
During the late afternoon, the wind really kicked up, especially halfway through the loop as we turned to head back north.  At times we were running in a very fierce headwind that really sapped my energy.   By Loop 9, I was becoming very familiar with the trail.  I no longer needed to pay much attention to the course markings, because I knew every turn and worked to not zig-zag across the large slickrock slopes.   My speed and energy was decreasing.   My Loop 9 time was 1:17 for a 9:26 total for 48.3 miles.   As I started Loop 10, I greeted Paul and Jarom heading toward the start/finish area.  I was only gaining a little ground on them each loop.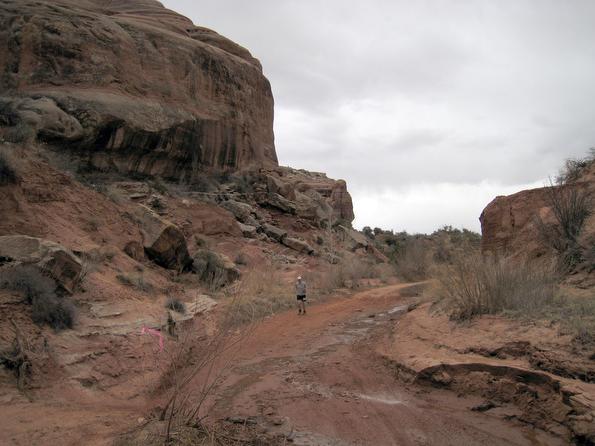 Running on the soft trail through Mill Canyon
I finished Loop 10 in 1:18 for 10:45 total.   I was more than half-way done.  It was 5:45 p.m. Doing some calculations, I knew that I would be in great shape toward my sub-24-hour goal if I continued to average 1:20 loops for awhile more.   My crew had returned from their fun day among the red rocks and arches.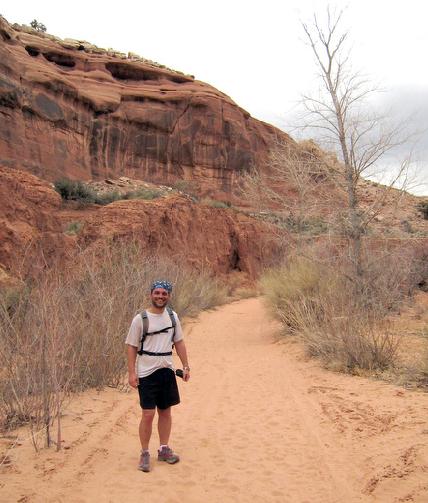 Carl in Mill Canyon
Brad needed to return home and Carl wanted to see the course in the daylight, so he went out ahead of me but didn't do any pacing duties.  He ran ahead or behind, taking pictures.   I left him in the dust during the downhill section and finished Loop 11 in a fast 1:11.   For the next loop I took my flashlight with me.  Dusk was approaching.  I no longer saw Jarom on the out-and-back, he was falling further behind again. (He finished his loop 13 minutes later).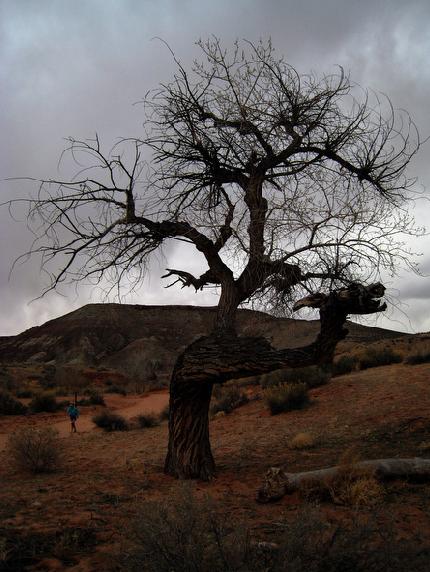 The evening started to cool things down, but it was still ideal for running.  I ran the entire race with shorts and alternated between long-sleeve and short-sleeve shirts.   During the final part of the loop, I lapped the last-place walkers for the 5th time, and then turned on my light.   I love running in the dark and felt energized with the new experience running on this course in the dark.  During this loop I also noticed glow sticks appearing nicely all over the course.  I eventually caught up with the kind volunteer hanging them up.   I finished Loop 12 in about 1:20.   During these slower loops, it was tough to understand how easy it was to clock those 50-minute loops early in the race.  Carl offered to go buy me a bacon burger at Wendy's, 18 miles away.  I told him no, but then balked.  Boy, would that be great.  
During Loop 13, I kept thinking about that burger.   Sure enough, after a 1:22 loop, Carl was there with my burger.   I was really pooped.   I had been running for 14:44, and covered nearly 70 miles.   Gee, only five more loops to go.   The burger tasted great, but I could only choke down a quarter of it.   As I was about to leave, Carl checked with the timer to see what place I was in.   The timer told him that the 2nd place runner had just dropped out (David Johnson).   I was now in 2nd place!   "You never know what will happen in these races," said the timer.  (I didn't know this, but at that time I was 1:14 behind the leader, Jimmy Edwards).
With that extra motivation I headed out on Loop 14.  I hadn't seen either Paul or Jarom for several loops.  I wondered how they were doing.   The night loops seemed lonelier.   It seemed like the only runners I saw were fast-moving relay runners or slow-moving walkers that I was lapping.  As the relay runners started to catch up with me, I would push very hard to stay ahead for awhile and keep pace with them.:  It was fun to chase lights and see them chasing me.  At times I would sing very loud to some MP3 music.  At other times I was content to just listen to the quiet night.   My feet were really bothering me and I finished Loop 14 in 1:32 for a 16:16 total for just over 75 miles.  I had less than a marathon to go.  I could do this.
Loop 15 was slow, my slowest.  I became pretty lazy.  I walked most of the uphill.  My uphill running gear seemed to be gone.  Even my favorite long downhill on the slickrock was going slow.   Other runners commented that they hated that downhill section.  For me, it was my favorite part, but I could understand why it was painful for some.  There was no give when your shoes hit it, so your feet would slide in your shoes causing blisters to appear.  It seemed to me that is was less painful the faster I ran on it.   I finished Loop 15 in about 1:43 for 18:00 total (1:00 a.m.).  Carl encouraged me, telling me I was running consistent 1:20 loops (what a liar!).  However my long stops were eating into my loop times.   Jarom caught up to me as I finished the loop and walked in with me to the aid station.   Carl was in a sleeping bag, under the tarp.  The wind was blowing fiercely and Carl informed us that he could see a storm approaching on his laptop connected to the Internet.   This was discouraging news.   Jarom pushed on, but I made a longer stop to pop a blister and clean my feet.   It was painful work, but I knew they would feel much better.   I put on a fleece vest and took a warm hat in case the storm came.
The wind passed and we only felt a few rain drops.   I tried, but failed, to catch up with Jarom.  He was far ahead and I couldn't find his light.   My feet felt much better.   I kept fearing a cold downpour of rain and started to think about sitting in my warm car.  I did calculations and knew that for the last three loops, I needed to keep them under 1:45 in order to reach my sub-24-hour goal.  Memories of my slow finish at Rocky Raccoon plagued me.  I was further discouraged to see that I was now matching lap times with speed-walker Ulli Kamm.   He was about a half mile ahead of me, almost four laps behind me, but I just couldn't catch up with him.
All day, and all night, a group was camped along the route within a half-mile of start/finish.   I believe they were part of the relay teams.   Every time a runner passed by, they let out huge cheers and said things to raise our spirits.  It was greatly appreciated.  Late into the night they sat around a huge fire.  Thankfully it was never too cold to tempt me to stop and enjoy the warmth.    I finished Loop 16 in a slow 1:44, 19:44 total for nearly 86 miles.   Carl had been sound asleep when I arrived. I asked him when Jarom came in.  He had no clue.  (Turns out Jarom finished his lap 14 minutes before I arrived.  Jarom had gained almost a half hour on me during the past two loops.  He had unlapped himself and I had visions of him catching up.)
As I was sitting in my chair, trying to nibble on the rest of my burger, I noticed that Carl was talking to the timer.   He came back to me and whispered in my ear.  "The first place runner is somewhere here.  He hasn't left yet.  If you get your "bleeping" butt out of here, you will be in first place!"  Boy did I move fast!   I was out of there in seconds!   Carl later wrote, "I was amazed how quickly you jumped up when I told you, you were in first place.  I had to run after you for a few yards to give you your bottle of Ensure!"
I really started to push it hard and now was fully motivated.   Every light I saw behind me made me push my pace harder.  Each time, it was only a relay runner.   Could I really win this thing?   I soon finally caught up to Ulli and left him far behind, lapping him for the fourth time.   I found new energy and just ignored the pain in my feet.  I finished Loop 17 in 1:27!   Carl was very pleased to see me arrive so fast.   I was worried about my lead and finally as I was getting ready to leave, Carl told me to not worry, that I was very far ahead.  As long as I didn't fall and get injured, I had this race in the bag.  I promised Carl that I would do this last loop in around 1:20.  
With that comforting knowledge, I still couldn't believe him and kept a close look at any runner coming from behind.  I was very pleased to be on the last loop.  With every hill, every annoying sandy wash, every jump over water, I thought to myself, "that is the last time I will have to do that!"  I was in the home stretch!   I never caught up with Jarom again, but I knew that he was probably pushing it very hard in order to finish two more loops before the 24-hour limit.   I knew that if I could finish Loop 18 before 23 hours, that I would reach my sub-24-hour goal.
I finished the loop to the cheers of Carl in 1:23, for 22:38 total.  He told me where the final three-mile out-and-back was.  I needed to do a partial loop up to some cones that I had noticed earlier on the slickrock far up the trail.  I would have to run up to them and then come back.   I groaned.  I had made those climbs thinking that I would never have to do them again.  Now I would have to do them yet one more time!  Carl would come with me as a pacer.  He assured me that I had a big lead but needed it push it to break 24 hours.   I did my best to keep a good pace going up to the cones.   Once there, it was a good feeling to know that it was almost all downhill to the finish — just over a mile to go.   On our way back, we passed some runners but in the dark I couldn't tell for sure if they were relay racers.  Looking back, it looked like one of them was returning in our direction.  Could that be the 2nd place runner?   No way.   I wasn't going to fade with victory so close.   We lost our way for a couple minutes because the course was not marked well for the opposite direction and the glow sticks were almost out.   For the final half-mile we really turned up the speed.   I really wanted to win this thing.  As we approached the finish, I knew I had it.  The race director announced my arrival into the loud speaker as the first 100-mile finisher.  Several 24-hour runners cheered my arrival.
I finished in 23:33:33.   I reached my sub-24-goal, and I won the race!   I fully understood that the vast majority of the 100-milers DNFed, but I felt great about the victory.   The format for this race was very tough mentally.  It was hard every loop to realize there was a warm sleeping bag or car just yards away.  Many runners took the easy option and quit.   I never gave up and pushed to finish strong.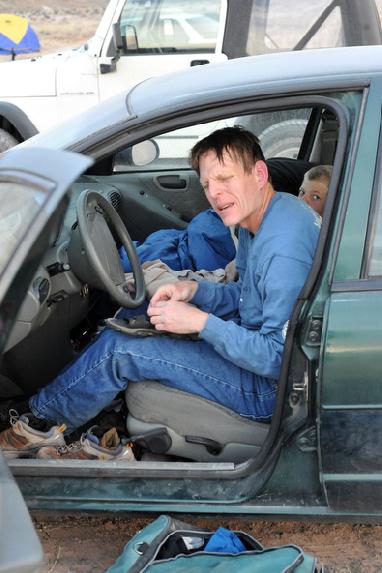 Looking like Death after 100 miles
Jarom arrived just a few minutes before the 24-hour horn, finishing his 18th loop for about 97 miles.  I was very proud of his determination.  He was awarded 2ndplace in the 24-hour solo division.   Only Tim Stroh went further than both of us, reaching 102 miles. (Tim reached 100 miles about the 21:30 mark).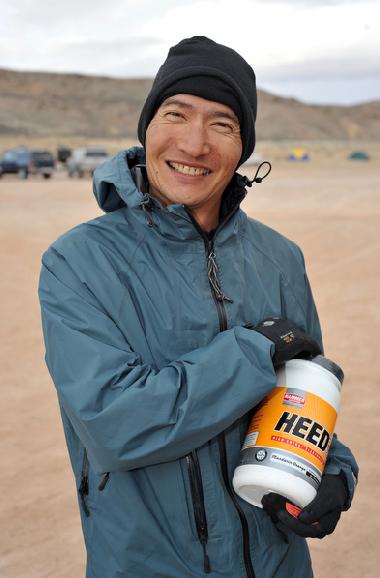 Paul Grimm
About an hour and a half later, the second place 100-mile runner arrived to do his final out-and-back.  I had been more than a full lap ahead of him.   Paul Grimm congratulated me.  He quit after Loop 11, making it a fun 60-mile training run.   I thanked him for keeping me motivated and helping me to push my pace.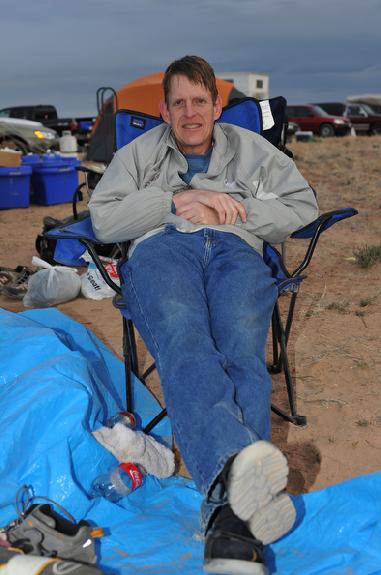 Pleased to be off my feet
I had actually taken the lead during Loop 14.   Jimmy Edward either took a long nap after Loop 14 or really moved slowly during Loop 15.  When I finished Loop 15, I had a 55 minute lead over him.  After Loop 16 I had a 1:04 lead.     When I went out for Loop 17, I was a full lap ahead of the nearest runner.  When I completed Loop 18, I was 2:09 ahead of the new second place runner, Scott Klopfenstein.  All my anxiety about losing the lead was for naught.
100-mile finishers
1. Davy Crockett (23:33), 2. Scott Klopfenstein (25:24), 3. Jimmy Edwards (26:19), Dan Brenden (26:36), 5. Ulli Kamm (29:52).  20 starters.
Kudos to my crew, especially Carl who was there for each of my stops.  Somehow he managed to sleep a little in his sleeping bag next to my chair covered in a tarp while listening to the start/finish music blaring in his ears.  He was a trooper and a great motivator.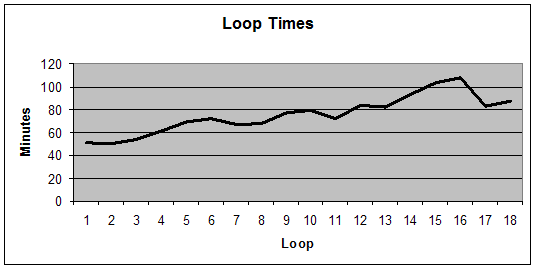 Overall, I had a great experience and will probably be back.  I expect this race will grow in popularity as improvements are made and word spreads.