September 9-10, 2006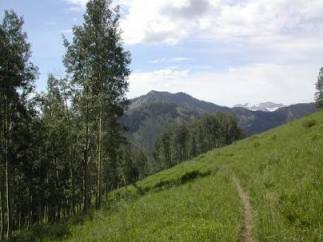 In 2004, at a family gathering, a brother-in-law listened to tales of my recent long-distance hiking exploits.  As we talked, the Wasatch Front 100 race came into the conversation.  Neither of us knew much about it, but we knew it was run on trails "in our back yard," here in Utah.  Somehow I went away determined that I should some day attempt it.   I was naïve and had never heard of ultra marathons before.   It was June and I found the website, disappointed to learn that the race was full.   I discovered other ultra races and soon entered the crazy world of ultrarunning.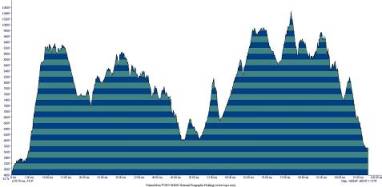 I learned that the Wasatch Front 100 ran on an end-to-end course that started at Kaysville, climbed to the top of the range near Francis Peak, went to Big Mountain above Emigration Canyon, went to Parleys Canyon, Millcreek Canyon, Brighton in Big Cottonwood Canyon, went almost to the top of the Alpine Loop near Timpanogos, and then swung around the range and finally ended at the Homestead in Midway.  The elevation gain is an amazing 26,800 feet.
During the 2004 running of the Wasatch Front 100, I wanted to get a good taste of the event.   During the night, I hiked up to the Rock Spring aid station and ran backward on the course until I found a childhood friend, Todd Holmes, who I had not seen in 25 years.   We had an odd reunion at Pole Line Pass in the middle of the night.  I was thrilled to also meet his pacer, Joe Kulak, the Grand Slam record holder.  (To complete the Grand Slam, the runner must complete 4 key 100-milers, Western States, Vermont, Leadville, and Wasatch).   Todd was running in the 2004 Grand Slam and would place second behind Scott Jurek.  I followed this veteran team back to Rock Spring and then went home thrilled about the experience I had running briefly with some very talented runners.   On the following day, I went to witness the final two hours of finishers.  To me, it was a deeply moving experience watching these exhausted and emotional runners crossing the finish line, greeted by family, friends, and race director John Grobben.  I felt envious.  I wanted to some day experience that feeling of accomplishment myself.
Two weeks later, I made my first 100-mile attempt at the Bear 100, and DNFed (Did not finish) after 87 tough miles.   I concluded that 100-milers were just not possible for me.  But, I stuck with it.  I learned how to run.  I learned how to train.  I'm still learning how to race. 
In 2005, I again found myself at the Wasatch Front 100.  I didn't feel ready to enter the race, but I did sign up to pace veteran Phil Lowry for 60 miles as he finished his 10th WF100.  I had no problem keeping up with him and completed the 60 miles from Big Mountain to the finish.  I had a fantastic experience and knew that in 2006 I would be ready to attempt this tough race myself.
Finally that day arrived – 2006 WF100.   In the early morning I found myself experiencing nervous excitement as I greeted so many new friends who have been so kind to me in the past couple years.    This would be my 23rd ultra in 26 months since that family gathering.   I've entered eight previous 100-mile races and have finished four:  Rocky Raccoon (2005),  The Bear (2005), Bighorn (2006), and Tahoe Rim (2006).  This race could push my batting average over .500.  I had a good string of 100-finishes going.   Bighorn 100 (29:38) in June, and Tahoe Rim 100 (28:04) in July.  I felt confident that I could run well at Wasatch.
I lined up a great crew and pacers.   My friend David Hansen would crew me for the entire race and pace the last 25 miles.   Three other friends would take turns on pacing legs starting at Big Mountain (mile 40).  Two (Mark and Will) were marathoners, eager to get a taste of an ultra marathon.   Brad was a backpacking buddy who had shared many miles of wilderness with me.   I trained them for weeks in the art of crewing and pacing.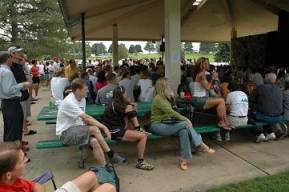 Me (white shirt) at pre-race briefing, day before the race
David Hansen photo
My crew chief, David was with me at the pre-race briefing.   He recalled, "On Friday afternoon before the run a pre-race meeting was held in Sugarhouse Park.  I met Dave at the meeting.  Between two and three hundred people were in the crowd, and I was struck by how similar they all looked; lean, muscular, and tan.  These were all people who had put in lots of miles preparing for this race."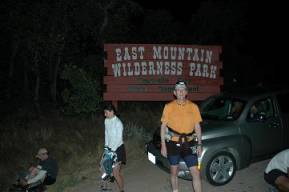 Me, ready to race
David Hansen photo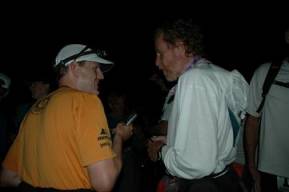 Davy and Matt all grins at the start.   That won't last.
Matt is predicting that Davy will win it all.
David Hansen photo
Finally the race began.  I was really here, running in the Wasatch 100.   223 brave souls departed from the start line at 5:00 a.m.  My crew chief, David Hansen recalled, "Dave had noted that the beginning of an ultra marathon was unusual and he was right.  There was little or no warming up; runners checked in at the official's table and then stood around talking while waiting for the start.  As the 5 a.m. starting time arrived, the starter counted down the last fifteen seconds to begin the race, letting the crowd move across the starting ling and down into a narrow road opening between the scrub oak."
Friends mentioned to me that their strategy was to keep me in their sights.   I laughed, and let them know that that would be a poor strategy.    I wanted to start a little fast in order to reach the first major climb near the front of the pack so passing others wouldn't slow me down.   I first ran behind Darcy Africa, who my friend Todd Holmes would be pacing.  Darcy was the remaining woman in the Grand Slam competition.   I observed that she had a pretty bad cough and speculated silently that she would probably have a tough race.  I watched fast Darcy disappear on the dark trail ahead.  (She did have a rough day, but finished in 28:35).  Soon running buddies Phil Lowry and Dave Hunt caught up with me and made the usual jokes and insults as we ran along the rolling Bonneville Shoreline Trail.  I pushed on ahead of them, knowing that they would both catch me during the first long climb.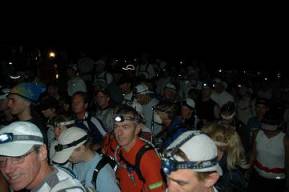 The race is on!
David Hansen photo
There is something exciting about running in the dark at the beginning of a 100-mile race.   You feel strong and alive, but know that at the end you will feel weak and dead.   I gazed up occasionally at the stunning lights of the valley below, but was very careful not to lose my footing on the winding trail.  As the trail winded into a drainage, I could look behind and see dozens of bouncing lights following behind.   Jason Berry caught up and talked for a while.  He's young and fast.  We reached Fernwood Picnic (mile 3.58) at the 36-minute mark and then started the long grueling climb up to Chinscraper Summit, a 4000-foot climb in 6 miles.   I have done many of these climbs in training, so I didn't think it would be that bad.   Jason pushed on ahead fast.  (He DNFed at Upper Big Water).   I backed off and enjoyed my normal climbing pace.   As other runners caught up, I stepped aside and let them pass.   Dave Hunt caught up and wished me well. (He went on to finish in 23:34).  
The weather was pretty warm.   I could feel the chill in the air increase as I climbed, but I never regretted starting in short sleeves.  The dawn finally arrived and we all turned off our lights.  The valley floor rapidly descended from my view as I climbed higher and higher.   Because of western fires, the views were full of haze.  This also caused a wonderful red glow as the sun started to make its appearance.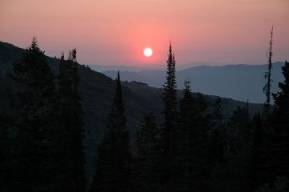 Sunrise over the Wasatch course
David Hansen photo
Phil Lowry caught up and yelled something in Spanish about the Alamo.   I hung with him for a while but again backed off and watched him disappear.  (He went on to finish in 28:22).   I continued the climb.   I soon realized that I made a mistake to only carry two water bottles along this stretch.  I didn't know where the springs were.   As I approached Chinscrapper Summit, I was almost out of water.  I experienced my first face plant about this time and Kim Gimenez stopped to check to see if I was OK.   No problem, I was fine.  (Kim went on to finish in 27:04).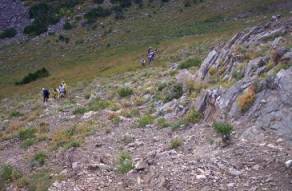 Looking back down from Chinscrapper Summit
Matt Watts photo
As I neared the Summit, I heard rocks falling above, dislodged by runners ahead.  I had to do a careful dodging exercise as the rocks rolled quickly down the steep slope near me.   Finally, using my hands, I scrambled to the top of Chinscrapper Summit (mile 9.6) at the 7:27 a.m.   I dealt with an early problem as I continued to run toward Francis Peak.   Because the trail skirted along slopes, my right foot was usually below my left foot.  After awhile my right hip was pretty painful and started to slow me down.  
I noticed that I was becoming dehydrated, but just in time, I arrived at Grobben Corner and met the smiling face of John who filled my bottles.   Next up was four miles of rocky dirt road toward Francis Peak.   The road turned downhill and I did my best to find energy to run fast.  I just couldn't find the energy, but did keep up a decent pace.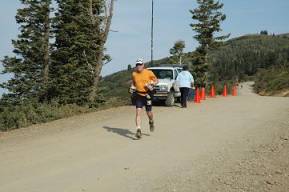 Me, arriving at Francis Peak
David Hansen photo
I arrived at Francis Peak Aid (mile 9.2) at 9:18 a.m.  I was pleased to see my crew there (David) and also a co-worker (Alan) with his young son.   They cheered my arrival and went to work on my.   I needed to make a shoe adjustment that took me too long, frustrating me.   David did a good job for his first job at crewing.  Alan asked me what he could do for me.  I replied, "Wipe the windshield and check under the hood."  Alan cleaned off my sunglasses.   I told David that we should adjust my ETA to arrive at Big Mountain at 2:30 p.m. After a six-minute stop, I bid goodbye and started my run again.  David ran with me out of the station and yelled something about "There goes Davy Crockett."   Cheers came from all the crews.  
David wrote about this stop: "It was exciting to see the first runners come in.  By now a large number of people had gathered at the aid station, so every runner was cheered and congratulated.  About an hour after the leader had gone through, I spotted Dave.  He was still in the front part of the pack, but he was about a half hour off his target split time.  I snapped some quick pictures as he came in and then led him over to where I had stashed his crew bag.  He was frustrated about being behind his split time, and it was now evident that I wasn't as prepared to receive him as I could have been.  This stop took longer than it should have and Dave was frustrated.  He checked out of the aid station and continued down the trail.  I left and headed off for my next aid station, vowing to do a better job of crewing at the next stop.  I had learned that it was one thing to read the instructions on being a crew member and another thing entirely to actually be a good crew."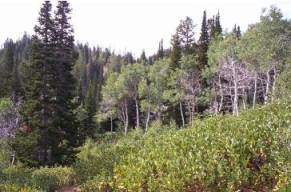 Matt Watts photo
I don't remember much about the next stretch except that it had beautiful views.  At one point intestinal pain finally made me make a pit stop in the bushes for ten minutes.   As I came back on the trail, I was delighted to join in stride with friends Tom Jackson and Lyle Nay.   I introduced them to each other and we ran together over several forested drainages until we reached a significant climb.   Since I had just had a ten-minute rest, I had plenty of energy.   Tom and Lyle fell behind and Lyle mentioned that he wasn't doing very well on the uphills.  I felt great, so I pushed on far ahead and passed several runners on the climb.   I arrived at Bountiful B (mile 24) at 10:52.  My delays had put me 30 minutes behind my aggressive goal, but I didn't let it bother me.   My stop was quick, two minutes.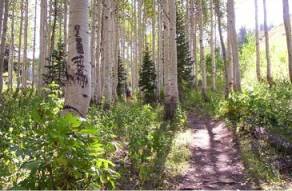 Trail through the aspens
Matt Watts photo
The views during the next section were fantastic.  We ran through wide meadows and on top of high ridges.   We could see for miles in all directions.   As I ran through some thick brush, my headphone cord on my MP3 caught on a branch that would not let it go.  My cord snapped.   No more tunes for me until I get some new headphones at Big Mountain.  I did experience another problem.  About six weeks ago I had strained some rib cage muscles pretty bad.  I now noticed that my rapid breathing was causing the pain to return.  I slowed down somewhat and concentrated on taking deeper, less rapid breaths in order to relieve the pressure on my ribs.  It worked.  Within an hour I no longer noticed the pain.  I arrived at Session Lift Off (mile 28.2) at 11:47 a.m and again made a quick two-minute stop.
The next leg was pretty uneventful.  The day was getting warm and I just tried to keep the pace going.   For about an hour I was leading a very large group of runners.   I pushed ahead to gain a lead and at times when the trail curved around a drainage, I could see the large group far behind still chasing me on exposed ridges.   As we neared the next aid station, the group caught up.  It included friend Tom Jackson.   I was pleased to see him and enjoyed running with him into Swallow Rocks (mile 34.9) at 1:41.   We overwhelmed the aid station with so many runners, but were soon on our way.
Tom pushed on ahead and I did my best to keep him in sight. (Tom went on to finish in 29:09).   I could see Emigration Canyon and knew that Big Mountain wasn't too far away.   The excitement grew as Big Mountain came into view from high up on the ridge.  I really looked forward to greeting my crew and running with a pacer.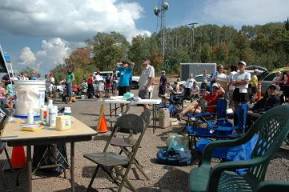 Fans anxiously waiting for me at Big Mountain
David Hansen photo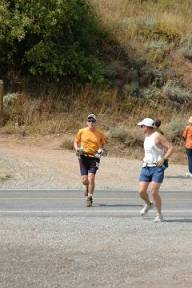 Me, arriving at Big Mountain.  Mark is ready to roll
David Hansen photo
As I descended, I could hear cheers and cowbells ringing as other runners arrived.   Soon it was my turn, the cheers were for me.   My first pacer Mark greeted me at the trail and ran with me at the weigh-in.  I arrived at Big Mountain (mile 39.4) at 2:45 p.m., (9:45 elapsed time).   It was slower than planned, but still a good pace for a sub-30-hour finish.
My crew went to work on me.   David retrieved a new set of headphones for me out of the car.   Mark and Brad ran here and there bringing me things.   My salty sweat was really stinging my eyes, so I spent time washing my face well.   Finally I was ready to go after a nine-minute stop.
David wrote about this stop:  "The station workers were all dressed as pirates, and every time a runner came in they rang cow bells, blew horns, and yelled.  Lots of families and supporters were also at the site, making for a very festive setting.  I told Mark what I had learned about crewing and suggested how we could arrange things so this would be a better stop for Crockett.  Mark met Dave as he came into the station, helped him off with his gear so he could be weighed, and then brought him over to the chair we had commandeered.  I had all of Dave's gear laid out around the chair, and as soon as he sat down we started getting him food and going through the aid station checklist.  After about five minutes Dave was up and ready to go.  Everyone was in good spirits.  It had been a good stop.  Mark was excited to start his pacing leg, Dave was feeling good about his running, and I was relieved that I had gotten my act together."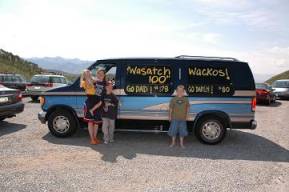 A typical pit crew at Big Mountain.  Wackos!
David Hansen photo
Mark would be my first pacer.   We were both excited and had some good conversation.   This leg started off well.   I wanted to show Mark some good trail running so I pushed it pretty hard on the first downhill.   We had a blast cruising by some runners and bouncing all over the trail.  But things started to unravel a little as I experienced a low.  I tossed my cookies and started to slow the pace.
Mark recalled:  You kept muttering to yourself, 'slow, so slow,' and 'lazy, I'm getting lazy.' It was a bad, long low. Some of the sharp descents were hurting you; the trails were eroded into a v-shape that forced the feet to overpronate, and the grades were quad-trashingly severe. You said, 'I'm feeling achy and lousy.'   We had great views to the west, clear to the Salt Lake Valley and could see a nasty storm off in the distance.  While I welcomed the thought of some cool rain, that storm looked pretty nasty.   But as we continued on, it looked like we would miss it.   As we were descending toward the Alexander Ridge Aid Station, Lyle Nay caught up and passed me.   He was looking good.   I couldn't keep up.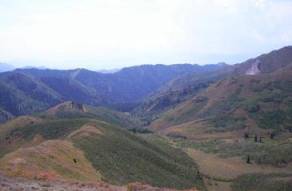 Matt Watts photo
I reached Alexander Ridge (mile 47.4) at 5:05 p.m.   I had been at this for 12 hours.  The volunteers there mentioned that the storm was so bad in Utah County that they had to suspend the BYU-Tulsa football game.   We only stayed at this aid station for three minutes.  I popped some Advil and got well hydrated.  When I saw Lyle leave, I quickly jumped up too.   It took awhile for me to make a full recovery from my low-energy spell.   We winded our way up the power line and gas line grassy trail.   I was so happy that this year it was overcast at this point because it can really be hot during this stretch.   Mark recalled, "After a while the meds seemed to kick in, and you picked it up on the final climbs before we dropped into Lambs. I said 'You must be feeling better' and you sounded like a new man: 'Yep! That was a long down. But that's ultras. Ups and downs. That was just a long down.'"
Once we got to the top of the hill I felt super again.  I knew that the next two-mile stretch down would be very runnable.  I had a sneaky smile on my face, waited for Mark to catch up and said, "Are you ready?  Here we go."    I then really cranked it into gear.  We blasted down the hill at great speed, never letting up until we reached Lambs.   It was great fun!  We cruised passed many runners.  Mark and I would just shout, "Coming through, coming through."  Shocked runners would step aside as we sprinted by.   I was laughing as we arrived into Lambs.   Mark came in after me.   I was glad that I gave him a good workout for part of the leg.   We arrived at Lambs Canyon (mile 53.1) at 6:25 p.m.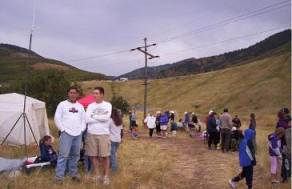 Lambs Canyon aid station
Matt Watts photo
Brad recalled:  "When you came into the Lambs Canyon aid station, I was impressed by how strong you looked.  You definitely did not look like a guy who had already run 53 miles, except that your legs were caked with dust."   I decided to make a left shoe change at that point.   I was having some hot spot problems.  After my shoe was off, when I touched my little toe, I let out a scream.  My shoe had been crushing it pretty bad.   My crew was concerned but I let them know that within fifteen minutes it would go numb.  This was all part of the game.   My stop was long – 23 minutes.
My next pacer was Will, also a marathoner.   Will's observations of this station were:  "I was also impressed by the aid station and how much different it was from a marathon's aid station. Lamb's Canyon had soup, grilled cheese sandwiches, candy, Vaseline, soda, water, Gatorade, trail mix… nothing like a marathon's aid station with just kids handing out water and Gatorade. The people at the station were very solicitous. I guess by seeing or imagining the pain each runner was dealing with made them provide much better service."
The next leg started on paved road for a mile or so up the canyon.   I limped out the station and walked slowly for a while until the pain started to go away.   I just took it easy on the paved road until we got to the trail that led up to the pass.  I decided to get down to business and push hard up to the pass.   I probably surprised Will as I kicked it into gear.   He would mention each time when some runner came into view.  We passed at least a dozen runners on the uphill, making good time.  
Will wrote, "Once we got to the trail, Dave seemed to gather strength and even commented to me that he figured his trips up and down Timponogos would benefit him. We passed quite a few runners as the sun went down. I wasn't really sure how chatty I should be; I usually don't have much to say unless I am talking about something I know really well (and trail running is not one of those topics). I was impressed by the greenness of the trail and the changing colors of the leaves. It made me want to go jogging in the area."
As we descended along the switchbacks into Millcreek Canyon, dusk had arrived and we had to turn on our lights.  I only had a small headlamp, so the going was a little challenging and frustrating.  Will attended to pacing duties.  He recalled, "I checked off and on with Dave on whether he was drinking enough, how his stomach felt, and how his feet were doing. He said his shoe on his bad foot was now rubbing his big toe rather than his little toe and that he was thinking of switching shoes again. He really didn't care if he was running in one green shoe and one purple shoe – style was a non-factor: comfort was all that mattered."
We finally reached Elbow Fork and hit the 3-mile paved road.   I wanted to get through this section fast so pushed a brisk powerwalk and occasional jog.  There was plenty of car traffic on the road, but most of them were very careful and even turned off their headlights as they approached us.   I started to run out of gas near the end and in hindsight should have been eating and drinking while going up the road – a grave mistake.   We arrived at Big Water (mile 61.7) at  9:28 p.m.   I still felt great.  It was good to see my friends again.   They parked me right by a heater.  Very nice!
I put on my night clothes including my coonskin hat and gloves.   My jacket had been soaked in my drop bag from a rainstorm, but we quickly dried it out next to the heater.   My next pacer was Brad.   I started off slow as we climbed up the Big Water trail.  We heard a car alarm go off and we laughed, knowing that David had set off the alarm in Brad's car.   It finally stopped.
I soon noticed that something was terribly wrong.   I felt that "bonky" feeling in the pit of my stomach and was very low in energy.   I tried to eat more, but couldn't shake the feeling.  It is the same feeling I experienced when I DNFed at three other 100-milers.   Brad recalled, "Several people passed us during the first couple of miles out of Big Water.  I could tell it was bothering you because you're used to passing others after dark.  I figured the best way I could help on this long uphill stretch was to try to distract you from thinking about the climb and your stomach.  So I talked a lot…. About 2 miles out of Big Water you said you had to stop and rest for a couple of minutes.  You lay down at the side of the trail for about a minute.  Then you got up and almost barfed.  It was at this time that I really realized how bad your stomach was doing…. When we got to Dog Lake you lay down on the ground on the north side of the lake and rested for several minutes.  I counted the minutes out loud hoping to find the right balance between annoying and motivating."
After Dog Lake, the trail descended.  I tried harder to start running again.  Brad observed:  "When we started down the hill on the southeast side of Dog Lake, you started to pick up speed and reached a steady jogging pace for the first time since I'd been with you.  There had been a lot of water erosion on the trail and it was a pointy V shape, which made footing tricky.  I was impressed that as tired as you were and obviously not feeling well, you were still very sure-footed through this section.  I never saw you stumble here even though I stumbled several times.  I could see the wisdom of your green light, held down in your hands instead of up on your head.  It made roots and rocks easier to spot because they cast
better shadows than they did from my white headlight."
I managed to keep pace with other runners as we made the climb to Desolation Lake.   I felt pretty miserable.  Brad continues, "We finally saw the fire burning at the Desolation Lake aid station.  I ran ahead to start getting things ready for you.  The volunteers were surprised to see someone running; apparently no one had run into their station for hours.  They were less impressed when I told them I'd only been going 5 miles.  You sat down by the fire and ate and drank a little while having your shoulders and calves massaged.  I was impressed by this aid station.  They'd had to pack everything in by horse or on foot, but they had a good selection of food and drinks.  The volunteers were all cheerful and energetic even though it was around midnight.  They had a nice fire burning.  I ate a ton of Nilla Wafers, which seemed perfect at midnight in the mountains, but you didn't want any of them.  I tried to get you to eat more, but your stomach just wasn't ready to take much."  We were at Desolation Lake (mile 66.9) at 12:11 a.m.
I finally pushed myself out of the chair and said it was time to go.  My pace was still pretty pathetic, about 2.5 mph as we climbed out up the Desolation Trail.   I soon heard a cheerful voice.  Matt Watts had finally caught up to me!   He usually catches up between miles 75-90.   In past 100's he greets me with "We can still make 30 hours."   This time he said, "We no longer can make 30 hours."   I told him that I knew that and explained my stomach issue.   Right after he left, I lost my cookies again.   I finally understood that my stomach was not working.   I just couldn't figure out how to jump-start it.
Brad added, "As we came out of the Desolation Lake aid station, the clouds finally started to break up.  The full moon came out full strength and really lit up the valley.  As we started to climb up the south end of the valley we got a good view of Desolation Lake, which was nicely lit by the moon."  Brad was having fun taking in the sights while I was feeding the bushes. Brad continues, "Other than the sound of your vomiting it was incredibly still and quiet up there.  There was no wind at all, not even a breeze, no sounds of cars or anything else, just quiet.  I guess I was getting tired because I kept tripping over little rocks, but you didn't seem to trip over anything….You kept trying to pick up the pace to a jog, but each time you would only go a couple of hundred yards before slowing down again.  I was surprised you could even do that much after all the energy you must have lost throwing up.  Many of the people who passed us called you by name, apparently recognizing your coonskin hat."
I felt so bad that we were going so slow.  Finally we arrived at Scotts Tower (mile 70.8) at 2:15 a.m.   Brad filled me up with some soup and salty prezels and chips.   Jim Skaggs soon arrived and also Charlie Vincent.   How I wished I could come back to life.   As we descended the road toward Brighton, I shifted strategy.  I knew that I was no longer racing.  My strategy needed to shift to finding a way to finish the race.   I refused to consider a DNF.   I was still way ahead of cutoffs, so I decided that I would try to rest for an hour at Brighton in an attempt to get my stomach working again.
Brad observed, "You kept a slow jogging pace going for longer stretches during the first part of this descent.  We passed 2 or 3 other runners on the way down.  But we slowed down when we reached the paved Guardsman Pass road.  The asphalt was hard on my feet, and I could only imagine how yours felt after having gone more than 70 miles.  You said something about all the switchbacks on this road going on forever.  I'd never been on this road before, but I looked at the map on my GPS and could see you were right.  I ran out of things to talk about and we walked along in silence for long stretches."  Poor Brad had been at it with me all night for six hours on this slow leg.
Meanwhile, David was waiting at Brighton for us to arrive.  He recalled, "Around 3:30 a.m. I went back up to the lodge and waited.  More runners were beginning to come in, some in relatively good shape and others looking pretty worn.  I remember one runner having pretty major work done on one of his toes – all that blood couldn't have been a good sign.  While I waited outside another runner came up, went inside, checked in, was weighed, and then came back outside and sat down.  Looking at me he commented that he would never stay in the lodge; "It's a death trap in there.  You go in, sit down, and after a half hour in the warmth you start wondering why you should leave.  I'm not going in there!"  As this runner rested outside the door to the lodge, a couple of aid station workers came out bringing him food and working with him to make sure he had what he needed.  This was just one example of the exceptional work the aid station workers did to help runners.  I was continually impressed at how they actively went around talking to runners and worked to help them in whatever way they needed so the runners could keep going.  Without exception the aid station workers were an helpful and positive group.  What a great example of support."
Finally, we arrived at Brighton (mile 75.6) at 3:55 a.m.   I asked David to look for a cot, but no such luck.  I asked him to check the grill, hoping they were grilling greasy burgers.  No such luck.  (Gee, that craving should have clued me in…more later).  I felt wasted.   David agreed, he observed, "At around 4 a.m. Brad and Dave trudged up and into the lodge.  Dave was a mess.  He looked like a walking corpse, and was easily one of the most beaten up runners at the station.  He didn't want to eat and simply lay down along the wall and tried to rest and let his stomach settle."
Many running friends greeted me and gave me encouraging words.  One concerned lady looked at me and offered me a barf bag.  I think she was afraid I would make a mess of the carpet.  I sat at the table and nibbled on a turkey sandwich and sipped ginger ale.   I tried to lie down for a while but the floor was hard against my sore hips.   I couldn't get comfortable.  Sleep never came.   An hour went by and I still felt terrible.   I knew that I couldn't face the climb up Catherine's Pass just yet.   I didn't give up.   After fifteen more minutes, I started to perk up and my friends told me I looked better.   I told Brad to go home.  David and I would be heading out soon.  At 5:30 a.m. we gathered our things and went back out into the cold morning.
I was still in the same condition.   I had popped too many Tums already.  The label says not to take more than seven in 24 hours.  What happens when you take 15?  We pushed on up the steep climb out of Little Cottonwood Canyon.    After a half mile, I had to stop and let a host of runners go by including friend Brent.   My pacer, David, was doing an excellent job pacing.  He was encouraging, and would prod me along appropriately. 
David was enjoying finally being out on the trail.  He wrote,  "I haven't done much nighttime hiking, so this was an interesting experience for me.  We had a bright moon but it was still dark under the trees.  It was fun to watch for the glow sticks and also use our lights to pick out the trail.  Other runners were also headed out, and a few of them passed us as we moved up the mountain.  Dave was moving at a slow but steady pace.  He was drowsy during this time and was weaving a bit on the trail.  As we got closer to the ridgeline the sky began to lighten and we were soon able to turn off our lights.  It was a beautiful hike – I felt bad that Dave didn't feel better to enjoy it."
My second dawn arrived as we reached the basin below the pass.  The views were stunning.  Last year I was at this section in the dark.   As we pushed on up to the pass, my friend Tony, pacing a runner, caught up and was very encouraging.  He gave me high fives and told me he knew I could do it.   That raised my spirits.   Finally we reached top of the course, Point Supreme.   David recalled, "It was exciting to reach the ridgeline, even if it turned out to lead to still higher crossings.  We really were walking at the top of the world.  We were not being passed very often at this point – in fact, for the rest of the race we would move back and forth in order with a small group of other runners and pacers who were also moving at our pace."
At this point I was at a crossroad.  If I continued on, I really had no rational choice but to go all the way to the finish.  It didn't take me long to decide, I plunged down the other side to press on toward the finish.  We caught up with Tony and I wanted to try pounding down the hill.   I did pretty well and left Tony has his runner far behind.  I still was frustrated with my low energy and upset stomach.   I mentioned to David that I had experienced a similar but milder problem at Bighorn 100.   I was surprised that eating bacon solved the problem.   David mentioned that he had some beef jerky.   He offered it to me, but I declined.  He offered again, just a small piece.  I ate it.   Something amazing happened.   I craved it.  As it arrived in my stomach, I could quickly feel an immediate improvement.   He gave me a larger piece to eat.   It worked.  Why?   We concluded that I was rejecting carbohydrates, but not protein.   Within minutes I could feel my strength improve dramatically.
For the first time in over ten hours, I felt much better.   I kicked it into high gear and raced fast down the mountain leaving David behind.   I soon arrived at Ant Knolls (mile 80.2) at 7:40 a.m.   I was thrilled.   The runners at the station were surprised to see me recovered, full of energy.   I asked for some sausage and it went down well.   David and I discussed the possibility that I would fully recover and start racing again to the finish.  I took his supply of beef jerky and he assured me that it wouldn't be a problem if I raced ahead of him.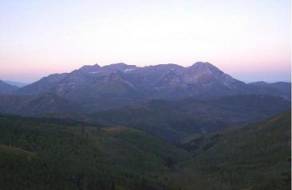 Timpanogos
Matt Watts photo
I left the station in high spirits and attacked the uphill toward Pole Line Pass.    Things went well, but I pushed it too hard and by the time I reached the top I was low in energy again.   It was becoming warmer so I shed my night clothes.   I backed off the pace, realizing that I wouldn't be able to race to the finish.  My system just hadn't fully recovered yet.   Views of my favorite mountain, Timpanogos came into view.   I had never been on this section during the day and we both were very impressed with the view.  I settled in for a nice enjoyable morning hike/run.
David wrote, "I have to note two things about this last 25 miles.  First, the trail always seemed to be going up.  Every time we crossed a ridgeline it was only to encounter yet another, higher path.  I began to think of myself as being trapped in an MC Escher painting on a never-ending stairway up.  Second, each of the miles I walked seemed to be three times longer than the miles I jogged at home.  The trail would just go on and on (and up and up) between aid stations.  The only compensation (and it was great compensation) was the view; it was simply amazing.  The trail took us around the far southeastern rim of Mineral Basin and we were able to look over at the Snowbird tram and the multiple lifts in the basin.  Then as we crossed over another ridge we were directly across from Timpanogos.  What an amazing vista!"
We arrived at Pole Line Pass (mile 83.4) at 9:04 a.m.   At this station, I was able to drink an Ensure and down a pancake.  It was so good to finally eat again!   As we left this station, we hit a very sandy section.  I was very alarmed to feel the sand go right through my shoe mesh and through my socks.  The sand was so fine, that it made its way clear to my toes.   I knew this would be very bad.  The grit would make havoc with my feet.   After some time, I finally had us stop to clean out my shoes and socks.  Sure enough, it was a big problem.   I did my best to wash my feet and clean out the fine dust.   We wasted over ten minutes on this task.   We would hit more sandy sections but I tried to be more careful to avoid deep sections.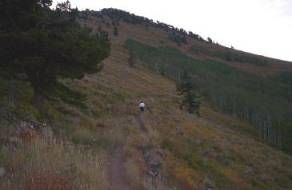 Trail near Rock Spring
Matt Watts photo
The climb to Rock Spring seemed to go on forever, but I had better energy and was able to push the pace better.  No one passed us.   One pacer behind us had a very loud voice that would almost echo against the valleys.  It seemed like she would talk about real estate forever with her runner.   She motivated me to push harder to get a lead on them so I didn't have to listen to cabin investment talk.  We finally arrived at Rock Spring (mile 87.4) at 10:50 a.m.  I had hoped to be at the finish line by this time.   Not today.   The volunteers at Rock Springs were keeping track of the runners coming their way and commented that everyone was slowing down, arriving later than predicted.
We enjoyed our hike along the CCC terrace, (ditches dug over 70 years ago across the mountain).  We marveled at the effort it took to dig all those ditches.  Next up, I introduced David to "the dive."   David said that the mountains were taking revenge on him for complaining about the steep climbs.  The dive is an incredible steep trail.  We were able to quickly descend and again passed Tony, this time for the last time.
The next five miles were torture for me.   I knew what was coming – endless ups and downs through drainages and the very cruel decent through "the plunge."   David was relentless.   He coached my every step for miles — telling me to pick it up, complementing me when my pace was good, telling me that he knew I could do it.  We talked about the "sweet belt buckle" I would get at the awards ceremony.  I trotted, ran, and sometimes almost crawled.  My feet were aching in pain.   I had been at it for almost 32 hours, my longest 100-miler.   The sand was grinding my feet and toes.  My knee was starting to hurt.   On the bright side, my stomach felt just fine.  A rain storm moved in.  It didn't last long, but it was enough to get my shirt wet and beat down the dusty trail for a little while.
At one point, I just had to stop.   I sat down on a log and didn't move.   Several runners passed us.  David chewed me out for stopping and did everything he could think of to get me going.  I said, "I can't do this any more.  It hurts too much."  David wouldn't let up and reminded me that I had instructed him to be firm.   So I slowly got back to my feet and again pushed forward.  
From David's point of view, "Finally the drainages started to get smaller, but about this time Dave really hit a low spot.  He sat down by the side of the trail and was looking really wasted.  As I looked at him I had an epiphany; Dave had written to us in his instructions that something like this might happen and if it did, that we needed to be firm with him and keep him moving.  I also knew that time was becoming a factor.  If we didn't keep a steady pace we would be in danger of not completing.  The last thing I wanted to happen was for Dave to DNF on my watch because I wasn't willing to push him.  So, taking a deep breath, I told Dave it was time to get going.  When he responded that he hurt, I told him tough; suck it up, and get going.  I wish I had a picture of the look he gave me.  I'm certainly glad I don't have a recording of the things I said during the next two to three hours.  Earlier I had been pretty quiet; now I talked constantly, threatening, cajoling, ordering, and basically being a royal pain.  I don't think I actually swore at Dave during this segment, but I was quite sure that if we ever actually finished the race Dave would never talk to me again."
We finally reached Pot Bottom (mile 93.1) at 1:14 p.m.   David took control.  He fed and watered me until I was full.   He said we were in great shape, had plenty of time and that we could cover the last 6.9 miles in under two hours.   I groaned at the thought of 7 more miles.  David would tell me over and over again that I ran that distance as a warm-up, no problem. 
As we got going again, I felt energized.  We were now on an exposed dirt road climbing a hill called "the grump."   I was able to pick up the pace and pass a group of runners.   David sprayed me down with water.   Before we reached the top, I ran out of energy again but pulled myself up to the top.   I knew the next section would be the long downhill on Long Canyon ATV road.   I was sick of this.  I told myself, "OK, let's just get this over."    I kicked it into high gear and for the next couple miles flew down the trail very fast.   I passed runner after runner, including surprised friend Jim Skaggs, who had been suffering from asthma problems.   I had not seen many of these runners since Brighton.  After awhile of running recklessly down the trail, I heard someone behind me.  Who in the world could be keeping up with me at this pace?   I looked behind me and it was my faithful pacer David, who I thought I had left in the dust a couple miles ago.  I was very impressed.
David wrote, "I took off trying to catch up but his jog was turning into a run.  I stayed on his tail for a long ways down a steep and rocky jeep trail.  As I bounced past another runner and his pacer the runner called out to me to be careful and not twist an ankle.  I remember thinking that Dave was the one who needed to hear that advice – if he would slow down then I could slow down!"
I didn't let the route fool me.  I knew we would have to climb again and swing to the west one last time.   The run through the grove of maples was wonderful, some stunning colors, but I was anxious to finish.   David called my wife to let her know that I would soon be arriving at the finish.  Jim Skaggs caught up and told me to get it into gear.   OK, I thought…here we go.  As the golf course came into view, I put it into the highest gear I could, ignored all the pain and ran fast out of the trails, onto the paved road – the home stretch.   I didn't let up.  I sprinted as fast as I could along the paved road and received many waves and thumbs up from passing cars.  As I passed one walking runner who I had not seen since Brighton, he called out to me, "Hey, you are making me look bad.  Walk like the rest of us!"   I laughed and continued to run very fast along the road.  I looked back and laughed again.  My faithful pacer was doing his best to keep up, with his heavy pack bouncing on his back. 
David recalled, "Dave had really found his second (or fourth or fifth) wind and was now at a full run, cruising past other runners who were walking in.  I managed to stay within about a 100 feet of him up to the Homestead.  Wow!  He had finished – and not only within the allotted race time, but with a strong finish!  I was relieved that I hadn't let him down or held him back, and I was proud that I had just completed my own first; a twenty-five miler."
Soon the Homestead came into view and at the turnoff, I saw my young son Connor waiting for me at the road.  I ran up to him, grabbed his arm and told him to run with me to the finish.   He couldn't keep up.  I kicked it into an all-out sprint to the laughs and cheers of the crowd.   I flew over the finish line and saw John Grobben laughing.   I went and shook his hand and then ran to my family and parked myself in a chair.   I finished the Wasatch Front 100!  My time was 34:15.   I came in 114th place.  
Friends flocked around me, congratulated me and asked me what happened.   My tale was that I was saved by a piece of beef jerky.  I vowed that I would never run Wasatch again.   My friends said, "yeah right."
It had been a very tough race for me.   I was bound to have a rough day sooner or later.   I know that it is just part of the crazy sport.   David, my faithful pacer, who really earned my belt buckle, bid me goodbye and quickly made his way for home.   I showered and then enjoyed sitting by the finish line and watching the rest of the runners arrive.   At the awards ceremony, Irv Nielson presented my plaque and belt buckle to me.   He gave me a hug, and said privately to me, "I know you had a very tough time out there.  Way to hang in there and finish."   I really appreciated those kind words.
This had been my most difficult 100-mile experience to date.   I learned a lot about myself during those long 34 hours.   I was disappointed to not finish with many of my friends who posted good times, but I reminded myself that any finish of Wasatch Front 100 is a victory!
I need to thank my great crew and pacers.  They performed a great service.  None of them had ever been to an ultra before, but they caught on fast and were professionals.  I also have to thank dozens of running friends who made the entire experience unforgettable.  Thanks for all your kind words throughout the day and night and day.