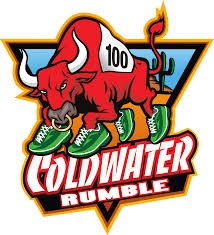 I ran Coldwater Rumble 100 in Goodyear Arizona, near Phoenix.  This is one of the many events put on by Aravaipa Running, the same group that puts on Across the Years, Javalina Jundred (100), and others.  They always do a great job on their races.
Coldwater Rumble provides races of various lengths: 4 miles, 20K, 20 miles, 52K, 52 miles, and 100 miles.  They all start on the same day with staggered start times.  About 400 runners would be on the course that is laid out on various desert trails in Estrella Mountain Regional Park.  You could clearly tell which race a runner was in by the color and number on their race bib.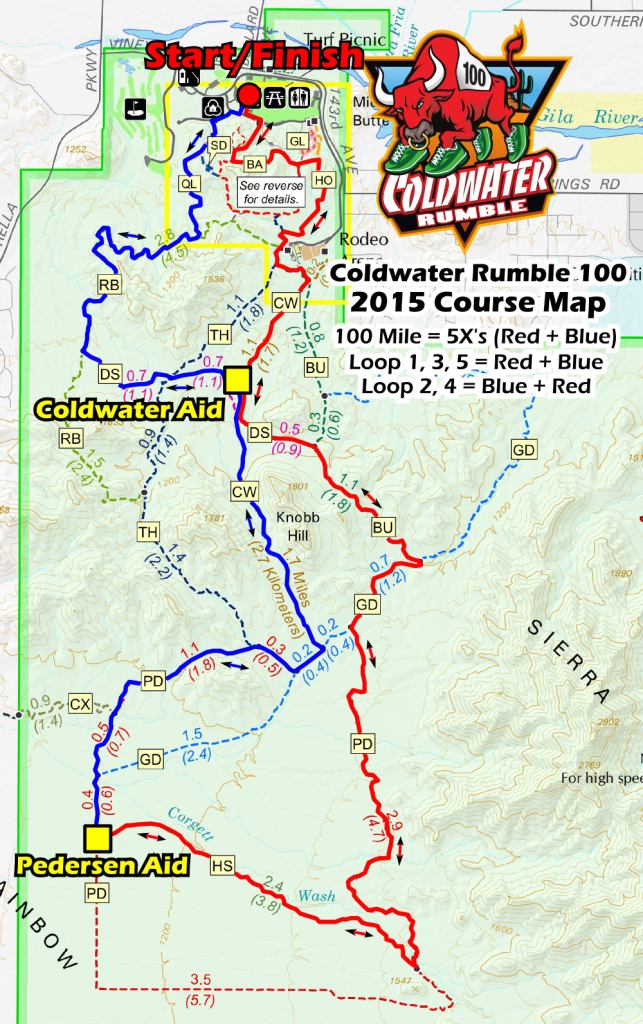 The 100-mile course was in a huge 20-mile figure eight with an aid station in the middle and another one on the bigger loop.  The course was run clockwise on the first loop and then alternating directions from then on.  To reach 100 miles, you needed to run the course five times.
The 100-mile race started first at 7:00 a.m., perfect early timing so you didn't need a light. We had 72 runners in our race.  I had no grand designs to place high, just hoped to finish in the top-20 and to indeed finish.  For last year's race season, I didn't finish (DNF) two 100s because of some mental weakness and I didn't want that to happen again. I liked the 20-mile loop format which is the same as Rocky Raccoon 100 held in Texas, a race that I have finished five times. I knew what my typical loop times are for that race and I hoped for similar times. If so, I thought I could finish around in around 22 hours.

I had mistakenly thought that the race difficulty would be similar to Javalina Jundred but quickly corrected myself within the first mile.  We climbed into the foothills of the Sierra Estrella Mountain range. "Wow," I thought to myself, "this is no Javalina or Rocky."   I held my pace back so my problem leg could warm up.  Lately if it warmed up, after five miles it seemed to behave.  As the sun started to rise, the desert views looked spectacular. The course came close to some modern structures but eventually entered a wide valley filled with cactus and desert trees.
We climbed up and over a low pass and my legs enjoyed running up the trail.  I reached the 10K distance at one hour-mark.  I then decided to start pushing the pace as the trail rolled across small washes across the wide valley.  I passed several runners and soon was running in the top ten.  A guy soon came up and followed closely behind.  I offered to let him pass but he said that he liked my pace and would just follow.  I warned him that I like to speed up and slow down.  When I would speed up my pace, I would leave him behind and later he would catch up when I slowed.  He followed for about five miles as we passed more runners, perhaps into the top five. There were only a few foot prints ahead of me on the trail. The sun started to peek over the low mountains around us, shining on the desert and warming things up. I had chuckled at the start seeing all the Arizona runners all bundled up for the 38-degree start, hearing comments about how cold it was.  But now with the sun, it started to warm up fast.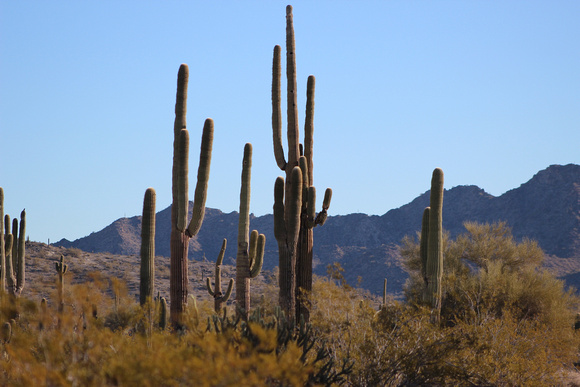 At the far south end of the course, the trail crossed a deep wash and on the other side joined up with a nice, fast, wagon road that gradually descended away from the mountains.  I pushed the pace below 8-minute-mile pace opening a gap on the runner following behind.  But eventually we came up a long sandy stretch that slowed me down.  I lacked the practice with sand running and my friend passed and went ahead.  I reached Pedersen Aid Station at 11.7 at 1:51, likely in about 7th place.
But now my pace struggled. Two runners who I had been keeping up with, disappeared up the trail. One was the eventual women's winner. The warmer temperature was already starting to get to me.  Up to that time I had kept all my mile spilts below 10:00 but now they crept over 11:00.  Other runners passed me including some 52-mile lead runners who started 30 minutes after me.  The final three miles of the loop were rather mentally cruel.  It looked like you were almost back to the start but the trail would again climb and turn away.   But finally it returned and my GPS told me that I had run 20.5 miles.  So the loop was likely a little long and this would actually be more than 102 miles.  I finished the first loop in 3:37 in 17th place.  My time for this 20-mile loop was about 30 minutes slower than my usually time for the first loop of Rocky Raccoon 100.  This was not an easy course.  I would later note that 7 out of those 16 runners ahead of me wouldn't finish the race.  They kept running fast but likely eventually crashed because of the heat.
My stop was quick as I grabbed some things from my bag and refilled my bottles.  For the next loop, we would run the loop in the opposite direction.  I didn't look forward to this direction because I knew we would have to run up a long sandy stretch.  Immediately the warmer temperature started to affect my pace.  My problem hamstring, injured two years ago while running a 5K started to cramp up.  My pace slowed to more than 13-minute miles.  If I pushed the pace harder, the leg pain would increase.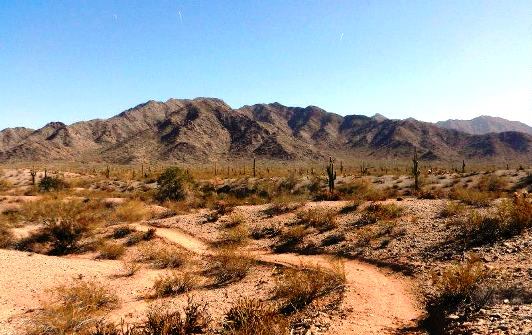 After about four miles into the 20-mile loop, starts the bottom loop of the figure eight, a sub-loop of 12.5 miles that we were to also run in the opposite direction this time.  But I soon noticed that nearly half of the runners ran this loop in the same direction as they did the first time.  I understood why, because the intersection was poorly marked, but it still bugged me because the clockwise direction was much easier.  I was running it correctly.  I made some comments to runners that they were going in the wrong direction.  It continued to get warmer about 75 degrees with no clouds, but at least there was a breeze.  At times it would gust hard.  I reached the marathon mark at 4:55 and the 50K mark at 6:07. The sand road climb was really tough because we were pushing into a head wind too and facing the sun. My pace slowed to 17:00.  The runners going in the wrong direction would not face that challenge.
As my pace slowed, I re-evaluated my goals for this race.  A 22-hour finished wouldn't be possible for me, but a sub-24 could be reached.  I shifted my expectations to simply finish and not be stopped by some mental weakness this time.  My hamstring eventually settled down and I settled into a manageable pace during the warm afternoon.  As I was finishing up the second loop I stopped for a 7-minute bathroom break.  I would have to stop another five times in the hours ahead.   I finished up the loop, this time running it in a slow 4:50, including stops along the way.  I had fallen to 23rd place. That second loop had been tough on me. This time my stop at the start was long as I did some feet fixing to avoid getting blisters.
As I began Loop 3, I started to feel much better.  My pace improved.  The late afternoon temperature started to decrease.  But then I made a major blunder. I had put my headlamp at the aid station that we visit twice during the loop, but I had forgotten to pick it up.  In my mind this sub-loop was 8 miles long, so I should be fine and reach it before dark, but it was actually 12.5 miles.  There was no way I could make it back before dark.  As the sun set, the glow and shadows were amazing.  One section runs through an amazing cholla cactus "forest" and it struck me how very peaceful it was.  At this point the runners were so spread out that no one was near me.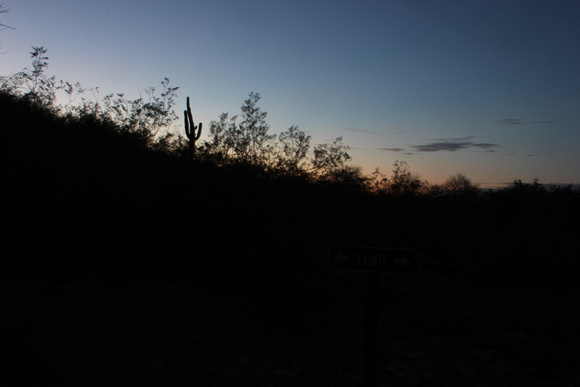 I reached the 50-mile point at about the 11:15 mark.   I realized that running a sub-24-hour 100 was now impossible for me.  I hit that fast wagon road and could still run it well even in the darkness, just using a glow of the sunset to see.  Up ahead I could see another runner.  I knew I better catch up because eventually I would need to use his light.  It was Chris Lopez from nearby Avondale, Arizona.  I passed him and reached the next aid station.  I was shocked to learn that this was not the aid station where I had my headlamp.  That was still four miles ahead.  No one at this aid station had a light that they would let me use, so I needed to run with Chris.  His stomach was bothering him so we walked nearly the entire next four miles at about 17:00 pace.  Previous to this, I had recovered from the heat and was pushing 13:00 pace.  It was discouraging but it was my blunder.
Finally my light was in hand and I was again running well and passed several runners.  I reflected that I must now be near the back of the mid-pack, because the runners who I was now passing were walking most of the time.  I could still run on demand up or down the trails.  I finished up the third loop (60 miles) in 14:19.  My stops during the first 60 miles totaled about 50 minutes. That third loop took me a slow 5:33, with about 20 minutes delayed because of my light blunder.  But I had jumped the standings, now in 17th place.  Three of the runners ahead quit at this point, so I was actually in 14th place.  I stopped for a long time, probably about 30 minutes cleaning my feet and recovering in my warm car.
Loop 4 was a struggle.  As usual, my stomach again had struggles at night but I only threw up twice.  My aid station stops were long as I warmed near the heat and tried to eat something.  Drowsiness started to really affect me.  I was not being very successful in going faster than 18-minute-miles. For about seven miles I ran near a couple guys walking pretty fast, but they never ran.  A couple times I just had to stop to take a 5-7 minute cat nap in a sandy wash.  The affect was amazing.  My stomach would calm down, the drowsiness would leave, and I immediately could start running 10:00 pace for a few miles.  I always caught up and passed those walkers and eventually left them far behind.  If I would have not have stopped and rested, I would have traveled more slowly than those guys.  So the cat naps were worth the investment.
At the each aid station, I stopped to lie down in a cot, feeling pretty beat up, chilled, and low in energy.  It felt so good.  But after ten minutes each time I pulled myself back up and went on my way. By mile 70, I had spent a total of two hours stopped for various reasons. Loop 4, including stops took me an amazing seven a one half hours.  Compare that to my 3:36 first loop.  It was now 5:00 a.m.  I was at mile 80.  The end seems so far away.  I stopped again at my car and stayed for nearly an hour.  I no longer cared about my finish time, but I didn't want to spend all day out in the heat again, so by 6:00 a.m. I was again on my way, in 16th place.
I had lost a glove somewhere on the last loop, out of my pocket, so I did my best to keep my hand warm.  I started to feel much better but soon was very sleepy again. I stopped for my last cat nap at about mile 83.  Soon light started to appear as I faced my second morning. The desert was so beautiful as the morning started to appear.  A deep red sunrise came into view with a silhouette of a giant saguaro cactus on a pass above me.  I wished that I had brought my camera. There was no sign of any runners ahead of me or behind me.  I was all alone, just enjoying the morning and trying not to think of the pain.  I could still run if I wanted to and at times would keep a nice jog going.  My fastest mile during the loop was  a 15:21 mile.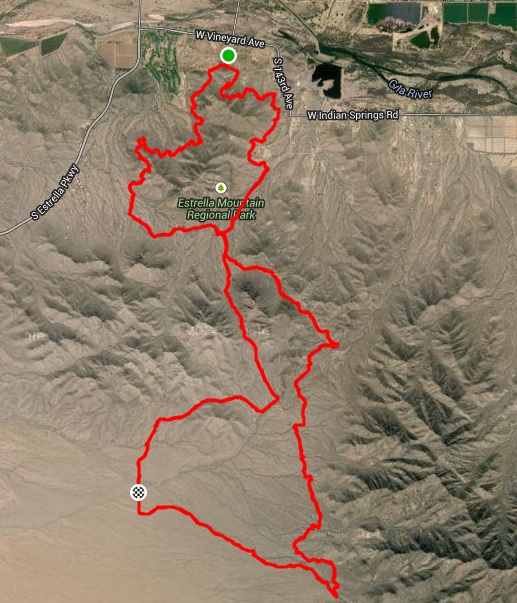 The sun hit me at about mile 90.  Immediately it became warm and I soon had my longsleeve shirt and jacked tied around my waist.   At the Pedersen Aid station, at about mile 92, I was greeted by Dave James.  He knew who I was and complemented that I was still running.  But he was taking down the aid station, a clear signal that I was going slowly.  Later on, around mile 95 I ran into two girls who were removing course markings.  Wow, I really was near the back.  But actually they were making a mistake and taking down flags on the wrong side of the sub-loop.  Hopefully they figured things out.  I was anxious to be done.  It was getting hot again.  During the last four miles, I ran into many day hikers enjoying the morning desert.   I was able to dig deep at times and run pretty fast, sub-10:00. I reached the 100-mile mark on my GPS at about 28:25.  It looked like I could break 29 hours to the finish if I pushed very hard, but it wasn't worth it to me. I wanted to finish feeling great.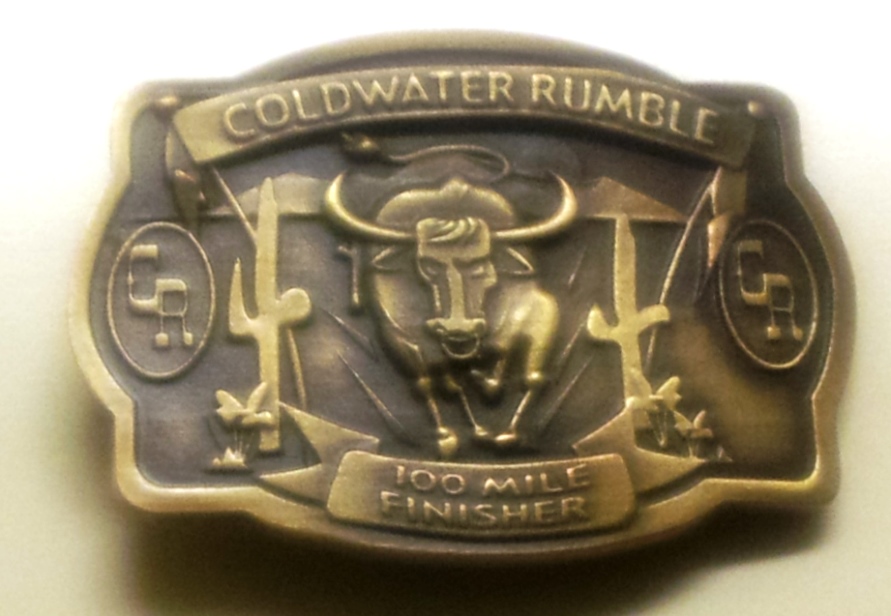 The finish line came into view and I finished in 29:01:26, good for 15th place out of 73 starters. I was the first runner to finish who was more than 50 years old. I was satisfied.  I achieved my 65th career 100-mile finish and already my second 100 finish for 2015.  It was good to finish and not let any mental weakness make me think of stopping this time.  I know my time was very slow and I spent nearly four hours during the race not moving at all.  But still it was a good performance for a hot race during the middle of the winter. I came away with no injuries and very little soreness.  I only had one small blister on a toe which I never noticed.  I'll recover fast and be good to run again very soon.