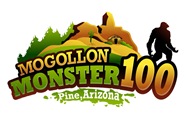 Mogollon Monster 100 runs below and on top of the Mogollon Rim in central Arizona.  The Mogollon Rim rises out from the earth 2,000 some feet for a span of 200 miles across Arizona and into New Mexico.  The race gets it name because it is a monster of a race, but also because of a legend that Big Foot roams the course.
The course runs on sections of the Highline Trail shared by the very tough Zane Grey 50.  I've run and finished Zane Grey 50 four times and after that fourth time vowed that I wouldn't return because it hammers you and isn't particularly scenic.  However, when I have run there, I was always intrigued about the possibility of also running on top of the rim.  Well, I now had my chance.
I went into the race with my eyes wide open, fully aware of how difficult this 100-mile (really 106-mile) course is.  Last year in its first year, there were many problems and only nine runners finished, most very familiar with the trails.  In my email exchanges with the race director, Jeremy, I could tell that preparations had dramatically improved and I was willing to take a chance and run it.
My expectations for a good finishing time were low.  I decided that my only true goal was to cross the finish line.  Finishing in about 30 hours seemed reasonable for me. I liked the fact that the race was "traveler friendly" meaning that I could show up at the start with an hour to go, deliver my drop bags, and listen to short race briefing.  Thus, I went to work on Friday, flew afterwards, arriving at Payson, Arizona in the evening with plenty of time to get ready.
The weather was on the cool side, no rain in the forecast and seemed perfect for me.  There were about 47 starters this year and I started running with the top six for the first mile or so. The first section of the course presented a nice view of the town of Pine below and then made its way up Pine Canyon to the top of the eastern edge of the Rim.  This would be our first of four trips up to the rim.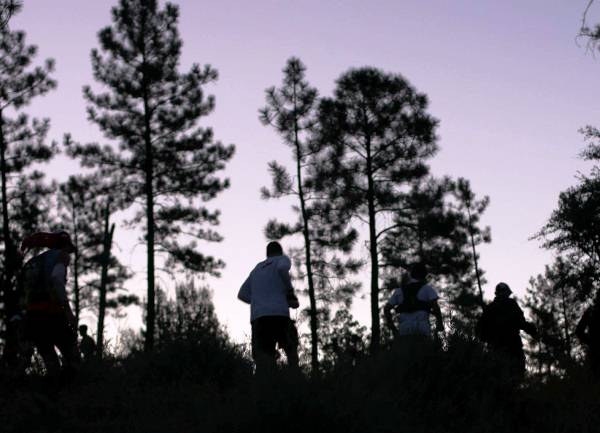 I led a small group of runners in the second pack as we made our way up switch-backs for an 800-foot climb. As usual, after a while I let them pass and continue on, preferring to slow a little and go at my own pace.  I arrived Pine aid station (mile 8.4) at 2:08, probably in about 15th place.
The next section was very enjoyable as we ran through forests on the rim in a place called Milk Ranch Point.  We were becoming much more spread out and I enjoyed the solitude of running alone in the cool trees about 7,500 feet.  I arrived at Dickerson aid station (mile 13.4) ahead of my pace schedule doing well.
The next section involved a very technical long descent down to connect with the Highline trail (Zane Grey course.)   I discovered with all the technical descents I had run recently that my legs loved the rough trail and it wasn't long before I passed several runners.  I was having a blast pushing the pace on the technical downhill.  My shoes, New Balance 1210's seemed perfect for this course, with a good rock plate and some nice cushioning.  Hokas would not have worked well enough because of stability factors running on the constant rocky trails.
By the time I arrived at Geronimo (mile 18.4), I had passed six runners, and arrived there at 4:14, about 45 minutes ahead of my planned pace for a 30-hour finish.   I was doing very well.  Next up was the trail I was very familiar with, the Highline Trail, a rugged, rocky trail that goes up and down constantly as it traverses across drainage areas below the rim high above.
The miles between aid stations in this race are generally long, normally between 7 and 10 miles.  This next section going to Washington Park includes a three-mile section of exposed burn-out area and it already was becoming very warm.  As expected, my two hand-held bottles were not enough, so I dipped them into a couple passing streams, deciding to take the chance rather than going into dehydration.  The water was cool and tasted amazing.
I reached Washington Park (mile 27.1) at 7:12 to loud cheers and friendly greetings.  This was the race headquarters and I enjoyed talking some with the race director there.  He noticed dried blood that trickled down my arm and asked if I had fallen or was just getting too close to the nature.   It was the latter.  I since learned which nasty bushes to avoid bushing by. I must say that at every single aid station in this race were very helpful, kind, experienced volunteers.  At times it felt like I had my own crew there helping me cut down the time.
Next up was a monster climb straight up to the rim along some power lines.   There were no runners to be seen either ahead or me or behind so I made the climb alone.  The final section was very steep (45 degrees) and very rugged but I enjoyed it and made it to the top, greeted by some radio guys.
Once up, there was 4.5 miles of dirt road running to the next aid station.  The road went along the rim providing spectacular views.  I could look back or ahead nearly a mile, but could see no other runners.
I arrived at Houston Brothers (mile 34), a forested aid station on top of the rim, at 8:57, about 30 minutes ahead of my planned pace.  From there, I would run across the rim through the forest going up and down across little canyons.  After I climbed to the top of a ridge, it was finally time for a bathroom break in the trees.  My break was about ten minutes and finally a couple runners caught up to me.  But I now had plenty of energy and pushed on ahead.  At a road crossing were kind radio guys who took our numbers and pointed to the continuation point.  The course markings and volunteers at intersections made route-finding almost idiot proof.
The last three miles of this section was nice single-track downhill.  The guy behind me with trekking poles caught up, passed me going fast.  That woke me up and I started clocking 8-9 minute miles all the way to the next aid station.  I arrived at Pinchot (mile 41.2) at 11:00, fifteen minutes ahead of schedule.  It was now 5:00 p.m. and the sun was getting low in the forest.
Next up was more rolling forest back to the huge power-line decent off the rim back to Washington Park.  First up was a dirt road section.  With the low sun, I pulled my hat down to keep it out of my eyes, but I totally missed a well-marked turn.  After a half mile I could not find any runner tracks in the road.  As I pulled out the course directions a crew car drove by.  They stopped and I asked if I was still on the course.  They explained that I should be on a trail to the west.  So back I went back and found the missed turn, wasting about ten minutes.    The sun soon went down and it quickly became cool up at 8,000 feet.   I took the steep descent off the rim pretty fast although my feet were now feeling pretty punished on the rugged, rocky sections.   I arrived at Washington Park (mile 50.9) at 13:25 about ten minutes ahead of schedule.  At this point I took a very long 30-minute break to change into my night clothes and get everything ready for a long night back on top of the rim.
Next up was one of the toughest sections for the course.  It was only 5.2 miles of Highline Trail to Hell's Gate, but at this time of the year there is about two miles covered with thick three-foot grass.  It was impossible to run it.  Normally I would let my feet feel the trail, but the trail under the grass was loaded with big rocks and holes to trip over.  So it was slow going and that section took me 2.5 hours.  It was pretty well marked with reflectors but I would have to stop many times to look around and figure out where the trail went next.
I arrived on Hell's Gate (mile 56.1) at 16:36, now a half hour behind schedule.  I didn't plan for the very long stop at Washington Park.   I really looked forward to the next section, a very tough, rugged climb back up to the top of the rim.  It indeed was tough and at times required hands to steady myself on very steep sections.  But generally there were also switch-backs to help.  I was well ahead of the next runners and it was fun to flash my green light for them to see far below.  I could see many lights making their way up toward me, or back further on the Highline trail.
When I reached the top of the rim, the trail was marked kindly by true lights and I eventually was greeted by a nice radio guy who gave me water and commented that he had been tracking my green light down below for a couple hours.  He said it could be brightly seen down below.
It was much cooler on the Rim and I put on my jacket and made sure I stayed warm.  I put on some tunes to help me push the pace down a dirt road to the next aid station.  I arrived at Buck Springs (mile 63.8) at 19:20.  My times at the aid stations were increasing significantly as I was trying to eat plenty and warm up.  I was now more than an hour behind a 30-hour finishing schedule.
Going out of the aid station, the volunteers said to go up the trail about 75 feet and turn right on a single-track trail.   I went up the road but failed to find the trail.  I searched and searched.  I hit a red flag which means stop and turn around, but no good flags.  I went back to the station and they admitted that they had just arrived and were just relaying directions from those they had replaced.  So they went with me and we figured things out.  The big problem was that this turn had no reflectors or glow sticks.   The first flag seen was a red flag and later a good flag.  It was very confusing in the dark and wasted another ten minutes.
The next section was nearly all forest single-track with some significant climbs and descents across some little canyons.   It became significantly colder.  Thick frost formed at the low points and I put on a garbage bag to wear to keep me even warmer.   It worked for a little while, but soon I became chilled, then a hypothermic (drowsy), and finally what always happens to me in these cases, my stomach lacks blood-flow, gets stressed, and stops processing well.  So, things started to fall apart.   The faster I pushed the pace, the more I became cold because of a slight breeze.
Finally, I had to stop and take periodic cat naps.  It was warmer lying beside the trail.  Just shutting my eyes for a couple minutes made a huge difference.  It was a lonely time.  I made stops that probably totaled about 20 minutes, but even with that, no runners passed me.  I was having a rough time.  It took me about three hours to do this 8.2-mile section.  These night sections were just too far apart from aid stations.  A little before the aid station, I stopped at the historic cabin where a volunteer was camped.  He was there to give directions near a confusing intersection.  He was stoking his fire and I stayed a few minutes to warm up.   Finally a couple runners caught up from behind and we arrived again at Pinchot (mile 72) at 22:35.   I stayed by the fire for quite some time, trying to dash away the hypothermia.  My mood was somber.  The volunteers were quite concerned, but I assured them that I was going on and could recover from this low point.  It turns out they radioed ahead for the next checkpoint to watch out for me.
I continued on.  Some sections were bitter cold.  But as dawn arrived, the temperature quickly went up and as usual, my stomach recovered.  It was still very tender, but at least was processing again and I could once again run with speed.   I arrived again at Houston Brothers aid station (mile 79.2) at 25:34, now more than three hours behind my schedule.  I knew that my race was shot.  For the first time since my rookie ultra season, I became concerned about cut-offs.   I was still 1:30 ahead of the cut-off but I didn't think that was much of a cushion if something else went wrong.  I heard the aid station guys comment that more people had dropped behind me and that now there were only three more still coming.  Wow, I was truly at the back of the pack.  What is funny is that while I lost about three hours, I wasn't passed by anyone except for the two guys I was now leap-frogging with.  The back-of-the pack just disappeared one by one because of DNFs.
Now, with new energy, a beautiful morning, and great views at the rim edge, I really pushed the pace hard running the dirt roads and the huge descent off the rim back to Washington Park.   I passed three runners on the way, and gained a half hour on the cut-offs.   But my stay at Washington Park was again about a half hour as I prepared for the heat of the day.
I left Washington Park with the two guys I had been leap frogging with for the past eight hours.  I was confident that I could blast ahead, but within minutes, as the warm sun hit me, my body temperature went up and I felt really sick.   I knew it was early stages of heat exhaustion.  First the cold, now the heat.  This next 8.8-mile section would go through very hot and exposed sections.  What should I do?  I started to go VERY slowly.  The two guys disappeared ahead.  About a half mile out, I was still feeling terrible and worried about the hot miles ahead.  I stopped, looked back, and seriously considered turning back and DNFing at Washington Park.   It was the right thing to do.  However, I kept considering all the hard work I had put into at this point running 87 miles.  How could I quit now?   So I faced forward and hoped for the best.
I offered a silent prayer for help, and pushed on.  I reached a stream, soaked my hat and wetted my shirt.  I replaced my water bottle with cold stream water.   My pace was terribly slow, and I knew by the time I reached the next aid station, my cut-off cushion would be gone.  How could I DNF at mile 95? This was the most depressing moment of my race.
Something wonderful next happened.  A breeze was felt in my face.   Within minutes, the terrible sick feeling went away and energy reappeared and I felt cooled.  I tried to run.  It worked.   I continued to squirt myself with cool water and filled up again at the next stream.  I pushed the pace even more and very soon I could even run the uphills on the tough Highline trail.  Could I catch those two guys?  They were probably almost a mile ahead but I could try.  I kept looking for them around each corner but they didn't appear.  At one point I thought I took a wrong turn, went back and ran into a female runner who I had passed on the rim.  She was doing well.  We ran together for a while but I knew I could run faster so I soon bid goodbye and started running up and down the trail like crazy.
I arrived back at Geronimo (mile 94.8) at 31:06 with less than an hour cushion on the cut-offs.  The two guys were still there.  I didn't stay long, just ate quickly and refilled.  We all left together.  I had caught up.   As we made the two mile very rough dirt road trek to the Webber trail, a terrible deep blister had formed on my forefoot.   I decided that I needed to stop, see how bad it was, and clean the foot.  The guys disappeared ahead.   After I did the best I could for the foot, the girl runner had caught up. She went ahead and I kept her in my sights even as we began the terrible climb up Webber Trail to the top of the rim.  I looked forward to this climb but it was longer and steeper than expected.  The switch-backs were steep and never-ending.  I wish I would have counted how many there were.   Another woman runner appeared below and caught up to me.  She explained that there were two more runners behind.
I considered that it was quite possible that I would finish in last place. (DFL).  That would be pretty cool.  But I looked far down the mountain and could not see any more runners below.  The two women teamed up and ran the rest of the way together.   I was struggling, but ate more, and took yet another pain killer, and soon could push the pace again.
Finally we reached the top together.  We had reached the 100-mile mark at 33 hours.  But there was still six more miles to go.  It was all downhill, how hard could that be?   Well, it turned out to be by far the hardest section of the course.   The trail down the other side of the rim consisted of endless switch backs, but the trail was the most rugged, nasty loose rock section that I had ever run.   I considered that I would never even want to run this section in training.  The trail was narrow and nasty bushes pushed out into the trail that scratched up the legs and arms.
Despite this nastiness, my pace was good and I quickly caught up with the two guys.  We talked about how cruel this finish was.  I became angry about it.   I could not see the point of it.  First, it made the course more than 100 miles.  There were plenty of adjustments that could be made to make the course the standard 100.  Second, this finish is just cruel.  The terrible rocks started to rip away at any forming blisters.   As I finally saw the Pine trailhead come into view (our start point) something ripped in my forefoot deeply, the pain shot up like crazy, and I could hardly walk.   I stopped, took off the shoe and tried to consider what to do.  The guys caught up, talked to me, and then went on ahead.
My car was in sight, so I limped to my car, retrieved some tape and a thick clean sock, and went to work.  Once finished, it felt much better, keeping the deep blister in place.  As I started out for the two miles of pavement into town, the lady runners appeared.   We ran together for a little while, but I knew I could run faster and didn't want to risk being DFL.   My pace was strong and I almost caught up to the guys.  But then the finish came with a few people left to cheer at the finish.   I crossed the line feeling good at 35:11, certainly my slowest 100-mile finish ever.
I was satisfied.  I could have quit many times.  I had faced some terrible lows, but kept going and came out of them.   How hard is Mogollon Monster 100?  For me, it was the toughest 100 I had ever run, not because of the 18,000 feet of climbs, but because of the terrible rugged nature of the trails.   I believe in ranking 100s, it is tougher than both Plain 100 and H.U.R.T 100.
Will I run this one again? That is very unlikely.  Two reasons:  The length needs to be fixed to be 100 miles.  Second, the finish seems unfair. But perhaps Jeremy wants this to be one of the toughest races ever.  He certainly has worked hard to make this a great, tough race.  The volunteers were numerous and amazing.  The course markings were pretty much idiot-proof this year, in fact too many markings.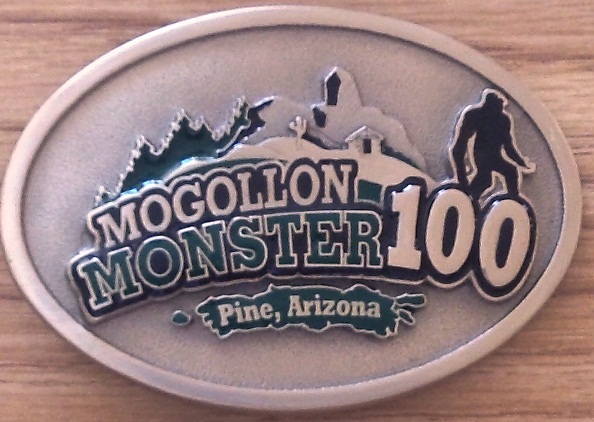 Of the 47 starters, I came in 19th.  Amazing!  Only 23 finished.  So "buyer beware."  If you sign up to run Mogollon Monster 100, prepare yourself for a tough adventure run, not a 100-mile race.  If you like rough challenges, this run may be for you.  I'm glad I did it once and actually did finish.  This was my 58th 100-mile finish.