February 2-3, 2008

As the new year started, I decided to jump right in and enter another 100-mile race, the Rocky Raccoon 100, held in Huntsville, Texas.   The 2005 Rocky Raccoon 100 was the first 100-mile race that I ever successfully finished.  (My first 100-mile attempt was a DNF at 2004 Bear 100.  I ran 87 miles).   I had a great experience at Rocky in 2005.   It greatly boosted my confidence that I could actually become a real ultrarunner.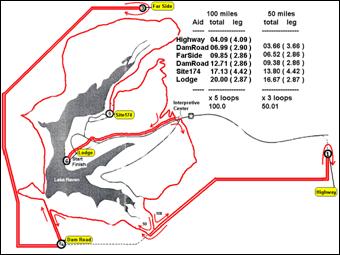 Course Map
The Rocky Raccoon is an "easy" 100-miler (if there is really such a thing.)  The course consists of a 20-mile loop through beautiful forests, around a lake, in Huntsville Stake Park.   The trails are flat or roll up and down for short stretches.   The main challenge on the course are the many roots.   They can make for some fun obstacles.  For 100 miles, you have to run the loop five times.
Training
My training leading up to the race had been fair to good.   My main problem had been a month-long cold that set in around Christmas.  I hadn't been able to shake it and it chased me indoors for all my training.  We also received quite a bit of snow in Utah.  My usual training trails had too much snow to be runnable.   So, I ran enough treadmill miles to make me nearly insane with boredom.
My strategy for overcoming treadmill boredom had been to increase the pain.   I ran on a good treadmill that allows you to crank up the incline to 50%.   My goal was to get to a point where I could run a 10-10-10 without much difficulty.  Ten miles, at 10% incline, in under 10 minute miles.  (Holding on to the front of the treadmill for much of the run).  It took a couple weeks to work up to it, but finally I have been able to do it consistently.   I was hopeful that this January training would help me perform well at Rocky.  I was a little concerned that I hadn't done any run longer than 20 miles since a 78-mile run in the Grand Canyon, in November.  But I hoped that the eight 100's I ran last year would compensate for my recent low mileage.
Goals 
My goals were in this order (easiest to hardest):   1. Run a sub-24-hour race.   2. Break my 100-mile PR of 23:26.  3. Break 22 hours.  4. Finish in the top 30.     I'd be very happy with reaching at least the first goal.  I knew that I would have great difficulty holding back on the first 20-mile lap, so I planned to not fight it, and start fast and bank some miles.   In Rocky 2005, my loop times were:  3:29, 4:12, 4:55, 5:56, and 8:21.   This year, for a 22-hour finish, my pacing goal would be:  3:30, 4:00, 4:30, 4:45, 5:15.  Loop 4 is the critical lap.  I really wanted to have good strength for a fast loop 4.    Also it would be very important that I have blazing fast aid station stops, especially during the night.   That would be my only hope for a 22-hour finish.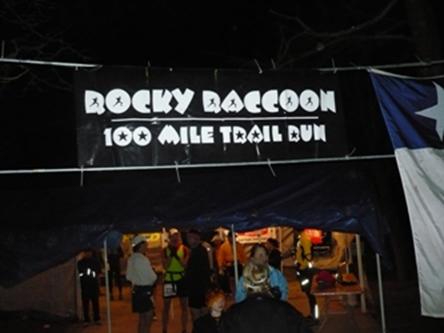 The Race
The weather was snowy on Friday and my plane was delayed.  I anticipated that, so I didn't check in luggage.   I arrived at Houston only a little late and then battled rush hour traffic for the next couple hours before reaching my motel.  But I finally arrived, made preparations, and was fast asleep at 10 p.m.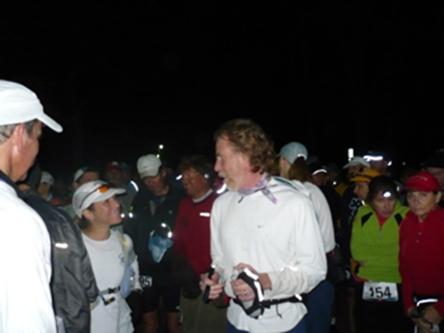 Dale Perry, Beth Simpson-Hall, and Matt Watts at start
I woke up from a deep sleep at 3:00 a.m. thinking that I overslept.  I hadn't, but decided to get up, finish getting ready and drive to the park.  I arrived at about 4:30 a.m., delivered my drop bag and snoozed for the next hour.   With fifteen minutes to go, I made my way to the start with my coonskin hat on my head and greeted many friends, both old and new.  I was Davy Crockett in Texas, so wearing the coonskin hat for a little while was required.
Loop 1: 3:08
At 6:00 a.m., we were off in the dark!   252 runners left the start line.  It felt wonderful to run on trails again after over a month of treadmills.   I initially kept up with the front-runners and enjoyed the fast pace.   After crossing the main road, the trail enters into a more technical winding trail full of roots.   I quickly noticed that my ankles were in danger of twisting.  I wondered if all the treadmill miles had made my ankles wimpy.  Several times I almost rolled them on the roots.   I concentrated on being more careful, but soon it just wasn't a concern.  I must have warmed up and had better balance.   Running near the front, I was surprised that we quickly became spread out.  Looking back through the woods, I could see bouncing lights far behind.
We hit the wide dirt road and continued at a blistering pace toward the Highway Aid station.  I would visit aid stations every 3-4 miles along the way to refuel with liquids and food.  The noise of the cars on I-45 soon were heard with increasing noise and then we made a turn left down toward the turnaround at the aid station.   I looked forward to being able to see the other runners soon.  Sure enough, Jorge was in the lead.  I counted the runners and discovered that I was in 6th place arriving at the station in 36:28, a fast first 4.1 miles!   I was feeling great and not really worried about going out too fast.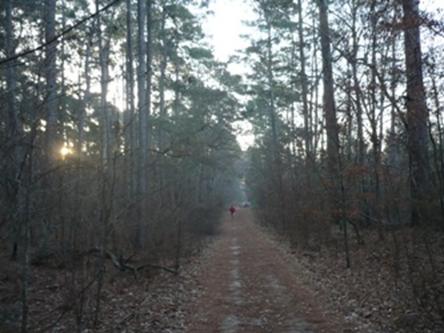 The sun coming up on the Farside Road
With my coonskin hat on, it was very easy for runners to recognize me.  It became even easier as the sun started to come out.  I would guess that about 50 runners greeted me by name during that first loop when I wore the hat.  It was lots of fun.   I did my best to say hello to almost everyone I saw.  Dale Perry of course had to yell, "Daniel Boone!"  I screamed in reply, "Crockett!"   Everyone seemed to have a wonderful smile on their faces during this early loop.   I arrived at Dam Road (mile 7.0) at about 1:01.   Yikes!  8.7-minute miles!  I introduced myself to Deborah Sexton, refilled my bottle and away I went, continuing on the road toward Farside.   I thought about the 50-mile race that was just beginning at the same start line..  They were now chasing after us.   (The 50-milers did 16.67 mile loops, avoiding the out-and-back to Highway).  I was pleased to see that we didn't have to plow through any bad mud bogs like we did three years ago.  The trail was fine and seemed to be mostly heading up in this direction.   I arrived at Farside (mile 9.9) in about 10th place at 1:27.   With the arrival of dawn, on the way back to Dam Road I received many, many greetings, soon even from the 50-milers.  I would be asked where I got the great hat.  Soon I would reply with a laugh, "Well, about a mile back in the woods!"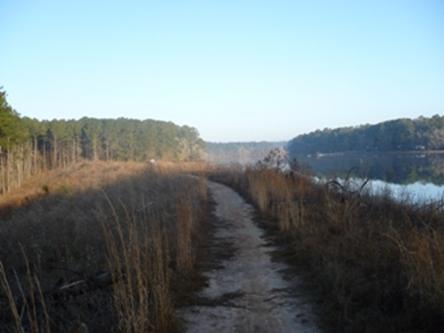 Chilly trail near the dam
I returned to Dam Road (mile 12.7) at 1:54, feeling great.   I had made one mistake in my clothing.  I forgot to bring gloves.  So far that wasn't a bad problem, but as we ran on the dike near the dam, the breeze off the lake really chilled my bare hands.   Across the lake I could see the start/finish area.  It looked so close, but I knew that we needed to run clear around the tip of the lake, another seven miles.   I could see people watching us across the lake so I let out a whoop.  A cheer came back in return.   We next entered a fun section of the trail in the woods that would wind around up and down and cross many bridges.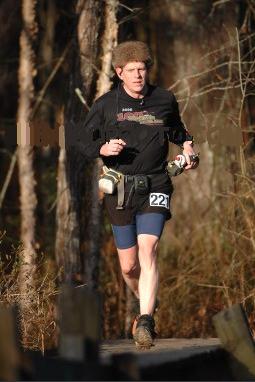 Running on the bridges during Loop 1
I made this audio recording with about four miles to go in the loop.  I arrived at Site 174 (mile 17.1) at 2:37. 
I finished my first 20-mile loop feeling wonderful, but hot at 3:08.  I reluctantly tossed the coonskin hat in my bag.  I was sweating too much.   I knew that those nice friendly greetings would now stop.  My costume would be gone to help people know who I was.  I changed to a short-sleeve shirt and was ready for the warmer day.   After about a five-minute stop, I was on my way.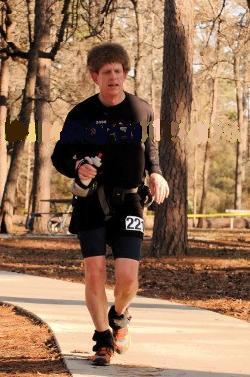 Finishing up Loop 1
Loop 2: 3:58
I knew that the first fast loop was pretty silly, so I purposely backed off to a more normal comfortable pace.  I was passed my several runners but didn't care.  My hope was that at 60 miles I would experience my usual second wind and really crank it during the night and pass many runners.   For fueling, I was only carrying one water bottle.  The stations were so close that this seemed to work out well.  I drank either Heed or diluted Ensure.   At the stations I would usually eat some sandwiches and also eat PowerGel and Resses.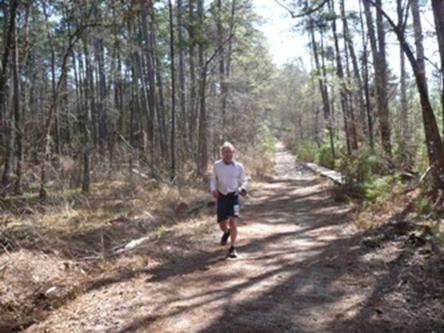 Matt Watts near Dam Road Aid Station
I continued running a nice steady pace.   On this loop I concentrated on continuing to always keep a run going.   I knew that if I did that, I would complete a sub-4 hour loop.   I was very successful.  The first time I walked outside of an aid station was at about mile 38, and that was only for about 100 feet.   People who knew me greeted me on the out-and-backs.  Beth Simpson-Hall always spotted me and I was about 40 minutes ahead of her on the return to Dam Road.  Matt Watts was about an hour behind and Anne Watts about 1:20 back.   What really surprised me was how close 67-year-old Hans-Dieter Weisshaar was behind me.  Wow!  He was really cruising.  When I saw Matt, he made some sort of comment about the heat.  I thought about that.  It was warm, but I had not really been worrying about it getting too hot.
My pace was still good.  I reached the marathon distance at about 4:15 and the 50K distance at about 5:15.   Both are great paces for me in a trail race.  When I reached the sunny trail above the dam, it seemed very hot this time.  I marveled how the temperature had changed since the last loop.  But I quickly was back into the shady forest.
Again at the bridges, about mile 36, I made this audio recording.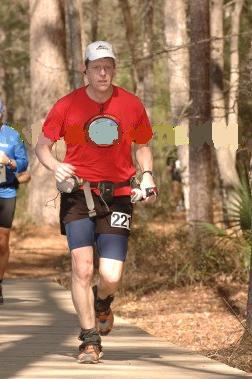 Finishing up Loop 2
I finished loop 2 (40 miles) at about 7:06.   I was a little discouraged about the 4-hour loop, hoping to do it faster, but I was still pleased to realize that I was about 30 minutes ahead of my goal pace.   I wanted to shed any extra weight, tossing my camera into my bag.  
Loop 3: 4:53
My crushed little toe was becoming a painful problem but I tried to put it out of my mind.   Things continued pretty well.   I stopped enjoying the long dirt roads, yearning to leave them for the soft single-track trail.   I reached Dam Road (mile 47) at 8:46.  After that point, things started to fall apart badly.  The heat and humidity slammed me hard.   I had not run in this type of warmth since Vermont 100 last year.   I was shocked at its affect on me.   My stomach shut down and my energy level decreased.  I started to walk more and more on the long trail to Farside.  I then "tossed my cookies" several times.   It was not a good time.   Hans passed me at mile 49 still looking very strong.   I crawled into Farside (mile 49.9) at 9:29.  Despite my problems, I had run a 9:30 for the first 50 miles – a very good time.
The rest of the loop was very hard.   I no longer really wanted to drink Heed and I had to force myself to eat solid food at the aid stations.  I had no appetite.  Taking S-caps helped calm down the stomach, so clearly I wasn't taking in enough sodium.   Without an appetite, I wasn't eating enough calories.  The result was low energy and a discouraging slow loop.   I picked up my flashlight from my bag at Dam Road, a very wise move because it would be dark next time I returned.   At some point Jorge, the leader lapped me.  He was running very strong and fast.  Others would lap me later still running very fast.
Again at the bridges, about mile 56, I made this audio recording.
I finished loop 3 at about 11:59.   I realized that I was less than an hour ahead of the pace I produced at Rocky during my rookie year.   That thought discouraged me.   But come on, I ran 60 miles in 12 hours.   There was 40 miles left.  Couldn't I run those remaining miles in less than 12 hours?  
Loop 4: 6:26
I needed to make a long 15-minute stop to fix my feet.   My problem toe had to be repaired.   I decided to switch to a toe sock and wrap the bad toe.  I discovered a bad blister.  Finally I decided to pop the blister and put a toe cushion over it.   That seemed to feel better.    I didn't eat much and pushed myself back on the trail.    I noticed that Beth Simpson-Hall was now only about 30 minutes behind me.  She was catching up.
By the time I reached the road to Highway, the sun was down and I turned on my red, green, and yellow lights.   I called out greetings to runners along the road heading toward me and was puzzled that hardly any replied.  Strange.  I guess they were all having a tough time, or having too much fun chatting with their pacers.   When Beth came toward me, she called out, "I've been looking forward to seeing those traffic lights."   She gave me words of encouragement, but I was still really struggling.   At mile 72, she caught up.   We both wondered what had happened to Matt.  She had not seen him on Loop 3 or 4.  Usually he would be passing me by now. (The heat slammed Matt too.  He started puking at mile 50 and had a slow loop 3 where he DNFed.)
I pushed on.   My feet began to hurt terribly.  I had been testing out La Sportiva Fireblades, a lighter shoe than my usual Vasque Velocity.   I realized that this had been a mistake.   The Fireblades just didn't give me enough foot protection for this distance at my weight of 185 pounds.   I pushed on ahead but realized that I was just doing way to much slow walking. 
I became frustrated.   First, I was very angry to see all the trash thrown down on the trail.  I yelled out, "Idiots, why are you littering?"   I just couldn't understand it.  I finally sadly concluded that it just must be a Texas thing.  I guess runners from Texas just don't have respect for the trail.  I just never see this in other states.   Next, I started to yell at myself, "You are pathetic!"  "Come on, get moving!"  "Let's go!"   Usually once when the night arrives, I thrill in the challenge of catching lights ahead and can find an amazing fast gear.   I never found it.  I would kick it up several gears, but it would only last for a couple minutes before I screeched to a halt in pain.  It was very frustrating.   My motivation for speed soon left me altogether.   I no longer cared about time.  Finishing was now the only goal.
As I neared the inlet of the lake, I heard an amazing noise.  At first I thought they were birds, but I soon realized they were frogs!   Check out this audio recording.
At the usual location in the loop, I recorded my discouraging progress in this audio recording.
I finally finished this slow loop at: 18:27.   Two runners sat next to me in the aid station.  They both had just finished their 100-mile race and were very pleased at their accomplishment and time.  It was depressing to listen to.  I still had 20 more painful miles ahead and I realized that a sub-24 hour finish would be nearly impossible at this point.   Gee, I ran the first loop in a little over three hours.  Now I was moving at half that speed.  
Loop 5: 7:09
I decided to change out of the Fireblades and put on my reliable Vasque Velocitys.  I could tell my feet were swollen and I loosened up the laces.  I took another long 15-minute stop preparing for the final loop.   I never had any thoughts about a DNF (quitting).  I was just too stubborn.  It was approaching 1:00 a.m. when I pushed myself out for the final loop.  The first four miles went well, but when I reached Highway, I tossed myself into a chair and the volunteers kept asking if they could help.  I told them that I just needed to rest for a couple minutes.  Potato Soup at the stations helped very much, but still I just wasn't eating enough.  
About a mile out of Highway, at about 2:00 a.m., I was stunned to see Hans pass me again.   As he ran by, he commented that he had slept for seven hours!   That boggled my mind!   I had last seen him ten hours ago.   That meant that he probably took his long nap after loop 3.  I was now a lap ahead of him.  He was moving very well again and quickly disappeared down the road.  He finished in 29:14.
One of the great annoyances of the out and back were runners who were not thoughtful about their lights.  Several would bob their lights up and down, shining them in your eyes.   It was a bother.  But I was grouchy and everything was starting to bother me.   I was amazed at how many other runners were walking so slowly.  We all were struggling.   I could tell that I was about a mile from the Farside station because trash started appearing on the trail.  Someone on an ATV slowly went down the road careful not to turn on his lights around runners.  I noticed that he was picking up much of the trash thrown down carelessly by runners.   
Well, what can I say, the final 15 miles were sheer torture.  As I plodded along with occasional spurts of running, I reflected how I had never felt as much pain during any of my previous 18 100-mile races.   But this was an "easy" one!   I thought about this for hours.  What went wrong?  Why was I in so much pain without energy.   Lots of reasons:   1. The shoes didn't work for me.  2. The heat slammed me and I never fully recovered.  3. I had a lack of time on my feet during the past three months.  4. I couldn't push myself to eat.  But the real reason:  100 miles is a very tough distance.  Bad days happen often.  This was just a bad day.
I must commend the volunteers at the Dam Road aid station.   One guy in particular was very, kind to me.  Each time I arrived, he knew my routine and helped me in any way that I needed.  I was very touched by his kindness.  On my final visit he reminded me that there was only seven miles left.  I replied with a groan, "that is going to take soooo long."
I continued on.   In terrible pain, I started vocally groaning, moaning, and screaming in pain.  I was the Monica Selas of ultrarunning, grunt, groan, and scream.   I could hear my groans echoing through the trees.  It was very embarrassing.  I hoped that no one could hear, but they probably did.
At the usual place in the loop, I made my final audio recording.
After the last station, I forced myself to really run.  I wanted this to get this over with.  My feet were in the worst pain I had ever felt and I longed to take off my shoes.   I now wanted to break 26 hours and at least beat my last Rocky time by one hour.  I ran the final three miles in about 38 minutes.   It hurt bad.  Only one guy passed me, Jose Vargas.
The finish line came into sight and so many kind people cheered.   I pushed hard and crossed the finish line in 25:38:55.   I quickly found a chair and pulled off my shoes.  I was now in heaven, but it still felt like hell.   I looked around.  Catra Corbett was resting, who finished about 15 minutes before me.  I had seen her closely behind me all day.  We must have had similar races.   I didn't stay around.  I quickly went to wash up.  I took a close look at my most painful foot.  There was only the small blister on the little toe, but three toes were badly swollen.  They were in rough shape.
There were 252 starters.   I finished in 94th place.   There were only 167 finishers.   The results can be found here.
I was happy with my finish.  I didn't reach my goals, but still a 100-mile finish is an amazing accomplishment.  I didn't quit.  I didn't leave anything out on the trail (hmm…except some of my lunch).  After cleaning up, I decided to drive to the airport, get some rest and then catch my flight home.  I had a nice chat there with a guy from New Mexico who ran in the 50-miler.    I was very careful to eat plenty and recover before the flight.   I finally arrived home during the second half of the Super Bowl.  I forced myself to stay awake to watch the amazing finish.