October 26-27, 2007 
"You guys are craaaaaazy!  100 miles!"
– what a guy yelled at us from a truck at mile 33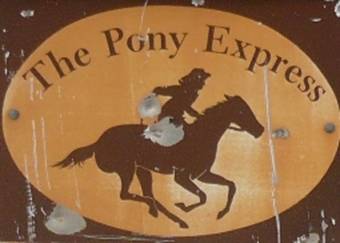 Back on December 29-30, 2006, I hosted the first running of the Pony Express Trail 100.  Three of us completed a 100-mile run on the historic trail in western Utah, competing against frigid winter temperatures.  I completed that initial run in 25:29.  In March 2007, three of us tried it again.  I was the only finisher in 23:26.   The Pony Express would run yet again!   Eight brave souls showed up to test their endurance against the remote, desolate, lonely west desert in Utah.   Our 2007 course started on the historic Pony Express Trail about two miles west of the tiny town of Faust (just a few ranches).  After a short six miles of pavement, we would run west on dirt roads for a total of 100 miles and end up north of the remote town of Callao, near the Nevada/Utah border.
The course is very straight with an end-to-end layout.  When you finish, you must drive back along the entire course.  It really helps you appreciate how long the 100-mile distance is. Crews would provide the aid and could drive along the entire course.  See Pony Express 100 Website for more details.
What is is like to run 100 miles?  Check out my 100-mile Frequently Asked Questions.
Running on this course has no comparison to any 100-miler that I have experienced.   You enter into a different world, so remote, peaceful, lonely, and beautiful in its own way.  During the night you can spot runners lights ahead or behind you up to 14 miles away.  There are no trees to block your views.   At times you don't see any structures or utility poles as far as the eye can see.  It truly is a wild-west experience.  Those running the entire 100-mile course would pass by eight Pony Express station sites marked by large monuments.  These stations were used in 1860-61 as relay points to change horses or riders. 
The profile for the course is very flat with only a 5,000 foot increase.  The route crosses over two minor passes and finishes with a long steady uphill.  There is about 5 miles of pavement at the start.
The Pony Express story is about fast mail delivery.  In our day we send mail around the world in seconds using the energy it takes to click a key with our finger.    In the 19th century the time and effort to take mail across the continent was extraordinary.  Mail sent by ship took several months.  Mail sent by overland coaches took at least one month.  In 1860, the Pony Express Company was established to greatly speed up cross-country mail delivery. The Pony Express promised cross-country delivery in only ten days.  The system was a relay race.  Riders would change about every one hundred miles.  The riders would change horses every ten to fifteen miles. It was an amazing endurance race.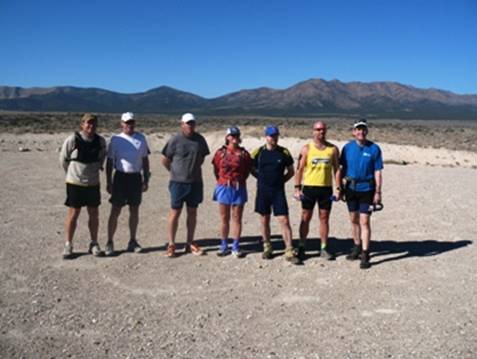 Starters, left to right
Stephen, Brent, John, Cindy, Brian, Jarom, Davy
The Pony Express hired riders who were "young, good horsemen, accustomed to outdoor life, able to endure severe hardship and fatigue, and fearless."  Those of us who signed up for this run could certainly relate to these last few characteristics, but most of us were not all that young any more.   One rider once wrote, "At first the ride seemed long and tiresome but after becoming accustomed to that kind of riding it seemed only play."   We felt the same as we embarked on our 100-mile run on the historic Pony Express Trail. 
Leading up to this run, an anonymous trouble-maker tried to do everything possible to stop our run.  They contacted the BLM and Tooele County trying to stir up trouble.  Their efforts backfired.  The BLM, Fish and Game, and Tooele County were all very supportive and interested in our unique run that was getting people out to discover the west desert.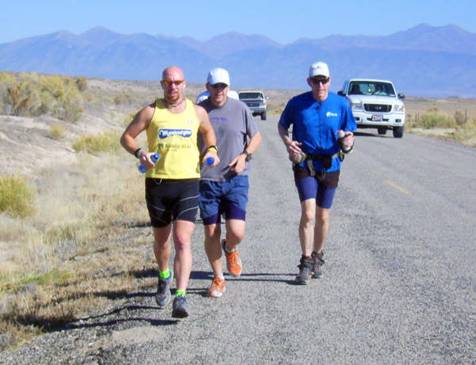 Jarom, John, and Davy
A few minutes after noon, we were on our way.  We became acquainted with each other as we warmed up by running on a paved road that made a gradual climb toward Lookout Pass.   I enjoyed getting to know John Bernhisel from Wyoming.  John planned on running only 50 miles.  After a couple miles, he wished me luck and set his sights on catching up to Jarom Thurston who was leading the pack, running the first seven miles with his brother Heath.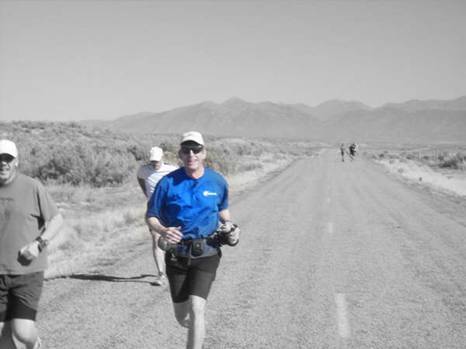 As expected, my right leg was sore and bothering me enough to not attempt to keep up with Jarom this time.  Back in March we ran the first 26 miles in under 4.5 hours.  I was content to take it easy and hopefully run with buddy Brent Rutledge for many miles.  Brent had some initial issues to slow him down, but soon caught up.    It wasn't too long before we established a running order that would last for many miles.   Jarom and John could be seen a half mile ahead of us, and Stephen, Cindy and Brian could be seen about a mile behind.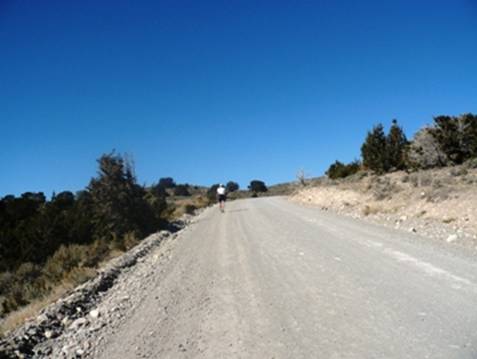 Brent running up toward Lookout Pass
The weather was perfect.  It was sunny and the afternoon temperature was about 60 degrees.  It felt a little warm as we ran up the road with the sun in our face but as we climbed closer to the mountain range, it started to feel cooler. After a little over five miles, the pavement ended and we pushed up a steep dirt road, arriving at Lookout Pass (mile 6.8), in 1:17. Stephen and Cindy's crew were waiting there and we waved and smiled.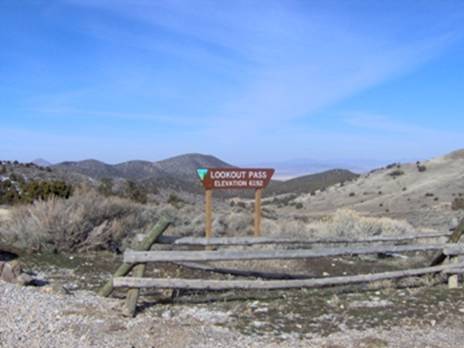 Lookout Pass
Down the other side of the pass, I could see my crew, Paul Cannon, waiting at the Lookout Station monument.   Brent and I ran quickly down the other side of the pass into a beautiful valley dotted with trees and greeted Paul beside my van.   I had just emptied the one water bottle I was carrying, so it was perfect timing to refill.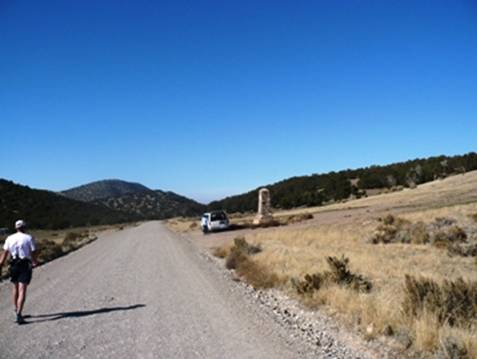 Approaching our van parked at Lookout Station
A station was built here in April of 1860, but that the station was in ruins by the following September. It was as a small two-room log house. How it fell so quickly into ruin is not known.  A few years later, Horace Rockwell, brother of Orrin Porter Rockwell, and his wife Libby lived in a small log house at Lookout. They had no children, and Aunt Libby, as she was called, kept several dogs upon which she doted. The stone enclosure a short distance to the south was built to protect the cemetery where her beloved dogs are buried. Three emigrant graves are also said to be found within.  An entertaining story is told of a time when one of Aunt Libby's beloved dogs was sick. She sent to Tooele, about 40 miles away, for the nearest doctor. She sent the message that one of the ranch hands was critically ill, knowing that old Doctor Dodds would never make the trip to treat a dog. When he arrived, late at night, he was furious to find he had rushed out there for a sick dog. Aunt Libby just smiled and gave him a $20 gold piece, and everyone was happy.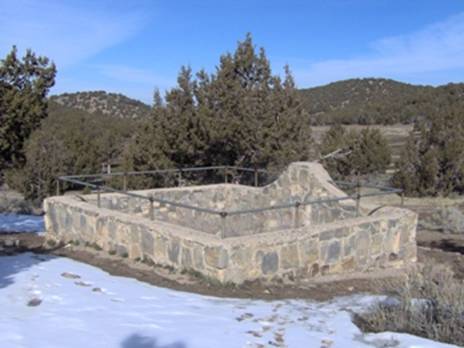 Pet Cemetery
Picture from the winter
Paul (my crew driver) had walked out to the Pet Cemetery and mentioned that people had written in a visitor's log, "What is this?"  We all knew what it was and chuckled at the thought of Aunt Libby and her dogs.  Paul mentioned that Jarom and John were about 20 minutes ahead of us.   We told Paul to drive ahead four miles where we would see him.  This section is my favorite of the course.  We ran downhill winding our way through a beautiful green valley, then finally it opened up into a massive treeless valley – Skull Valley, historically referred to as Piute Hell — blazing hot in the summer and frigid cold in the winter.
On the road, we could see a mile ahead of us and a mile behind us.  There was no sign of any runners.   The crews for the runners behind were leap-frogging us as they waited for their runners.   They told us that Stephen was now ahead of Cindy and that Brian was bringing up the rear.   Paul told us that Jarom and John were extending their lead.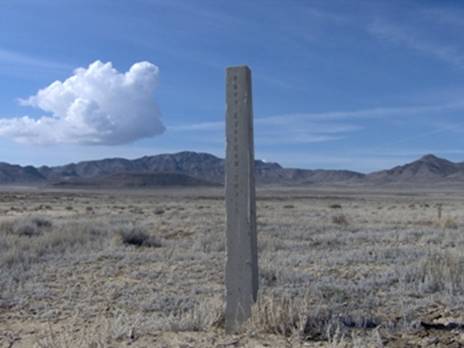 These four-foot posts mark the actual trail about one per mile
Brent and I had good conversation during our run.   We commented about the beauty of the valley that many people think is desolate.   We were very annoyed by very fast moving vehicles passing by us occasionally.  They were either hunters or off-road enthusiasts.  They lacked the courtesy to slow down and instead blew by us and left us in a cloud of dust.  Thankfully there was a breeze that quickly cleared up the dust.
We told Paul to now start stopping every 3 miles.  That way we could see him at least every 45 minutes.  With this frequency, I ditched my waist pack and only carried a water bottle filled with diluted Ensure.  With each stop I would refill and eat some solid food.  We arrived at Government Creek (mile 15.9) at 3:01.   I was pleased to see that we were exactly on my pace goal for a 22.5 hour finish.  Jarom and John were now about three miles ahead of us, too far to see on the road ahead.  Government Creek used to be the site of a telegraph relay station in late 1861. In the early 1860s, the legendary Porter Rockwell, and fifteen other men explored these valleys.   Porter Rockwell decided to establish a ranch at Government Creek.  In commenting about his choice of location, he said, "For a cattle ranch you want a place where you can track'em out."  Certainly with this wide-open range, tracking would have been easier.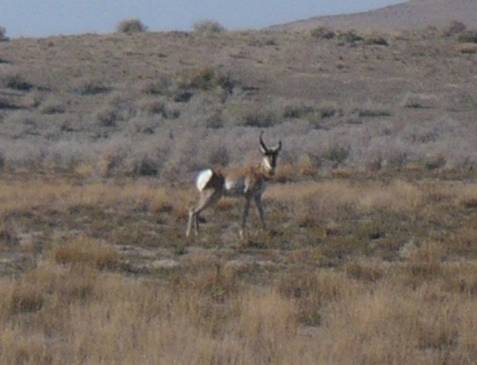 An antelope watches us run by
On the way toward Simpson Springs, Brent needed to stop for a long bathroom break.   I decided to just continue and hoped that he would catch up.  I stretched the lead to about a half mile, but before we reached Simpson Springs, he caught up.   The hard dirt road was starting to take a toll on my legs.  I noticed that there was a faint single-track trail on the desert floor beside the road, created by either horses or a motor cycle.  I jumped up off the road and was delighted to run on the soft desert soil.  It was more technical than the road, and a little slower to run on, but it lifted my spirits and felt like a single-track trail.  I continued doing this for a couple miles until the trail disappeared.
We noticed that the other crews were stopping at least 2 miles and soon they were no longer leapfrogging us.   We were now over two miles ahead and probably would not see them for the rest of the race.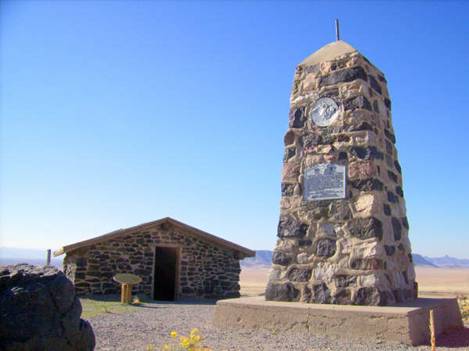 Simpson Springs
At 4:35 we arrived at Simpson Springs (mile 23.3).   We were still on my pacing schedule.   Jarom was now four miles ahead of us.   I was starting to worry that he was going out too fast and would later crash and burn.   While waiting for us, Paul had enjoyed exploring the ruins and Pony Express station reconstruction at Simpson Springs.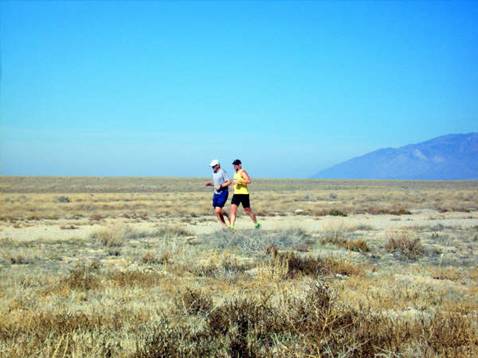 John and Jarom running far ahead
I really looked forward to the next several miles, a nice steady downhill across a very straight road toward Riverbed.  Within a mile, we noticed that Paul had stopped beside another car.   As we came closer we noticed that he was helping a lady change a flat tire.   That made me start to worry that the same thing might happen to us.  I made sure that Paul knew were my jack and spare were.   For some long stretches both Brent and I ran off-road, on the soft desert, on either side of the road.  We had to jump over huge ant hills that would be in our path.  I would look over and watch Brent run.  It was an impressive site against the background of the wide open desert.  I wished that I had my camera with me.
The road descended into a huge ancient riverbed.   It boggled our minds to envision that a massive river once ran through here.  We reached Riverbed (mile 31.4) at 6:30 – a pretty slow pace for a 50K, but we were still feeling great.   Right before our refill stop with Paul, John Bernhisel drove up in his car.  He told us that he was finished, that he reached his limit at 37 miles in 6 hours.   He had been about two miles ahead of Jarom.   Jarom was now over five miles ahead of us.   John thanked me for the fun and drove back to civilization.
I looked out at the Riverbed station site and chuckled, wondering if there were any desert fairies out today.  According folklore, the Riverbed stagecoach station site was difficult to man because of its reputation of being regularly visited by desert spirits.  Three former operators claimed they were afraid of the "desert fairies." David and Susan Jabusch did an archeological survey of the site in the early 1990's. They noted, "During our overnight sojourn, while mapping the site, we were not visited."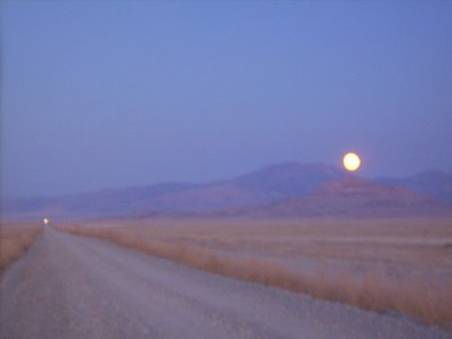 The sun sinking below Dugway Mountains
Our run had us climb out of the ancient Riverbed and soon we were presented with an impressive sunset.   As we ran down the road a convoy of trucks and cars approached us – a group of scouts heading for a campout.   A guy in the lead truck leaned out his window and shouted:  "You guys are craaaaazy!   100 miles!"   That made us laugh.  Obviously they had been in contact with the runners behind us.
The sun went down and very soon we noticed a sliver of a huge moon appearing over the mountain range to the east.   It was a totally full moon!  As the light increased, I turned out my flashlight and could easily run by moonlight.   I would run almost the entire night without using a light.   We would make sure we turned our lights on whenever a car approached.   The three miles that Paul would drive ahead now felt like four miles, so we told Paul to now stop every two miles.  He did this for the rest of our run.
We soon were able to see the lights of Stephen's crew car behind us.   If his crew was stopping every two miles, he was only about three miles behind.   As we got closer to the Dugway Mountains, we finally could detect the lights of the Howards, probably about six miles behind.   I flashed my green light behind me many times.   We never could tell for sure if we could see Jarom's crew lights ahead of us, but we did see tail lights of a car about five miles ahead on the very straight road.   This is one of the coolest things about this run, the ability to track runner's progress far ahead and far behind.
At about 8:20, we passed by Dugway Topaz Well (mile 40.3).   I told Brent about a body down a well near here. Along this stretch, the story is told that during the 1860s a lone woman passenger on a stagecoach awoke to find the horses and coach standing still.   She could not find the driver and ended up driving the coach to Simpson Springs.  Legendary frontiersman Porter Rockwell greeted her there.  "She was a noted character known to carry a revolver and was also known to be able to take care of herself under any and all conditions. Porter examined the gun and found one empty shell in it, listened to her story, and let her continue east while he went to investigate."  Porter found the driver's body about one mile west of the Dugway Station, drove to the well and dumped the body down it.  Later, stagecoach officials in Salt Lake City demanded that Rockwell go retrieve the body so they could investigate the death. "He told them it was too hot to attempt to haul a dead body that distance, but if any of them wished to investigate, he would be glad to go back with them and lower them down the well and let them carry on all the investigating they wanted to alone with the body. No one wanted to go."  The story speculates that Rockwell didn't arrest the woman because he believed that Indians had killed the stage driver.  Rockwell found an arrow shot into the driver's heart."
As we were making the climb up to Dugway Pass, a crew car approached us from the west.  It was the crew for Gary Stosich who had started his run much earlier in the day, at 6:45 a.m.  Gary was running an out-and-back 100 miler, running out 50 miles and then coming back. We greeted Gary at mile 43.   He was on his 57th mile at 14.5 hours and looking strong.  I told him that his course was tougher because he had to climb the two passes twice.  Gary would go on to finish in 29:40.  Gary later wrote, "It was very eerie yet exciting during the night being all by myself and hearing the coyote howling."
As we continued out steep climb, we looked back and couldn't see Stephen's lights.  Brent recalled how terrible he felt during this section back in March when he ended up DNFing.   He commented that it also was very difficult mentally being far behind and alone in the dark remote desert.  You could see the lights of others disappearing far ahead of you.   We both were impressed by the strong effort of Stephen Kissell and the Howards behind us.
As we made a horseshoe turn on the road toward the pass, I thought about a horse thief.  In 1885, a horse was stolen from the town of Vernon, to the east.  Men followed the trail of the horse to Simpson Springs.  The men continued along the long road to Riverbed and toward Dugway Station.  As they rode down from the bench,  "they saw a man hastily throw a saddle on his horse, mount, and speed away, possibly one-quarter of a mile from them.  What a race and what a racetrack—level as a barn floor with nowhere to hide before Dugway Mountains were reached, ten miles away! . . . Mile after mile it continued with little change in position."  As they chased him toward the horseshoe switchback in the road, one of the chasers took a shortcut directly up the hill as the thief continued on the bended road.  The chaser reached the road above, jumped off his horse, hid behind a large rock and waited.   As the thief approached he called out for him to surrender.  "Taken completely by surprise, the thief turned in his saddle only to find himself looking right into the business end of a pistol sticking over a large rock. Automatically up went two hands as the tired horse came to a stop."  They tied up the thief and took him back to face justice.
Paul greeted us at the top of Dugway Pass (mile 44.5) at 9:52.   Jarom was pouring it on, about seven miles ahead of us!  So far, my aches and pains weren't too bad.  My sore quad had calmed down but was replaced with a sore hamstring that stopped me from running very fast. As I started the run down the other side of the pass, I felt a sharp pain in my rib cage.  I was very worried that somehow I had pulled a ribcage muscle.  I've done that before and knew that it would be very painful.   I slowed down, Brent pushed on ahead, and kept looking back wondering why I wasn't running fast.    I did my best to keep up and control the pain.   It took about an hour, but finally the pain went away.   We reached the Dugway Geode Beds (mile 47.9) at 10:31.   We were now 40 minutes behind my goal schedule.
Both Brent and I had many opportunities to leave each other behind as we had low points at different times, but each time we were content to pull ahead 100 yards or so, and then ease up so the other could catch up.   It was great to have his company.  As the valley opened up, I looked long and hard for Jarom's lights ahead.   Surely we should see them, but we didn't.   I concluded that he had to be at least six miles ahead, already around the corner of the next mountain range.   Indeed he was that far ahead.
The temperature was now cool/cold, dipping into the 40s.  Brent was in long pants and kept putting on and taking off some warm clothes.  I still felt great in shorts, and a long sleeve running shirt, no gloves yet.  It never got below freezing.  The moon was incredible and the breeze kept shifting around but wasn't too hard.
As we reached mile 52 or 53, I looked back and could see the lights of Stephen's crew.   We concluded that he was about 4 miles behind.  As we made the turn north, we could see Stephen's headlamp and we flashed our lights in greeting.   We arrived at Black Rock Station monument (mile 55.5) at 12:20.   We now had a view of the lights of Fish Springs, only a few miles away as the crow files, but we knew it was ten miles away by our road.   
At about mile 56, a car pulled up and stopped.  It was Rob Himlo, a friend of Jarom's who came to run with him.  I told him that Jarom was at least six miles ahead.   He told us that Cindy was at mile 47 and Stephen was at mile 52.   He made no mention of Brian, so I assumed Brian was now crewing.   Brent and I were concerned about Cindy so far back, but were impressed that she was still hanging in there.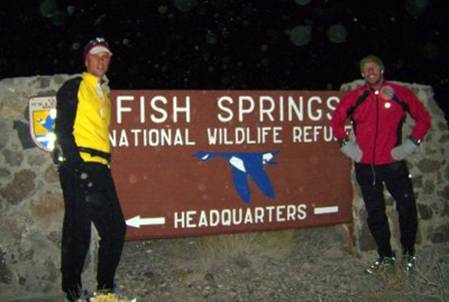 Rob and Jarom at the Fish Springs entrance
As we reached the top of a ridge, giving us a view of the lowlands of Fish Springs National Wildlife Refuge,  I was shocked to see the taillights of Jarom's crew.   I estimated that they were about three miles ahead.   What was going on?   Once we arrived at the Refuge boundary, we saw Rob's truck parked at the side of the road and concluded that he had started to run with Jarom at that point.   Gee, that meant that indeed he was now only about three miles ahead.   We could see Stephen's lights still about four miles behind us.
We reached Fish Springs headquarters (mile 65.2) at 14:48.   Paul told us that he had seen Jarom.  What?  Only two miles ahead?   He explained that Jarom was throwing up and moving slowly.   I really felt bad for Jarom.   In March he ran this course strongly, only to DNF at mile 93 as his body started to cramp up and shut down.   He was so determined to finish this time.
About a mile later, we saw Rob running toward us.  He let us know that Jarom was now lying down in the backseat of his car, trying to recover.   We bid Rob goodbye as he ran back to his truck.   As we continued on, we passed a car parked on the side of the road near some tents.   We weren't sure if it was Jarom, but it was.   I shined my light toward the car but didn't see any heads poking up.
As we continued on north around a long mountain range, we looked east and could see Cindy's headlamp back at Black Rock.  We were amazed that we could see her since she was about 14 miles behind us.  We watched her progress for about a half hour until we made the turn west around the mountain range.
I checked my watch and commented to Brent that if we wanted to break 24 hours, that we needed to average better than 15 minute miles the rest of the way.   For the next couple hours we kicked it into gear better.   Paul would drive ahead two miles and we would do our best to catch up to him before 30 minutes passed.   When we were at about mile 75, we noticed the lights of a car coming into view behind us about three miles back.  It obviously was a crew because it would pull ahead and stop.  This puzzled us because we knew that Stephen was further back.   I watched it's progressed and noticed that whoever it was, wasn't moving very fast.   It turned out to be Jarom.  He was doing his best to recover and catch up to us.  
Jarom explains:  "I got up and felt a little better and I realized that while I was asleep Brent and Dave had passed me and were probably a couple miles ahead. So I started running again hoping to catch them by sunrise. It was after 3:00 a.m. and before I reached mile 70 I was sick as a dog AGAIN!  Nothing seemed to help. I had eaten and drinken a lot of sweet stuff and was craving salty solid food….but didn't have any. I kept a slow walk as that helped me avoid throwing up. Once I reached the car again at 72.5 miles it was 5:50 a.m. I got in the car and took off my shoes praying for inspiration or a cure from the last six hours of being sick.  My situation hadn't improved in 6 hours (and that was with an hour nap)…. I wasn't about to make things worse or even continue in such agony for any longer…so at 6:00am sharp I officially made the decision to stop and go home."   
At 6:00 a.m., I noticed the car going forward, but this time it kept coming and coming.  I knew this wasn't good news.   Sure enough it was Jarom, informing me that he was finished.   I felt very bad for him.  I knew he tried so very hard.   After he left, Brent and I talked and predicted that the only finishers might be us two and Stephen.  But where was Stephen?  We looked back and could see a very slow moving light about seven miles behind.   That wasn't a good sign.   At about 6:30 a.m., we noticed yet another car coming forward.  It too stopped.  It was Cindy and Brian.  Cindy said she was finished.  She had blisters on top of blisters.   They let us know that Stephen was having bad stomach problems and probably would be quitting soon too.   About 15 minutes later, Stephen pulled up with his crew and explained that he was finished too.   He made it to about mile 71 but was moving very slowly.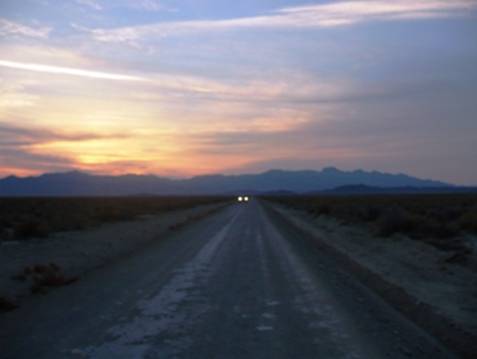 Sunrise on the road to Callao
Paul catching up to us in our van
So, we were left alone — just me and Brent with our driver Paul.   We both still felt fine although were getting lazy.   I pondered on the reason why these good runners didn't finish.  My thought is that this course is deceptively hard.  Because it is so flat, runners will go faster than they are used to, and end up crashing and burning if they aren't careful.  It felt lonely to think that we were the only ones left, but we plodded ahead.  We reached Boyd Station Monument and ruins (mile 79) at 18:55.  Next up was a long straight ten-mile road to the little town of Callao.  The sunrise was spectacular with the haze to the east.  As the sun finally poked over the haze, the temperature rose and before we reached Callao, we took off all our warm clothes.   We both knew that a sub-24-hour finish was still possible but would require some serious running.   We didn't have it in us today, so we talked about for sure beating 25 hours.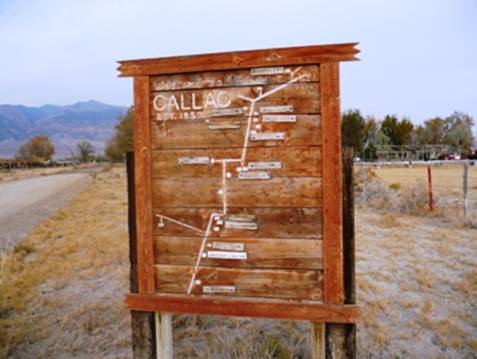 The Callao welcome sign
We reached Callao (mile 88) at around 9:30 a.m.  We really enjoyed this small rancher's town out in the middle of no-where.   I chuckled seeing the welcome to Callao sign, including a map that showed all the properties and owners by name.   That is small!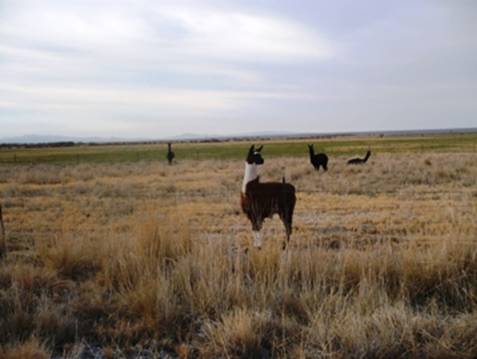 Llamas
We stopped to play with some friendly llamas and dogs.   It was refreshing to finally see something different after hours and hours of open desert landscape.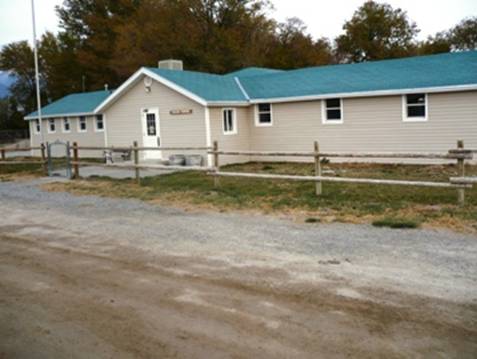 Schoolhouse
Besides ranches, the only other thing the town had is a two-room schoolhouse.  Once out of Callao, we set our sights on the final ten miles.   My left foot was hurting badly.  I should have stopped to clean out the grit, but I just kept plodding along.   Brent went on ahead.  I didn't want to hold him back if he wanted to go for a good finishing time.   I watched him increase his lead to more than a half mile.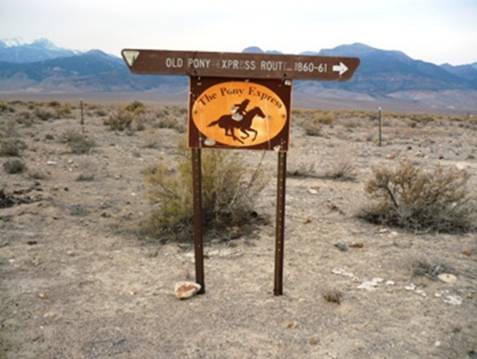 At about mile 95, a car pulled up behind me, a man and woman in hunting vests.   They said, "We were on the road up on the ridge and saw you.  We were wondering, are you walking out here on purpose?"   I didn't have the energy to explain.  I said, "yes, we are running and I'm OK."  I thought about what I had just said, "running."   Yea, right.  Not much running going on any more.
At mile 96.9 is was the 24 hour mark.   I told Paul to go ahead and drive clear to the finish.  Brent was about a mile ahead now.   I said that I would do my best to finish the last 3.1 miles before the 25 hour mark.   I now had to dig very deep.   A song with a great running beat came on my MP3 and I matched my pace to the rhythm.  When it finished, I played it again, and again, and again.   I was running hard.  The road was going up and up, a tough way to finish.  Could I make it in time?   I pushed even harder.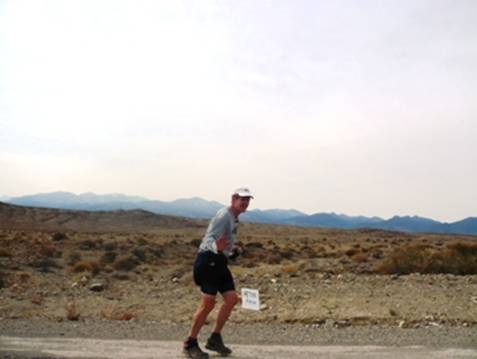 My finish!
Finally, at about 24:30, I could see the van parked about a mile ahead.  The finish was in sight!   I could see Brent climbing a hill toward the van.   He finished in 24:35.  Now it was my turn.  I continue to run pretty hard, not walking, and finally reached the end at 24:45.   We did it!   We took some pictures and then I said, "Let's get out of here."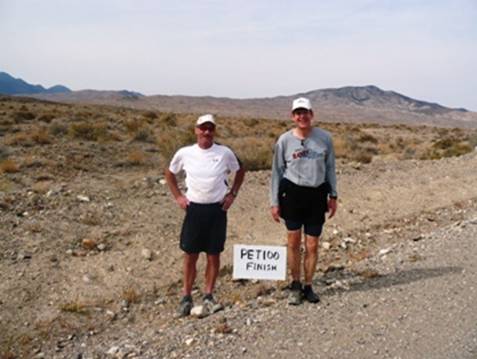 Brent and Davy at the finish line
The fun didn't stop there.   The drive back was tough.  I discovered that the roads this time of year were very rough to drive on.  Paul explained that at times he had to drive as slow as 10 m.p.h.  Paul drove as quickly as he could and hit a couple cattle guards pretty hard.  I started hearing a rubbing noise and several minutes later we realized that we had a flat tire.   We stopped to change it and discovered my spare didn't have air in it.   Some kind guys with ATVs stopped and helped us jack up the van and pump up the tire with their compressor. We were on our way again.   We put more air in the tire at Fish Springs.   I took over the driving chores and was trying to be very careful.  I knew that we didn't want to get another flat.   After Simpson Springs, with just 10 miles to go before the pavement, disaster stuck.  Our spare went flat and was ruined.
I stopped the van, exhausted, very discouraged and asked, "OK, what do we do now?"  Silence.  I saw a truck coming down the road.   I crawled out of the van and flagged down the truck.   Luckily the guy was driving right to our home town.   Paul and Brent quickly decided to go with the truck, take the tire with them, and hope to find a store open to get a new tire.   I would stay behind with the van.   I knew that all the stores were closing, it was already past 5 p.m.  My worries increased.   How was I going to get this van home?
As they drove off, I was left alone in the middle of nowhere, too exhausted to sleep, and too sore to move.   Memories of 2006 Bear 100 came to mind when my crew wrecked the same van (oil pan) and left me to pick up the pieces after I finished the race.   Thankfully in this case, Paul was going to help me figure this out.   My mind and body were too tried to do this alone.
Other cars drove up and I explained my problem.  One guy started to offer to let me use his spare tire, but then realized that would put him at risk.  His wife argued with him, wanting to help.  I thanked them and insisted that they go on their way.   But that was a good idea and I continued to look for vehicles passing that would likely have a spare that could fit.   I didn't see any.   As the sun was setting, I decided to clean myself up.  I took a "sponge bath" and washed my filthy hair.  I was a great sight, standing there naked in the middle of the desert.  Oh well, I felt 100% better, clean.   For the next four hours, I just tried to rest and listen to the World Series.  Finally, around 10:30 p.m., and five hours of waiting, Paul drove up.   It was so kind for him to come back for me.   He didn't have the tire fixed, but we tried to use his spare.  It didn't fit, so we just packed up his car with my stuff and headed home.   I reached home a little before midnight, eleven hours after finishing the run.  Wow, what an adventure.   On the following day, I obtained a new tire and my son helped me retrieve the van.
During the Pony Express 100-mile run, I consumed:  1.2 gallons of water, 11 cans of Ensure, 2 liters of Gatorade, one six-pack of coke, three bean burritos, 8 mini-bagels with cream cheese and turkey, two thermoses of potato soup, half a can of potato chips and some Guacamole dip, a few Reesses cups, and about 12 Succeed Caps (electrolytes).   Usually I will also consume Hammer Gel, but I did not during this run.  I didn't eat enough and probably lost about two pounds
  Results
| | |
| --- | --- |
|  Finishers | |
| 1. Brent Rutledge | 24:35 |
| 2. Davy Crockett | 24:45 |
| 3. Gary Stosich | 29:40* |
| | *Ran out and back course |
| DNFs | |
| Jarom Thurston | 72.5 miles, 18 hours |
| Stephen Kissell | 71 miles, 18.5 hours |
| Cindy Howard | 65 miles, 18 hours |
| John Bernhisel | 36 miles, 6 hours |
| Brian Howard | ?? miles |
| Mike Perkins | 50 miles, 11:59, pacer |