August 18-19, 2007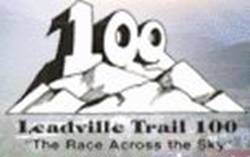 "Oh sure, we could run that fast if we had a green light too!"
Comment from a runner I passed at about 2:00 a.m.
The Leadville Trails 100, in Leadville Colorado, was my focus race for 2007.   Of all the 100s I would run during the year, I wanted to do the best at Leadville.   Leadville Trails 100 is one of the four "majors" of the ultra marathon sport, one of the four grandslam races.  My main reason for wanting to perform well is that I wanted revenge! 
In 2005, I attempted the race before I was really ready and DNFed at mile 60.5  (read report here).   This time I was very determined to finish.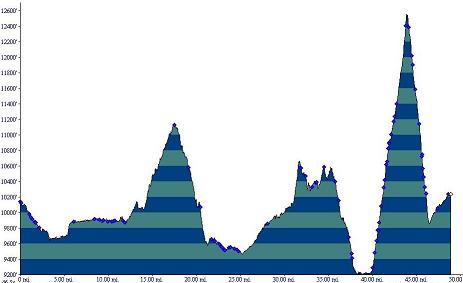 This race is billed as the highest 100-miler, "The Race Across the Sky."  Indeed, its greatest challenge is that it is run at altitude, 9,800-12,600 feet.   The format for the course is an out-and-back, requiring the runner to summit Hope Pass twice.  The course terrain is not significantly challenging compared to other courses, a mixture of dirt roads, paved roads, and single-track trails.  The climbs are not terrible, but when you throw in the altitude, this becomes one of the most difficult 100-mile races.
I knew that the most important thing to do to prepare for this race was to acclimatize to the altitude.  I realized that the more I trained above 10,000 feet, the better I would do in the race.  With a fulltime job and a large family, spending a month in Colorado before the race like others do, just wasn't an option.   Instead, two weeks before, I spent 30 hours running in the highest mountains in Utah, the Uintas.  That seemed to help.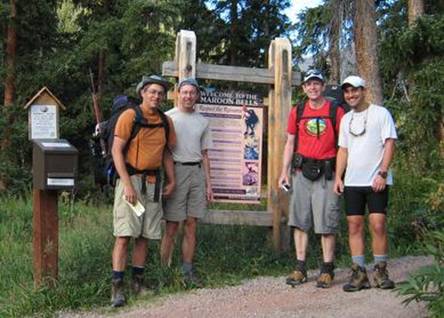 Me and my crew/pacers
Brad, David, Me, and Carl
The best thing I did to prepare was to backpack for the week before the race in the high Colorado Mountains.  I would substitute a restful taper week with a moderately strenuous backpack of the Maroon Bells four-pass loop, in an attempt to increase my red blood cell count quickly and sleep above 10,000 feet every night.   My company for the week would be my best outdoor buddies who would also be my crew and pacers for the race, David, Brad, and Carl.  We have backpacked together each year for at least ten years.  All of them also had crewed and paced me in at least one 100-mile race.  We know each other well.
We spent Monday-Thursday in the mountains near Aspen, Colorado.   Our trip was wonderful.   I tried my best to take it easy, but couldn't resist doing fast climbs up the passes to raise my heart rate and get my lungs pumping.  But much of those days were spent lounging by high alpine lakes or streams reading a book.  Wednesday night below Frigid Air Pass the sky opened and poured rain.   I was up most of the night trying to stay dry in my old cheap tent.  It was no match for the downpour.  I worked to create moats around my sleeping area using the creases in the floor.  But with those filling up I needed to poke holes in the floor for drains.  The lightning strikes near-by were frightening.  We were camped above the treeline on an exposed bluff.  One strike was terribly close and blinded my eyes with its brightness.  I couldn't even count to one before the deafening thunder.  It was a rough night.  In the morning we noticed over an inch of water in a cup I left out.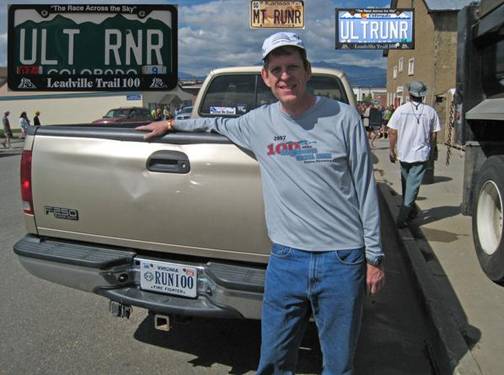 Me with an interesting collection of license plates
Thursday night we traveled toward Leadville and camped at a campground in Twin Lakes.   Because it was raining again, we went to Leadville for the evening to pick up my race packet and to greet many other ultra racers.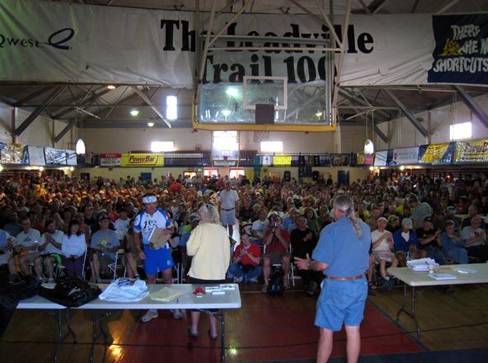 Packed pre-race meeting in the Leadville Gym
In the morning we traveled to Leadville again and turned our attention to the race.   The pre-race meeting is an entertaining event.  The medical briefing was a hoot.   The briefing ended with a motivational speech that made us feel like we attended a religious revival.  Hallelujah, 100-miles here we come!  No DNFs!   We were now psyched and ready.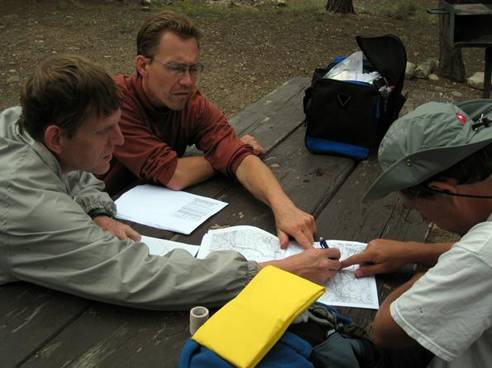 Team Crockett going over course maps
In the afternoon we shopped in the various stores, and visited the Matchless Mine.  The mining history of Leadville is an amazing story.   We next returned to the campground, rested, and conducted our "Team Crockett" race briefing.   We organized the crewing bag and the muling bag.  (Leadville 100 allows pacers to carry things for the running, acting as a mule.)  
We went over the map carefully, identifying all the crewing points, and went over my pacing goal schedule.  My primary goal was to just finish, but I believed that I could break 27 hours, so I set my goals for a 27-hour pace.  In doing so, I used historic data of split-times for runners who finished in 27 hours.  I combined that with my knowledge of the course and how I expected to perform on various legs. Next up was a nice dinner in Leadville to rub shoulders with some elite runners, including friends Todd Holmes and Joe Kulak.   We had a great time.  My crew/pacers peppered the runners with questions and soaked up the experience in that room.  We all really enjoyed hearing Joe Kulak tell the story of his 2003 victory at Vermont 100 and his 2002 dual with Hans Put.   Joe asked me how well I expected to do.  I told him one of my goals was to be coming DOWN from Hope Pass before Todd or Joe got to the top for the second time.  Joe laughed, "The gantlet has been thrown down!"   Oh, boy, I shouldn't have opened my mouth.  Now I needed to deliver.   We had fun re-telling the story when I climbed the Wasatch mountains at midnight in order to see Todd and Joe running the Wasatch 100, and as a fan took pictures and ran behind them.  My crew/pacing buddies took this all in and we all went away highly motivated.Back at the campground we tried to get some sleep.  I no longer fret about lack of sleep the night before the race.  I know very little will come, but at least I'm down resting.   I finally arose at 2:00 a.m. to make my last-minute preparations.   At 3:00 a.m. we drove to Leadville.   The town was amazingly active at 3:30 a.m.   580 runners with crew and family were clogging the closed streets at the downtown starting point.   Pictures were taken, good-lucks were issued.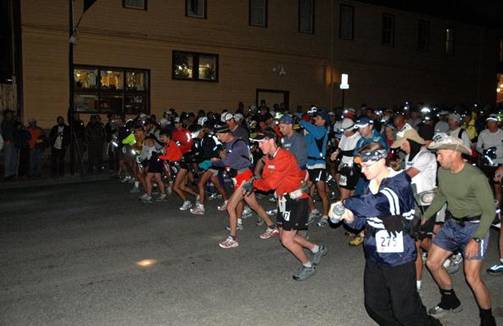 The Start
As the start came closer, I positioned myself in the crowd in the top-100 runners.  At 4:00 a.m., the start arrived.   Away we went.  This year I was careful to take the first mile easy.  In 2005, I started fast and my lungs just couldn't take it and I suffered after that.  I settled into a comfortable pace.   I quickly became frustrated when my waistbelt came loose and my MP3 stopped playing.  I tried to make adjustments and finally pulled off the road to fix things, letting about 100 runners pass.   Not a great beginning, but I knew it would be a very long day.    I picked up my pace, passed many runners and was satisfied with the pace when I reached the single-track trail that runs around Turquoise Lake.    Off in the distance a drum beat from the other side of the lake, pushing us down the trail.   I really enjoyed this first leg, as the lake shore winded, allowing me to look back and see a long trail of lights traveling along the lake.  It was an astounding sight.   My initial concern was my lungs.   My respiration was high because of the altitude, causing my lungs to ache.  I backed off the pace and altered my breathing.  It seemed to work.   In the dark I ran near a guy who had an interesting running style.  He slapped his feet down hard on the trail.   I leapfrogged him for several miles.  I was amused that I could always hear him coming.   Fans were all over the early sections of the course.  In town, a lively group at a party house had music blaring and they were loudly cheering.   At Sugar Loaf'n Campground, families were out cheering.  A large group was at Tabor boat launch encouraging us on.  It was great and very much appreciated.  I heard many comments about my green light and my coonskin hat.  Wise-guy friend, Dale Perry, ran near me and said "Daniel Boone?"   "No, Davy Crockett!"  I looked behind, it was Dale laughing.  I should have known.   I wished him luck and pushed ahead.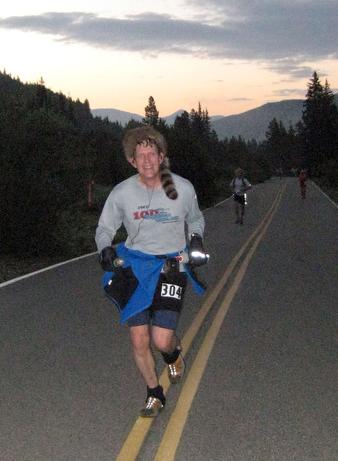 Running in to May Queen
I reached May Queen Campground (mile 13.5) at 2:11, four minutes ahead of my goal.   I was running in 92nd place.   Carl let out a huge cheer and really got the crowd going, cheering for Davy Crockett's arrival.   Finally I just ran up to him, laughed, gave him a shove, and said, "Shut up!"   He then escorted me through a long line of cheering people to the aid station.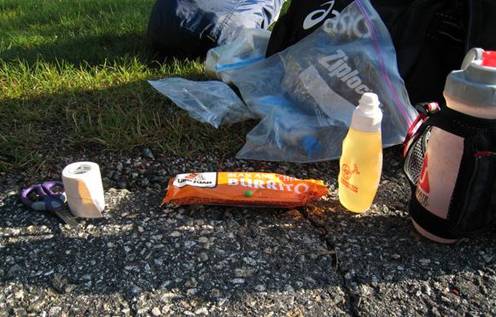 The crewing essentials
I grabbed some sandwiches, drank some coke, and then went to my crew who quickly exchanged full water bottles — one bottle with diluted Ensure, the other with Poweraid.  I shed my coonskin hat for a cooler hat and left my flashlight with them.   It was all very quick and they did a great job.   I've only used a crew in a few races.  Today it was a powerful motivator to look forward to seeing my buddies at each crewing stop.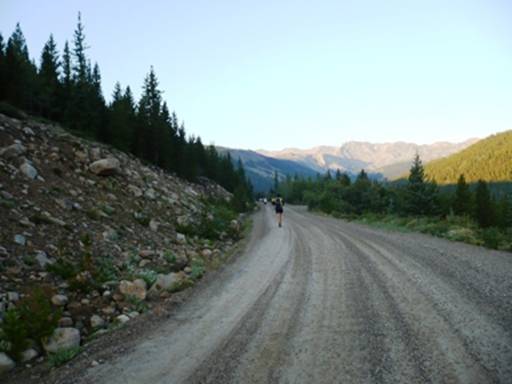 Runners on Sugarloaf Pass Road
I maintained my position through the single-track portion of this leg, but the tough climb up the Sugarloaf Pass Road slowed me down.  Many runners started to pass me.  Finally a runner came behind and greeted me, "Hi Davy."   It was John Hemsky of Littleton Colorado, who I had eaten dinner with the previous night.   I decided to quit being lazy, suck it up and try to hang with John, a very strong runner.   I drafted behind him all the way to the top of Sugarloaf Pass.  After cresting the top, he started to blast quickly down the other side on the powerline road.  Wow, I can do that too!   I hung with him as we passed runner after runner.   I was having a great time.   At times I would show off and push on ahead, but then ease off and wait until John caught up.   Finally as we neared the bottom, I told John that it was time for me to back off and I wished him luck as he ran ahead (finishing in 14th place). Now that was a blast! 
Me, center, arriving at Fish Hatchery
I arrived at Fish Hatchery (mile 23.5) at 4:13, seven minutes ahead of schedule, still in 92nd place.  My crew cheered my arrival loudly and again got the crowd going.   They had everything prepared for a quick stop and Carl again escorted me down the trail.  I knew what was next – road pounding.   Two years ago I struggled on this section and watched runner after runner pass me.  I was determined not to fade as poorly as we ran along paved road.   My crew drove by and waved.   I didn't enjoy this road away from the forest.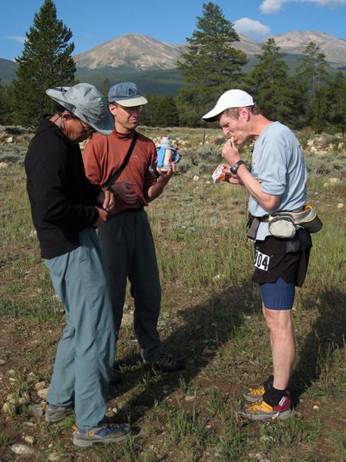 Chow'n down a buritto at Treeline
Finally we ran on the Halfmoon dirt road and could see hundreds of crews waiting at Treeline.    I mentioned to my crew that I had really been struggling, normal at this point in a 100-mile race, but my biggest struggle was with bowel problems that were greatly slowing me down.  Carl insisted that I visit the "men's room."   My delay was almost ten minutes but worth it.   It was a long stop, but I left in a strong sprint feeling much better.   I made good time for the remaining 2.5 miles to Halfmoon aid station.  I arrived at Halfmoon (mile 30.5) at 5:46, one minute behind schedule falling to 129th place.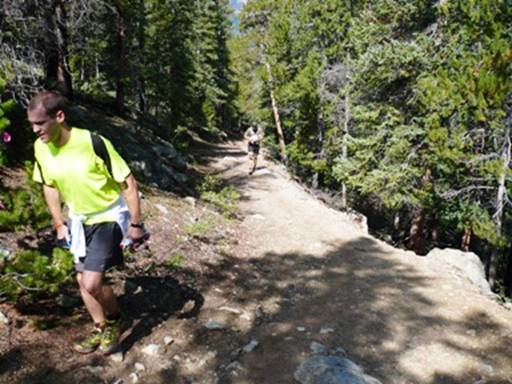 At the top of a tough climb up the Colorado Trail
Next up was my favorite portion of the course, a beautiful rolling single track portion of the Colorado Trail.  I was thrilled to again reach downhill sections and had fun bounding through the forest.   I knew this nine-mile section would be long, so I was just patient and enjoyed the trail.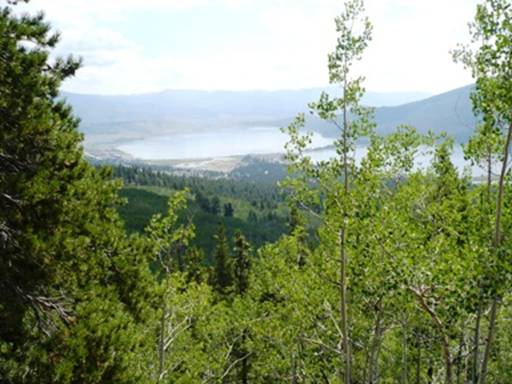 The Twin Lakes come into view
Finally the Twin Lakes  came in view and soon I could see my next destination, the town of Twin Lakes.   I pushed on down the rough road and finally arrived feeling tired.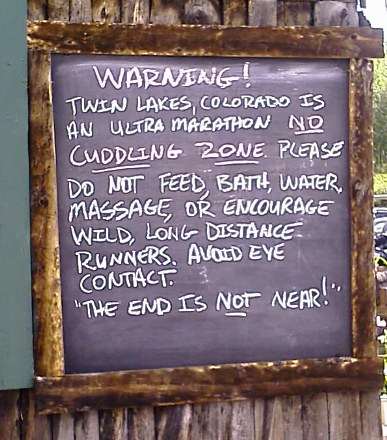 Sign at Twin Lakes 
I stumbled into Twin Lakes (mile 39.5) at 7:49, four minutes behind schedule, but now in 117th place.   I was delighted to see that I was 1:16 ahead of my 2005 pace.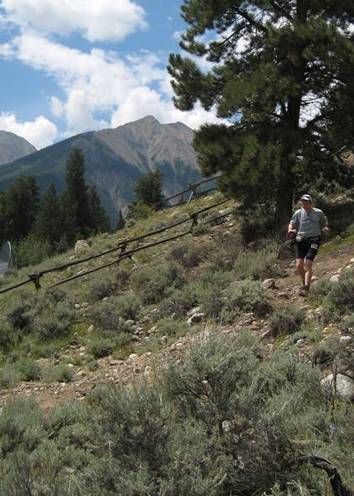 Arriving at Twin Lakes 
I was shocked to see Matt Watts there, not in running clothes.   Matt explained that today just wasn't his day.  He just couldn't find the strength and dropped after Fish Hatchery.  I felt sad for him.   My crew took care of me, fed me a burger, and pushed me on my way.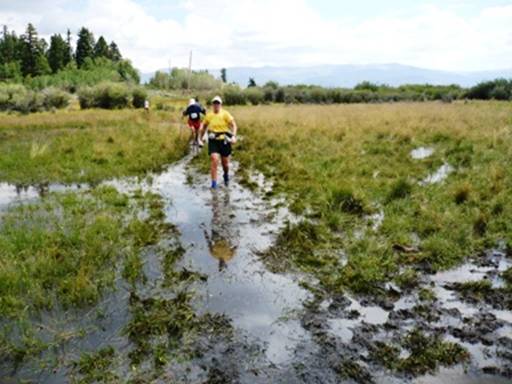 Runners behind me crossing a mud bog
The weather so far had been wonderful, partly cloudy and cool, but I could see that a storm was coming in for my climb up to Hope Pass.  I first crossed the valley and waded through mud bogs and streams.  The cool water temperature felt wonderful on my feet.  A rope helped with the crossing of the river.  The water now felt very cold.   The water went up to my thighs and the current was pretty strong.  
Now with wet, soaking feet, I turned my attention to the long climb up the mountain.   It took awhile, but I eventually settled into a steady, strong pace.  A few runners passed me.   Next, the rain started to fall.  As it turned into a soaking rain, I stopped and constructed a rain poncho out of a garbage bag.  My attire looked silly, but was very effective.  I stayed warm enough and continued to push on up the trail.   At about the half way point up the mountain, I was surprised to already see shirtless front-runner Anton Krupicka.   It seemed like he was on Matt Carpenter record pace.   Everyone around stepped off to the trail to let him run by.  (He went on to finish first in 16:14).
Continuing on, emerging through the treeline, the Hopeless aid station came into view.   The rain really started to pour as I entered into the station (mile 44.5) at 9:55, falling to 124th place.  Pushing on up to Hope Pass, the rain turned to hail and the wind kicked up.   The final switchbacks to the top seemed easy compared to the passes I climbed last week with a backpack.   I crested the pass that displayed many prayer flags.  The rain wasn't falling on the other side of the pass.
I looked far down the trail but there was no sign yet of the 2nd place runner.  I picked up the speed, shifting into downhill muscles.   After descending a few hundred feet, the next lead runners came into view.  I was thrilled to greet my friend Todd Holmes who was running in about 6th place.  He was having a great race.  He asked how I was doing and I assured him that I was doing great.  I continued on, entering the beautiful aspen tree layer.   Joe Kulak came into view.  He was doing well but struggling with the altitude.  Well, I had met my first goal of seeing my friends on the Winfield side of Hope Pass.  I pressed on down and was finally relieved to leave the steep trail and reach the Winfield dirt road.   Many runners who had already reached the halfway point at Winfield gave words of encouragement as we crossed paths on the road.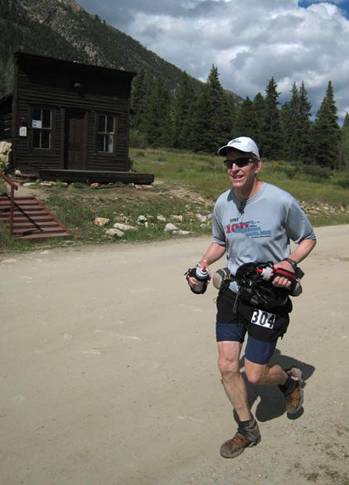 Arriving at Winfield
I arrived to cheers at the ghost town of Winfield at 11:39, 19 minutes behind schedule, in 126th place.   I knew that it was very important to arrive by 12:00 in order to stay ahead of the cutoff times.   I was pleased to reach this important goal.  My crew took great care of me and made sure I ate plenty.  I noticed that I was eating far more during this race compared to others.   Brad was ready and excited to start his pacing duties.  I had him take out a bunch of stuff from the muling bag that I knew I wouldn't need.   I didn't want to weigh down his pack with unnecessary stuff.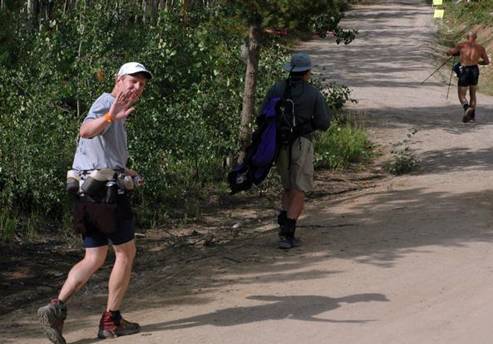 See you back at Twin Lakes!
As we left Winfield, Matt Watts walked with us out to the road.  I wondered if our Uinta trip had hurt his Leadville race.  He said he didn't care, he enjoyed our Uinta adventure far more.   When we reached the road, he gave words of encouragement and wished me luck.  Even though Matt had DNFed he spent many hours helping lots of runners at the aid stations late into the night.  What a champ!
It was now wonderful to have the company of a pacer!   Brad is a great conversationalist and launched into interesting topics.  I enthusiastically gave him a rundown of my race experiences so far.   As we ran down the Winfield road we greeted many runners behind me.  Some would call out, "Hi Davy!"   I would return the greeting but then say to Brad, "I wish I knew who that was."   All the vehicles were very annoying, driving fast on the road.   One car loaded with teenage girls slowed to tell us a dumb joke about strawberries. When we saw David and Carl driving up behind us, I yelled to Brad, "Let's race them!"   We blasted into a sprint and laughed as we reached the trailhead before them.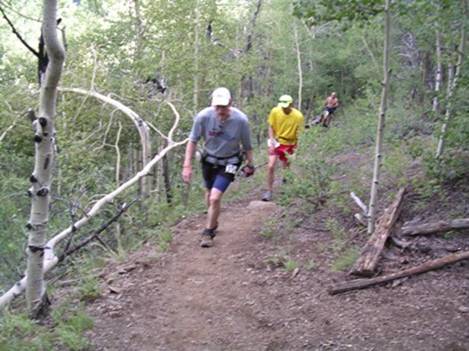 Me, grinding up the trail through the aspen trees
Now the work really started as we began the steep climb up back up to Hope Pass.  I commented to Brad that I bet that only one out of ten runners we would see over the next little while would finish the race.  They just wouldn't have enough time to make the cutoffs.   I remember soon seeing Anita Fromm.  (She made it back to Twin Lakes but didn't continue on).  Later we ran into Dale Perry.  I called him Wyatt Earp.   I worried that he was too close to cutoffs for a successful finishing pace.  (He didn't make the cutoff at Halfmoon, arriving about a half hour late).   I had trouble for about an hour really finding a strong uphill gear.   A few runners passed us as I struggled up the hill. 
Finally as we climbed above the treeline I said to Brad, "OK time to kick it into gear."   I pushed harder and discovered I had the strength to go much faster.   Brad started to breath much harder and finally told me that he needed to back off because he was feeling light-headed, but I should push on.  So, I did and I passed all of the runners who had passed us including others we had been chasing.   As I reached to the top of the pass, I waved down to Brad and wondered if I would see him again before Twin Lakes.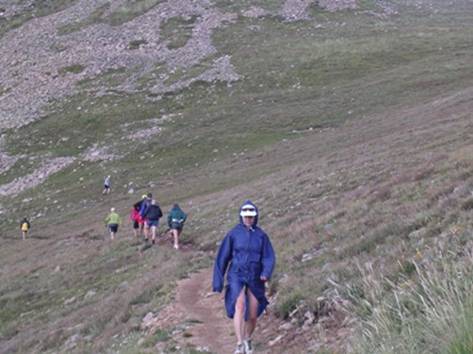 Brad looking up the trail toward me, furthest runner on next switchback.
Note a runner still coming down from the pass
Brad adds his version:  "Things really changed once we climbed above treeline.  When we had been in the trees we couldn't see very far ahead, but now we could see all the way to the top of the pass.  There were quite a few racers between us and the top, and the sight of them seemed to light your competitive fire.  You said, "Now I'm ready to kick it up a gear", and then you really put on the speed.  We started passing people.  I kept up for a while, but I just wasn't getting enough air.  We were up to the 12,000 foot line by now.  I started feeling light-headed and feared I was going to pass out.  I knew if I did pass out it would delay you, so I decided I better back off.  I told you I was going to have to slow down and that you'd better take your second water bottle from me so you would be able to refill it if I didn't catch up by the next aid station.  You also asked for the garbage bag I'd been carrying for you, which turned out to be a good choice."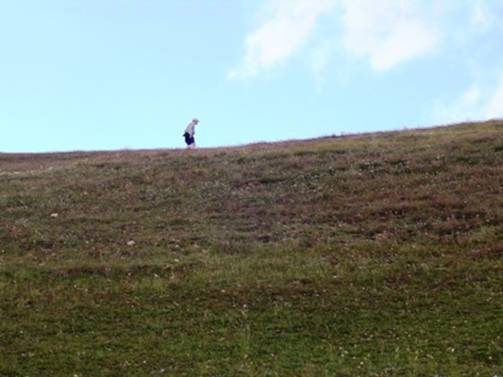 Brad watching me crest over Hope Pass 
Brad continues, "I stopped for a minute or so to catch my breath, and I must have looked like I was in bad shape.  Another runner's pacer stopped to ask if I was all right.  I told her I just needed a little breather and then I would be fine.  She asked if I wanted her to send the medical personnel back from the next aid station, but I insisted I would be OK.  Then I looked up and you were already about 200 yards up the hill.  You passed several runners during the last half mile up to the pass.  It started to rain and a cold wind started blowing, so I put on my shell."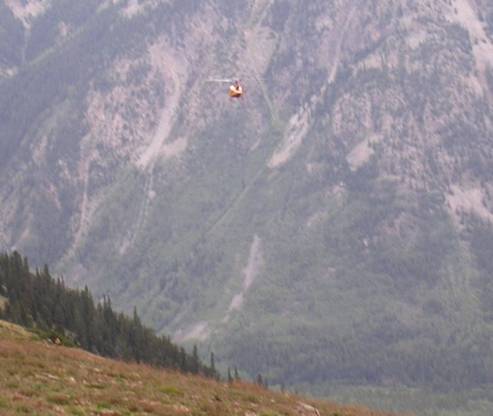 Helicopter heading down to Winfield
After going over the pass, I was amazed to see a helicopter coming up the valley.  Its motor was pushing hard and I wondered if it had enough horsepower to make it over the pass.  It flew over with about 50 feet to spare.  It was quite a sight.  Later we learned that a pacer had some medical problem and it was sent over to Winfield as a precaution.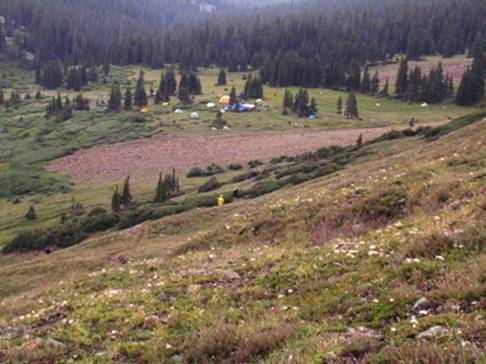 Brad's view of me approaching "Hopeless Aid Station"
Another storm blew in and I put my garbage bag back on.  By the time I reached Hopeless aid station, it was pouring again.   Many runners were huddled in the tarp tent for shelter.  No one offered to help fill my bottle, but I still had plenty, so I just grabbed a graham cracker, looked at the others, and decided to press on in the storm.  To my surprise, Brad showed up.   I was pleased to have my pacer back.  He grabbed some food and we were off.
Brad adds: "I'd seen you run into the aid station, but I wasn't sure if you'd left yet.  It was raining so hard that it was hard to tell.  When I came into the tent you were still there.  I slapped you on the back and you seemed surprised to see me.  There were a bunch of runners in there; I suppose some of them were waiting out the worst of the storm.  But you were ready to get going.  You asked if I was ready.  I grabbed a couple of Jolly Ranchers and 3 graham crackers and we headed out into the rain." 
We made some good time in the storm and probably passed a bunch of runners who seemed more interested in the aid station comfort than the race.   But soon we were taking shelter too.  Brad explains:  "The next half mile or so was funny.  The trail led down the hill but it wasn't too steep.  It felt good to be running fast in this heavy rain.  Then the rain turned to hail.  You started yelling "ouch, ouch, ouch" as the hail hit you.  With my broad-brimmed hat and thicker shell it wasn't hurting me, so I thought it was amusing to hear you yelping.  I thought about offering you my hat, but I didn't think the hail would last long.  You stopped under a tree, but the hail stopped a few seconds later so we started running again.  Then the hail started up again and you started yelping some more.  I was almost laughing, both at the yelping and also because I was still trying to eat my graham crackers but they were now so wet that they were starting to run down my arm.  I was also sweating so heavily that it was running into my eyes and stinging them.  We stopped under another tree and waited about 90 seconds until the hail started to slow down again.  Then we were off and running."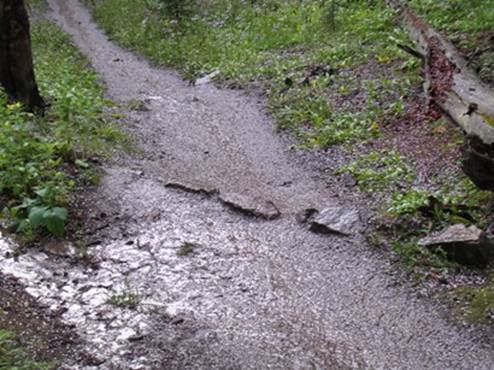 Hail and mud on the trail
My long sleeves outside my garbage bag were totally soaked.   I decided that it was time to really kick it into gear on the downhill.  I cautioned Brad to be careful.   We made good speed until one very steep spot in the mud where we started to ski.  We laughed with uneasiness as we continued to try hard to keep our balance.  Finally we caught up with runners ahead.  That got my competitive juices going and I pushed the speed a couple notches higher on some very technical sections covered with mud.  I felt wonderful as I cruised down the muddy trail passing runner after runner.  I looked back and there was no sign of Brad.  I was glad that he wasn't trying to keep up on this difficult section.  I pushed it hard all the way down to the flat meadow section where the river and creek crossings slowed me back down.
Brad had a "fun" time too:  He wrote, "The trail became steeper and muddier.  The mud was over an inch deep in most places and very slippery.  You didn't slow down at all.  We started encountering a few scattered runners and they were all moving slowly, gingerly picking their way through the slippery mud.  You blew past them.  I heard one say to his pacer, "What was that?"  I kept up for a while but it was scary to be moving so fast on such steep, slippery ground.  I only saw you slip once.  Your feet shot forward on some slick mud, but you only had to put down one hand behind you to catch yourself.  I had a scary slide down one section where I nearly lost control and was grabbing at rocks and branches to try to slow down.  I almost plowed into you.  After that I slowed down and you started opening up a gap between us.  There were lots of switchbacks and the trees were getting thicker, so pretty soon I couldn't see you.  I was still going faster than anyone else on this section of trail and passed several others, but the gap between us kept widening."
My faithful dropped pacer continues, "As I passed another runner he picked up speed and started following close behind me.  He said he had been feeling lethargic and it was good to have company.  He didn't have a pacer and said he now could see the value of a pacer.  He stayed with me and I was his pacer for the next couple of miles.  When we got near the bottom of the hill the trees started to thin out and I could see further ahead.  I got a few glimpses of you and you were about 2/10 of a mile ahead and still moving fast as we moved out into the marshy area near the river.  Then came the first stream crossing.  There were 4 or 5 racers and pacers standing off the side of the trail.  I was curious what they were doing.  Were they just afraid to get in the water?  I wanted to talk to them, but I was too intent on catching up so I just plunged into the water.  It was cold.  The water came halfway up my thighs." "That first stream crossing was actually kind of nice because it washed a lot of the mud off my shoes and legs.  But then there were another 8 or 9 stream crossings.  They varied from a couple of inches deep to halfway up to my knees.  Some of them were clear, swiftly flowing water with a gravelly streambed, but some of them were muddy, stagnant water with a muddy base.  Then there was the swamp.  It was about 30 yards across and reminded me of the Dead Marshes in The Two Towers.  It had the smell of rotting vegetation.  Each step splashed up stinky, black mud.  I was glad to get past that.  But the other stream crossings were fun.  It made me think of a steeplechase."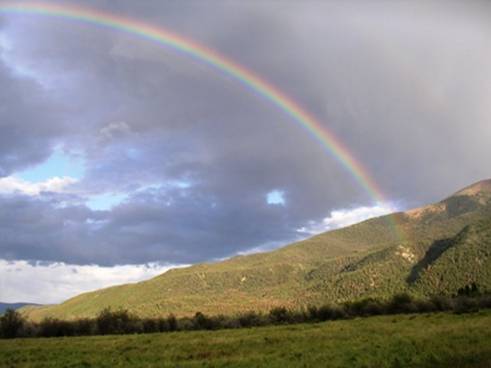 Rainbow viewed from the marshy area near Twin Lakes "As I came up out of the marshy area I saw you again.  You were only about 300 yards ahead.  I picked up speed again because I wanted to catch up, but you picked up speed too.  I felt a little silly as I reached the edge of Twin Lakes where there were lots of people out watching.  I had this bright red P on my number patch indicating that I was a pacer, and there was no runner near me.  A couple of the spectators even pointed this out.  As they clapped and rang cowbells one shouted out, "Even pacers who can't keep up with their runners deserve a cheer."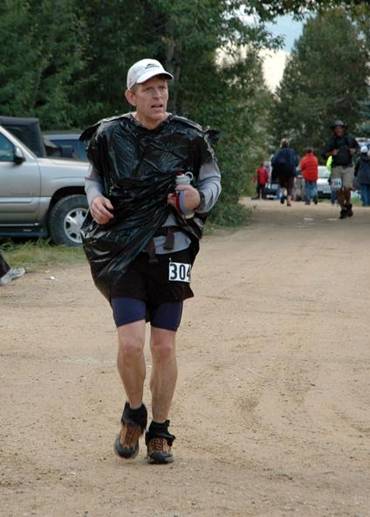 Arriving in Twin Lakes with my high-tech rain gear
I reached Twin Lakes again (mile 60.5) again at 15:12, just 12 minutes behind my goal schedule, now running in 105th place.  I told the others that I didn't know where Brad was.  They pointed behind me, "There he is."   He cruised in looking like a worn out wet puppy dog trying to catch up with its master.  Brad further explained,  "As I crossed the highway I could see that you had slowed to a walk.  This was my chance to catch up!  But you started running again just before you rounded the last corner.  I gave it everything I had, but I was still about 40 yards behind as you entered the aid station.  You were smiling as you came out of the fire station and David and Carl filled your bottles.  I think you really enjoyed running me into the ground."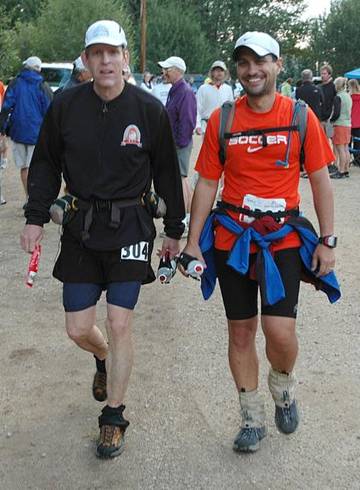 Next Pacer victim Carl is all smiles
I apologized for dropping Brad for the last half of the descent.  His pacing duties were now over and it was time for Carl to take over.  Carl had paced me for the last 30 miles of Vermont 100 last month.  The guys had everything ready.  I changed into a warm dry shirt for the night, grabbed a burrito for the road, and we were off.   I noticed one interesting thing right away.  The runners that left with us were unfamiliar.  I couldn't remember ever seeing them on the trail before.  I believed this was a good sign.  I must be moving up in the running order.  (I was, 126th at Winfield and now 105th.)
I explained to Carl that it would take awhile before I found a good uphill gear again.   We had a long 1,600-foot climb ahead of us.  I was in good spirits and feeling generally well.   Soon Carl's patience for my slow pace wore thin.  He did just as I instructed and started to rail on me.   He tried everything to get me to go faster, and he warned me that he wouldn't let up.  I started to worry about the Halfmoon cutoff that Dale Perry had warned me was tough to make.  Carl asked what the cutoff was.  "About 1 a.m.," I replied.  He told me to quit whining and worrying, I would get to Halfmoon by 10 p.m.   Oh, OK.   I no longer worried about any cutoffs.
After about 15 minutes of this constant bantering from Carl, I discovered how to get him to shut up.  If I pushed the hills harder, he started breathing harder and couldn't yap at me.   I grinned to myself.  This was going to be fun.   I pushed it even harder.   Soon Carl was saying, "Go ahead, I'll catch up later."  As we reached the top of the ridge, the trail started to roll up and down and I really enjoyed it.   Carl caught up and we took out of lights because it was now dark.  I reflected that  in 2005 at this point I was back at Hope Pass.  I was doing great!
I absolutely thrive with running in the dark.   Something about the cooler temperatures and the challenge of bounding down dark trails really gets me going.  I started to step it up a notch.  As I did, I finally spotted the lights of a runner and pacer ahead.   I told Carl, "Let's reel them in!"   Away we went, going like crazy.  I felt wonderful.   Carl was doing everything he could do to keep up.  We passed those runners and then saw more ahead.  Again we put on the chase.   After awhile Carl just couldn't stay with me.  I laughed.  For about the next hour, I ran alone but continued the chasing game catching runner after runner with my green light.   As I passed two women, they asked if I was alone.  "Yes, but I have a pacer back there somewhere, maybe a couple miles, back."   About five minutes later, I was delighted to hear my faithful pacer bounding down the trail.  He had caught back up as I started to slow.
We spilled out onto the dirt road that would lead us to Halfmoon.   At times we would turn out our lights and run by the blazing stars in the sky.  I then told Carl about a fun trick.  When we would see another runner ahead, we would turn our lights out so they couldn't see us, but then right when we approached, we would turn them on and blast by them.   As we were getting closer to Halfmoon, I continued to chase runners very hard, at times again leaving Carl behind, but he always caught up.
Carl later commented: ""I learned a lot about Davy in this race compared to the VT100 where he had a lot of stomach issues. In this race Davy was strong physically and having fun. Well, fun for Davy is passing people. On my watch, Davy passed more than 20 people. He basically treats it like a game…spot a light up ahead in the darkness and "reel it in". He is a great competitor and has learned a few tricks over the years like the old "turn out the lights at night, sneak up on the front runner, and blast past" technique. And he also loves to assess the coming aid station and see how many people he can get by if he eats and drinks quickly. Each runner he "devours" seems to give him extra energy…it was like he fed on the other runners somehow!"
"I also found that I could play into this great competitive spirit and bully/tease him into running when he was being lazy. When we were running on the road down by Half Moon Road, I found that by simply using my GPS watch (which told me our pace) I could run slightly ahead of him and tell him, "Davy, this is an 11 min/mile pace" and he would respond and run a little harder to keep up as 11 min miles are fairly slow for him on the flats. Then I would speed up a little again until the watch said 10 min pace and tease him with "This is a 10 min/mile pace, Davy….is this too fast?". Again he would catch-up. I would speed up again to 9 min miles and then 8 min miles. Davy would again speed up and keep the pace. As we approached the fish hatchery I did this and he blasted by me as I told him to run on ahead as there was no way I could keep an 8 min/mile pace at 10,000 feet. That was pretty much the last I saw of him."
I arrived at Halfmoon (mile 69.5) at 17:47, now three minutes ahead of my goal schedule!   I was also now running in 86th place.  During that last leg we had passed nearly 30 runners!   We pushed on for the next 2.5 miles and arrived at the crewing location of Treeline.   The number of cars lined up there was amazing.   Some cars had party lights on them to help runners identify them.  Soon we found Brad and David.  After a quick refuel we pushed on along the section I despise, the long road section to Fish Hatchery.  We tried to make it fun, turning our lights out at times, and catching other runners.  
Carl tells the story now,  "As we left the Treeline stop, we began running towards a couple of lights. Turns out it was two women, one pacer/one runner. We initially passed them but then slowed down a bit. The women passed us back and we complimented them on their pace. Then we passed them again, but Davy had to use the restroom. This took him a while as he had to wait until the women passed again as well as for a few cars to get out of the way. I waited up ahead. As he finished his business he started running up to me. I joined him but he was really picking up the pace. I asked if he was trying to pass the women once again and he said "Yes….going to slam the door". As Davy ran ahead, I tried to keep up but he was a bit faster than an 8 min/mile and I started sucking wind. He passed the girls as I told him to "go go go". For the next 30 minutes I could see him a quarter mile ahead. I continued to try and run faster and catch up, but the closest I got was about 20 yards as Davy walked into the Fish Hatchery aid station. The door was slammed. We never saw the women again."
I passed another group of runners and cruised into Fish Hatchery (mile  76.5) with Carl coming in a minute later.   We arrived at 19:27, 13 minutes ahead of schedule.   We surprised David and Brad with our early arrival.  Carl's pacing duties were over.  I smiled as he explained to the others how I had thrashed him.   He wished he hadn't railed on me early in the run and got me fired up.  But Carl did the job very well.   I climbed 27 places during his watch and now was back ahead of my goal pace for a 27-hour finish.
OK, now I knew it would start getting tough.   After all that fun, I put on a serious face.   David would pace me to the finish.  
David commented, "I had been worried about pacing Dave this year because I knew he had greatly improved his strength and endurance.  Even though I would be going with him during the last 23.5 miles when he would be tired, I knew I had a challenging night ahead of me.  However, I had to push those worries aside when Dave came running into Fish Hatchery ahead of schedule – it was time to crew and pace!"
We had 23.5 more miles to cover before the finish and it included the 3rd toughest climb of the course, up the powerline road.   I started slow, explaining to David that it would take awhile before I found that good uphill gear after an aid station stop.   David was dressed for the Arctic.   Within a half mile he was stripping clothes.   David explained:  "Although I love cold weather activities like skiing, I don't handle cold temperatures very well, so I was worried about getting too cold while pacing Dave.  My response was to over-prepare; I was wearing multiple layers of clothing and a winter cap.  The volunteers in the Fish Hatchery aid station all gave me bemused looks when I went in to fill my water bottles but they politely helped me with my preparations.  Carl, however, didn't mess around with niceties.  He simply started laughing when he saw me and later commented that I looked like a lost Eskimo.  Turns out I didn't need all that stuff – within ten minutes of leaving Fish Hatchery I was shedding clothes, and at May Queen, I abandoned for good most of my outer wear.  It was a cool night, but our fast pace was kept me warm."
We played leap-frog with a couple runners as we went up the tough hill but I finally was able to step it up a gear and we put some distance on those behind.   I could look down the hill and see lights of many other runners far down the mountain.   After awhile, I started to get very drowsy and slowed down.   I did sit down for a couple minutes making adjustments and resting my eyes.  Finally, I pulled out my MP3, turned up the music and pushed the pace harder.  That woke me up.   I knew that I was turning off any conversation with David, but at this point I needed to try something to wake me up.
David observed, "The stretch between Fish Hatchery and May Queen is basically a very long climb followed by a long downhill divided between a road and a rocky forest trail.  The previous 80 miles had taken their toll on Dave as he slogged up the hill.  We were passed a couple of times by other runners, but overall we maintained an OK pace.  Dave decided to try and fight the sleepiness that was sneaking up on him by turning on his MP3 player.  This was a good thing for him because I wasn't doing much good in the conversation department.  It also brought an interesting new twist to our run.  Dave likes to sing along to the tunes on his MP3 player – usually quite loudly.  No offense to Dave, but his singing ranks a close second to fingernails on a chalkboard.  But I did spend a couple of hours amusing myself trying to figure out which songs he was singing – I think I ended up about 1 for 53."
David was a champ.   I know he felt like he was kind of just there for the ride, but I recall him doing many simple kind acts of service during these next several hours.   He would help me with very simple tasks that I was just too tired to think about.  Taking off a jacket, unwrapping a piece of candy, picking up things I dropped, finding things in my pockets.  I would incoherently ask him to do something for me and he would patiently listen trying to understand.  It takes a special individual to take care of an invalid who is on mile 80.
When we finally reached the top, the fun began again!   I kicked in my downhill running gears and we started to really blast down the Sugar Loaf Pass road.   We were really hauling.  David kept up with me all the way.    We passed by runner after runner who were walking.  They usually said, "Nice work!"   As we ran by one runner and a pacer, they joked, "Oh sure, we could run that fast if we had a green light too!"   When the road was smooth, we again had some fun turning out our lights and running by startled "runners."  Orion was in the sky and its belt was almost vertical with the ground, looking like radio tower lights. 
Eventually we hit the single-track Colorado Trail again and I delighted in the technical challenge of running fast down the trail full of rocks.  David did all he could to watch my every step and stay in stride with me.  We passed some runners who were very impressed with our speed down the trail.   After awhile, the rocks wore me down and I slowed.   We then just slogged on until May Queen.   We arrived at May Queen (mile 86.5) at 22:36, running in 62nd place.  Wow, on that leg we had passed 16 runners!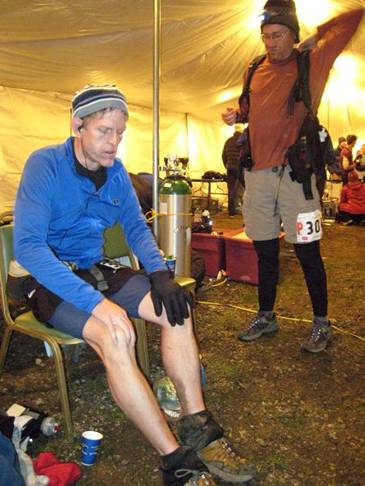 Me and David looking beat up at May Queen at 3 a.m.
I was ushered into a warm aid station tent.   I felt hammered.  Brad observed, "You looked pretty wasted there."   A doctor came up and observed me.  He eventually gave his approval that I could go on.  My stop there was too long (14 minutes), but I needed it.  Eventually I started to chill and I knew that I better get going before it was too late.   I put on more warm clothes to avoid the chill and away David and I went, to run on the trail along the shore of Turquoise Lake.
Again I had a tough time finding the strength to run again.   As I warmed up I had to stop to shed some clothes.  Runners passed me by.   After a couple of miles of slogging, lots of walking with some jogging, I had a talk with myself.  I could continue a slog along like this to the end, making it a very long trip in, or I could quit being lazy, put aside the pain, and push a fast run on this nice trail along the lake.   I finally was able to kick it in gear again.  David struggled and did his best to keep up and we started running fast on the rolling trail, running all the hills.   We quickly caught and passed the runners ahead of us and then passed others who had left May Queen before us.   With a mile or so to go before the Tabor Boat Launch, I noticed a light flashing at us from the boat launch shore.   We agreed that it probably was Carl.  We flashed our lights in return.  Next, I tried to sing at the top of my lungs to see if Carl could hear.   Sure enough, I heard him singing "God Bless America" in return.   It was amazing how the sound carried so clearly across the lake.   Next, Carl and David exchanged choruses of "Row, row, row, your boat."   It was pretty funny and we were having a grand time.We continued to pass a few runners.   About that time, we passed
Utah runners for the last time, Marc Sanderson, and Leon
Deitlaf
.
Marc later commented, "
You blew by me and Leon like we were standing still just prior to the boat harbor."

  

We arrived at the boat harbor laughing about Carl's antics across the lake.
Next up, the trail was tough to navigate in the dark.

 

The glow sticks used were fading fast.

 

We wasted several minutes along the section doing some route finding, but we finally made it and spilled out onto more established trails and roads.

  

We turned off our lights as much as possible to make sure we didn't motivate any runners ahead.

 

It was funny, because most runners use headlamps, you can see them far off turning their head to see if anyone is catching up to them.

   

We spotted a couple runners a long way ahead and worked hard, finally passing them at the railroad tracks.

  

At that point I checked the time and expressed a desire to David to break 26 hours.

  

We knew the pace that would be needed, but the 90-mile pain was really starting to kick in.

 

After running so hard during the night, I just couldn't find the strength anymore.

  

When we hit the Boulevard, we could see lights of runners about a half mile ahead.

  

We turned off our lights and did our best to try to catch up, but they were moving fast too and we just weren't making progress catching them.

 

So finally I backed off and was content to mostly walk it in.
Dawn arrived, so we turned our lights out just before
McWethy

Drive in Leadville.

 

I was concerned about a runner about a quarter mile behind catching me.

 

We became confused at the junction of

McWethy

and 6th Street.

 

We asked some cars passing by but got conflicting directions which way we should head.

  

After several minutes of running back and forth we were convinced to run up 6th Street.

 

Meanwhile, the runner behind me was only 100 yards away.

  

I kicked it into gear and ran.

  

One funny note is that we spotted a fox on 6th Street in front of a house watching us.

   

We later speculated that he noticed my coonskin hat and thought I was food.

  

David wrote, "One thing we have all learned about Crockett is that he always wants to finish strong.  Even after 99 miles, he dug down deep and found another gear to complete the final mile at a run."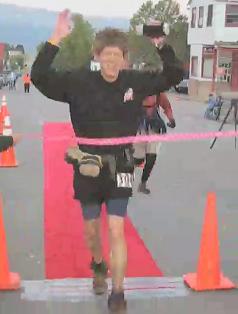 See a Video of my finish The finish line was now in sight!  A guy in a car radioed my number to the finish line and we could hear them announce my name.   I soon could hear the cheers and see the red carpet at the finish line.  David backed off and let me take the center stage.  Carl was there taking video.  Over the loud speaker I could hear the Leadville mayor trying to crack jokes about my name.   I crossed the finish line with a smile of satisfaction on my face.   I had done it!   26:15.   Even more surprising is that I finished in 60th place. 
I went to the medical tent and passed the quick check to see if I was still alive.  They found a pulse and let me go.   My faithful pacers/crew surrounded me and offered congratulations.   I thanked them.  I could not have performed as well without them.   By far this was the funnest 100-miler I had run.   I had a good race.   Joe Kulak later corrected me, "Actually it is a GREAT race if you drop your pacers.  NEVER let them forget it."   He also paid me a nice complement, "Davy – Two years ago you were entering and DNF-ing 100's like lemmings jumping off a cliff.  Since then you've finished more 100's than any of us proving that focus, determination and old-fashioned grit will get you to the finish line."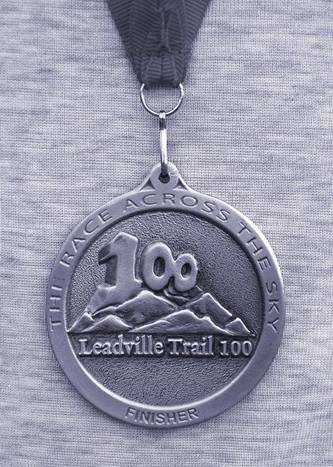 We did it!
Brad summed up my race, "I was impressed by how well you looked at each of the aid stations in the latter half of the race.  At last year's Wasatch 100 and Bear 100 you looked haggard and in pain at the later aid stations.  But at this race you looked strong, you were smiling, and you didn't look like you were in serious pain.  The only exception was Mayqueen pass 2; you looked pretty wasted there.  I noticed that you were eating and drinking better than at the other 2 ultras I've been to.  You consumed sandwiches at nearly every aid station, and you were nearly emptying your water bottles between stations.  That probably had something to do with how well you finished."
I never had to change my shoes or socks the entire way and ended up without any blisters.   That really is a victory!
Out of the 580 starters, 210 crossed the finish line, again proving the difficulty of finishing the Leadville Trails 100 within its tough 30-hour cutoff time.
Next up for me, Plain 100.
| | | | | | | |
| --- | --- | --- | --- | --- | --- | --- |
|   | miles | clock goal | goal | 2005 | 2007 actual | place |
Unofficial Results 
1

Anton Krupicka

Colorado Springs, CO

016:14:35

2

Harry Harcrow

Woodland Park, CO

019:33:17

3

Charles Corfield

Los Altos, CA

019:42:30

4

Quent Bearden

San Diego, CA

019:58:57

5

Daniel Schmidt

Denver, CO

020:17:52

6

Todd Holmes

Lakewood, CO

020:26:10

7

Duncan Callahan

Gunnison, CO

020:35:55

8

Eric Bindner

Littleton, CO

021:05:19

9

Paul Adams

Crested

Butte, CO

021:08:39

10

Christian Hendrickson

Denver, CO

021:15:33

11

Glen Redpath

Brooklyn, NY

021:33:41

12

Phil Shaw

Everett, WA

021:40:48

13

Jeffrey Welsh

Greenville, NC

021:53:55

14

John Hemsky

Littleton, CO

022:15:36

15

David Goggins

Chula Vista, CA

022:15:36

16

Eric Seremet

Colorado Springs, CO

022:39:05

17

Joe Wolf

Denver, CO

022:40:03

18

Hiroki Ishikawa

Kamakura,

Kanagawa, Japan

022:41:56

19

Tammy Stone

Florence, CO

022:44:54

20

Michele Jensen

Littleton, CO

022:49:14

21

Paul Stofko

Loveland, CO

022:56:32

22

Chuck Cofer

Leadville, CO

023:14:38

23

Michael Courtney

Albuquerque, NM

023:18:57

24

Gary Stott

Boise, ID

023:24:15

25

Lauren Adams

Park City, UT

023:31:19

26

Bill Thomas

Marysville, WA

023:34:37

27

Helen Cospolich

Breckenridge, CO

023:35:54

28

Joe Kulak

Oreland, PA

023:41:49

29

Scott Klopfenstein

Cascade, CO

023:42:47

30

Christian Robbins

Denver, CO

023:47:15

31

Luis Guerrero

Ciudad de los

Depor

, Mexico

023:50:25

32

Kenneth Jolley

Greenwood Village, CO

023:52:18

33

Brian Fisher

Littleton, CO

023:54:22

34

Susan Brozik

Albuquerque, NM

023:59:33

35

Hollis Baugh

Denver, CO

024:01:38

36

Greg Dalton

Laporte, CO

024:01:54

37

Jake Holscher

Denver, CO

024:06:09

38

David Carner

Louisville, CO

024:07:38

39

Ted Bidwell

Colorado Springs, CO

024:09:13

40

Robert Koehler

Colorado Springs, CO

024:13:16

41

Eric Truhe

Denver, CO

024:15:22

42

Marc Miller

Casper, WY

024:16:03

43

Ronda Sundermeier

Tigard, OR

024:16:26

44

Charlie Nuttelman

Boulder, CO

024:28:51

45

Jeff Myers

Manitou Springs, CO

024:32:15

46

Tania Pacev

Littleton, CO

024:40:08

47

Bryan Goding

Ft. Collins, CO

024:44:52

48

Bret Crock

Parker, CO

024:46:35

49

Mario Varela

Leadville, CO

024:47:33

50

Darrel Meyer

Fort Worth, TX

024:47:37

51

Pat Scott

Los Ranchos, NM

024:49:06

52

Gregory Labbe

Longmont, CO

024:51:49

53

John Genet

Colorado Springs, CO

024:56:48

54

Edwin Heller

Albuquerque, NM

025:10:30

55

Andrew Heard

Phoenix, AZ

025:12:05

56

Kristen Kern

Los Alamos, NM

025:19:21

57

Neal Taylor

Manitou Springs, CO

026:03:13

58

Steven Kral

Wilmore, KY

026:03:36

59

Bill Laster

Bailey, CO

026:06:00

60

David Crockett

Saratoga Springs, UT

026:15:46

61

Robert Struble

Jefferson Hills, PA

026:18:22

62

Ben Guerard

Calgary, ALB,

Canada

026:20:16

63

Amber DeBoer

Bailey, CO

026:24:11

64

Tyler Curiel

San Antonio, TX

026:25:17

65

W. Brian Costilow

Leadville, CO

026:25:21

66

Nick Wzientek

Silver Spring, MD

026:26:57

67

Leon Deitlaf

Pleasant Grove, UT

026:34:26

68

Marc Sanderson

Pleasant Grove, UT

026:34:27

69

Kevin Neadeau*

Lyons, CO

026:35:58

70

Cory Leppert

Colorado Springs, CO

026:36:45

71

Mike McHargue*

Leadville, CO

026:40:58

72

Don Moden

Chandler, AZ

026:43:05

73

Joy Robertson

Boulder, CO

026:46:35

74

Morgan Murri*

Pagosa Springs, CO

026:47:13

75

Brian Siljander

Encinitas, CA

026:51:18

76

Aaron Delfausse

Denver, CO

026:56:14

77

Robert King

Porter, TX

027:00:24

78

Eric Pence

Eagle, CO

027:03:50

79

Stuart Nelson

Leadville, CO

027:04:06

80

Paul Smith

Colorado Springs, CO

027:04:46

81

Fred Coogan

Austin, TX

027:08:38

82

Dan Brenden

Phoenix, AZ

027:12:08

83

Chisholm Deupree

Edmond, OK

027:13:28

84

Paul Schoenlaub

St. Joseph, MO

027:13:29

85

Charles Bybee*

Denver, CO

027:19:25

86

Elwyn Owen*

Highlands Ranch, CO

027:22:54

87

Jamshid Khajavi

Kirkland, WA

027:22:55

88

Miles Krier

Leadville, CO

027:24:26

89

Garry Curry

Boulder, CO

027:25:13

90

Erwin Vargas

Colorado Springs, CO

027:26:44

91

Chris Garcia

Menlo Park, CA

027:30:17

92

Tom Garrison

Santa Fe, NM

027:32:32

93

Ken Gordon

Albuquerque, NM

027:32:33

94

Bill Finkbeiner

Auburn, CA

027:34:35

95

Kirk Apt

Crested

Butte, CO

027:34:36

96

John Teeples

Fortson, GA

027:34:36

97

Henry Guzman

Boulder, CO

027:35:39

98

Julie Hagen

Dumont, CO

027:37:51

99

Thomas Sowers

Fountain, CO

027:39:46

100

Gregory Trapp

Reynoldsburg, OH

027:42:20

101

Donald Appleman

Bailey, CO

027:43:48

102

Nick Collins

Tualatin, OR

027:44:07

103

William Glojek

U.S. Air Force Acad, CO

027:45:20

104

Kevin Townsend

Lebanon, VA

027:54:39

105

Jason Halladay

Los Alamos, NM

027:55:28

106

Bill Geist

Los Alamos, NM

027:55:28

107

Jill Miller

Winston-Salem, NC

027:57:15

108

James Salasovich

Boulder, CO

027:59:24

109

Jeff Staron

Boulder, CO

027:59:29

110

John Miller

Zuni, NM

027:59:32

111

Lori Lebel

Danvers, MA

028:00:52

112

Thomas Bauer

Moreland Hills, OH

028:02:13

113

Philip Wiley

Durango, CO

028:04:08

114

Julie Arter

Tucson, AZ

028:06:15

115

Daniel Benhammou

Longmont, CO

028:08:58

116

Hans-Dieter Weisshaar

Landwehrhagen, Germany

028:11:59

117

Joe Ross

Austin, TX

028:12:25

118

Eric Lederer

Tucson, AZ

028:14:33

119

Donn Zea

Grass Valley, CA

028:15:32

120

Wade Jarvis

Canmore, AB, Canada

028:15:53

121

Jo Ann Beine

Centennial, CO

028:16:35

122

Russell Kline

Laveen, AZ

028:17:28

123

Ryan Burch

Fort Collins, CO

028:18:18

124

Joshua Weissman

Fort Collins, CO

028:20:15

125

Daniel Piper

Roseville, CA

028:21:49

126

Art Long

Florence, CO

028:22:30

127

Brian Manley

Centennial, CO

028:23:09

128

Karyn Hoffman

Folsom, CA

028:24:49

129

Rickie Redland-MacManus

Salida, CO

028:26:00

130

Todd Scott^

Royal Oak, MI

028:27:29

131

Doug Fisher

Cedar Park, TX

028:29:11

132

Lyle Eaton

Fort Collins, CO

028:31:30

133

Doug Nash

Ft. Collins, CO

028:31:32

134

Markus Mueller

Avon, CO

028:33:09

135

Scott Gordon

Albuquerque, NM

028:33:29

136

Vince Gerber

Estes Park, CO

028:34:04

137

Julie Ann Bergman

Boulder, CO

028:35:47

138

Jon Teisher

Colorado Springs, CO

028:37:32

139

Dave Yeakel, Jr.

Falls Church, VA

028:38:17

140

Cory T. Johnson

Ogden, UT

028:40:34

141

Benjamin Bruno

Central City, CO

028:41:02

142

Beth Simpson

Bayside, WI

028:41:12

143

Larry Hall

Chicago, IL

028:41:12

144

Paul DeWitt

Monument, CO

028:42:02

145

Jim DeWitt

Cary, NC

028:42:02

146

Gerald Oliver*

Edwards, CO

028:44:07

147

Ryan Martin

Centennial, CO

028:47:27

148

Rick Gates

Salt Lake City, UT

028:50:39

149

Daniel Welch

USAF Academy, CO

028:52:55

150

Liz Walker

Plainville, GA

028:54:19

151

Patty Bryant

Santa Barbara, CA

028:54:35

152

Fred Abramowitz

Ft. Collins, CO

028:54:52

153

Eric Lee

Fort Collins, CO

028:55:57

154

Richard Freeman

South Park, PA

028:56:05

155

John Harrington

Rociada, NM

028:56:14

156

Terri Pfeil

Boulder, CO

028:56:39

157

Mike Suminski

Victoria, BC, Canada

028:57:19

158

Richard Reichelt

Espanola, NM

028:57:27

159

Philip Kahn

Winter Park, CO

028:58:39

160

Euihwa Lee

Newtown, PA

029:02:03

161

Jeanie Grooms

Grand Junction, CO

029:03:54

162

Hans van Willigen

Woolwich, ME

029:04:08

163

Thomas Stockton

Los Alamos, NM

029:04:51

164

Les Jones

Memphis, TN

029:06:17

165

Neil Blake

Rio Rancho, NM

029:07:02

166

Gregg Martell

Tetonia, ID

029:07:53

167

David Jessen

Bettendorf, IA

029:08:44

168

Nancy Kirstein

Sioux Falls, SD

029:11:10

169

Lee Burton

Divide, CO

029:12:41

170

James Ehasz

Platteville, WI

029:13:51

171

Phil Rosenstein

Brown Deer, WI

029:15:34

172

Rob Hacker

Boulder, CO

029:15:48

173

Pat Benner

Superior, CO

029:15:57

174

Tim Hicks

Altaville/Angels Ca, CA

029:16:03

175

Mike Ehrlich

Steamboat Springs, CO

029:17:37

176

Lucas Foley

Santa Clara, CA

029:18:00

177

Luke Pennington

Littleton, CO

029:18:09

178

Jed Millar

Highland, UT

029:19:00

179

Mike Smith

Fishers, IN

029:19:54

180

Heidi Bennett

Salt Lake City, UT

029:20:59

181

Rick Reimer

Denver, CO

029:21:16

182

Janet Park

Bayfield, CO

029:21:35

183

Peter Sanders

Boulder, CO

029:21:39

184

Tommy Gallagher

Reno, NV

029:22:03

185

Dan Steward

Littleton, CO

029:22:08

186

Chris Picon

Greeley, CO

029:22:28

187

Michael Hoffman

Folsom, CA

029:22:38

188

Tom Schnitzius

Dillon, CO

029:22:54

189

Allan Holtz

Oakdale, MN

029:25:43

190

Tia Bodington

Denver, CO

029:27:06

191

Matt Karzen

Athens, GA

029:28:19

192

John Hobbs

Evergreen, CO

029:30:11

193

Marv Bradley

Canon City, CO

029:33:00

194

Chris Basford

Newport News, VA

029:34:05

195

Terri Handy

Niwot, CO

029:34:50

196

Robert Read

Denver, CO

029:35:53

197

Tracey Branch

Eaton, CO

029:36:06

198

Will Huskie

Golden, CO

029:37:04

199

Paul Schmidt

Davenport, IA

029:38:01

200

Peter Stringer

Osterville, MA

029:38:57

201

Bob Ketchell

Wilmington, NY

029:39:32

202

Mark Wieneke

Oak View, CA

029:39:55

203

Joseph Pastorello

Colorado Springs, CO

029:40:23

204

Jason Amadori^

Windemere, FL

029:40:36

205

Charles Francisco

Mt. Home, ID

029:44:04

206

Jeff Bostow

Apple Valley, MN

029:46:45

207

Robin Halloran

Durango, CO

029:49:38

208

Dennis Drey

Albuquerque, NM

029:51:36

209

Jamen Nelson

Holladay, UT

029:52:38

210

David Strong

Tucson, AZ

029:53:38