October 17-18, 2008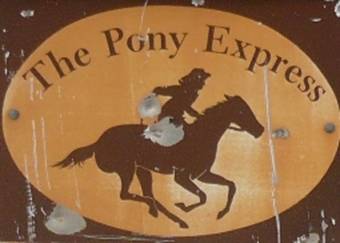 Course Description
The Pony Express Trail 100 Endurance Run is a unique 100-mile race that runs on a section of the historic trail in the west desert of Utah.   This area of the country is very isolated and undeveloped, nearly untouched since Pony Express riders rode across it in the 1860s.  
I put together this run as a way to share this very unique landscape and history with other runners who appreciate the thrill of running out in "the middle of nowhere."   Because there are no good water sources along the course, the race requires that a crew drive along with as you run. Pacers are welcome at any point and there are no cutoff times as long as your crew is there to help.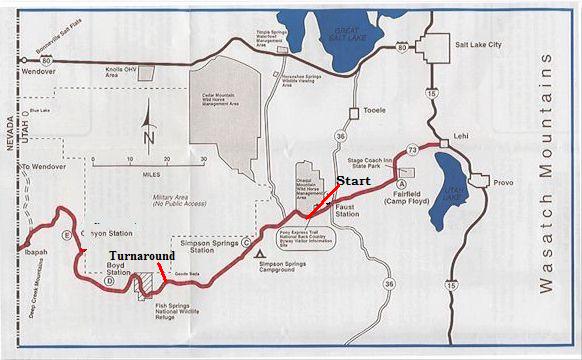 This was the third official running of the race.  In past years the course was a point-to-point 100-mile experience on the trail.   After finishing, it required a long 3-hour bumpy ride back to the start.  This year we decided to do an out-and-back, making it much easier on the runners and crews because they could avoid the long drive back.   However, the course is more difficult, with more long climbs to make.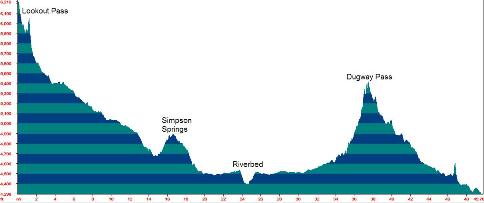 Course Profile
The surface was 100% dirt road, but runners had the option to hop off the road and run on the desert floor near the road, where the surface was much softer, but also somewhat slower.  On the way out, the course descends about 4,500 feet and climbs about 2,500.   The trip back is the reverse, 4,500 up and only 2,500 feet down, for a total climb of about 7,000 feet.
With crews going along, it really provides a unique feature. Most runners would send their crews ahead about three miles where they would wait for them to arrive.  In this way, family and friends could witness an entire 100-mile race and see the highs and lows experience by their runners.   Also, it is very easy to receive information about the other runners ahead or behind because crews would be in contact with those runners or crews. And finally, because the landscape is so wide open, you can see for miles. During the day you can see runners and crews about two miles away, and at night, you can see their lights up to 20 miles away. You are able to know pretty clearly where your competition is on the course.
The racers and crews

This year, for the first time, two runners from out of state signed up.  They were joined by five other runners from Utah.   Here is who showed up to the start.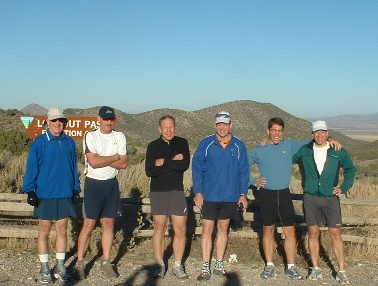 Ed, Brent, Frank, Davy, Pablo, Mark (Matt missing)
Ed Demoney is a ultrarunning legend, in his 70's, from Northern Virginia.  For many years he was the race director of the Massanutten Mountain Trails 100 in Virginia.  He's a former Executive Director of the Road Runners Club of America.  He's finished over 125 ultras and 26 100-milers, his first back in 1979.  I first read about him and his daughter Lisa (who will crew him) in the ultra book "Running Through the Wall: Personal Encounters with the Ultramarathon."   In 2000, he was the recipient of the James Moore Award that honors a Northern Virginia runner for significant accomplishments and service.  
Frank Bott is a photographer from North Carolina.  He was born in Utah and was returning to run with his desert roots. He is new to ultrarunning and this would be his first 100-mile attempt.  He had been training like crazy all year for this run, including very high-mileage weeks of over 100 miles. He came to Utah with his crew "manager," Hudson, from California.  As Frank explained, "I am doing this cause it gives me a feeling of worth I have never had.. or obtained from anything..  When I am on mile 23 during a 100 mile week I feel like I am just starting to understand what it means to be alive.  To live."
Brent Rutledge is a veteran ultrarunner from Lehi, Utah.  He has finished several tough 100-milers including Wasatch and The Bear.  He is one of only four runners who has summited Mount Timpanogos three consecutive times.  He's a very steady, tough runner, a two-time finisher of Pony Express Trail 100.  He's so crazy, he ran with me 50 miles across frozen Utah Lake in 2007.  I've enjoyed running many miles with him. He was crewed by Paul Cannon who gets a kick out of watching crazy runners suffer.
Matt Ward is an ultrarunner and long-distance biker from Eagle Mountain, Utah.  He finished Javalina Jundred 100 last year and also the very tough Kat'cina Mosa 100k.  He made it to mile 75 in this year's Grand Teton 100.  Matt says, "Working out and living healthy is not a fad.   Its a lifestyle — a style of living that I like to call epic."  Matt's crew would be joining him during the evening, so he would be sharing crew services from Paul (Brent's crew) during the day.
Mark Ellison is a veteran marathoner from Eagle Mountain, Utah.  He has run in the Boston Marathon.  He recently has entered the world of ultrarunning and finished his first 50-miler at Moab's Alpine to Slickrock 50.  He planned on only running 50 miles.  He would be sharing my crew (Tony).
Pablo Riboldi grew up in Argentina, but now has a large family in Saratoga Springs, Utah.   He is a talented tri-athlete and famous around Saratoga Springs for riding his recumbent bike.  He planned on running 50 miles, his first venture into the dark world of the ultrarunner distance.   He would be crewed by his three sons.
I would be crewed by my co-worker Tony, and be joined in the evening by another co-worker, Bryan, a talented marathoner.  I wanted to break 24 hours this year and had a dream goal to break 22 hours.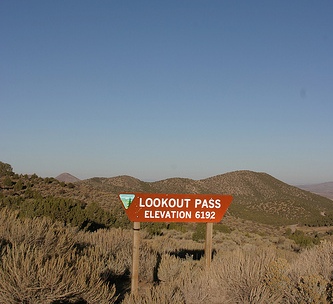 The Race
These seven determined runners with their crews gathered at Lookout Pass (elevation 6,192 feet) and we quickly greeted each other.  They got a kick out of the sign I planned to have posted at the 50-mile turn-around point.  It read, "Slow, Children at Play."  I thought that would be appropriate.   (The crew in the lead would need to post this sign 1.2 miles past the Blackrock Pony Express Station monument.)  I also showed them the finisher award:  A horseshoe paperweight that had the following lettering, "Pony Express Trail 100 Finisher."  My wife, Linda did a great job helping me make these awards.
Listen to audio clip of Brent at start
A little after 9:00 a.m., I counted down from ten, very quickly and we were away down the western side of Lookout Pass, into what 19th century ranchers called, "Piute Hell," where it could be hotter than blazes in the summer and bitter cold in the winter. Today is was very pleasant.  We had a clear blue sky and wonderful morning running temperatures.  (Highs would be in the 70's and lows at night in the upper 30's.)  Our crews cheered us on and then piled into their vehicles to drive ahead 3-4 miles to await our arrivaWe all started out fairly slowly and chatted with each other as we descended down the winding road, through a beautiful valley dotted with cedars.   I realized that Ed Demoney would likely bring up the rear, so I waiting until he caught up so I could talk with him for a few minutes.   It was an honor to have such a running legend like Ed, running with us.  He would be trying to finish his 27th 100-miler.  He chose this race because of the opportunity to have his daughter crew him, and because there is no cutoff time.   He planned on finishing in 30 hours.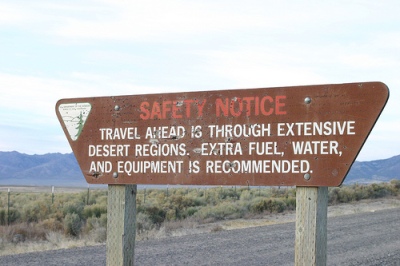 The main pack of runners were all disappearing down the road, so I bid Ed good luck and kicked it into gear to catch up.    In less than a mile, we arrived at the site of the Lookout Pony Express station.  A station was built here in April of 1860, but the station was in ruins by the following September. It had been a small two-room log house. A few years later, Horace Rockwell, (brother of legendary Orrin Porter Rockwell) and his wife Libby lived in a small log house at this location. They had no children, and Aunt Libby, as she was called, kept several dogs upon which she cared for. The stone enclosure a short distance to the south was built to protect the cemetery where her beloved dogs are buried. Three emigrant graves are also said to be found within.  An entertaining story is told of a time when one of Aunt Libby's beloved dogs was sick. She sent to Tooele, about 40 miles away, for the nearest doctor. She sent the message that one of the ranch hands was critically ill, knowing that old Doctor Dodds would never make the trip to treat a dog. When he arrived, late at night, he was furious to find he had rushed out there for a sick dog. Aunt Libby just smiled and gave him a $20 gold piece, and everyone was happy.  Running past that pet cemetery always makes me smile as I think of Aunt Libby (and also the Steven King novel).
I caught up with all the other runners, and then quickly passed them all.   My legs felt great, and I wanted to bank plenty of miles while I felt good.   (Back in March of 2007, I tested this portion of the course with friends Brent and Jarom.  Jarom and I set a fast pace on that day and I intended to run a similar fast pace.)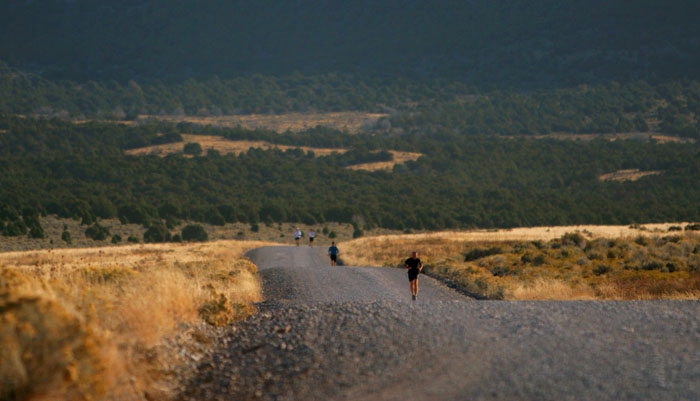 Nearing mile 3.4
Frank, Pablo, Brent, Matt
I opened up a good lead, looked back and watched the rest of the group disappear around corners.   Soon Mark Ellison caught up.  He was sharing my crew, Tony, so he was worrying about getting too far behind.  "Are you running a 10K?" he joked about my pace.  I laughed.   We passed by Frank's crew, Hudson, waiting at the 3.4-mile mark at 29 minutes.  It didn't feel like we were going that fast.
I explained to Mark, that it would be fine if we separated, as long as we were less than four miles apart.  Tony could crew the one behind, leapfrog over both of us, crew the leader and then wait for the other runner.   He could do this over and over again and could let both of us know how each other was doing.  Tony met us at the 4-mile mark, but I didn't need anything yet, so I ran on.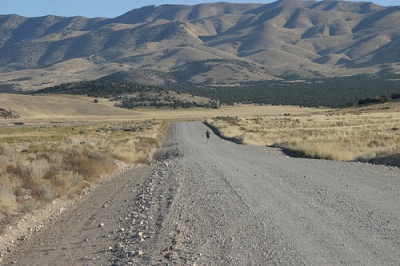 At mile 5, looking back at Pablo
Mark and I ran together for another mile, but then Mark said he needed to back off the pace.   I wished him luck and opened up a lead.   Mark planned to run only 50-miles and I thought he could stay pretty close to my pace.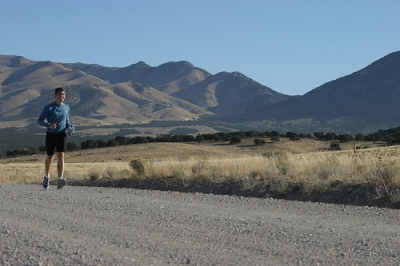 Pablo cruising along
As I pressed on ahead, I noticed two antelope off to the left, an amazing sight.  We were now in the very wide open Skull Valley surrounded by hills and low mountains.  I love the desert colors, brown, tan, red, and gold.    Looking behind me, I could see the other runners about a mile behind.   It was fun to have all the crews leapfrog ahead of us.  I would only see Ed's daughter once, which I realized meant that by mile 9, I was probably already over 3 miles ahead of him.  
Based on the pace of the crews it appeared that the early running order was, me, Mark, Frank, Brent, Matt, Pablo, and Ed.   I was concerned how Frank was doing, since this was his first 100-mile race.   Hudson, his crew manager assured me that he was doing well.   This was so cool, to be running a race and having messages going back and forth via the crews, so I could know how everyone was doing.  It appeared that Matt was being careful to not go out fast like he did at Grand Teton 100, causing him to DNF at mile 75.  I was concerned that he would slow down Brent, but their crew manager, Paul, assured me that they were doing fine.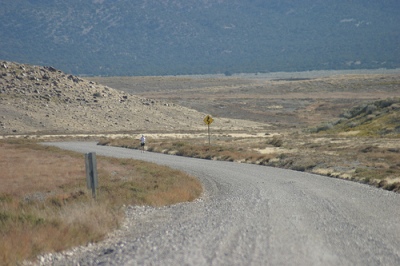 Mark near Government Creek
I arrived at Government Creek (mile 9.1) at 1:18.   When Paul would see me from his crew vehicle, he kept commenting how fast I was going compared to last year.  Indeed, I was pushing a good pace.  I was 12 minutes ahead of my goal pace.   Mark and Frank were nearly a mile behind and the next other runners about two miles back.
Government Creek used to be the site of a telegraph relay station in late 1861. In the early 1860s, the legendary Porter Rockwell, and fifteen other men explored these valleys.   Porter Rockwell decided to establish a ranch at Government Creek.  In commenting about his choice of location, he said, "For a cattle ranch you want a place where you can track'em out."  Certainly with this wide-open range, tracking would have been easier.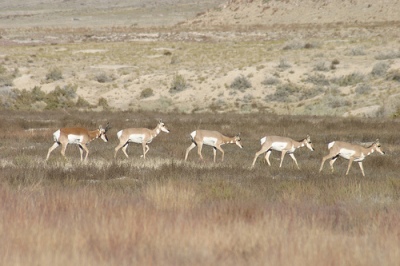 Antelope
As I made the turn around Government Creek, I was delighted to see a huge herd of antelope off to the right, along the dry creek banks.   Tony, my crew manager, stopped his truck early and was taking many pictures.   I caught up and asked him how many he saw.  "About 30, there are a bunch back around the corner, heading this way."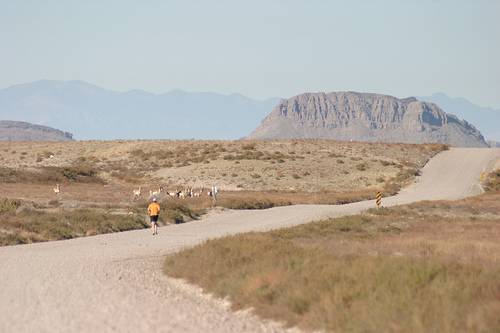 Me, running with the antelope
 I continued running and soon they all appeared.  Wow!   They were an amazing sight!   How good could this get any better?   A couple dozen were running about twice my pace, off to the right.  I was running where the antelope played!   The massive herd broke up into three groups and eventually all crossed the road ahead of me.   The back of the pack crossed only about 50 feet ahead of me. I hoped that all the runners behind would be able to see a similar sight.
Listen to audio clip near Government Creek
I soon discovered a wonderful trail about 100 yards on the left, out in the desert.  My legs were getting tired of the hard road, and the occasional truck passing by was a bother, so I jumped out into the desert.  The trail was a single-track trail worn by horse traffic. The trail was nice and soft, without ruts, and was great.   My pacer perhaps slowed, but I could tell that the soft trail was much easier on my feet and legs.  My ankles appreciated the change as I used muscles not used as much by the flat, hard road.   Up and down I went on the rolling trail, across little drainages.   Paul drove by, almost not seeing me, but when he did, he wondered what I was doing way out there.  After a couple miles, the trail ended as it hit a fence, so I jumped back out on the road.   I'm so glad I found that trail.  Next year I will hop on it much earlier.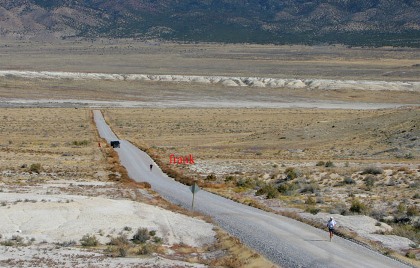 Mark and Frank chasing me
I made the turn toward Simpson Springs and could see Hudson and Tony stopped at the top of the hill enjoying the desert and taking many pictures.   I arrived at Simpson Springs (mile 16.6) at 2:36, 14 minutes ahead of schedule.   The runners behind were just tiny images over a mile behind.  They looked like Mark and Frank.   Tony crewed me and my stops were still fast.  At each stop I would drink down some coke, take a shot of Hammer Gel, and eat my new favorite ultra food: chocolate chip cookie dough.   The cookie dough is great because it is moist and easy to swallow.   I was also doing a great job taking an S-cap once per hour.  It didn't feel like I was sweating much, as the temperature was still below 70 degrees.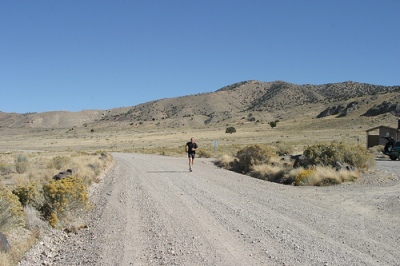 Frank arriving at Simpson Springs
Tony talked with some tourists at Simpson Springs and explained to them what was going on.   One couple was extremely interested and was so excited that they were out here on the same day we were running the race.   He told some people that Davy Crockett was in the lead.   They then asked, "Is Daniel Boone in second place?"  We indeed caused quite a stir among those traveling on the road.  We would get many smiles and cheers on the road ahead from strangers.
Listen to audio clip after Simpson Springs
After Simpson Springs, now heading west again, there was a nice cool breeze in my face.   I pushed the pace harder on the downhill.   Hudson (Frank's crew) pulled up and told me I was exactly three miles ahead of Frank.   Hudson wished me luck, thinking he wouldn't see me anymore since he was stopping every three miles. But I continued to see him for several more hours as Frank kept pace.   Mark had fallen back some more, but was still within a couple miles.   I no longer saw any other crews, so that meant that Brent and Matt were now nearly four miles behind.   It was a fun feeling to be running in first place with a good lead.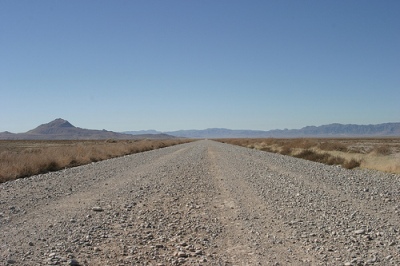 The long straight road toward Riverbed
This next stretch was as straight and straight can be.  Several times I would look all around me and not see any evidence of anything man-made except for the road I was running on.   No telephone poles, no buildings, nothing but brush, ant hills, an occasional jack rabbit, and dead rattlesnakes in the road.  I even saw a couple tarantulas creeping across the road.
I instructed Tony to stop at the rim of the ancient riverbed, so he could watch our progress.   I also told him to watch out for the desert fairies.  I looked out at the Riverbed Pony Express station site and chuckled, wondering if there were any desert fairies out today.  According folklore, the Riverbed stagecoach station site was difficult to man because of its reputation of being regularly visited by desert spirits.  Three former operators claimed they were afraid of the "desert fairies." David and Susan Jabusch did an archeological survey of the site in the early 1990's. They noted, "During our overnight sojourn, while mapping the site, we were not visited."
Tony crewed me and I told him to wait and crew Mark, and then meet me on the other side of the massive riverbed, in a couple miles.  He was worried that Mark was more than two miles behind now.   I pushed on and reached the Riverbed station site (mile 24.7) at 4:09.   I was 11 minutes ahead of schedule and right at the exact pace at this point when I ran with Jarom back in March, 2007.  So far, very good.   As I climbed up out of the riverbed, I could see far across that Tony was on the move again.  That meant that Mark had been crewed and was a couple miles behind.   Tony caught up and stopped ahead at the top of the rim.
I sighed, as I looked ahead at the next very long and straight road extending toward the Dugway mountains over 12 miles ahead.   This section seems to go on forever. Many vehicles of spectators passed by. It was busier than a usual Friday out here because  Utah schools were closed and many families were making their way out for a long weekend of four-wheeling.  Tomorrow would also be the first day of the Utah deer hunt.   Some of these trucks were very rude and drove past very fast, not trying to give us much room.   Others slowed down and some even asked what we were doing.   They gave me thumbs up and wished me luck.
At one point, I noticed a runner on the road ahead of me, coming toward me. " What on earth??…" I thought.   But I quickly figured out it was Tony!  He was running toward me, to give me some company.   It was great to have him along.  But we were soon alarmed to see a truck stop near Tony's parked truck.  We realized that they could steal any of the stuff we had in the back of the truck.   Tony sprinted ahead and luckily the truck backed away and went on.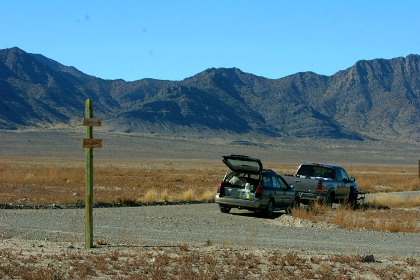 Crew vehicles near Dugway Topaz
I reached Dugway Topaz Well (mile 33.5) at 6:09 (3:13 p.m.).  I was slowing down, now nine minutes behind my goal.   As I passed the well, I thought about a body that had been thrown down a well near there about 150 years ago.  The story is told that during the 1860s a lone woman passenger on a stagecoach awoke to find the horses and coach standing still.   She could not find the driver and ended up driving the coach to Simpson Springs.  Legendary frontiersman Porter Rockwell greeted her there.  "She was a noted character known to carry a revolver and was also known to be able to take care of herself under any and all conditions. Porter examined the gun and found one empty shell in it, listened to her story, and let her continue east while he went to investigate."  Porter found the driver's body about one mile west of the Dugway Station, drove to the well and dumped the body down it.  Later, stagecoach officials in Salt Lake City demanded that Rockwell go retrieve the body so they could investigate the death. "He told them it was too hot to attempt to haul a dead body that distance, but if any of them wished to investigate, he would be glad to go back with them and lower them down the well and let them carry on all the investigating they wanted to alone with the body. No one wanted to go."  The story speculates that Rockwell didn't arrest the woman because he believed that Indians had killed the stage driver.  Rockwell found an arrow shot into the driver's heart."
The afternoon heat was getting very hot.  I was concerned that the runners behind would start to have trouble.  It was hotter than expected, pushing 80 degrees.  To make matters worse, the desert floor was covered with white in this section, making the heat reflect from the desert floor.   I was slowing even more, but kept plodding along.
The road soon began to climb above massive Skull Valley toward Dugway Pass.   When I caught up with Tony, I had him pull out the chair.   My left foot was now a bad problem.  I needed to give it some attention.   As I sat there working and eating, Tony handed me his binoculars.   It was very cool to see three runners about three miles behind, pretty close together.   They were Mark, Frank, and Matt.   I didn't see Brent, but he was likely another mile behind.   That was so cool to be able to see those runners making progress toward me. After a long stop, I was on my way toward the tough climb up to the pass.   I was a little concerned that I was now about three miles ahead of Mark.  Since we were both sharing Tony as a crew, this would make it tough.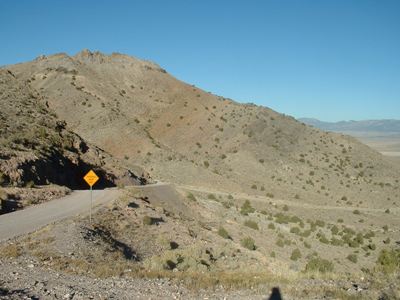 Looking back down from Dugway Pass
As I made my way up the road, as I do every year, I thought about a horse thief.  The road makes a horseshoe turn on the road toward the pass, If you looked carefully, you could see the old wagon road below the modern wide dirt road. In 1885, a horse was stolen from the town of Vernon, to the east.  Men followed the trail of the horse to Simpson Springs.  The men continued along the long road to Riverbed and toward Dugway Station.  As they rode down from the bench,  "they saw a man hastily throw a saddle on his horse, mount, and speed away, possibly one-quarter of a mile from them.  What a race and what a racetrack—level as a barn floor with nowhere to hide before Dugway Mountains were reached, ten miles away! . . . Mile after mile it continued with little change in position."  As they chased him toward the horseshoe switchback in the road, one of the chasers took a shortcut directly up the hill as the thief continued on the bended road.  The chaser reached the road above, jumped off his horse, hid behind a large rock and waited.   As the thief approached he called out for him to surrender.  "Taken completely by surprise, the thief turned in his saddle only to find himself looking right into the business end of a pistol sticking over a large rock. Automatically up went two hands as the tired horse came to a stop."  They tied up the thief and took him back to face justice.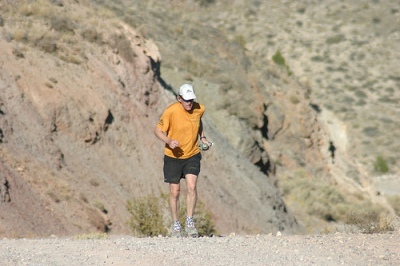 Me, grinding my way up to the pass
After cruising around the horseshoe switchback, Tony met me at the top of the pass and told me that Matt was now catching up, not slowing down as I was.   He had passed Frank and was now in second place.   I arrived at Dugway Pass (mile 37.7) at 7:13, five minute ahead of my personal best pace, but 15 minutes behind my goal.   I looked far down the valley, but could not see any runners on the last mile up to the pass.    With the downhill ahead, Tony was concerned that I would be far down the road before he could crew Mark and catch up to me.  I told him not to worry, I would be fine.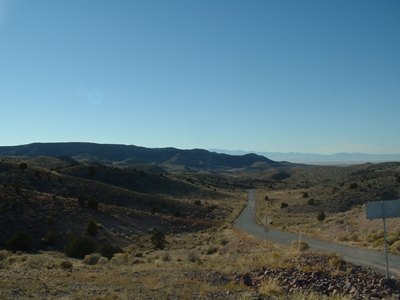 View down the other side of Dugway Pass
The run down the other side of the pass was wonderful.   Trees dotted the valley and it was very pretty.   Last year it had been dark at this point because we started the race three hours later.  I now had a breeze in the face again and it felt much cooler.   My foot was still a problem and I thought I had something in my shoe causing problems.  After a couple miles it calmed down.   I reached the Dugway Geode Beds (mile 41.2) at 7:58, the exact pace I was on at this point back in March 2007.  
Tony soon arrived and explained that he and Paul exchanged runners to crew for.   Tony was now crewing Matt who was less than two miles behind.  Paul was now crewing Mark, over three miles behind.   I'm glad the crews were taking control and figuring out how to make this work.
Listen to audio clip near Geode Beds
My pace wasn't very good as I continued down the road toward the small mountain range ahead that I knew we needed to go around before the turnaround point.   I needed to stop for a bathroom break, and slowed to make a recording.   The net result is that later I looked behind me and saw Matt hot on my tail, less than a mile behind. Wow! He was doing great. I tried my best to kick it into gear and was able to stretch out the lead a little more. I made a big turn north and then could see better where Matt was. Tony drove by and I asked him to go ahead and plant to sign at the turnaround point, put glow sticks on it, and to meet me at Blackrock.  From there, he could run with me on the out-and-back to the sign, about 2.4 miles total.  He liked that idea and was on his way.
Matt was continuing to gain on me, giving me good motivation to push ahead faster.   I arrived at the Blackrock Station site (mile 48.8) and Tony was ready to go.  He complimented my pace, not expecting me to arrive so soon.   I grabbed my flashlight because I knew it would be dark before returning to Blackrock.   We placed some glow sticks down to make sure the runners behind knew that they needed to continue on for another 1.2 miles to the turnaround point.
I soon spied a glowing sign down the road and laughed.  It was our "Slow, Children Playing" sign, all lit up with glow sticks of all colors.   I reached the 50-mile mark in first place, at 10:12.   It was slower than planned, but I still had plenty of energy.   I turned on my green flashlight, touched the sign, and headed back the other way.   I only had 50 more miles to go.  
In only three minutes, we greeted Matt.   He was gaining on me fast. As we approached Blackrock, we saw several vehicles arrive.  Matt's crew finally arrived and would take over crewing duties for him.   Franks crew, Hudson, drove up and explained the sad news that Frank would be stopping at 50 miles.    I told Hudson to try to convince him to keep going.  "Have him rest, there was plenty of time, then walk, walk, walk."   Mark arrived while I was at Blackrock, just 2.4 miles behind.
I continued on and soon greeted Brent.  He said that I was going very fast.  I explained to him that he was only 2.5 miles behind.  At one point he had been over four miles behind, so he was coming on strong.  It was fun to be able to see everyone after so many hours.  Next, I saw Frank walking down the road. He explained that the heat of the afternoon really drained him.  
I was next surprised to see lights gaining on me.  It was Matt with a pacer.   I tried and tried to stay ahead, but by mile 53, he caught up.   We ran together for a little while, but I didn't have the energy at that point to keep up with his pace. I watched first place head up the road.  
I looked far ahead up the road and could see what looked like the crew vehicle lights for Pablo and Ed.  Sure enough, about mile 57 (43 for them), I stopped to greet Pablo and then Ed.   They were 14 miles and almost 4 hours behind but looking very good.  Pablo was in good spirits, heading toward his first 50-mile finish.
I stayed within a quarter mile of Matt.  When the nearly full moon peaked for the first time over the mountain ahead, I heard Matt and his pacer cheer and howl.   The moon looked very impressive and I was very pleased that it would be bright in the sky for the rest of the night.   I returned to the Geode Beds (mile 58.8) at 12:36 (9:40 p.m.).   Soon after that, I was delighted to see that Bryan, my second crew member finally arrived.   He drove up and cheered me up.   He asked if I wanted him to run with him.  I really did, because I was getting very lazy.   I suggested that he drive back toward Blackrock and see if Mark could drive Bryan's jeep back to the start, if Mark had finished running.  That way, Tony could crew and Bryan could pace.   Bryan was gone for a long time, but finally returned as I approached to top of Dugway Pass.  He explained that Mark was now riding with Pablo's sons and wanted to stay awhile longer.   I couldn't blame him.  Driving back alone after running 50 would be tough.  So we stopped to discuss what to do.  Bryan thought he could rig things so that Tony's truck could tow Bryan's Jeep.   They would try that after going over Dugway Pass.   I arrived there (mile 62.3) discouraged because I had been going so slowly.  There was no sign of Matt down the other side of the pass lit up by the moon.  
It was good to be running down hill again and my spirits perked up.   When I reached Tony and Bryan, they explained that they couldn't hitch up the jeep, but had a new idea.  They would drive ahead about ten miles, leave the jeep there, and then drive back to let Bryan run with me about 8 miles. That sounded like a great plan.
I increased my pace while they were away.  The moon was getting higher in the sky so I could turn off my flashlight and run by moonlight without any difficult.  It was great fun.  Ahead, I could now see Matt's crew vehicle's lights, now what looked like nearly three miles ahead.   Behind me, I could finally see Brent's headlamp.  He seemed to be about 2-3 miles behind.   I flashed my green light behind, so he could see where I was.
During the night it was very easy to tell how far Brent was behind.   His crew, Paul (and Pablo Jr.) would stop every three miles. I would look at my watch when I ran past them as they snoozed, and then look at my watch when they leap-frogged me again.   Typically Brent would be about 30-40 minutes behind.  To keep me entertained, I would push the pace to see if I could increase the distance.
I next noticed headlights coming toward me, miles ahead.  I knew it was Tony and Bryan heading back.  I turned on my green light now and then to let them know how far away I was.  This is the entertaining part of this race during the night, the ability to see lights of other crews and runners miles ahead and behind.
Bryan hopped out of the car and was ready to go.   It was great to have him a long.  We had fun talking but soon I got back down to business and tried to go faster. I used all the tricks I knew usually worked to get me going faster and finally put on the MP3 tunes.  A fast-paced song came on and I really ran hard for the next five minutes. I could see that we were gaining fast on Matt ahead, and leaving Brent far behind.   But I just couldn't keep up the energy and fell back into a slow run or fast walk.   Bryan tried hard to keep me going faster.  
Bryan laughed as he explained that at the jeep, they left the Halloween surprise I brought, a skull on spider legs with bright green glowing LED eyes.   You could see that crazy thing for over two miles.   It would be a fun surprise for Matt.  He later wrote, "I saw the green skull and it totally confused me…I thought how in the heck did you get ahead of me…i thought it was your green flashlight until I came up on it."
In four miles, we met Tony and sent him on another four miles to where the jeep was parked on the rim of the ancient riverbed. Tony was getting some well-deserved naps. We arrived back at the rim and I suggested that they drive ahead, yet again with both vehicles to Simpson Springs and then return.   By then I should be on the other side of the riverbed.  Matt was already on the other side.   Brent was still about 2.5 miles behind.   I arrived back at the Riverbed Station (mile 75.4) at 17:05 (2:09 a.m.).  I looked around but didn't see any desert fairies.  Too bad.  About 25 more miles to go.  To reach my dream goal of 22 hours, I had only five more hours left.   I realized that it was now out of reach.  Breaking 24 hours was still very possible, but I need to start moving faster.
After climbing out of the big ditch, I could see the headlights of Tony and Bryan heading toward me again. They arrived and complimented me on my pace, and reported that Matt was only two miles ahead. We sent Tony ahead six miles this time, back to Simpson Springs so he could sleep.   Bryan again joined me and prodded me along. My problem now was drowsiness. At times I would slow way down and start to stumble along.  Bryan would of course notice and try to get me going again. I would try singing like crazy, and try sprinting 100 yards.  That usually would wake me up, but not for long. My stomach started to shut down and I threw up everything.   Bryan was concerned, but I quickly started running again, feeling much better.  
About half way to Simpson Springs, I noticed something.  "I see a spooky skull ahead."  About two miles ahead, indeed, I could see the glowing green eyes of the spooky skull.   When we arrived, it looked so funny there on the side of the road.   We decided to leave it for Brent to see.  Just then, Paul drove up wondering what the crazy thing was.  We asked him to pick it up after Brent saw it.
Then it got cold.   The long six miles between crewing stops was just too far. I didn't have enough clothes on to keep me warm.   All I could think of was diving in the truck ahead for warmth.  As we approached Simpson Springs, I saw Matt's crew leaving ahead.  They were only a mile ahead now, but I needed a long stop.   On Bryan's jeep, we laughed as we saw a glowing pumpkin with a strobe light.  It looked very cool. We woke up Tony and then I jumped in the warm truck and shivered like crazy. I put on a couple more layers and shivered for about ten minutes as I tried to recover. During the night, my best food was some warm potato soup in my thermos.  It was wonderful and my stomach craved it.
Finally, I pushed myself outside again and once I got moving, I felt much warmer.   I looked back and could see Brent arriving, only about a mile behind now. Bryan was through with pacing, and I asked them to stop every two miles. Brent was having his crew stop every three miles. As I headed north, I looked far across massive Skull Valley to the west, and could see some headlights on the road descending from Dugway Pass.  They weren't moving, and I knew they were the headlights from Ed's crew.  I did calculations and realized that he was about 20 miles behind now.   It was so cool to be able to see his crew so far away.
About an hour later, after the turn toward Government Creek, my feet were having great difficulty.  I decided to have Tony pull out the chair and I took off the shoe and worked on the foot.  As I was sitting there, a car pulled up.  It was Ed!  He explained that he reached 100K but decided to quit because he was having bad foot problems. I really knew what he meant as I was putting my shoe back on my blistered foot.  He wished us well, and said he really enjoyed the run.
Once on my way again, I discovered that Brent was now only about ten minutes behind me!   I thought about letting him catch up so I could have some company, but I feared that if he did, I would just watch him go on ahead and lose all my motivation to keep my pace up.   I decided to instead do everything I could to stay ahead of him. I worked very hard at it. I even kept my light off so he couldn't see where I was.  But then I discovered with my light off, I would immediately get sleepy again.  With it on, I would stay away.  Strange.     
As dawn approached, traffic on the road started up.  We had not seen any traffic all night, but now the trucks with their ATVs were heading west again. By the time I reached Government Creek, I had pushed my lead ahead of Brent to about 30 minutes. That was encouraging. Each time Tony and Bryan stopped, they propped the strobing pumpkin on the top of Bryan's Jeep.  Sometimes I could see it a mile away. It made me laugh despite my pain. Nine miles to go!  That didn't seem too bad, but I knew it was mostly all uphill from here.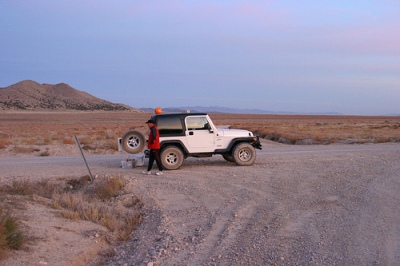 Bryan preparing for my arrival in the morning
Dawn arrived and as the road straightened up,  I looked back and could see Brent, a small stick figure about a mile behind. He was catching up again.  It was a great motivator to move me ahead.  When I reached Tony and Bryan again, they had moved all my stuff to Bryan's Jeep.  Tony needed to get home so his wife could get to work. It was now 7:30 a.m. I was pretty beat and didn't respond much to questions.  I just tried to eat a little and then pushed on, thanking Tony for all his great help.
Bryan continued to stop every two miles.  I realized that breaking 24 hours was now impossible with the steep uphill at the end.   If it was downhill, I could blast it down to the finish.  But not on this course.  I still had to climb up to Lookout Pass.  Who designed this crazy finish? Oh, me.
I arrived at the 96.4-mile mark at 23:22. Brent was now about 20 minutes behind. I asked Bryan to stop every mile from here on out, so I could push myself to beat 20-minute miles on the tough climb. I did well, the next mile was only 17 minutes. I looked far up toward the pass and saw the two remaining steep climbs. I actually liked the steep climbs. They used muscles that had not been used for a long time.  I just power hiked up the hill. At the top of the first climb, I looked back and could see Brent down at the bottom, about a mile behind.
The last climb was finally in sight and I could see the cars parked at the finish.  At other 100-milers, I find the strength to sprint to the finish line, but there was no sprinting today.   I was just pleased to be finished and get off my feet quickly. I finished in 24:26.  It was my 7th 100-mile finish for the year and my 21st finish in 4 years.
Brent came in 14 minutes later. This year, the Pony Express Trail won again.  We only had three finishers. Matt set a course record by finishing in 23:02.
Despite the pain, I really enjoyed this run.  A day later, I just wished that next year was already here.  I know I can do it faster and the challenge just feeds my competitive nature.
Pablo, finishing his first 50-miler, wrote: "It was really difficult but extremely rewarding. I've always had great respect for the 100 milers; now my admiration is much bigger for all of you. It will be great to do this again next year."
Frank, who stopped at 50 also wrote:  "To everyone, both crews and runners this was a blast.  Ok sure my ankles are still super large and my legs feel like I got run over by a truck but I had one heck of a good time.  I want to thank the runners and crew members for the positive energy throughout the race.  The one very positive thing this race has going for it is you feel like a miniature family of runners trying to do something very tough and difficult.. and that is cool."
Our champion, Matt added, "That course was deceptively hard….I was WORKED.  Those last twelve miles are just a long slow uphill grind that I thought would never end!"  He added about the last 16 miles from Simpson Springs, "I was bonking hard and I had no idea how far back you were….I kept looking back afraid that you'd soon be passing me because i felt sooooo slow.  I started slow for the first time in an ultra and it paid off…next year I will go out even slower.  I never got cold but my feet were sure sore that's for sure."