February 5-6, 2005

During May 2004, at a family gathering, I set a crazy goal.   I wanted to finish a 100-mile race.   I had heard of a local Wasatch 100 race before, but I really knew nothing about it.  I had supposed that some sort of crazed super humans ran in it.  I researched on the Internet and discovered that there was a community of between 5,000-10,000 crazy people in the U.S. called ultrarunners who ran in races further than the traditional marathon distance of 26.2 miles.   How is that possible?  Could I do it?  I had never run in an official race longer than 110 yards.  I had been doing fast hikes of up to 35 miles, but was not skilled in the sport of long-distance running.
Somehow that goal became real.  It became a strange obsession.   I first entered a 50K (32 mile) trail race in June 2004 and struggled to finish it in 9 hours, 30 minutes.  Next, I tried a 50-mile race and finished in dead last place, in 14 hours.  After that, I tried a 100K (64 miles) race and dropped out after 16 hours at about 55 miles because I knew I couldn't finish it in time. My first attempt at 100 miles was during September 2004, at The Bear 100, near Bear Lake in Idaho.  I tried as hard as I could, but "failed" after about 31 hours and only 88 miles — all that effort, only to come up 12 miles short.
When I set a real goal, I stick to it.  Each month during the year, there are about two 100-mile races held somewhere in the country.  I couldn't wait a whole year to try again, so I set my sights on a popular race held near Houston, Texas, called the Rocky Raccoon 100.  I would try again.
I trained hard during November and December; sometimes running up to 50 miles per week, sometimes doing long eight-hour runs on Saturdays.  I also swam many miles in the pool to increase my endurance.   I researched racing techniques and learned more about running injuries than my doctor knows.  During January, I mostly rested and waited for the big day.
I flew to Texas on Friday afternoon.  Texas hospitality is alive and well.  You especially notice it if your name is Davy Crockett.  Texas always treats me well.  The comments about my name started at the rental counter at the airport.
I went into this race with great respect for the 100-mile distance.   The distance is so far, that even the most elite racers can crash and not finish.  My goal was only to finish.  My dream goal was to finish with a sub-24-hour time.  The course consisted of a 20-mile loop through beautiful forests, around a lake, in Huntsville Stake Park.   For an official finish, I would have to run/walk/crawl around the loop five times in 30 hours or less.  You can go as fast or slow as you want, but the clock is always ticking.  Every 3-5 miles there are aid stations with volunteers who provide you with food, drink, first-aid, and encouragement.  Normally, you only spend a minute or two at these stops and then move on. 
Friday evening I attended the race briefing at Huntsville State Park and ate a nice pasta dinner.  The mood was upbeat and the race organization sounded great.  There were some runners who would be competing for their 10th year.   I tried hard to get plenty of rest but ended up only sleeping about one hour.   One worry was my rental car.  The engine light had come on and the gas gage stopped working.  I hoped that the car would work in the morning.   Since I couldn't sleep, I arose at 3:45 a.m. and started to make my race preparations.   My car worked fine and took me to the park at 4:45.  I deposited a "drop bag" to be delivered to an aid station which I would visit twice on each loop.  I then tried to rest in my car until the start. 
I would carry a water bottle in one hand, a flashlight in the other hand at night, and a small fanny pack with some emergency items.   I dressed in two shirts, shorts, trail shoes, gloves, and gaiters (to keep the mud out of the shoes).  During the afternoon I would take off the long-sleeve shirt and at night I would put it back on and also wear a fleece vest.  It would be warm enough for me to stay in shorts the entire way.
Loop 1 (0-20 miles, 6 a.m. – 9:29 a.m., 3:29 loop, 25th place)
The start was at 6 a.m. on Saturday morning in the dark.   All the racers would use flashlights or headlamps for the first hour until the sun came up.  Here I was, Davy Crockett in Texas, running in a race named after a raccoon.  I had to do it.  I donned my coonskin hat at the beginning of the race, evoking a few strange looks.  Every time I explained the reason during the long race, I got laughs of approval.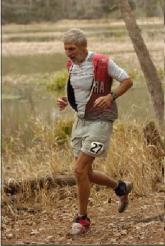 Hans-Dieter Weisshaar
My strategy was simple.  Stay ahead of, or close to a legendary 64-year-old runner, Hans-Dieter Weisshaar from Germany, who finishes about 20 of these 100-mile races per year.  He runs a steady race and was bound to post a sub-24 hour time.  I ran near him for many miles during the Bear 100 so I knew I could keep up with him.
143 runners started the 100-mile race, and 65 others joined in an hour later on the same course for a 50-mile race.  I asked someone to take a picture for me near the start line, and as I struggled to put my camera back in my fanny pack, I looked up and discovered that everyone was gone! A great start. I was dead last.  For the next couple hours I had fun moving up through the pack, passing over 110 runners until I found those moving at a pace that felt good.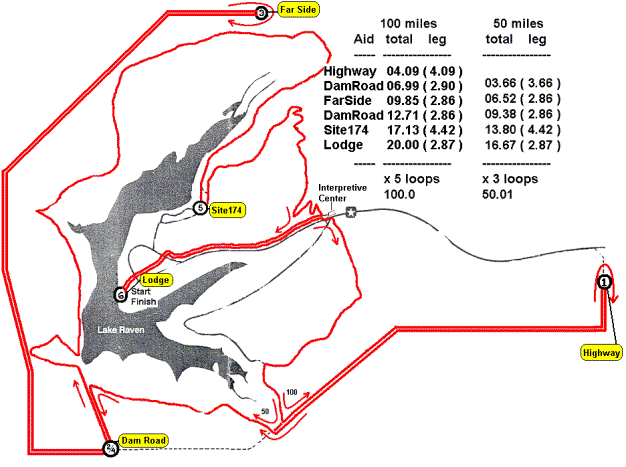 I enjoyed the course format in Huntsville State Park.   The 20-mile loop consisted of soft single-track trails and dirt roads.  The course began at a lodge on Lake Raven, went along a rolling trail that paralleled the park road.  It then crossed the road and winded its way through a beautiful forest.  Along this route were several wet muddy areas to dodge.  I really liked this section.  Next was a long "out-and-back" dirt road that made its way toward the Interstate Highway.  This section was fun because of several short hills and you could see the leaders of the race coming back toward you, and could see all those behind you once you made the turn around.  There was an aid station at the turn around.  Next, we made our way to the second station on Dam Road.  There were two impressive dams with spillways nearby.  Next up was a very long "out-and-back" section to the Far Side aid station.  I liked this section with nice rolling hills and a few challenging mud bogs thrown in.  You then made your way back to Dam Road.  
The final portion of the loop was challenging.  As you headed away from the Dam Road Station, you came to the lake and could see the lodge and the start/finish line across the lake, but you still had seven miles to go around the lake.  This section had more hills and there was a longer distance to the next aid station.  It was a rooty, forested trail with many bridges.  After the last aid station, it was less than three miles back toward the lodge.  I enjoyed running along the road because there were many spectators cheering you on.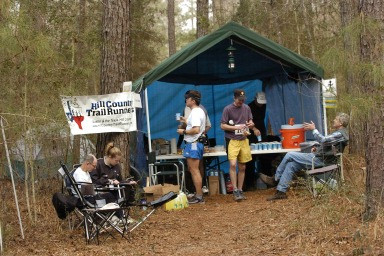 Far Side Aid Station
The Rocky Raccoon course is famous for the roots in the trails and there are many stories of nasty falls in past races.  To me, they were fun obstacles, never posing any real problems.  I felt great during the first 20-mile loop, running almost the entire length.  The mild rolling hills were a nice change from the grueling mountain ultras I ran last summer.
After awhile, these smart ultrarunners caught on to my coonskin hat.  I was continually greeted with, "Good job Davy", "Looking good Davy", "Keep it up Davy."   "Davy Crockett, who are you running from?"  I replied "Santa Ana."  A few erred and tried calling me Daniel Boone. Hans-Dieter later called me Beaver Boy.  I guess they don't have too many raccoons in Germany.
My pace was faster than planned but I decided that if I felt good, I would take advantage of it and run fast.   I passed person after person.   I would see someone ahead, set my sights on them, catch them, and run ahead.   At the first aid station I was in 35th place, at the second in 28th place, at the third in 30th place, at the fourth in 30th place, at the fifth in 35th place, at the end of the loop 25th pace.
For a while I settled in with a runner Dale Perry from Colorado, and enjoyed some good running conversation.  He knew my friend Todd Holmes.  He eventually went ahead and would always greet me with enthusiasm when he saw me later in the race.  I was going out too fast, but I felt good and kept it going. I finished the first loop in 3 hours 29 minutes (20 miles), much faster than I had planned.   I completed the loop 20 minutes ahead of Hans.
Loop 2 (20-40 miles, 9:29 a.m. – 1:41 p.m., 4:12 loop, 46th place)
My second 20-mile loop also went well.  I now knew what to expect.  On the first out-and-back I discovered that I was 18 minutes ahead of Hans.  I also was realized that I was running in the top 40.  Dale had moved on ahead of me.  Occasional fast walking periods were used to utilize different muscles and rest a little. 
With the afternoon hours coming up, I exchanged my coonskin hat for a baseball cap during loop 2.  I thought it was funny that no one recognized me on that loop.  All the "Good job Davy" comments stopped.  I was just another face in the crowd.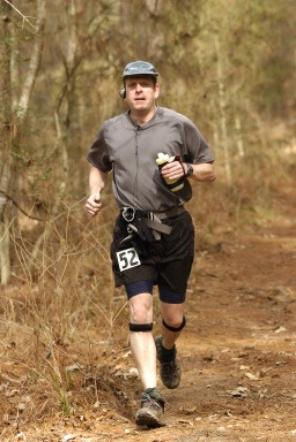 Me, running early on loop 2
One of the biggest differences between a traditional marathon race and an ultra marathon race (besides the obvious difference in length) is how the runners eat and drink.  A marathon racer will load up on carbohydrates before a race and that will generally be sufficient for the entire race.  In ultra marathon races, the runners need to be able to run on full stomachs at all times. 
I'm always asked, "What do you eat and drink?"  My intake is mostly liquid. 1) A bottle of Ensure (250 calories) about every 10-15 miles (until my stomach rebelled against it.)  2) Gatorade – about 15 oz over each 4-mile stretch. 3) Hammergel.  This is a sweet pasty-syrup loaded with carbs.  I would take a squeeze on that every couple hours.  4) Peanut butter and Jelly sandwich pieces at each aid station during the day.  5) Boiled potato chunks dipped in salt.   6) Bananas, 7) Chicken noodle soup during the night.  8) Oatmeal as morning approached.  9) An electrolyte capsule once per hour.  The challenge is to keep loaded with:  fluid, carbs, and electrolytes (sodium and potassium).   If you become low on any, your energy goes way down or your stomach becomes very upset.  Both cause your race to slow to a crawl.   I was pretty successful during this race to stay balanced.
At mile 33 I saw a guy on the trail who was walking slow.  I stopped, asked if he was OK and he said he had dropped out.  I was really surprised that someone had dropped out so soon.  He looked fine.   I was determined that I wouldn't give up this time.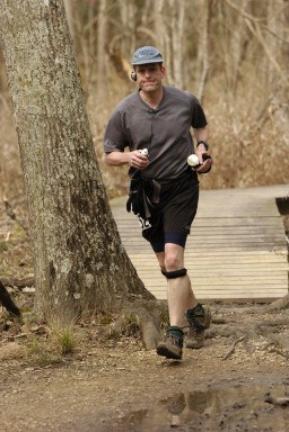 After a bridge on loop 2
Loop 2 seemed to go by fast.  I can't remember a lot about it because it was so enjoyable and non-eventful.  It was a lonelier loop because I didn't pass too many people and hardly anyone passed me.  I just concentrated on the trail.  I ran in about 38th place the entire loop, running near Beth Simpson of Wisconsin for much of the loop.  I had some periods of cramping in different spots.  The pains would just rotate from one place to another.  Right before the Far Side Aid Station, I tripped on a root, caught myself before falling, but cramped up pretty bad in my chest and a leg.  Ouch!   Within a mile I had recovered just fine.  By the end of the loop I was 14 minutes ahead of Hans.  I finished the loop at 7 hours 41 minutes (40 miles) in 46th place.
Loop 3 (40-60 miles, 1:41 p.m. – 6:36 p.m., 4:55 loop, 58th place)
I donned my coonskin hat again and the "Good job Davy" comments again started to greet me.
I started this loop off strong, but began to struggle.  My right knee started to hurt and my pace slowed.  My time for 50 miles was 10:11, beating my personal record by about three hours!   My pace started to fall to an average of about 4 m.p.h.   People started to pass me.  At the first aid station I fell to 50th place, at the second in 52nd place, at the third in 54th place, at the fourth in 58th place, and at the fifth in 61st place.   Hans finally passed me at the 50-mile mark.   Another runner seemed be struggling and we would "leap frog" each other many times, passing each other.   Despite my struggles, I was very surprised that I caught up with Hans at about mile 54.  I stuck with him for a couple of miles.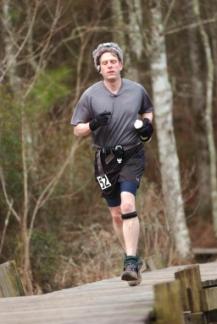 Feeling great again on loop 3
Coonskin hat back on
Something strange happened around mile 57.  I felt amazingly strong, no pain, and the quad muscles loved running all the up hill sections.  It seemed like I felt stronger than I did during the first loop!  I kicked it into gear, passed Hans and others, and cruised during the final hour of daylight.  Another runner (Tyler Lacey, 20, from Texas), who was finishing the 50-mile race, stayed right with me.  It felt great.  I know there were many uphill sections, but I never noticed them.  As we were running the final stretch of the loop, back to the lodge, I commented to Tyler drafting behind me that we were really cruising.   After the loop he thanked me, that he had really wanted to finish strong, and that I helped him accomplish that.  Hans finished the loop 5 minutes behind me.  I ended that loop at 6:36 p.m. (60 miles in 12.5 hours).  I jumped back up to 58th place.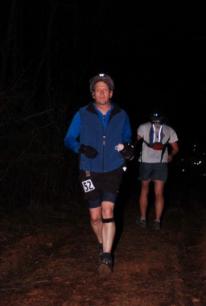 Finishing loop 3 in the dark
Loop 4 (60-80 miles, 6:36 p.m. – 12:32 a.m., 5:56 loop, 55th place).
I wasted 20 minutes getting my night stuff together from my rental car and trying to repair a blister. But I felt great. All I needed to do was a five-hour loop and then a six-hour loop and I would reach my dream goal of a sub-24 hour race
As I started my fourth loop in the dark, I was thrilled to discover that I still felt great!  After 60 miles, my running gear was still there.  I was also pleased to discover that my new 14-bulb LED green flashlight was perfect for this course.  The blazing light illuminated the roots perfectly.  I would have no problem with those obstacles.  I love night running and trained many hours in the dark.  I fired up my MP3, sang out loud to the tunes, which took my mind off any pain.  I cruised through the first seven miles picking off runners one-by-one who had passed me on loop 3 or while I was at my car
During the day the course is marked using orange flags hung from the trees and signs to point the way.  During the night, hundreds of glow sticks are hung from the trees making it nearly impossible to take wrong turns, even in a comatose state.
I had another fun idea at this point.  I turned on the red LED light on my headlamp that would contrast with my green hand-held light.  I soon realized that on the long straight out-and-back sections that I looked like some sort of crazy traffic light coming at the runners from the distance.  People would comment that I should get a yellow light for the middle.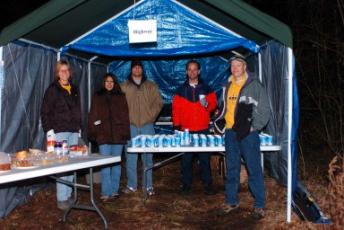 The Highway Aid Station
My pace continued to be strong.  While preparing for this race, during my "rest" period in January, I decided to replace running with long power walks.  I could really feel the payback.  My walking stretches remained strong and fast.  I enjoyed the occasional run-ins with raccoons and armadillos along the way.  As I cruised by swamp areas, the noise was deafening from frogs and other critters.
Despite my strong pace, because I wasted so much time at the end of loop 3, I only climbed one place overall by the time I reached the first station (Highway Aid Station).  I was in 57th place.  However, I was again ten minutes ahead of Hans.  At the second station I was still in 57th place.  Hans was catching up, five minutes behind me.  At the third aid station I was in 56th place, Hans still five minutes behind. 
But around mile 72, I began to crash.  A bad blister developed under my foot, my knee started to hurt again, and my leg muscles told me they were through with running.  I really struggled.  My pace started to drop below 4 m.p.h.  I maintained 56th place at the fourth aid station, but Hans was catching up, three minutes behind.
At mile 75 Hans passed me for the last time, going on to his 23 hour 39 minute finish.  I believe he was the only runner to pass me on loop 4 except for about seven front-runners on their final 5th loop who lapped me.  (The race winner completed 100 miles in 14 hours, 14 minutes!)  My pace continued to slow and I became discouraged.  I perked up when I considered that I was about eight hours ahead of the pace I ran at The Bear 100!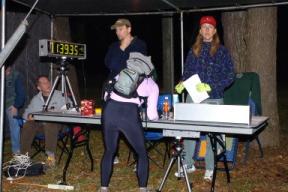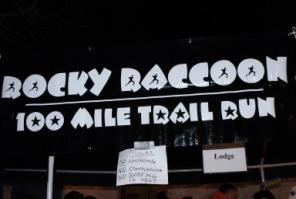 Aid Station at beginning/end of the loop
I hobbled into the lodge station at the end of the loop, completing my 4th loop (80 miles) at 12:32 a.m. (18.5 hours) in 55th place (Despite my struggles, I actually climbed three places and even lapped three people!)  I collapsed into a chair.  The station volunteers were amazing!  Three of them huddled around me, helped repair my foot, carried food to me, and spoke kind words of encouragement to me.  One even took my sweaty sock to dry out by the fire.  I thanked them for bringing me back to life and said with sadness that a sub-24-hour finish was now out of the question.  There was no way that I could complete that last loop in less than 5.5 hours with the poor shape I was in.   As I began the loop, I put that out of my mind and decided to just try to enjoy the rest of the race.  I knew that I would have to walk nearly the entire 20-mile loop.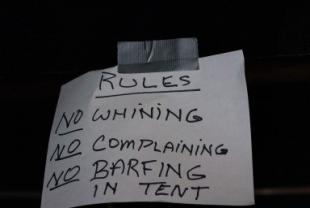 Loop 5 (80-100 miles, 12:32 a.m. – 8:53 a.m., 8:21 loop, 72nd place).
I was now in a strange lonely position.  All of the sub-24 hour runners were now ahead of me, and the over-24 hour runners were behind me.  It seemed like there was now a great distance between those packs, with me stuck alone in between.    At the first aid station I fell one place, to 56th place.  Hans was now 45 minutes ahead of me!
The pain increased, and my pace slowed even more to an average of 2.5 m.p.h.  Three people passed me on the next stretch, 59th place.   I kept my eye on the sky.  The forecast was for rain.  I knew if it started to rain that I would be toast.  I prayed that the rain would stay away.  Thoughts of dropping out the race started to haunt me.  I dashed those thoughts away and continued to plod along, trying to at least walk at 2.5 miles per hour.  How could I stop now after going to far?   The miles seemed to crawl by slowly.  83, 87… only 13 more, an "easy" training run.  One more runner passed my by the third aid station, 60th place.   My pace continued to be slow.
Soon I became even more discouraged on the next stretch as about 8 runners passed me. There was nothing I could do. I was moving so slowly that the "Good job Davy" comments changed to, "Are you doing OK Davy?"
Dawn arrived at about mile 95.  I felt a few raindrops and the wind started to blow, but thankfully the storm stayed away.  Friendly volunteers at the last station greeted me with some warm oatmeal that hit the spot.  They told me that I "had it made," with less then three miles to go.  These were the longest three miles of my life.  When I finally arrived within one mile of the finish, volunteers and kind spectators clapped, cheered and congratulated me.  Somewhere inside of me, I found a jogging pace, and finished the race with pride, with a time of 26 hours, 53 minutes! 
Despite a final 5th 20-mile loop of over 8 hours, I had reached my goal – "running" 100 miles.  It was a respectable time for someone who started serious running only seven months ago.   I finished in 72nd place.  143 started, 104 finished, and 39 dropped out along the way.
I was very pleased that I set personal records at all the traditional ultra distances:  50K: 5:46, 50miles: 10:11, and 100K: 13:03.
When I reached the finish line, I felt happy, but tired.  I had really accomplished my goal.  Within a few hours I vowed that I would never run a 100-mile race again.  By the time I returned home in Utah that evening, I expressed the same vow.   Within 24 hours, I realized that was just a silly stream of nonsense spewing forth from the lips of an incoherent man.