September 26-27, 2008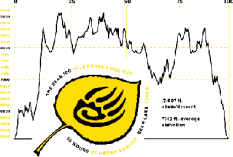 "You're not dead yet!!"  – Yelled from my crew at mile 76
This was a first for me, trying to finish two 100-milers within 13 days of each other.  I had recently finished the very tough Plain 100 and I felt ready to take on The Bear.  This year the Bear 100 was run on a totally new course — a point-to-point from Logan, UT to Fish Haven, ID, on the shore of deep blue Bear Lake.  The new course claimed to be nearly 23,000 feet and I have no doubt that it is.   Course designers, Leland Barker and Phil Lowry hoped to present a course very similar to Wasatch 100 in difficulty and experience.
If successful, this would be my 20th career 100-mile finish, and 6th 100 finish for 2008.  It would also be my 4th straight Bear 100 finish.  They give a special award if you finish five straight Bears (Bear Streaker).   If I wouldn't have DNFed in 2004 at mile 87, I could have five this year.  So close….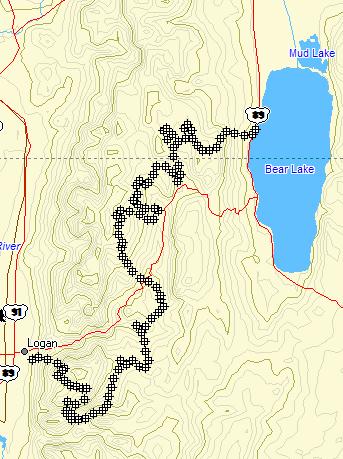 Course with way points, one per mile
 I was pleased to see that the new course is much more crew-friendly.   The old course required many hours of driving on rough dirt roads.  This new course has carefully positioned aid stations close to paved roads making it much easier logistically to get to each one. 
Course profile
I believed that I had recovered from Plain 100 two weeks ago.   My legs felt fine and I had no injuries.  I had only run about 14 slow miles since.   I didn't set high goals for this race.  My goal was to finish, hopefully in under 30 hours, but I wasn't going to push it hard.  I wanted to have more fun this year.
I signed up some great help for this race.  First, my backpacking buddy, Brad and his wife Geri, wanted to crew starting at mile 52.   Next, a college roommate, Steve, who I had not seen in 27 years wanted to put me up Thursday night and also crew me, along with his wife Barb, starting at mile 52.  So I would have a crew of four pampering me for the entire second-half of the race.   Finally, my brother Bob, an ultrarunner himself, flew in from California and would start pacing duties in the afternoon.   I usually do these 100-milers solo, but this would be great to have these fine people helping me.
On Thursday afternoon, I arrived at Leland Barker's trout farm for the pre-race briefing.   I met my former  college roommate, Steve, there.  Steve had never witnessed an ultra marathon, so this was really an eye-opener for him.  Leland gave a very good detailed briefing of the new course.   I circled tricky sections on my map and later that evening put more way points into my GPS related to those sections.  After the briefing, Steve and I went to eat pizza and then he took me to his wonderful home less than a mile from the start.
In the morning, Steve took me to the park for the start.  No bathrooms were open there….not good.  Hopefully that will be fixed for next year.   Before the start, Steve started right in with his crazy jokes.  When he was outside of my earshot, he was telling people that in my college days I was in and out of prison and was a cocaine addict.   Oh brother, I realized I would have to do some damage control.  I later ran with one runner who asked me about that.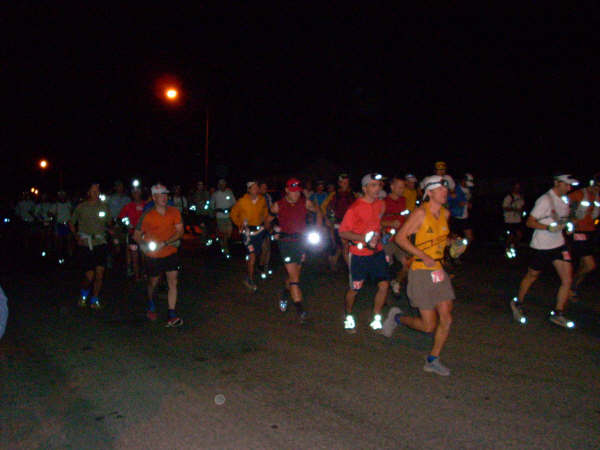 The Start
 At 6 a.m., we were away!   There were 76 starters.   I was very excited to run on a brand new course.  Lately I have been doing repeat runs on 100-mile courses.  I was thrilled to experience something new.   A couple months ago, I had run the first 11-miles of this course in the Logan Peak Run.  I knew that the first few miles were very tough, so I decided to really take the first climb easy.  I ran in mid pack, very content to keep my heart rate low.   We climbed up Dry Canyon in the dark.  The temperature was perfect, crisp, but not cold.  Most of us were already in short sleeves and shorts.  Occasionally a sliver of a moon poked out above the ridges ahead.   Andrew Barney caught up with me and went ahead for awhile.  Andrew finished the 2007 Bear 100 in dead last place.  This year he was much stronger and I was pleased to see him doing well early.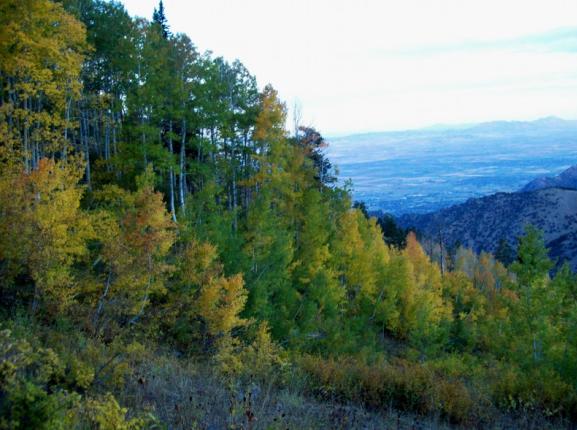 photos by Matt Watts, Bob Crockett, Brad Clements, and Steve Eaton
The climb was tough (it would total almost 5,000 feet on this leg), but after a few miles we reached the South Syncline Trail which makes a long traverse around Little Baldy with some mild elevation gain.   With the dawn light, I kicked it into gear and had fun running on the rough, rolling trail.   Soon I caught other runners including Melissa Merrill and Michael Ehredt.  The views below of massive Cache Valley were stunning.  The aspen trees glowed in bright yellow in the morning light.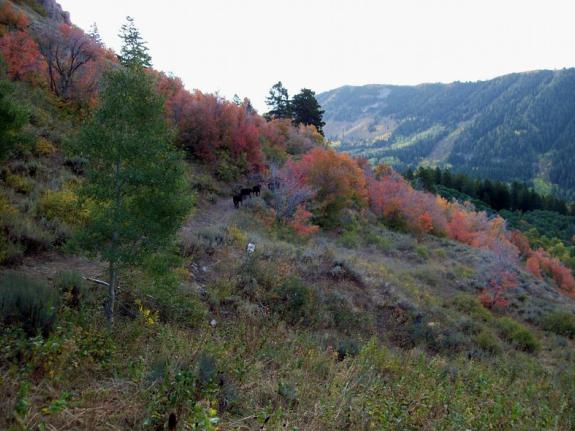 As the trail turned down I kicked it up another notch and caught up with a group of runners including Kim Gimenez, Errol Jones, and others.  We were now on a rough dirt road that went in and out of the forest and climbed up to the Logan Peak aid station (mile 10.5).  I arrived there at 10:42 a.m. in 27th place.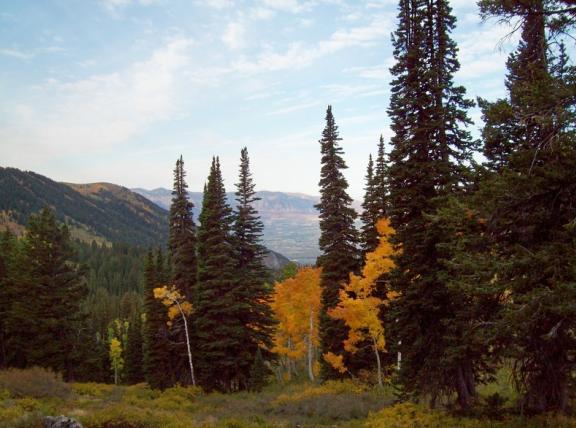 Not long after that, I knew I had no choice but to take a long bathroom stop in the bushes.  From my partial hiding place, I watched several runners pass by including buddy Jarom Thurston.   On the road again, I caught up to Jarom and blasted ahead down a rocky descent toward Millville Canyon.   Soon a remarkable view come into my vision.  I was looking down into at the massive gorge of Leatham Hollow with steep cliffs and astounding colors.   The road was rough and rocky, making it tough to run it fast, but soon the course jumped on a winding, descending, single-track trail.   Boy, did that lift my spirits!  I'm just amazed how a single-track trail gets my energy up.   I started to fly!   I caught up with all those who passed me during my "bush break." Some would say, "Its Davy!"  I even started letting out whoops of joy.   It was very fun running in the cool forest.   The trail spilled out the forest and I arrived at Leatham Hollow (mile 19.6) at 10:20 a.m.   I was now in 23rd place. Anne Watts was there.  She kindly crewed me as she did for others.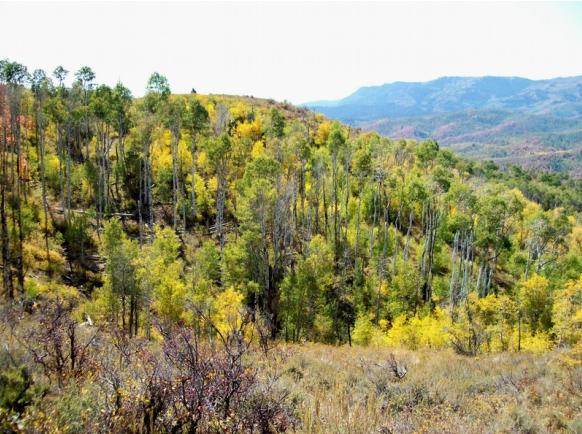 I made a quick two-minute stop to refill one of my bottles and then was away on a dirt road run up a canyon.  The morning was now getting hot.   We had descended nearly 4,500 feet since the first aid station, so it was quite a bit warmer as Larry Hall caught up to me and complained about the heat.  "Yep, we need to get higher," was my reply.   I struggled to keep up the speed on the wide dirt road.   I looked up to the cliffs above and slowed down just to take in the view.   Other runners caught up and passed until finally I dug deep and decided to REALLY run up the road.   It was pretty crazy, but I ran hard, passing all those runners, arriving ahead of Larry at the Richards Hollow aid station (mile 22.5) at 10:58 a.m.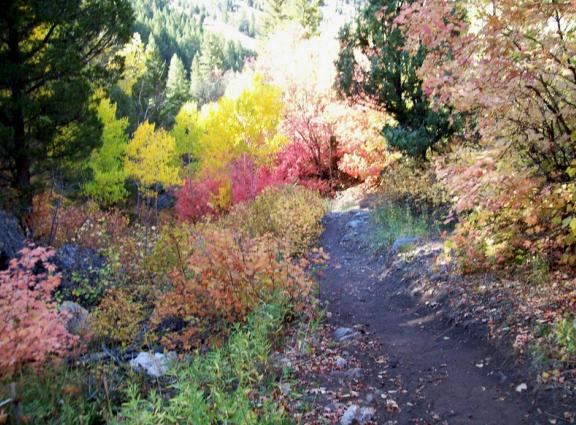 I asked how far until the next station and was shocked to learn it was 7.5 miles.   I was hot.  I made sure I drank two complete cans of Coke and filled both my water bottles to prepare for the 2,500-foot climb ahead.   Pressing on ahead, a large group of runners caught up and passed me, pushing the pace pretty hard.   I had no interest in going that fast, so I watched them go on ahead.  The single-track trail climbed steeply up Richards Hollow for about five miles.   I was so impressed with the canyon, it was so beautiful.  It made me think about the upper reaches of the North Kaibab trail in the Grand Canyon.
A small stream bubbled beside the trail making it a very peaceful place to be in.  I finally needed to stop yet again to visit the bushes for another long stop, but the rest was welcome.   After just a few minutes of being stationary, the flies found me, dozens of them!   I quickly high-tailed it away and was back on the trail.  Reaching the top, I came out on a very hot dirt road that gradually made it down to Cowley Canyon aid station (mile 30).  I arrived at 1:15 p.m., and had dropped to 33rd place.   Despite my delays, I was still 5 minutes ahead of my pacing goal chart.  But I was hot and tired. 
Shortly after leaving the station, I again had to visit the bushes.  It was frustrating, but just one of those days.   Fleeing the flies again, I jumped back on the road in time to join up with Charlie Vincent.  Ahead of me I could also see Tim Seminoff and Milada Copeland.   When I caught up to Charlie, I pulled on his waist pack and scared him to death.  Heh, heh.   It was good to talk to him.  I was feeling stronger and pushed ahead and caught up with Tim.   I think Tim has finished every Bear 100 ever run.   Next I caught up to Milada.  The road climb was annoying, but we all pushed our way to the top of the 1,100-foot climb.
The descent down Ricks Canyon was beautiful but I started to have a serious problem.  My right knee (repaired cartilage) started to hurt terribly with every step.  For the next hour on the trail I would play leap-frog with Charlie and Milada.  At times the knee ached so bad, I had no choice but to stop and rest.  Then I would blast down the winding trail catching up to the others.   I thought about it, and determined a very likely cause was the old shoes I was wearing.  They were causing me to pronate incorrectly.   I forced myself to stride more on the outside portion of my foot and that seemed to help a lot.   These shoes probably had more than 500 miles on them.   I had other shoes at mile 52, so I would just have to put up with them for awhile longer.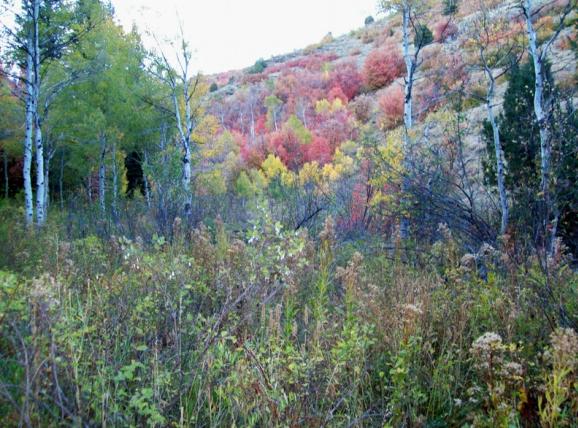 I descended down to bottom of the canyon and ran on the short out-and-back toward the aid station.   I was delighted to see my brother Bob, lounging by the trail reading a book, ready to start pacing duties.  I arrived at Right Hand Fork (mile 36.9) at 3:01 p.m., still a few minutes ahead of my pacing goal.  I was in 35th place. The volunteers were great and kept offering me tasty food like pizza and wraps.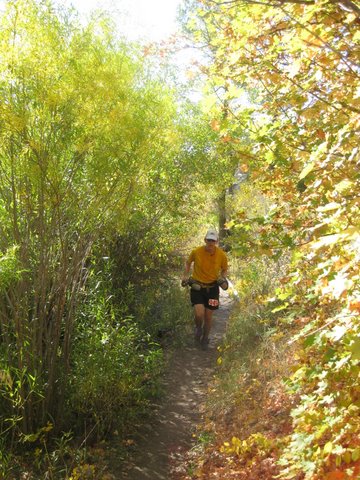 Running up Willow Canyon
Bob was ready to go and we quickly started climbing up Willow Canyon.   At the out-and-back junction, I saw Jarom Thurston coming down and we gave each other a high five.   We followed behind a shirtless Tim Seminoff for the next several miles.  Bob would run ahead and then take pictures of me running up the trail.  Bob wondered how far this leg was. I checked my chart and was shocked to see that we had 8.3 miles before the next aid station.  "Oh boy!" I exclaimed.  "No, don't tell me" Bob replied.   So I didn't.  I just couldn't believe we would have to go 8.3 miles in the hot afternoon between stations.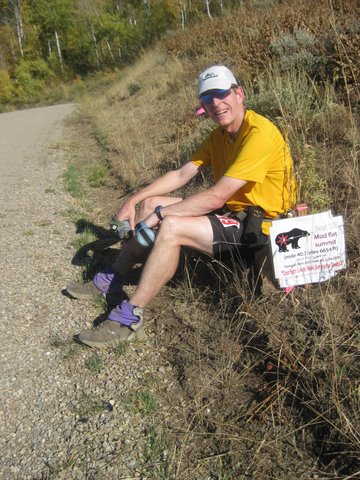 At Mud Flat Summit, hoping a ride will come by
  After a 1,500-foot climb, we reached to top and saw a friendly sign marking the top of Mud Flat Summit.   Gee, that would have made a nice place for an aid station.   I was worried that I would run out of fluid and I did.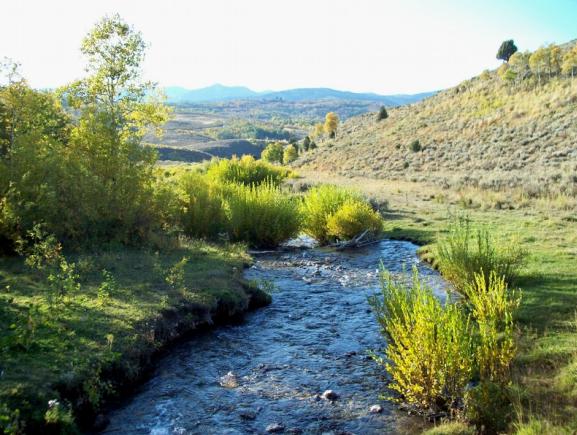 We pounded down the Temple Fork road, and at times ran a good pace, but I was feeling pretty fatigued.  The course took a sharp turn and followed a wonderful ATV trail that followed the cool-looking river down the canyon.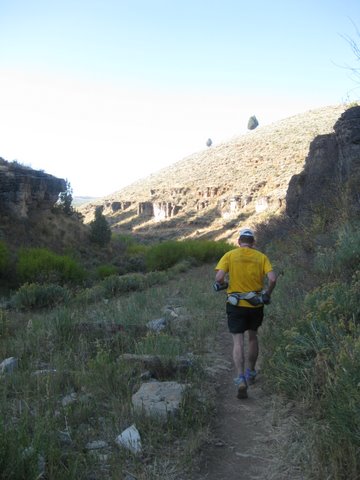 Running down Temple Fork
 The single-track woke me up and soon I was cruising very fast.  To my disappointment it spilled out on a dirt road and I again plodded along.   The green peppers I ate on the pizza just were not working and finally came back up.   Bob made some sort of comment.  He had seen too much of this barfing last year at the Bear.  But I felt much better and soon we were running fast down the road.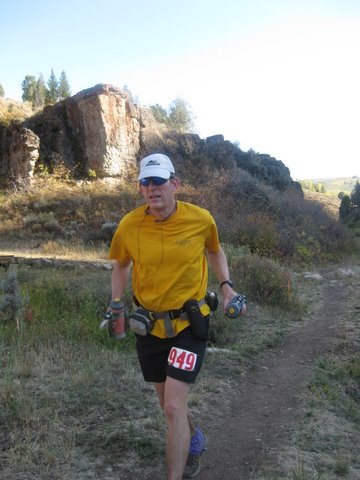 We ran by plenty of people setting up camps for the evening who waved and cheered us on.   We arrived at the busy Temple Fork aid station (mile 45.2) at 5:12 p.m.   I was now running in 37th place.
What I recall most about that aid station was the ice cold Coke and Sprite in cups.  Wow, they tasted so good.  Anne Watts was there and told us she had a flat tire and needed to head back to Logan with the donut on to get a new rental car.  She bid us good luck.  Matt Watts was about an hour behind.
Bob told me that he was going to run the St. George marathon next Saturday, so I was concerned about having him do too much pacing.  I knew the next leg would be a grueling 4,000-foot climb in just five miles or so.   I suggested that he sit this one out because I just planned on grinding it out like crazy and I thought it would be boring for him.  He insisted that he would be fine and wondered if I thought he couldn't keep up.  
So away we went.  We crossed Logan Canyon highway with the help of some highway patrolmen and immediately hit the steep single-track trail.   I was behind another runner and Bob suggested that we step aside and let his pacer catch up.  "Nope, we are going to pass his runner," I replied.   I then kicked it into gear like crazy.  I thought to myself that this 4,000-foot climb would be similar to a Mount Timpanogos hike, a run I do over and over again in training.   I psyched myself up, and just put my body into a fast gear I had not used all day.  
Soon we caught up to Tim Seminoff who was putting his shirt back on.  Once the sun couldn't reach us, the temperature going up Blind Hollow took a steep dive.  Wow, it was already chilly.   I pushed the pace harder and harder and could hear Bob breathing very hard behind me.  He was keeping right on my tail.   At times I experimented to see if I could even push it into a higher gear as we were running hard up the steep trail.   After rising up more than 3,000 feet, Bob finally said something like, "Holy Smokes, you have amazing leg muscles."   I thought my brother would fall behind, but he never did.   I have no idea where my energy came from.  I was feeling incredible.   Finally I looked up ahead and was pretty certain that I saw Charlie Vincent climbing into a grove of trees.   I wanted to catch him, so pushed it hard again.  Sure enough, it was Charlie.  He had been far ahead of me for hours.   
When we finally reached the top, I backed off the pace and enjoyed the descending run down switchbacks toward Tony Grove.   We ran through a campground and then around a beautiful small lake.   The aid station came into view and we heard cheers and music.  My friend Steve was there with a boom box playing the theme from Superman.  What a crackup!   I arrived at Tony Grove (mile 51.8) at 7:18 p.m.   I had climbed to 32nd place. Wow, I was now 17 minutes ahead of schedule.  It turns out that only eight other runners ran that grueling leg faster than me.   I was pleased that I arrived as planned, before dark.
My crew of four (Brad, Geri, Steve, and Barb) went to work on me.  I washed my feet and changed into GoreTex shoes in an attempt to keep out the dust better.  My crew coaxed food into me, including a nice cheese burger.  I changed into a long sleeve shirt and reloaded things I needed during the night.   Brad recalled, "You looked great coming into Tony Grove, which was where we first saw you.  You looked strong and not even very tired after that long uphill section.  Your legs were caked in dust, so I wasn't surprised to find a lot of dirt inside your shoes."
Bob turned over pacing duties to Brad for the next 9.7 miles. With flashlight in hand, away we went.  I'll let Brad take it from here.
"We left Tony Grove after the sun had set but before it was dark.  The scenery was pretty with the bright yellow aspens against dark green pines, but pretty soon it was too dark to see the scenery.  Before long we passed Charlie Vincent along with Eve Davies and their dog Mesa.  Mesa kept up with us and kept startling me as she brushed past my legs.  We weren't passed by any other runners until we stopped to adjust the tension in our laces.  Then they went by us, and we never caught up again although we could often see their lights not too far ahead."
"There was no moon and it got very dark.  The stars were really bright.  At one point Jupiter was barely above the ridge south of us, and as I saw it through the trees it was so bright I thought it was another runner's flashlight."
"We alternated between fast walking and slow running through the uphill part of my section.  When we got to the top and started downhill I expected Davy to really take off.  But he was already in pain from a blister or two by that point, and that slowed him down."
My GoreTex shoes were the same shoes I used at Plain 100 two weeks ago.  I discovered that they started wearing on the same spots that developed some terrible blisters that were not totally healed.  I didn't want to repeat that same pain, so I slowed down.  I knew I would have to change shoes again.
Brad continues, "I had no trouble keeping up except in a couple of the more technical sections.  There were lots of big rocks and tree roots in the trail, and Davy didn't slow down for them at all.  I was scared of tripping and falling down the steeper parts, so it was hard to keep up with him there."
"There were a lot of intersecting trails in this area.  Most of the intersections were marked with a glow stick, but there were a couple where we had to search a bit to find a flag and be sure we were on the right course.
About a mile before Franklin we got into an open area with no trees and no sagebrush.  It was really hard to tell where the trail was in the dark, but Davy seemed to be finding it OK.  I tripped on a couple of big rocks and twisted my ankle, but he seemed to be sure-footed."   
Brad constantly talked to me about interesting things and didn't care if I replied.  It made the time pass by fast and we had a great time.  At times he would play pacer mind games with me.  "Those lights behind us are catching up, they are now only a quarter mile behind."  That would get me going.  They never caught up.  As we approached the aid station, I sent Brad ahead to get the crew ready.
Brad writes, "As I ran into the aid station something with flashing lights went flying past my head.  I thought it was a frisbee but later learned it was Steve's dragonfly."  
Steve had this amazing lit up dragonfly that flew all around me.  "What is that?"  I thought.  Crazy.   My crew cheered me like a hero.  I arrived at Franklin trailhead (mile 61.5) at 10:30 p.m., still ahead of schedule.  I was in 31st place.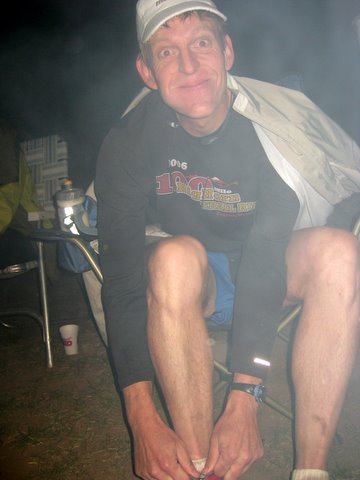 Feeling good again at Franklin aid station
I changed into my third pair of shoes and hoped they could take to me the finish.  I really enjoyed being with my crew, probably too much as I spent 24 minutes with them warming myself by the fire.  I tried hard to pop a non-existent blister.  Some guy kept taking pictures of me poking at my foot.  I finally gave up, lubed my toes and put my shoes back on.
Bob resumed pacing duties and we went off into the cold, dark, starlit night for another tough 1,900-foot climb.  These climbs seemed to never end.  One after another!   The temperature was strange.  It was coldest in the small canyons where the cold air was trapped and a breeze blew down the mountain.  Higher up the mountain, it became much warmer.
I faded poorly on this long eight-mile leg.  I just plodded along.  Runners didn't pass us, but we also weren't catching any.  Navigating the course was difficult at time.  There were very few glow sticks and we had to keep careful attention for flags.  At one point we arrived at a stream and saw a runner ahead was crossing back toward us.  "What's going on?"  I asked.  He explained that he had run into a campground ahead and was told by a camper that he had missed a turn.  I then remembered from the race briefing that Leland told us that if we came to a second stream, we missed a turn.  Sure enough, we back-tracked and found a sharp right-hand turn that wasn't marked very well for the night.  Where were the glow sticks?   I would check my GPS now and then, mostly to know how far it was to the aid station.  I had a waypoint at every mile mark, so it was nice to know exactly how many miles I had to good.  It helped me mentally when things got tough.
We pushed up to the top of a ridge and then I ran much better down the trail.  At one time, I did need to stop to let my sore feet rest.  We played leapfrog with the wayward runner and at some point I passed Larry Hall, who I hadn't seen for almost 11 hours.  He was slowing way down.
I stumbled into Logan River (mile 69.5) at 1:42 a.m.  I had climbed to 29th place, mostly due to runners dropping out ahead of me.  I was about 45 minutes behind my predicted schedule and fading fast.
This aid station is the best!  A Mormon congregation makes this a yearly outdoor event.  They are so friendly do Dutch ovens cooking.  In past years they manned the Danish Flat aid station.  They brought me a wonderful warm roll.  Brad added, "This aid station was great but also a little worrying.  They had that huge, warm bonfire burning and Geri and I watched several runners sit down 'just for a minute' and then lose the willpower to leave for 10 or 15 minutes.  Davy had been running pretty close to his goal at Franklin, but now we waited and waited for the green light to appear.  When he finally came in he looked cold.  We tried to get him fed and out of their fast, and the fire didn't capture him for too long."
As I was warming myself by the fire, enjoying the comforting rest, I noticed that Matt Watts arrived.  I felt very guilty because Matt has seen me camped out at aid stations before.  I tried to get Matt to come over and camp out too, but he would have nothing to do with the warm fire.  So, after a long 13-minute stop, I pushed out of my chair.  Bob and I ran after Matt.  We caught up and Matt started joking around with Bob.  It was great fun.  We had a little trouble figuring out when to cross the Logan River, but after consulting my GPS, we figured it out. Matt then put his power-hike into gear for the next 1,300-foot climb.   After another mile, I watched Matt disappear ahead.  I just couldn't keep up.  I hoped to catch him on the downhill.  But now my problem was drowsiness. I became so sleepy that I started to stumble around.  I was also pretty cold.  Thinking back, my problem was a lack of calories.  I wasn't drinking as much because I wasn't sweating, but too few calories were going in.  Thus, I lost energy to keep me warm and awake.
The climb up the hill took forever.  False summits really frustated me.  At one point I yelled out, "When is this going to end, it is only supposed to be 1,200 feet.  It seemed like 4,000.   We we passed by other runners and finally made it to the top.  Going down the other side we could see a lodge glowing with lights far below, but it seemed like we never got closer to it.   Buddy, Dave Hunt, caught up.  He was pacing three runners helping them to finish.  He gave me kind words of encouragement as I was getting pretty lazy.  At times I kicked it back into a good gear and played leapfrog with this group.  We finally spilled out onto a paved road and followed them into the Beaver Mountain aid station (mile 75.8) at 4:17 a.m.  I was in 30th place.  Brad wrote, "Steve was having a great time in the middle of the night standing on the balcony of the yurt and playing music as each runner came in.  Most of them seemed to enjoy it.  When you got there you seemed to be limping slightly, and Bob seemed really beat."
My crew was on the porch above, cheering my arrival and Steve yelled, "You're not dead yet!!" as he played the Rocky Theme on his boom box.  He cracked me up.   But I did feel dead.  I was really wasted.   My crew tried to ask me what I needed, but I just didn't reply.  The tent was nice and warm and I plopped down into a chair.   My crew made me eat and drink and finally I just slid off the chair and laid down on the floor.  Then something incredible happened.  I revived!  I was soon joking around that I had less than a marathon left.  "I've run a marathon in 3:35 before, this will be easy."  Someone said I wouldn't even have to run 7-minute miles.  I agreed, "I can back off to 8-minute miles."
A runner named Tommy offered to pace me.  I asked Bob if he wanted to take a break.  He hesitated, but with some mild shin splints, it was probably time to stop.  Tommy was supposed to pace Brian Beckstead, but Brian had DNFed at Logan River.   So Tommy got ready to go with me.  After a long 15-minute stop, I was on my way.
As we reached the trail, I was surprised to find buddy Brent Rutledge wandering around lost.   He had received some bad directions and we pointed him the way toward the lodge.  Tommy and I ran down the trail but very soon lost the trail.  It was then that I realized that I had left my GPS back with my crew.   After retracing our steps and getting all turned around, we finally figured things out and were back on the trail.  I was getting angry.  This section really needed glow sticks.   After doubting our route several times, we finally spilled back on the paved road.  An arrow pointed us up the road.   We continued on, but saw no flags or glow sticks.  My green light would make reflectors glow green like glow sticks, adding to the confusion.  Finally the road looked familiar.  I was convinced that we were going in a circle and heading back to the lodge.  Just then, my crew drove by.  "Where are you guys going?"  They asked.   We had no idea and thought that we should return to the lodge and try again.  But with the GPS back in hand, I figured out that the correct turn off the road was just about 100 yards ahead.   I was greatly relieved.
When we started heading up the road, some runners heading down the mountain crossed over to us.  They were confused.  We tried to explain to them that they needed to head up the paved road to the lodge and then do a crazy loop back to this point.   They were unsure, but finally believed us.  We then ran pretty hard up the road.  I looked back again and saw more lost runners pointing their lights toward us.   I wanted to yell at them to explain that they should not follow us yet.   Thankfully, after awhile the lights disappear.  I hope they figured out the correct route. 
The course during the day was marked almost flawlessly, but at night is was very difficult to follow because there seemed to be only one glow stick per mile.  I'm sure next year they will fix this very confusing problem area.
Tommy and I ran and plodded up the Sink Hollow 4WD Road.  We soon crossed into Idaho.  I again was attacked by severe drowsiness.   I had to stop and rest my eyes several times.   I longed for dawn to arrive.   The 1,200-foot climb finally came to and end and we ran through Gibson Basin to the aid station (mile 81.2).  We arrived at 6:52 a.m. as dawn arrived.  I was in 28th place.  I noticed a runner wrapped in a blanket.  He had just recovered from a very dizzy spell.   Our stop was only four minutes, just long enough for me to drink some tomato soup and get warmed by the fire.  This place reminded me of Copenhagen Basin on the old Bear course.  Frost was on the ground.  It was cold.
My spirits rose and I knew the next leg would be mostly downhill.  Gibson Basin was glowing in fall colors as the dawn light increased.   I found a good running gear on the flat road and we started to make some good time.  We intersected onto a portion of the old Bear course and made a 400-foot climb.  At the top, we stopped to strip off our jackets.  I then plugged myself into my MP3.  Tommy later told me, "I heard you sing, 'Daddy took the T-bird away' and then you were flying down the road."   I really started running fast, and left Tommy far behind.  I always have loved this section on the old course and I was thrilled, feeling great, running very fast down the winding road.  After about 20 minutes, Tommy finally caught up and we soon arrived at the Beaver Creek aid station (mile 85.3) at 7:52 a.m. 
Brad wrote, "I was surprised to see you coming down the hill to the Beaver Creek aid station just before 8:00 am.  I figured you'd be at least another 30 minutes, so I hadn't even started getting things ready.  You sounded cheerful and strong at that point."  Brad didn't even know that Steve and Barb were asleep in their car at this station.  A few minutes after I left, they arose to the surprise of Brad and Geri.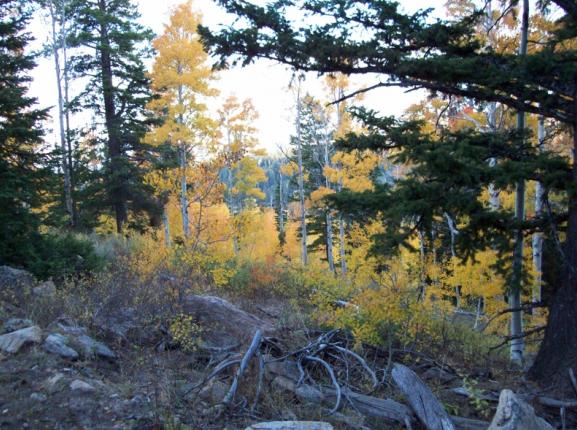 I was feeling great and strong.  I pushed up the road above Beaver Creek faster than I even did on the old course.  I now had my sights to break 30 hours.  I did my calculations and realized that I needed to average about 3.5 mph, about 17-minute miles.  Tommy's GPS watch kept us on pace.  But little by little, the tough 1,200-foot climb started to slow me down.   Tommy announced that our pace was had slowed to 19-minute miles.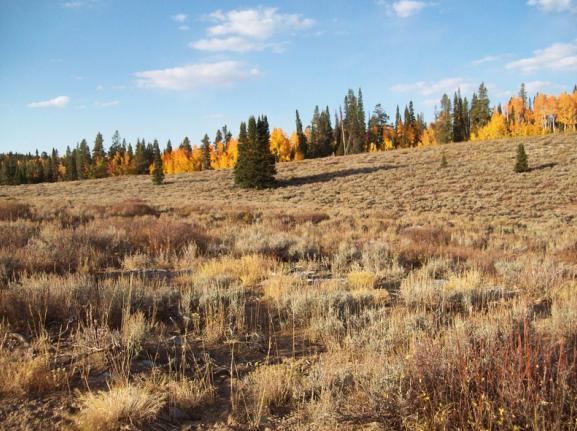 Where I sat down and rested
When we reached to top, we looked over the ridge to the east and could see a hot tree-less basin that we would need to travel through.  We saw glimpses of the beautiful Bear Lake.  It was great to realized that it was mostly downhill from here.   However, at this point my shoes were full of so much grit and a little toe was being crushed so bad, that the pain was overwhelming.   We slowly descended, but finally in the middle of a wide open field, I collapsed down onto the trail without even a rock to sit on.   It was about mile 90 and it seemed like I had reached my limit.  My feet were in terrible pain.   Tommy was nice and patient.  I just had to rest.   I knew that a sub-30 finish was ticking away.   A runner going very fast, ran past as I was sprawled on the trail.  I told him that I was fine.
I reached down inside, pulled out some hidden strength, and somehow rose again to my feet.  I limped slowly for several hundred yards and finally sped up to a slow trot.  We were on our way again.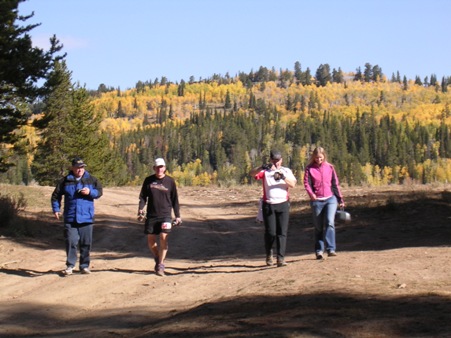 "Running" into Ranger Dip
Steve, Me, Tommy, Barb
Finally the Ranger Dip aid station (mile 92.2) came into view.   Above it, I noticed a high ridge that I knew would be our last huge climb.   We were walking slowly when Steve and Barb cheerfully came out to greet us.   I was in great pain.  I joked that Steve was "running" with me, and they escorted us into the station.  We arrived at 10:21 a.m.  I was still in 27th place.
The station was manned with kind people who knew who I was.  Brad wrote, "One of the guys running the Ranger Dip aid station knew Davy from reading his blog.  He was amazed at my stories of how slow Davy was on our backpacking trips just a few years ago.  This guy was an ultra runner himself and couldn't believe Davy was doing this race so soon after the Plain 100.  This aid station was running out of water, so Geri and I had given them all of ours.  But I had to ask for some back so we could wash his feet because they were terribly gritty.  It was no wonder he had blisters with that much dirt in his socks."
I washed my feet and did my best to lance a couple blisters.  My crew was so kind and patient, and didn't seem to even be grossed out by my battered feet.  Geri joked about my cool toe nails.   I pointed out the one toe nail that looked normal.  When I tried to put my sock back on, the pain in my crushed toe was terrible. I screamed out it pain and apologized for being such a baby.   I had to wait a couple minutes before attempting again.   Geri, like a mom, coaxed me to try again and get it over with fast.  I followed her instructions, screamed again and got the sock back on.  Next up were the shoes.  That went better.  I knew that the toe would go numb within a mile.  
As I was preparing to leave, I was delighted to see buddy Brent Rutledge arrive.  As he saw me sitting there suffering, he made kind remarks to the volunteers there, mentioning that I was the toughest runner that he knew.  I deeply thanked my crew and told them that I would probably see them at the finish around 1 p.m. (31 hours).   I very slowly limped down the road toward the steep climb ahead.
Brent caught up and I told him that I would see him at the finish.   However, soon the foot felt better and I found a strong uphill gear.  This 600-foot climb in less than a mile was no big deal.  I motored past Brent who was struggling and he said, "You are putting me to shame!"   I asked him how.  "You finished Plain only two weeks ago!"   I smiled and we promised that we would whistle down to him when we reached to top of the ridge.  
Over the top, we ran down through a nice forest road.  We were so pleased that the road was shaded.  It was starting to get very hot but the shade really helped keep us cool.   Brent caught up and we enjoyed running together for awhile.  But soon my toe again slowed me down.  I had hoped to finish with Brent, but didn't want to slow him down.   We have finished several 100 milers within minutes of each other.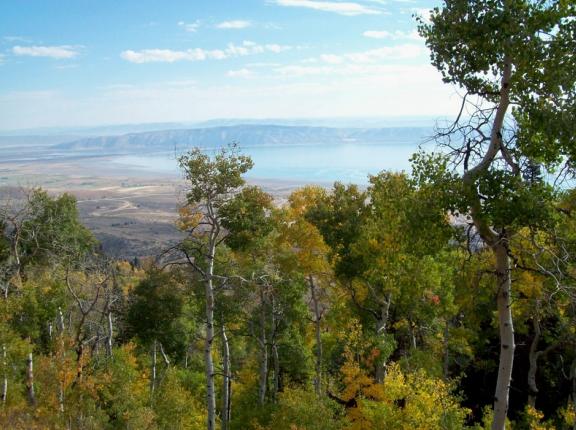 View of Bear Lake
Tommy had mentioned that some volunteers had described the final descent as a trail that needed a fireman's net to catch the runners.   Sure enough, the descent was incredibly steep.  It was very tough on the feet but I was glad to get the descent over with as quickly as possible. We came out of the forest and were now exposed by hot sunlight for the rest of the course.   During my slow descent a couple fast moving runners passed me.  They were doing great.  I wished that I could keep up.
We finally spilled out onto a paved road that headed two miles toward the lake.  I was moving slowly, but enjoying just looking at the huge cabins on the ridges above.  
Finally, I looked at my watch and realized that I could break 31 hours if I quit being a wimp and really ran hard to the finish.   I told Tommy my plan and we really started to run.  Tommy reported that his GPS indicated that we were running a 9.5 minute mile pace.   This was good.   We had about two miles to go.   It was terribly painful, but I knew it wouldn't last long.   We made the turn onto the highway and I ran the final mile as fast as I could.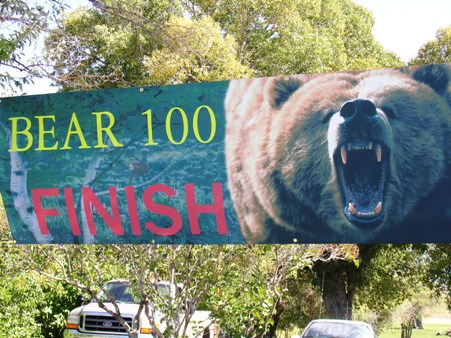 The Finish
Finally the finish came into view!  Cheers rang in my ears.   I saw my crew clapping at the finish and I crossed the line in 30:51.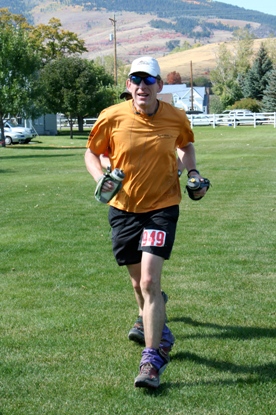 Running into the finish
I did it!  Brad congratulated me on finishing my 20th career 100-miler.  I was glad to finish, but also pleased at the wonderful adventure I experienced.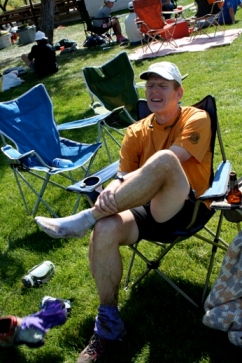 Taking the shoe off my painful foot
Brad wrote, "As we waited at the finish I overheard a couple of other runners talking about what a tough course it was.  One of them said he thought the old Bear 100 course was at least as tough as the new one.  Another guy in this group said he was certain no one came back and repeated this race more than 2 or 3 times.  I just smiled and fell asleep."
Geri shared her memories of her crewing experience:
Dying to grab the pin from Davy to pop his blister myself because he just couldn't quite see the blistery bubble and I love stuff like that.  

Thinking that the Logan River aid station was more hinder than help in acting like a venus fly trap with its hot rolls, welcoming fire, nice conversation, pile of blankets and trailer of cots.  We'll just call it the Bear Lake Hotel California.

Wondering if they really do perform toenail veneers like they do for teeth after seeing Davy's nubby toenails.

Thinking those are some oddly cheerful women coming into those stops after having run 75 miles.

Wondering what would happen to the 30 runners who still needed to hit the last aid station that only had a couple of gallons of water left.

Again wanting to grab the pin from Davy and pop that blister on his little toe.

Wondering if Steve has ever told a true life story to anyone without it ending in a punch line.

Being amazingly awake after just a couple hours of sleep overnight.

Feeling very happy to sit down to my Bajio Chicken Green Chili Salad (with rice because that's the way the Ogden Bajio does it) and large Diet Coke when it was all done.
Yes, I had finished my 4th Bear in 4 years! My crew and pacers were real champs.  I'm so grateful for their kind service.
What did I think about the course?  I believe it is much tougher than the old course.  The climbs seemed much tougher.  For sure I will be back.  This is probably my favorite 100.