The Bear 100 is a tough mountain 100-mile race that runs end-to-end from Logan, Utah, to shores of beautiful Bear Lake in Idaho.   This was the second year on the new Bear 100 course.  This course has about 22,000 elevation climb, going up and down the canyons on its way to Bear Lake.  This time of the year is ideal for a race in this location.  Autumn is arriving and the trees are turning colors.  We would run through groves of golden aspens, by red maples and scrub oak.  It is an amazing view if you can take your eye off the trail from a few seconds.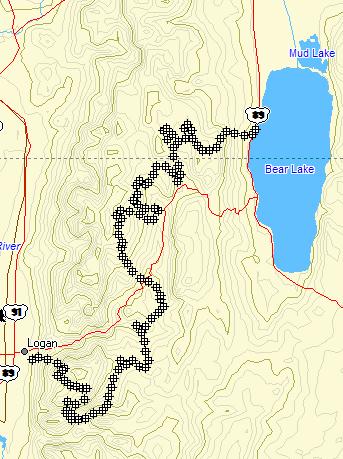 This would be my sixth year running in the Bear.  I didn't finish my first year in 2004.  But if I finished this year, it would be my fifth straight finish and I would earn a "Bear Streaker" award.
Two weeks ago I had a good run at the Wasatch 100 and my recovery had gone well.  I saw no reason to hold back and planned to race the Bear harder than last year.   In 2008 I finished in 30:51.  I have experienced some serious feet pain problems that significantly slowed me down.  For some reason I always have feet problems at the Bear.   I hoped that this year would be different.  My aggressive goal was to finish in 27:30.   That would be over a three-hour improvement and get me a sub-30-hour belt buckle.
I missed all the pre-race festivities on Thursday because I was flying back from a business trip in California.  But I arrived in Logan by early evening and tried to focus on the tough race ahead.
I arrived at the start (Hyrum Gibbons Park) at 5:30 a.m. and immediately could tell that we would be in for a hot day, similar to Wasatch.   I ditched plans for a warm shirt for the morning.   After a few very quick hellos, 135 of us were off and running at 6:00 a.m.   Nobody shot out in front.  In fact I was leading the race as we ran up the neighborhoods toward Dry Canyon.   Andy Holak introduced himself.  I knew I had no business running with a fast runner like him.   I settled into about 5th place and helped guide the runners ahead who had never run the course before.  Twice they took wrong turns and I quickly corrected them.  Finally we were on the trail up into Dry Canyon.  
After a half mile, I was ready to back off a little, no longer desiring to be with the front runners.  I offered to let those behind me go ahead, but they also had no desire to chase the fast rabbits.   So, for the next mile or so, I led the second pack of runners up the dark winding canyon.   A runner behind me remarked that this was a much better pace.  He asked what my finishing goal was and I told him 27:30.  I think he was surprised that I was shooting for such a slow finish and he said, "Oh, you did Wasatch two weeks ago."  Funny how he thought the time was slow and I thought it was fast.
Finally, just like we were in a bike peloton, I was ready to let someone else drive the pace.   I stepped aside and let about five others go ahead.  Someone thanked me for the great pace.   I hung with this second pack for awhile longer, but then watched them go ahead.    I looked back down the mountain and could see that we were now far ahead of the main pack of runners.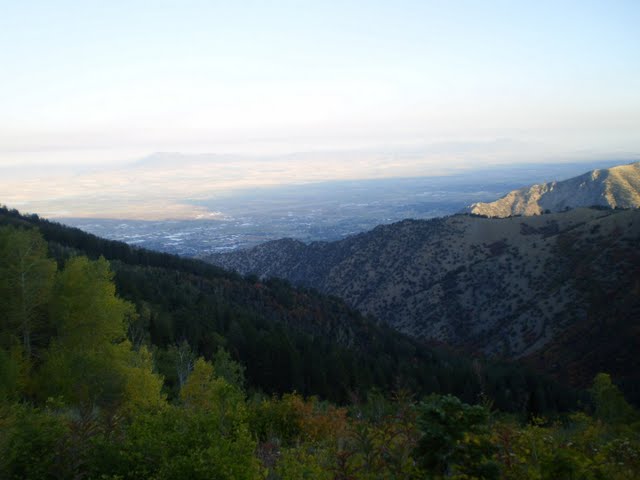 Cache Valley below
Photos by Steve Pero and Jenny Stinson
Dawn arrived and I was able to turn out my little headlamp that I held in my hand.  The leading woman runner caught up to me.  I had no idea at that time that I would leap-frog with her for the next 50 miles.  I was very surprised how fast we arrived at the South Syncline Trail.   It was a relief to no longer be pushing hard up the mountain.  This trail is a fun rolling trail that traversed around the mountain (Little Baldy), revealing views of Cache Valley far below.    I was passed by several runners who were interested in running hard.   I kept them in my sights as we exited from the forest and ran across open slopes.   Sections of downhill were nice, but I still didn't feel warmed up enough to really blast down them hard.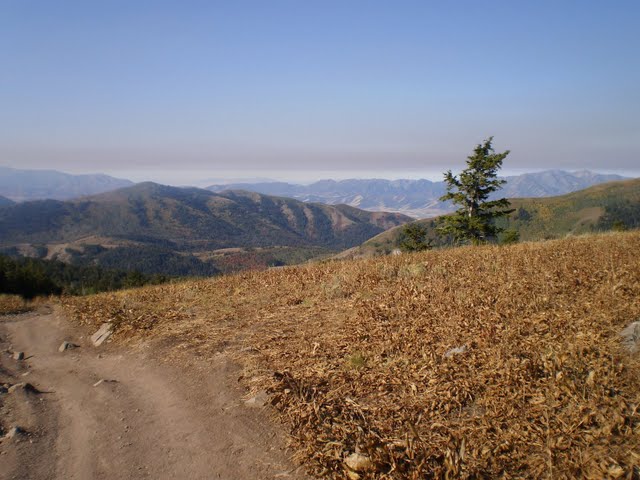 I reached the Logan Peak aid station (mile 10.5) at the 2:33 mark, three minutes ahead of schedule and nine minutes ahead of last year.  I was running in 26th place. I quickly refilled my bottles, grabbed some food and was off.   I was traveling very light, with just two hand-held bottles and a few gels in my pockets.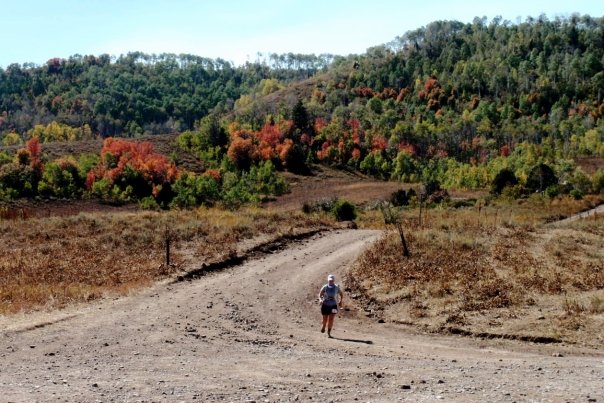 I completed the climb ahead to Millville Pass and then started a long downhill.   My legs were feeling good and I kicked up the speed a notch.  As the trail became more technical, I could see that I was catching up with two runners ahead.   I set them in my sights.   Runner #1 was passed.    Runner #2 was passed.   Great!  I was having a blast dancing down the steep trail.   But then… my foot tripped, and down I went!   My bottles squirted and I fell down on my side.   Runner #2 caught up and asked if I was OK.  I said I was and he went on.   I got up slowly and started with a walk, then going into a slow trot.   I noticed a bad pain in my right upper quad.   Not good.   My right index finger was also smashed and bleeding.    Usually the pain disappears fast, but I noticed the pain in the leg was staying around.   I again caught up and passed runner #2, but clearly the wind was out of my sails.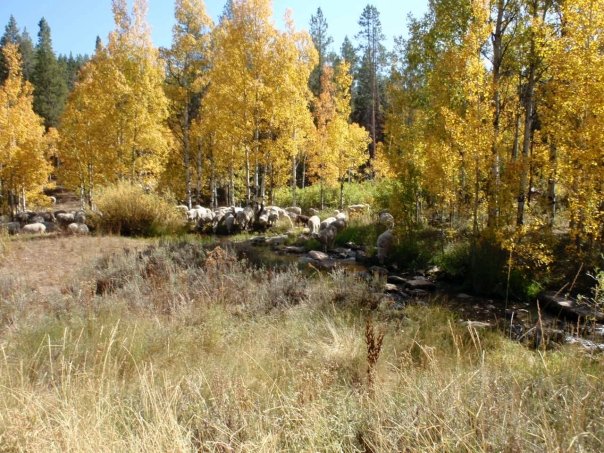 This was a disappointing turn of events.  I so much looked forward to running the next few miles very fast, my favorite section of the course.   I turned onto Leatham Hollow Trail (a soft winding downhill single-track) and left the runners far behind me.  The trail was in amazing shape.  Someone had done some nice work on it since last year.  It was a trail-runners dream.  I was having a blast again and did my best to ignore the pain in the leg.   At the speed I was going, I hoped to catch a few runners ahead, but never did.  There was no sign of any runners behind.   As I was making fast progress winding through the beautiful forest, I checked my watch and noticed that I would cut it very close to stay on schedule at the next checkpoint.  I could see the aid station far below.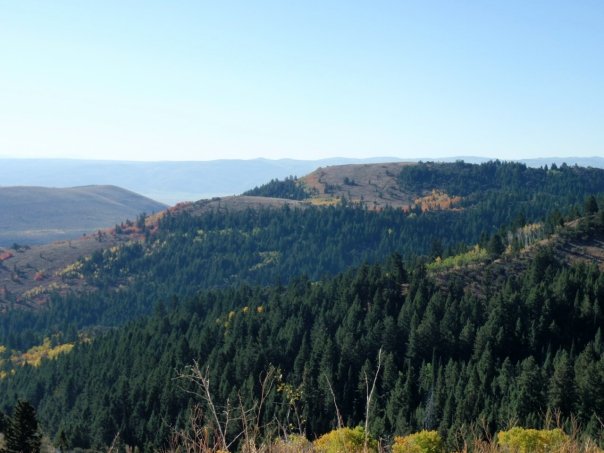 Finally, I exited the trees, came out of the trailhead, and ran down the road toward the Leatham Hollow aid station (mile 19.7).  Cheers were heard.   Jon Allen (later one of my pacers) greeted me along with Paul Petersen.    (Paul had won Top of Utah Marathon a week ago and Jon had placed 6th).   Paul said to me, "Jon told me you would arrive around 10:10 a.m.   You arrived at that time to the very second!"   I grinned and said, "Isn't that disgusting, I'm so predictable."   It is pretty funny that I can predict my pace fairly closely.   I was in good spirits.  Jon asked how I was doing.  I didn't mention the bad fall.   I was generally feeling very good so I made a quick stop, waved to Anne Watts, and was on my way.  I was still in 26th place.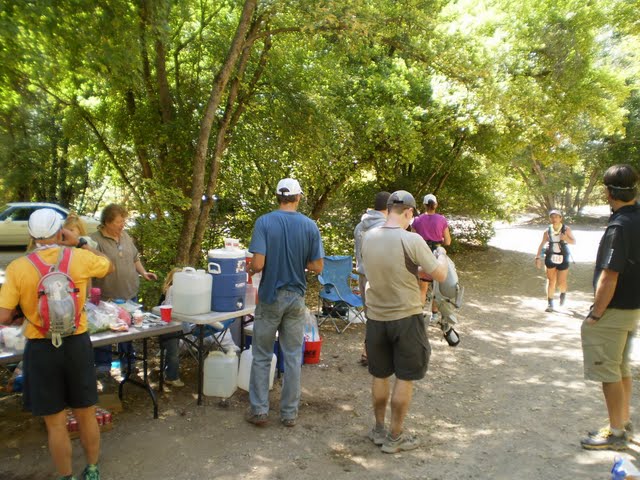 Richards Aid Station
Next up was a boring dirt-road run up the canyon to next aid station, only 2.8 miles ahead.   I quickly discovered that my injured leg did not experience pain on the uphills.   OK, I could see what this meant, I would need to push the uphills hard and take the downhills easy.   I was determined to run every step up this canyon road and I did.   I arrived at Richard Hollow aid (mile 22.5) at 4:44, 6 minutes ahead of schedule.   I was very pleased how strong I felt on the uphills.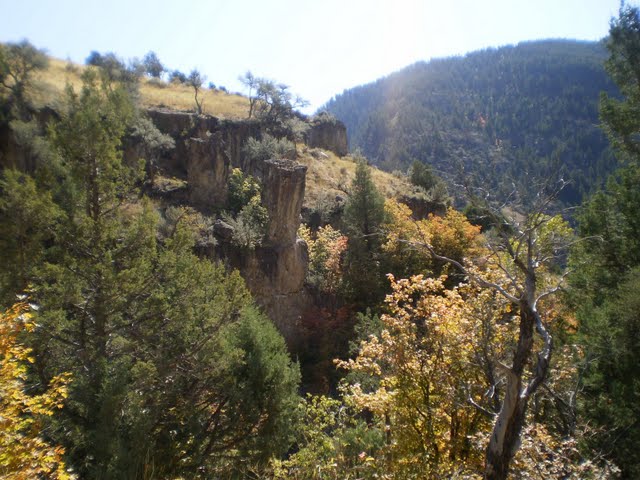 Next up would be a long beautiful climb up Richards Hollow.  I could see the leading woman,  Tina Ure up ahead.   I pushed hard and very quickly passed her.  She was having some sort of problem with her shoe.  I recalled how last year I struggled on this climb and was passed by many runners.  No so this year.  I also leap-frogged with Mike Farris.  This back and forth would continue on for the next 77 miles.   I really enjoyed this section.  It reminds me of portions of the climb up the North Rim in the Grand Canyon.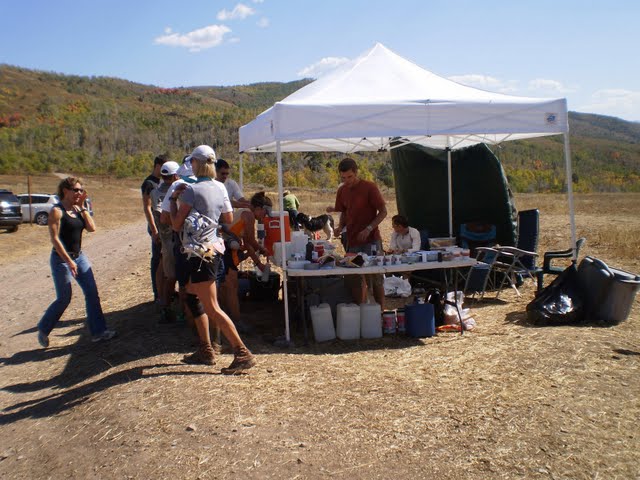 Once I reached the top, I ran down a wide dirt road into the Cowley Canyon aid station (mile 29.9).   I arrived at 6:38, 7 minutes ahead of schedule and 37 minutes ahead of last year.  I was in 27th place.
Next up were more dirt roads up and over a ridge.  It was now getting pretty hot but I was drinking plenty of fluids.   The 2nd place woman, Quinn Fitzpatrick was on my heels but I managed to stay ahead as we hit the descending single-track into Ricks Canyon.  This section is amazing and great fun.   I now had another significant problem.  The heel in my right shoe had been shifting around and I now had a very large blister on the bottom of my heel.  It wasn't causing much pain, but it made me be cautious until I could do something about it.  I maintained a good steady run down the canyon.  Once I hit the bottom, there is a short out-and-back to the aid station.  It was fun to see the runners ahead of me.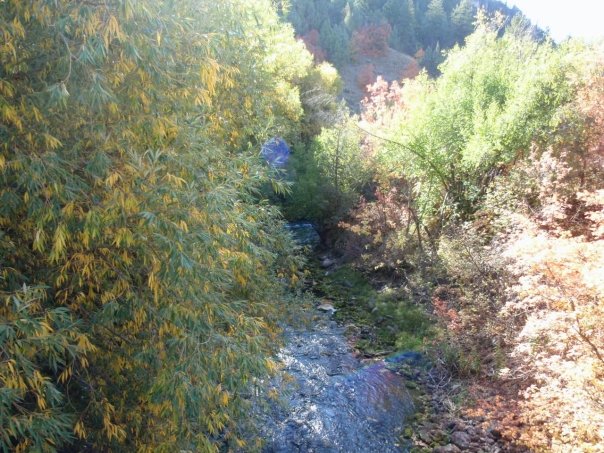 I arrived at Right Fork aid (mile 36.9) at 8:06, nine minutes ahead of schedule and 55 minutes ahead of last year!   I made a fast stop, drank plenty, and prepared for the next long hot section.   I wondered where Brian Beckstead was, and sure enough we greeted each other on the out-and-back.   Only a few other runners were seen on this overlapping section.  It was surprising to see how far ahead I was of the main pack.   I was running in 28th place.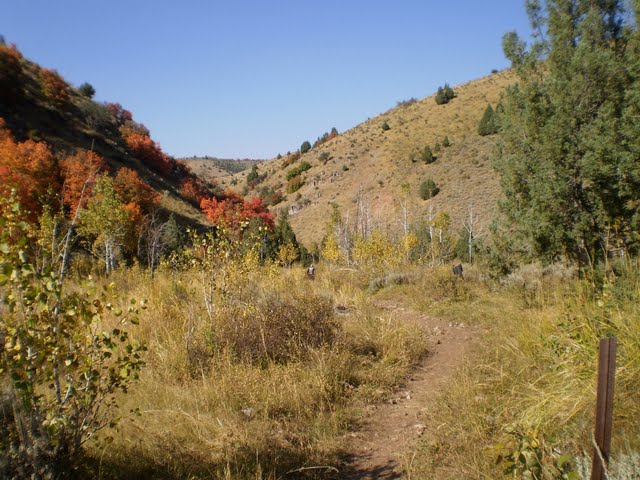 After passing Mike again, I decided that it was time to do something about my huge blister.  I spent five minutes or so lancing it.   I thought Brian Beckstead would catch up, but he didn't.   Once the shoe was back on, I felt much better.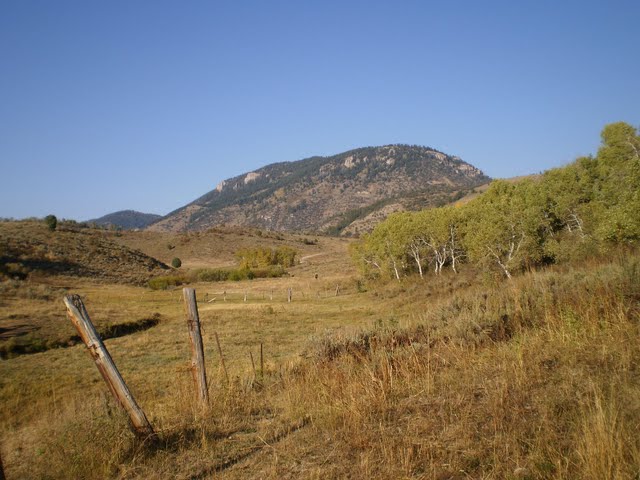 My uphill run up Willow Canyon toward Mud Flat went very well.  I found some exceptional speed and was able to pass both of the women ahead and other runners.   At Mud Flat I helped a runner who couldn't figure out where to go next and warned him about a sharp right turn off of the dirt road ahead.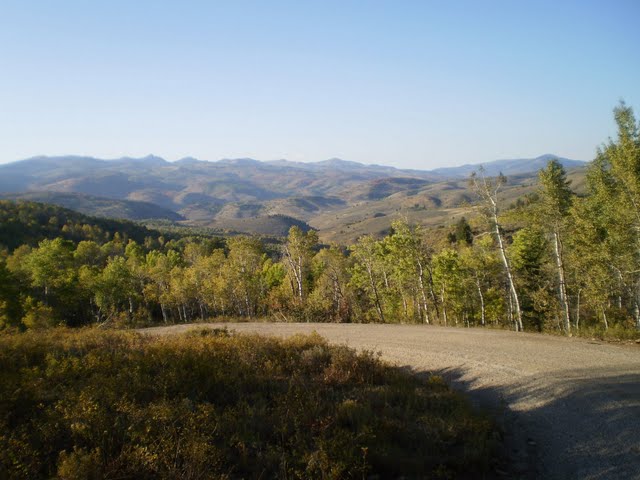 Once we reached the turn, I had to yell out to him because he missed it.   I could also see far ahead up the road another runner who had missed the turn.   He was out of yelling range.  Oh well, he would eventually join back in the course and it might have been a short-cut for him.   Now I was on a fun single track doing a huge sweeping turn through a wide-open canyon.   After sweeping, I could see about a half dozen other runners less than a half mile behind.   I also saw some confused runners on the road who I yelled at and waved to.  They finally figured out the sharp right turn onto the trail we were all on.
I was just about out of water and was tempted to dip into the river that I was running next too.  But instead I just ran fast ahead.  I could tell that I was in early stages of dehydration.   I would need to be careful.  I kept a steady run down the dirt road into Temple Fork aid station (mile 45.2).  I arrived there at 10:09, six minutes ahead of schedule and 1:03 ahead of last year.   I was now in 23rd place.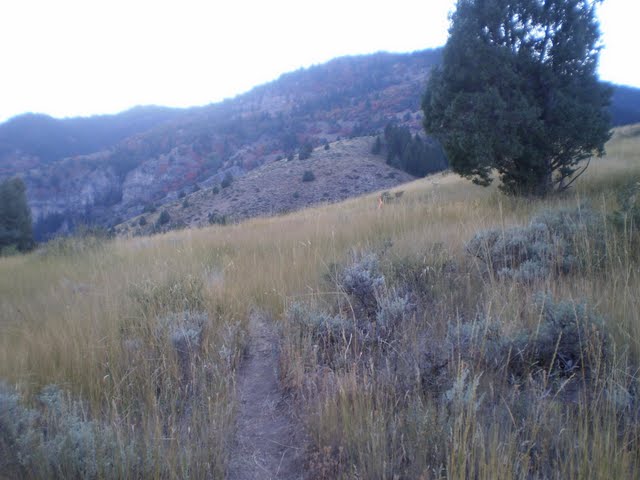 Jon greeted me and quickly helped me fill my bottles and get ready to leave with him.   Brian Beckstead showed up right before we left.  Jon later wrote, "It was rather hot and most of the runners were dehydrated when they arrived at Temple Fork, including Davy.  Within a mile after leaving his stomach rejected everything in it, which I think actually made him feel a bit better.  He kept everything down the rest of the way.  The first leg had 4000 ft climbing to Tony Grove.  It was a beautiful leg with lots of aspen trees.  It went well and we pulled into Tony Grove right on time."  Jon chatted away as we climbed and I really enjoyed the conversation — sometimes too much.  Jon would notice that I would slow down and tell me to stop talking and start running.   We arrived at Tony Grove (mile 51.8) at 12:17 (6:17 p.m.) 13 minutes ahead of schedule and 1:01 ahead of last year.
We made good progress on the climb out of Tony Grove.  Looking back, we could see Brian Beckstead, Roger Smith and Dave Hunt (pacer) hot on our heels.  As we passed a hiker heading in the opposite direction, we told her to trip the runners behind us.  Ha, ha.   As we were approaching the top of the ridge, I decided it was time to ignore the painful leg and foot and go for it.  I told Jon that I would first test out flying down the trail and if that worked would motion him to take the lead.  I would then follow him step for step as we blasted down the trail.  It worked!   Soon we were flying.  Jon wrote, "Davy decided to really push himself on the decent into White Pine.  He had me run ahead and we absolutely blasted down the trail- we were cruising and blew by several people, including the first place woman.  He had fallen earlier and banged his quad, and it really pained him on descents, but he did awesome at ignoring it.  It got dark just as we reached Bunchgrass trail, which is generally a very nice trail to run down and we kept leapfrogging a number of runners.  At this point, we noticed the moon was just setting in the west and commented on it."
"It is a long stretch to Franklin Basin- 9.7 miles.  The last few miles were real tough for Davy- he kept twisting his ankles, particularly his right one.  And the blister on his right heel kept getting worse and worse.  But he toughed it out and we arrived at the Franklin aid station well ahead of schedule."   We came into Franklin (mile 61.5) at 14:51, 39 minutes ahead of schedule!  Woo hoo!   I was now 1:39 ahead of last year and in 22nd place.  But my stop was long, 17 minutes.  Jon recalled, "The station was hosted by Striders and had tons of great volunteer and was very energetic.  This was the first station with Davy's crew, Geri and Brad, who were waiting for him with a Wendy's hamburger.  They worked on his foot for a while and Davy really struggled to get his shoe back on, he was in so much pain.  I ate some food and took some sodium tablets to calm my quads.  But eventually Davy was set, someone pointed us in the right direction, and we were off at 9:08 p.m."
Brad had reported the alarming news that he could not find my drop bag at the last aid station, Tony Grove.   We had left it there just a couple hours ago for Brad to pick up.   I was convinced someone must have put it in a truck to return to the start.  This was bad news because it had all my warm night clothes in it, spare shoes, etc.   That really bummed me out.  But on the way out, Cory Johnson offered me the jacket off his back, which I willingly took.  Thanks Cory!   Each of the aid station are in a valley where the cool air collects.  Once you start climbing the temperature rises about ten degrees.  Within minutes the jacket came off.
Jon chimes in again: "This next leg was very tough — the first 3 miles were steep climbing.  We grunted our way up, but noticed the moon was still visible but kept appearing from different directions.  The hill seemed to go on forever.  Eventually we reached some rocky downhill and Davy struggled with his foot, but he pushed hard and kept a great pace.  On this whole 2.5 hour leg, we did not see a single person, though the moon kept us company from all sides.  We reached the road at Steep Hollow and descended to the Logan River aid station (mile 68.8).  This was probably my favorite aid station — they cheered us in, had lots of food, lots of happy volunteers, and even warm towels for washing."
Brad also loved this station.  "They have big fires roaring, comfy chairs, and good food.  They had a big tent with cots inside and a sign on the outside that said "Logan River Hilton; no reservations required".  They were serving hot rolls and stew from dutch ovens.  You could sit down and spend a lot of time there.  We saw a few people do that."
I didn't really notice all of this.  At that point I was fairly incoherent, very pooped, and struggling with my painful foot.   Brad had returned to Tony Grove again and did find my bag.  The there volunteer insisted it couldn't be found, but once Brad explained I had been through hours ago, they admitted there were other bags in a truck.  Whew!   I now had everything I needed.  Someone tried to usher me to the warm fire here.  In frustration, I refused multiple times.   I wasn't going to be sucked into comfort.   I wanted to quickly take care of business and be off.  I didn't feel cold, but I would be if I hung around too long.   I chowed down on another Wendy's burger and then was off.
Jon continues, "We ran down a road, then crossed the Logan River.  Davy dislikes roads, but picked up the pace again once we hit singletrack.  This leg was Davy's toughest last year — he was cold and tired and he commented on how hard the climb was.  This year, though, it went better  — the climb was not near as steep as after Franklin, in general, though there was a very chilly breeze.  Again, we didn't see anyone for several hours — meaning we ran almost 5 hours without seeing any runners.  After a long climb, we reached the summit and started a very rocky, long descent. "
I was flabbergasted how quickly we had reached the top this year.  It seemed like the climb was simple and very short compared to last year.   I was convinced there must be false summits, but no more summits arrived.   We were at the top.   However, I just couldn't push the downhill hard.  It was very discouraging.  
"Davy's foot was extremely painful but he ran well, though several people passed us.  He was inspiring to me with how tough he was.  Our oft-repeated motto was 'Don't Be Lazy!' and he wasn't.  He pushed hard and we reached the Beaver Mountain aid station (mile 75.8) exactly at his goal time of 2:15 am.  After a change of shoes, he and Brad were off."  I was in 24th place.   Brad and Geri crewed me by their car so I wouldn't have to spend time in the warm building.
Jon wrote, "My journey with Davy ended at this point.  I drove home and was in bed by 4 am.  But watching him run was inspiring and amazing, and a privilege to be able to share in.  I was tired and could hardly imagine how he felt after doing 45 miles more than me, especially with his foot problems and quad bruise.  Thanks for letting me tag along, Davy.  It was a wonderful."
Jon had been a perfect pacer and had done a great job in motivating me.  I was sorry to see him go, but now faithful Brad would lead the charge up the next mountain.   We made our way through the strange loop where everyone got lost last year.  This year it was marked idiot proof.   But still, as we hit the road we found a runner trying to go through the loop backwards.  We corrected his mistake and assured him that he first needed to go up the paved road to the lodge.
We next made the long climb up to Gibson Basin.   My uphill gear was good and I worked Brad pretty well.  We could hear a couple runners behind his (turned out to be Chris Gerber and his pacer).  Each time they came within earshot, I would run very hard and put some distance on them.   The top seemed to never come, but it finally did.  We arrived into Gibson Basin (mile 81.2) at 22:15, five minutes behind schedule, but a whopping 2:37 ahead of last year.  I was in 24th place.   The volunteers at Gibson tried to have me go over to the fire, but I refused and got out of there in a couple minutes.  After we left, we looked back and were surprised to see Chris Gerber's light already leaving the station.  He must have not stopped at all.   Brad wrote, "We didn't get to play much 'reel them in and spit them out.'  There just weren't many people around us through the night.  I think the really fast ones were too far ahead of us, and we were ahead of the majority."
Well Chris finally caught up and passed me in about a mile.   After that, I had some terrible foot pain.  I had changed shoes at Beaver Mountain, but the shoes were too narrow and caused the sesmoids in both feet to swell and ache.   I had no choice but to stop and rest them for a couple minutes.  I knew from past experience that this would help.  As I was sitting there, another runner passed us.  I didn't look up.  I wished I would have.  It turned out to be my very good buddy, Tom Jackson.  If I had seen him, I would have worked very hard to keep up.  But he went on ahead, later saw my green light behind, but it was too late for us to link up.
Last year I was able to really blast down the hill fast into Beaver Creek.  This year, I could only keep a consistent running pace going.  I repassed one runner, but couldn't quite catch up to Chris and Tom ahead.  I came close, but couldn't reel them in.  We arrived at Beaver Creek (mile 85.3) at 23:28 (5:28 a.m.), eight minutes behind schedule and 2:24 ahead of last year, and in 25th place.  Geri was there to help us and Brad decided to continue on with me to Ranger Dip.
This next leg was a struggle.  I enjoyed the long uphill stretch just fine, but I became very sleepy as dawn approached.  I tried all the tricks I could think of to wake me up.  Brad recalled, "Just before we made this turn Davy looked back to see if anyone was catching up to us.  The quick turn combined with lack of sleep caused him to lose his balance.  I caught him before he fell on his face."
We finally made it to the top and had our first glimpse of Bear Lake.  Up there, I found Mike Farris standing around off the trail.  I had not seen him for hours.  I asked him if he had been taking a nap.  He explained that he just couldn't figure out which road to take.   I knew from last year that it was to the right and helped him get on his way again.   We descended rather slowly into the wide-open valley.    We were going so slow, I was concerned about hordes of runners passing me.  Brad assured me this wouldn't happen because we were so far ahead of the main pack.  Another runner did catch up and we could see others far behind us.  We arrived at Ranger Dip (mile 92.2) at 25:57, 17 minutes behind schedule, 2:24 ahead of last year, in 23rd place.   At that point, I bid goodbye to Geri and Brad who would head home.  I would finish on my own.   I didn't want to put Brad through the tough final leg.
I looked ahead, took a deep sigh, and pushed on.   The final steep hill was ahead, nasty 600-foot Ranger Dip Liftoff, a road that didn't believe in switch-backs.   I very quickly caught up and passed Mike who was moving very slowly up the hill with his pacer.   Once on top, I took my sweet time, feeling no urgency and went on ahead.    Before the huge descent, a fast runner passed me like I was standing still.  He would go on to break 28 hours.   As I went along, I adjusted my finishing goal.    I realized even breaking 28 hours would be too painful, so I decided  that I would just try to beat my Wasatch 100 time from two weeks ago 28:33.  
I now had to get through "The Dropoff" a steep 20% descent of 2,000 feet in just two miles.   One observer last year said they needed a fireman's net to catch the runners coming off of that section.   My pace was pretty pathetic, but I now could sense that the finish was coming.
Finally I reached the mouth of the canyon and was faced with yet another sick Bear 100 joke.  They rerouted the finish to avoid a long paved road section.  In its place was yet another hill to climb!   I groaned, thinking I was through with hills and pushed myself up.  When I reached the top, I looked down and could see Mike at the bottom, moving well.   The next section confused me because the flagging was yellow, no longer pink and I was in doubt if I was going the right way.  So I slowed until Mike caught up.  By that time I was convinced that we were going the right way.   I had no desire to sprint to the finish so I watched Mike and his pacer go ahead down the wide canyon dirt road.   Later they really slowed down and I came with a couple hundred yards of catching up.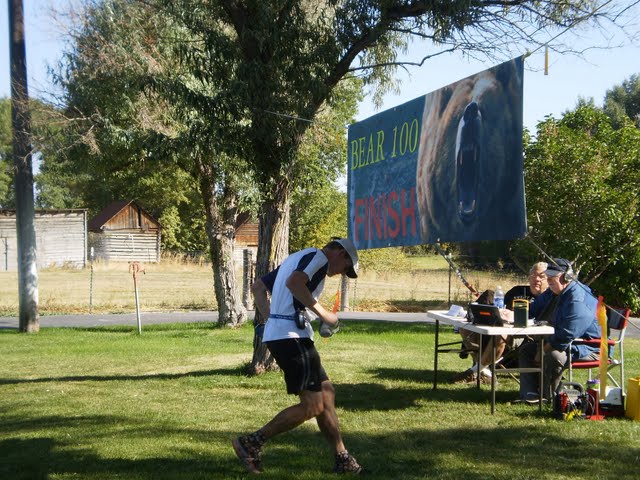 Me, ducking under the finish sign
Once I reached the highway, Anne Watts was there, heading out to go find Matt on the course.   She pointed the way to the finish and I ran into the property, pretty exhausted.   I crossed the finish line in 28:21:15, in 24th place.   I beat my time from last year by 2:30 and beat my Wasatch time!   I was pleased but knew that I could have done much better without the pained leg and foot.   Of the 135 runners, 94 would finish.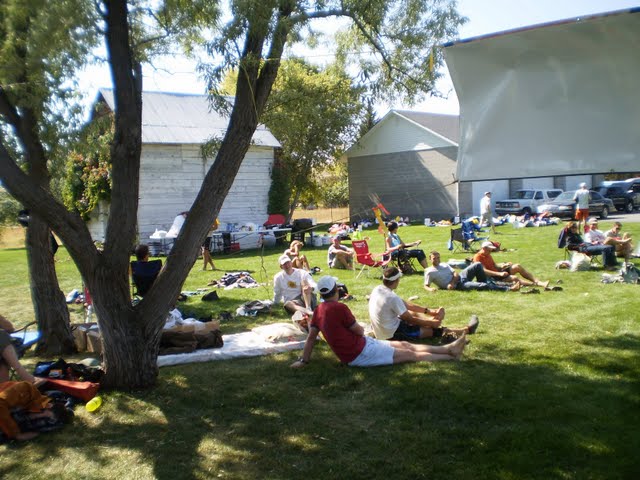 Finish area
I relaxed at the finish for the next 7.5 hours watching everyone finish.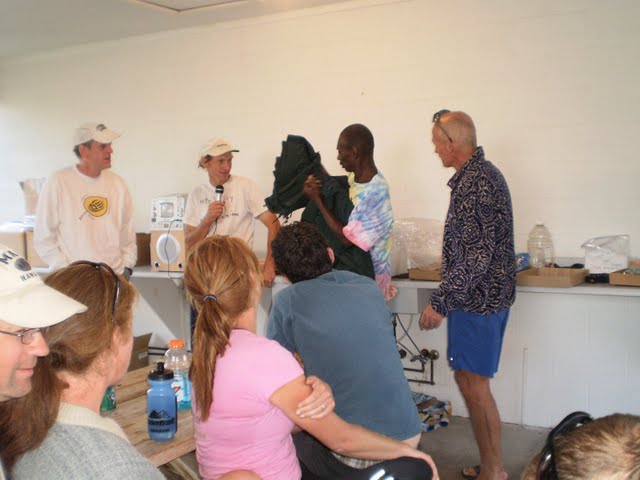 Leland and Errol awarding streaker jackets to me and Larry Hall
At the awards ceremony, Larry Hall and I were awarded our jackets for "Streaking the Bear" – finishing five consecutive Bear 100s.   When I thought about it, I was amazed, because when I DNFed my first Bear in 2004, I sat near the finish line in total dejection, telling my wife that this race was far beyond my abilities.  I was convinced that I needed to give up the hope of ever finishing this race.  But I faced the challenge and proved that I could indeed finish the race over and over again.
It has been a good summer racing season for me.   Looking back, I finished in the top 17% of both Tahoe Rim 100 and Wasatch 100.  For the Bear 100, I finished in the top 18%.  I guess I've been consistent.  This was my 5th 100 finish for the year and 27th lifetime.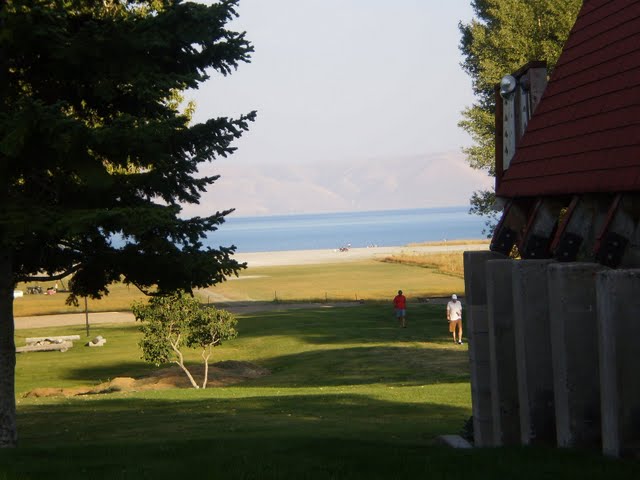 View of Bear Lake from the finish