The Bear 100 was the first 100-miler I attempted back in 2004.  It was a small event that year with 51 starters.  At mile 87 after 30 hours of running/hiking, I found myself in last place with very little energy left.  I asked my pacing friend to flag down an ATV or motorcycle to help get us to the finish.  At the finish line, I watched other runners finish their 100-miles.  I shook my head and told my family that this race was way over my abilities, that I could never finish it.  But in 2010, I was back again to challenge "The Bear" for the 7th time, seeking my 6th finish.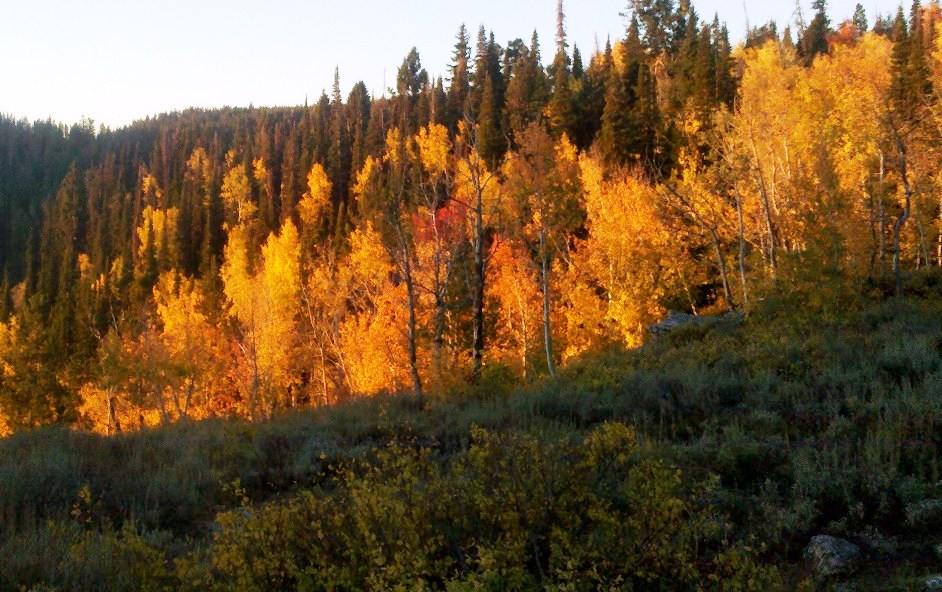 Two weeks ago I finished the Wasatch 100 in 28:28.  Had I recovered enough?  Many people asked me that question.  I would probably know the answer an hour into the race.  My finish at Wasatch was good, but it left me disappointed with my performance, especially the last 30 miles.  I was determined to do better today.   People asked me how fast I hoped to finish and I would tell them, "27 hours."  However, my secret goal was for 26 hours which would be a huge personal record on this course.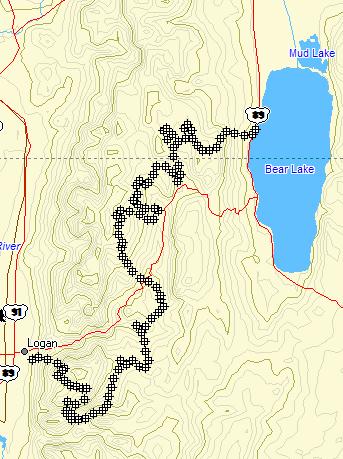 The Bear 100 course is a spectacular mountain route that runs through wonderful autumn colors. It starts in Logan, Utah and ends on the shores of Bear Lake in Idaho.  This would be the third year with the new end-to-end route.
The pre-race meeting for this event is hoot.  Leland Barker, the race director has such a "down-home, ahh shucks" approach to the race.  Some people come to the race perhaps expecting to be coddled, but at the Bear, you just need to be prepared.  During questions and answers, some people tried to ask questions expecting formality or attention to detail, and Leland's answers had me laughing.  One person wondered if there were signs posted to help the crews find the aid stations.  Leland's reply, "there are signs." He then listed signs that he remembers seeing somewhere on the roads.  "Cell phone coverage?"   No answer, everyone just laughed.   "Oh, I forgot to order the belt buckles, sorry about that, they will be mailed."   "Will the bathrooms at the start be open?"   "I had to hire someone to come and unlock them, but just in case I ordered two porto-potties.  But last year they weren't delivered."  Gotta love it.
Fast forward to 6 a.m. the next morning.  The start it up in the residential foothills above Logan.   It was a chilly morning and I debated on what to wear.  I decided to dress for a warm day, short sleeves and it all worked out great.  I came out of the warm car at the last minute, said some quick hellos, and 170 runners were away.  I started with the front-runners as we ran through the neighborhoods, but soon I heard a call from behind.  Cory Johnson called me to stop that he had something for me.  I ran back and laughed, he just wanted me to slow down.  When we hit the trail, I was in the top five.   I decided to push the huge first climb and see what I could do.   As we headed up Dry Canyon, we were entertained by the amazing cairns that someone had constructed.  They were tall and included rocks that were balancing in amazing formations.
Jon Allen (who would go on to finish in 4th) caught up with me near the top of the first climb.  I wished him well, knowing that I wouldn't see him anymore.  I was just pleased that I could keep up for an hour.  We hit the South Syncline Trail that rolls around Little Baldy.   I concentrated on keeping my pace up on this section.  A few people caught up and passed me, but I kept them in my sights.   The fall colors were stunning as usual and glimpses of Cache Valley far below came into view.  We went through groves of aspens and conifers and then spilled out onto a long downhill dirt road.  Two weeks ago at Wasatch, I was very tentative on the downhills, I wondered how I would be today, so I pushed it.  The legs felt great and my balance was confident.   I passed two runners.   This was a good sign and I believed I would have a good day.
I reached Logan Peak aid station (mile 10.5) in 2:23, in 18th place.  I knew I was ten minutes ahead of last year's pace already.  This was a very good start.  I did back off the pace somewhat in order to maintain it and a few runners caught up.  When I reached Millville Pass, I recalled the very bad face plant I experienced on the rough downhill on the other side.  I decided that caution this year was the right course of action.  After I made it through the very rough sections, I opened up the pace a little.
I missed the turn to the Leatham Hollow trail (wrong turn #1) because I was following another runner who missed it, but with some screaming from another runner, we all got back on course.   The long downhill single-track on the Leatham Hollow trail is a complete blast.  I pushed it pretty hard.  A runner behind would start coming close and I would kick up the pace to stay ahead.  It was great motivation.  Once I hit the very rough drainage section, I backed off and a couple runners caught up and called me by name.  Runners were so nice to me the entire race.  I wish I knew all their names.
As the trail leveled out, approaching the next aid station, I kicked up the pace and tripped over a branch extending onto the trail.  Down I went!   This was a real face plant because it took me by great surprise and my face plowed into the dirt.  Thankfully, there was no one around to see my blunder.  It is funny that this is the first thought most of us have…"did anyone see?"  Then I started thinking about injury.  I immediately started running again and then took inventory.  Scraped forehead, bruised cheek, scraped shoulder, cool gash in knee with blood dribbling down.  I was fine.  Concussion?  I asked myself some questions and I seemed to know the answers.
I cruised into the Leatham Hollow aid station (mile 19.6) at 3:59, in 30th place.   Paul Petersen was running that aid station.   I had told him to expect me at 10:00 a.m.  Last year he was amazed that I showed up exactly as predicted to the second.   This year he noted that I showed up about 20 seconds early.  Shoot, I should have hid in the trees from a few seconds.   I was still ten minutes ahead of last year.   Paul and Cody asked about my wounds and made fun of me falling.  (See, that is why we get embarrassed).  It was so fun to see them.  They said Jon was running with the front-runners. Anne Watts filled in as my crew and did a great job getting me out of there fast.
I pushed the dirt road run up to Richards Hollow pretty fast.  No walking!  I passed Brazilian, Sabastian, who seemed to be struggling already.   For entertainment along this route were the cows.   All the runners were spooking cows, causing them to run up the canyon, but there were cowboys out, trying hard to get them all to go down the canyon.  At one point they totally covered the road and I had to run around them through the brush.   The first place woman,  Rhonda Claridge, caught up and passed me running very well. (She finished in 23:37).
My plan was to not stop at the next aid station, so I didn't.  I arrived at Richards Hollow (mile 22.4) at 4:33, in 29th place, two minutes ahead of schedule.  One of my major areas of emphasis during this race would be to try to drastically limit the time I spent in the aid stations.  At Wasatch I was in them for more than 80 minutes.  I wanted to bring that down below an hour.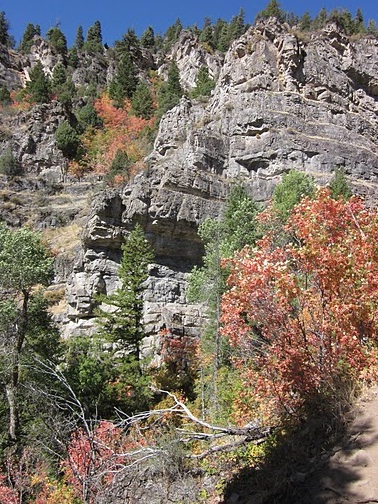 I loved the next climb up Richard's Hollow.  It very scenic and the constant climb is great work.  I was delighted to discover that I had better uphill strength and speed than I have ever felt in a race.  I could push it whenever I wanted, it was just a mental thing to get out of being lazy.   I concluded that I had no ill-effects from Wasatch 100 two weeks ago, in fact I believed that it made me stronger for this race.  As always at the Bear, my feet were getting a little beat up with some minor blisters and hot spots that slowed me down, but they were not severe enough to take time to stop and repair.
I reached Cowley Canyon (mile 29.9) at 6:23 in 31st place.  My aid station stop was a mess, I spilled Ensure down the front of me wasting some time.  But I got things back together and headed out onto the warm dirt road climb.  Some runners were catching up to me near the top, but once I hit the Ricks Canyon single-track I kicked up the pace and had a great time flying down the trail.  I was feeling fine and passed a couple runners.  I turned on my tunes and sang as I ran.  As I approached the next aid station, an out-and-back, a woman pacer came toward me and commented, "Oh, I like that song!"  So, this is strong evidence that my singing while running is not as horrible as my pacers claim.
I came into Right Hand Fork (mile 36.9) at 7:51 in 30th place, 15 minutes ahead of last year.   I was in great spirits, feeling well.  I didn't sit down and Anne Watts pushed me back on the trail in just a couple minutes.   Running up the canyon, I could see a large group of runners several minutes back.  This next section is one of the toughest for me.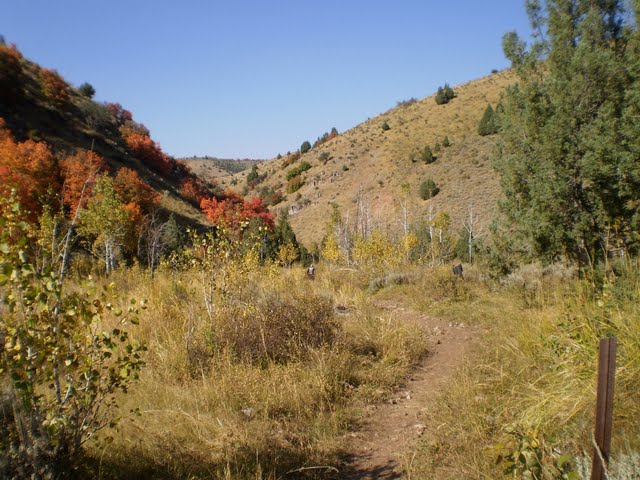 The afternoon sun exposure makes it feel hot.   The 2nd place woman runner passed me, asked how I was doing, and I explained that I was holding back during the heat.   Chad Carson and Tom Remkes caught up and passed me moving very well.  I didn't have the energy at that time to try to keep up.  This year they put a water station at the top of Mud Flat. That made a huge difference because I usually always run out of water on this section.  I arrived at Temple Fork (mile 35.2) in 32nd place at 9:48.  Despite many runners passing me on the trail, I was passing runners in the aid stations, keeping my overall placement.   At Temple Grove, I saw Chad Brackelberg sitting in a chair, with his crew huddled around him.  (He would later DNF because of kidney issues).
Next up was the huge climb up to Tony Grove on the Blind Hollow Trail.  In past years I ran this pretty hard.  This year, I lost the motivation and was just in cruise control.  The 3rd place runner, Darcie Gorman caught up and passed me.  I would see her on and off for the rest of the race.  I also ran with Dima Feinhaus who asked me questions about the course.
We arrived at Tony Grove (mile 51.8) at 12:04 in 33rd place.   I was only four minutes behind my schedule and I felt very pleased.   At this station, I grabbed my night gear, changed into a clean shirt, and got ready for the evening.
I ran the next uphill very hard.  I felt great.  I passed Darcie and her pacer leaving them far behind. The canyon was spectacular in the late afternoon light as the tree colors exploded.  Wow!  As I descended into White Pine I cranked up the pace.   I caught up and passed Dima who asked me how far it was to the next aid.  We still had a very long way to go.   The trail in this next section is either very fast or very rough.  In the fast sections it felt like I was sprinting.  I was really hauling but surprised the Dima was keeping up pretty well.  Each time I noticed that I pushed it harder, trying to drop him.  I finally did as dusk approached.  I turned on my light and continued to run as hard as I could.
Then I blundered. (Wrong turn #2)  It was now dark and the trail markings were harder to see.  After a creek crossing, a critical left turn was not marked clearly.  I never saw the turn and continued straight.  (Many other runners made this same mistake.) After a quarter mile was hopping over way to many dead fall and the footprints on the trail were fewer.  I looked behind and could not see Dima's light.   I had not seen any course markings for awhile.  I continued on but finally convinced myself to turn back.  That was frustrating.   I reached the missed turn just as Darcie and her pacer were arriving.   I had lost at least ten minutes.  This was discouraging and my pace into the next aid station wasn't great as I thought about the blunder.   In general, the course markings during the day were perfect.  But during the night, they were tough to see.  There were some glow sticks at several critical turns, but not enough.
I arrived at Franklin Trailhead (mile 61.5) at 14:37, just seven minutes behind schedule.  I knew that I would have been ahead of schedule without the blunder, but I didn't let it bother me anymore.  It was my fault.  That is one of the challenging features of the Bear that makes it fun.   My crew for the night, Brad and Geri greeted me for the first time.  They had a chair and table all prepared for me!  Wow, what great treatment.  They knew I wanted fast stops, so Geri set her handheld on a big timer that she put on the table in my view, so I could watch the time clicking away.  That really worked great as each time I tried to be gone before it reached four minutes.
Brad later told me that at this aid station, a hunter had made his base camp for the day.  When he returned, he discovered this massive aid station around him with tons of people going in and out.  He went crazy, swearing, abusing everyone, etc.  It was a bad situation.
I now faced the very tough climb up the Steam Mill trail.   Things started to turn bad.  I had bloating gas problems and my stomach started to rebel.  I could feel a bonk coming and did my best to continue to eat.  Then it felt cold.  I finally stopped to put on my jacket, hat and gloves.  As I did, Darcie caught up and passed, along with two other runners, all moving very strong and fast.   The climb was tough and hard and I was going slowly.  I screamed out, "Will this climb ever end?"  This was my lowest point of the race.  I even stopped on the trail just to rest for a couple minutes.  Little by little I started to feel better.   I was running again.   I saw a light ahead and caught up and passed a runner moving pretty slowly, perhaps Larry King from Texas.  He assured me he was doing well.   I enjoyed the rolling trail on the ridges.  Running at night can be such fun.   At one point I became very sleepy and again lay down next to the trail.  I closed my eyes for a couple minutes and felt sleep coming.  But I then jumped up and felt much better.
As I descended toward Logan River, I felt a very sharp pain in my foot.  It greatly alarmed me because it was in my problem tendon that has been a problem for 18 months.  I felt pain and swelling where the tendon inserts into the bottom of the foot.  Had I finally torn it?  I knew if I had, there would be nothing that could be done except surgery.   I tried to convince myself that I was OK, but I slowed way down and started to limp along.   Thoughts of quitting came into my mind.  I did everything I could think of to minimize the pain.  I took some pain killers and just tried to ignore the problem.  Finally I crawled into the amazing Logan River aid station (mile 68.8) at 17:09, now 19 minutes behind schedule and only three minutes ahead of last year. (I'm glad I didn't realize that fact).   Brad greeted me before the station and I apologized for being so slow.  I had fallen to 36th place.
The Logan River aid station is a total party.  It is put on by a local Mormon congregation and they really has a good time.  The hot rolls are amazing.  Some guy with a guitar was singing original songs. One mentioned runners who thought they were tough, that would come into the aid station crying.
Very funny stuff.   I tried to ignore it all, only wanting to stay for a few minutes.  My mind was very clear.  I changed into another shoe that would protect my foot more.  Geri and Brad quickly got food for me and I ate and ate, including half of a burger.  When I left, I felt much better.
Now, for my next blunder (Wrong turn #3).  An aid station volunteer mentioned that the next turn for the river was at a glow stick down the road.  I should have ignored her because I knew where the right turn was.  However, I reached a glow stick and saw a very distinct trail there with plenty of foot prints on it.  I hesitated several times.  Where were the turn ribbons?   This wasn't at all familiar.  I decided to follow it.  For awhile it seemed right, but then it got rough with brush as I got near the river.  This wasn't right.  Shoot!   I ran back and bushwacked back to the road, running down it and found the correct turn.
The Logan River is tough to cross in the dark.  I made it across but got my feet wet.  I now faced another long uphill.  Things improved greatly.  The foot calmed down.  Renewed energy was felt from all the things I recently ate and drank.  I discovered that I could run very fast uphill so I did.  Two years ago this was my most challenging section.  This year it was my finest.   I ran like crazy, running this section 43 minutes faster than last year.
But as I approached the Beaver Lodge area, I ran into a mass of confusion (Wrong turn #4).  Since I was running very fast, I missed a turn that was also missed by many others.   I spilled out onto the dirt road that goes up to Gibson Basin.   This didn't look right.   A couple cars were there and a lady asked if I was lost.  I didn't think I was, but as I looked around, I realized that I should be on a paved road.   After some confusion, I finally got them to tell me which direction the paved road was and I went on my way.  Once there I headed up toward the lodge.  I ran into other runner, trying to read the course directions.  He was convinced we were going the wrong way.  I let him know I had run this a two time before and knew the way.  We then went up the dirt road toward the Yert.   I arrived at Beaver Lodge at 19:27, well ahead of last year.    I used the same routine as the last station, eating the same things, and out the door in minutes.
Brad was now pacing me.   He had paced me this section last year and we both knew about the crazy loop ahead.   This year it wasn't marked as well as last year.  We shook our heads and wondered how others would do, who weren't familiar with the route.   After the loop, as we started up the dirt road to Gibson, we saw a light heading down the paved road in the wrong direction.  I called out to the guy.  It was Cory Johnson!   "Is that Davy?"  He could see my green light.  That was funny.  I got him back on course.
Brad and I enjoyed talking.  The company was very nice. We caught up and passed, Larry from Hawaii who was struggling.  Soon we crossed over into the state of Idaho. We were moving pretty well, but I knew I was being lazy, so I said to Brad, "Time to get down to business."  I pushed the pace up a couple notches and ran so fast that it was impossible for Brad to chat with me anymore.  We were both breathing hard, moving very fast.   We kept up that pace for a very long time.  I told Brad that we would not stop at all at Gibson Basin aid station (mile 81.2), and we didn't.  I was in 30th place. We flew by there at 21:10.   We could see some lights about a half mile ahead.  It was time to chase.  We caught up and passed James Breyfogle of New Mexico.   When he and his pacer saw us coming, they did their best to pick up the pace and stay ahead, so we just kicked up our pace even more until we passed.   On the downhill toward Beaver Creek, we saw another light.  I grinned to Brad, "Another victim!"   It was Darcie, not moving as well as before but still plugging along.  A few minutes later we met her husband coming up out of the dark from the aid station to meet her.
We arrived at Beaver Creek (mile 85.3) at 22:10, in 28th place.   It was very cold there, so I didn't want to stay long at all.  Brad would take a rest and pace again with me at the next aid station.  He kept commenting about the nearly frozen bananas.  I commented that for the first time I would reach Ranger Dip in the dark.   There was next a long climb.  The full moon was out along with Jupiter.  First they were on my left, then on my right which left me with the feeling that I was going in circles.  My pace was still pretty good but as I approached the top I was alarmed to see a light gaining on me fast.   I pushed hard to stay ahead.  Wow, that guy was moving.   Finally I thought I dropped him as the light disappeared.   On the downhill I passed Carter William who was throwing up but still moving.   Earlier he was nearly 1.5 hours ahead of me.
I still couldn't shake that other light behind me.  It was great motivation for me to run fast.   As we neared the aid station, I was very surprised to see that runner almost sprinting by me.  It was Matthew Peterson.  It turns out that at one point he was two hours ahead of me.  This often happens near the finish of a 100.  A runner who really slows down or stays a long time in an aid station can recover and then run like crazy to the finish.
I arrived at Ranger Dip (mile 92.2) at 24:22, in 27th place.  Brad was ready to go and we faced the steepest climb and descents ahead.  We left before Matthew, but he quickly caught up and went ahead.
As we reached the top of the ridge, the sun arose. The view of Bear Lake with the sun reflecting off it was incredible.  The aspen and maple leaves filled our eyes with color.    We finally hit the massive descent and my feet were in agony.  This is a really tough way to finish a 100.  I put the pain out of my mind and just tried to keep running.   We passed Steve Bailey from Minnesota who was moving slowly.  Then, out of nowhere came Carter William, another case of a recovered runner with lots of energy.  He yelled, out, "Come on Davy!"  But there was no way I could find that pace on my sore feet.
Brad and I kept a decent pace going, still running, very little walking.   It was a great relief to be done with the steep descent.  As we got closer to the finish, family of runners were seen on the road cheering us along the way.  The finish came into sight and I crossed in 26:30:45, in 27th place, nearly two hours faster than last year.  I plopped down on the grass next to Phil Lowry and Bryce Warren, anxious to get my shoes off.  I didn't quite meet my secret goal of 26:00, but it was close.  Without my wrong turns, I could have made it.   My crew scraped me off the grass and drove me back to Logan.  They did a super job.  I only spent a total of 60 minutes in the 13 aid stations.
My 6th Bear 100 is in the books, my best race there ever.  It was also my 6th 100-mile finish for the year.  Two finishes in two weeks, both under 30 hours.   Now I get to rest…for three weeks this time until my next 100: Pony Express Trail 100.