July 15-16, 2006

I was privileged to run in the inaugural Tahoe Rim 100 race.  This would be my 20th ultra marathon during my short 25-month running career.    More than 90 runners signed up for this race, which is an impressive response for a first-year race.   The course is laid out on state park and state forest land, climbing ridges overlooking beautiful Lake Tahoe and various reservoirs.  The surface is mostly very runnable, soft single track.  There is about 19.500 feet of climbs, aided by many switchbacks.  

I went into the race well prepared.   I had run the Bighorn 100 race only four weeks earlier and accomplished a Quad Timpanogos run in between, but had recovered rapidly, without any injury concern.   I tapered for six days, with only a three-mile run to test-drive my legs on Wednesday.
My biggest concern going into the race was the heat.  Lake Tahoe would be hit with a heat wave on race weekend.   I had read many of the race reports for the recently run Western States 100, also held in the Sierra Nevada Mountains, that had been plagued by severe heat.  I don't do well running in the heat and was pretty concerned.
Because of the heat, I decided on an odd race strategy.  I planned to go out very fast (for a 100-mile race) in order to reach the Red House loop (mile 11.4) during the early morning.  This loop dips down 1,200 feet to the low point of the course and can become very hot.  I wanted to get in as many miles as I could while it was cool and then back off my pace during the warm afternoon.   My time goal for this race was a pretty aggressive 28 hours.
The pre-race activities were held in Carson City, Nevada, a 30-minute drive from the start/finish.  The race briefing was held on the beautiful grassy grounds of the state capital.  The briefing started at the early hour of 2:00 p.m., which made it a little difficult for out-of-state travelers to reach in time.   I made the eight-hour drive from Utah with my son Kevin who would help crew me.  The race directors gave very helpful information to anxious-looking 100-mile hopefuls lounging on the shady lawn.   I was concerned to learn that there would be no glow sticks out on the course during the night.   But we would be running a 50-mile course twice, so if I learned the course well during the day, I should have no problem with a second time through the route during the night.  We also learned that there had been a course change this year to incorporate a new single-track trail that would add about a half mile to each 50-mile loop.   So, our 100-mile race would actually be closer to 102 miles.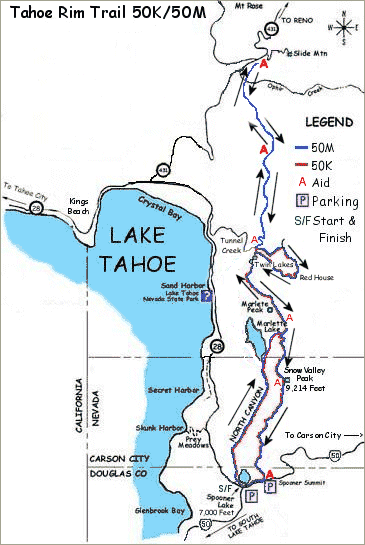 Course Map.  100 miler run the 50m course twice
In addition to the 100-mile race, a 50-mile and 50K race was also being run on the course concurrently.   The 100-mile race would start at 5 a.m. and the other races would start an hour later at 6 a.m.   The 50K runners would not have to run a beautiful 18-mile out-and-back on the Tahoe Rim trail.  

Course elevation profile
I noticed that there was a group of runners from Hawaii at the race, all sporting shirts proudly mentioning their Hawaiian Ultra Running Team (HURT).   I introduced myself and mentioned that I had run in the HURT 100 this year.   Several recognized me.  That brought back many memories of that pleasant and painful experience in January.
With the race briefing concluded, we had several hours to kill before the pre-race dinner, so Kevin and I went and shot nine holes of golf at one of the Carson City public golf courses.  We had an enjoyable round.  Before the ninth hole, we counted up strokes and discovered we were tied.  I tried to psyche out Kevin with the pressure, but it was me who missed a three-foot putt for the win.   After that enjoyable activity, we joined other racers at the pre-race pasta dinner.  Matt and Anne Watts, from Colorado, teased Kevin about his plans to get lots of sleep during the trip. 
For me, sleep would be hard to come by.  After only about four hours of sleep, I caught the race bus at an early 3:15 a.m. to take us to the start/finish.   We arrived with more than an hour to spare and I did my best to try to stay loose and warm.  I parked myself next to a heater until five minutes before start.   I then made my way down to the start line and positioned myself near the front.
The time was counted down and away we went up a dirt road for the first mile.  I joined the lead pack of runners who were really in no big hurry.  None of the runners took off like a rabbit.  We soon joined the Marlette Lake trail.  The race directors had cautioned us during the race briefing about taking this section too fast, too early.   But my strategy was to go out fast, so I ran nearly the whole trail up North Canyon.   The trail was very runnable and winded its way up a forested valley to Marlette Lake.
I knew I had no business running with the front-running group, many of them sporting running team jerseys, but I was intent on reaching the Red House Loop before the heat of the day.  I overheard a couple runners talking and realized I was running with Brian Robinson (finish 4th) who had paced David Horton last summer in the Sierra Nevadas, during David's run of the Pacific Crest Trail.   I mentioned to Brian that I have the video of David's run.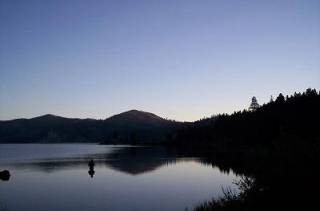 Fishermen on Marlette Lake
As we ran by the lake, several early-morning fishermen gave us curious looks as we ran by.  Next up was a dirt road taking us up to the Hobart Aid Station (mile 6.4).   I arrived at 1:13 elapsed time, three minutes behind my goal.  But my goal didn't take into account the extra 0.4 miles from using the new Marlette Lake trail.  So actually, I was cruising along faster than planned.   The Hobart Aid Station was staffed with many very helpful and knowledgeable volunteers.  I would visit this aid station a total of four times during the race.  Other runners mentioned that it was their favorite station.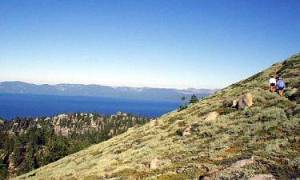 Climb up Marlette Peak, View of Lake Tahoe
The next section of the course climbed up to the top of a ridge near Marlette Peak.  Impressive views of Lake Tahoe came into view.   I let a couple runners pass me during this stretch but still hung with the top 10 runners.  We were starting to get more spread out, but as we descended along forested switchbacks toward Tunnel Creek, I joined in with four other runners who very quickly navigated the winding trail.   I was having a blast.  This was trail running at its best.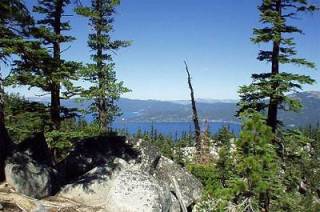 View of Lake Tahoe from above Tunnel Creek
I arrived at Tunnel Creek (mile 11.4) at 2:07, three minutes ahead of my schedule.  The Tunnel Creek aid station is the hub of the course.   From here, we would do the Red House Loop, return, and then do an 18-mile out-and-back to Mount Rose.  I would visit this station six times during the race, so I positioned my primary drop bag at this location.  I had started to have some blister concerns on my left foot and was going to take the time fix it, but by the time I had arrived, things felt OK, so I just refueled and continued on.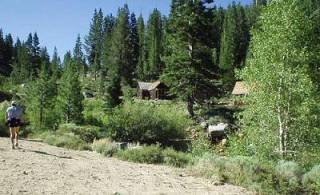 Red House
Down I went on the Red House Loop.  This was the steepest section of the course.   I was no longer with the lead pack of runners, so I had a lonelier run through this section.  The 1,200 feet were lost rapidly through a valley.   I reached the low point of the course by 8 a.m. and was pleased that the temperatures were still relatively cool.   I could feel a few blasts of warmer air here and there.   I soon arrived at the Red House, which was a historic 19th century building that served some sort of purpose in conjunction with a nearby reservoir.  I filled up at the informal aid station and went on my way along a pleasant road that followed a pipeline.  Along this stretch, the front-running woman (probably Tracy Bahr) caught up and passed me.  She had heard me singing out loud to songs on my MP3 and told me not to stop on her account, that she also liked singing while running.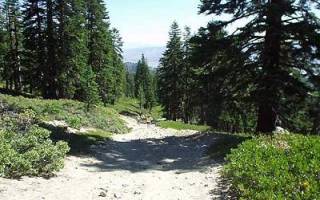 Out and back section of Red House Loop
The last half-mile of the loop is an out-and-back climb up to Tunnel Creek.  As I hit this section, it was very crowded with runners coming down the trail.  They were the back-of-the pack 100-milers, and the front-to-mid 50-milers.   They all still had smiles on their faces and offered kind greetings.  I was already over 6 miles ahead of the back of the pack.
I arrived back at Tunnel Creek (mile 17.7) at the 3:33 mark, now 27 minutes ahead of my 28-hour finish pace goal.  At this station I was weighed for the first time and was only about a pound down from my start weight.  Throughout the race I would stay pretty close to my start weight.  I really appreciated the chance to be weighed so many times during this race (8 times).  It helped me stay focused on proper hydration, something that has been challenging for me, especially during the night.
One downside of being weighed is that I would have to take all my gear off, and then I was continually sucked into the comfort of the stations.  With everything off, why not sit down for a few minutes to eat and talk?  Well, I ended up spending a total of almost 2 hours in all the stations.  Three long bathroom breaks also contributed to this delay.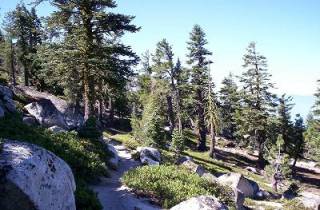 Trail on the rim (Matt photo)
After about a ten-minute stop at Tunnel Creek, I was on my way along the very scenic 18-mile out-and-back to Mount Rose.   The rolling trail cruised along ridges giving views of reservoirs to the northeast and the best views of Lake Tahoe to the southwest.  With only 89 starters in the race, we were now getting pretty stretched out along the course.  It was pretty lonely until the lead 50-mile runners caught up with me at the 5-hour mark (4 hours for them).   Also, I soon saw the front-runners of the 100-mile race coming back toward me.  I was about five miles behind them and was in about 15th place.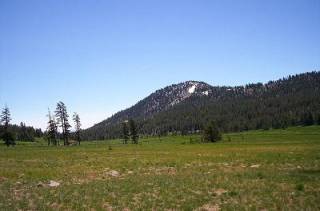 Valley near Mt. Rose (Matt photo)
The trail descended down from the ridge into a valley.  There was no avoided getting my feet wet at the stream crossing, but the cool water felt good on the feet.  I watched a 50-mile runner take a leap over a narrow section to avoid wet feet.   The Mount Rose aid station could be seen up on a road about a half-mile away.  They cheered all the runners as they watched them climb up to the station.
I arrived at Mount Rose (mile 26.7) at the 5:37 mark, 33 minutes ahead of my schedule.  Kevin was there to greet me.  After this crewing stop, he was going to go play another round of golf.  Following a long 15-minute stop delayed with a bathroom break, I was on my way again.   It was fun to see and greet all the runners behind me, making their way to Mount Rose.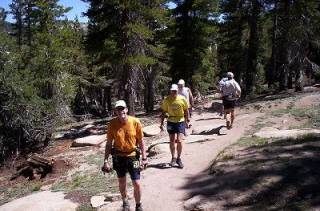 Picture Matt took of me
I greeted Matt Watts coming down into the valley.  He stopped to take a picture of me.   He was about 50 minutes behind, but it wouldn't surprise me if he caught up with me as he did at Big Horn 100.   He uses an impressive fast walk shuffle that keeps a good steady fast pace going.  Later I greeted Anne Watts, who was running in the 50-mile race.   I told her that she probably would see Matt in about a half hour coming back toward her.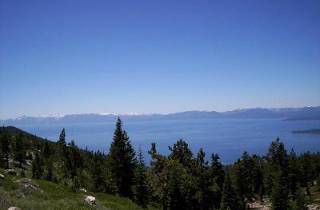 Lake Tahoe (Matt photo)
The furthest back-of-the pack 100-milers were pretty far behind me now, probably about 8 miles.   I couldn't comprehend how they could finish in time.  I returned to Tunnel Creek at the 7:51 mark, 19 minutes ahead of schedule.  I took my time there and solved my bowel pain problem that had been slowing me down significantly for the past few hours.  Along the next stretch I was surprised to pass several back-of-the pack 50K runners moving very slowly.  I was back at Hobart (mile 40.7) at the 9:30 mark, exactly on schedule.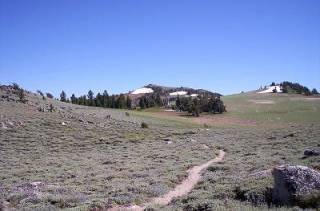 Trail heading to Snow Valley (Matt photo)
Next up was a climb to the high point of the course, Snow Valley.  I felt the effects of the heat of the day in exposed stretches without trees.  Overall, the heat turned out fine for me.  The breezes along the ridges helped, and there was plenty of shade along most of the course.   I'm sure some of the back-of-the-pack suffered taking some hot sections later in the day.   In the afternoon I carried two water bottles, one to drink from, the other to splash myself to keep me cool.
View of Lake Tahoe from Snow Valley Peak
During this stretch, my right knee started to give me concerns.  I was feeling pain in the location where it had been operated on three years ago.   I worried about it and slowed down the pace.  The Snow Valley aid station folks put out amusing signs along the trail that invoked welcome smiles.   I arrived at Snow Valley (mile 43.5) at the 10:31 mark, just one minute behind schedule.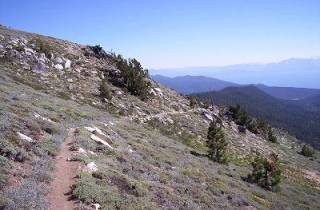 Trail heading down (Matt photo)
Next up was a 7.1-mile, 2,100-foot descent to the start/finish area, concluding the first 50-mile loop.   I love running down hills, but I decided to take it easy on my knee and save my energy for the second half of the race.   I was passed by a couple 100-milers along this section, and several 50-milers, but I thought to myself, "The real race starts after 60 miles."
When I reached the Spooner Lake trailhead, I didn't stop at the aid station.  I asked how many miles to the finish area, and was very surprised to learn that it was still 1.7 miles.   I had thought that it was only about a half mile.   I pushed ahead, and almost missed a turn.  Two other runners had missed the turn, adding a couple miles to their race.
I arrived back at the start/finish (mile 50.6) at the 12:12 mark, 18 minutes ahead of schedule, and a good time if I was running the 50-mile race.  I was pleased with my time.   Kevin was nowhere to be seen, so I took my lovely time at this station.  I talked with Mark Tanaka who had missed the turn.  He commented that a 24-hour finish was now out of the question.  I said, "It was out of the question for me a long time ago."  (Mark went on to finish in last place.)  I looked around and could see other tired 100-mile runners.  I thought how tough it would be for many runners to drag themselves out for one more 50-mile loop.  I bet that there would be a bunch of DNFs.  (There would be 33 DNFs)
As I was just about to leave, Kevin showed up with my bag.   I turned around and spent another five minutes or so talking and getting some things from my bag.   I was feeling pretty good, but doing the course again seemed like a daunting task.  Because of my sore knee, I told Kevin that I had no idea what time I would be at Mount Rose.   My schedule specified that I should be there at 1:15 a.m., but I told Kevin that I bet I would miss that by quite a bit.   I told him to not worry about night crewing duties, that he could skip it and get a good night's sleep at the motel.
After about a 30-minute stop, I was again on my way.   When I started, Mark Tanaka was close behind, but I soon used a little jog up the trail and left him behind.  The trail now felt very lonely.  There would be no more 50-milers or 50K runners.  Many 100-milers probably were dropping out, so there would be far fewer runners along the trail.   I didn't see any others until I reached Hobart.   My spirits during this stretch were low, worrying about silly things, and not enjoying the trail enough.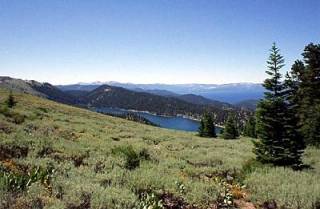 Above Hobart
I arrived at Hobart (mile 57) at the 14:32 mark, two minutes behind schedule.   As I was refueling, I asked a volunteer about people dropping out the race.   She mentioned that at least six had dropped during the first 50 miles.  I told her I bet that many more would drop at the start/finish.  She asked if I wanted to know what place I was in.   I did.  She told me that I was running in 26th place.  As I had been running, I had considered a goal of finishing in the top 20.  I said that I needed to start catching up.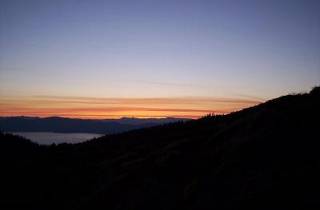 Sunset over Tahoe (Matt photo)
The sun was starting to set as I ran the next section, presenting a beautiful sunset above Lake Tahoe.  Wow!  The beauty of this course is amazing.   The only complaint I had was the soft, sandy trail surface.   The uneven surface was really making my feet ache.  I made it to Tunnel Creek (mile 62) without having to pull out my headlamp, at the 15:52 mark, three minutes ahead of my schedule.  As I worked with my drop bag, a runner returned from completing the Red House Loop again.   It was a little depressing sitting and talking to someone six miles ahead of me.   He mentioned that the loop was a lot different this time.  Why?  Tons of mosquitoes!  The sun was almost down, so I considered myself lucky.  But I still put Off on me.
With flashlight in hand, I descended down toward Red House.   It would be a lonely, dark loop.  Glow sticks would have been comforting along this stretch.   The flagging was difficult to locate and I kept worrying that I might be off the course.   Thankfully the flags were frequent enough to stop my worries.
I returned to Tunnel Creek (mile 68.3) at the 18:02 mark.   I had taken over two hours to complete the loop.   Right after I arrived, one of the race leaders arrived, completing the 18-mile out-and-back.   Wow, he was 18 miles ahead of me.   I felt chilled, so I put on my warm jacket, vest, and gloves.   I left the aid station with another runner and his pacer.   In less than a mile, I took off the warm clothes.   It was now very warm again.   For the next five miles, I "played leap frog" with the runner and his pacer.   I was going at a much quicker pace, but I suffered from several sleepy dizzy spells that would make me stop, rest, and refuel.  It was very frustrating.   Finally, the sleepy problem went away and I was able to run again.   For the next hour I had fun chasing the lights of runners ahead of me and reeling them in.   I passed about five runners during this stretch.  I was also met by a couple a trail sweeps on bikes.   That was a great touch for the race.  For this long 18-mile night stretch, these volunteers were checking with all the runners, offering them drink if they needed it.
I reached Mount Rose (mile 77.3) at about the 21:15 mark, about an hour behind my schedule.   My sleepy spells had taken its toll on my pace.  Soon, all the runners I passed arrived.   There was quite a gap between me and the runner ahead of me, probably about 40 minutes.  The medical staff at this station was very helpful to the runners, asking appropriate questions to see how people were doing.   I noticed about four wasted-looking runners with blankets huddling near a heater.   I was delayed by another long bathroom break and ended up staying there for almost a half hour.   It was pretty cold now, so I put my warm clothes back on and donned my coonskin hat.  Despite my long stay, I left the station before the large group of runners who were behind me.    Within five minutes, I ran into Matt Watts heading into the station!  I knew he takes short aid station stops, so I knew he would be on my tail.
As I was climbing out the valley, back up the ridges, I again suffered from dizzy sleepy spells that slowed me to a crawl.   I could see lights chasing me from below.   Finally I just had to stop.   I found a slope near the trail to lie down on.   It felt so good to rest my eyes and my body.   I heard a runner pass by.  He asked if I was OK.   I replied, "I'm fine. I'm sleeping.  I'll catch up later."  
I jumped back up after about five minutes feeling much better.   I now had a runner to catch!  I put it into gear.  The adrenaline woke me up and I started to cruise along the trail very fast.   I caught up with the runner near the top of the ridge.  He said, "Boy, that sleep did you good."  I put it into a higher gear for the downhill and left the runner far behind.   I was amazed.  I was feeling incredible.  No pain anywhere.  Finally my system was balanced and my energy level high.   My pace was almost a sprint.  The miles peeled away very fast and I was greeted by stunned back-of-the-packers, making their way to Mount Rose, who stepped aside as they saw me barreling down the trail.  The half moon was a dazzling sight reflecting off of Lake Tahoe.   The last runner that I met on the out-and-back was about 16 miles behind me.
I reached Tunnel Creek (mile 86.3) at the 23:57 mark.  I was 1:09 behind my pace, but had made up great time during the past 7 miles.  I considered that a 28-hour finish was now impossible.  I would have to shoot for 29 hours. 
A runner left the aid station five minutes before me, so I knew there was now someone ahead to try to catch.   I still had my headlamp on, but the glow in the sky increased and I soon tuned it off.  Morning had arrived.   I was now plagued again with terrible sleepiness.  Despite using caffine, I again was stumbling along the trail slowly, falling asleep on my feet.   I knew that once the sun was up, that I would be fine.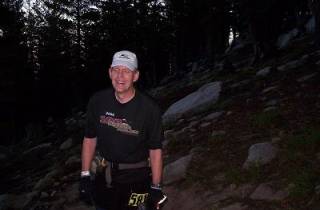 Me, sleep walking (Matt photo)
As I was slowly climbing up toward the ridge, admiring the sunrise, I heard something below.  It sounded like someone shouted something to me.   I couldn't see anyone, but about five minutes later, Matt Watts came into view!   He shouted the same thing he did when he caught up with me at Big Horn 100.   "We can still break 30 hours!"   I replied, "Actually, 28 hours is still possible."  I waited until he caught up and explained my sleepy problem.  He went ahead and just told me to keep up.   So I did.  For the next couple hours we would repeat over and over again the same pattern.   I would struggle on the uphills to keep up with him and then blast by him on the downhills.  He was doing a great job to motivate me and keep my pace up.  My downhill legs felt great, but my uphill strength was pretty wasted.  Matt would joke that I could still run ahead and try for the 28-hour finish.   I realized how silly and impossible that was.  I felt content to try to keep up with Matt and beat 30 hours.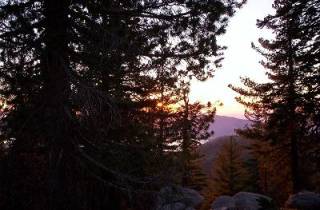 Morning has arrived, again  (Matt photo)
With a nice long descent, I arrived at Hobart (mile 91.3) about five minutes ahead of Matt, at the 25:47 mark.  When Matt arrived so soon after me, I panicked and immediately left the station.  There was plenty of uphill ahead, so I wanted a head start.   Within a half mile, Matt passed me again.   I just couldn't keep up on the hills.  I watched him pass the runner who I had seen at Tunnel Creek.   When I reached the top of the ridge, I could again run the flats and mild uphills.  I passed the runner (probably Chris Perry of Oregon) and caught up with Matt.  I fell in behind him and stayed in pace with him the rest of the way to the next aid station.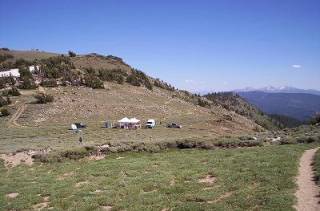 Snow Valley aid station (Matt photo)
We arrived at Snow Valley (mile 94.1) at the 26:43 mark.  Matt made a very quick stop and said he would see me later on the trail.  He knew that I would pass him on the downhill.  I left right before the next runner arrived and then set my sights to catch up with Matt for about the tenth time.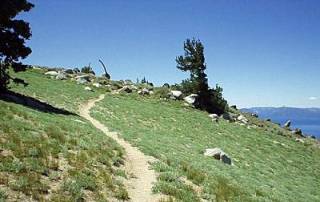 Last climb before catching Matt on the downhill
At this point something incredible happened.   With the thoughts of the long 7.1-mile, 2,100-feet descent ahead, I kicked it into gear.   After 94 miles, I felt wonderful.   I caught up with Matt for the last time and he said, "Go get it Davy!"  I said, "I have a good rhythm going, I'm going to see how long I can keep it going."   I started to really fly down the trail!  At times I was running faster than any point in the race.   I checked my watch, did some math and was astonished to consider that at the pace I was running, a 28-hour finish was an outside possibility!  It could be very close.   I did more calculations and thought even with my best efforts, I needed five more minutes that weren't there any more.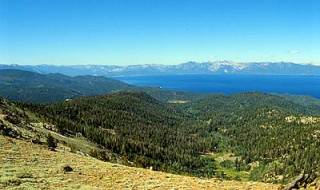 It is all downhill from here!
I contined to cruise at top speed down the trail.  I could keep it going on short uphills, but anything over 20 yards brought me back to a walk.  When the trail pointed down again, I found the fast gear again and poured on the speed.  My knees and legs felt great.  A funny worry crept into my mind as I was blasting down the trail.  Last week I signed up friends to pace me at the Wasatch Front 100 in September.   At the pace I was currently running down the hill, no pacer could keep up unless they were a well-trained ultra runner.   Wasatch ends with an even longer downhill.  If the same thing happened there, I would leave my pacer far behind for sure.
I was pleased to catch up and pass a runner (George Ruiz, of Nevada).   He was very surprised to see me.  He thought he had a big lead over the next runner.   Soon the noise of the highway could be heard and I knew I was getting close to the Spooner Trailhead.   I kept checking the time on my watch.   Wow, 28 hours still could be close.   Then, much to my surprise, George caught up and passed me!   I said, "Wow, you really kicked it into gear."  He replied, "You woke me up."  I let him stay ahead of me for a couple hundred yards, but then decided to "slam the door on him."   The trail became wide and I passed him at a very fast run.   He said something like, "Way to go."   (He later told me that I really did slam the door on him.  He knew there was no way he could keep up, and 28 hours wasn't possible, so he backed off).  I ran very, very fast until I was well out of view.   I wished there would be other runners to catch.  (There were none.  There was almost an hour gap between George and the next runner.)
I ran by the last aid station and they were very surprised at my fast pace.   I was almost sprinting.  I felt so good and strong that I decided to try to sprint the last 1.7 miles as fast as I could.  Perhaps they had the mileage wrong and a 28-hour finish might be possible.  Most runners take about 15 minutes to complete this stretch.   I did it in about ten minutes.
Very quickly, the home stretch appeared.  A cow bell rang, cheers were heard, and I sprinted at high speed over the finish line.   My time – 28:04.   I was very, very pleased with my strong finish.  I felt incredible.   Kevin was there to greet me.  I ended up only four minutes behind my goal.   I also achieved my top-20 goal.  I finished in 16th place.   I left Snow Valley at about 26:50.   I ran the last 7.1 miles in under 1:15.
George finished seven minutes behind.  George and I had a nice conversation with the race directors.  They had put on an excellent race.  I have only two suggestions.  Hold the race briefing at 5 p.m. instead of 2 p.m., and hang glow sticks on the Red House Loop.  
Matt came in at 28:26.  Seven more runners who I had run with during the night came in during the next hour.
After stopping, the pain finally set in.  I next set my sights on a nice warm bath.   After getting cleaned up, and downing a greasy stake sandwich, Kevin and I returned to the finish line to cheer the back-of-the-pack runners finishing.   It was an impressive sight. I really enjoyed just sitting and watching their emotional response.  Some were even in tears with the thought of their accomplishment.   For several, it was their first 100-mile finish.  What really impressed me is that these runners had to deal with the heat for two days instead of one.  They hit some of the hottest points at the worst time of day. 
This was my 4th 100 finish in 8 tries.  I have a good string going and this race really raised my confidence in running the 100-mile distance.  I would rank these four races in order of difficulty (most difficult first): The Bear 100, Bighorn 100, Tahoe Rim 100, Rocky Raccoon 100.  My finish times go in the same order.
Next up?   One week to recover and then my very first marathon, Deseret News Marathon in Salt Lake City on July 24.
Pace chart (with actual time)
2006 Tahoe Rim Trail 100M Unofficial Results
1     Halekas, Jasper              M       30      Oakland, CA                       20:18:03
2     Bien, Rod                         M       34      Bend, OR                                            21:30:11
3     Roark, Steve                                    M       38      Carson City, NV                                 22:51:33
4     Robinson, Brian              M       45      Mountain View, CA             23:02:39      
5     Turk, Tim                          M       39      Ashland, OR                       23:14:23
6     Gifford, Jamie                                 M       44      Seatac, WA                         23:38:36
7     Teasley, Carson              M       26      Foresthill, CA                     23:38:36
8     Peitzsch, Erich                                 M       27      Truckee, CA                        23:57:40
9     Chromzak, Christopher                  M       21      Rensselaer, NY                   26:01:40      
10   Jensen, Karl                     M       56      Unknown, NA                                     26:09:54
11   Driver, Jack                     m       37      Soda Springs, CA               26:24:29      
12   Gower, Calum                  M       42      Atascadero, CA                  26:31:17
13   VanDenen, Diane            F       46      Sedalia, CO                          26:56:43
14    Ruvalcaba, David           M       51      Madera, CA                         2659:51      
15    Jegerlehner, Beat           M       37      Los Altos, CA                     27:06:17      
16    Crockett, Davy               M       47      Saratoga Springs, UT        28:04:49      
17    Ruiz, George                  M       49      Carson City, NV                 28:11:22
18    Watts, Matthew              M       49      Broomfield, CO                  28:26:08
19    Perry, Chris                     M       41      La Grande, OR                    28:35:11
20    Meyer, Jack                                    M       42      Foresthill, CA                                     28:37:32
21    Pelton, Molly                                  F       27      Grass Valley, CA                 28:46:25      
22    Dickinson, Bob              M       51      Auburn, CA                         28:48:42
23    Chamberlain, Matthew                   M       34      Tucson, AZ                          28:52:20      
24    Fiet, Richard                                   M       37      Ogden, UT                          29:06:00
25    Lundell, Don                                   M       44      Palo Alto, CA                                      29:06:00
26    Mark, John                                      M       53      Santa Cruz, CA                    29:33:45
27    Welch, Kathy                  F       53      Auburn, CA                          29:33:45
28    Rus, Dan                         M       39      Placerville, CA                                    29:38:07
29    Beattie, Kelly                                  F       43      Livermore, CA                                     30:44:40
30    McFadden, Linda           F       43      Modesto, CA                                       31:07:01
31    Davis III, Frederick        M       58      Bedford, OH                       31:23:31      
32    Wieneke, Mark               M       54      Oak View, CA                      31:26:25
33    Fu, Chihping                                   m       40      Fremont, CA                       31:31:31
34    Moore, Matthew             M       49      wofford Heights, CA         31:36:28       
35    Davidson, Peggy           F       50      Grass Valley, CA                 31:41:53      
36    Kumeda, Andy                M       38      Torrance, CA                       31:42:00
37    Huss, Michael                 M       47      Auburn, CA                                         31:42:01
38    Dillingham, Sarah           F       30      Vacaville, CA                       32:06:36      
39    Halke II, Donald            M       47      Newport, PA                       32:17:10      
40    Gerber, Vince                 M       51      Arvada, CO                         32:21:55
41    Fairbank, Chet                M       33      Reno, NV                                            32:34:23
42    Rhodes, John                 M       58      Reno, NV                            32:40:00
43    Rhodes, Terry                F       50      Reno, NV                             32:40:00
44    Machray, John                M       55      Unknown, NA                     32:49:21
45    Tannehill, Kenny             M       45      Napa, CA                            32:53:18      
46    Kerse, Jim                       M       57      Unknown, NA                     32:57:51
47    Kozinc, Gabor                M       43      Pasadena, CA                     33:00:43
48    Nguyen, Mylinh              F       47      Milpitas, CA                         33:00:54
49    Paulson, Marianne         F       42      Pleasanton, CA                    33:19:06      
50    Rozinsky, Dmitry           M       30      Austin, TX                           33:23:42      
51    Jenkins, Reina                F       44      Ewa Beach, HI                     34:07:10
52    Bell, Kati                         F       42      Markleeville, CA                  34:11:34      
53    Tanaka, Mark                  M       39      Castro Valley, CA               34:24:54      
DNFs     33