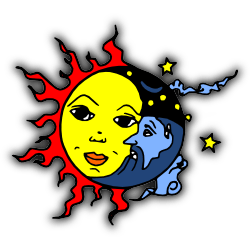 Running at Across the Years in Arizona is now an annual running tradition for me. I've run 1018.93 total miles there and this would be my eighth year. This fixed-time race is held in Glendale, Arizona at Camelback Ranch, the spring training facility for the Los Angeles Dodgers. At ATY, there are four different races, running concurrently, 24-hours, 48-hours, and 72-hours and an incredible six-day race. The objective is to run as many miles as you can during your time period. You can rest all you want, but the clock is always ticking.
The 1.05-mile course is a nice loop through the baseball ranch, running past many baseball fields and a pond. The surface is a combination of pavement and dirt. The support for the race is top-notch and each year gets better with the attention to detail.
I decided to enter the 24-hour race this year. My training had been solid coming into the race, probably my best ever. Could I push my 58-year-old body hard enough to rack up a bunch of miles? Reaching 100 miles would be my minimal goal, and I hoped to reach 115 miles. My best ever was 117.8 miles in 24 hours, in 2011. In recent fixed-time races, I have stopped too many times during the race to warm up or rest during the night. I vowed that this year I would not do that. Last month I won the Crooked Road 24-hour race with 103 miles, but wasted at least an hour with stops to get out of the cold.
This year I was very lucky. I chose to run on December 28th and would get perfect weather. We would have clouds all day to keep it cool and at night it would never get very cold. In other years I've run in extreme heat or extreme cold that greatly affected my total distance.
I carefully created my pace goal sheet to help me mentally stay focused on my pace. Sometimes I get discouraged, thinking I'm going very slowly, but my sheet helps me realize I'm doing fine by comparing my pace with other years and other races.
| | | | | | | |
| --- | --- | --- | --- | --- | --- | --- |
| Miles | Lap # | goal | mile pace | PR at ATY | last year | Crooked Road |
| 5.25 | 5 | 0:44 | 08:30 | 0:40 | 0:42 | 0:44 |
| 10.50 | 10 | 1:33 | 09:15 | 1:24 | 1:28 | 1:35 |
| 15.75 | 15 | 2:23 | 09:30 | 2:12 | 2:16 | 2:26 |
| 21.00 | 20 | 3:15 | 10:00 | 3:01 | 3:07 | 3:15 |
| 26.25 | 25 | 4:10 | 10:30 | 3:54 | 4:04 | 4:15 |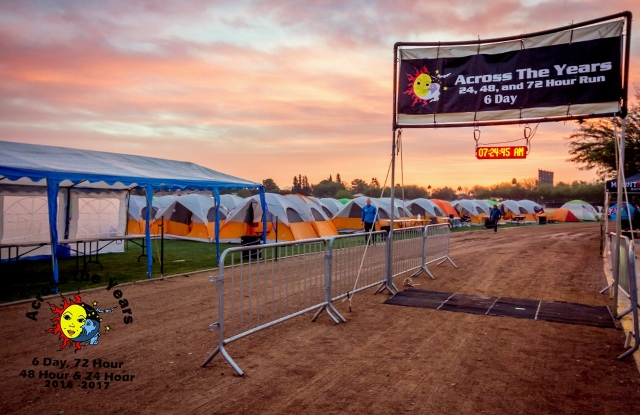 I set up my personal aid station table with things like Ensure, Coke, candy, water, Gingerale, and fruit smoothies. Also there were all my personal items, clothes, tape, electronics, lights, etc. The race has a nice aid station that can be used instead, but I can cut down my aid station stop-time by mostly using my own things. This year I think I only stopped at the race aid station three times.
I got everything ready and at 9:00 a.m. we were away. One runner took off like a shot, I think trying to post the fastest lap time of the year. Every runner wears a bib with their name and indicates which race they are in by color, so that helps to gage the competition. I concentrated hard to only stop at my aid station about every five laps. It took the race staff several hours to get the race monitors working right, but I believed that I was leading the 24-hour race. I reached 5 laps (5.25 miles) in 44 minutes, right on my goal.
But soon I detected a bad problem. I had rubbing going on in my right shoe. I was wearing Hoka Bondi's and on a recent training run this happened and resulted in a bad blister. I knew I had to stop to fix things or I would kill my foot. I stopped for four minutes and simply adjusted some cotton padding under my insole and the problem was solved. While I was sitting there, friends caught up and said hi, including Jester Ed and John Geesler.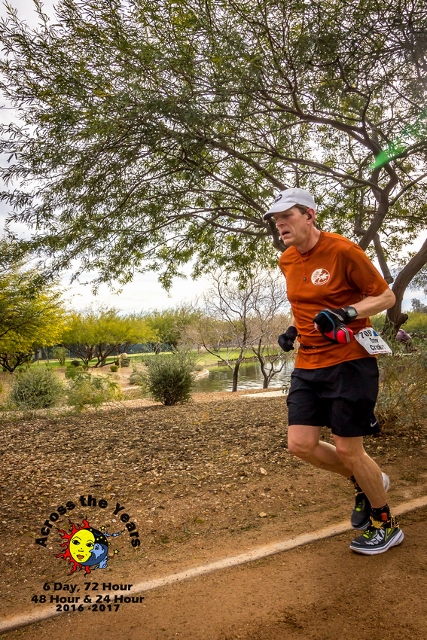 On the road again, I knew I lost a half lap, but this was a very long race. All things continued to go well. I reached fifteen laps (15.75 miles) two minutes ahead of my goal and the race monitor confirmed that I was running in first place. The miles continued to crank by comfortably. I reached the marathon mark at 4:12, and the 50K mark at 5:03, exactly matching my pace goal.
But by mile 39 I became quite concerned. I had not been using the bathroom. In races like this where you are pushing the pace pretty hard with the same motion, the kidneys can get stressed and not function right. I stopped for an unsuccessful five-minute bathroom break. I took stock on how much I was drinking and realized I just wasn't drinking enough during the cool day. I needed to push the liquids much harder to avoid dehydration. That was the correct solution.
With my stop, I discovered that a woman runner (Chavet Breslin) had taken over the 24-hour race lead. I was still leading all the men by a couple laps, but Chavet was running hard.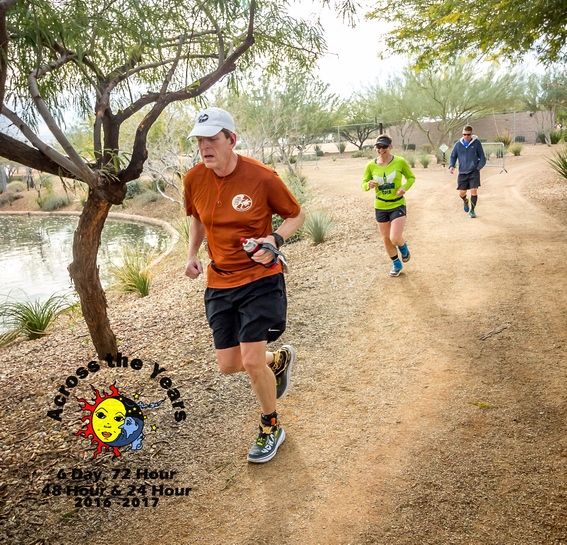 By this time, many of the runners were now walking most of the time which makes the event pretty social. I had not walked at all yet but was able to slow to talk with a few kind people who called out my name.
The sun descended and it started to get a bit cooler. I reached the 50-mile mark at 8:55, only about five minutes behind my pace goal. Things were going very well. Thus far I had only stopped for a total of about 15 minutes including aid station or bathroom stops.
The night came, but for a few hours, I didn't need to wear more clothes, just gloves. The entire course is lit so I never needed to use a headlamp. At my table, I turned on some Christmas lights and a lantern to help me find things.
Mentally, it is really hard to think about running an entire 100-mile distance at once in a loop course. Instead, I like to concentrate on upcoming milestones such as the marathon mark, the 50K mark, and the 50-mile mark. I next thought about the 100K mark (62 miles). I arrived there at 11:23, nine minutes ahead of my goal pace. I reached 65 miles by the 12-hour mark.
As I was running along in the dark, John Geesler, a fixed-time race legend and friend caught up with me running at about 11:00 pace. Wow! I decided to fall in behind him and I joked that he was dragging me behind. It was great fun and helped wake me up and push me to find new energy. My legs felt much better running harder.
We ran together for about seven laps. John was running in the six-day race. I was surprised that he was running this hard. He was only a lap behind me. As we ran together, I would usually run behind him except for a short uphill section. I loved to push that section even harder, would pass John each time, and finish the lap ahead of him. If I stopped at my aid station, I made sure I left again as John passed by. Around the 12-hour mark, I was very surprised how fast John was running. He explained that he wanted to finish the lap before we had to change directions. (After every four hours, we reverse direction). We ran that lap in only eleven minutes!
John must have taken a long break but I went on ahead. I wished we could have continued that, it was very helpful. Because of all that speed, I had caught up with Chavet Beslin and took over the overall 24-hour race lead. Now, not running as hard, I started to get a little chilled and stopped at 12:39 (9:39 p.m.) to put on another layer and warmer hat.
Next, I wanted to reach 78 miles by midnight (15 hours). Things continued generally fine for the next couple hours. I finished lap 70 (mile 73.50) at 13:59, seven minutes ahead of my goal and only 29 minutes off of my PR time. I started to feel confidence that perhaps I could reach 100 miles in under 20 hours. I "only" had to run one more marathon in just under six hours. I could feel all of my hard training paying off. At midnight, I indeed reached 78 miles.
But things started to fall apart around mile 80. More congestion filled my lungs, my stomach became unhappy, I threw up a couple times, and my mile-pace slowed to 15-minute miles. Little things started to bug me, including little pebbles in my shoes. I stopped at the warming tent for six minutes. It was nice to rest but I did a poor job getting all the grit out of my shoe.
For the next several hours I struggled pretty hard. My pace was slower and my stops a little longer. I tried many things to find the energy again. My hopes for a really impressive number of miles slipped away. Two young women runners (age 29 and 33) were now ahead of me. A couple of men (ages 38 and 42) were catching up to the old man. I finished lap 90 (mile 94.50) at 19:57. I had hopes to be at mile 100 by now. I had lost an hour to my goal pace and was feeling discouraged. Soon I was in 4th place overall and behind the two other men. One of the runners used pacers all night, sometimes as many as four others running with him to help.
At mile 97, I finally felt much better and came back to life. There was about 3.5 hours left in my race. I caught up and passed one of the male runners and soon the other one too. When I retook the lead, I made sure that I sprinted past the other runner quickly so he would think I had plenty of energy and couldn't be caught. I was once again the 24-hour male leader. I reached the official 100-mile mark at 21:26. I had earlier visions of a sub-20-hour 100, but I realized that 21:26 at age 58 was pretty incredible.
Dawn arrived and I wondered if my competition would stop at 100 miles. One didn't display his bib as he should, so it was hard to tell. I assumed they were still running and it helped push me. (The two men indeed stopped at mile 100, which to me makes no sense.) I next noticed that Carol Caskie who was a couple laps ahead of me was now walking slowly. Chavet Breslin was still running strong, many laps ahead.
I finished lap 100 (mile 105) at 22:47. I did the math in my head and concluded that 109 miles was the best I could hope for. I had been retaining water during the night and now had to stop nearly every lap for a bathroom break. But as I was running along, I decided to dig deeper. My mile pace improved to 13-minute miles. I then was surprised that I could fit in one more lap if I really pushed hard. My last mile was about 11 minutes.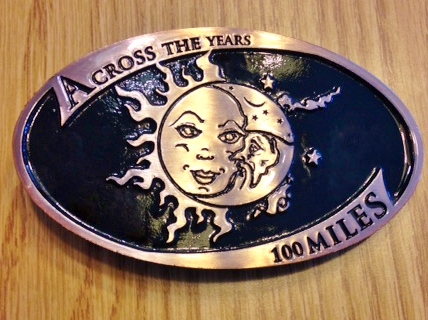 I crossed the finish line at 23:56 for 110.25 miles. Chavet Breslin (age 33) had run nine more laps than me and reached a very impressive 119.7 miles. My struggles during the night cost me more than an hour against my goal, and probably about five miles. My total stop time was 74 minutes which still can be improved. But I was very pleased. I now have 1,129 career miles at Across the Years, in 21st place out of more than 1,600 runners.
After the first day, I was the "leader in the clubhouse" for the men's 24-hour ATY championship. Some years that distance wins the race, but there were three more days of official 24-hour races and I knew others should go further than 110 miles. I gave them something to shoot for.
Update: After day 6, I was in 7th place overall out of 153 runners, 4th male. All very close at the top.  All those who finished with more miles than me were significant younger, with an average age of 36.  Glad I can still mix it up with the youngsters.
My 110 miles turned out to be the second furthest 24-hour distance in the world for during 2016 for any runner age 56+.  Not bad.
It was my 12th 100-mile finish for the year, the most I've accomplished in a calendar year.  It was my 86th career 100+ race finish.