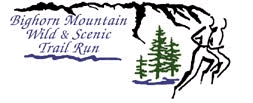 The Bighorn 100-mile Trail Run is billed as being wild and scenic.  The scenic part is well understood, with its vistas, meadows, wildflowers, and rivers.  The wild part is harder to explain because every year I have run the race, the course conditions have been wild in different ways with its heat, cold, mud, snow and swamps.  The unpredictability of the race is a masochist draw to me.   I returned to face the course for the 5th year in row.
Last year, the course ate me up, spit me out in a heap, and I mentally quit the race twice before changing my mind.  I limped into the finish in 33:21.   This year I had determined revenge against the course.  I knew better than to boast, for fear the course would lash out and humble me, but I wanted to respect and conquer it this year.  My mistakes last year were using poorly fitting shoes and becoming badly dehydrated twice. I solved the shoe problem and I vowed to not become dehydrated this year.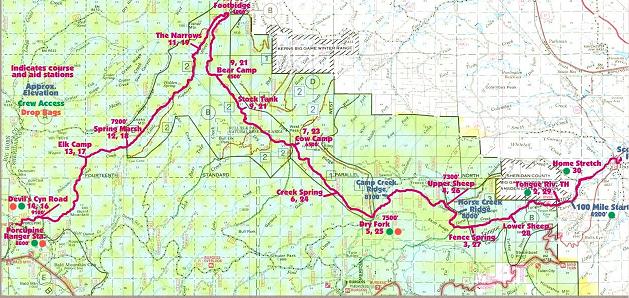 At the start in Tongue Canyon, Matt Watts and I sat in chairs relaxing and joking as we watched all the runners going to start area.  We looked like a couple old farts watching a parade go by.  "Where's the floats?" I asked.  "I think the bands are coming next."  People just looked at us and shook their heads.  What a couple of dweebs.   Anne Watts promised that next year she would provide lemonade with straws.  How about umbrellas too? I was just trying to keep my mind off of all the work and pain ahead. 
As the start time came closer, I withdrew myself from the crowd to just focus and calm any nerves as I could hear the national anthem in the distance.   Finally I made my way to the start in time to say a couple more hellos and away we went (on Friday at 11 a.m.) 195 runners, running up the canyon road.  
No one bolted in the lead this year, we just stayed together in packs for the first mile or so.  I ran near a couple of very talented local Utah runners, Tom Remkes and Scott Mason.  I knew how fast they had run this course in the past.  If only I could do the same.   I had lofty goals in my mind.   I hoped for a top-20 finish and a time close to 26 hours.  That would be a huge improvement on this course for me, but I was having a good year so far, so I set my expectations high.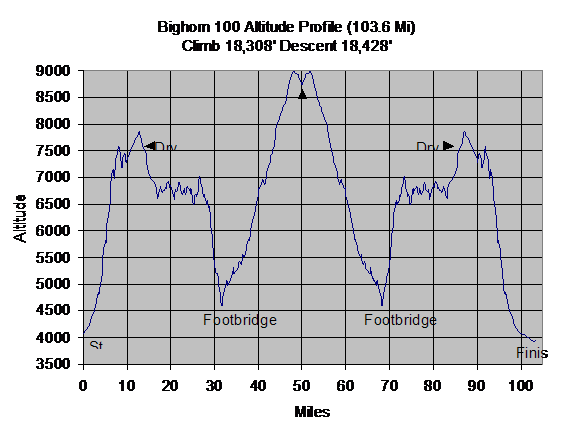 The race starts with a huge climb of more than 3,500 feet in 4 miles.  I purposely held back a little, although it turned out I did my fastest climb of the 5 years.  Go figure, it didn't feel like I pushed it super hard.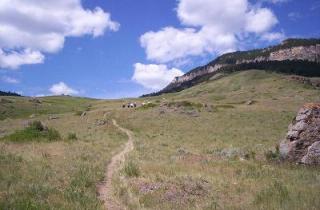 Many runners passed me on the climb pushing very hard.  I kept telling myself to be patient as I watched runners like Tom Remkes and Jody Aslett disappear up the mountain.  Scott Mason and I came into the first checkpoint together (mile 8.5) at 1:59.  He asked about our pace, and I let him know if was typical of our previous years, just a couple minutes faster than normal.   I had been drinking plenty and had not signs of dehydration.  So far so good.  I pushed on ahead of Scott as we hit rolling single track.  
I came into the 13-mile aid station in 30th place at 2:27, three minutes ahead of my best time.   I hoped for a top-20 finish, so my strategy was to just be patient and pick off runners one by one.   Anne Watts saw me coming into the station and offered help.   I let her know there would be no stop, it was time to pass a bunch of runners who had stopped.   I ran right through the aid station calling out my number, "742."  I then continued down the Dry Fork drainage and focused on the next runner ahead.  It was Jody, the 2nd place female runner.  I caught up and passed her within a mile or so and exchanged greetings.   We kept a very good pace going and eventually she went on ahead as I slowed to eat a gel and take an S-cap.  Last year at this point I crumbled and slowed, but this year I was still running the hills well.
I came into Cow Camp (mile 19.5) at 3:59 and this time stopped to chow down on some yummy bacon.   Continuing on my way along rolling single track, my strategy to pass runners hit a snag when I needed to take a 10-minute bathroom break at mile 22.   I probably fell to about 42nd place.  When I came out of my hiding place, Scott Mason again greeted me.   After that long rest, I had plenty of energy so I ran quickly on ahead determined to regain my position.  Over the next couple miles I did re-pass about 8 runners.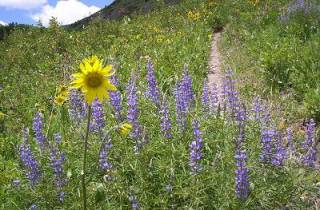 Mud made its first significant appearance along the next stretches which I anticipated.  In past years, I would try to tip-toe around the bogs to stay pretty clean and dry but not this year.  I blasted directly into each and every bog, never caring about clean feet.  I noticed that each time I did that, I saved an enormous amount of time and always quickly caught up to more runners.
At mile 27 the course takes a huge dive, losing more than 2,500 feet in less than three miles to cross over the Little Bighorn River.   By the time I reached the bottom, I believe I had climbed to about 32nd place.   However, I spent a long 10 minutes at this aid station to fix a problem shoe and was again passed by several runners.
From mile 30 to 48 the course does another huge climb of more than 4,800 feet but it is spread over 18 miles.  I quickly discovered that many runners who beat me on the morning climb no longer had an uphill running gear.  I passed runner after runner as I ran probably 75% of that long climb.   I noticed that one runner dressed in red was doing his very best to keep pace with me.  He could never catch up, but he also caught up and passed all the runners that I did.  I was feeling amazingly well and really enjoyed the uphill running.  I was also amazed at the trail conditions.  I knew there would be terrible mud and snow at the top, but generally the trail was in good condition because it had been allowed to dry out for the past week or so.
I passed a runner at mile 39 who was wearing a singlet and had no jacket around his waist.  I knew from experience last year when I also didn't bring a jacket on this stretch, that this would be a big mistake.  When I reached the Spring Marsh aid station, I asked the volunteers there to get a garbage bag out and do their best to convince the guy to wear it.   I hope he did. (He did!  It was Max Shchemelinin of Bozeman, MT.  He went on to finish in 30:53).
I knew my pace was personal record pace.   The leader of the race, Mike Wolfe, came running toward me, already on his way back, at about mile 39 or so.  I was stunned because I knew he was on course record time.  (He did break the course record, finishing in 18:43, when I still would have 30 miles to go.)
I had never before reached the 43.5-mile aid station (Elk Camp) in the daylight.  Usually I have to turn on my light at about mile 41.  It was a beautiful place.  I commented that I had never seen this place in the light before.  "You must be doing very well, then" was a reply from a volunteer.  The best part of running in the light up that high is that it was much easier when I hit all the muddy, swampy sections.  I could see the obstacles and just blast through them fast and not be timid.
I didn't need to turn my light on until mile 46.  So I was very pleased.  Near the high point, I finally caught up to Jody again.   She was struggling.  We slogged through about a quarter mile of icey, swampy water in the dark.  Our feet really got cold. I reached the turn-around, Porcupine ranger station, at mile 48 at the 11:38 mark at 10:38 p.m.   This place is warm and can suck you in.   The volunteers are so kind and helpful and want you to feel comfortable.  I knew I couldn't let that happen, so I never sat down in there.   I finally put on my jacket and gloves for the first time.   I just hadn't stopped to put them on yet and if I started to feel cold, I had just ran faster to stay warm.
After only a few minutes, I headed back out into the cold and shivered and complained about the cold.  It was below freezing near the top (about 9,000 feet).  But in a few minutes with some running, I again warmed up. I had reached the turn-around in 24th place.  So I had passed about 18 people since my long pit stop.
Doing the turn-around is exciting because you could see how your friends are doing behind you.  But the 18 miles back down are frustrating.   Now in the dark it is very hard to push a fast pace.  Much of the trail is pretty technical with lots of rocks to trip on and I just didn't want to face-plant.   Oddly, my split times going down in the dark were a little bit slower than my split times going up in the light. (I did spend a little more time in the aid stations)  I returned to the Footbridge aid station (Little Bighorn River crossing, mile 66) at the 17:02 mark. (4:02 a.m.).   Only one runner passed me on the descent, a runner with a handlebar mustache who would always spend a huge time in the aid stations but then come roaring back and pass me. 
Despite my slowness in the dark, I was now over an hour ahead of my best time.   Usually, I'll spend about 20 minutes at this aid station recovering, eating, and perhaps working my feet.  But today, I decided to make my stop very fast, probably about 4 minutes.   When I jumped up to leave, I noticed that about 5 other runners were surprised and had concerned looks on their faces as they were still taking their time.   Away I went.
Next was a climb of 2,500 feet out of the river gorge in under three miles.   I just did a steady pace and in under 1:30, the climb was done.  I had passed a runner in the process who I had never seen before.  I was probably in 16th place.   Dawn arrived at about mile 68, but the sun didn't shine on me until about mile 74.  It was pretty nippy.   This was a very lonely section for the next seven miles.  I never saw another runner ahead or behind me.  At times I could see a half mile behind me.  No other runners were seen. At the Cow Camp aid station at mile 76.5, I chowed down on bacon and potatoes fried in bacon grease.   It really hit the spot and gave me new energy and calmed down my stomach.  
From mile 76.5 to mile 84 I got lazy and took the foot off the gas.  I was passed by three runners.  But at the Dry Fork aid station at mile 82.5, I made a six minute stop.  In past years, my stop there is usually 20 minutes to wash my feet, lube them, and get clean socks on for the finish.   Not this year, I decided to save time, stay with my muddy wet shoes and hope that my feet didn't hurt too much for the finish.   At this aid station, I was in 19th place.   I arrived there at 9:32 a.m.  
The 30K race would at this point at 10:00 a.m. and followed the rest of the 100-mile course.    Anne Watts would run and she greeted me as she was preparing for her race.   She screamed at me, telling me how great I was doing.   I had hoped that I would get to this point before the 30K race started, so I did feel good about things.  She walked with me up the road a little bit and I challenged her to try to catch up with me when her race started.  It would be fun to run together for awhile.
So at mile 85, the first of the 30K runners caught up to me.   It was odd to have company around me because for the past 9 hours I had seen very few runners because we were so spread out.  All of them were so very kind and gave me great words of encouragement and lies about how well I was running. The front packs were fast and I just couldn't keep up, so I would step aside and let 30K runners pass me.  I looked for Anne behind, but couldn't see her.  I was still moving well and started to keep pace with the 30K runners around me.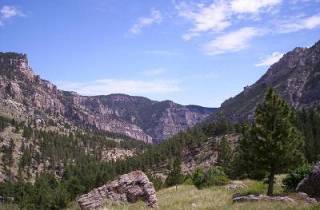 But at mile 88 after a final steep 1,000-foot climb, I really put it into gear for the massive 4,000-foot descent.   I passed about 20 30K runners as I blasted down the hill.  They gave me stunned looks and comments because they knew I was a 100-mile runner.   When I reached Lower Sheep (mile 92.5), I hit my watch and was very shocked to see that my split time since the last aid station was only 1:01, the fastest I had ever run that stretch.   I paused to regroup and put on sunscreen for the final hot miles.  All of those 30K runners I passed went by me during the next mile, patting me on the back and giving me words of amazement for my downhill running back there.
The last five miles is dirt road pounding.  The course doesn't finish where it started, that would make it only 96 miles.  It continues for another 4 miles into the town of Dayton, Wyoming at a park.   I was passed by two 100-milers.  I did my best to keep a strong run going and re-passed one of those runners.  All my road races were helpful.  I knew how to keep the legs moving on flat roads.   The heat was pretty bad for the finish, but I came into the park and crossed the finish line at 26:38.  A new PR!   My previous best time on that course was 29:00.  I finished in 19th place, 2nd in my age group. Of the 154 starters, there were 95 finishers.
I was drained, but pleased.  I laid down in the shade to recover and watch many more 30K runners finish, including Anne Watts, with some 50K and 100-milers sprinkled in. I ate, washed up and then started the drive for home.  I wanted to drive part way home in order to arrive home by noon on Father's Day.
So, my 5th Bighorn finish was in the books, my best race performance there.   I look forward to returning.  It is a wild and scenic challenge.