September 13-14, 2008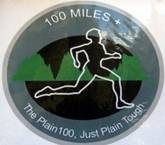 "Wow, you are fast!  Are you in some sort of marathon?" – Comment from a motorcyclist at the top of Tyee Ridge. 
Plain 100 is a very unique, tough 100-mile race held on the eastern slopes of the Cascade Mountain Range in Washington.   I would rank it among the top-three toughest 100-mile races in the U.S.   What makes it so tough and unique?   1. The race is actually about 107 miles.  2. There are no course markings!  Racers must use maps, directions, and navigation skills. 3. There are no aid stations.  No pacers are allowed.  It is a self-supported race.  You must haul enough food for at least 60 miles before stocking up again and must obtain water in passing streams.  4. The trail conditions can be very challenging because of dust that permeates shoes and socks.  5. There are three massive climbs (and descents) of nearly 5,000 feet and a total of 21,000 feet elevation gain. 6. The race has a very low finish rate despite a generous 36-hour cutoff.  There have been only 32 finishes in the first ten years of the race – 21% success.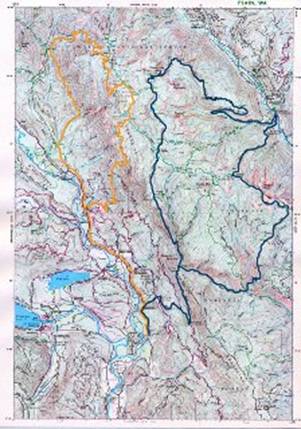 Course map.  Loop 1 blue, Loop 2 orange
The course consists of mostly well-maintained single-track motorcycle trails.   There are also some stretches of dirt road and a three-mile section of pavement.   The care put into the motorcycle trails by a biking club is impressive.  Switchbacks are reinforced with a lattice of concrete covered with dirt.  Deep ruts are improved with maintenance, and blow-down deadfall by the hundreds are cut and removed each year.   It is an interesting demonstration of a multi-use trail.   On the downside, because of the motorcycle use, the trails are for miles in a "v-shape" causing your feet to over-pronate, always slanting inward.  The toughest climb of the course is the second major climb up to Tyee Ridge at about mile 33.  The climb ascends about 5,000 feet in only about five miles.   This tough climb was broken the determination of many runners over the years.
Last year, 2007, I successfully finished Plain 100 in my first attempt, in 31:45.  I came in 5th place out of 29 starters.   I really enjoyed the experience and looked forward to returning.   I believed it was very possible for me to complete the course in a much faster time, perhaps even breaking 29 hours.   With my DNF at Leadville 100, four weeks earlier, I was very determined to finish at Plain again, and do well.
I arrived at the Clear Creek Lodge at Thousand Trails near Plain just as the race briefing began.   Tom Ripley does a very good detailed briefing that explains all the turns, all the water spots, and other great advise.   I laughed as he talked about the Goose Campground junction where runners take a wrong turn and spend hours running in the dark on a trail around the camp.   Buddy Tom Jackson did that last year and right after they talked about that, he arrived at the briefing and sat next to me.   After that blunder last year, he finally threw in that towel at about 4 a.m.  This year, he was determined to see it to the finish.
Tom and I drove out to Goose Campground to study the trail junction that caused him to go in circles last year.  It took us awhile to figure out where the problem turn was.  When we found it, I was flabbergasted how deceptive it was in the dark, but not in the light.   We studied the surroundings until we were confident that we would not make the same mistake as last year and miss the critical turn.
There was great competition this year at Plain.   Looking at the entrants, I bet on Allen Belshaw, a tough, steady fast runner from Colorado who won Squaw Peak 50 this year.  Next to him I thought Tim Stroh and Arthur Martineau had a good chance because they both knew the course.   Fast rookies usually take wrong turns.  Arthur had run a sub-24 at Cascade Crest just three weeks ago and I wondered if he would crash and burn.  Ian Mcllvenna was my next pick after those guys.   It looked like there were about 8-9 runners definitely faster than me.   This race levels the playing field, so I had hopes of another good finish this year.
After a wonderful dinner, I met up with a new friend, David from Seattle who offered to put me up at his friend's cabin in Plain for the night.  It turned out to be a wonderful house.  David is a runner who wanted to witness the 100-mile experience, so he was going to stay for the weekend and crew me after the first loop.  I spent the evening talking to him about running, showing him my stuff, and explaining how I would attack this race.
I would carry with me a waist pack to hold water bottles, packets of Instant Breakfast, and a flask of Hammer Gel.  In addition I would wear a light-weight camelback without the badder.  Inside I would carry a couple burritos, a couple bagels with turkey and cream cheese, and some more Instant Breakfast (ten packets for the loop).    I was hopeful that this would be enough calories to get me through first 56-60 mile loop.  I then would restock before going out on Loop 2.
Uh, why don't I know the exact mileage?  Well, that is another interesting feature of this race.  No one really knows how far the course is.  Maps and trail signs typically underestimate the mileage.  I spent some time working with maps and I think Loop 1 is close to 60 miles and the second loop is close to 47 miles, for a total of 107 miles.
During the race we would need to check-in with search and rescue volunteers at about six locations.   They wouldn't provide any aid, answer any questions, or even take our trash.   They would just be there to observe.  If we headed down the wrong trail, they would observe this and take action if we didn't eventually get back on course.  But they wouldn't warn us that we were going of the wrong way.   What a unique race!   Certainly this is a graduate-level 100-miler.
In the morning, David and I drove back to the lodge, enjoyed a nice breakfast, and greeted other runners.  Right before the start, I met Allen Belshaw and we wished each other luck.  I told him that I knew he would do great.  He openly recognized that this course levels the playing field.
Listen to me joking around with Tom Jackson.
As the start was being counted down, some wise-guy shouted, "Do we go right left?"  We all cracked up because we know that we couldn't ask that.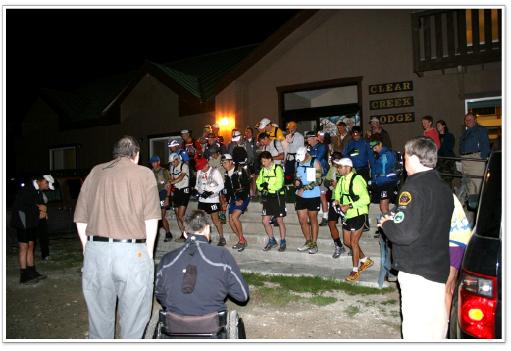 The start.  Me toward the back in yellow
At 5 a.m. in the dark, away we went up the dirt road toward the high ridges ahead.  The temperature was about 50 degrees.  I dressed in short sleeves, no jacket, and no gloves for the first loop.   That decision worked out fine.  It was good to be running again and I pushed up to the front, wanting to go out much faster than last year.  Allen Belshaw disappeared ahead down the road.   I settled in with a small group of fast runners including Tim, Arthur, Ian, and James.   We reached Deer Camp (mile 4.9) at 0:50 and then started the long climb up to Maverick Saddle.  Last year I walked almost the entire way.  They year I ran almost every step.   We started to spread out a little more, but at one point I caught up with Tim and Arthur, pressing ahead.  Tim asked, "who joined us?"   I introduced myself.  When Tim identified himself, I said, "You are the man!"   I was honored to be running with him.   He is the Plain 100 legend.  I had fun talking with him for awhile.  We both ran at the Moab race this year.  I won the 100-miler and Tim won the 24-hour race.  It was good to finally talk to him.
Dawn arrived and we started to see wonderful views of the forests and lakes below, with beautiful blue cloudless sky above.  It was a perfect morning for a run.   We arrived at Maverick Saddle (mile 7.7) at 1:28.  I was very motivated to keep Tim in sight because the trail intersections at Maverick always confuse me.  I just followed in Tim's footsteps.   I kept Tim and Arthur in sight as we started the steep climb up Hi Yu Trail (mile 9.2) at 1:46.  Later on as I ran with Tim, he told me the shocking news that Allen was not on the trail ahead of us.  There were no footprints on the trail.  Allen must have taken a wrong turn before heading up to Maverick Saddle. (Indeed he did!  By the time Allen returned to the course, he was in last place!  He then had the fun experience of passing every runner in the race.   Plain 100 truly levels the playing field.)   Wow, I actually had been running in first place for awhile.
Then disaster struck.   At about mile 13, I was running about 100 yards behind Tim and Arthur.  I wasn't paying attention and came to an important intersection near Lost Lake.  I stopped.  Which way was I supposed to go?   I could not see Tim or Arthur.   I quickly checked the sign and decided to turn right.   After running 100 yards, I stopped and returned to check the sign more closely.  I checked my summary notes and decided that I needed to be on trail 1421.  The trouble was, the instructions said turn left.  There was no left turn there, only straight or right.  The sign said trail 1421 was only to the right.   So I went right again.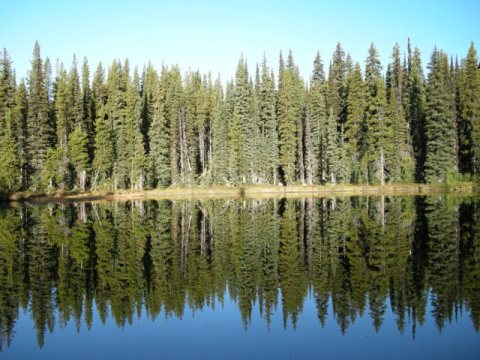 This time, after about a quarter mile, I stopped again.  This wasn't right.  I couldn't see Tim or Arthur's footprints.  In a panic, I turned on my GPS, but it couldn't quickly pick up a signal through the trees.   I pulled out the full course directions and a map.  The directions warned: "Do not turn right."   Yikes, I was on the wrong trail for sure.    In my haste, I lost my sunglasses at that point and just ran as fast as I could back down the trail toward the intersection.  Before arriving, I ran into James Gifford.  He was going the wrong way too!   I quickly convinced him that we were on the wrong trail.   When we returned to the junction, Allen Belshaw arrived and assured us that the right trail was straight ahead, even through the sign said nothing about that trail being 1421.  Oh well.  I wasted about 10-15 minutes.
That was discouraging.  But gee, this is a 100-mile race.  10-15 minutes shouldn't affect much.  I could make that up.  But still, Tim and Arthur were far ahead and I couldn't keep up with Allen's speed.   From that point on, mentally, I fell back a notch.   I pushed on leap-frogging with James.  I paused at a creek to fill up my water bottles for the first time.
When I arrived at the basin that Mad River runs through, again this year it was very cold there, with tons of frost.   I was wishing I now had my gloves with me.   I caught up with Allen as he was carefully crossing the river.  I just plowed through it, my GoreTex shoes keeping me dry.   I made the decision this year to wear GoreTex shoes.  It was a great decision because they totally kept out all the dust.  I never had to empty out my shoes or socks.  I just plowed through the fine dust and didn't worry about grit getting in my shoes.  That strategy probably saved me about 45 minutes this year.
We had to do a short out-and-back up to Klone Peak.   I saw Ian and Allen running down the trail as I was going up.   I was probably about 20 minutes behind the leaders.   Near the summit, James was coming down.   I reached the top of Klone Peak (mile 20.5) at 4:45.   I was ten minutes behind my goal.  Hmmm….I knew where those ten minutes went.  On the bright side, I was 20 minutes ahead of last year.  A couple of motorcycles had passed me going up. The guys on cycles asked, "Are you in a race."   I replied, "Yes, a 100-miler.  We are at mile 20."   They were amazed and wished me luck.   The views at the top are incredible!
I ran down hard and near the junction I greeted Joe Lee heading up.  He was looking good.  No sign of buddy Tom.   For the next few miles, I had a blast.  I just loved the rolling, soft trail and the cool morning air.   I fired up my MP3 and sang loud to the songs.  (Later James Gifford told me that he could hear me.  It helped him know how far behind I was.)   Near the top of a burned ridge, as I was singing, I was surprised to come upon some people taking pictures.  They commented that they thought I was talking to myself.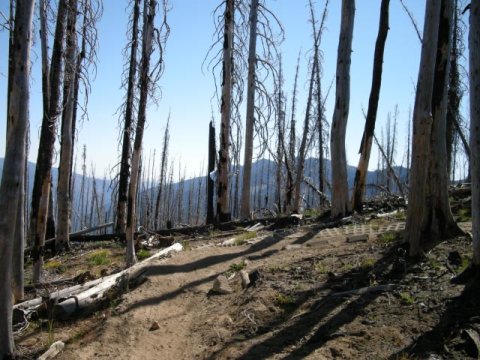 Burned area
Next up was a long downhill run on switchbacks.   I checked in with SAR at a dirt road (mile 27.6) at 6:26, over a half-hour faster than last year.   Next up was an annoying three-mile downhill paved road.  I did my best to run it fast to get it over with.  At the next trailhead, the RDs, Tom and Chris greeted me.  I had a smile on my face.   I was having a blast.   I winded down through the forest and reached South Tommy Trail (mile 33.1) at 7:24 near the roaring Entiat River and continued on to the bridge over Fox creek.   This would be the last water stop before the huge climb up to Tyee Ridge.   James was there finishing filling up.   I was careful to take my time and not rush this important refueling stop.  I first drank two water bottles.   I now had two in my stomach.  Next, I filled up my four water bottles and mixed them with Instant Breakfast.   This should be enough fluid to make it up over the top to the next water stop in 15 miles and 4.5 hours.   I ate my bagels and felt pretty good.  As I was getting ready to go, I was surprised to see Beat, a Swiss runner, arrive.  Little did I know, I would see Beat for the next 24 hours.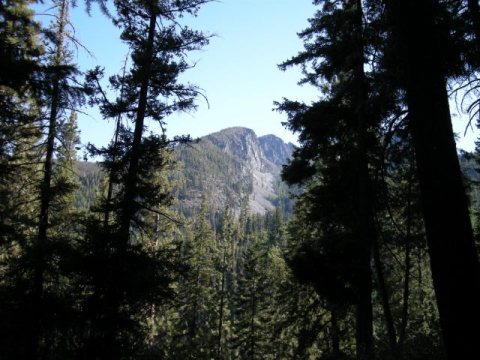 View from climb up Tyee Ridge
I pushed up the steep trail.  Mentally, I knew that this was similar to a Mount Timpanogos hike in Utah.  It is about the same elevation gain, but covers fewer miles.   I concentrated on keeping a constant fast pace.   I knew there would be some false summits, and tried not to be too anxious for the top to arrive.  About half-way up, I was surprised to see a runner ahead.  I caught up with him.  It was Arthur.  He was struggling.   He would later DNF at the next check point with three others, taking an hour more than me to get there.   He must have not recovered from Cascade Crest 100.  I realized that I was now in 5th place, with James not far ahead and Beat on my tail.
When I was about a half mile from the top, a couple of motorcycles passed me going up the trail.  It was cool to hear their engines far below, charging up the trail.   But it was discouraging to hear them drive on ahead and realize that the trail still continued high above as I could hear their engines fade away.   I arrived at Tyee Ridge trail junction (mile 38.8) at 10:08.   The two guys on cycles were there.  They said, "Wow, you are fast!  Are you in some sort of marathon?"   I didn't feel fast at that point because I knew I had pushed up that trail slower than last year.   I explained that we were running in a 100-mile race and that I was at mile 39.  They responded, "Wow, we are at mile 56 of our ride and are exhausted."  They were very impressed and wished me good luck.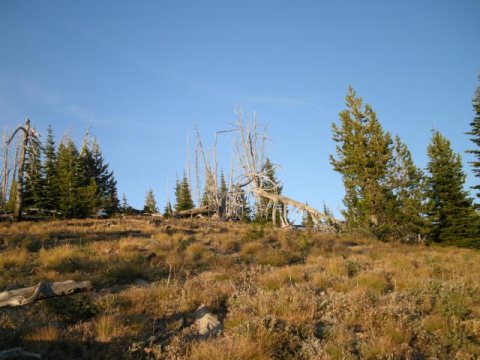 Slope on Signal Peak
I pushed ahead and started to really slow down on the continued uphill toward Signal Peak.   As I as ascending the peak, I looked behind me and saw a runner far down the trail.  It was Beat.  That gave me some good motivation to pick up my pace.  For the next couple hours, I never let him catch up.  As he came close, I kicked it into gear and he disappeared from my view.   I reached the next checkpoint at 11:47 in 5th place, running two minutes ahead of Beat and 26 minutes behind James.  The leader, Allen Belshaw was far ahead, 1:27 in front. 
Beat finally passed me on the steep downhill nearing Cougar Creek.   I was almost out of fluid when I arrived.  Last year I was badly dehydrated.  This year during the entire race, I was never became dehydrated.   With experience on the course, I knew when to get water.   At times I could run with only one full bottle because I knew where the streams were.   I didn't bother with filtering.  I doubt anyone did.  No one had ever had any trouble with non-filtered water on this course.   My stop at Cougar Creek was very quick.  I just dipped in my bottles and went on.  Beat was taking his time getting stuff from his pack.   I reached Mad River (mile 49.5) at 13:00.   I was somewhat disappointed to realize that I was now only a half hour ahead of my pace from last year.   I really thought I could run quite a bit faster.  But as I thought about it, the trail is just very, very tough, especially from Tyee Ridge back to Maverick Saddle.  It wasn't very well maintained and very difficult to run fast.  In some sections the bushes were thick across the trail and I had to use my arms to clear my way through.  In other places the rocks from slides were all over the trail making it a tough technical task.
I wasn't eating enough along the Mad River trail and too lazy to take off my pack to get some food.  That is a stupid problem I always have.  I know I should be eating, but I just don't want to take the time.   Beat and I arrived at the Mad River crossing together.  At this point last year it was dark.  I was pleased to see that there was still about an hour of light left.  I was doing better.   We returned to Maverick Saddle (mile 53.5) at 14:23. 
The views of the sunset on the ridge were incredible.  The colors were intense reflecting off the lakes far below.  What a sight!    I now had a new serious problem.  With all the "v-shaped" trails, my left foot was in terrible pain.  The sesamoid bones in the ball of my foot behind my big toe were terrible inflamed.  I started screaming out in pain and my pace slowed down.  Finally I had no choice but to stop and rest.   I've had this problem in the past and knew that a rest for a few minutes calmed down the pain.   It worked, yet in another half mile the pain returned.   I knew I had a different insole at my drop bag at Deep Creek that would help.  The insole had a notch cut out allowing more room for the swollen portion of the foot.   In the meantime I would just have to push on in bad pain for the next four miles.
At Deer Camp (mile 56.3), I finally turned on my headlamp.  It was 8:00 p.m.   Beat was far ahead, he would arrive at Deep Creek 20 minutes ahead of me.   I ran/walked as fast as I could on the road.   At times I would look back to see if anyone was chasing me from behind.  Finally I could see a faint headlamp coming down from Maverick Saddle.  (It was probably Michael Cartwright, who was about 30 minutes behind me. Buddy Tom Jackson was back at Maverick Saddle with two other runners, Mark Swanson and Michael Wardas.)
Finally the lights of Deep Creek (mile 59.5) came into view and all the crews and volunteers cheered and clapped as I arrived.  I came in at 15:49.  David ushered me to a chair all set up, including a floor mat from his car for my feet!   How cool was that.   My bag was all organized.  I went to work on my sore foot while David restocked my little pack.   Someone offered me a grill cheese sandwich.  Wow, it was incredible.  I ate the entire thing.  I was pleased to see that I still had an appetite.  That was a good sign.   I ended up staying for about 20 minutes.  No other runners arrived.  Beat left about 10 minutes before me.  "I'll try to catch up," I yelled after him.  I would do the second loop with just two water bottles, which I filled initially with diluted Ensure.  My stomach liked the change from Instant Breakfast.  I changed to a long-sleeve and wrapped a jacked around my waist which I never put on.   I took gloves with me that would be needed at times.   Finally, I thanked David profusely and was on my way a little after 9:00 p.m.   I was pleased to know that I was about one hour ahead of my pace from last year.
The next leg of the course is like a stick on a huge lollipop.   There is a seven-mile stretch to Alder Ridge trailhead.  At that point the loop begins which we run clockwise.   In the morning I would complete the loop and then run back along this seven-mile stick toward the finish.
Now it was dark and lonely.   The trail rolled up and down through the forest with a full moon peeking at times through the trees.  But the moon couldn't cast enough light on the trail to make a difference.  It did however, cause some great hallucinations.   It would reflect off downed trees that glowed in the woods.  At times they looked like snow fields, other times like strange objects playing with my tired mind.  Much later at night, when I started to hallucinate, it really bothered me.  I would just look straight down at the trail so I wouldn't see those crazy things and soon they would go away. 
While nearing Goose Camp, I decided to kick it up a couple gears and really run.  I was pleased with my strong pace and thought, "If I can keep this up, I'll catch up with Beat."  Sure enough, within a couple minutes I saw his light and reeled him in. He explained that he had a bad pain behind his knee from stumbling earlier.  I encouraged him on.  "I'll see you at the finish."  "No way," I replied, "you'll catch up."   Within a mile, Beat did find his speed again and did catch up.  We would spend an entire lonely night leap-frogging each other, always within a couple minutes of each other.
We arrived at Alder Ridge Trailhead (mile 66.3) at 18:02.  It was 11:02 p.m.   While I was still an hour ahead of my 2007 pace, I was starting to fade and so was Beat.   I kept wondering all night why no other runners were passing us.   We really weren't moving that fast.   We reached Marble Creek (mile 70.8) at 19:31 and then started the tough climb up the mountain, the beginning of a very long climb that would last the rest of the night.  Beat had great uphill strength and left me far behind.  I could see his light up ahead.  
At 12:35 a.m. I recorded in my mini recorder in a very tired voice.  "Well, it is after midnight. I'm on the long climb up Marble Canyon.  Up, up, up for the next few hours.  I'm not moving real well.  I'm plugging along, not going very fast.  I run all the downhills, but my uphill speed is just not good enough. It is going to be a long night if I don't find the energy.  This climb is tough.  Well, this is a long, long, tough, tough race.  All the hills and it is well over 100 miles.  There is just a lot to do still.  Hopefully by 4 a.m. I'll be done with most of the hard climbs.  Well, I'll take a shot of Hammer Gel and see if I can get enough energy to get up this hill." 
By the time we reached the top of the canyon, I caught up to Beat.  I looked down far below but could not see any lights chasing us.  Where was everyone?   I had not seen another runner in about 11 hours!   It was nice to have Beat close by.   We talked now and then but mostly just concentrated on moving ahead.
On the next rolling section, Beat said he would have to walk.  I found my running gear and thought that I wouldn't see Beat again.   I pushed far ahead but soon became exhausted.   Because this race has no aid stations, you really have no excuse to stop and rest, even for a couple minutes.   I thought about this and realized that I should probably start resting for 2-4 minutes every couple hours, to take S-caps, force myself to eat, and to rest for just a few minutes off my feet.   So I finally stopped on the trail for about five minutes.   It felt so nice.  I even laid down and rested my tired eyes.   This is a crazy sport.  Here I was in the middle of no where, sprawled out on a forest slope.  As I saw Beat's light approach, I again got up and fell in line with him.
We arrived at Chikamin Tie (mile 77.5) at 21:56.  I realized that I was now only 30 minutes ahead of my 2007 pace.   I just couldn't find the speed.   I dreaded the Chikamin Tie climb.   It was even worse than I remembered.   Beat pushed on ahead strongly and I did my best to keep his light in sight.   He arrived at the SAR checkpoint (mile 79.5) a couple minutes ahead of me.  Tom and Chris were there to greet me.  They asked how I was doing.  I could hardly stand up as I rested my hands on my knees.   "I'm still moving," I replied.   I didn't stop, bid farewell, and headed up the trail ahead.   I couldn't see Beat's light.  I didn't realize he was still at the checkpoint.    I was out of water but thankfully soon found a stream to refill.   After about another hour, I noticed two sets of lights getting very close to me.   Dang!   I was really slowing down.   Runners were finally catching up.
I kicked it into gear and ran with great speed for awhile up the winding trail that seemed to never finish going up.   "When will this crazy trail reach the top?"  I cried out aloud.  In about a mile further, near the Pond Camp trail, before the rock slide, one of the runners caught up with me.  "Who are you?" I asked.  "Mark."  "I'm Davy."   I realized that he was Mark Swanson, who I was anxious to meet.  (He was in such a zone that he didn't stop.  He later told me it took awhile for it to register who I was.)   On the rockslide, I stopped for a rest, waiting for the next runner to catch up, but that runner also stopped around a bend.   I was hoping that it might be Tom.  
I pushed on ahead.  Mark was far ahead out of sight.   On the Pond Camp Trail, you think you are at the top, but I knew from last year that the high ridge ahead was really the top.   Dawn arrived and I turned off my light at the top of the ridge.  This was about the same point I turned off my light last year.   I was now on the same pace.  
With a nice downhill ahead, I really kicked it into gear, flying down the trail.   I expected to catch up with Mark, but never did.   I arrived at the junction of the Mad River trail (mile 87.8) at 25:50.   I reflected that Allen Belshaw had probably already finished.  Sure enough he finished in first place at 25:22 in a new course record.  I, on the other had, still had a long 20 miles to go.
The morning was beautiful.  I was now in the Mad Lake basin.  There were wide open fields full of frosty fog rising from the grass and bushes.   It was quite a sight.  I stopped at the next stream for about ten minutes to refill and eat.   When I got up, I realized how cold it was.  I needed to quickly get out of this cold basin or stop and put on my jacket.  I chose to get moving.  Soon the runner behind arrived.  It was Beat!   I thought he was ahead me.   He explained that he was have bad leg problems and had been throwing up.  He now had a wrap around his leg and was limping.   He dreaded the huge downhill ahead.   I wished him well and ran quickly ahead, reaching the Alder Ridge Trail (mile 89.7) at 26:33 and began the last significant climb up to the top of Alder Ridge.
As I reached the top, I realized that I had a serious blister on the ball of my foot between my first two toes.  It was getting bigger and bigger.  I tried to ignore it but finally I had no choice but to stop and try to fix it.   I pulled off the shoe.  No dust at all because of the GoreTex shoe, but my foot was wrinkled from my damp, sweaty sock.  I probably should have changed into dry socks after the first loop.  I popped the blister with a safety pin from my bib, smothered the area in Vaseline, and put on a dry clean sock.   With the shoe back on, things felt a little better, but I would still have constant pain with every step.
It was a good thing that I couldn't drop out of the race at this point because I wanted to.  There was no one to take me to the finish.  I had no choice but to continue on.   I ran slowly along Alder Ridge and was frustrated that the trail was staying up on the ridge.  "Come on, turn down!" I screamed at the trail.   Finally, after 1.5 miles on the ridge, it turned down.   I was shocked to see Beat catch up to me running very fast down the trail.   I did my best to keep up, but at that speed the foot pain was just too intense.  I slowed down to a steady trot.
The view from the top of the ridge is amazing.  The valley floor is more than 5,000 feet below.  I laugh when I think back to that time.  As I ran down, I refused to gaze down to the valley to see how much further it was.  I knew from last year that it was very frustrating to keep descending yet it seemed like the bottom would never come.   I just tried to be patient and keep pushing the pace down the switchbacks.  I could hear a couple motorcycles making their way up the trail far below.  Their engine noise got louder and louder and finally the machines roared by kicking up a terrible dust cloud.  I stopped to let the dust settle.
Finally the trail spilled out onto a dirt road that would go slowly down the mountain for the next two miles.   As I was slowly walking, trying to avoid pain, I had a talk with myself.  "OK, you can go slowly, avoiding pain for the next several hours, or you can suck it up, go fast, ignore the pain, and get this over with.  What are you going to choose?"   I knew there was only one real choice.  I would push as hard as I could to get this pain over with fast.   I knew that I had almost three more hours of this.   On the plane right home, I would read a quote from a mountaineering book, "Pain is temporary, glory is eternal."   As I ran down this road, I kept telling myself that the pain would soon be over.
I finally arrived at the Alder Ridge Trailhead (mile 98.7) at 29:45.   The volunteers there lied and told me I was looking good.   I was exhausted and in great pain.   I knew that there was nearly nine more miles to go, but the bad uphills and downhills were over.   I only stopped for about 30 seconds and pushed on ahead.   I dug very deep and ran with strength for much of the next seven miles, at times running up some pretty long hills.   Amazingly, I ran this section to Deep Creek at about the same split time that I ran it in the other direction during the previous evening.   I reached the 100-mile mark at about 30:30.  There were still nearly seven miles to go.
At Goose Camp, I caught up with Beat for the last time.   He knew that he had a pretty serious injury but was going to walk it in.   I still had a good running gear so I told him I would see him at the finish.   I waved at the volunteer at Deep Creek and headed out on the hot dirt road for the final 1.7 miles.  I kept worrying that someone would pass me near the finish like I did to Phil Lowry at Bighorn, so I ran as hard as I could.   In just 22 minutes, the finish line was in sight with many cheering my arrival at the Lodge.  
I crossed the finish line in 32:18 in 6th place, only 33 minutes slower than last year.   I was so pleased to be finished.   I flopped down on the stairs and accepted congratulations from everyone.  Tom Ripley was especially impressed.  He told me that I was just the second person to ever finish twice in their first two attempts.   Most people fail on their first and come back for revenge.   Mark Swanson was there and we talked about the point where he passed me.  
All I could do was think about a shower.  David kindly got all my stuff from my car and guided me to the shower.   Thankfully they have a handicap shower where you can sit down!   After cleaning up, I felt 100% better and then chowed down meat balls smothered in tomato sauce and a huge bowl of ice cream and brownies.  Yes!  Real food!  Beat finally finished and wondered if it was very smart for him to push to the finish with his injury.  I congratulated him.  He really is a tough guy.
Tom Ripley mentioned that all the Cascade Crest 100 runners had dropped.  That was sad news.  I had hoped that Tom could finish this year.  A few minutes later, I heard Tom Jackson's name mentioned.  "Is Tom still out there?"   "Yes he is."
We all were having fun talking in the lodge when an announcement went out that two runners had arrived at the last checkpoint, Deep Creek.   One of them was my buddy Tom Jackson!   We went to the stairs and waited for the next 20 minutes for Tom and Michael to finish.  They finished in 33:38.   I was so happy that Tom got his revenge on this course after I left him behind last year.  I had felt bad about that.
As we were sitting on the stairs congratulating Tom and Michael, I started to get very dizzy.  Fearing I would pass out, I went in the lodge and laid down on a couch.   Within a few minutes I felt much better, but knew it was time to make my way to a motel.  I grabbed my finisher rock (a granite rock with "Plain 100" painted on it) and bid everyone goodbye.   A total of 14 runners finished this year out of the 26 starters.
Plain 100 was an amazing adventure.   I did pretty well despite the bad foot pain.  I had one wrong turn, but besides that, I never had to use my GPS to guide me.  During this 100, I think I fueled myself much better than normal.  I was never dehydrated.  I never had an upset stomach.  I never threw up.  Those are great small victories.  I think it may be my last visit to that very tough course…but next year I know it will be calling me back.
This was my 19th 100-mile finish and my 5th during 2008.  Next up, Bear 100 in only two weeks.