September 22-23, 2006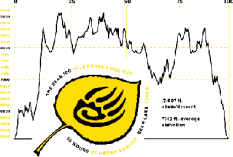 "There are a bunch of dern fools running a 100-mile race in the mountains"
Overheard in a convenient store in Preston, Idaho
The Bear 100-mile race is held near Preston, Idaho (Gosh, yes, Napoleon Dynamite territory) in the mountains west of Bear Lake.   With only 12 days since finishing the Wasatch Front 100, it would be an interesting test to see how well I could run in another 100-miler so soon.  One of my goals this year was to complete my own "Western Mountain Slam" consisting of four 100-milers: Bighorn 100, Tahoe Rim 100, Wasatch 100, and The Bear 100.   With the first three accomplished, I only had to finish this race to achieve my goal.   I had recovered fast from running Wasatch.   I didn't run during this recovery period, but did walk 20 miles.   My aches and pains were gone and I felt very ready to run the trails again.  However, I was hit by a terrible cold five days before the race.   I wasn't fully recovered from that illness, but I wasn't going to let it stop me.
As the race approached, the main concern was about the weather.   Several cold fronts pushed down from the north and brought a series of storms to the area, dumping almost a foot of snow on some areas of the course.   With two days to go, I received news that a "Plan B" course would be put into effect.   This course would be a full 100 miles, but it would allow the aid stations to be a lower elevations and would also avoid some running at the highest elevation points.   The course would consist of two major loops connected by out-and-backs, with another 16-mile out and back thrown in.  The elevation gain would be 16,800 feet.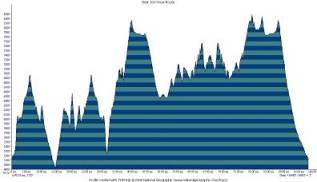 Polar Bear course profile
I was amazed at how quickly the race directors put this new course together.  Most races would just cancel, but these race directors pulled together an amazing contingenc plan.   They published maps, new directions, and communicated with aid station volunteers where their new locations would be.   Could this really work?   Would many racers opt out of these harsh conditions? 
The pre-race briefing was held at Leland Barker's trout farm.  I drove through a terrible downpour as I approached the farm.   The storms were not letting up.   It was cold and I could see snow falling on the mountains above.    The Bear 100 is somewhat more "laid back" and "down home" than other 100-milers.   Runners have been known to get lost on the course.   Good efforts are made to mark the course (and this year two courses were marked!)   However, the marking are not "idiot-proof" or "zombie-runner-proof."   It requires runners to prepare in advance to know the course well.  The maps provided are excellent.   But every year runners make wrong turns by not paying attention.
I ran The Bear is 2004 (DNF at mile 87) and in 2005, (32:23 in 29th place.)   I was very familiar with the course, but this year the snow route would throw in at least 40 miles of new trails/roads I had not run on before.   I looked forward to something new.   After the race briefing I had an enjoyable dinner in Preston with Matt and Anne Watts of Colorado.  I retired early at a motel in Preston and for a change slept pretty well.   In the middle of the night I got up and checked the weather outside.   Good, no rain falling.    But when I opened the door at 5:15 a.m. to leave, it was pouring rain.   As I drove up the Cub River Canyon, the rain turned to heavy snow.   "Oh boy," I thought, "This is going to be an adventure."   The snow level had fallen below 5,000 feet.  This meant that snow was falling on almost all of the "Plan B" course.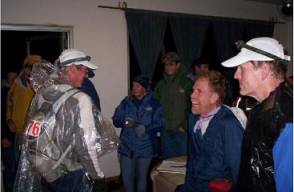 Dennis Aslett and Matt Watts are all smiles at the start.
I'm all business hoping for warm bonfires at aid stations (what am I in for?)
Matt Watts photo
In the parking lot of the start/finish area, as I watched the snow pelt my windshield, I contemplated what to initially wear.   I decided to go with the low-tech garbage bag as a rain jacket.  This was the first ultra that I started dressed in long pants and warm clothes.   I didn't want to make the mistake of bringing too few clothes.  I could always peel some off.    Someone tapped on my window and told me we would gather inside the inn to stay warm before the start.    I went inside and greeted many runners.   Each year many of the same runners come out to run The Bear.  The race directors don't do much marketing for the race so the numbers stay manageable.   It is still a good secret.   44 runners would start.  I sensed a feeling of nervous-excitement in the room as we joked about the snow outside and the crazy adventure that lay ahead for us.
We finally went out into the cold outdoors and with no countdown warning were told, "Go."   OK, away I went at around 6 a.m.   Many runners were still inside and didn't realize the race was on.   Soon I saw Karl Melzer sprint past, trying to catch up with the leaders.   As I ran up the first half-mile of dirt road, I reconsidered my race goals.   It was cold, wet, and muddy.   I quickly backed off my pace and shifted my goals to survival.  I had originally hoped for a 28.5-hour finish, but I promptly decided that I would just be happy to finish around 30 hours or so.   I knew that I would become stressed and frustrated with the conditions if I really tried to push it.  Instead, I would try to find the cloud with the silver lining, and enjoy a very unique day and night in the mountains.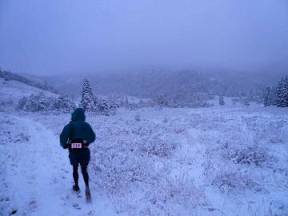 Dawn arrives in this winter wonderland
Phil Lowry photo
We soon hit a single-track trail taking us up out of the canyon onto the ridges.   I linked up with a group of about 8 runners who were in the top-15.   I soon understood how challenging this was going to be.   Not only was the trail covered in snow, but the bushes and trees were heavy with snow too.  Their branches were pushed down across the trail and we had to continually push aside the branches and get a face full of snow in the process.   I watched one runner hit a heavy branch with his head causing a big load of snow to fall on his back.  Looking for course flag markings was a challenge because we had to concentrate hard on our footing, following the snow tracks of the runners ahead.  Many of the flags started to be buried in the snow.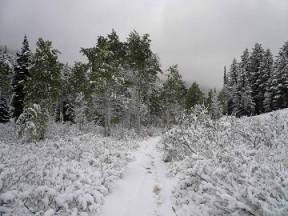 Trail entering snowy forest
At times I think we were a little off course, bushwhacking through bushes.   At one point I was leading a couple of runners and I let them know that I only saw one set of tracks ahead on the trail so we backtracked until we found another route.   I commented that it felt like we had been transported to Barkley.  (A crazy impossible race without real trails).    After awhile, the group I was with went on ahead and I was left to myself in this quiet, snowy landscape.   It looked incredible.   I contemplated how I had never run a race like this before.  This was crazy! Initially I was feeling great.   During this past winter, now a distant memory, I had run many miles of training in the snow.   My feet quickly remembered the experience and I found myself enjoying the soft snowy surface we were running on.
Despite these snowy challenges, I kept up the pace and generally enjoyed the first 11.5 miles to Maple Canyon aid station.   I arrived there at 8:43 a.m. and was running in 20th place.   I didn't have to fill up my water bottles much.  Hydration would not be a challenge in this cold, moist air.   Right behind me, running buddy, Phil Lowry arrived.   I waited an extra minute at the station so I could do some running with Phil.   Phil laughed as he saw me dribbling Ensure down my chin like an old man.
Phil and I next ran down a dirt road along Maple Creek.   We were on a ten-mile loop, a portion of the Polar Bear course that neither of us had run on before.   We were finally below the snow line and it was a nice change to have sure footing on a dirt road.   Phil and I talked about this crazy experience and joked as we ran down the road.   We were now in a totally different landscape.   We both thought it looked like we running in the Vermont 100.   We passed by beautiful farms.   I half expected to see a covered bridge appear.   The fall colors were incredible, red, orange, pink, yellow, and green.   We no longer were dealing with snow.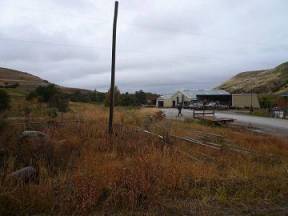 Me, off course
Phil Lowry photo
Phil said that he was motivated to run with me for awhile so he would get some press coverage in my race report.   I was motivated to run with Phil because he mapped the course and had his GPS with him.   If I stuck with him on this loop, I wouldn't get off course…or so I thought.  I was really enjoying the downhill run by a farm along Maple Creek.  I was enjoying it so much that I wasn't paying attention to an upcoming course turn.   I went right by it and Phil, the fun jerk that he is, silently grabbed his camera in order to snap evidence of me going off course.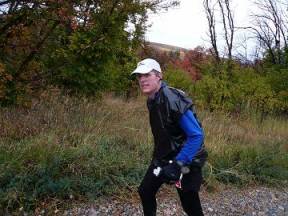 Me, trying to keep up with Phil
Phil Lowry photo
We made the correct turn and started heading up roads and trails along Deep Creek.   I have no problem keeping up with Phil on the downhills, but he has a good uphill pace that presses my limits.   I spent the next couple miles doing my best to keep up.   It was a good challenge for me.  Normally at this point of a race I would start to get lazy, but Phil helped keep me going.   We commented to each other that it was strange that we had not seen any other runners on this 10-mile loop.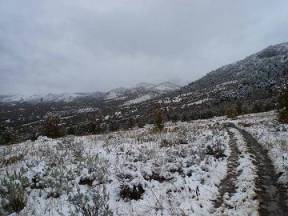 Miserable conditions above Maple Canyon
Phil Lowry photo
It wasn't too long until our elevation gain took us back into the snow line.   At that point another storm came in and things started to get cold and miserable.   I did my best to keep up the pace, power hiking along a snowy single-track trail that traversed across slopes going in and out of drainages.   I kept Phil in my sights.  He was usually about 50-100 yards ahead of me.   My feet soon became cold and wet.  The insoles of my shoes were too thin and starting to crease because of the water.    The snow looked like it would keep falling for hours.   We came to a steep climb and I quit trying to stay with Phil.   Could I really do this all day?   The mud was becoming intolerable.  The bushes were weighed down across the trail, constantly knocking my headphones off.   I started to ask myself why I was doing this.  Phil later told me he was hating life too…cursing the trail along the way.  Finally I came to the top of a ridge and did my best to run fast back down into Maple Canyon.   My feet hurt, I felt achy, and my spirits were low.
I arrived back at Maple Canyon (mile 21.6) at 11:16 a.m.  I was still in 20th place.  Phil was still there changing his socks.  The aid station didn't have any chairs nearby for us to sit in, so I had to go down the road a little to sit in a chair next to a car.   The volunteers were kind to bring me things to eat as I made shoe adjustments.   I decided to change insoles and ditch my orthotics that were hurting my feet due to the wet conditions.   My aid station stop was a long eleven minutes.   That would be the first of many long aid station stops.
Phil went off ahead and would build up a huge 38-minute lead on me during this next 10.6-mile leg.   This leg was the same route we had traveled in the early morning.  It would take us to a campground near the start/finish area.   I decided to take it easy and regroup.   After about a mile, I saw three runners heading back down to Maple Canyon.   Why were they going back?   I was amazed to learn that they had all taken a wrong turn when they came into Maple Canyon.   They should have turned left to visit the aid station, but instead they turned right to head on the next leg.   Figuring out their mistake, they had no choice but to head back and check in.   If they didn't, they would be disqualified.
A couple other runners passed me and then I was left to myself for the next hour or so.  Things started to greatly improve.   The snow had stopped and the sun started peeking through the clouds.   My feet felt fine and I found renewed strength.   I thought that this return trip would be a pain, but I really enjoyed it.   I knew that I was no longer racing against time and I wanted to take time to enjoy the beauty around me.
I pulled out my mini-recorder and said:  "Well, I'm on the way back, finishing this out-and-back at about mile 23-24.  The sun is poking out of the clouds here and there.   The section that I'm in now has about two inches of snow.  It's on all the trees and it is melting off the trees.  The forest is so noisy with all this snow dropping off the trees.  It is really noisy.  It seems to be warming up a little bit….  Right now it is really pleasant.  I have my music playing and nobody is around.  Just me and the noisy forest.   The colors of the maples are beautiful.  The trail is going up a little valley we went down this morning.  The trail is very muddy and very wet….   I'm going higher, the snow is about three inches deep now.   I do look forward to getting to the dirt roads and away from all this mud.  A little stream of water is running down the trail.   The clouds are low on the hills, only about 500 feet above me.  All the pine trees up there are coated in snow.  It's a winter wonderland.  This is crazy here.  It's September!  This is different….  I'm in a beautiful basin right now.   There are aspens with green leaves still on, some just barely starting to turn yellow.   It is all snow-covered.   I can look behind me a long ways and don't see anyone behind me….   I'm now back in the forest and can hear the loud droppings from the trees.  I'm working my way through the slush.  The slush is an interesting brown-yellow color."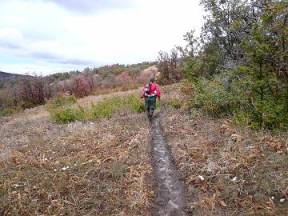 The snow is melting on exposed slopes
Phil Lowry photo
Runners did catch up with me.  I soon started a leapfrog game with Jody and Dennis Aslett that would continue for at least the next ten hours.   Tim Seminoff would also join in and I would see him on and off until late into the next morning.   They probably thought I was crazy.  Whenever a downhill would come I would blast by them at great speed, but they would catch up on the uphills.   With the long downhill back into Cub River Canyon, I blasted ahead down the hill, letting out a whoop as I saw the aid station far below, and sang at the top of my lungs as I arrived.   I was feeling good again!   
I arrived at Albert Moser Camp Ground (mile 32.2) at 2:46 p.m.   I was in 23rd place and the leaders were now two hours ahead of me!   Anne Watts greeted me at the aid station and kindly filled up my bottles, brought me food to eat, and told me I was doing great.   Matt Watts was 41 minutes behind me.  After a four-minute stop, I was off again.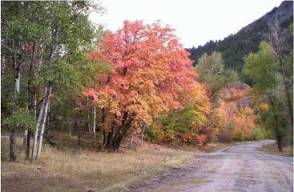 Climbing the road into Hull Canyon
Matt Watts photo
The next leg was a wide dirt road through Hull Valley and then up German Dugway to the highpoint of the course, Paris Canyon Pass.  This climb would be 3,000 feet over the next nine miles.   We were out of the snow so I finally took off my garbage bag.  The afternoon sun came out but the temperature never reached more than about 45 degrees.   I played the leapfrog game with the Asletts and Tim Seminoff.  I finally introduced myself to Tim.  Tim has run in and finished every Bear 100.   The fall colors along this stretch were stunning.   As we ran along the road our only "spectators" were cows that mooed at us as we passed.
I pulled out my recorder and said, "I'm on the road up toward German Dugway.  I'm doing pretty good.  There are a couple of cows in the middle of the road ahead of me.   It's getting a little warm now, but we are heading up to the cold.  I see a lot of snow up there where we are headed.   I'm on a wide dirt road that is not muddy.  It is nice now.  Coming down into the campground it was really muddy.  I think I have been eating pretty good.  Because it is so cool and moist, dehydration isn't a problem right now.  I wish the sun would stay out a little longer to warm things up, but it disappears and gets cool again.   I'm feeling good."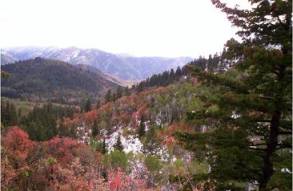 Hull Valley
Matt Watts photo
As we continued higher, reaching the winding, narrow, German Dugway, I gazed up at the location of the famous "Devil's Den" portion of the original course.   Devil's Den is a crazy section, almost as good as a deer trail, that traverses across steep slopes.   Today it was covered in snow and certainly mud.  I was so grateful that we didn't have to go through it today.  Instead we would just run up the road.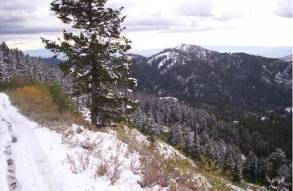 On top of the world on German Dugway
Matt Watts photo
My pace faded somewhat and I watched Tim and the Asletts go on ahead.   I arrived at German Dugway aid station (mile 38.1) at 4:43 p.m..  I was in 26th pace.   Next up was an amazing steep, narrow, winding road – German Dugway, that would take us up to the top of Paris Canyon Pass.   My uphill pace was fading, but I kept it going.  The views were amazing.   A guy on an ATV drove down the narrow road toward me.   He stopped to ask when we had started our race.  I told him 6 a.m. and that we were at mile 39.   He shook his head in amazement and asked if I had warmer clothes ahead.   I assured him that I did.  He told me that the snow was deeper on the other side of the pass and that the night would be very cold.  I thanked him for his concern and he wished me well.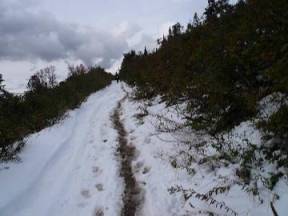 Following runner trail on German Dugway
Phil Lowry photo
The higher I went, the colder it got and the deeper the snow became.  The chill started to set in and I compensated by trying to increase my pace to generate more heat.   I knew that once I made it over this pass, I could run fast on a nice long mild downhill run for miles.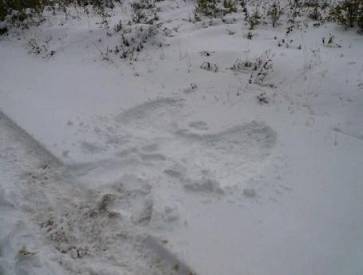 The Bear 100 Guardian Snow Angel (complete with fanny pack)
Phil Lowry photo
Finally, I reached the top of Paris Canyon Pass. There was about a foot of snow up there.   About 35 minutes earlier, at the top of Paris Canyon Pass, Phil Lowry laughing at how crazy this day was, stopped to create a snow angel.   He proudly pointed it out to a couple runners from Georgia who had no clue what it was.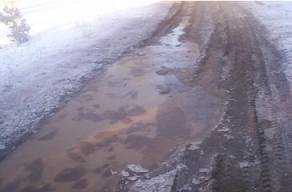 A massive puddle on Paris Canyon Road
Matt Watts photo
Rickie Redand caught up and would join in the leapfrog game for the next several miles. With the pleasant downhill run, I quickly caught up with the Asletts and Tim.   The road winded through the forested valley.  It was a challenging exercise to pick the route on the road that would result in the fewest puddles to run through.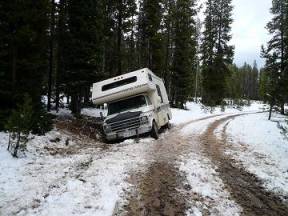 RV stuck in Paris Canyon
Phil Lowry photo
One funny sight was a camper stuck in the snow.   Later I would see a tow truck heading up to get it out.  Matt would run by this spot while the tow truck worked on the RV and really tear up the road.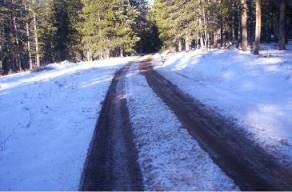 Setting sun on forest road in Paris Canyon
Matt Watts photo
I arrived at Paris Ice Caves (mile 45.2) at 6:48 p.m.  I was now in 22nd place.  My stop was long, almost 20 minutes as I made the change into my night clothes.   Anne Watts was there.  She looked cold and stayed close to her car.  Dusk was quickly approaching as I checked out of the station.  I soon discovered that I was over-dressed and it caused me to back off my pace.   I didn't want to do a lot of sweating inside all these clothes so I slowed down.  Finally I shed my hat to cool down and that seemed to do the trick at let me pick up some speed.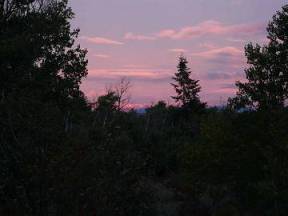 Sunset
Phil Lowry photo
I descended below the snow line and very soon it was time to turn on my flashlight.  I had a painful problem with my left foot that caused me to slow for a mile or so until it calmed down.  I caught up with the Asletts and played some more leapfrog until they turned left at a glow stick.  I would have followed after them, but they quickly figured out that they had made a wrong turn.  I looked closely and saw a pie plate that wasn't lit by a glow stick that pointed the way to the next aid station.   This next section was a two-mile out-and-back.   For the first time since the beginning of the race I was able to see many runners.   I was surprised to see Phil Lowry.  He told me that I was looking good.  I told him I was being lazy.   He was only 23 minutes ahead.   He had been lounging around in aid stations too.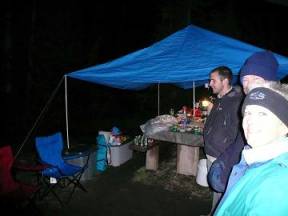 Paris Spring Campground Aid Station
Phil Lowry photo
I arrived at Paris Spring Campground aid station (mile 51.3) at 8:27 p.m. I was in 25th place.  My stop was pretty fast, just enough to eat some food, refill my bottle, and drink an Ensure.   As I reached the end of the out-and-back, I was pleased to see Matt Watts striding down the road.  We stopped to talk for a minute.   He was doing well and was only 30 minutes behind me.   I knew he would catch up as usual soon.
About a mile up the next stretch a runner came toward me.   I asked him what he was doing.   He said that he had seen the glow stick and made the turn instead of going on to the aid station.  I felt bad for him, but that is part of this challenge.  
I soon started to have stomach challenges.  I was very worried that I would start bonking like it did at Wasatch a couple weeks ago.  I tossed some of my cookies, and felt a little better.  I ate some beef jerky, took some Tums, and downed a couple S-caps.   For awhile when I tried to push the pace, my stomach would stop me.  Little by little I started to feel better.   The Asletts probably thought I was nuts, moving slow on the uphills and sprinting like a madman on the downhills, doing a constant leapfrog with them.
As I approached the Danish Flat aid station, I was feeling fine again, full of energy.  I decided to run the last mile fast to put a show on for my waiting crew.   I passed several runners in the process and arrived at Danish Flat (mile 59.3) to cheers at 10:51 p.m.  I was in 22nd place.   My crew had arrived just ten minutes before I arrived.  Brad Clements, a backpacking buddy had paced me at Wasatch a couple weeks ago during my terrible bonking miles.   Despite that, he loved the experience and wanted to share the ultra experience with his sons.  He brought them up to serve as my crew for the rest of the race.   Anne Watts was also there.   I sat down for ten minutes and enjoyed being waited on.   But soon I started to chill and knew it was time to get going again.
Brad recalled, "We had a hard time finding the road up to Danish Flat. We had only been at the aid station about 5 minutes when I saw your green light coming up the road. I was impressed by how fast you were moving. It was a pretty fast jogging pace.  You didn't stay at the aid station very long. You ate, drank, and then took off. Anne wasn't sure how to find the next aid station, so we stayed about 20 minutes until Matt came in so she could then follow us to Copenhagen Road aid station.  The Danish Flat aid station volunteers were great. They made hot chocolate for Kyle and Mitchell. They had an iPod and a couple of big speakers sitting on top of a pickup so the place was filled with music." 
I really didn't look forward to the next couple legs.   I knew this section well.  "The rollercoaster." I have run this section four times before.   It consisted of some steep climbs up and down across drainages.   Last year it was very muddy and I expected the same this year.   With the Polar Bear course, we would do this twice, as an out-and-back.   I set off to meet the challenge and told Brad to not be surprised if it took me 2.5-3 hours to reach the next station.  (Sure enough it took 2:42).   Just like last year, this section was lonely.   I couldn't see any lights behind me.  The Asletts took a long stop so our leapfrog game was finally over.   I knew that there were at least five drainages to pass through, so I made sure I didn't get fooled into thinking the leg was over before it really was over.   It was nice to be able to see runners returning on the out-and-back with the usual greetings of "Nice Job" or "How are you doing?"  With over a mile to go, I was surprised to already see Phil Lowry.  He was cruising with trekking poles and looking good.  I had just had a bad slip in the mud and resisted urges to curse.   This was getting to be very tiring.   Up and down, up and down, slip and slide, and do it all over again.  On the "bright side," the stars were incredible.   Orion was blazing.   The night sky was an unbelievable sight.
Finally, at 1:43 a.m., I arrived at Copenhagen Road (mile 67.2).   My pace had been pathetic, but I had made it.  I was running in 24th place.  Brad and Anne gave me many encouraging words.   The fire looked very inviting, but I resisted the urge to go sit by it.  I stayed only eight minutes and then pushed myself out of the chair and faced the cold dark woods ahead to go back to Danish Flat.   In only a couple minutes I ran into Matt Watts.  He was catching up fast, only six minute behind.  How does Matt catch up all the time?  I finally figured it out.   Matt always has very fast aid station stops and never sits down.  On the other hand, later in the race I start taking much longer stops allowing him to gain ground fast.
Brad recalled, "When we got to Copenhagen Road, Mitchell set the alarm on his watch and we went to sleep for an hour in the car. It stayed pretty warm with 3 of us in there.  When the alarm went off and we got out of the car, the stars were really impressive. The Milky Way was clearly visible. It was a really dark night with no moon. This aid station wasn't as impressive as the last one. They didn't have much firewood and barely had a fire going. They didn't have many food choices either. The volunteers were nice though.  After about 20 minutes I saw your green light coming through the trees. It was helpful that no one else was using a green handheld light, so we could identify you well before you arrived.  You didn't seem very tired at this stop. It was another short one."
I started to get very sleepy and began to stumble along the trail.  Next, I started to hallucinate.   First I saw a toy submarine on the trail.  Next I saw a nice park bench along the trail.  Neither was really there.   Soon I saw a light bouncing behind me.  This was no hallucination, it was Matt.   I stopped and let him catch up.   He said the usual to me, "We can still break 30 hours."  Yes, we could, but I needed to pull out of my sleepy state.   I asked him if he saw the toy submarine.  Matt encouraged me along and I kept pace with him while I ate, drank, took some no-doze, and some Advill.   Within a few minutes I perked up.   Very soon I was able to blast fast down the muddy downhills.   The mud was finally freezing making it easier to run down.   We kept up a pattern for the next six miles.   I would blast ahead on the downhills, and Matt would almost catch up to me on the uphills.   It was working great.  We were moving pretty fast and passed several runners.   We also greeted all the back-of-the-pack runners making their way to Copenhagen Road.
We finally reached Danish Flat again.  That aid station was now shut down and we needed to go another mile to reach Millcreek Road station.   As we were climbing the final hill, I again became very drowsy and started to feel very cold.   I watched Matt's light disappear on the road ahead.   I finally reached the top and could see Matt already exiting the aid station.  I knew that I wouldn't see him again until the finish.  I reached Millcreek Road aid station (mile 76) at 4:43 a.m.   I was back in 22nd place.   This aid station was the best.   There was a roaring fire and the volunteers were all cheerful and had dutch oven cooking to offer.
I explained to Brad and Anne that I was very cold.  I was concerned that I was experiencing early symptoms of hypothermia.   I decided to sit by the warm fire until my body temperature was back up.   It felt wonderful.   I fell into the ultra trap:  the warm, inviting aid station.   I chowed down on food, put on another jacket, and warmed myself as Brad brought me anything I wanted.   His sons were asleep in the car.  I thought, "Gee, wouldn't that be nice?"   There was one runner sitting by the fire that was in rough shape.  They even brought over a heater to warm his backside too.  My stop was a long 23 minutes.   With a heroic effort, I pushed myself away from the fire and pressed ahead on the trail.
Brad wrote about this stop:  "We drove around to Mill Canyon. We parked, set the alarm for 2 hours later, and went to sleep in the car. The temperature was now below freezing, but it was comfortable in the car. I woke up in an hour and a half and got out to see what was happening at the aid station.  This was a great aid station. The volunteers were cooking rolls and fried potatoes in dutch ovens. They had a huge variety of other foods too and great quantities. They invited us to eat all we wanted. They had a big fire burning and lots of lights on which made it feel cheery.  One runner was sitting there with a clear case of hypothermia. He was shivering and very cold. The volunteers set up one big propane heater and another electric heater behind him with the fire in front of him. They used rags dipped in hot water to warm and clean his feet. I was impressed with their level of concern and care. He finally warmed up and headed out just before you got there.  You looked more tired when you arrived at this aid station. Your shoes and gaiters were covered in mud. But you looked much better than you had at this point at the Wasatch 100 and I was pleased to see you eat and drink quite a bit before you took off again. Kyle and Mitchell slept through Mitchell's alarm and never saw this aid station."
I knew the next section would be tough.   I would have to climb up to Green Pass along a tough rocky trail, and would reach there at the coldest point of the morning.   I trudged ahead pretty slowly.   As I climbed higher and higher, the snow returned.   It was very cold.  Along the way I noticed a runner sitting down trying to sleep.   Wow, that really worried me.   If I stopped for just one minute, I would start to chill.   I asked the runner if he was OK.  He said he was.   After another mile or so, I saw another runner stopping for a nap.   This really concerned me.   I knew that I just couldn't stop.  I needed to keep moving to stay warm and get up and over this pass.  The glow sticks were few and far between, so the only thing I could do was follow the tracks in the snow and hope they all went the right direction.
Dawn approached as I neared the top of the pass.   It was a beautiful cold winter wonderland with frost sparkling in the growing light.  At the top I realized that I was very hungry.  I stopped briefly to try to eat and gain some strength.  I passed a runner with his pacer after the pass and mentioned that it was all downhill from here.  After I said that, I realized that wasn't true.  We had some good downhill but then would have to climb up and over to Paris Canyon again.  The road to Paris Canyon seemed to go on forever.   This leg since the last aid station was almost ten miles.   The morning was so beautiful.  The snow on the trees and frost on everything looked wonderful.   But I started to really drag.  I wasn't eating enough and I knew it.  I just didn't care much and was too lazy to pull food out of my waist pack.   A runner passed me and asked how I was doing.  I mentioned I was just hungry, anxious for the next aid station.  He offered me some pretzels that I gladly took.   That helped me perk up.
Finally the road descended into Paris Canyon and I did my best to trot the final mile into the station.   I arrived back at Paris Ice Cave (mile 85.7) at 8:48 a.m.  I was in 21st place.   Gee, Karl Melzer, who won the race was here at midnight!  Brad was there to greet me and ushered me to sit by the fire.   I was really drained and knew I needed to eat well.  They had a great potato soup there that really hit the spot.   I understand that the temperature an hour earlier had been about 17 degrees.   Others at this station laughed at the frozen grapes.  It was still in the 20s, but the sun was finally up and felt wonderful.   I peeled off all my night clothes and prepared for warmer temperatures in the hours to come.   I noticed that other runners were still bundled up.   I was in no hurry at this station and spent 23 minutes by the fire.   I was all prepared for the final 15 miles.   Brad planned to drive around to the finish, drop off the boys, and then drive up to German Dugway to run with me on the final miles.
Brad recalled:  "The car's thermometer showed 23 degrees as we drove from Mill Canyon to Paris Ice Caves. We set the alarm and went to sleep. I woke up in an hour and it was cold, so I started the engine and let the heater run for a while. Then I turned it back off and slept another 45 minutes.  The next time I woke up it was light outside. The sun wasn't shining at the aid station yet, but it was shining higher up on the mountains. The volunteers at this aid station were tired. They had been up all night and now they were having problems with their water containers freezing up.  I retrieved your drop bag and scraped the frost off it. I opened it up and found that the shirt, jacket, gloves, and shoes inside were frozen stiff. So I got them out and held them near the fire. Soon they were steaming and softening.  Matt Watts came in and I helped him fill his water bottles. Several other runners came in, most of them looking very cold and tired. One woman debated quitting, but her crew talked her out of it. The guy who had hypothermia at Mill Canyon made a brief stop. He had warmed up and was doing much better.  I had your clothes mostly dry by the time you came in. You decided to change shoes. The ones you had been wearing all night were really muddy. You also changed jackets and put a new battery in your mp3 player."
As I again hit the road, I was shocked to discover that I had plenty of newfound energy.   I stepped up the pace, stepped it up some more and discovered that I could run the uphills.   I could really run, not just trot, a full run.   I quickly caught up and passed Tim Seminoff for the last time.  I thought it was funny that we were together on this same stretch of road yesterday afternoon. 
As I ran strongly ahead, I looked at my watch at wondered.   At the pace I was going and with the long downhill ahead, a 30-hour finish was still possible.   How could that be?   I decided to give it one last try.  I would have to reach the finish by noon.  I was making a great pace until I hit the snowy, icy road again.  It was just impossible to keep a fast run through the ice.  It was challenging to find the best track on the road to make a good pace.   I pushed ahead as hard as I could, but soon just had to slow.   The air was still chilly but there were enough sunny spots to keep me warm.   The sky was clear blue and the snowy landscape looked incredible.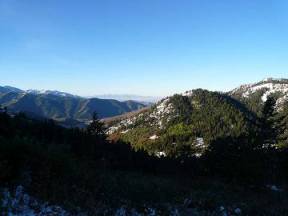 Morning arrives
Phil Lowry photo
Finally, I reached the top of Paris Canyon Pass at about 10:30 a.m.   I quickly went over the top and cranked it into gear to run down German Dugway.   During the winter months, I had trained many miles on a steep snowy road like this.  I knew that I had to put all fear aside and blast down the snowy road with great speed.   I picked routes that would were soft to allow my feet to be cushioned against the hard pounding.    I really started to fly!   I soon came upon a runner and pacer struggling to do a trot (Meghan Zarnetske).   Like a showoff, I kicked it into even higher gear and really flew by them.   I resisted any urge to back off and wondered if I could reach German Dugway aid station before 11 a.m.   The snow started to disappear as I descended rapidly.
I arrived at German Dugway aid (mile 92.7) at 10:53 a.m.  I sprinted past the aid station without stopping and yelled, "246 in and out."  I checked my watch.   "OK, seven miles in 67 minutes."   I pushed as hard as I could, but soon had to slow somewhat as the pain returned.   But each time I told myself to suck it up and ran hard again.   With about five miles to go, Brad drove up, very surprised that I was already there and running hard.   He turned the car around, drove ahead, parked it, and joined in with my fast run.   It was great to have him along.   Unlike his pacing leg at Wastach, I was alive and strong.   At about 11:30 a.m., Brad checked his GPS and we figured that it was a little less than four miles to go.   I knew it would be impossible.  I needed 15 more minutes.   I decided to back off and just enjoy the rest of the run with Brad.
Brad remembered:  "Kyle drove us down the canyon to Paris. We passed a small herd of deer. Then I drove us around to Preston where we stopped at a convenience store. I overheard a guy in a cowboy hat there telling someone about 'a bunch of dern fools running a 100 mile race' in the nearby mountains.  I dropped Kyle and Mitchell off at the finish area and then drove up toward German Dugway. I knew I was running a bit behind, but I was still pretty impressed when I met you already a couple of miles past the aid station. You had really made good time since Paris Ice Caves.  I turned around and parked the Explorer. Then I joined you for the last 4.6 miles. We ran about half of it and did a pretty fast walk the rest of the way. You kept looking back to make sure no one was catching up. It turned out that no one was even close."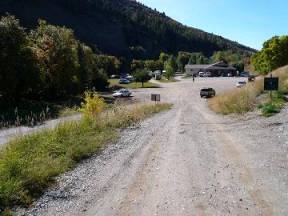 The final 100 yards to the finish at Dear Cliff Inn
Phil Lowry photo
We had some great conversation during the remaining miles.   I walked most of it, and didn't care.   I pulled out my minirecorder and we laughed at the stuff I recorded during the early race.   Noon came and went.  We continued to plod down the road and threw in occasional trots.   My feet started to hurt terribly.   I was ready for this to be over.   Brad said his GPS predicted that we still had 14 minutes to go.   I said, "Well, let's fix that" and we started to run fast again.   It didn't last long as we slowed down again.   As the finish came into sight, I again pushed aside the pain and ran fast with Brad to the finish.  I made it!   30:35.  I finished in 19th place.
This had truly been an "epic" ultra experience.   The weather conditions made it an incredible challenging experience.   I am so glad that I ran this race and stuck with it to the end.   After my initial recovery, I drove Brad back up to Hull Canyon, to retrieve his car.   I waved at the Asletts as they approached the finish at 1:16 p.m.  Afterwards, I showered and then drove my car up the canyon to sleep in some shade.   Sleep didn't really come, but as I rested I saw many runners pass by in the final mile of their race.
The incredible fact about this race is:  Of the 44 starters, 36 finished.   Only 8 dropped out.   That is really impressive.   Almost all the runners stayed for the after-race dinner and awards ceremony.   We had many tales to share with each other.   Many unknown faces on the trail became new friends.  
I can't wait to return next year.   Bring on the snow, bring on the rain – no problem.   Well, I'll take a nice sunny day too.
So ends the tale of the first Polar Bear 100.