Rocky Raccoon 100, held at Huntsville State Park north of Houston, Texas has been the scene of both triumph and tragedy for me.  It was the race where I claimed my first 100-mile finish in 2005, and I've also posted some of my fasted 100-miler times there.  But in 2012, my last time running there, I did a very painful and slow run there on a badly injured leg.  I looked forward to returning for the first time in five years to try to claim my 6th finish there.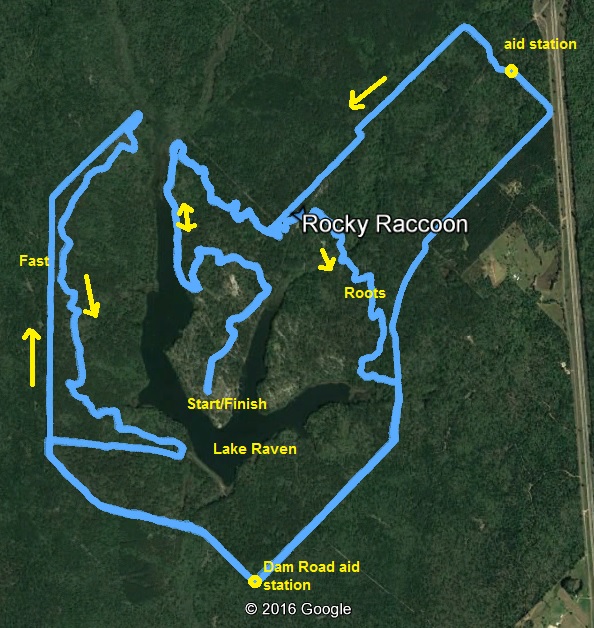 The 20-mile course runs all over the park, making its way all the way around Lake Raven. We needed to run the course five times to reach 100 miles. The course had been changed somewhat over the years and again had some changes since the last time I ran it. Most of the course runs through forest on a nice soft surface.  There are some sections with many roots but I usually don't notice them much compared to the rocky Wasatch trails that I often run on.
I caught a terrible cold a few days before the race and all those around me that have caught it said it would take 7-10 days to get over it.  I felt really poor the day before the race but that evening started to feel quite a bit better and hoped for the best. The average finish time for a 58-year-old man at Rocky Raccoon 100 is 27 hours.  I hoped for better than 22 hours.
At 6:00 a.m., 334 runners started.  I worked my way forward during the first couple miles to get ahead the masses and seemed to be in my familiar spot near the front of the mid-pack where there was peace and quiet.  I immediately felt the effects of my cold but would just do my best to clear out my lungs and deal with the cold medication.  I reached Dam Road aid station (mile 5.4) in 0:54, right on my plan.  We would visit this aid station twice per loop and I had a drop bag there with mostly drinks.  Because they went with a no-cup policy to cut down on the trash, I liked just drinking out of my own bottles in my bag rather than trying to figure out how to drink soda without cups.
Next up was a 7-mile loop before returning to Dam Road aid station.  Most of it was forested with a couple glimpses of Lake Raven.  One section was a nice steady and fast downhill that I used to press far ahead of the runners behind.
This 2016 race was also the 2016 USATF 100-mile national championship for members of the USATF.  Back in 2009 I won my age-group in that 100-mile national championship, and I hoped to do the same for the 55-59 age group here.  We were supposed to wear a bib with our age group on our backs so we could gage our competition.  As I was running along at about mile 9, I needed to stop to adjust a shoe and solve a hot spot forming.  Once I got running again, I noticed Danny Ponder, also my age was a runner in the USATF championship.  He was running right ahead of me. I was very impressed with his strength and speed and surprised that another older runners was going this fast. I almost passed him, but that would clue him that I was his competition, so for the rest of the loop I was content to run behind.  Eventually I just couldn't keep up anyway.
I finished the first 20-mile loop in 3:20, slower than planned, and far slower than my fastest first lap in 2011.  But I was quite a bit older now and was sick with a cold, so I didn't let it bother me.  All was going still pretty much as planned.  The first part of the loop is also the last part of the loop, so I could count runners and determine what place I was in.  At that time I was in about 55th place out of 334 runners.  I didn't stay long at the start/finish aid station and wouldn't even access my drop bag there until after loop 3.
The weather was perfect.  It was overcast and temperatures started in the upper 40s and would gradually increase into the 50s and 60s into the evening.  A few rain drops fell during loop 2, but rain never became a problem for me during the race.  I carried a garbage bag in my pocket the entire time, just in case.
Loop 2 went very well.  At some point I was surprised to see Danny Ponder pass me.  Shoot! Because my age group was posted on my backside, I knew that he now realized he had some good competition.  For the next ten hours or so we would run very near each other.  I finished Loop 2 at 7:20, about 35 minutes slower than planned, but I realized that I needed to adjust my planned place by about 15 minutes each loop. I was doing the best I could with very fast aid station stops.
Loop 3 was enjoyable and I hit the 50-mile mark at about 9:30.  I was now hoping for a sub 22-hour finish and I was cruising along well to reach that goal.  With about seven miles to go in the loop, I ran by Danny Ponder who walking.  But my lead didn't last long.  I chuckled when I saw him run by me fast.  He wanted the age-group win far more than I did.  I had got his attention and he ran the rest of the loop very hard.
During this loop I was lapped by several of the front-runners and I also lapped some of the back of the pack. I finished loop 3 (mile 60) at 11:44.  My best time to this point in earlier years was 10:46, but I was still pleased.
Two local Texas friends would take turns pacing me for the remainder of the race.  Mark, primarily a road runner, ran with me for loop 4. Dusk soon arrived and we ran by lights. I rarely run with pacers, but the company along the way was fun.  I did discover that I would easily become distracted from my pace but tried to get used to it.  At times Mark would struggle to keep up and I ran far ahead, especially on the downhills, but he would eventually catch up each time.  I did fall once, tripping over a root and banged my head on the soft ground.  But I was fine, waited for Mark to catch up, and then continued on.
I ended up the loop rather slowly.  We noticed Danny Ponder along the way, about a mile or so ahead now.  I finished loop 4 (mile 80) at 16:56.  I felt very confident that I could run the last loop in about five hours and finish the race in about 22 hours.
Wade took over pacing duties and we bid goodbye to Mark.  Five years ago Wade had to endure a slow painful last loop with me on my injured leg.  I promised him that it would go much better.  But within only a mile, things crumbled.  My stomach twisted up in a terrible bonk. Looking back, during Loop 4, I just wasn't fueling enough.  Now it was too late.  I drastically slowed down and threw up continually.  I tried sitting and resting on a bench along the trail, but that didn't help. I next laid down for about 15 minutes off the trail.  I started to feel much better, but when I sat up, the terrible bonk returned.  I tried continuing on, but again had to lie down for about another 15 minutes. I was now getting cold, put on my garbage bag but still shivered.  I just couldn't generate enough body heat while I was so sick. Finally, my wits came back to me and I told Wade our plan.  He would run back to the start, grab by drop bag, and drive to the next aid station to meet me.
On my way again, I started to feel a bit better and increased my pace.  I arrived at the aid station before Wade, sat down, tried to eat, and waited for him.  It had taken my nearly two hours to travel only three miles!   Wade arrived and I went to sit in his heated car. Wade retrieved the items I needed from my drop bag.  I finally realized that I was probably suffering from a low-electrolyte bonk.  The evening had been warm and I had been sweating out a lot more salt than I realized.  Wade wondered if I should quit, but I have had so many moments like this during races, that I knew I could eventually recover. I took a couple more Succeed caps and after 45 minutes of more terrible sickness, it all went away suddenly.
I didn't immediately get going again, but instead rested for another 15 minutes to make sure I would be fine.  I warned Wade that we would be running very fast now that my legs were well-rested.  It was now 2:15 a.m.  For more than 3 hours, I had only traveled 3 miles.
We started out tentatively as I wanted to be careful with my tender stomach, but we soon really turned up the speed.  Wade hung with me.  With the warm night, I really was sweating hard.  Almost all of the runners still out there were walking and we greatly surprised them when passed them very fast. With 11 miles to go, I was at the 21:45 mark. Surely I could cover the last 11 miles in 2:15 to break 24 hours.  But soon my energy disappeared on the long seven-mile sub-loop.  I had not brought with me enough food. It became frustrating to see our pace slow way down to 18-minute miles.   I soon realized that I would not be breaking 24 hours, so I no longer cared about my finish time.  I just tried to enjoy the rest of the race and try to finish around dawn.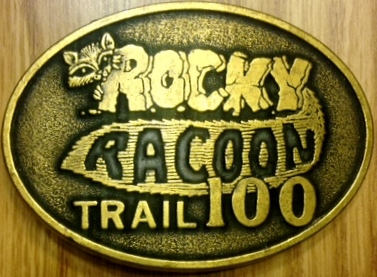 With three-miles to go, Wade bid goodbye, reaching his car.  He had again run with me during my worst low points on this course.  He had been a great trooper. I continued on. With just a half mile to go, right at dawn, it started to pour warm rain.  It felt good and I was glad to see the finish line come in view.  I finished in 25:04:41 in 99th place out of 334 starters.  The three-hour sickness delay was a great disappointment, but I was glad to finish.  In total, 210 runners would finish.  For my USATF age group, Danny Ponder won it, and I came in 2nd.  Funny thing, if I was younger, I would have won the age group younger than me.
I made my way to my motel room, cleaned up and rested, and then headed to the airport.  Many Atlanta Falcons fans were arriving to go to the Super Bowl.  I arrived home during half time and was able watch the incredible second half and overtime.  By morning, I was feeling much, much better and looked forward to my next 100-mile race in two weeks.  This had been my 87th career 100-mile finish.