September 28-29, 2007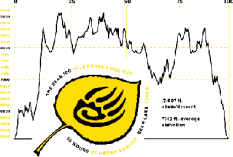 "I think they are running some sort of marathon in the mountains"
Overheard at a restaurant in Smithfield
Its 1:30 a.m., at about mile 73, on the 5th climb of the famed Bear "roller coaster." I'm lying down on the side of the trail, breathing hard, out of gas. My first-time pacer brother, Bob, is leaning over me, "Should I get help?" "No", is my quick reply. "This is just a bad bonk, part of this crazy sport." Earlier, Bob was talking about the possibility of trying a 100-miler of his own. Now, looking down at my agony, he's having lots of second thoughts about that crazy idea. Bob drapes a jacket over me and wonders if I'm going to croak. After five minutes, I feel a little better, and struggle back to my feet. I eat and drink and do the only thing I know how to do at that point – push forward. I lose my lunch several times and I hear Bob exclaim, "Oh boy!" I grin to myself and push forward even harder, feeling a little better. If the stomach doesn't work, start it over. In another mile Bob starts to complement my strong pace. I was back in the race. How did I get here?
The Bear 100-mile race is held near Preston, Idaho (Gosh, yes, Napoleon Dynamite territory) in the mountains west of Bear Lake. At the Bear 100, I have experienced the lowest of lows when I DNFed at mile 87 in 2004 due to a terrible bonk. In 2005, I was scared to death from ferocious lightning on a ridge above Paris Canyon. My crew also wrecked my car and left it at mile 75. In 2006, I almost froze my buns off running in the snow and in 12-degree temperatures. Yet, this race feels like my hometown race. I have a morbid attraction to it. This would be the only 100-mile race that I have attempted four times. I hoped to make it my third finish. One reason that this feels like a hometown race might be because my Crockett ancestors (Ozro and Ruth Crockett) were among the first settlers of Preston, Idaho in the 1860s. They would go on family outings in the canyons where the Bear is run. For me, running The Bear is returning home.
Since finishing strong at Plain 100 three weeks earlier, I had been mostly dormant. I had been taking a well-needed rest and trying to mend a sore leg. With just a day to go, the right inner quad was still pretty sore when putting weight on it. I hoped that it would calm down once I got running. This would be the fourth race of my "Crockett Slam" for the season. I previously finished Vermont 100, Leadville 100, and Plain 100. After this, I will run in the Pony Express 100.
My goal for the 2007 Bear 100 was to finally break 30 hours and get the Grizzly Bear buckle. Also, as a secondary goal, I did not want to see Karl Meltzer on the course. This meant that I needed to arrive to the Dry Basin loop (mile 60.9) before he finished it, returning to Dry Basin (mile 82.8). As I planned for my race splits, I believed that I could come close to a 28-hour finish. I set my sights on 28 hours.
I drove up to the pre-race meeting at Leland Barker's trout farm with Jeff Gerke. Jeff DNFed at the Bear in 2005. He was determined to finish his first 100 mile race this weekend. I pounded into his head the idea of "no quitting." To finish 100-milers, you can't let yourself quit. Instead, let the cutoffs pull you off the course, or stop when you are really injured. But besides, that, don't quit. Jeff was determined. I thought he had a good chance this year.
The pre-race meeting on Leland's lawn was a quick event. Assistant-RD Phil Lowry was determined to hold the meeting in under four minutes to beat Wasatch's quick briefing. The weather was the biggest concern on my mind. The forecast called for a cold front to blow in during the race and we could even see snow. How fierce would the wind blow? Did I have the right warm clothes in the right drop bags?
After the quick briefing, I was surrounded by many people asking me questions about the course. I had fun talking and greeting runners like, Marc Sanderson, Gene Griffiths, Matt Watts, Wendy Holdaway, and Andrew Barney (who ended up finishing his impressive first 100, dead last, but a finish). I sheepishly went over and sat down by buddy Tom Jackson. Last time I saw him was three weeks ago at Plain 100 when I left him behind on a huge climb. He would have plenty of opportunities this weekend to do the same to me.
On everyone's mind was how to not get lost on The Bear course. The RD's claim no one gets lost, but every year many take wrong turns. Even Karl Meltzer came up early to scout some sections of the course that tend to confuse him. He was determined this year to get the course record.
After the briefing, I enjoyed a great pasta dinner at a restaurant in Smithfield with Jeff Gerke. We had fun giving some race pointers to Eve Davies and Charlie Vincent from Utah. While we were dining, Tom Jackson was having fun in a restaurant in Preston, ID (Napoleon Dynamite). He dined with "Lyle", the real life character in the movie who shot the cow and ran the chicken farm. He had a great time talking with him and finding out why he talked funny.
Jeff and I drove to our cabin at the start/finish area at the Deer Creek Inn. I managed to get a few hours of sleep and arose at 5:00 a.m. to make the final race preparations. I had been thinking about the race all night and my strategy was set. I would go out pretty fast for the first 11.8 miles to the first aid station. From there, I would take it easy going up the first massive climb and then try to make very good time to Paris Canyon at mile 53.2 where I would pick up my brother Bob, to pace me. From there on it would be a fun night run and a grind to the finish.
I greeted friends in the lodge and at 6 a.m. the race started with 84 runners. We first made our way up a dirt road for about a mile to reach a trailhead. I started near the front of the pack and then fell back a little into a small second pack. I discovered that I was running next to John Hemsky of Colorado, who I ran with for a few miles at Leadville.   Again this year there were many cattle along the road.  We really spooked them as we ran by and they made a huge racket running through the brush and trees knocking everything down and mooing at us.
We hit the trail and started a long climb up out of the canyon. Eventually John went on ahead (finished 4th) and I followed closely behind Jake Jones (finished 10th). The trail in the morning section is mostly single-track or ATV trails. I was impressed that it seemed to be in much better shape and that the flagging was also better this year. The runners behind me disappeared and soon I couldn't hear anyone else.   Some controlled burns were being conducted earlier in the week.   They lasted longer then planned and we actually ran right into them!   It was very cool seeing what looked like little campfires along the trail in the dark.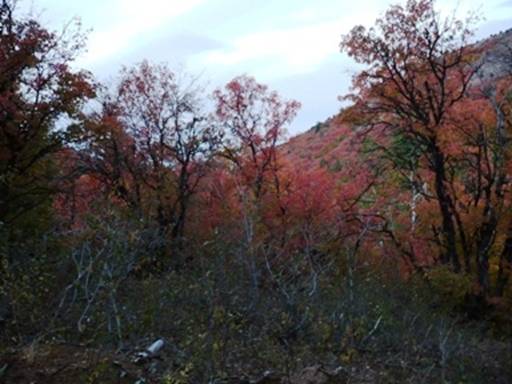 Morning colors
Dawn arrived and the autumn leaves were spectacular. We were now running on top of ridges and had some wonderful views of the colors. As we were cruising down a drainage area, I took a bad face plant. My face even planted hard on the ground. Jake called back to me, "Davy, are you OK?" I slowly picked myself up, brushed off the dirt, determined that I was in one piece, and continued on. "I'm fine," I replied. Jake later told me that it sounded like a tree fell in the forest.
To reach the first aid station, there is a short half mile out-and-back down Maple Canyon. On this route, I saw John Hemsky already heading back up the canyon. Jake and I arrived at Maple Canyon Aid (mile 11.8) at 8:18 a.m. I was running in 10th place and made a very quick stop. Heading back up the canyon we could see that there was a large gap between us and the next runners. Finally they started to come toward us and I heard many greetings of "looking good Davy." There was no sign of Tom, Jeff or Matt who were already at least a mile behind.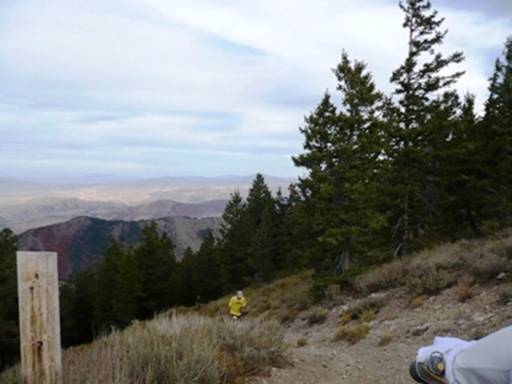 At the top! Looking back down.
Past the trail junction, we now faced a very tough section that included creek running and crossings and then a steep climb up to the top of a pass. I decided that this year I would take the climb easy. In 2004 and 2005, I pushed the climb very hard and then was wasted for the next hour or so. This year I would be content to keep my heart rate down and my muscles under control. As the climb began, I started to be passed by runners. I was passed by 14 runners, including Ken Jensen, Larry Hall, and others. Toward the top we could see snow on the ground. Once over the top, we had a nice long downhill run into Franklin Basin. As I approached the aid station I saw running buddy Jarom Thurston taking pictures and looking for his runner, Brazilian, Sebastiao Da Guia Neto. He would be looking for a long time. Sebastiao took a wrong turn, ran 11 extra miles, and didn't show up to Franklin Basin until 1:10 p.m. I arrived at Franklin Basin Aid (mile 18.8) at 10:30 a.m. I was running in 24th place and was two minutes ahead of my pacing goal.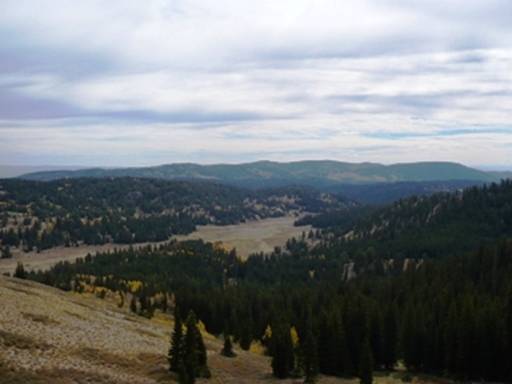 View from the ridge
Next up was a dirt road run and climb up to Danish Pass. I knew it was important not to get lazy on this section. I arrived at Danish Pass (mile 22.7) at 11:29 in 23rd place. I next started the steep climb above the pass with Emily Thorn. I explained to her that this next leg is my favorite portion to run on the course.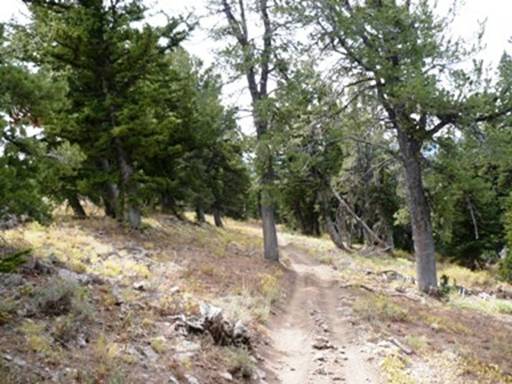 I love the run on top of the ridges with spectacular views. The trail rolls up and down and then has a nice steady downhill toward Beaver Creek. As the downhill came, I was able to push my pace very well and catch up with other runners. I remember seeing Gene Griffith and Christian Johnson.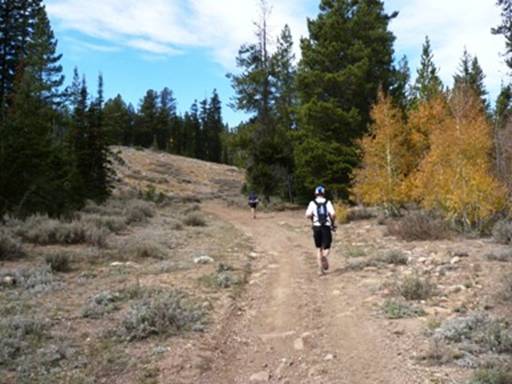 Christian and Zach running up the road toward Fish Haven
We arrived at Beaver Creek (mile 30.6) at 1:03 p.m. in 23rd place. At this point pacers are allowed to join in and a few runners would pick up pacers. Christian and I ran together for awhile. I told him that my goal was to reach the next aid station in under one hour, that is was just a long gradual climb. At one section I could look back and see runners about a mile behind. We played leap-frog with Zach Markham of AZ, and arrived at Fish Haven (mile 35) at 2:04 p.m. One minute over an hour….shoot. But, I was doing great, nine minutes ahead of schedule. At the aid station we saw young 17-year-old Michael Hayden sitting in a chair, hammered and ready to quit. He had naively kept up with the elite runners for the first 20 miles or so and then crashed and burned. He was done for the day.
The next leg was very discouraging. I was slowed because of bowel challenges and finally forced myself to stop for a long 15-minute bathroom break which was not productive. While in the woods I watched runner after runner pass by, including Chad Carson, Marc Sanderson, Scott Mason. Later I even discovered that buddy Jeff Gerke passed by. Back on the trail, I saw Tim Seminoff hot on my trail, working on his 9th Bear 100 finish. I arrived back at Danish Pass (mile 41.5) at 3:45 p.m., now in 30th place, ten minutes behind my goal pace. Anne Watts kindly crewed for me. I refused to sit down and made a quick two-minute stop. I didn't even notice Jeff Gerke sitting down somewhere. But my stop was too fast because I left behind one of my water bottles. I discovered the blunder too late to return. I would have to use one bottle for the next two legs. I was feeling better on the trail and soon saw Emily Thorn, Gene Griffiths, and Scott Mason ahead. I kept them in my sights but never caught them on this leg.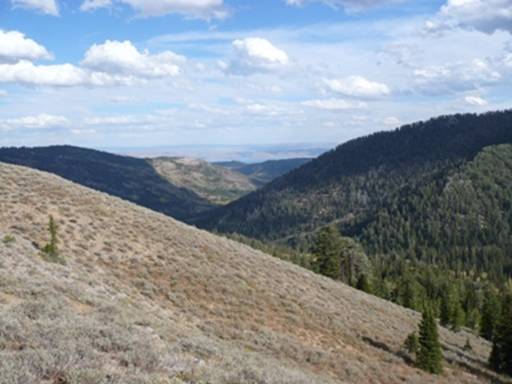 Glimpse of Bear Lake off in the distance
The views were again incredible along this leg as we ran on top of high ridges. The wind was kicking up but I was pleased to see that there were no terrible thunderstorms on the way. To get to the next aid station, we have to leave the main trail and do a steep out and back down to Bloomington Lake. Each year the volunteers have a sign indicating that it is only a half mile. It seems like it is closer to a mile. It was fun to greet other runners ahead of me.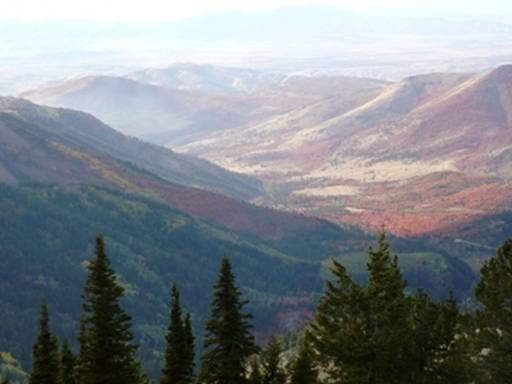 Incredible colorful view
I arrived at Bloomington (mile 47.2) at 5:19 p.m. in 29th place. On the way back up to the main trail I quickly saw Tom Jackson. I gave him a high five and knew that he would be hot on my tracks. Near the top, I was very pleased to see Jeff Gerke who looked happy and strong. He was about 20 minutes behind me now. (Jeff would hang in there and finish in 30:56) Back on the main trail, I caught up to Emily Thorn who had her leg wrapped in ice. I asked her if it was her ITB. It was. I felt bad for her and wished her luck. I knew that she wouldn't be able to keep that going for too long. She ended up DNFing 20 miles later. I also cruised past Gene Griffiths. He did a good job in keeping me in his sights. I pushed it pretty hard, not wanting Tom to catch up just yet. The late afternoon run was very pleasant as we ran on top of these high ridges and then descended down into Paris Canyon.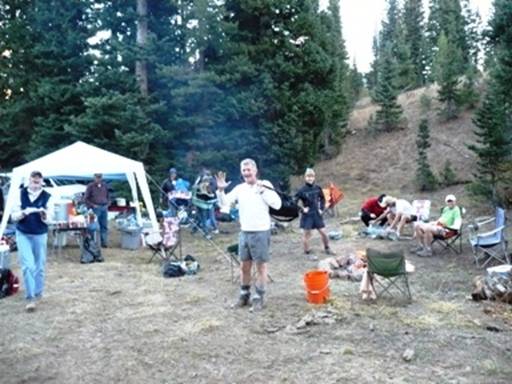 Paris Canyon Aid. Anne Watts on left, Bob in center.
I arrived at Paris Canyon (mile 53.2) at 6:55 p.m. in 26th place. My brother Bob was ready to pace me. My mood really improved to see friendly faces.  I needed to clean the dust out of a sock. As I did, Tom Jackson arrived. I gathered my night things and Bob was anxious to get going. I made a long 17-minute stop here. That was very long compared to 14 total minutes stopped at all the previous seven stations. Tom, Bob, and I left together.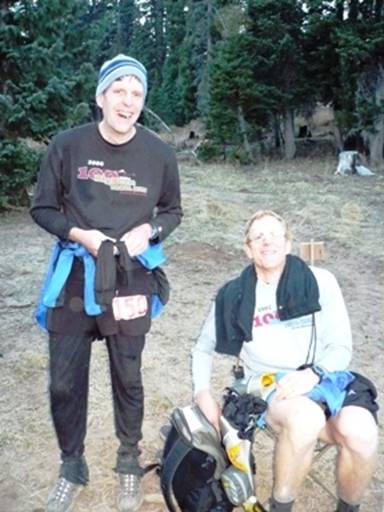 Me and Tom Jackson feeling great after 53 miles
Bob was full of energy and quickly disappeared up the trail. He obviously understood that he needed to scout the trail ahead for us. Tom and I had a great time talking as we climbed up out of Paris Canyon. The sun went down and near the top we turned our lights on. Bob was having fun catching other runners and then waiting for us. Tom mentioned, "You have a racer pacer!"
The early evening air was still warm. Bob told us that the weather forecast improved and that we might not get rain until 10:00 a.m. in the morning. That would be great. I hoped to finish by then. We really had a blast during this section. I felt great and it was nice to have company. We passed a couple runners and eventually I needed to stop to take S-caps or something and Tom went on ahead. We continued to see his light up ahead of us, but I knew that I might not see Tom again until the finish.
Bob did his best to help me push the pace and we did a pretty good job on this leg. In fact we did it 50 minutes faster than I did it in 2005 during a drenching rain storm. We arrived at Dry Basin (mile 60.9) at 9:16 p.m. in 25th place. Tom left just as we arrived. I was very pleased that I arrived there without seeing Karl Meltzer already returning. Just as I was thinking about that, I heard, "Karl's here." Amazing! Shoot, my goal of not seeing Karl on the course was shot by two minutes. I knew that he was on record course time. That motivated me to get out of there. Bob was still enjoying the aid station feast but finally I just left him behind. I knew there were some turns up ahead and worried that Bob would get lost, so I stopped and waited for him for a couple minutes. Together again, we pushed forward and soon caught up to Tim Seminoff. Tim was struggling and I encouraged him on.
On the downhill section after Green Pass, we kicked it into gear. As we hit the dirt road, Bob encouraged me to really keep the pace going. I did and was surprised that as we continued cranking fast, we caught up with several runners. We passed by Scott Mason, Milada Copeland, and then I was pleased to catch back up with Tom Jackson. At that point, I put on the brakes and enjoyed running again with Tom into the very inviting Mill Canyon aid station. On the out and back to the station, I remember seeing many runners including Marc Sanderson. We arrived at Mill Canyon (mile 67.6) at 11:04 p.m. I was 24 minutes behind schedule, but still doing well. I was over two hours ahead of my 2005 pace.
Mill Canyon aid station is an amazing place. They do dutch oven cooking and offer warm towels. What a place! I really enjoyed the warm rolls with honey. Finally I announced to Tom and Bob that it was time to go and I just left without them. Our stay had been seven minutes. They soon caught up.
The next section was odd, but fun. A rough single-track trail took us winding up and down near a torn-down fence. It was well-flagged, but took careful attention because it wasn't well-traveled. Eventually I took over the navigation duties and tried to keep the pace going. Finally we spilled out on the road near Mahogony Basin. As I messed around trying to take some pills, Tom went on ahead and started to attack the "Roller Coaster" section. This is a tough series of ups and downs as the trail cris-crossed some deep drainages. I had told Eve Davies that there were at least seven of these dips. She would come through this section three hours later and cuss me out as she reached the eighth. I would not see Tom again during the race. He went on to finish strongly in 15th place at 27:24.
At least this year the Roller Coaster wasn't muddy and they even put some switch backs in on one of the descents. I watched Tom's light disappear at the top of the first climb and on the second climb I bonked, grinded to a halt, and sat down. Bob seemed to start panicking, worrying about me getting cold. I still felt very warm but just couldn't find the energy. Milada passed by and asked if I was OK. I forced myself to get up and continue on, even though it was discouraging slow.
On the 5th climb I stopped to lie down on the side of the trail, breathing hard, out of gas. Bob, leaned over me, "Should I get help?" "No", is my quick reply. "This is just a bad bonk, part of this crazy sport." Earlier, Bob was talking about the possibility of trying a 100-miler of his own. Now, looking down at my agony, he's having lots of second thoughts about that crazy idea. Bob draped a jacket over me and wonders if I'm going to croak. After five minutes, I felt a little better, and struggled back to my feet. I ate and drank and did the only thing I knew how to do at that point – push forward. I lost my lunch several times and I heard Bob exclaim, "Oh boy!" I grinned to myself and pushed forward even harder, feeling a little better. If the stomach doesn't work, start it over. In another mile Bob started to complement my strong pace. I was back in the race.
I arrived at Copenhagen Road (mile 74.6) at 1:54 a.m., in 20th place. I was amazed that I hadn't been passed by tons of runners but I knew that probably everyone was going just as slow through that section. Anne Watts was there to crew me and helped to lift my spirits. Matt was still in the race and doing fine. I started to worry that he was catching up to me as he always does near the end of a race. (He was about an hour behind). That thought really helped me try to keep my pace faster over the next several hours.
The climb up Copenhagen Road was as expected, never-ending. A few comfort flags along this section are really needed. When in doubt, we just looked for footprints and felt confident that we were on the right route. The moon was shining brightly and at times I would turn out my light and just power hike up the road by the moonlight. It was a beautiful night.
As the next aid station approached, I told Bob that I didn't want to stop, that I still had everything I needed. We arrived at Copenhagen Basin (mile 78.6) at 3:16 a.m. I grabbed a few potato chips and went on my way. Bob asked for some soup. I decided to just push on ahead and hope that Bob caught up. I recalled how two years ago this basin was full of fog and almost impossible to stay on the right trail. This year it was warm and clear. Bob caught up within a half mile. We didn't see any runners at all along this leg. The trail finally finished going up and then traversed around some mountains presenting some nice views of town lights far off toward the west. I commented to Bob that if we returned to Paris Canyon by 9:00 a.m., that I should be able to break 30 hours. I hoped to do even better. We arrived back at Dry Basin (mile 82.8) at 4:34 a.m., in 21st place.
Roch Horton was taking care of runners at this station. He recalled that I was looking good and determined to not stay long. Well, I stayed 13 minutes and then announced that I was leaving. Bob still had some good stuff to eat so I hoped that he would catch up soon. I was full of new energy and discovered that I could run pretty fast. I quickly repassed Christian Johnson and pushed ahead through the forested trail to keep my lead. Within a mile, Bob caught up and we put it into gear to start passing other runners. When we hit flats and downhills, we really started to fly. We passed Milada again and a couple other runners. It was funny to see their headlamps look back watching my green and red lights reeling them in. I then had difficulty catching one particular runner. Whoever he was, saw me coming and started working very hard to not be caught. I had a funny feeling that it was buddy, Phil Lowry.
It was a nice high section and I could tell that I was really working Bob hard. He did great and kept up with me well. Finally the left ball of my foot (a chronic problem) became too painful to continue. I had no choice but to stop and let it calm down for a few minutes. It was discouraging to watch all the runners I had caught, pass by me. After the rest, my foot felt much better and we were back on the run.
We then noticed rain drops. The cold front had finally arrived and some drizzle was falling despite a bright moon still seen in the sky. At about 6:30 a.m., right before the last climbs before Paris Canyon, the rain started to fall pretty hard. I found a tree and stopped to make a poncho out of garbage bag. That worked well and we were soon on our way. I passed by the location where I DNFed in 2004. I marveled to think that I was about six hours ahead of that pace. The climb up the three ridges went well, but there was a short stretch of slick mud to make it interesting. As we went over the top, dawn arrived and so did the snow. We watched the fog rolling into the canyon below. I passed a slow moving runner but soon again had to stop because of my painful foot. Bob was starting to really struggle on the downhill and made sure I wasn't stopping to wait for him. I wasn't. I just couldn't stand the pain anymore. It was discouraging to think that I wasted about 15 minutes on this leg resting a sore foot.
We arrived back at Paris Canyon Aid (mile 90.6) at 7:24 a.m., in 22nd place. In 2005, I didn't reach this point until 10:30 a.m. Three hours better! I again took too long at this station, changing clothes and putting on a poncho that I ended up not needing. Bob said he was done. I assured him that I would be fine for the last ten miles, it was mostly downhill. He didn't want to leave me, but I knew that it would be more painful retrieving his car after the race, so I made sure he knew I would be fine.
After a long 11 minute stop, I was on my way. Little did I know that Matt Watts was hot on my trail. He arrived at Paris Canyon only five minutes later. If I would have seen him, I would have really kicked it into gear. I went on my way and started down German Dugway. The views below were incredible as the fog was rolling in and out and the skies above were clearing. Soon I felt terrible pain again in my foot. This time it felt like a bad blister. I stopped to take off my shoe and clean out my sock. There really wasn't a blister there, the pain was nerve endings going crazy. Nevertheless, it felt just as bad as a terrible blister and slowed me down.
I arrived at German Dugway Aid (mile 93.4) at 8:20 a.m. I wasn't going to stop, but the volunteers tempted me with some soup. It tasted super. Nice and salty! I wasted another three minutes there. They told me some other runners had just left and that I could probably catch them. (They were mistaken. They had left 20 minutes earlier). With that thought, I entered Leland's Ledge (also known as Devil's Den) which is a rough trail bushwhack that does a traverse around steep slopes to reach the next canyon. I had been through there several times, so I decided to just enjoy it. I pushed pretty hard and enjoyed the views. Soon I was shocked to see Scott Mason behind me moving very fast along the very tough trail. Wow! He was moving great. I thought, "If he can do it, so can I." I stepped it up a couple gears and indeed was able to keep up with him for about ten minutes or so. We made good progress. Finally my foot pain slowed me back down and I patiently made my way through the rest of the ledge.
All that was left now was three miles of downhill dirt road running. I looked ahead and noticed a runner in red who was walking. I noticed the familiar stride and knew it was Phil Lowry. As I approached, I let out a whoop. He called out my name and I slowed down to walk with him for awhile. Phil was doing great. He hadn't trained for the race, started an hour early, but still was going to break 30 hours easy. He thought that I still had a chance to break 28 hours, but we checked his GPS and my watch, and I knew it wasn't possible. He wished me luck as I ran very fast down the road. I started to really cruise and just tried to block out the terrible pain in my foot. There was no sign of Scott Mason or other runners ahead.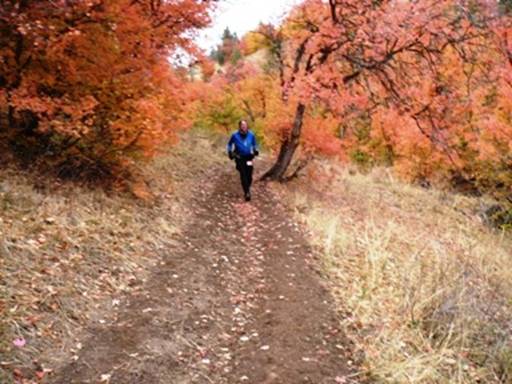 Me with less than a mile to go!
As I approached the canyon road, the rain started to come down harder. Near the trailhead, I was pleased to see Bob. He had just arrived from his long drive around the mountain range. He snapped some pictures and I continued my run down the road. The road was crowded with horseback riders and trucks. They were all involved in a cattle roundup.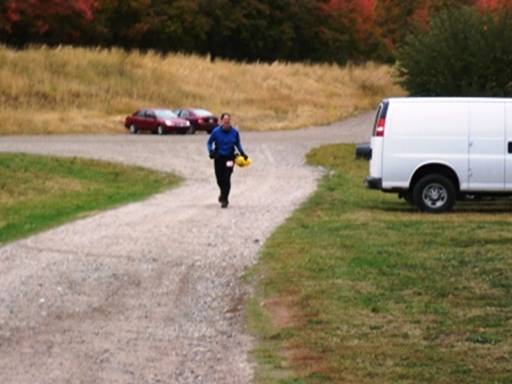 My finish
Finally the finish area came into view. People clapped and cheered. I finished strong at 28:13, in 23rd place. Bob congratulated me and quickly was off to catch a flight home to California. I grabbed some food and focused on getting a shower as soon as possible. I didn't even wait around for the next runner to finish who just happened to be buddy Matt Watts, at 28:26. I had my shower and then went to congratulate Karl Meltzer who set a course record, 18:50. He said it was 68 degrees when he finished. Now we saw snowflakes falling. At least I finished before the soaking rain started.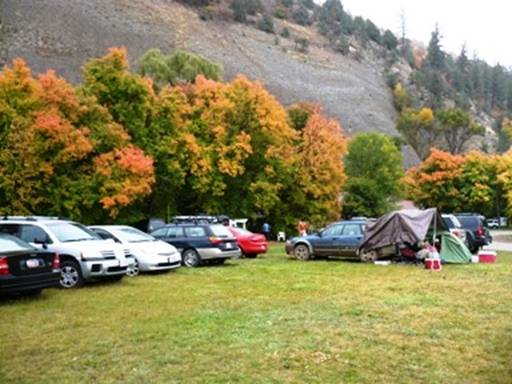 The finish area at Deer Cliff
I spent the next six hours trying to snooze in my car and cheering all the runners coming in. I was impressed to see Karl Meltzer sitting outside his car, under a tarp cheering every finisher. He's a class act. Leland joked at the awards meeting that Karl must have found some short-cuts while he scouted out the trail before the race.  62 finished the race.  22 DNFed.
The Bear was tough again this year. I had a good time, but it really felt like work. I was very pleased with my finish and wondered how well I would have done if I didn't have so many issues and wouldn't have wasted so much time in the aid stations during the night. But when all is said and done, I improved on my Bear 100 PR by over four hours and had a fun night run with my brother!