June 15-16, 2007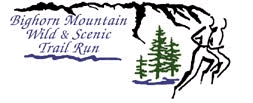 I again ran in the Bighorn Mountain 100 Trail Run near Sheridan, Wyoming.   This event is extremely challenging due to the rugged terrain of the Bighorn Mountains.  The course is an out and back with elevation gains of 18,300 feet.   The course features three major climbs and goes in and out of forests and fields full of wildflowers.  As for its beauty, I believe it is probably one of the most scenic 100-milers in the country.   Also a very unique feature is that the race directors run concurrently 100-mile, 52-mile, 50K, and 30K races.    They schedule the races to all finish on Saturday afternoon.   In the final 17 miles of the 100-mile race, depending on your speed, you can be running with participants in the other races.  By 10:00 a.m. on Saturday, there can be over 500 runners on the trails at the same time.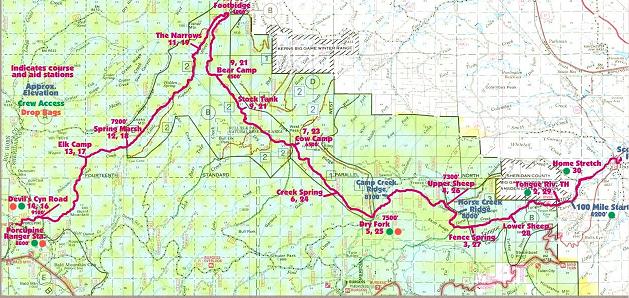 100-mile course
Start and Finish on right-hand side.
Course Description 
The race starts on a dirt road in the Tongue River Canyon.   After a mile it joins a single-track trail running along the Tongue River and then makes a massive 3,500 climb in about seven miles to Horse Creek Ridge, giving amazing views at nearly 8,000 feet.  From there you run down "the haul" into the Sheep Creek drainage.  Next there is a mixture of single-track and dirt roads through the Camp Creek drainage and Dry Fork drainage to a nice single-track trail that rolls up and down ridges, and eventually goes down "the wall" (a 2,000-foot descent in less than 3 miles) into Little Bighorn Canyon to the footbridge.   From there it is a long (4,500 foot, 18-mile) climb up the Little Bighorn River and Porcupine Creek drainages on a single-track trail to the Porcupine ranger station.  After that, you turn around and go back the way you came.  Once in Tongue River Canyon, you run out of the canyon to the finish at a park in Dayton.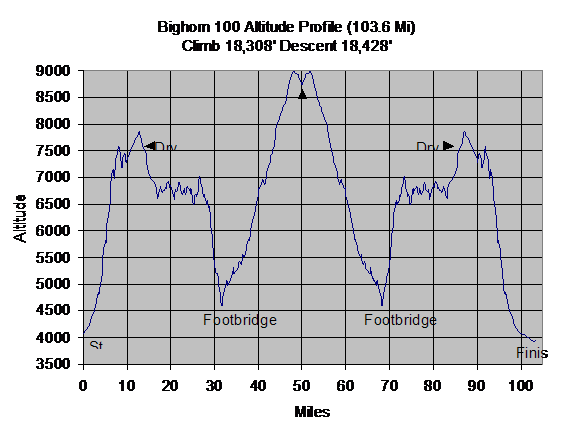 Last year I did pretty well.  I finished in 29:38:03, in 36th place out of 112 starters. (see race report).  This year I had more aggressive goals.  If I ran a race without too many problems, I believed I could break 28 hours.  I also thought I could place in the top 30.   I looked carefully at the entrants list and identified about 30 runners who probably would beat me.   The competition would be tougher this year, and the field larger – 149 starters.
Pre-race 
I made the nine-hour drive from Utah with a running buddy, Jeff Gerke, who would be running in the 52-mile version of the race.  His race would start at my 48-mile point, at the Porcupine ranger station on Saturday at 6 a.m.   "The 100-mile race would start on Friday at 11:00 a.m.  As we approached the Bighorn Mountains, the landscape became greener and greener.   We were impressed with the view of the foothills we were driving over – rolling hills dotted with occasional trees.   We arrived in Sheridan, Wyoming, at about 4:30 p.m. on Thursday.  I checked in and deposited my drop bags.   There are three drop bag locations – at Dry Fork Ridge (miles 13.4 and 82.6), Footbridge (miles 30 and 66), and Porcupine (mile 48).   I put my flashlight and warmer clothes in the Footbridge drop bag because I would need them before arriving at Porcupine.
We next went to the great pre-race dinner at a pizza place and enjoyed the company of Matt and Anne Watts from Colorado.  I was pleased to talk with many other runners there.   They were all very appreciative of my crazy race reports.   Jeff and I checked into a cabin at the Foothills Campground in Dayton, next to the park where the finish line would be.   The campground was filled with runners and their families.   It is a great, fun place to stay, and very convenient because it is next to the park where the races finish.   We had a restful evening watching a movie – Remember the Titans."  It was nice to know that I didn't have to wake up for an early morning race start..   I didn't set any alarms and had a great night's sleep.
In the morning, I took a stroll around  Dayton, did some race preparations, and then walked over to the race briefing in the park a 9:00 a.m, still dressed in jeans, looking like nothing was happening.   The briefing warned us that we would have mud and snow, that the trail was in rough shape this year.  The volunteers had worked hard to build some bridges and get things ready for us.   After the briefing, I went back to the cabin and quickly dressed in my running gear, gathering everything that I needed for the next 100 miles.  
The Race Begins 
Jeff drove me up to the start in Tongue River Canyon.    The day was overcast and there were some low clouds draping over the high ridges above.  I was pleased that the temperature felt cool this year.    I'll take clouds over heat any day, but I hoped that we would not be running in fog at the top.  I looked forward to some stunning views.   Darcy Africa came up and said hi.  I didn't know she was running.  I wished her luck and expressed confidence that she would win (among the women).  After the national anthem was sung, and a race blessing offered by David Horton, we waited for another five minutes for the start.   I positioned myself near the front, wanting to start with the top 20-30 runners.    I saw Karl Meltzer.  He looked relaxed and ready to win and set a course record.  (He did).
At 11:00 a.m., off we went, 149 of us running up the wide dirt road, jockeying for a comfortable position before hitting the single track in a mile.   Initially, I was probably running in about 20th place.   A group of five fast runners, including Karl, Darcy, and others, separated themselves from the rest of the pack and started speeding up the canyon.
The long 3,500-foot climb went well.   I didn't want to push it much harder than last year.   I joined the third pack of runners, bringing up the rear.   I like to run in the rear of a pack so I don't have to deal with any pressure from a runner behind.  I like to run at my own pace, slowing down and speeding up.   A couple runners who passed me asked, "Are you Davy?"   This would happen over and over again during the next 100-miles.  How in the world did they know who I was?   They would then compliment me on my fun race reports and wish me luck.   Ken Jensen (finished 10th), from Salt Lake went by at some point.  Ken asked if I would be running in Karl Melzer's 50K race next month.  I told him I would be running the Vermont 100 that day.  He hoped to see me the following week at his race, the Millcreek 50K.  I'm planning on it.
As we climbed higher, the slopes were covered in green grasses.  I could gaze up the mountain and see the front runners making progress high above me.  I reached Fence Spring (mile 6.25) at 1:31, three minutes faster than last year.   So far, so good.   David Horton reached the spring right after me.  I introduced myself and followed him the rest of the way up to Horse Creek Ridge.   Mud and stream crossings became more frequent and my feet became wet.  If I had known what was ahead, I wouldn't have worried about trying to keep my feet dry. 
As we approached the top, the fog enveloped us, giving a nice misty feeling.   The temperature was perfect for a run.   Looking down, I could see dozens of runners continuing to make the long climb.  My buddy Tom Jackson, from Washingotn, saw me as I approached the top, but by the time he arrived, I was long gone, pounding the downhill into Sheep Creek drainage.   On the downhill, I was concerned about some bad right hip pain.   The grueling climb had taken a toll.  I hoped that the pain would soon depart.   I cruised into Upper Sheep Creek aid station (mile 9.4) right after David Horton and quickly refilled my bottle with Heed.  (David went on ahead but didn't finish the race.) Along the next stretch, Charlie Vincent, from Salt Lake, caught up.   He was looking very strong.    At the next downhill section, I pushed it hard and passed him by.  I would see him again many miles later.
I reached Dry Fork Ridge (mile 13.4) at 3:00, precisely my goal and five minutes faster than last year.  I was feeling great.   I wanted to run the next six-mile downhill stretch much faster than last year.   This section took us down through a beautiful valley with occasional groves of trees.  We had many stream crossings along the way.   I noticed a runner with a Wasatch Speed Goat shirt. (must have been Scott Mason, finished 13th)  I would run near him for many hours.   I arrived at Cow Camp (mile 19.5) at 4:07.  I was now 8 minutes ahead of my goal and 16 minutes ahead of last year's pace.   I was very pleased.
The next section was my favorite section last year, a nice rolling single track.  This year is was my least favorite section!   The trail was a mess.  It was chewed up terribly by horses and had very muddy sections.  It was impossible for me to run it very fast.  No other runners passed me during this section, so we were all struggling.   It was very frustrating, but I tried to enjoy the day and the wonderful scenery.  The wildflowers were amazing and the mountain landscapes stunning.  I arrived at Bear Camp (mile 26.5) at 5:50, five minutes behind my goal, but five minutes ahead of last year's pace.  I was a little disappointed that I wasn't able to push that leg very fast.
Next up was running down "the wall," a steep 3-mile section along ridges and valleys down into Little Bighorn Valley.   I refused to walk any of this stretch, and was careful to drink more here this year.   I arrived at Footbridge (mile 30) at 6:38, eight minutes off my goal, but now 13 minutes ahead of last year.   With all of the mud and rough trail, I was developing a blister on the inside of my left heel.  I planned to swap out shoes at this point, but was disappointed to see that the shoes in my drop bag didn't have insoles.   I couldn't use my current wet insoles because they were so thin and I wouldn't be able get them back in shoes without creasing them.  Bummer.   I would just have to stick with my muddy shoes.   I changed into a clean shirt, and grabbed my flashlight and longsleeve bike shirt which already had a hat and gloves in the pockets.  I wrapped it around my waist.
The climb up Little Bighorn 
My stay was short, about five minutes.   I noticed that my aid station stops were much faster than other runners.  I wasn't passing many runners on the trail, but I was passing them in the aid stations.   I feasted on some cheese wraps and Reeces cups.  Yum, yum.  For fluids, I drank almost entirely Heed, with a little Coke at the aid stations.  They weighed me at this station, but I had no confidence in any of their scales.   I knew that I was a little dehydrated and must pound down the more fluids.
Off I went, on the long 18-mile climb to Porcupine.   The Little Bighorn River was roaring like crazy.  What a sight!   The trail went along the forested river for the next 3.5 miles.   What a wonderful place to run!   Last year, I faded poorly on this section.  This year, I ran most of the way to the Narrows.  I arrived there (mile 33.5) at 7:43, just 3 minutes behind schedule and 20 minutes ahead of last year!   I was on a roll!   About a half mile after the Narrows, I reached back and noticed that I had lost a water bottle.  I had checked it at the Narrows and must not have put it in the pocket deep enough.  I stopped and looked back toward the trail behind.  I probably lost it on a downhill section I ran down hard.   It would be silly to go search for it.   I concluded that I would be fine during the night with one bottle, if I could make it through the next six miles on one bottle.   I knew that I had an extra bottle in my bag at Footbridge.  
I continued on.   This section of the trail was nice and dry and I made good time.   It was very lonely because I didn't see any other runners ahead or behind.  Finally I could see someone far in the distance and I pushed harder in order to catch him.  Finally I did.  I heard the usual question, "Are you Davy?"   He said that he was Pat McMurtry from Salt Lake City.  I knew that Pat was a talented runner.  He thanked me for my race/adventure reports, that he lives vicariously through them, and looked forward to reading this one.   I said, that I was doing a poor job recalling what had happened so far because I was concentrating so hard on my pace.   It was nice to have his company for awhile.   We arrived at Spring March (mile 40) at 9:42.  I was 30 minutes ahead of last year and could tell.   Last year I remember turning my light on soon, but this year the daylight was still strong.   Who else arrived?  Charlie Vincent!  Wow, he was having a great race. 
I left quickly ahead of the others.  The trail became wetter and rougher the higher I went.   I was now in new territory in the daylight.   Last year I didn't have this view because I was slower and it was already dark.   I was keeping my eye out for the front-runners coming back down and sure enough, Karl Meltzer came bounding down toward me.  He was at about mile 53.5 and I was at mile 42.5.  I called out, "Way to go, Karl!"  Within five minutes, he was closely followed by Mike Wolfe.  Dusk arrived and I turned on my green light before arriving at Elk Camp (mile 43.5) at 10:54, still a half hour ahead of last year.  Soon Charlie, Pat, and Bo Miller arrived.  
We all left together, but I pushed on ahead.   Bo followed me and I soon noticed that he didn't have a light.  He explained that he had lost it, but had another one at Porcupine.   He kept very close to me and I was amazed how he was able to find his footing by following me closely behind.   I pushed hard, but soon my stomach started to have problems and I started to feel low in energy.  I slowed down, took an S-cap, and tried to recover.   Next, we hit snow!  These drifts were tough.  They were about 2-3 feet high and we needed to climb on top of them.  Unfortunately only about 30 runners had come through so far, so the snow had not been pounded down enough yet.  Many times I ended up guessing wrong, trying to find stable snow.  I painfully would have to post-hole for several steps.    It was very slow and frustrating.  I knew my goal of arriving at Porcupine by 12:00 (11:00 p.m.) was now impossible.   My feet were totally wet and freezing.   Finally I came out of the snow.  A runner coming toward me assured me that the bad snow was over.   I crested the ridge and did my best to run fast down the road to Porcupine ranger station.  I arrived there at 12:33. 
I planned on making a short stop, but the station was so warm and inviting.  I sat down in a chair and soon Stephen Kissell greeted me and kindly took care of my every need.  I had not yet put on my long sleeves because the temperature was still not very cold.  I went ahead and dressed warmer, chowed down a grilled cheese sandwich, and stuffed my pockets with some candy.  I looked in my drop bag.  No shoes, no insoles.  No luck.   I would have to stick with the same shoes.   I felt grit in my shoes, but I knew trying to clean them out would be a painfully slow process.  I decided to just hope that my feet felt better on the downhill.   Charlie arrived, and as I was about to leave, my buddy Tom Jackson arrived!  He looked like he was doing great.   A volunteer came up to me and asked me if I was continuing on.  I gave her a shocked look and said, "Of course."  Quitting now just wasn't in my thoughts.   I pushed myself out of my chair and headed back out into the cold.   I felt the cool air immediately and it made me shiver.  Another woman runner left about the same time.   I wouldn't see Charlie again, he had a tougher return trip, finishing in just under 31 hours, in 36th place.
Night descent back to Footbridge 
My long run down the valley during the night went well.  I greeted many runners who were still heading up the hill.  I was so glad that I had that chore already out of the way.   Going through the snow section was much easier this time because so many more runners had pounded it down.  After the snow section I finally greeted Matt Watts.  I was at least five miles ahead of him.   He was doing fine but having the same challenges that I was having – feet problems because of all the mud.
My pace seemed better than last year, but I only overtook two runners on the way down.   I made sure I did a much better job eating during the night.  Far off in the distance the night sky started to light up.   At first I thought it was the reflection of some flashlights from the back of the pack runners coming toward me.  But finally I could see that there was a thunderstorm far away to the northeast.  It really gave an impressive light show.  I hoped that it was far away.   I arrived back at Elk Camp (mile 52.5) at 14:12 and Spring March at 15:13.   I was 18 minutes ahead of last year's pace, but now far off my goal time for this year.  As I thought about it, despite the delays through the snow and mud, and a much tougher trail, I was still doing great.
Last year I arrived at the Narrows (mile 62.5) in daylight.  This year it was still dark, but the volunteers noticed that the birds were starting to chirp. Dawn was approaching.  I arrived there at 17:08 (4:08 a.m,).   I thought about Jeff Gerke and the other 52-milers, catching a bus for the start.   I continued on and right before arriving at Footbridge (mile 66), I could turn off my flashlight.   I arrived there at 18:12.   I sat down, took of my hat and gloves, and tried my best to eat something.   Diane Van Deren (finished 22nd) of Colorado soon arrived, closely followed by Jeff LaMora (finished 23rd) of Utah.   Jeff asked, "Are you Davy?"    He introduced himself and thanked me for my race reports.   Another runner arrived and I quickly left.
Climb back to Dry Fork Ridge 
Now the work was really going to start.   I needed to climb 2,000 feet in less than 3 miles.   I sorted through my running gears, and soon found a strong power hike pace.  A song on my MP3 was very helpful in establishing a fast, strong, even pace.   For the next hour I didn't stop once.  Far behind me I could see Diane and Jeff.  At times they would almost catch up, but I would find another gear and push on ahead.  I was amazed at how well I felt.  My legs really didn't feel tired despite the 65 miles behind me, the rugged trail, and the steep slope I was climbing.   Half way up, I noticed it was 6 a.m.   The 52-milers were now racing toward me.   I had a 20-mile head start, but I knew that the front-runners would likely catch me before the finish.
I arrived at Bear Camp (mile 69.5) at 19:49, 36 minutes ahead of last year.  Right before the station, a huge moose crossed the trail.   It stopped and looked at me.  I asked the volunteers if they had seen it.  They mentioned that it had been hanging around them all morning.   Diane and Jeff soon arrived too.  Diane left first, but I passed her while she was eating and walking.  I dreaded this next long 7-mile section because I knew the trail would be rough.  I discovered that it was much better than yesterday.   A couple hundred pair of feet had passed through and helped smooth out many of the ruts.  Still it was tough work.    After a couple miles, Diane and Jeff went ahead when I stopped to wash out a gaiter.   All morning, I had been struggling with a muddy gaiter.  It was so muddy, that the Velcro wouldn't hold any more.  Every half mile, I would adjust it.  Finally I just stopped and washed it in a stream.
To my surprise, behind me arrived Tom Jackson!  It was great to see him.  We both are planning to run together at Plain 100 in September.  Tom was running strong.  I tried my best to keep up a good pace so we could talk for awhile.   Finally, I watched him go ahead.   Soon after he left, I wondered about a small pain on my right shin.  I looked down and to my shock noticed a huge golf-ball-sized goose-egg sticking out of my right shin.   "What the…"   I thought back and just couldn't remember a specific time that I really hit my leg hard.  There had been so many times where it had hit logs, bushes, etc.   I stopped to take a closer look.  It didn't hurt much at all and I couldn't see a bruise.  What was it?  A bug bite?  Was I starting to grow another foot?   That would be cool.  The foot I had now was trashed, I could use an extra one.   My pace slowed as I worried.  (Looks like I have a subperiostal hematoma.  Judo athletes get this.  Gee, I guess this course is as tough as getting beat up in Judo.)  I was passed by another runner and pacer and watched Diane and Jeff about a half mile ahead. 
As I finally approached Cow Camp, I looked up and could see the front running 50K runners coming down from a high ridge.  They would join the 100-mile course at Cow Camp.  Last year I merged at this point with the mid-pack 50K runners.  This time I was encouraged to only see fast-moving front-runners.  I arrived at Cow Camp (mile 76.5) at 22:17, 20 minutes ahead of last year.   I quickly grabbed a couple slices of bacon.  It tasted so good, and I knew I needed more sodium in my system.   The morning was starting to get hot.  This next six-mile exposed uphill section would be hard.  It was.  I did my best to keep up the pace.  Seeing the 50K runners go by quickly was discouraging, but they were very kind.  "You're my hero."  "You are amazing."  "You are doing great."  Well, I didn't feel too great or amazing.  The biggest problem now was my feet.  I could feel two terrible blisters.  The grit in my shoes were grinding my toes.  I believed there were a couple holes in my toe socks and the tips of two toes were rubbing against the shoes.  Every step was painful.
Finally a 50K runner passed me doing a very fast power walk.  I was determined to not let her go ahead.  For the next mile I kept up well and soon I discovered that I could run without a problem.  I passed her and stayed on pace with all the other runners.  Some were surprised to see my red number, indicating that I was a 100-miler.  Also the muddy legs were a dead giveaway that I had been on the trail a very long time.
I arrived at Dry Fork Ridge (mile 82.5) at 24:15.   I really had wanted to get there by 24:00.   I just couldn't find the strength.   I was really wasted, hot and dehydrated.   I sat down in the shade and a volunteer brought me my drop bag.  I quickly told them my plans.  I needed to wash my feet, lube them in Vasaline, and put on some clean socks and shoes.  I looked in my drop bag.  Shoes – good.  Insoles – two sets (oh, there is the extra set.).  No socks!!!   Yikes.    I called out to some 50K runners sitting next to me to see if they had extra socks.  One kind guy quickly threw me a pair and said, "Merry Christmas."  Wow, that was great.
A 100-mile runner who had dropped at Footbridge yesterday and was now volunteering, quickly gave me all his attention.  "We need to get you out of here so you can still run a sub-30."   He helped me wash my feet, put things back in my drop bag, make sure I drank and ate, etc.  He was super.  With fresh footwear, I felt much better.  My stop was at least 15 minutes, but worth it.
Trying to keep going 
I left the station and started running up the hot road.  I looked at the clear blue sky wishing that clouds would blow in.  The guy at the station assured me that it would be cooler with clouds over the top.  I hoped so.   I did a pretty good job keeping a slow run going.  I kept looking back, expecting the front-running 52-mile runner to come storming by.  Finally, Ty Draney arrived about a mile before I reached the next aid station.  My good friend Todd Holmes should be next.   Last year he caught up with me at "the haul."
I arrived at Upper Sheep (mile 87.5) at 25:54, only four minutes ahead of last years' pace.  That was discouraging.  Despite all that effort and good work, I was now at the same pace.  All I could do is push forward.  I labored up "the haul" and reached the top of the ridge.  I sang to my MP3 on the way and later a 50K runner asked if I was singing "The Hills are alive with the Sound of Music."  No, but that would be appropriate.  I took one last look down behind me.  No sign of Todd.  Clouds appeared over the top of the ridge!   The temperature felt much cooler.
Blasting down the mountain like crazy 
Down I went on the steep 3,000-foot descent.  My pace was pretty good and I passed several 50K runners.   After passing Fence Spring, I heard a couple very fast runners approaching.  I looked back.  It was my friend Todd, running in second place in the 52-mile race.  He yelled, "Davy!  I thought you were going to beat me to the finish."  "I had problems this morning."  I quickly decided to see if I could hang with them for awhile.  With Todd was Mike Schoger, also of Colorado.   I fell in step with them.  They were running at amazing speed down the steep single-track mountain trail.   How long could I keep this up?  My heart rate went way up and my breathing became labored, but my legs felt great.  I kept up!  I ignored all the pain and enjoyed the challenge of running with these elite runners.  We were really cruising!  My breathing and heart rate settled down, and I just concentrated hard, following their lead in blasting down the trail.  Soon Todd noticed that I was still with them and he expressed amazement.   Here I was at mile 90, keeping up with the front-runners in the 52-mile race!  I was moving so well, that Mike offered to let me pass him to run behind Todd.  I told him to continue.  "I'm just doing all I can to hang with you guys!"  As I was moving my feet as fast as I could, I tripped, tumbled, and did a great shoulder roll.  I let out a yell.  Todd and Mike looked back.  "Are you OK."  I jumped back up.  "Yep, no problem."  And we continued on.
As we continued blasting down the hill, we passed by many stunned 50K runners and some 100-milers who stepped aside for this fast moving train.  I'm sure some were doubly stunned to see a 100-miler sprinting.   As we ran, we carried on a conversation.  I lived in the same hometown with Todd when we were in highschool and his brother was my best friend.  We talked about old days and new running days.  We talked about how tough the trail was today.  Todd mentioned that this was the fastest he had run the entire race, and he was amazed that I was hanging with them.   Soon, the 4th place 52-miler, Damian Stoy caught up with us and joined in the conversation.  We all wondered where Sean Meissner was.   Soon Damian asked me, "Are you a 100-miler?"  "Wow!  You are doing great!"   I replied, "It just shows that I've been dogging it. (taking it easy.) too much." 
I noticed something interesting.  When we reached muddy sections, they didn't bother trying to keep their feet dry.  They just blasted fast through the mud, taking big leaps.  I followed their example and kept right in step with them.  The four of us cruised past many more runners who cheered us on.
I was having a blast but was starting to feel over-heated.   I kept up for awhile more, but as we approached the last hill before the canyon floor, I stepped off the trail and bid those guys goodbye.   "See you at the finish!"   They waved and continued on.   In the 52-mile race, Damian ended up in 2nd place, Todd in 3rd, and Mike in 4th.
Attempt to break 29 hours 
Now that was fun!  I had run with the front-runners for over two miles on the toughest downhill section of the morning!  Wow, that boosted my confidence.   Well, now I had to finish.  As I slowed down to a walk, the pain returned.  I longed for the finish to come quickly.   I hobbled into Lower Sheep (mile 92.5) at 27:07, now 25 minutes ahead of last year's pace.  I was back in the game!   Just 7.5 miles to go.
Unfortunately, the sun came out again.  I was now at the hottest portion of the course.  The heat in the canyon rose quickly.   The next 2.3 miles were very slow.  I arrived at the trailhead station (mile 94.2) at 27:53.  I was seriously overheated.  I let a volunteer spray me down with water and I then settled down in a chair in the shade.  I drank as much as I could and tried hard to quickly cool down.   I looked at my watch.  I forced myself to get up and leave at the 28-hour mark.  I had 5.2 miles to go.  Breaking 29 hours was very possible if I could really run.
I started down the canyon road walking slowly.  I tried several times to run, but just couldn't find the energy.  Several runners passed me.  Finally, after about a half mile, the lead woman in the 52-mile race, Tammy Stone, passed me.  That gave me the motivation to really run.  I kept up with her for awhile and felt much better running fast.  She went on ahead, but I continued to move very well.  I passed several 50K and 30K runners who looked at my 100-mile number and were impressed.   At times I pushed the pace to almost a sprint.  Could I do it?   Sean Meissner, a 52-miler ran by and told me I was doing great.   I passed by Todd Salzer of Colorado who looked like he was struggling.  He knew who I was and called out a greeting.  I encouraged him to dig deep.  I tried to do the same and pressed on as fast as I could.
I reached the Homestretch station (mile 98) at 28:41.  I didn't stop.  Could I run the last two miles in 19 minutes?   It was very possible. I reached a sign that indicated one mile left.  This was disappointing because I had less than 8 minutes before the 29-hour mark.   I backed off, thinking I missed my chance.  But as the dirt road turned to pavement, I concluded the mile marker must be in the wrong place.  I checked my watch and it still was possible.   I ran like crazy and passed again several 50K runners.   I crossed the highway, and ran toward the park.  I turned the corner and ran as fast as I could toward the finish line, hearing the cheers of the crowd.  When I hit the finish line I checked my watch.  16 seconds late.  29:00:16.  Well, that was close.
Post Race 
I was pleased.  Todd was at the finish and congratulated me.  I beat my last year's time by 38 minutes in much, much, more difficult and technical conditions.   Todd again expressed amazement that I had kept up with him for two miles on that tough downhill section.   I heard that the DNF rate was huge.  Many runners dropped out.  Only 82 of the 149 starters finished.   I came in 24th place!   My buddy, Tom Jackson ended strong.  He came in 20th, finishing 35 minutes before me.
My recovery for the next hour or so was tough.  My system had been pretty stressed over the last couple hours.   I did my best to try to bring down my body temperature and stabilize my electrolytes and carbs.   I soaked my sore feet and knees in the cold river.  It felt great.  Finally I hobbled over to the cabin and took a cold shower.  After cleaning up and changing I felt much better and went back to the finish to cheer my friends in.  Jeff Gerke ran a good strong 52 miles, finishing in 11:34.   Charlie finished the 100 at 30:57 and Matt came in at 31:15.   For another hour, I lounged around on the grass with all my running friends, both new and old.  Finally, still feeling wasted, it was time to try to get some sleep. 
In the morning I felt much better and enjoyed the post-race breakfast and awards ceremony.  They put on a great event.   Karl Melzer and Darcy Africa both set course records.  I finished my 11th 100-miler!
On Monday following the race, I was seen "walking" in the streets of Salt Lake City.   A guy who didn't know me, said to his friend, "Look, that guy looks drunk!"   His friend who knew me informed him that the drunk probably ran 100 miles over the weekend.