September 23-24, 2005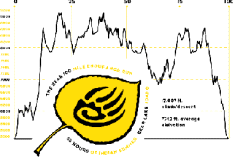 I had a score to settle at the 2005 Bear 100-mile race held near Preston, Idaho (Gosh, yes, Napoleon Dynamite territory.)  Last year I ran out of gas and time around mile 87.  This year I was determined to finish and confidant that I could finish in less than 30 hours.
After the usual restless night's sleep, I arrived at the start/finish area in time to greet a few friends and wish them luck.   My early race strategy was simple; I would run with veteran Phil Lowry, who I paced for 60 miles two weeks earlier at the Wasatch 100.  Lealand Barker, the race director, gave us the signal to start at 6 a.m. Away we went in the dark, lighting our way by headlamps.  
As usual, I wore my coonskin hat, which always results in questions and compliments.   I was among 62 runners who began the long run up a paved road in a dark canyon.  I could hear the sounds of startled cattle as we moved quickly up the canyon.   Our route soon took us up the first long steep climb up out of the canyon along the ridges.   After several miles, Phil realized that I was following him close behind.  Recalling the 60 miles I followed him two weeks ago, he laughed and said, "I would have thought that you would be tired of seeing my butt by now."   I replied, "It is an ugly butt, but it moves."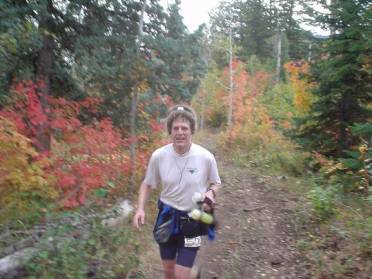 Me, at about mile 8 in spectacular fall colors
(Phil Lowry photo)
The daylight presented us with amazing fall colors.  I had to stop to gaze at the stunning landscape.   The course through this early section was pretty confusing.  Phil had mapped the course and complained several times that the course had been marked wrong in places, adding some distance to the race.  I was pleased with my strategy in following Phil.  He knew the course so well, that I didn't have to pay attention to the flags.  I just needed to keep up with Phil.  Also, I tend to go out too fast on 100-milers, and I discovered that I was running slower than usual, a nice early pace.   Phil would stop to take pictures and I would go ahead at a slower pace until he caught up.   I ran with him for 20 hours at Wasatch, he could put up with me for a few more at The Bear.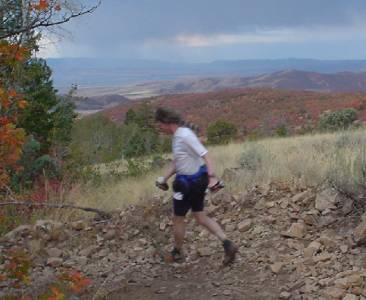 Me, on a ridge above Maple Canyon
(Phil Lowry photo)
In Maple Canyon, there is a short out-and-back to the aid station.  It was nice to be able to see the runners ahead of us.  We greeted each other with the usual words of encouragement.   What a beautiful day for running.  Cool temperatures and gorgeous fall colors.
We arrived at the Maple Creek Aid Station (mile 11.6) at 8:29 a.m. (2:29 elapsed, 17th place) and stayed there for two minutes quickly filling water bottles, chowing down peanut-butter-jelly sandwiches, and anything else that looked good.  With some extra food to munch on in hand, away I went on the next leg of the journey.  I knew that the toughest climb of the day was coming up, but I felt great, no problems at all.  On the out and back, I was pleased to see running buddies, Jeff Gerke, Jason Berry, and Wynn Shooter, about 10 minutes behind.
The next stretch included many stream crossings and rock dodging.  Two other runners joined us.   Then, disaster!   Phil said we were off course!   The guy who knew the course the best, took us up the wrong fork!   We turned around and returned to the course after a 0.4 mile detour.   Phil felt bad about it and I noticed that he immediately kicked up the pace to make up for the mistake.   I knew I couldn't keep up that pace, but I did my best.  We cruised up the steep 4-mile-3,000-foot climb.   Soon Phil was at the front of a convoy of about eight runners.  We all struggled to keep up, leap-frogging each other along the way.   Finally we reached the top.  I was about 50 yards behind Phil.   My hip flexors were screaming.  I knew I had pushed it too hard and would need to back off to recover.   I took it easy on the next downhill stretch through a beautiful valley and arrived at Franklin Basin aid station (mile 18.8) at 10:34 a.m. (4:34 elapsed time, 25th place).  Phil had left the station two minute earlier and I knew that I wouldn't be able to catch up with him.   I stayed at the station for only two minutes.
The next section would be a boring dirt road run up to Danish Pass.  Last year I felt terrible along this stretch.  My knee had been in great pain.   This year I vowed to push through this section fast.  It included a 1,000-foot climb in less than two miles.  I reached Danish Pass aid Station (mile 22.7) at 11:29 (5:29 elapsed time, 28th place).   I was pleased that I covered this stretch more than 30 minutes faster compared to last year and that I now was back on my goal pace.  My goal was to reach Danish Pass by 11:30.  I found my drop bag, shed my coonkin hat, and had a quick stop of two minutes.
The next stretch to Beaver Creek was my favorite stretch of the whole course.   The trail follows high ridges with stunning autumn views of the valleys both to the east and the west.   This section was the start of a giant 18.8-mile loop that would take me back to Danish Pass.  As I reached the highest ridges, I pulled out my cell phone and called my pacer who would start running with me on my return to Danish Pass.   I had told him I hoped to call at noon.   I called him at 11:59, and told him I was right on my schedule, feeling great.   Because of the beauty of this section, I found myself slowing down somewhat, but I thought I deserved a little rest.  I finally had recovered from the fast climb and I felt strong and wonderful.   I marveled that we had a perfect running day.  Cool temperatures with overcast.
As I descended into Beaver Creek, I had some good conversation with another runner, I believe John Liebeskind.   I arrived at Beaver Creek (mile 30.6) at 1:37 p.m.  (7:30 elapsed time, 32nd place).   I was only seven minutes behind my goal.  I should have had a pacer waiting for me there, someone on the Internet who offered to run with me.  I called out his name, but got blank stares from everyone at the station.   That was a disappointment.  I quickly chowed down a sandwich, a can of coke, and headed out after a longer 6-minute stop. 
As I started climbing the road ahead, I heard from behind shouts calling my name.  I looked back and realized that my friends, Jeff, Jason, and Wynn were entering the aid station.   While I really would have loved to run with them, my competitive spirit lit a fire under me to maintain my lead over them.   I covered the next leg in just over an hour.  I kept looking in my "rear view mirror" for my friends on my tail, but they didn't catch up.  I crossed a vast field and thought I saw them about a half mile behind.
I reached Fish Haven aid station (mile 35)  at 2:39 p.m.  (8:39 elapsed time, 31st place).  My water bottles (I carried one in each hand) were still pretty full and I had some food, so I ran through the aid station without stopping.  I thought that action should help me stay ahead!   I now climbed through valleys, and over a ridge to descend down into Egan Basin.  On the highest ridge, I paused to call home.  I let my wife know that I was at mile 40, feeling great, and right on schedule.  I checked my "rear view mirror" often along this leg, but didn't see my friends.   As I approached Danish Pass, I could see my van far off in the distance.  I was pleased that my pacers arrived safely.   They had expected me to be arrive with a pacer, so they didn't recognize me as I came closer.  I let out a whoop of excitement and raised my arms in triumph to get their attention and to let them see that I was doing great.
I arrived back at Danish Pass (mile 41.5) at 4:11 p.m. (10:11 elapsed time, 31st place).  I was only 11 minutes off my goal.   It was fun to see my pacers, Jim and Eric.   In three minutes, I quickly refueled, and was off with Jim.   As we climbed away from the station, I looked back and told Jim that I could see my friends arriving at the station.   We needed to get our rears in gear to stay ahead. 
Last year I really got lazy through the next leg.  This year I still felt strong and wanted to make better time.   It was nice to have some good conversation with my pacer and he quickly learned the ropes.   We pounded down some downhill sections pretty fast.  After a couple miles, I heard shouts behind me, my friends Jason and Wynn caught up!   It was good to see them.  They were running strong and looked well.   It was fun to run with them for the next couple miles.  I was concerned that Jeff wasn't with them.  They explained that he was experiencing a low point, but probably was only ten minutes behind.   Before the out-and-back to Bloomington, they passed me and wished me well.
I arrived at Bloomington aid station (mile 47.2) at 5:48 p.m. (11:48 elapsed time, 30th place).  Last year I moved painfully slow down the hill to this aid station.  This year I moved strong and fast.   We made a very quick stop and then headed back up the hill to the ridge above.  I was concerned that I had not seen Jeff on the out-and-back, but just as we arrived at the turn-off, Jeff was starting to head down.   He said he was doing better.  I hoped that he could pull out of it and catch up.
Our next goal would be to arrive at Paris aid station before dark.  But soon we saw bright flashes of light.   We could see to the north a series of dark thunderstorms heading our way.   Could we somehow dodge them?   It soon became obvious that we would get pounded.   With fury, the storm blew in and huge flashes of lightning flashed above us.  As we came to exposed ridges, with fear in our legs, we did our best to sprint across them before the next lightning strike.  I ran hunched over, ducking from the lightning.  Several times the strikes seems to be within 100 yards, no delay between the huge flash of light and the loud crack of thunder.   I wanted to get out of there as fast as I could.   Large flakes of snow fell, and then the rain started to pour.   We didn't take the time to put on rain gear because we knew we were only a mile or so from the aid station.  The rain continued to fall and dusk arrived.  The trail turned to mud.  We met two runners who thought we were on the wrong trail.  It all looked familiar to me and I assured them that we were OK.  I took out my GPS and confirmed that we were on the right course and soon we saw a glow stick hung on a tree ahead, a sure sign that we were on the right trail.   I pulled out my headlamp for the last half-mile.
Finally, we arrived at Paris Canyon aid station (mile 53.2) at 7:38 p.m. (13:38 elapsed time, 30th place).   I was only 8 minutes behind my goal schedule, and I was about two hours ahead of my pace from last year!  The aid station was a flurry of activity.  Someone said, "Welcome to the lightning-free zone."   My second pacer, Eric, performed crewing duties and quickly went to work to bring us the things we needed, including blankets from my van.  I was surprised to see my friend Wynn still at the station.  He explained that he started to have a rough time after Bloomington.   I was cold, wet, shivering, and tired.   As quickly as I could, I got into dry clothes and put on my night layers of clothes.  I downed warm soup and soon started to perk back up.   I was ready to go, but my pacer still wasn't ready.  I told him I would go on ahead, but realized that he might have trouble navigating the next section, so I waited.  We spent 27 minutes at the station.   Other runners had arrived, and I could tell that many of them were thinking about dropping out of the race.   I was determined, so we went off in the dark, rainy night, to continue our journey.
I soon noticed that there were no glow sticks at all on the trail climbing out of the canyon.  The flags were few and hard to find.  I had been on this section two times before, so was confident that I wouldn't get lost, but I felt sorry for other runners, knowing that they would really get frustrated.   I pulled out my GPS several times (I had a waypoint set for each mile of the course) and it helped me stay confident that we were headed the right direction.   With the confusion, our pace slowed.   As we reached the top of the ridge, we saw a light coming toward us.  It was race director, Leland Barker.  He explained that he run out of glow sticks but we were headed the right direction.
Now the fun really started!  We had a series of steep downhill sections (no switch-backs) that were covered with slick mud.  I could see the skid marks of the runners who had recently passed this way.   My pacer Jim, really struggled down this section with his slick running shoes.  I thought about the possibility of leaving him behind, but decided that conditions were too dangerous for either us to be alone.  The rain still came down.  Several times we ended sliding on our butts in the mud.   At times I just skied down a section of trail.  After awhile it became very annoying and discouraging.  I knew my pace had slowed to a crawl.   But I marveled that there were no runner lights to be seen behind us for over a mile.
We trudged on through the wet, muddy, night.  Wearing cheap ponchos was annoying.  They got in the way when we needed things from our pockets.   I wished I could take it off, but when I looked at the sky, I could tell the rain wasn't over.  I mentioned to Jim that we might be able to see the front-runner coming at us because we were on an 8-mile section of the course that we run twice.   Sure enough, before we reached Dry Basin, Karl Melzer ran strongly toward us and said, "Good job."   We both marveled how sure-footed he was running swiftly on the mud and that he was 22 miles or so ahead of us.   Amazing.
We finally arrived at Dry Basin (mile 60.9) at 10:47 p.m. (30th place).   Dry Basin was far from dry.  It was a wet, muddy place.  Last year it was warm and inviting, this year it was a small place with a few volunteers.   I sat down and heard a dead thing call my name lying in a cot across from me.   It was Wynn.  He explained that he barfed tons of liquid out a few miles back and was trying to regroup.  He didn't look good.   I wished him the best.   Last year at this point I didn't stay long enough to eat.  I made sure that I ate well.  We stayed for 12 minutes.   I finally pushed myself off the seat and announced that I was moving out.  I was cold and needed to start generating heat again.  
The road out of Dry Basin was a muddy mess with many puddles to dodge.  We made the climb up to Green Pass and as we started to descend, I was pleased to see Wynn.   He was moving well and cruised on ahead with his pacer.  Somehow he had come back from the dead.  
We arrived at Mill Creek aid station (mile 67.6) at about 1:15 a.m.  Eric greeted me right before the station with a blanket and rushed me over to the warm fire.   I later relized that I failed to check into the station.   Around the fire were several runners who were debating whether they would continue.  They looked OK, but obviously loved the warmth of the fire.   I told Jim that his pacing duty was done.  He should not try the next section that I said would be tough and slippery.  The other runners around the fire made concerned comments about my "tough" comment.  I explained what the "Roller Coaster" was.   I had run that section two times before.   They pulled out their maps and I could see were losing their desire to continue.  I should have just grabbed them and pulled them with me, but I didn't.   I would face the next section alone.  I told Jim and Eric it might take me as long as 2.5 hours to reach Copenhagen Basin.
I changed the battery in my MP3, pushed away from the fire, and bid goodbye to my crew.   It was lonely on the dark trail alone.   I never saw another runner or any lights on this next difficult stretch.  The trail was a series of steep ups and downs, cross-cutting through several canyons.   I knew what to expect, so I just didn't let it bother me.  I sang out loud to the music as I slid down many muddy slopes.  Going up was just as hard.  One step up, half step slid back.
About a half mile from Copenhagen Road aid station, I sang out at the top of my lungs.  I was feeling fine again, but looking forward to more food and a little rest.   As I came into the station, I heard someone mention that they heard someone singing far off in the woods.  I laughed and let them know that it was I.   I arrived at Copenhagen Road aid station (mile 74.6) at 4:06 a.m. (22:06 elapsed time, 29th place).  Eric greeted me.   I asked if Jim had dropped him off.  He mentioned that Jim was still here.  That wasn't the plan.  Jim should be asleep at my motel room.  Eric was hesitant and then mentioned there had been a problem with my van.  They took a wrong turn going to this aid station and hit a large rock.   Later in the parking lot, they noticed a huge puddle of oil.   This news upset me.  I walked over to the car, made them convince me that the engine was still fine, and then turned to get ready to leave.   Eric would pace me to the finish.
As we left Copenhagen station, after a 14-minute stop, I was pretty bummed out.  Whenever I would worry about the van, I would slow down.   As we started the next big climb, a runner pinched my butt at he passed me.  It was Wynn!  I laughed.  That guy must be spending half of the night in the aid stations!   He mentioned that Jeff had DNFed (dropped out of the race) at Paris Canyon, but that Jason had a great run going and was in the top ten.   I still felt pretty good and hoped to keep up with Wynn at that point, but he ran strongly ahead.
Eric did a great job pacing me during the next several hours.  I warned him that it would be critical for me to eat and that he had to be firm with me.  I would likely argue with him that I didn't want to eat.   Sure enough, we would have some great arguments, but he would make me eat and tell me when I was being lazy.
My pace slowed, but was much stronger than last year.   Last year Copenhagen Basin was a frozen, cold place.   I had arrived there as the sun was starting to warm the air.  This year, I arrived much earlier.  We arrived at Copenhagen Basin (mile 78.6) at 5:43 a.m. (23:43 elapsed time, 28th place).   We only stayed two minutes, but grabbed some extra food for the road.   Going out, we ran into a dense patch of fog.  Several times we couldn't tell which road to take.  Even the footprints were hard to see.   I had to pull out the GPS several times to make sure we were on the right road.  Finally we made our way through that gloomy mess.   My spirits were low.  I knew I would miss a sub-30 hour finish.  I knew my car was wrecked.  I knew running/walking was now painful.   I knew my energy was low and getting worse.   Last year at this point, I really started to struggle.  The same thing started again this year, but I did my best to eat, drink, and push on.
Daylight came, sort of.  It was foggy, cloudy, cold, and pretty miserable.   We arrived back at Dry Basin (mile 82.8) at 7:21 a.m. (25:21 elapsed time, 27th place.).   We hadn't seen another runner since Wynn passed me.  Huddled around the fire were two runners who had been there for some time.   Another runner soon arrived.   We tried to lift each other's spirits and the volunteers were VERY helpful.  They took great pity on us.  We were muddy messes of tired flesh.  My stop was a long 17 minutes.  Last year I made the mistake of leaving this station too quickly.  This year I knew that the next 7.8 mile stretch would be the most difficult portion of my race.  It was the stretch where I DNFed last year.   I needed to eat until my belly was full, and make sure I was well prepared for this crucial section.
We pushed on ahead.  I wished that I could have a second wind, but it never arrived.   I had some good jogging stretches, but the pace was still pretty slow.   Soon the runners who had been by the fire passed us and wished us well.   We would never see them again or see any other runner for the next six hours!
As I passed the familiar landscape, memories of last year would come flooding back.   There was the place where I couldn't pull myself out of the shade.   There was the place where I had to lie down.   There was the place were I was moving at a slow crawl.  This year I also felt very tired, but I had far more strength, and knew I could press on.  As we reached the tree where I finally quit last year, I pointed it out to Eric.  I explained that I just couldn't find the strength to climb up over the three ridges ahead.   Even this year, I dreaded the thought of the climbs ahead.  I struggled up to the first ridge.  Eric pointed out that it only took me 5 minutes.   Hmm, that wasn't too bad.   We pressed on and climbed the second one.  Two down, one more to go.  Finally we got to the top of the third.  I remembered how I felt last year at this place, riding on the back of a motorcycle with muscle cramps.
We made the long downhill run back to Paris Canyon.  I reflected that I had last been there during the terrible thunderstorms at dusk yesterday.  Now it was morning.  We arrived at Paris Canyon aid station (mile 90.6) at 10:30 a.m. (28:30 elasped time, 29th place).  We made it a quick stop.  I asked Eric if he was going to go the distance.  He said he was if I wasn't going to sprint.  I noticed that he had been limping with a sore IT band.  The final 10 miles, with 3000 feet downhill would be tough for him.  
As we reached the top of Paris Pass, I called home and gave the bad news about the car to my wife.  She agreed to come and rescue me.  I told her that I was about three hours or so from the finish line.
We made our way down German Dugway, a steep narrow road, and arrived at German Dugway aid station (mile 93.4) at 11:34 a.m. (29:34 elasped time).   The volunteers were encouraging and told us we had it made.   But I knew what came up next, a stretch with many names:  Leland's Ledge, or Devil's Den.   It was a two-mile bushwhack traverse along a very steep slope.  It was a cruel way to end a 100-miler.  I didn't try to press the pace.  I didn't care anymore.  I just looked forward to finish.   We made our way very slowly through what Eric called "the jungle" and finally made our way to real trails.  
I was now in terrible pain.  The slow pace was taking its toll on my feet.   My back was starting to ache from the constant downhill.  But we pushed ahead.  When we reached the road in the canyon, the final mile, Eric congratulated me.   I had done it.  
Finally, I turned into the Dear Cliff Inn road and could see the finish line.  I broke out into a strong fast run and was amazed how good it felt to run fast.  Gee, why didn't I try that a long time ago!   Cheers went up and Phil was at the finish line announcing that Davy Crockett was arriving, his pacer at Wasatch.   I sprinted over the finish line at 2:23 p.m. or 32:23 in 29th place.
I collapsed on the lawn, a muddy, tired, painful mass of quivering flesh.   It was good to be finished and I was surprised how low my spirits were.  My car was broken.  Instead of resting, I would have to go get it towed.  My wife arrived several minutes after I finished, and I firmly told her that I was retiring from ultra races.  I felt low, unsatisfied by the whole grueling experience.   But, I knew I had completed one of the toughest 100-mile ultra experiences of the year.  Last year I thought it was impossible.  This year I did it.  
My retirement lasted three days.   Even Michael Jordan retired several times didn't he?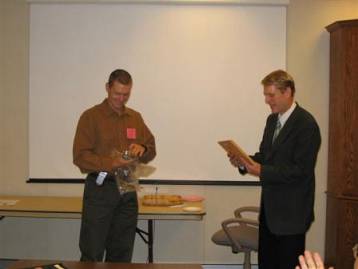 Phil Lowry presenting me my plaque and buckle
I returned to work the following Monday.  In the afternoon, during a meeting, a crowd of co-workers came in and who appeared?  Phil Lowry!  He made a special trip to my workplace to present to me my Bear plaque and buckle.  He made a big deal about it, fully embarrassing me in front of my co-workers.  On his way out he, he smiled at me, and said "Gotcha."