July 19-20, 2008

I made a return trip to run the Tahoe Rim Trail 100.   Back in 2006, this was my 4th 100-mile finish.  This year I had my sights set higher, hoping for my 18th 100-mile finish and to do it in less than 25 hours.
This beautiful course is laid out on state park and state forest land, climbing ridges overlooking beautiful Lake Tahoe and various reservoirs.  The surface is mostly very runnable, soft single track.  There is about 19,500 feet of climbs, aided by many switchbacks.  Most of the course runs between 7,000-9,000 feet elevation.   The race website says, "This event is run in some of the high elevation alpine and sub-alpine regions of the magnificent Sierra Nevada Mountains. It begins and ends at the Spooner Lake State Park, which is at 7,000 feet. The highest point on both courses is just below the 9,214 foot Snow Valley Peak (which also provides one of the best views on the course). The low point on both courses is at the bottom of the now "infamous" Red House Loop (A Taste of Hell) at approximately 6800 feet."
TRT100 is a very runnable course with a few tough climbs.  The only downside is that the 100-mile course does the 50-mile course twice.   But that is OK because for most of the runners, the second trip is mostly at night.  It is nice to see the entire course during the daylight and then see it from another perspective at night.  Another fun feature are the out and backs and being able to see the 50-milers on the course too.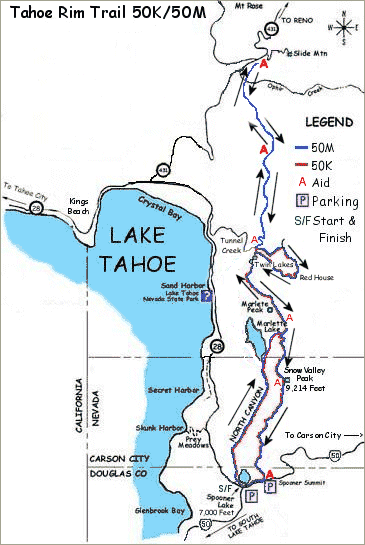 I think Tahoe Rim 100 is one of the best-run 100s in the country.   The meals provided both before and after the race are fantastic.  The custom belt buckles for finishers are amazing, a great motivator during those tough hours in the early morning around mile 80.   The meetings were held on the Nevada Capital lawns, very close to low-cost motels.  The shuttles to and from the course were very convenient.  All the aid stations were fantastic.  Anything I wanted could be found.   The volunteers were great.   The course markings were dummy-proof, almost incoherent runner-proof.
The minor areas for improvement I noticed were:  1. Hold the check-in, pre-race meetings and drop/bag deadline at the pre-race dinner.   We were required to be there by 2 p.m. on Friday.  This early hour was tough on travelers.  2. Sign up Ham Radio volunteers to centralize the runner status to race headquarters.   3. Nix the association with USATF, it is hurting the race.  4. Clean up the website.  There is a lot of conflicting information, incorrect times, etc.  5.  Reduce the number of weigh-ins on the course.  There were way too many.   6. Somehow figure out a more spectator-friendly finish area.  It just isn't inviting for us to hang around and watch others finish.
Pre-race
I made the trip to Carson City with Jim Skaggs, the RD for the Antelope Island Buffalo Run.   As we approached Carson City, I just couldn't get the "Bonanza" theme song out of my head.  After a long 8-hour drive, we arrived in time for the check-in.   I only recognized a few runners.  At the pre-race meeting they mentioned that they had re-opened the registration to allow many Western States runners to sign up.  (Western States 100 was cancelled this year due to the California fires).   We would have a bigger, more competitive field this year.   111 runners would start the race.  
The "highlight" to the pre-race meeting was all the time spent on emphasizing the ridiculous no-headphones rule.  They claimed it was for safety reasons.   I found it ironic that when asked if trekking poles could be used, the answer was no problem.   Hmmm….safety.   Matt Watts kept joking that he would report at every aid station that he had seen Davy Crockett #595 wearing headphones.   I said that if he did that, he would probably later find me handcuffed at an aid station with bright lights shining in my eyes, trying to get me to confess to the dangerous rule infraction.   Seriously, USATF needs to leave our sport alone and take their silly rules with them.  This isn't a road race.  So, after learning that the most dangerous thing I would face on the trail would be a piece of wire attached to an Ipod, I felt confident that I would have a good, safe race. 
Goals
I entered Leadville 100 again (next month) and I believe a 25-hour finish there is within my reach on a perfect day.  So why not test out my speed and determination at Tahoe Rim and try to also finish in 25 hours?  The two courses are comparable in difficulty.  If I can't do it at Tahoe Rim, I probably won't be able to do it at Leadville.   So, I set my goal high and decided to go for it. If successful, this would be more than a three-hour improvement over my 2006 time.
My training continued to go well — injury-free.   One week after Bighorn 100, I ran a respectable 28-miles at Logan Peak. Like at Bighorn, I planned to run very light.  I believe this is really helping me to increase my pace.  I wouldn't use a waistpack, but would instead just carry hand-held bottles and have a few gels in my pockets.  During the race I would live on diluted Ensure, gels, a few turkey sandwiches, and some soup.
The Race
From Carson City, we made the quick 20-minute drive up to the start and jumped in a convenient shuttle from the parking lot into the park.   The start area was well-organized with plenty of lights blazing.  Matt Watts showed up and while we were near a crowd of runners yelled, "Davy, do you have your headphones?"  A dozen runners heads turned in unison, in our direction.   Thanks Matt!   We had a good laugh over that.   We made our way down to the start area, on a dirt road near Spooner Lake.   I made my way toward the front and away we went!   For the first half-mile or so, I ran with a group of six elite front-runners.   Nikki Kimball, Bev Abbs, Erik Skaden, Mike Wolfe, and others.   The girls were teasing Mike about his shirt, looked like a button-down dress shirt.  After a half mile, as they started to introduce each other, I backed off.  I knew I wasn't worthy to be part of this club.   We hit the Marlette single-track trail and I watched the leaders disappear up the trail.   I was happy to be in my own pack of one, running in about 8th place.   I kept that position for the next 11 miles.
 
Listen to audio clip: mile 5 at 5:50 a.m.
The morning was beautiful and I soon was able to turn off my little flashlight.   I really enjoyed running up the soft single-track trail that took us up to Marlette Lake.  The lake was peaceful and inviting.  The first challenge I noticed was the altitude.  My lungs were working very hard at 7,500 feet.  They soon even began to ache.  I backed off my pace a little, but kept a run going almost the entire way to the aid station at Hobart.   I arrived at Hobart (6.4) at 1:11.   We had already climbed about 1,200 feet.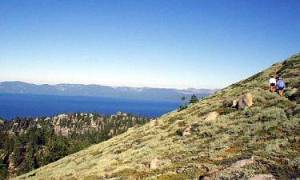 Climb up Marlette Peak
Lake Tahoe in background
 I knew what to expect on the leg to Tunnel Creek, and I kept focused to push it hard.   First up was a challenging climb on the slopes of Marlette Peak.  I could see the footprints of the elite runners ahead.  It was funny to see that all I could see were toe prints going up the steep trail.   They all were still running.   I did my best to do the same.   Around a turn, massive Lake Tahoe came into view for the first time.  It was spectacular!   I marveled at the beauty and tried not to trip as I ran on.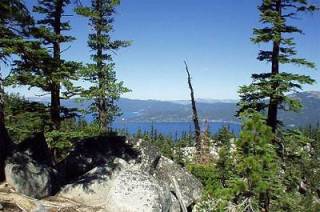 View of Lake Tahoe above Tunnel Creek
Listen to audio clip: mile 8 at 6:21 a.m.
The trail leveled out above the tree-line and then started to descend into the Tunnel Creek valley.   This section was a blast to run down as it winds back and forth switchbacks through the forest.   Far behind me, I could hear some chatty runners catching up.   I pushed harder to stay ahead to remain in the quiet peace of the morning.   I arrived at Tunnel Creek (mile 11.4) at 2:02, just two minutes behind my pace goal.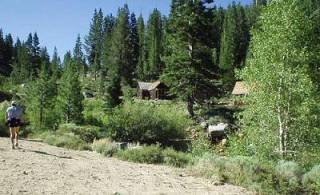 Red House
I made a quick stop and then descended down the infamous "Red House Loop."   This section isn't really a big deal.  It is a steep down and back that doesn't involve nice switchbacks.   I could feel the temperature rise as I descended down a quick 1,200 feet in just a couple miles.   As I was climbing the road up toward the historic red house, a fast runner behind me caught up and passed me, the first to do so in the race.  He commented how fun that run down was.   After refilling at Red House, the run up a long pipeline road was enjoyable.  
Listen to audio clip: mile 16 at 7:43 a.m.
As I completed the loop portion of the leg, I could see the speedy lead 50-milers who were about four miles or so behind me.   (The 50-mile race and 50K race started one hour after the 100-milers.)   As I climbed back up toward Tunnel, I kept my eye out for Jim or Matt, but didn't see either.  That meant that they both were on the loop, within four miles.   I arrived back at Tunnel Creek (mile 17.7) at 3:19, right on schedule!  I was already 14 minutes ahead of my 2006 pace.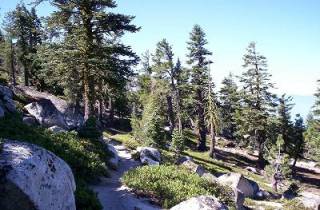 Rim trail
Next up was a long out-and-back to Mount Rose, nine miles away.   This section is wonderful, on the Tahoe Rim with great views on each side of the rim.   I settled down into a more sustainable pace and was surprised at how many fast-moving runners passed me along this section.   It didn't seem like I was slowing down that much.    I did make my first blunder.  I forgot to pick up my second water bottle at Tunnel.  No problem, I would fill up at the mid-way-point aid station at Diamond Peak.   Yikes!   There was no aid station!   It hadn't been set up yet and I was on my own.    I did my best to conserve my water but soon ran out.   Finally, with a couple miles to go, I crossed over a small creek and didn't hesitate to dip my bottle in for a drink.  That saved me.    The front-runners soon showed up, already on their way back and about 3-4 miles ahead.   They are amazing.   I managed to stay ahead of all the 50-miles until Mount Rose.    I arrived at Mount Rose (mile 26.7) at 5:14, six minute ahead of my goal pace and 23 minutes ahead of my 2006 pace.   Things were still going great.   It seemed like I was in about 20th place.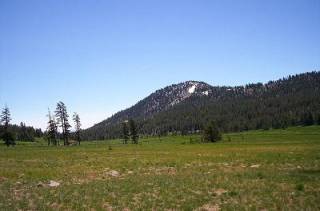 Near Mount Rose
I looked forward to the return trip because I could see all the runners behind.   I first saw Jim who was about 30-40 minutes behind.  He was doing fantastic so far.   I saw Matt Watts about 1.5 hours behind, and Anne Watts (running the 50) about 3 hours behind.   The day was starting to be very warm, taking its toll on most of the runners.   The Diamond Peak aid station still wasn't there.  I prepared for that and made sure I dipped into the stream and drank plenty.   The back of the pack soon was gone and the trail ahead was quiet again.   With the out and back, I could see that there were many small packs of runners together, but toward the front, we were all spread out.    I returned to Tunnel Creek (mile 35.7) at 7:12, eight minutes ahead of schedule.   It was time to take a longer stop to clean my feet and change my socks.  The trail was dusty and grit was now a problem inside the shoes.   I felt much better and knew that investment of time would be worth it with the long downhill ahead after Snow Valley.
Listen to audio clip: mile 37 at 12:40 p.m.
I struggled somewhat back up the climb above Tunnel Creek, but arrived at Hobart (mile 40.7) feeling OK at 8:35, exactly on schedule!  I had overtaken many slowly moving 50K runners.  With an hour head start, I was over 18 miles ahead of them.   I did my best to give them words of encouragement to hang in there until the finish.   I also noticed that no more 50-mile runners were passing me.  I was keeping pace with those who would end up finishing in under 10 hours.   That thought encouraged me.   
As I was running along, I could hear what sounded like squeeking bats.  I have heard this noise before but never found its source.  It was the afternoon.  There couldn't be bats.  I shook my water bottle.  No bat noise.   Where could it be coming from?  There it was again!  And again!   Finally it really bugged me and I was determined to figure out the source.  I finally discovered that when my new gaiters were brushing up against each other as I ran.  As they did, they made a squeeky bat noise.  Pretty funny and very appropriate considering the Batman movie coming out this weekend.
The tough climb up to Snow Valley felt great.  It was much more runnable than I had remembered.   The cooler temperatures felt nice and I had a good uphill gear going.   The views were incredible.   Lake Tahoe was covered in more smoke than during the morning.   I arrived at Snow Valley (mile 43.5) at 9:29, again right on schedule and over an hour ahead of my 2006 pace.   My race was going great.    I was weighed for the 4th time.   For the entire race I would weigh in at 179-181.   My pre-race weight was 185.   I would have to keep telling the volunteers that I was just fine, exactly where I needed to be.
View of Lake Tahoe from Snow Valley Peak
The long run down went well.   The heat was getting to me and I kept thinking to myself that it was OK to go slower during the hot afternoon if I could pick up the speed during the night.   This seven-mile stretch to the end can be great fun if your legs aren't thrashed.   I felt pretty good, but still walked the few uphills on the ridges along the way.   No runners passed on the way down.   In fact for the last 60 miles of the race no 100-mile runner would pass me on the course.  (One did in an aid station, but I passed her back later.)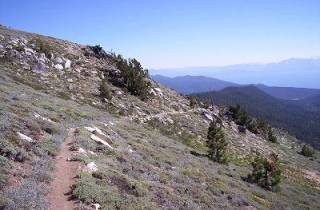 Trail heading down
I completed the first 50-mile loop at 11 hours even.   Wow!  I was exactly on my pace goal and 1:12 ahead of last year.   A volunteer quickly linked up with me and gave me his full attention.  My left foot was not doing well.  I took the time to clean the foot and do a sock change.   I tried putting on a double sock but that felt terrible and I took off the extra sock within a quarter mile.   I pushed myself out of that aid station, spending too long at it, and was on the trail back up to Marlette Lake.    The trail felt deserted.   No longer were there 50-milers to be seen.  The 100-milers that had the mental strength to go out for another 50 were few and spread out.    I didn't see any other runners on this leg.  
Listen to audio clip: mile 51 at 4:12 p.m.
Looking back, mentally, I probably goofed at this point.   I was so pleased that I finished the first 50 right on schedule, so pleased that I kind of took a break.   I arrived at Hobart again (mile 56.6) at 13:01, 15 minutes behind schedule.   There were a couple runners and a pacer sitting comfortably in the aid station.  When I arrived, they shot up out of their seats and were away.   I thought that was pretty funny.   I didn't sit down, filled up and pushed on to chase them.
This next leg was my worst.  The lingering heat of the day finally hit me.   My stomach went south and I slowed down.   I was pleased to see Anne Watts heading into Hobart on mile 40 of her 50-miler.   She was hanging in there, among the back of the pack.   Right after she left, I threw up.   (Later Matt would joke that Anne has that affect on people.)  
Listen to audio clip: mile 58 at 6:11 p.m.
I pushed on the best I could and finally arrived back at Tunnel Creek (mile 61.6) at 14:26.  It was 7:26 p.m. and the sun was setting.  A woman runner arrived soon after me and the volunteers who seemed to know her, flocked around to help.   I was off sitting on my own, trying to regroup and fill my own bottle.   The girl went on ahead to cheers.  I would pass her for good in eight miles.   Feeling somewhat better, I grabbed my flashlight, one water bottle, and headed down into the Red House Loop.   I was very glad that it was still light out.  In 2006 it seemed spooky to run down there in the dark.  
Listen to audio clip: mile 63 at 8:01 p.m.
When I reached Red House, the man and boy there were so friendly and helpful.  I almost didn't want to leave.  They offered me warm soup and seemed to know just what I needed.   I finally bid goodbye.   My run up the pipeline road was slow.   Soon I turned on my flashlight.  Where the loop converges, I called out a hello to a runner starting the loop.   There was no reply.   He was probably having a rough time.   There was no sign of either Jim or Matt on the remaining return section to Tunnel Creek (mile 67.9).   I arrived back there at 16:33.    I was now 43 minutes behind my goal pace, but staying 1.5 hours ahead of my 2006 pace.   I realized that a sub-25-hour finish was not likely anymore without an amazing comeback.
While I passed very few runners on the trail during the race, I passed many in all the aid stations.   My stops were generally pretty quick.  I tried not to sit down unless I needed to change a sock.   As I left the aid station, I noticed that a runner I passed and his pacer, both with Auburn Runner Company jerseys, were hot on my trail.   I refused to let them pass me!  For the next 20 miles they would be my primary motivator as I never let them catch up except at the aid stations.   During the first couple miles they almost caught up but I pushed it into a higher gear until their lights completely disappeared.   As I was pushing forward, I was amazed to see Nikki Kimball running toward me finishing the out-and-back, almost 18 miles ahead.  Amazing!
I soon caught up to the woman runner who had passed me in the aid station.  Her pace had slowed but she was doing fine.  I had put on a long-sleeve shirt, but quickly I rolled up the sleeves.  It would stay pleasant for the entire night.   The full moon came out but started to be lost in some clouds.   The reflection of lights against Lake Tahoe far down below looked very cool.   I was very pleased to see that the Diamond Peak aid station finally was in place.   I drank plenty and went away with a full bottle.
I caught a couple other runners and cruised into Mount Rose (mile 76.9) at midnight (19:01), still 40 minutes behind my goal pace.   There were some beat up runners and pacers sitting next to a heater.   I looked pretty beat up myself and the volunteers kindly helped me with what I needed.   They offered a grill cheese sandwich to be cooked up, and I accepted, but after a couple minutes I said I couldn't wait.   I noticed when I got up, the Auburn Running Company runners who had been chasing me started to get ready to leave too.
I generally still felt good and pushed the climb up out of the valley without difficulty.   I now saw many runners heading toward me, some groups in packs.   I made sure I was running very strong every time I met a group.  It was great fun.   I predicted that Jim would probably be 1.5 hours behind me at this point, but there was no Jim.   Where was he?   I was pleased to finally see Matt near the Diamond Peak aid station.  He was about nine miles behind, about 2.5 hours.   He was in good spirits and moving well.  I told him that a sub-25 was now out of the question but I was doing well.  I asked him if he had seen Jim Skaggs.  He had not.   I concluded that Jim must have dropped out.
I did my best to kick it into gear on the downhills, but a blister on my foot was really slowing me down.  I knew there was not much I could do, so I decided I would just put up with the pain and do my best.   I returned to Tunnel Creek (mile 67.9) at 21:35.   Two years ago dawn greeted me here.  This year it was still a couple hours away.
As the Auburn runners arrived, the aid station captain mentioned to me that I was in 19th place.   What??!!   That got my attention.   I "lept" out of my chair.  I firmly told myself that I was not going to lose a top-20 finish.  Ready or not, I ran out of the station.   I soon saw the Auburn runner lights chasing behind.  This had to stop!   I needed to slam the doors on this chase.   Next up was a long tough climb toward Marlette Peak with plenty of switchbacks.    I started a game with myself.  When my light went out of the view of the runners behind, I kicked up my pace big-time to press on way ahead.  When they saw me again, I would be much further up the hill. My pace felt strong and fast going up those hills.  I was shocked at the energy I felt.   This was working.  I could see that the lights were falling behind.  It looked like one of the runners was trying to keep up but the other couldn't.   Now it was time to be even more ruthless.  On the next switchback I turned out my light and ran by the moonlight so they couldn't see where I was.   When I went out of their view I would turn the light back on or shade the light when I was within view.   Soon they were far down the mountain behind.  As I neared the top, I was confident that I had slammed the door, that I wouldn't see them again.   And I didn't.
I arrived at Hobart (mile 90.9) for the last time at 23:21.  I had run ten minutes faster on this leg compared to the first loop.  When I arrived, I noticed some dead-looking runners sitting around a heater.  They weren't moving.  They just looked up at me with their tired eyes.  The fire in those eyes were gone.   The aid station captain turned his entire attention to me.   A pacer offered me a seat next to the zombies.   I waved him to sit back down.   I wasn't going to sit next to death at this point of the race.  It could be contagious.   I only spent a couple minutes there.  The captain told me that I was in 16th place.   The dead runners didn't seem to care.  16th!!   Great!   With that thought I busted out of that place and started the tough climb up to Snow Valley.   I knew that the next runners would probably be well over a mile behind.  I never saw any lights chasing me far below.
Listen to audio clip: mile 92 at 4:41 a.m.
I missed having my MP3 to keep me company.  I finally just started to sing out songs as I ran.  There was no one around to listen, so it didn't matter how awful it sounded.  As I neared the top, the glow from both the dawn and the full moon was enough light for me to turn out my light.   I looked far back, but still saw no one behind.  I had a top-20 finish in the bag.   I arrived at Snow Valley (mile 93.7) at 24:27.   The aid station was very inviting, but I kept my distance from any chair.  They confirmed that I was in 16th place.   The glowing horizon was spectacular as the sun started to rise.  It was cool to be at the top of the world for the sunrise.
OK, it was all downhill from here.   I looked at my watch and realized that I could break 26 hours if I ran all the way down.  I needed to cover over seven miles in 1.5 hours.   I could do this.   I had a terrible blister behind my right big toe.  I just had to put it out of my mind and put up with the pain.   I ran and ran, and sometimes flew.   With about five miles to go, I passed a runner (Rick Gaston) who was obviously walking it in.   "We're almost there,"  I said in encouragement.  (Rick had a badly sore knee, but pushed on to the finish.)  I was now in 15th place.   With about three miles to go, the sun finally peaked over a ridge and through the trees.  It was a beautiful morning. 
I ran and kept a close eye on my watch.  To break 26 hours, I knew that I should reach the last aid station (1.7 miles before the finish) with at least 20 minutes to spare.   15 minutes would require a very painful sprint.   I believe I arrived with about 22 minutes left.  They asked me if I needed anything.  I told them that I was just running on.   I painfully kicked up the pace.  Nothing would stop me now.   I kept a strong run going and soon the finish area was in view.  With one more watch check, I knew I had it in the bag.   I crossed the finish line in 25:54:00, in 15th place. (Turns out the official results shows me in 17th place.)
Jim Skaggs was there to greet me.  I was in rough shape and somewhat incoherent.   He explained about his DNF at mile 61.  I had to ask him again about it the next day because my mind was in a fog.   I found a chair and quickly pulled off those painful shoes and washed my feet.  That was a great run, but I was glad that it was over.  In just an hour later, we found a motel that would let us check in early and there I rested for the next eight hours until the awards. 
The awards were kind of silly because of the USATF tie-in.   The USATF only gave awards out to those who were paid members of the association.  Probably less than one-third of the field were members, so their eighth-place finisher was way back in the pack.  It all seemed silly and took up a lot of time trying to hand out medals to people who didn't even stick around.  Some of the age group awards couldn't be given out because no members in those age groups finished.
When I came up for my belt buckle, the announcer mentioned that I was a two-time finisher and that I had beat my first time by more than two hours.   I was impressed that she had noticed.  Yes, I beat my course PR time by 2:10.   Last month I beat my Bighorn 100 PR time by more than two hours too.   What gives?  I wish I knew.   I feel faster and stronger than last year, but I can't point to anything specific to explain why. 
There were 111 starters and 64 finishers, with a 57% finish rate.  Wow!  Why the low finish rate?  The heat and altitude certainly contributed.  But I think that much of it is mental toughness.  Once you had run the loop once, it is tough to consider doing it again in the dark.
| | | | | |
| --- | --- | --- | --- | --- |
| | miles | Goal | 2006 | 2008 |
| Start | 0 | 0:00 | 0 | 0 |
| Hobart | 6.4 | 1:05 | 1:13 | 1:11 |
| Tunnel Creek | 11.4 | 2:00 | 2:07 | 2:02 |
| Tunnel Creek | 17.7 | 3:20 | 3:33 | 3:19 |
| Mt. Rose | 26.7 | 5:20 | 5:37 | 5:14 |
| Tunnel Creek | 35.7 | 7:20 | 7:51 | 7:12 |
| Hobart | 40.7 | 8:35 | 9:30 | 8:35 |
| Snow Valley | 43.5 | 9:30 | 10:31 | 9:29 |
| Spooner | 50.6 | 11:00 | 12:12 | 11:00 |
| Hobart | 56.6 | 12:45 | 14:32 | 13:01 |
| Tunnel Creek | 61.6 | 14:00 | 15:52 | 14:26 |
| Tunnel Creek | 67.9 | 15:50 | 18:02 | 16:33 |
| Mt. Rose | 76.9 | 18:20 | 21:00 | 19:01 |
| Tunnel Creek | 85.9 | 20:50 | 23:56 | 21:35 |
| Hobart | 90.9 | 22:20 | 25:47:00 | 23:21 |
| Snow Valley | 93.7 | 23:30:00 | 26:43:00 | 24:27:00 |
| Finish | 101 | 25:00:00 | 28:04:00 | 25:54:00 |