August 1, 2008
For my 50th birthday on August 1st, I contemplated what I could do to celebrate this ancient milestone.   I figured since I was officially "over the hill," why not go over some huge hills?   I decided to accomplish something probably never accomplished before.  I wanted to summit the three highest peaks in Utah and return to the trailhead, all in one day without using a base camp. 
The three peaks, located in the Uinta Mountains are:
1- Kings Peak – 13,528
2- South Kings Peak – 13,512
3- Gilbert Peak – 13,442
I recalled an article I had read in 2003 about two guys who accomplished a 13-hour one-day "triple crown" using a base camp.  One week later my brother-in-law and I tried to one-up that accomplishment by doing it all in one day from the trailhead.  Our attempt was foiled.  The night before, eight inches of snow fell on the peaks and we aborted the attempt after summiting Kings Peak.  Even without the snow, I doubt I could have finished it because of its difficulty.
I believe this adventure is about 37 miles, but because of its degree of difficulty, it requires about the same energy as a difficult mountain 50-miler.
Here is what makes this adventure so difficult:
– All of it is above 9,400 feet altitude
– There is 14 miles of "bowling ball" rock trail
– You will be running about 7 hours above 12,000 feet
– There is 11 miles without a defined trail
– Eight of those miles involve boulder hopping
– About 9,500 feet of climbing
I thought I could accomplish this in about 12 hours, but that was overly optimistic given the degree of difficulty.  This is a very tough adventure.  It is especially tough on the feet because of all the boulder hopping along the way.
Quick description of the adventure

The first seven miles is on a forest trail above the Henry Fork River.  The trail receives plenty of horse traffic so it is rugged and filled with "bowling ball" sized rocks to slow things down and provide some fun technical running.  Now above 10,000 feet, the trail empties out into open meadows.   Passing by Dollar Lake, the trail makes an ascent via some switchbacks to Gunsight Pass (11,980).   From here it gets a little tricky, especially in the dark.  I would follow a faint cut-off trail that ascends up to a plateau and involves some boulder hopping.  Once up on this high plateau, there is no marked trail.  I would just pick the best route around the base of South Gunsight Peak.  The fastest route is to make a wide turn and stick as much as possible on grassy areas as opposed to a more direct route that involves slow boulder hopping.  Now in the high treeless Andersen Basin, you look up and can see Kings Peak towering over you.   Next, you connect to the Highline Trail in the basin and make your way up to Andersen Pass (12,690).  From there, you make a steep boulder-hopping ridge climb to the summit of Kings Peak (13,528).  These high peaks in the Uintas are covered with huge boulders.  Next up, is to summit the neighboring mountain, South Kings Peak.  It is about a mile away and involves boulder hopping the entire way, descending about 600 feet to a saddle and then ascending to reach the summit (13,512).  For many years, this summit was believed to be the highest point in Utah.  Next, I would choose to return back to Kings Peak summit and make my way back the way I came to Dollar Lake to attack Gilbert Peak (13,442).   To reach Gilbert Peak (4 miles as the crow flies from Kings Peak), this would involve a tough climb of about 2,800 feet without any trail.  Route choice is one of the big challenges.   Once above the tree line, the route climbs steeply onto high ridges that eventually involves plenty of boulder hopping to the summit.  Finally, you return back down to Dollar Lake and then run back to the trailhead.
My adventure

After work I drove to Fort Bridger, Wyoming and checked into a cheap motel to rest and prepare for my adventure.   I would take with me:  a waist pack and a very small camelback (without bladder) to carry my stuff.  My food would consist of 8 packets of Instant Breakfast, four bean burritos, a flask of Hammer Gel, and a few peanut butter cups.   I would carry only two water bottles that would be initially filled with diluted Ensure.  I would also take a jacket, warm hat, gloves, camera, audio recorder, and some emergency items (cell phone, blanket, whistle, knife, flint, and tape).
After a few hours of cat naps, I arose at midnight to prepare and then drove an hour to the Henry Fork trailhead.   The trailhead was packed with vehicles, more than I had ever seen there.  That meant that the valley above was filled with backpackers and boy scouts.  I was running on the trail at about 1:15 a.m.  Despite an unusual heat wave, it was chilly as I ran above the river and I quickly rolled down my sleeves.   Looking ahead, I could see Jupiter blazing in the sky to the south.  There wasn't a cloud in the sky.   I pushed a good initial pace, prancing over and around the bowling ball sized rocks in the trail.   I could notice the thin air because of the altitude above 9,500 feet, but I was very pleased to see that I was breathing fine.   My main training goal for the next two weeks is to prepare for the altitude of Leadville 100 in the high mountains of Colorado.
Listen to audio clip at 2:25 a.m.
I reached Elkhorn Crossing (mile 6.5) in a PR of 1:12.  As the trail entered the high mountain meadows, it smoothed out and I was able to push the running pace even faster.   But then I looked up.  Wow!   The stars above were amazing.  I stopped, turned out my flashlight, and stared at the stars blazing brightly in the sky.  The Milky Way was very distinct, looking like a cloud in the sky.   I ran on and was pleased to see that I wouldn't have to wade through any mud bogs.  The trail was dry in the marshy areas, so the trash bags I brought for my feet would not need to be used.
Continuing on, I was startled by noise as I approached Dollar Lake.   A huge flock of sheep, number in the hundreds noticed me coming and moved away producing loud hoof noises.   I stopped, approached them slowly and thought it was cool to see all their eyes reflecting from my flashlight.   I reached Dollar Lake (mile 8.5) at about 1:45.   At times a cold breeze would blow in my face and I started to think about putting on my gloves and jacket.  But I didn't because pockets of warm air soon made things pleasant again.  
Below the switchbacks up to Gunsight Pass, I was alarmed to discover that the stream normally there was not flowing from the boulders.  On past adventures here, I would fill up at this point.  I began to be worried that I would have difficulty finding water.  Despite the heavy snow this winter, this was the driest that I have ever seen it here.  I ran up the rocky switchbacks very fast and strong, arriving at Gunsight Pass (mile 11.5) at 2:41. 
It was still very dark and I knew it would be a huge challenge navigating the cutoff up to plateau.  I concentrated very hard on using my light to stay on the faint trail created by boots.   Things went very well.  I believe my green light did a superb job in picking out the faint trail and I think I made it through the cutoff faster than I have ever done, even in the light.   My next challenge was to navigate around the base of South Gunsight Peak to Andersen Pass.  I could take a direct path, involving boulder hopping, or take a wide turn, losing altitude, running on grassy slopes.   I chose the grass.   To navigate, I looked up into the dark sky and could see Kings Peak summit high in the sky.  I generally stayed on a line trying not to lose too much altitude, heading toward the mountain.   I knew I would eventually reach the Highline Trail that cut across the high treeless basin.   I finally reached it and was pleased to see that the spring in the basin was flowing.   I stopped to fill up my bottles and mix some Instant Breakfast.   With the cool temperatures, so far I had only drank two water bottles.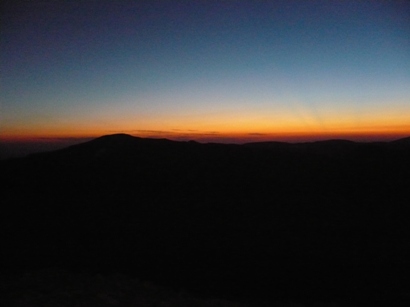 Sunrise from Kings Peak
With that nice brief rest, I pushed on and began the much steeper climb to Andersen Pass (mile 13.5).  I reached there at 3:43.  Looking to the east, I could see a faint glow behind the mountains as dawn started to approach. Now higher than Hope Pass (Leadville course), I could really feel the altitude but I was still doing fine. 
Listen to audio clip at 4:50 a.m. 
As I made the steep climb toward Kings Peak summit, I would concentrate on breathing deeper and harder and would take periodic one-minute breaks to rest to catch my breath.  After each stop, I felt energized and could push the pace faster.  Making the summit climb in the dark was very challenging.  I had made this climb about five times before, so I was pretty familiar with it.  I did my best to follow the route scuffed up by boots.  This route is the easiest because most of the boulders were firmly stationed and didn't rock.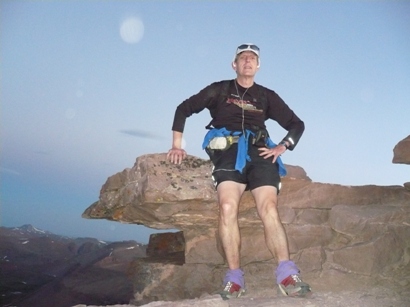 Exhausted on Kings Peak summit
I reached Kings Peak summit (mile 14), the highest point in Utah (13,528) at 4:40.  This was the fastest one-way trip I have ever made to the summit.  I had beat the sunrise. 
Listen to audio clip at 6:02 a.m.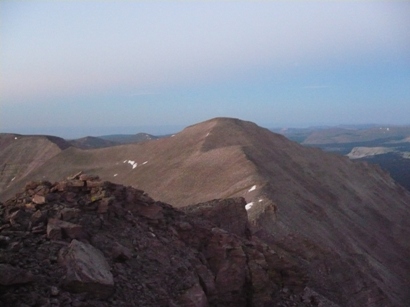 Next objective: South Kings Peak
Next up was the very challenging descent and ascent to South Kings Peak, about a mile away.   I no longer needed to use my flashlight but the boulder hopping was tough.  I had learned from my previous Uinta peak adventures that if I chose to hop down on boulders that had moss marks on them, they would be more likely to be firmly in place, because they had been in that position for hundreds of years.  The boulders that had no marks were in newer positions and sure enough, they usually rocked.   Rocking boulders were scary.  They could cause me to fall or crush an ankle.   Despite this challenge, I made good time and summited South Kings Peak (13, 512, mile 15) at 5:31.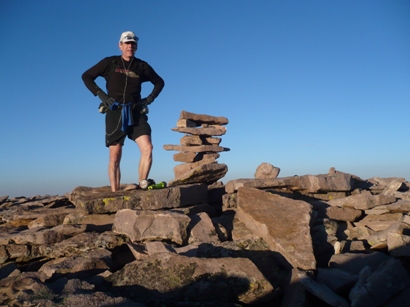 2nd summit: South Kings Peak
On South Kings Summit, I paused to put my light away and to eat a bean burrito.  My return trip to Kings Peak summit didn't go very well.  First, I noticed that the altitude was starting to affect my balance.  Balancing on these boulders was very important.  A couple times I lost that balance and banged up my legs on sharp edges.  I quickly lost my confidence and my pace slowed way down.   Next, my feet started to really bother me.  I had some good new trail shoes, but that just didn't do well enough to protect the feet as I jumped down on sharp edges of boulders.  My gloves were wearing holes in them at the fingers from touching the rough boulders.
Instead of returning back up to Kings Peak, I looked down and could see an alternative route.  At the saddle between the peaks is a nice boulder-free slope that descends about 1,000 feet to a basin high above Painter Basin.   From there, it looked like you could boulder hop back over and descend back down into Andersen Basin.  Potentially that could save a couple miles and at least an hour of time. However, I was very unsure about how far and hard the boulder hop was.  I quickly dismissed taking that shortcut and stuck with my orginal planned route.   If I did this again to improve my time, I would probably take this route.   It is even possible to go straight up Kings Peak, avoiding the trip to Andersen Pass.   Once before I descended Kings Peak by just jumping straight down boulders. 
I finally returned to Kings Peak summit (mile 16) at 6:24.   The descent to Andersen Pass also went slowly.  I did a poor job navigating the right course down the boulders.  My feet and knees complained about the work.   As I reached Andersen Pass (mile 16.5) at 7:06.  The first groups of hikers were making their way toward the mountain.  The common question was "How much further to the top."
At the spring in the basin, I stopped for about 15 minutes to regroup.  I cleaned my feet, mixed more Instant Breakfast, ate another burrito, and drank plenty.   When I continued on, I felt much better.   The sun was now shining warm and brightly.  I worried that being dressed in black would be a problem with the heat.  But it never was, because a nice breeze blew all day and the temperature remained nice and cool at this high altitude.
Listen to audio clip at 8:31 a.m.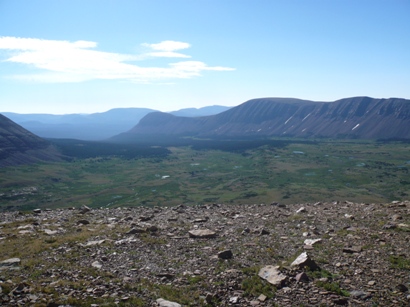 Going back along the cutoff, I goofed and took a wrong route.  I thought it was kind of funny that I navigated this section much better in the dark.   I ended up doing plenty of boulder hopping and wasted about 15 minutes.  I returned to Gunsight Pass (mile 18.5) at 8:15.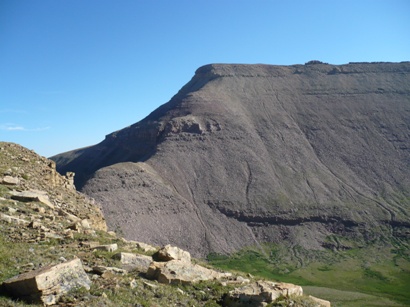 Gunsight Peak
From here, I had planned to make a steep climb up a slope toward Gunsight Peak, and then go to the third highest peak, Gilbert.   That idea would avoid having me lose about 500 feet of elevation and save a couple miles.   But as I looked up at that slope, I considered the idea crazy.  The slope looked dangerous and would be a foolish route to be done solo.   I just could see how I had previously seen a good route up that slope.  Instead, I would go back to Dollar Lake and make the normal climb up Gilbert Peak.  That was OK with me.  More elevation training was just fine.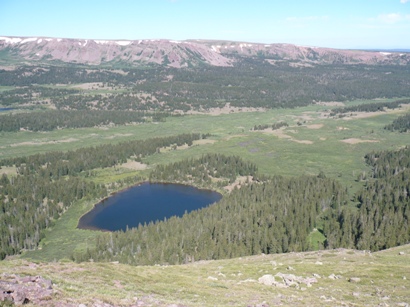 Looking down on Dollar Lake going up to Gilbert
The run down to Dollar Lake went well.  My legs felt strong and I kept a good pace going.  I arrived at Dollar Lake (mile 21.5) at 8:55.  I knew the adventure would take a new turn.   I had not climbed Gilbert Peak for over ten years and remembered very little about the route.   I made my way around the lake (the wrong way) and soon was running on a faint sheep trail through the forest.  I now remembered that there was no defined trail up this mountain.   Thankfully, because of the heavy sheep population on these initial slopes, the sheep had carved in some nice trails that climbed the slopes nicely.   I made a few wrong turns but as I ascended higher and came out of the tree line, I could see and remember the route to the top.   I needed climb up to a high ridge that made a sweeping turn around a valley below.  
I had my choice, I could climb straight up the grassing slopes or make my own switch-backs.  I pushed hard and generally went straight up.   Water was going to be a big problem.   Going up the mountain, I had no desire to dip into the stream because of all the sheep.   I was later pleased to spy two large snowfields near my intended route.  When I reached the snow, I digged down, finding clean snow, and filled both my bottles.  There was still some water in both bottles so that would help to accelerate the melting.   I added some Instant Breakfast to the bottles.  Within a half hour I had wonderful Instant Breakfast slush.   I also chowed down on a large snowball as I continued the climb.  
Listen to audio clip at 11:21 a.m.
The climb to the summit took longer than expected.  I knew there were at least two false summits along the way, but I had forgotten how far apart these summits were.   I tried my best to pick routes along grassy areas to avoid boulders, but eventually it just couldn't be avoided.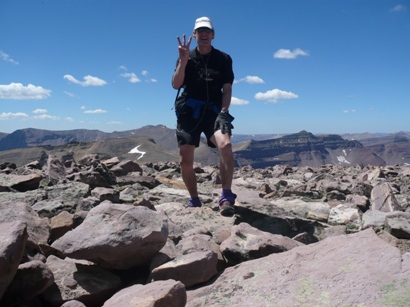 On Gilbert Peak.  Three Summits!
I reached Gilbert Peak summit (13,442, mile 25) at 11:13.   Wow, eleven hours for less than a marathon.  Yes, I wasn't overly speedy, but thinking about the eight miles of boulder-hopping and over 9,000 feet of climbing, helped me understand the slow time.   I stopped for a rest, and attempted a cell phone call.   I could see towns far below to the north, but all those Verison men that you see on T.V. were elsewhere, my call wouldn't go through.
Listen to audio clip at 12:29 p.m.
OK, it was truly all downhill from here.   I took a steeper, more direct route down to some grassy slopes allowing me to make better time.   I returned to the snowfields to fill up again.   I realized that this would have to be my last water stop for the next three hours or so to the finish unless I wanted to drink unfiltered water.   I really packed the snow in hard to my bottles and made a huge snowball that I nibbled on for the next half hour.
Bounding down the grass was fun, but my feet were just too beat up to enjoy it much.   I didn't have any blisters, but felt hot spots and soreness.   My route down was much steeper and I had to travel through some dense brush for awhile.   Finally I was running through a cool forest area and returned to Dollar Lake (mile 28.5) at 12:41.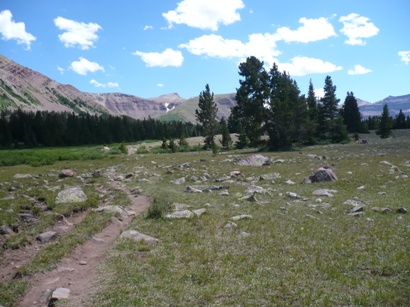 In the valley below Dollar Lake
The next six miles went very well.  With the lower altitude (10,000 feet) I felt stronger and faster.  My legs still had plenty of strength and spring in them as I pranced through many bowling-ball sections.   But with two miles to go, I only had a little very warm water left in my bottles.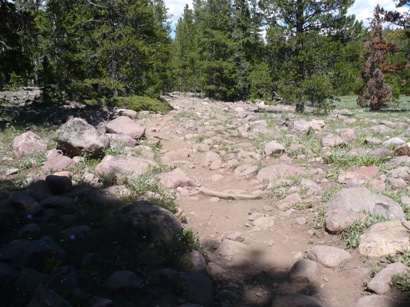 Bowling Ball Trail
Soon, that was gone and I could tell that I was becoming badly dehydrated.  My joints started to ache and finally my mouth became very dry.  I did my best to hang on.  I still was able to run past dozens of startled backpackers making their way up or down the trail.  I covered the last three miles in 40 minutes, so it wasn't too bad.
I did it!   The Utah Triple Crown.   I had summited the three highest peaks in Utah, in one day, unsupported, without using a base camp.   My final time was 14:34:59.  It is now a record, but the record is soft and can easily be broken by some other determined runner.   But I think the record is very safe for awhile.  To break it, the runner would need to be very familiar with the route to make good time.  For me, I've had plenty of boulder hopping for awhile.   I'll now return to the nice soft trails.  I also broke the record those two guys set doing the three peaks from Dollar Lake.  They did it in 13 hours.  I did it in 9:56.
When I reached my car, I was in plenty of dehydration pain.   I quickly grabbed a jug of water, warm from the heat in the car, and chugged it down.  It was wonderful, even warm.   I took some salt and within about ten minutes I was feeling much better.  My feet were very sore, but within a couple hours felt fine.   Overall, I was pleased that I felt so strong at high altitude.  I was well on my way toward getting ready for Leadville.