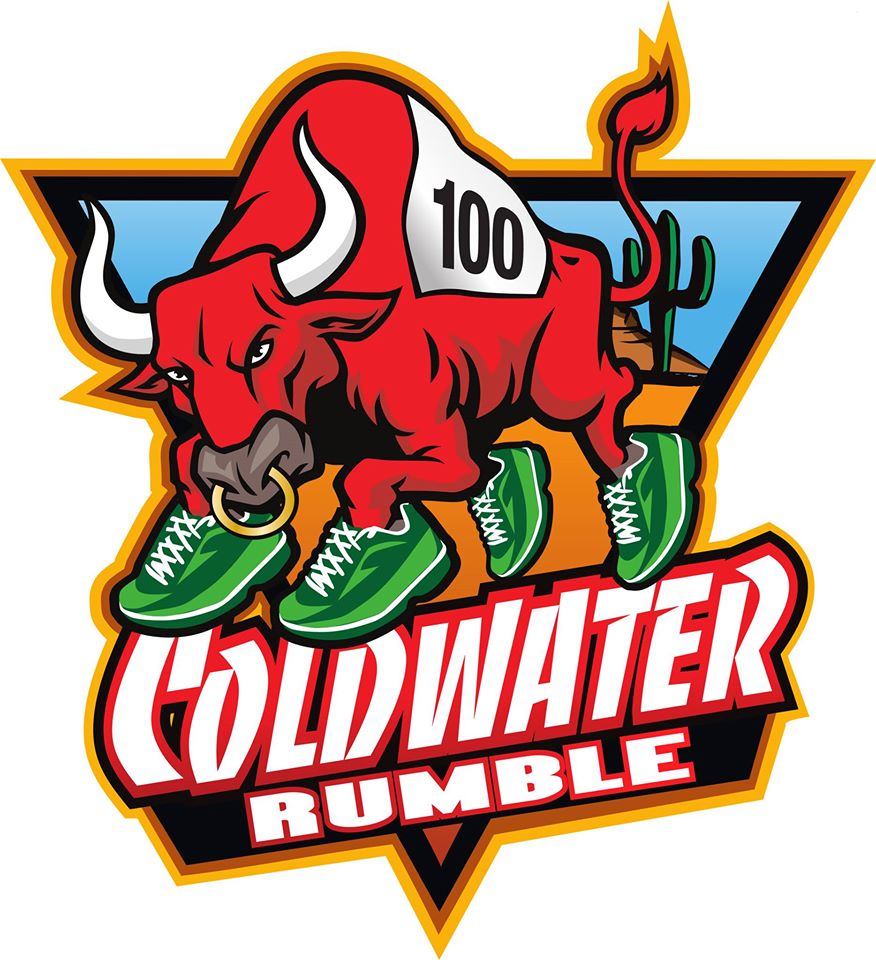 I again ran Coldwater Rumble 100 in Goodyear Arizona, near Phoenix, put on by Aravaipa Running, the same group that puts on Across the Years, Javalina Jundred (100), and others.  Last year I ran this race and finished in 29 hours.  I went away humbled, knowing that I didn't run well, and thought I wouldn't return to this race.  But I did return and was determined to do better.
Coldwater Rumble provides races of various lengths: 4 miles, 20K, 20 miles, 52K, 52 miles, and 100 miles.  They all start on the same day with staggered start times.  About 400 runners would be on the course that is laid out on various desert trails in Estrella Mountain Regional Park.  You could clearly tell which race a runner was in by the color and number on their race bib.
The venue for the race is Estrella Mountain Regional Park, nearly 20,000 acres of beautiful Sonoran Desert set aside to be used by hiking, mountain biking, and horseback riding.  On this weekend, the runners took over the trails.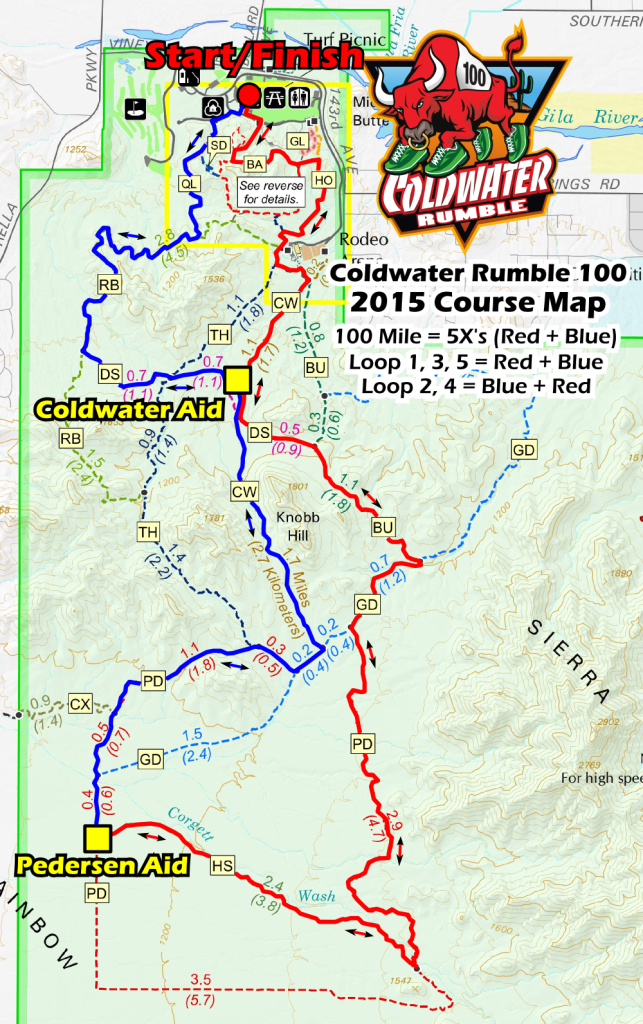 The 100-mile course is a huge 20-mile figure eight with an aid station in the middle and another one on the bigger loop.  The course is run clockwise on the first loop and then alternating directions from then on.  To reach 100 miles, you needed to run the course five times.

My training leading up to this race was solid. Four weeks prior I ran 151 miles as Across the Years and between these two races I had two training weeks over 100 miles, including 134 miles the week before the race.  During the winter, instead of so many miles outdoors in the Utah cold, I've been piling up the miles on an incline treadmill.
The 100-mile race started at 7 a.m.  All my running systems felt great so I pushed the pace during the first loop, running nearly every step and was in the top-10 of about 50 runners in the field.  The weather was perfect all day, with overcast and a breeze to keep the Arizona heat of about 73 degrees feeling cool.  The starting temperature was about 47 degrees but it quickly warmed up.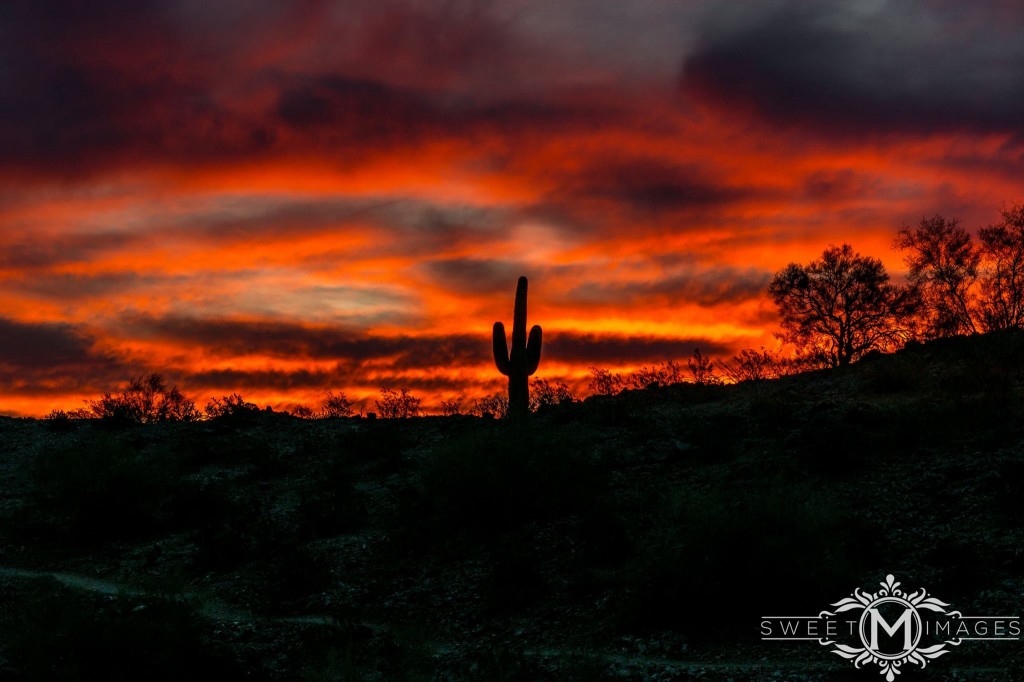 After running this loop course five times last year, the memory of every turn and climb came back to me quickly. The sunrise was incredible. The glowing red cast amazing color all around me.  The frontrunners soon disappeared and the mid-pack runners were behind me somewhere back on the trail.  For much of the race I would be in a strange "no-man's land" that would grow to three miles behind the runners ahead and four miles ahead of the runners behind.  By reversing the loops each time, I could gage how I was doing.  By the end of the first 20.4-mile loop I was only about three miles behind the lead runner.  My first loop was strong and fast, 3:28, much faster than last year and ahead of my goal.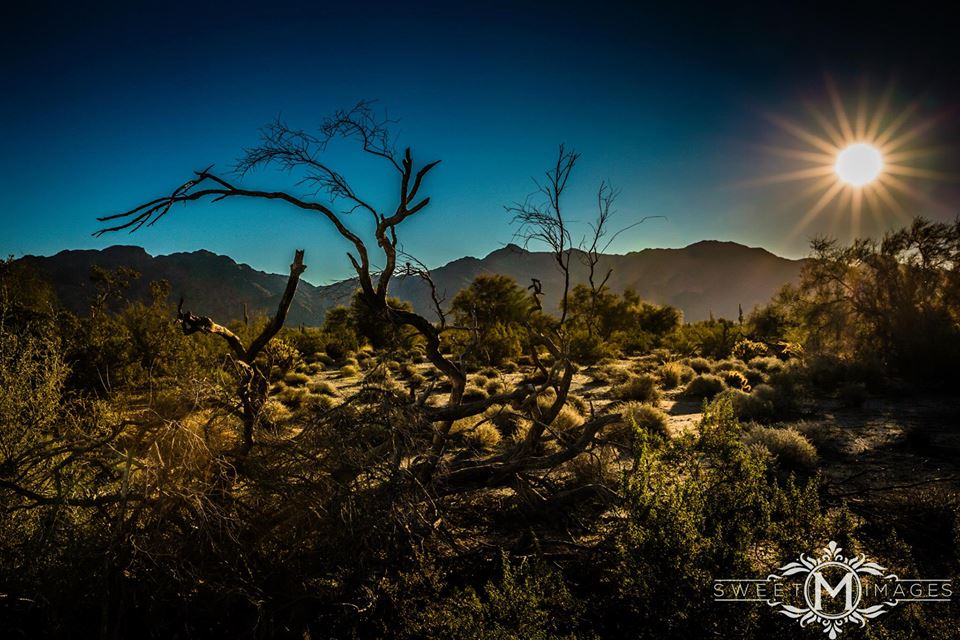 During the 90's, I lived nine years in Tucson, Arizona and loved the outdoors in the Sonoran Desert.  This course takes you through it all:  Giant saguaro cactus, jumping cholla cactus, desert washes, and rocky hills.  Some may not appreciate this desert beauty, but I do and loved the experience.  At times stretches of the course were flat and fast, but more often there were constant ups and downs and the trail crossed numerous dry drainage areas.  Some were small, other were large gultches.
| | | | | |
| --- | --- | --- | --- | --- |
|   | miles | Goal | 2016 actual | 2015 |
| Coldwater | 3.4 | 0:35 | 0:33 | 0:34 |
| Pedersen | 11.5 | 2:00 | 1:52 | 1:51 |
| Coldwater | 15.8 | 2:50 | 2:37 | 2:41 |
| Rumble HQ | 20.4 | 3:45 | 3:28 | 3:37 |
After a fast stop at my car to grab a few things, I was back on the trail, greeting all the runners behind.  Loop 2 went very well, in fact surprising.  I still ran nearly every step, although at a little slower pace, and felt strong.  I could tell that I was reaping all my recent treadmill running.  The trails were now full of runners from all the races.  The 50-mile runners who ran the first two loops with us, had started 30 minutes behind us.  All the very fast 50-mile runners had passed me by.  The afternoon arrived. I cooled my back with cold water, but it never really became hot.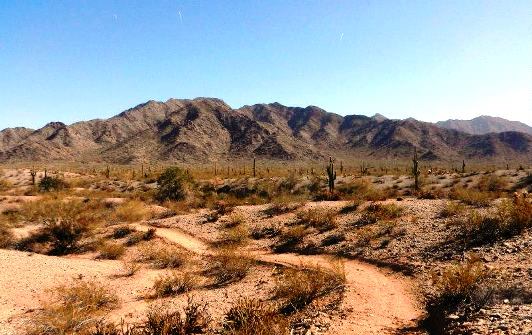 I finished loop 2, still in the top ten.  I ran the second loop in 4:09.   My expectations rose.  My goal was to finish in 25 hours, but if all continued well, breaking 24 hours was going to be very possible.  I was destroying my pace for last year and 25 minutes ahead of my goal.
| | | | | |
| --- | --- | --- | --- | --- |
|   | miles | Goal | 2016 actual | 2015 |
| Coldwater | 25.0 | 4:45 | 4:28 | 4:44 |
| Pedersen | 29.3 | 5:45 | 5:23 | 5:51 |
| Coldwater | 37.4 | 7:30 | 7:06 | 7:56 |
| Rumble HQ | 40.8 | 8:20 | 7:55 | 8:48 |
But my time took a hit when I needed to make a long stop to work on my feet.  Unfortunately the preventive taping I did on my feet wasn't good enough and I knew if I didn't stop to fix things, I would have some blisters appearing.  My stop was about 22 minutes long at my car.  I ate well as I worked.
When I started loop 3, my spirits went lower as I knew I had given up a bunch of time and was now running near runners who had been about a mile behind me.  Challenges started pretty quickly.  While I had been working on my feet at my car, my legs started cramping.  The cramping continued later up the trail. On a hill that I ran up hard, I could feel quad pain that greatly concerned me.  I slowed my pace to be careful and not cause a serious pull.  This problem would slow me for miles, but eventually seemed to work its way out. I hit the 50-mile mark at 10:24, not bad for this hilly course that is rugged in spots.
During this loop, I knew that dark would arrive so I made sure I grabbed a headlamp at the Coldwater aid station.  Last year I forgot it and ended up being greatly slowed by the dark, needing to walk behind a walker with a light.
Remembering where I was when the sun set last year, I was about four miles further down the trail this year.  I ran Loop 3 in a much slower 5:16 (compared to the first two loops) including my 22-minute stop.  I was now running in about the top-15 100-mile runners.  I was still tracking closely to my goal time, just seven minutes behind, but was nearly a full hour ahead of last year's pace.
| | | | | | |
| --- | --- | --- | --- | --- | --- |
|   | miles | Split | Goal | 2016 actual | 2015 |
| Coldwater | 44.2 | 3.4 | 9:15 | 9:04 | 9:52 |
| Pedersen | 52.3 | 8.1 | 11:05 | 10:53 | 11:45 |
| Coldwater | 56.6 | 4.3 | 12:10 | 12:00 | 13:05 |
| Rumble HQ | 61.2 | 4.6 | 13:20 | 13:11 | 14:19 |
My stop at my car was for 15 minutes as I prepared for the long night, putting on another layer, eating and grabbing food for the road, and resting a bit. During Loop 4, a brilliant full-moon came from behind the clouds to light up the entire desert.  The 100-milers now had most of the trail to themselves and a couple runners were running by moonlight.
For a change, my stomach was behaving and I was enjoying the night run, singing out loud at times.  During the night I carried only one water bottle which was enough. There were some cold sections that made me roll down my sleeves and put on gloves, but they were short and it generally stayed warm all night. During this loop a bad blister, typical for Hokas, appeared on the side of my left foot.  I kept debating with myself if I should stop to fix it or save the time by continuing.  I decided as I finished the loop to not waste the time and just endure the occasional bad pain.
I completed Loop 4 in 6:09 including stops.  I was still on goal for a 25-hour finish, just five minutes behind.
| | | | | | |
| --- | --- | --- | --- | --- | --- |
|   | miles | Split | Goal | 2016 actual | 2015 |
| Coldwater | 65.8 | 4.6 | 14:50 | 14:43 | 16:17 |
| Pedersen | 70.1 | 4.3 | 16:10 | 15:54 | 18:00 |
| Coldwater | 78.2 | 8.1 | 18:10 | 18:18 | 20:45 |
| Rumble HQ | 81.6 | 3.4 | 19:15 | 19:20 | 22:00 |
I had just one more loop.  It was about 2:30 a.m.  I recalled that last year I started the last loop at about 5:30 a.m.  I was crushing my time for last year.
The next runner was ahead of me by about three miles. Those runners ahead were still pushing for a sub-24-hour finish.   I realized that it was out of reach for me now. The next runner behind me was about five miles back, then another one seven miles back.  This was really odd, there was really no mid-pack. I guess I was the mid-pack.  Everyone else seemed to be in the back of the pack.
I continued to be able to run, but my Garmin watch showed me that it was slow.  I tried to push it but just couldn't keep a good pace going, so I plodded along with a slow jog at about 17-18-minute miles.  Last year as I came to the aid stations during the final loop, they were both packing things up early, even though runners would still be coming for three more hours.  That was very discouraging then.  But this year, I arrived much earlier and things were still in full swing.  Dawn arrived at about mile 95.  Last year I was at about mile 86.
With about eight miles to go, I was determined to move faster, to get this race done.  My miles improved to 15-16-minute miles and I ran the final mile in 14:00.  I hit the 100-mile mark on my GPS at about 25:05. I now had my eye on finishing in under 26 hours. With less than a quarter mile to go, I was surprised that I caught up and passed another runner.  I hit the final short pavement and finish in 13th place with a time of 25:43.  I improved on my last year's time by more than three hours.
It felt like a successful race and I felt great at the finish.  I nearly had a extremely successful race until the inevitable issues arrived to slow me down.  I was the first runner over age 46 to finish, so this aged 57-year-old is still fooling Father Time.  The winner finished in 19:44 and all of the top 10 finished in under 24 hours.  It was my 75th 100-mile finish.
| | | | | | |
| --- | --- | --- | --- | --- | --- |
|   | miles | Split | Goal | 2016 actual | 2015 |
| Coldwater | 85.0 | 3.4 | 20:25 | 20:45 | 23:40 |
| Pedersen | 93.1 | 8.1 | 22:35 | 23:11 | 26:18 |
| Coldwater | 97.4 | 4.3 | 23:50 | 24:30 | 27:41 |
| Rumble HQ | 102.0 | 4.6 | 25:00 | 25:43 | 29:01 |

My Fitbit really shows the story well.  Consistency for the first couple loops and a strong finish at the end. Shows that my aid station stops were very quick except for the end-of-loop stops at my car.  No drowsiness or snoozing this year.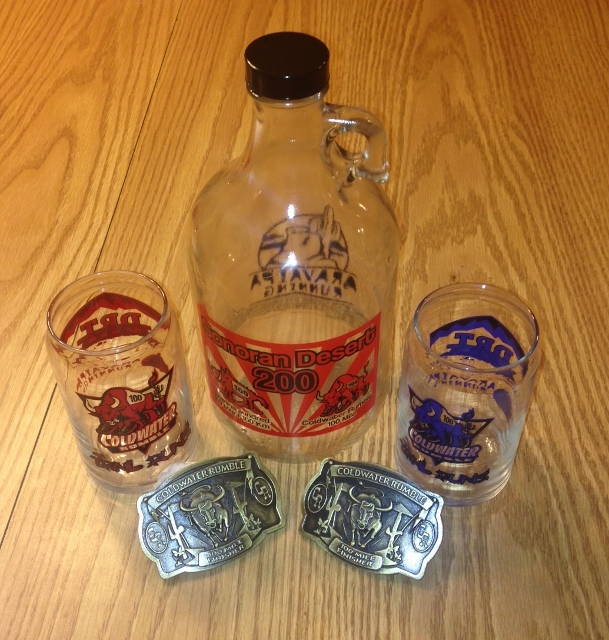 For finishing both Javelina Jundred and Coldwater Rumble 100, I received this cool jug.  I came in 3rd place overall for those who finished both races this season.