June 20-21, 2008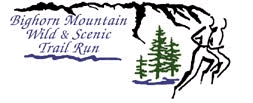 I ran in the Bighorn Mountain 100 Trail Run for the third consecutive year.   This is one of my favorite 100-mile venues.  I really enjoy it for several reasons:  1. The stunning mountain scenery in an area of the country few have seen before.  2. The Friday start, allowing me to return home and be ready for work on Monday.  3. The late-morning start, allowing me to get a great nights' rest the night before.  4.  The creative way the other races (50-mile, 50k, 30K) merge in with the 100-mile course.  By 10:00 a.m. on Saturday, there are over 500 runners on the trails at the same time.  During the late afternoon, at the finish, friends and families cheer finishers from all the races.  5. A very professionally run race with superb aid stations and experienced volunteers.
 This event is extremely challenging due to the rugged terrain of the Bighorn Mountains.  The course is usually an out and back with elevation gains of 18,300 feet.  However, because of the late snow season, there were still several feet of snow at the high point of the course.   The race directors decided to put into place an alternate course involving three new tough climbs in an attempt to make the 100-mile course a similar experience to the official route, but avoiding the deep snow.   Last year was difficult enough in the mud and snow.  I was grateful for the change and looked forward to seeing some new portions of the mountains.
I felt well-prepared for this race.   Two weeks ago I had a good fast run at the tough Squaw Peak 50, and came away injury-free.  One week ago, I set a PR in a fast 10-mile road run.   My mileage base was the best it has ever been leading up to this race.   I felt ready and determined to do well.
I drove from Utah with Andrew Barney who would be attempting his 2nd 100-mile finish.  The 8-hour drive was long.   This year the grasses on the lowlands were all green, rather than brown.   Certainly spring and summer were later than usual.  The Bighorns were brightly capped with deep snow.   We arrived at Sheridan, Wyoming on Thursday afternoon, checked in at the sporting goods store, and delivered our drop bags.    With the altered course, there would only be two drop bag locations, but we would visit each location three times.   Thursday evening the sky opened up and dumped an incredible amount of rain and hail during a terrible thunderstorm.  Both Andrew and I just looked outside in awe, trying not to visualize being caught in such a storm tormorrow.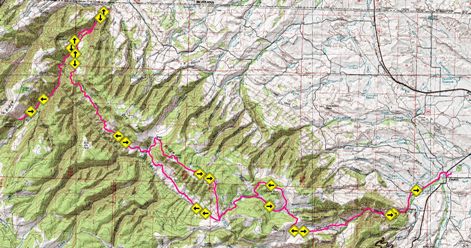 Course Description
The race starts on a dirt road in the Tongue River Canyon.   After a mile it joins a single-track trail running along the Tongue River and then makes a massive 3,500 climb in about seven miles to Horse Creek Ridge, giving amazing views at nearly 8,000 feet.  From there you run down "the haul" into the Sheep Creek drainage.  Next comes the first alteration to the course.  We would make a long climb up to Freezeout Point, a high ridge with great new views.   From there we would run on rolling dirt roads and finally descend the head of Dry Fork, where we would visit the first major aid station.   Next there is a mostly downhill run on rough dirt roads in the Dry Fork drainage to Cow Camp.   The run next becomes tough on another alteration.  We would have to make a steep 2000-foot climb on single-track up to Riley Point.   Back up at 8,500 feet, we would run along ridge tops back to the Dry Fork aid, completing a 14-mile circle.  From there it is back down to Cow Camp, running the same leg we ran 14 miles ago.  We would then follow the traditional course on a nice single-track trail that rolls up and down ridges, in and out of drainages, through forests and wildflowers, and eventually going down "the wall" (a 2,000-foot descent in less than 3 miles) into Little Bighorn Canyon to the Footbridge.   Next up would be an easy 3-mile out and back down the roaring Little Bighorn River, returning back to Footbridge.  This is followed by a long 15-mile out-and-back up the Little Bighorn River and back.   If we survived that, all that is left is a return to Cow Camp, doing the tough Riley Point route again, to Dry Fork, and then back up "the haul" to Horse Creek Ridge.   Finally, down the huge descent back into Tongue River Canyon, and a five-mile dirt road pounding to the Park in Dayton.   The altered course still had at least 18,000 feet in climbs.
Race Strategy
I had just one goal this year.   Break 27 hours.   That would be a two-hour improvement on my best Bighorn time.    In order to do this, there were two key milestones that I needed to meet.   On the altered course, I needed to reach Footbridge (mile 46.1) before sundown (10:30 elapsed time).   To force the issue, I did something probably foolish.  I put my flashlight in the Footbridge drop bag.  I would run knowing that I must reach that point or else I would have to run with a little headlamp, which would be very frustrating.   2. I needed to return to Cow Camp (mile 74.4) by 6:45 a.m. in order to avoid any delays due to sharing the trail with the 50-milers who would be heading toward us starting at 6:00 a.m.   I didn't want to have to keep stepping off the single-track for speedy 50-mile runners.   If I could reach both these milestones, I would have a very good chance at breaking 27 hours.   If successful, this would be my 17th 100-mile finish in a little over three years, and my third 100-mile finish for 2008.
The Race
You just gotta love an 11 a.m. start.  I didn't set an alarm and woke up on my own at 6 a.m. I ate plenty for breakfast and took my time getting ready.   We arrived at the park in Dayton in time for the pre-race meeting where we greeted many friends.  We were all smiles before the torture that was looming.   The race briefing was long, so I left before it was over and went to do my last minute preparations.   We then boarded the bus and waited for it to take us up to the start.    Phil Lowry was there and his usual fun vocal self.  Phil has been my ultrarunning mentor.  Back in 2005 when I was DNFing 100s, Phil took me under his wing, had me pace him for 60 miles at Wasatch, and coached me in much of my training.  I owe a lot of my ultra success to him.   Nevertheless, Phil's crazy personality is great to have fun with.  On the bus, Matt Watts immediately started to try to get under his skin.   For the entire weekend it was great comedy relief to hear those two go back and forth.   Phil is an Army guy, Matt was in the Navy.  That explains a lot.
We arrived at Tongue River Canyon and waited for the 11 a.m. start.   It looked like Phil was going to get to sing the National Anthem for us, but the scheduled singer finally arrived.  That didn't stop Phil from singing harmony at the top of his voice, echoing off the canyon walls.  It sounded great, but funny.   Phil was all decked out in his yellow Army jersey.
As the start approached, everyone stood about ten feet back from the start.  No one wanted to get into the starting blocks first.  Eventually, we eased forward and we were off!   I decided that I would run the first easy mile fast to get warmed up.  Very soon I found myself in the lead, with Justin Angle (I think) at my side, and Jeff Browning and Ty Draney close behind.   I felt great and kept the pace going.  Gee, I was leading the race after one mile, that must count for some points like in Nascar?  As we reached the trailhead, I backed off a little in order to be the caboose among the front-running six.   I hung with this group for the next mile as we ran along the roaring Tongue River.  I believe it was Justin who played the rabbit and went on ahead.   The morning was beautiful as our group extended our lead far ahead of the main pack.   A couple other runners caught up and passed me as we started the long steep climb toward Horse Creek Ridge.
This first long climb is very long and tough.  None of the front-runners were running.  We were all powerhiking.   The trail eventually left the forest and traveled up grassy slopes filled with wildflowers.  It was cool to be able to see the leaders ahead and look back and see dozens of runners chasing me.   This year I did a very good job in keeping pace with the runners ahead of me.  Phil and I had previously talked about treating this first climb as a typical "Timp Climb" which is a mountain in Utah that we do over and over again.  I kept this thought in my mind and it made the task seem easier.   I reached Fence Spring (mile 6.25) in 1:28, three minutes faster than past years.   Fence Spring was covered with a huge snow bank.
I was traveling very light.  I decided to try to do this 100-miler without a waistpack.  I only carried two hand-held bottles and a few things in my pockets.  It felt very good to not be weighed down with stuff.   This approached ended up working out very well.   During the night I went with one bottle in one hand and a flashlight in the other.  The aid stations were close enough to make this work.
My energy felt great as I pushed a run up the final stretch to the top of Horse Creek Ridge.   I looked down below and could see tiny figures of many runners far below.   After a quick decent down "the haul" we arrived at Upper Sheep aid station (mile 8.5) in 1:56, about five minutes faster than last year.   Last year I arrived here with David Horton.  This year I arrived with the runners like Tim Englund and Tom Remkes.  I would see Tom for many hours.   Several runners would catch up with me and call me by name.   It was fun to hear great words of encouragement on the trail.
Next up was a new climb up to Freezeout Point.   It was another tough climb, but I didn't let it get to me.  At the top the views were again great but the road was muddy in spots.   A larger pack of runners caught up and we played leap frog for awhile.  Finally, we descended a dirt road toward Dry Fork.  I pushed the downhill fast and arrived at Dry Fork (mile 15.3) at 3:12.   Wow, this was much faster than expected.    I had thought the detour to Freezeout Point would take much longer.  I was 48 minutes ahead of my goal pace.   Many runners stopped to mess around with their drop bags.  I just filled up my bottles and was back on the trail in under a minute.  
I loved the next section, and nice downhill run through the Dry Fork drainage.   It then makes short climbs in and out of drainages.   I reached Cow Camp (mile 21.3)  at 4:17.  Next up was the tough climb to Riley Point.   The first part crossed through wet marshy drainage and it was impossible to keep the feet dry.   The climb was pretty steep and I slowed.   I usually have a low point after 20 miles, and it was starting to hit me.  I looked down far below and thought I could see Phil catching up but wasn't sure.  I was amazed that the top of the mountain seemed to never come.  The trail started to wind through the trees, and into snow and mud.  My pace slowed even more as I became frustrated with the slick footing.  As I was finally reaching the top, I heard a scream behind me:  "Crocketta!!!"   Yep, it was Phil.   I yelled back, "Lowry!"    Phil was moving strong and reached the aid station before me. 
We reached Riley Point (mile 24.3) at 5:22.   I was 40 minutes ahead of my goal, but fading.   Phil disappeared on ahead.  The first place woman runner also caught up and passed me.   We were now running on top of the ridge on a muddy dirt road that at times was covered with snow.   It became a tough exercise to choose the right path to run on since there had only been about 20 runners to go through so far.   Sometimes I chose wrong and ended up slogging through some mud.  It quickly became frustrating.  Finally the road started to descend back to Dry Fork.  We were greeted along the way by some ATV and hikers.  Also, someone was already hanging glow sticks!  It was  5:45 p.m.   I guessed that the back of the pack could be arriving here four hours later in the dark and would need the glow sticks.
I arrived back at Dry Fork (mile 29.6) at 6:31 (elapsed time).   I stopped to do a sock and shoe change, but wasn't happy with the feel of the new shoe, so changed back.   It did feel much better to be in a clean sock.   So far the feet were doing pretty well.   I now set my sights on the next 16 miles to Footbridge.  I was very familiar with this trail and knew I needed to complete it in less than four hours in order to arrive before dark.    I hoped to also catch up to Phil because of all the downhill.  I knew that I usually blasted down the hills faster than Phil.  As I approached Cow Camp again, rain clouds gathered and soon I felt rain drops.  Oops, I forgot to grab my rain garbage bag at Dry Fork.  If it poured like yesterday, I would be in big trouble.  But it soon stopped.  I arrived at Cow Camp (mile 35.6) at 7:51.   They were cooking up some bacon.  I grabbed a couple pieces and they were amazing.  Wow, just what I craved.   Next up was my favorite portion of the course, a rolling single-track seven-mile section to Bear Camp.   I struggled on the initial uphill sections but once the downhill came, I was blasting down the hills passing runners.   When uphills came again, they would almost catch up and then I would again disappear on the downhills.   This happened over and over again.   Eventually, I started to bonk and tossed my cookies.   I struggled to eat more, slowed, but stayed ahead of the others.  
We arrived at Bear Camp (mile 42.6) at 9:26.   I took my time in the station, making sure I ate something.   The next section is a steep descent into Little Big Horn Canyon.   I kicked in the downhill gear and caught up and passed all the other runners.   I pushed it hard.  Soon I caught up to a couple of surprised runners who I hadn't seen for many hours.  I could tell that they didn't want me to catch them, so they pushed on ahead.   The forested areas were starting to get dark, but I reached Footbridge before it really got dark.  I reached my first milestone!!   I arrived at Footbridge (mile 48.9) at 10:19 (9:19 p.m.).  There were several runners coming and going on the different routes at this busy intersecting aid station.   The volunteers would punch our race numbers to keep track of our necessary three visits to this point.  
I continued on running down an easy river road for the 3-mile out-and-back.  I took it very easy, trying to recover from the previous pounding downhill.   It was fun to greet other runners coming toward me.  As I almost reached the turnaround, I was surprised to hear the "Crocketta!" shout.  It was Phil.   He was about a half-mile ahead, and the next runner in front of me.   At the turnaround, Eve Davies greeted me, told me how great I was doing, that I was well ahead of the main pack.   That perked me up.   I headed back to Footbridge.  Both of the out and back legs took 24 minutes each.   I sat down next to Charlie Vincent, who had not yet run the out-and-back.  It was good to see him.  He looked like he was doing well.  We encouraged each other on.
Night had firmly arrived, as it was 10:07 p.m.   I wrapped a warm shirt around my waist (but would never use it) and headed up the Little Bighorn Canyon.  The roar of the river was incredible.  In one spot it even flooded the trail, requiring me to bushwhack around that section.  I generally had a good pace going but started to bonk and throw up again.  I tried to eat a little more, but just couldn't get the energy level up.  I plodded on into the night.  Eventually I could see some lights behind me.  Each time they came closer, I pushed faster ahead.   With about a mile to go until the turnaround point, I ran into Phil Lowry again.   He was still moving strongly.  He was now probably over a half hour ahead of me.   I arrived at Leaky Mountain (mile 56.4) at 13:38.   A little soup seemed to help.  The stomach just wasn't working very well.
I looked forward to the downhill, but my pace wasn't much faster than going uphill.   No runners passed me for over 18 miles during the night, but my pace was still terrible.   The waning moon rose above the mountains and cast an eerie light against the slopes.  It looked very cool.  I ran into Charlie and Eve about 2 miles from Leaky Mountain and saw Matt Watts at the Narrows aid station.  I was 8 miles ahead of him.   He made some crack about me being an old man.  I was more interested in drinking a Coke than trying to figure out what he was saying.   In a couple more miles, I ran into Andrew.   He was plodding along and said he would take his time, confident that he would finish.  He was about 14 miles behind.  
I finally returned to Footbridge (mile 63.9) at 16:06 (3:06 a.m.).   I focused on eating and drinking well.   My stomach was just sick of drinking Heed.  I switched to diluted Ensure and that seemed to really do the trick for me.   As I was eating, I overheard an upset runner who missed the 3:00 a.m. cutoff by one minute.  The volunteers were firm that he had to stop.   I thought that was silly, that it wouldn't hurt for him to run the short out-and-back and try to get back on pace.  Oh well.
I left Footbridge and was faced with the massive climb up "the wall" out of Little Bighorn Canyon.  It actually felt good to be going uphill again.  Across the gorge I could see lights down below making their way back to Footbridge.   Behind me, I could see some lights chasing me.   One guy soon caught up to me and continued a great strong pace up the mountain.   (I would see him off and on for the next five hours.)   I was content to keep a good even pace going.  I arrived back at Bear Camp (mile 67.4) at 17:34  (4:34 a.m.).   I was a half hour behind my goal pace for a 27-hour finish.   Now, with the fun rolling single-track ahead, I concentrated on keeping a fast pace going.   Could I reach Cow Camp before the 50-mile runners arrived?   The sky started to glow and the moon still shined brightly.  Soon I could hear the sounds of chirping birds, waking up for the new day.   Dawn arrived and I turned off my light by the time I reached the spring halfway to Cow Camp.  I kept a close eye on my watch and was moving faster.   I caught up and passed a couple runners and as we approached Cow Camp. I wondered if I would beat the 50-milers who I could envision tearing down the road toward me.
I arrived back at Cow Camp (mile 74.4) at 6:37 a.m.   I met my second milestone by beating the 50-milers who started their race at 6:00 a.m.  I quickly downed some yummy bacon, took a big shot of Hammer Gel, drank plenty of coke, filled my bottles, and was on my way back up the steep trail to Riley Point.   As I ascended, I enjoyed looking back and finally saw the first place 50-miler arrive at Cow Camp.  Soon I could see a long string of 50-mile runners going up the trail toward Bear Camp, far below.  I knew my brother Bob was down there somewhere, running in his first mountain 50-miler.   It would have been nice to see him, but I told him that if he didn't see me, I was on a good pace.
The trip up to Riley Point was tough and not very fun.  I plodded along in the nice cool morning air.   The snow and mud sections were much better than yesterday because more runners had passed through since yesterday so there was an established track to follow.   Soon I anticipated seeing the 50K runners coming toward me.  I knew that their race started at 8:00 a.m.   Sure enough, about 8:30, the front runners approached.   Almost every single runner cheered me as they passed, "way to go,"  "good work,"  "nice job,"  "you're looking good,"  "your're amazing."   Everyone had big smiles early into their race.   I was glad that they were passing my on a wide dirt road, not on the single track.  My timing was just as planned.   Finally, after passing by the last 50K runner, I descended down toward Dry Fork for the last time.   I arrived at Dry Fork (mile 82.7) at 22:29.   I was nearly two hours ahead of last year's pace, but I was a mess.
As I approached the aid station, Anne Watts came out to greet me.  I felt bad that she had DNFed, but she didn't dwell on that and just went to work to help me.  She scraped me off the trail and picked up the pieces.   I was really wasted.  Somehow, she got me to think about what I needed.    I knew that the first priority was to get my feet into good shape so I could really fly to the finish.   She kindly washed my feet and then I lubed them and put on clean socks.  Sunscreen was applied, and she thought about all the little things including emptying the trash in my pockets.  She insisted that I put my muddy gaiters back on….a great call.  And then Anne got me to eat and drink.  "Have you been eating?" She asked.  "Uh…no," I sheepishly replied.  She chewed me out and took me into the food tent.   Turkey rollups sounded good.  One down, two down.  "Eat another," she insisted.   I balked, but knew she would chew me out, so I took it for the road.   She told me it was time to go.  A lot had been accomplished in just 12 minutes.  Anne told me that she had seen Phil a long time ago, that he was running very strong.  I was glad to hear his race was going so well.  As I exited the tent, I noticed all the 30K runners waiting for their race to start in about 15 minutes.   I realized they would be chasing me soon.  I needed a head start.   I thanked Anne for all her kindness and turned and looked up the hot road.
I pushed on, knowing full well that the finish ahead would be tough.  I ran up hot dirt roads and through some wet, muddy trails.   I kept looking back for signs of the front-running 30Kers.   I was pushing a good strong pace.  Eventually, the first runners caught up.  As several would pass me, I tried my best to keep up with them.  It was a great motivating task. When we hit the single-track trail, I was determined to stay in pace with the other runners so I wouldn't have to stop and let them pass.   I kicked up my speed a couple notches and successfully acted like one of the 30K runners.   For a half mile, this worked great, but I eventually let a group go ahead of me.  They were all very surprised to discover that I was a 100-miler, which they could see by either the mud on my legs or the color of my bib number.
After a short rest, I again kicked it into gear.  This time my speed was fast enough that I actually pass a 30K runner.  "On your left," I yelled out.   The woman stepped aside and the looked with surprise that an old, muddy, 100-miler passed her by.   I cruised into Upper Sheep (mile 87.7) at 23:56.  On the beginning of the next leg, I kicked it into gear again along a single-track and asked several 30k runners to let me pass.   Later one of them caught up with me and asked if I was the 1st place 50k runner.   I laughed, "no, I'm a 100-miler."   Going up "the haul" was a real chore and I went up pretty slowly.  
Finally at the top of Horse Creek Ridge, I knew it was time to really fly down.   30K runners watched me cruise by them and I did my best to kick in a fast downhill gear.  The pace was OK, but still not enough.  I wasn't going much faster than most of the 30K runners.   Last year near this point I fell in step with my buddy Todd Holmes who was running in 2nd place in the 50-mile race.  I kept up with him for about two miles and really blasted down the steep mountain.  This year, I was about two hours ahead of the 50-milers.   As I was considering how to motivate myself to really run fast, the 1st place 50K runner arrived.   I let him pass, but didn't miss a beat.  I fell right in step with him and said, "I'm going to draft with you for a while."   He did quite understand and soon stopped to let me pass.   I told him to go on.  "I'm a 100-miler, I'm doing all I can do to keep up with you!"   We really started to cruise.   For me at times, I feel much less pain if I can run extra fast at this point in the race.   We blasted down the technical, steep mountain.    I tried to match him step for step.  I might have bugged him, following him so close, but I stayed right up with him.  As he splashed through the mud and water without slowing, I did the same.  He couldn't shake me.  Other courteous runners stepped aside as they heard us coming.  Other times we just ran off the trail to pass people.  I noticed that I passed a couple 100-milers along the way.   After over two miles of flying down the hill, I was getting overheated and started to fall behind.  I yelled out "thanks!"  He waved goodbye, and I slowed to a normal trot and arrived at Lower Sheep (mile 92.6) at 25:04.
At the aid station I took a water cup, dowsed it over my head, and continued on.   I always hate the next 2.4 miles along the river to the trailhead because it is so hot and sunny.   I kept up my pace with the 30Kers.  Eventually, Bill Johnston, a 100-miler from Billings, MT, caught up to me.  I offered to let him pass, but he refused.   He asked, "Weren't you running with a pacer?"   I grinned and explained that I was hanging with the first-place 50K runner.   I pushed on ahead and appreciated having Bill push me through this section.   We arrived at the trailhead (mile 95) at 25:43.   Guys were there with a water spray, and I let them totally soak me in water.   It felt great. I drank quickly and then faced the road ahead.
I considered carefully how fast I could finish.  I had five miles left and 1:50 to go before 27 hours.   If I really pushed it, I could reach my sub-27 hour finish goal.   In past year, I walked much of the first mile down the road.  I vowed that I would run all the way this year.    I felt pretty good and pushed the pace to a point where I was passing 30k runners and keeping up with a couple of front-running 50kers.   I exited the canyon at the 26:00 mark.   I just had four miles to go in one hour.  I was careful to keep my pace at about a 12-minute mile pace.   I was going to do it!   I arrived at the Homestretch aid station (mile 98.1) at 26;27.   I knew that in past years I had run the rest of the way in 16-19 minutes.   I had this one in the bag!    I had them spray me down with water, and I was on my way.
When I reached the paved road, I knew the end was coming soon.   I looked behind me and was shocked to see Bill Johnston only 20 yards behind.   I waved.  Was he going to try to pass me?   He sped up and soon was running beside me.  I said, "We are almost done."   I then decided that there was no way, that he was going to beat me.  Little by little I increased my pace.  He also did.  We were running very fast.  As we reached the highway, I realized he really was trying to beat me.  I wasn't going to let a runner pass me near the finish like I did a couple weeks ago at Squaw Peak.  I was very determined.  I put my head down and sprinted across the road even before the crossing guard could stop the cars.   As we turned the corner into the park, I missed a turn before a building, going around it instead.  Bill kindly motioned to me about my mistake, so I sprinted again, passed him, and then looked ahead.
To my great surprise, with only about 50 yards to go, I saw in front of me, my buddy Phil Lowry, trotting on the path.  "How good can this be?"  I thought.  "He was way ahead of me!"  I had been thinking that he probably finished over an hour ago.  But here he was!   I continued my very fast sprint, caught up to Phil, patted him on the back and yelled, "Go Army."    He looked in surprise as I sprinted past him with Bill on my tail.   I cruised over the finish line in 26:45:31, in 25th place.  Bill finished 4 seconds later, and Phil in 29 seconds later.   I couldn't help laughing about this crazy finish.    Phil asked me where I came from.  I explained that I really flew down the mountain.  "You must have."   He replied.   He doubted my story that I only saw him with a few yards to go.  He realized that he dropped two places in the standings in the final yards.  "Dang!"   I could only laugh.
Wow, I met all my goals, and beat my Bighorn PR by over two hours.    I quickly took off my shoes and soaked in the cold river up to my waist.   It felt wonderful.   I chatted with Bill Johnston for awhile and thanked him for pushing me.  The rest of the afternoon was a fun rest at the park in Dayton watching so many runners finish.   It was funny to tell others about how I beat Phil at the finish.  He later wrote this.  "Davy Crockett passed me in the last 150 feet and I was so shocked I just let him go.  Drat!  He is now the official Ultraputz, taking that title from John Moellmer, who had that title for passing me at Mile 98 at Wasatch some years ago."  
I started to worry about my brother, Bob, who was running in the 50-miler.   He doesn't do well in the heat.  Sometimes he passes out.  I knew that he probably wouldn't finish for over four hours.   I ate a great dinner and then felt like I was going to pass out.  I laid down on the cool shady grass and felt much better.  After a couple hours rest, I decided to go drive up the canyon to make sure my brother was OK.  On the way, I saw Matt Watts paced by Anne running down the road with three miles to go.   They hadn't seen my brother Bob.   I arrived at the trailhead aid station and had fun for an hour helping the runners coming in and giving them advice about the hot finish ahead. Finally, I was pleased to see my brother arrive to the ringing of cow bells.  He got sprayed down with water and was looking great.   He apologized for running so slowly, but I thought he had a great pace going for a first-time mountain 50-miler.   He continued on and I drove back to the finish.  He came in at 12:13, an excellent time.
For the next couple hours, I had great fun listening to Matt Watts, Phil Lowry, and Bob Crockett poke fun of each other.   Matt just wouldn't let up on Phil about everything, including his pathetic finish.  We laughed and laughed.   The remaining question was, "where was Andrew Barney?"  Would he finish in time?   I went back to the motel with Bob, and Phil drove up the canyon in an attempt to try to find Andrew.   Later, I received a call from Phil that Andrew had four miles to go with 70 minutes left.   He gave him a pep talk telling him what he needed to do to finish in time.   I was on pins and needles, wondering if Andrew would make it.   Finally Phil called back and told me that Andrew finished in 33:49, just 11 minutes before the cutoff time!   Way to go Andrew!   They later arrived at the motel and Andrew's calf had seized up.  He could hardly walk.   I helped him to his room and brought in all his stuff for him.   Wow, what a courageous finish.  That guy is tough as nails.  Most people would have given up.
The following morning, we had a great awards breakfast and received our belt buckles and jackets.   When I came up for mine, the presenter even mentioned about my sprint finish passing Phil.   We all continued to give Phil a hard time.   Great fun!
Bighorn was again a great experience.   Every year it gets better.
Check out Phil Lowry Race photos