I again ran in the Moab 100.  There were actually four types of races running at the same time on the same 5.37-mile loop course. In addition to those running the 100-solo event, are runners running the 24-hour solo (as many miles as you can do in 24 hours), 12-hour solo runners, and 24-hour relay teams. Last year somehow I won the Moab 100 with a time of 23:35. Basically the runners who were ahead of me all quit and I was the last one standing. Four runners finished behind me. This race is tough mentally because you can return to your comfortable car every 5.37 miles and also if you quit early, you still get credit in the 24-hour version of the race.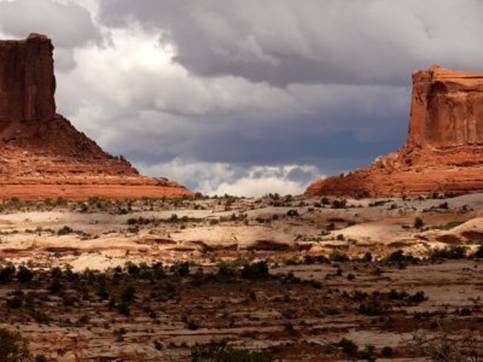 The Moab 100 course is laid out on the Monitor and Merrimac Loop, a popular trail for mountain bikers. The course is a loop with an out-and-back tail, like a lollipop. The route goes clockwise around the loop on odd laps and counter-clockwise on even laps. It first passes by the ruins of the historic Halfway Stagecoach Station. It then ascends up and down over a small ridge via a rutted jeep trail with scattered rocks. With huge Courthouse rock on the left and gigantic Mill-Courthouse Mesa on the right, the route crosses through several deep sandy washes and then climbs up a slickrock ramp to the base of the Mesa.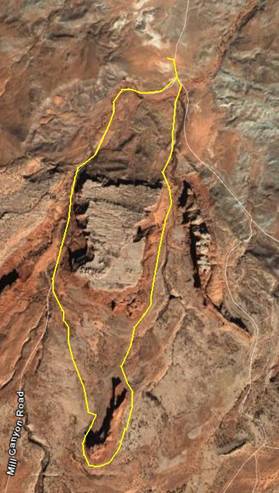 Start/Finish at the top, Camel Butte at the bottom (highest point)
The views along the way are terrific. The route then heads south toward Camel Butte which we would circle around on the slickrock, giving us views of the Monitor and Merrimac mesas named after the Cival War ships, off on the horizon. Most of the first half of the course up to this point is a runnable uphill 450-foot climb. From there it is mostly downhill. First up is a long run down a massive slickrock slope that leads to the Mill Canyon dirt jeep road that rolls up and down through a beautiful canyon with occasional small stream crossings. Finally you reach the main dirt road that passes by campsites and leads you back to the start/finish area. 
Each loop (in either direction) consists of a climb for the first half of the loop and a descent down the other side. The top of the hill is the corner around Camel Butte. I had no dreams at repeating my championship last year.  I knew that there were at least two runners who were totally out of my league.  One of them was Joe Lea who beat me by three hours last year at Big Horn 100. 
I put my pace goal together and I was shooting for 22:30. I believed that would be very possible on this course, but somehow my memories of all the hills had faded.  That probably was a too aggressive goal.  I wanted my lap times to start at around 50 minutes each and eventually slow to about 1:30. I would try to keep my average lap time below 1 hour each for at least 8 laps. That is 8 laps in 8 hours, or 43 miles in 8 hours. Training-wise, I was ready. My mileage base had been good. I had a very good 50-mile race three weeks ago. I tapered well during the week, only going nine miles. I had no injuries. My only regret was that I was about seven pounds heavier than I had hoped. That is a bunch of weight to carry around for 100 miles and probably would cost me about an hour.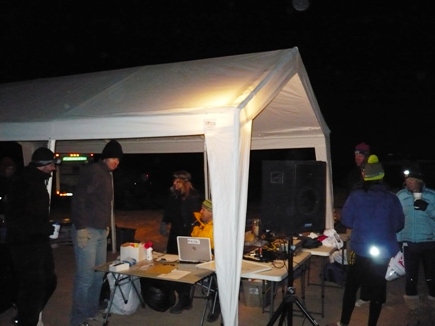 The start/checkin area
I spent the night before the race in a motel at Green River, Utah, only about 45 minutes from the start.   I arrived at the start and knew the routine from last year.  After checking in, I worked at setting up my aid station, complete with table, chair, cooler, and bags.  I tried to have everything organized well, even with portions of food in little baggies that I could quickly grab after each loop.  I learned from last year that minimizing time after each loop was critical.  I also chose not to use the race-supplied aid station so I could be confident in the food and drink.   My food consisted in:  Ensure, Hammer Gel, bagels with cream cheese and turkey, burritos, a couple of burgers, cookie dough, coke, and Gatorade.  With my station all set up, I went to move my car.  I had used the headlights to shine as I did the work.  The car wouldn't start, the battery was dead.  Great!   Thankfully I had enough time to get a jump from someone to move it to the parking lot but I became very cold standing out in the chilly air.   I started the car up and tried my best to get warm again before the start.  A couple people recognized me and were so kind and came up to introduce themselves and thank me for my blog report from last year.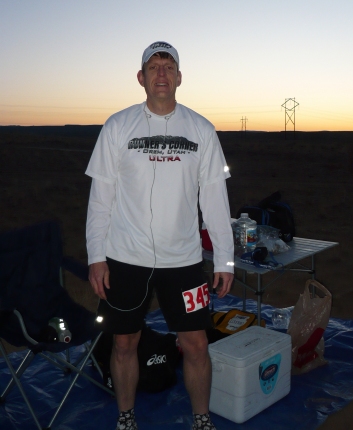 Two minutes before the start
Wearing my Runner's Corner Mountain Ultra Team shirt
With just two minutes to go, I scrambled to get ready and went to the starting line with ten seconds to spare.  Just after 7 a.m., right after dawn, we were away.   Starting a 100-mile race is always a freaky experience.   Thoughts go through my head like, "Are you crazy?  Do you realize you will be running all day and all night?  Don't you realize the pain that is ahead of you?"   I put those thoughts aside and just took off running at a nice clip.  In fact I took the lead right off the bat, even ahead of the speedy relay runners who only had to run one lap, could take a rest for three hours, and then run another lap.  I was interested to see how fast I could run the first lap, so I was happy to give it a good push.  Megan Morrissey, the lead-off runner for the Eagle-five team passed me and continued on fast up the road.  It was a beautiful morning, a little chilly, around 26 degrees or so.   There wasn't a cloud in the sky.  I knew it would be a perfect day for running.   Memories of the trail from last year flooded back to me.  I started to remember every hill and every turn from the 18 laps I did last year.   The sandy areas were deeper and longer this year.  Last year there had been more rain closer to race day to pack things down. I quickly realized that I had totally forgotten just how many hills there were to climb.  Most of it was runnable, but still, it was plenty work, at least 500-feet of climb for each loop.   I soon realized that the only runners ahead of me were relay runners.  I was in first place.   It really helps me to have speedy relay runners on the course at the same time.  While it is discouraging at times to see them run so fast, at times they would motivate me to push harder. 
| | | | | | |
| --- | --- | --- | --- | --- | --- |
|  loop | miles | 08 split | 09 split | 08 elapsed | 09 elapsed |
| 1 | 5.37 | 0:54 | 0:45 | 0:54 | 0:45 |
The first loop went great.   I finished in only 45 minutes.  Gee, at this pace I could finish in 14 hours!  But I had no such dreams.  I checked in at the start, didn't need anything at my aid station, so away I went out for loop 2.  This year, they took my suggestion and had us alternate directions for each loop.   This was a huge improvement.   I quickly discovered that with this change, I could see the faces of all the runners each loop.   It was fun to greet every one.  Many would call me by name and thank me for my race reports.   With the alternating directions, I could figure out a pattern to determine how far ahead or behind I was.   It gave me something new to think about.  I would try to remember where I had last seen a particular runner and then calculate how far ahead or behind they were from me. 
I really loved going in the counter-clockwise direction.  In fact, I thought it was easier in that direction.  The difference was that the climb was shorter and the descent more gradual in that direction.  I could push the shorter climb hard to get it over with and then could really get up some great downhill speed on the slickrock.   I had great fun going in that direction.  The clock-wise direction seemed like more work.  The climb seemed to go on for too long and the descent was just a little too steep on the slickrock, making it harder on the legs and feet. I determined what I thought was the halfway point for each loop and would check my watch each time I arrived.  It was funny how I could get there in about 25 minutes during the first couple loops, but much later on I would really struggle to reach that point in 50 minutes.   As I again finished a fast loop, still in first place, the race director announced over the loud speaker that Davy Crockett, last year's champion, was heading out for his next loop.   That was fun to hear. 
| | | | | | |
| --- | --- | --- | --- | --- | --- |
|  loop | miles | 08 split | 09 split | 08 elapsed | 09 elapsed |
| 2 | 10.74 | 0:48 | 0:50 | 1:42 | 1:35 |
Near the beginning of loop 3, Joe Lea and Duncan Callahan caught up and passed me on the uphill section.  Joe remembered running with me at Bighorn 100 last year.  I wished I could have kept up for awhile, but they were pushing it pretty hard and I was ready to start backing off a little.  I was now in 3rd place.   I noticed that we were already "lapping" the back of the pack.  At the half-way point of the lap, they were heading toward us, so in reality, they were a full lap (5 miles) behind already. 
| | | | | | |
| --- | --- | --- | --- | --- | --- |
|  loop | miles | 08 split | 09 split | 08 elapsed | 09 elapsed |
| 3 | 16.11 | 0:53 | 0:55 | 2:35 | 2:30 |
The temperature was still nippy in the shade.  In Mill Canyon there was still ice on the creek water.  That was my favorite section of the course.  It is very pretty with green trees and bushes contrasting against the red rocks, and the trail is very soft as it winded through the canyon.    More runners recognized me and gave me great words of encouragement all day.  I really wanted to keep my lap times below one hour as long as I could.  So far, it was working.  I finished loop 4, still in 3rd place.  I did notice that Kermit Cuff was on my tail, only four minutes behind. 
| | | | | | |
| --- | --- | --- | --- | --- | --- |
|  loop | miles | 08 split | 09 split | 08 elapsed | 09 elapsed |
| 4 | 21.48 | 1:00 | 0:59 | 3:35 | 3:29 |
Loop 5 was my first loop over one hour.  I had hoped to keep the loops faster for a longer time, but my marathon time on this rough course was pretty impressive.  I was now a half hour behind Duncan Callahan who was in first place. 
| | | | | | |
| --- | --- | --- | --- | --- | --- |
|  loop | miles | 08 split | 09 split | 08 elapsed | 09 elapsed |
| 5 | 26.85 | 1:08 | 1:02 | 4:43 | 4:31 |
During Loop 6, I said this into my recorder:  "It is getting a lot harder.  The hills are a lot worse then I remembered.  I'm losing the time on the hills.  I'm still eating good and generally maintaining the lead over the runners behind me, but the runners ahead are really stretching it out.  Each loop seems to be getting longer and longer.  It is a little depressing to see the fast relay racers blasting by me.  I don't know where I found the speed on those first couple laps.  I'm probably just having my usual low point near 30 miles.  Soon I should get my second wind and be able to push it harder.  It is a beautiful day.  The slick rock is taking its toll on the feet.  There are little puddles of rain water here and there.  Oh!  I have got to go faster!" 
| | | | | | |
| --- | --- | --- | --- | --- | --- |
|  loop | miles | 08 split | 09 split | 08 elapsed | 09 elapsed |
| 6 | 32.22 | 1:11 | 1:10 | 5:54 | 5:41 |
I finished Loop 6 only one minute ahead of Kermit Cuff.  He took over 3rd place at that point because I had to stop for a long bathroom break that cost me about ten minutes on my Loop 7 time.  During this loop, I started to get a little dehydrated.  I noticed a sharp pain in my right knee that started to concern me, but I eventually concluded that I needed to drink more.  As I did, the pain and other cramps went away. 
| | | | | | |
| --- | --- | --- | --- | --- | --- |
|  loop | miles | 08 split | 09 split | 08 elapsed | 09 elapsed |
| 7 | 37.59 | 1:08 | 1:20 | 7:02 | 7:01 |
At the conclusion of loop 7, I noticed that I had completed seven loops in seven hours.  I was only one minute ahead of last year's pace.  I had another long delay.  I determined that my choice of shoes was allowing too much sand to go through the webbing.  Sure enough, when I took off my shoes, there was a bunch of sand inside my shoes and even inside my socks!   I knew if I wasn't careful, the next problem would be blisters.  So I took the time to wash my feet, put on clean socks, and put on different shoes.  The delay cost me another ten minutes, but it was worth it. 
While I went pretty slow on the uphill half of this next loop, I found my second wind and really blasted down the slickrock on the second half of the loop.  I "double lapped" several runners who were now walking the downhills.  They gave me nice comments about my speed.   It felt wonderful and was great fun. 
| | | | | | |
| --- | --- | --- | --- | --- | --- |
|  loop | miles | 08 split | 09 split | 08 elapsed | 09 elapsed |
| 8 | 42.96 | 1:08 | 1:16 | 8:10 | 8:17 |
The fast running pace took its toll and I had the first of my stomach problems with a bad stomach ache.   I tossed my cookies and felt somewhat better.    As I pushed on,   I had to laugh at myself.  Whenever I would see another runner coming toward me, I would kick it into gear much faster so I wouldn't look like a slacker.  I did this over and over again.  It was silly but a great motivator.    I did notice a funny pattern taking place.  Janet Thomson and Luis Velasquez were the next runners behind me, They were about 50 minutes behind and I kept seeing them at the same points on the loop because they were now going about the same pace that I was.  We always gave each other a very friendly greeting.   They had their aid station right next to mine.   Eventually, I used that as a challenge.  I would remember where I saw them on the last loop and try to see them at a later spot, increasing my distance ahead of them.  While I was extending my 4th place position, I was now about a half lap (2-3 miles) behind 3rd place (Kermit) and a full two hours behind 1st place.  I could see Kermit extending his lead each lap.  I knew that I had been "double lapped" already by Duncan.   Someone asked me if I was the 1st place runner.  I laughed and said, "no way!"  I explained that the leader was way ahead, over ten miles ahead. 
| | | | | | |
| --- | --- | --- | --- | --- | --- |
|  loop | miles | 08 split | 09 split | 08 elapsed | 09 elapsed |
| 9 | 48.33 | 1:17 | 1:19 | 9:27 | 9:36 |
I reached the 50-mile mark at a little over 10 hours.  I was about ten minutes behind my pace from last year, but I was still pleased.  10 hours was good.   I recorded, "I have a long way to go.  The sun is starting to set.  It will be dark in a couple hours.   Hopefully I can finish loop 11 before sunset."   The race volunteers did a much better job marking the course this year.   There are two spots that are challenging to stay on the right course, but I noticed that just a couple hours into the race, a guy was out putting extra ribbons on the problem areas.   That helped greatly.  But still, there is a long wide-open slickrock section that is so easy to get off course if you aren't paying attention.  It was always helpful to see a runner ahead coming or going who I could set my sights on so I didn't have to worry about navigating. 
| | | | | | |
| --- | --- | --- | --- | --- | --- |
|  loop | miles | 08 split | 09 split | 08 elapsed | 09 elapsed |
| 10 | 53.7 | 1:15 | 1:12 | 10:42 | 10:48 |
Loop 11, was the hottest loop of the day.  The sun was setting low but was shining hot on the western half of the loop.   I started to notice a new pattern.  The speedy Eagle Five team was going so fast that they were nearly completing two laps to my one lap.  During the last mile of this loop a relay runner caught up to me and I was determined to keep up for as long as I could.  I kicked it up several gears and was flying down the road.  I felt great and it was huge fun.  I finished the lap breathing very hard. 
So far, throughout the day I noticed that my aid station stops were much quicker than most people.  I really tried to only spend at most two minutes to grab something to eat, chug on some coke, and fill up my bottle. 
| | | | | | |
| --- | --- | --- | --- | --- | --- |
|  loop | miles | 08 split | 09 split | 08 elapsed | 09 elapsed |
| 11 | 59.07 | 1:17 | 1:17 | 11:59 | 12:05 |
I knew the sun would go down before the end of the 12th loop, so I took a long 15-minute stop to again wash my feet and change into long pants, a jacket, a hat and gloves.  I wasn't going to make the mistake again during a 100-miler of getting chilled during the night.    As the air cooled during this lap, I started to feel wonderful again.  I was able to start cruising again.  On the uphill I finally double-lapped a friendly redhead woman who knew who I was.  During that time, I was able to run very hard up the slickrock leaving the other runners far behind me.  After circling around Camel Butte, I turned on my green light to help me blast down the other side with great speed (relatively speaking). 
While my lap time was 1:23, with the 15 minute delay, it was actually 1:08, my fastest since loop 5.  I generated good heat and by the end of the loop had my jacket around my waist with hat and gloves in my pocket.  When I finished the loop Janet was surprised to see me arrive.  She complemented me on my good speed.  I was now a full loop ahead (5.37 miles) ahead of Janet and Luis, who were the next runners behind me.  For the next several loops I would always see them at the half-way point (because they were heading in the opposite direction) and then again back at our aid stations.  It was nice to greet them twice every loop. 
| | | | | | |
| --- | --- | --- | --- | --- | --- |
|  loop | miles | 08 split | 09 split | 08 elapsed | 09 elapsed |
| 12 | 64.44 | 1:24 | 1:23 | 13:23 | 13:28 |
About a mile into loop 13, I noticed the early signs of a bonk.  For me, it starts as a pit-feeling in my stomach.  I always know I will be in serious trouble if I didn't do something fast.   The problem is, my times between my aid station were increasing.   I would not take food with me during the loops.  I would chow down between loops and only drink the calories (Ensure) in my bottle during the loop.  That just wasn't enough now.  I really needed to eat more.   My only course of action at that point was to slow down, take an S-cap, and push the liquids harder.   It was frustrating, but little by little I started to feel better. With a couple miles to go in the loop, in Mill Canyon, Joe Judd caught up with me.  (He was actually two laps behind – 10.8 miles behind).   He asked if I was on loop 13 which I confirmed.  He said it felt like he had gone that far, but he was only on loop 11.  It was great to talk to Joe.  He was moving well.   
As we were talking, all of a sudden I blacked out, leaned to the right, and almost fell all the way to the trail.   That was freaky.  I explained to Joe that I had never experienced that before.  I later concluded that I was getting low on electrolytes.  I told Joe that I would be fine, but he was kind enough to walk slowly with me for the next few minutes.   I felt better and Joe went on ahead.    About five minutes later, Joe Wyatt, a relay runner, who was running a 54-minute lap pace, passed me.  I sucked it up and was determined to keep up with him.   It worked.  I was flying again!   We soon caught up with Joe.  I called out, "Come one, let's go!"  Joe replied, "I knew you would pass me soon.  I'll try to keep up."   He couldn't as I continued to stay in pace with Joe Wyatt.   I was pleased to finish that tough loop strong. 
| | | | | | |
| --- | --- | --- | --- | --- | --- |
|  loop | miles | 08 split | 09 split | 08 elapsed | 09 elapsed |
| 13 | 69.81 | 1:22 | 1:31 | 14:45 | 14:59 |
My stomach was rejecting Ensure, so I switched to Gatorade.  That seemed to make a big difference.  I was hopeful that my stomach would start processing food better.  On Loop 14, I again took up the challenge to keep up with a very fast running relay racer, going at a 55-minute lap pace.   When she passed me going into Mill Canyon, I jumped right in behind her, staying stride for stride with my green light shining at her feet.  She never turned around to see what I was doing, but I'm sure she was surprised to have someone right in tow with her.  I kept that up for a full mile until we reached the steeper slickrock.   I was pleased, but slowed down to recover.  I really love running at night. 
There was a huge problem.  Many of the glow sticks must have been old.  They only lasted for about two hours.   A kind volunteer was out on the course doing his best to replace many of them, but he just didn't have enough.  The toughest place without them was on the wide-open slickrock.   The few glow sticks in that area could be seen fine when going in the downhill direction, but when heading uphill through that section, you just couldn't see them on the slickrock ahead.   The result was, on that loop, I wandered off course somewhat for awhile because I wasn't using my memory of the route very well.   On all subsequent laps, I concentrated very hard on the route and mostly stayed on course. 
| | | | | | |
| --- | --- | --- | --- | --- | --- |
|  loop | miles | 08 split | 09 split | 08 elapsed | 09 elapsed |
| 14 | 75.18 | 1:32 | 1:34 | 16:17 | 16:33 |
It was now after midnight.   One stark difference in the race now was that there were far fewer runners on the course.   Nine 12-hour runners were finished (The furthest went 59.07 miles and was just a little ahead of me at that time).    Only a couple of 24-hour racers were still going.  About ten had already quit.   About half of the 100-miler runners had packed it in, choosing instead to crawl into a warm sleeping bag.   So there were only about 20 solo runners left on the course and about five relay teams blazing past us continually through the night.   It was becoming pretty lonely at times.   I did get comments that my green light could be seen a mile away. 
| | | | | | |
| --- | --- | --- | --- | --- | --- |
|  loop | miles | 08 split | 09 split | 08 elapsed | 09 elapsed |
| 15 | 80.55 | 1:44 | 1:43 | 18:01 | 18:16 |
I continued to slow, but kept moving ahead.  With only three loops left, I decided to quit trying to run the uphills anymore.  I instead concentrated on a good fast power-hike up the hills.   Then I tried my hardest to continue to have good spurts of speed down around the other side of the loop.  Joe Judd now had his wife pacing him and they seemed to be in good spirits when I would see them each loop.  He was now about 13 miles behind me.    
| | | | | | |
| --- | --- | --- | --- | --- | --- |
|  loop | miles | 08 split | 09 split | 08 elapsed | 09 elapsed |
| 16 | 85.92 | 1:43 | 1:41 | 19:44 | 19:57 |
Mentally, I was having difficulty finding the motivation to run fast.  When a relay runner passed me, I would still experiment to see if I could crank it up and keep up for awhile.  Indeed I could, but it was a lot tougher.  I knew that setting a 100-mile PR was now out of the question.   I thought that the third-place runner had quit (he hadn't), so I thought I was miles behind the leaders.  I knew that the runners behind me were now over six miles behind.  I continued to extend my lead over everyone behind me.   So, there was no one really chasing me and no one to catch, so I was content to just get the work done and enjoy the night.  It was a great thought to realize that I was doing a clock-wise loop for the last time.  The end was actually coming into sight. 
| | | | | | |
| --- | --- | --- | --- | --- | --- |
|  loop | miles | 08 split | 09 split | 08 elapsed | 09 elapsed |
| 17 | 91.29 | 1:26 | 1:52 | 21:10 | 21:49 |
Shortly after I started loop 18, Joe Lea finished his 100 miles in 21:58.   Duncan Callahan had finished about three hours earlier, in 18:52.  Both are amazing times on this course.   I still had one full loop left.  I chowed down on some warm potato soup which tasted great.   I was really starting to feel cold.  I knew I wouldn't be doing much running on this final loop, so I put on my warm ski jacket and headed back out into the cold dark night.    About a quarter mile down the road, I remembered that I forgot to bring Tums. Sure enough, I needed them bad.  As I neared one of the relay team's camp fire, I barfed big-time.   I'm sure they enjoyed the sound effects echoing, breaking up the peaceful night sounds.   I continued on and every 100 yards again threw up.   My problem again was low electrolytes.  With the cool weather, I just had not been taking enough Succeed-caps.  I took one, but it didn't help.   As I moved slowly up Mill Canyon, with a clear mind, I recalled Todd Holmes once telling me that he pulled out of this once by sipping very slowly on a gel.   I decided to try this, and also would take little sips of Heed.    I did this for the next hour and eventually was able to down two gels.   When I crossed paths with Joe Judd, I asked if he had any Tums.  He didn't, but I assured him I would be OK.   I did start to feel better and continued to push ahead. 
As I rounded Camel Butte, the dawn was approaching and I could hear the sounds of coyotes howling down in the valley.  The desert was coming back to life!  With about 1.5 miles to go in the loop, I was surprised to see Kermit heading toward me.  I thought he had quit, but he had not.  He was doing the final out-and back (partial loop).  I helped him find the turn-around point at a cone on the slickrock, and he soon passed me, heading toward the finish.  OK, so I was in 4th place, about three miles behind Kermit. 
| | | | | | |
| --- | --- | --- | --- | --- | --- |
|  loop | miles | 08 split | 09 split | 08 elapsed | 09 elapsed |
| 18 | 96.66 | 1:30 | 1:58 | 22:40 | 23:47 |
I was pleased to finish my final loop.  If I would have quit now, I would have won the 24-hour division, but I kept on going for the 100-mile prize. I ditched the warm jacket and intended to run as much as I could the final 3.3 miles of the out-and-back.  My final goal was to beat 25 hours.   I didn't see a single person on the out-and-back which meant that indeed there were no runners close to me.   I made my final recording and said, "Well, I'm in the home stretch, about mile 97.  It has been a struggle.  It is dawn. There is a beautiful sunrise as the glow is reflecting off all the red rock.  I just have one big climb left and then can head back down to the finish.  My time will be about an hour slower than last year.  Right now it is really pleasant because it is light again, really pretty."    
I ran the last mile, feeling well again.   As I approached the finish, I could see that they were holding the award ceremony for the 24-hour runners and the relays.   They announced my finish over the loud speaker and I received kind cheers from the big group.  I was all smiles, but ready to rest.  Several people came up and kindly congratulated me. It had been a wonderful race.  I finished in 24:41 in 4th place out of 45 starters (both the 100-mile starters and the 24-hour starters).  It was my 23rd career 100-mile finish, and my 4th fastest time.  My muscles felt great, but my stomach felt like it had been through a war.  I knew I needed to eat something, but had a real difficulty doing so.   As I cleaned up my aid station, I thought about Joe, Janet, Luis, and others still out on the course.   I did some calculations and realized that Joe probably had five more hours to go.  (He finished in 29:57).   I wished that I could cheer them on, but it was time for me to head home before a storm blew in.  Joe later told me he had to contend with nearly 50 m.p.h. winds near the end of his race.  I'm so impressed with all the runners behind me who stuck with it, didn't quit, and finished. 
'