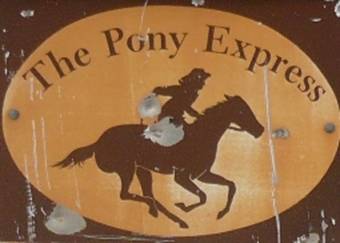 The Pony Express Trail 100 is one of the most unique 100-mile races in the U.S.  It runs on the historic 1860 Pony Express route in the western desert of Utah.  This very remote section of the country has been untouched by modern development, except for the wide dirt road we would run on.  Herds of antelope are seen on the course.  This year runners even got a treat in seeing wild horses galloping in the desert.  Some are believed to be descendants from the original Pony Express herd of horses. 
I dreamed up this race four years ago after doing an adventure run on the historic route.   To me, it felt amazing to be out in the beautiful desert, far away from civilization.  I could look around me in every direction and not see a single man-made structure.   Here I was, Davy Crockett, in the Wild West.  All I could see was low mountains, sage brush, huge ant hills, and jack rabbits hopping away from me.   I went away wishing that I could share that experience with others.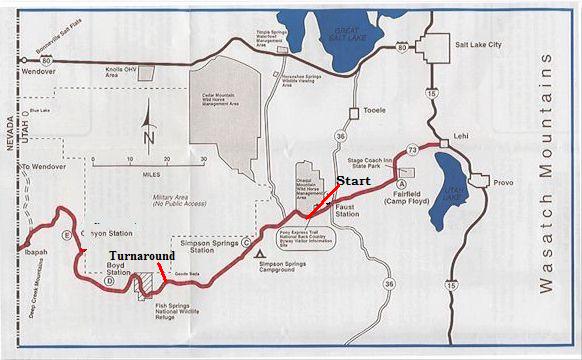 For the 2009 race, thirteen 100-mile and nine 50-mile runners assembled at the starting line at Lookout Pass (6192 feet).  This pass received its name because Pony Express riders and stagecoaches were often ambushed here by Indians.   They were told to "Look Out!"   To avoid any such dangers along our long run, we would each have a crew vehicle providing support along the entire route.  This is the most popular feature of the race. Family and friends can witness an entire 100-mile race, and get out at any point to pace their runner.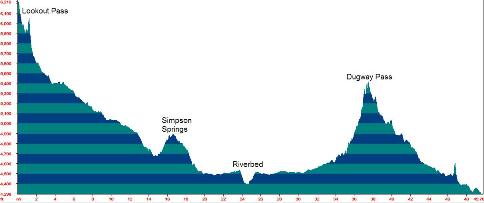 Course Profile, actually it is mostly flat
 While this is a very fast 100-mile course, it is deceptively tough with a finishing rate of less than 50%.  There is only about 5,000 feet of climbing along the way, but during the night, with a nice warm car driving near you, mentally it is tough to continue when those low points arrive.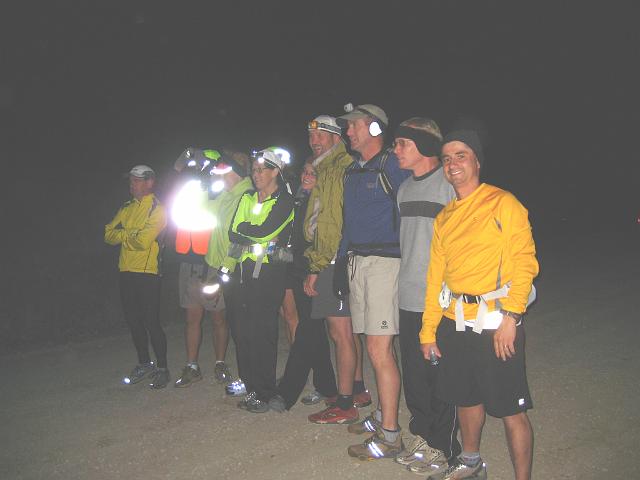 Early Starters
Photos by Randall Davis, Matt Watts, and Scott Dukas
Nine runners took the two-hour early start at 6:00 a.m.  I sent them on their way, a little envious because I knew the first runners would get the thrill of seeing all the wildlife before they were scared away.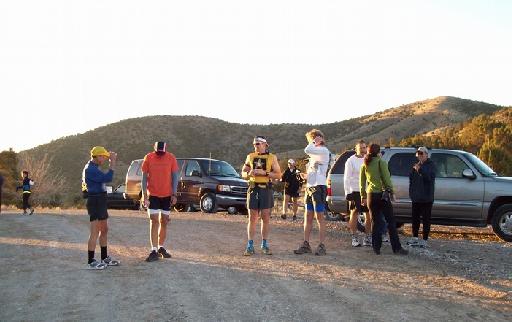 Phil (yellow) and Matt (white) trying to find the start line
I made my race preparations at the start and by 7:45, Lookout Pass was a busy place with excited runners ready to go.  I, on the other hand, was not ready.  My crew chief, Paul, had not arrived yet.   The plan was for him to crew both Phil Lowry and myself.  We scrambled quickly to pack all our stuff into Craig Lloyds' crew vehicle, but right at 8:00, Paul arrived to my great relief.  The sun was peaking over the mountains as we assembled for the start. 
Watch Scott Dakus video right before the start.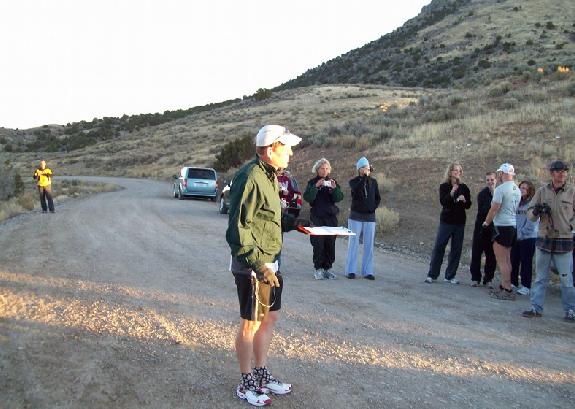 Looking like a big-shot race director
I counted down the time and the main pack of runners was away at 8:06 a.m.  We were joined by a relay team of eight runners and two other runners going to about mile 33.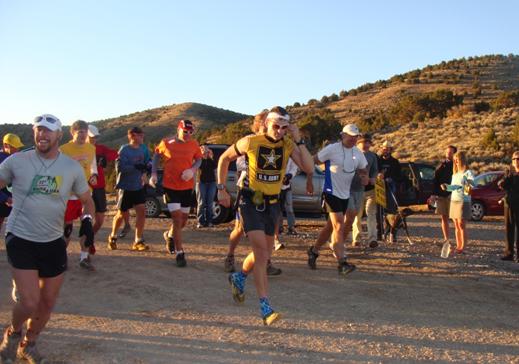 The 8:00 start.  Phil in center.
Watch a video of the start 
Phil Lowry (running the 50) and I (running the 100) led the pack through a beautiful winding canyon dotted with cedars (junipers).  After three miles at a 7-minute mile pace, we spilled out into the wide-open Skull Valley where we could see for miles to mountain ranges to the west.   In the 19th century this area was known as "Piute Hell" named after the Indian tribe there and because the desert was blazing hot in the summer and frigid cold in the winter.  On this day, we had perfect running temperatures all day with not a cloud in the deep blue western sky.  The shades of brown across the desert were spectacular.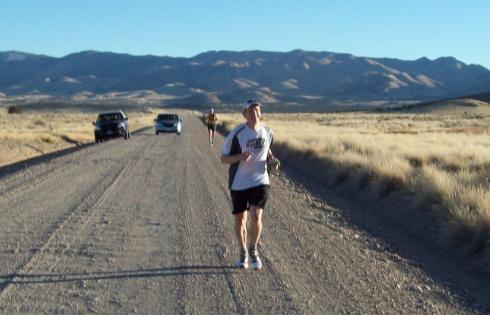 Me, leading the pack at mile 5
After about four miles we reached most of the crew cars waiting for runners and were cheered on our way.  Paul had transferred our gear into his car and was ready to take care of me for the remaining 96 miles.  I had pressed into the lead and was followed closely behind by Phil and a relay runner.   After the crews took care of their runners, they drove forward.  As the cars leapfrogged me they would all give cheers and words of encouragement.  I became familiar with each crew car, which helped me understand the order of the runners behind me and how far they might be behind.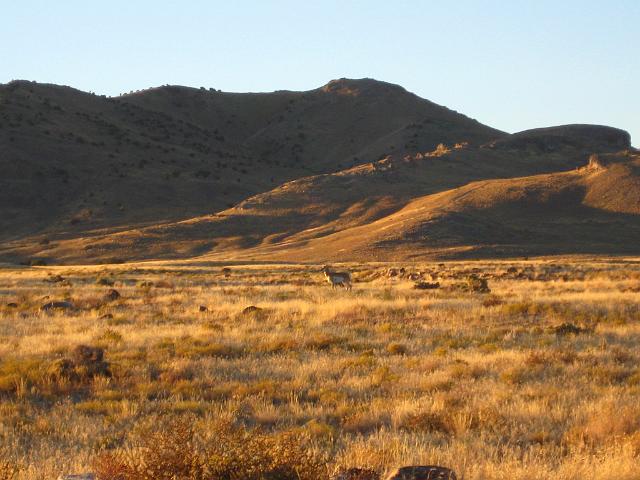 Antelope near Government Creek
Phil and I reached Government Creek (mile 9.1) at 1:11, seven minutes ahead of last year.   What a crazy pace to begin a 100-miler, 7.8-minute miles.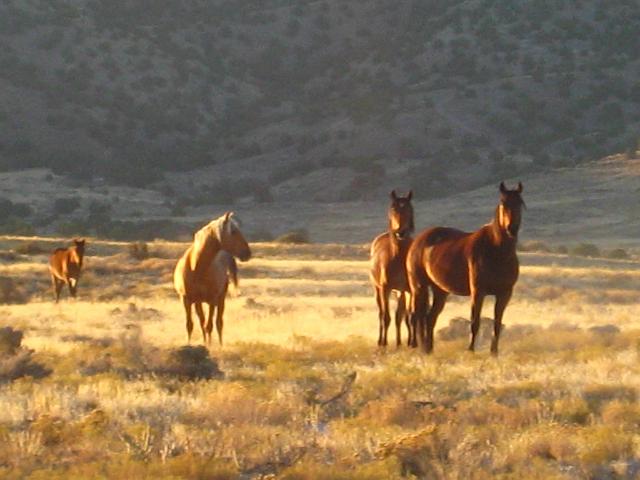 Wild Horses near Simpson Springs
Near Government Creek, the location of an 1860's telegraph relay station, we spied two lone antelope watching us.   Last year I counted a herd of 50 antelope here.   Several runners later reported seeing some wild horses at the 14-mile point.  Randall Davis reported, "Perhaps the best part was at about mile 14 when I came across a herd of antelope and a group of wild horses just in front of me along the road. I reached for my camera, and then realized my crew out ahead had it with them. Fortunately, they captured the pictures for me.  In the early 1800s, the pronghorn antelope were numbered in the millions; what we see now are the remnants and the preservation efforts to save remaining herds. The horses and antelope didn't seem to pay attention to me along the road, but then they moved westward into the distance.  It was a real treat in the early morning. A few hunters stopped and asked me if I was either lost or if my vehicle had broken down somewhere. They didn't seem to get the idea or thrill of running in the desert."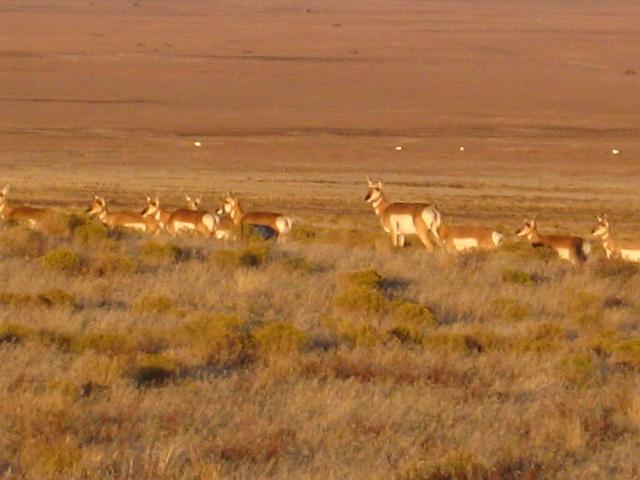 Antelope herd
 Phil and the relay runner pushed in the lead.  I hoped to catch them on the long uphill to Simpson Springs, but they had a crazy pace going.  On this stretch we passed the first of the early starters.  I would slow down each time to greet them.  Everyone seemed to be having a fantastic time.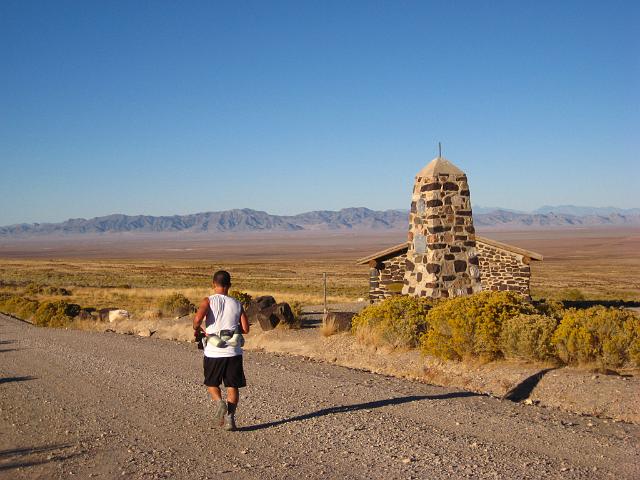 Randall Davis runs by Simpson Springs
I reached Simpson Springs (mile 16.6) at 2:23, 13 minutes ahead of last year.  Simpson Springs is where a historic pony express station has been reconstructed.  I continued to catch up with early starters and it was quite a scene to look out and see the crew cars along a stretch of dirt road that extended across the desert for miles.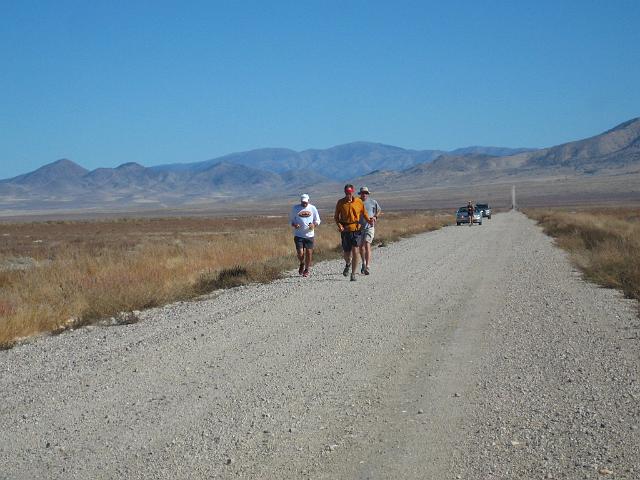 Long straight road from Simpson Springs
This stretch is fascinating because the road extends straight as an arrow toward the west for 18 miles across the desert floor toward the Dugway Mountains.  The only variation is the point where it dips down into an ancient dry riverbed.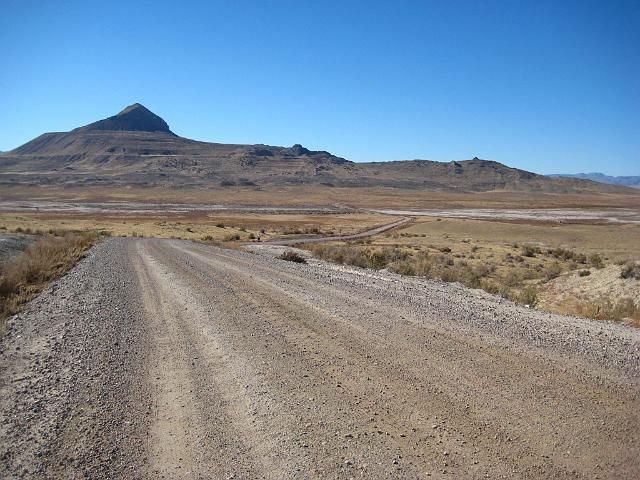 Phil was extending his lead further and further.  The man was on a tear.  Paul, my crew, would help me understand how far ahead he was, because visually he was now too far ahead.  But my pace was good and steady.   Only one crew (Scott Dakus) from the 8:00 starters was leap-frogging me now.  This meant that all other runners were probably at least 3-4 miles behind.   I knew that I was currently leading the 100-mile race.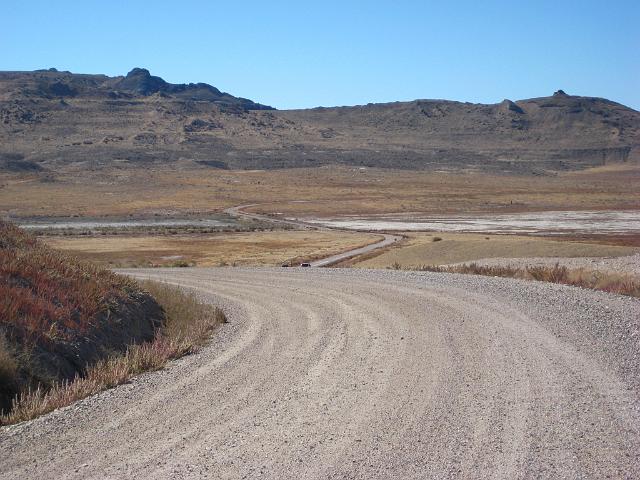 Heading down into the Riverbed
At mile 24 I dipped down into an amazing dry ancient riverbed and passed by the site of a Pony Express station that 19th century visitors believed was haunted.  There were no spooks to bother us today, but I knew that I would be returning in the night and needed to be careful.  I arrived at the Riverbed station (mile 24.7) at 3:53, 14 minutes ahead of last year.   I shook my head in wonderment considering that Phil would likely reach the marathon distance in under four hours.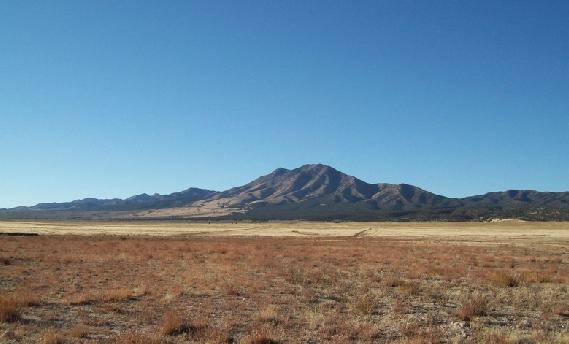 Soon I had passed all of the early starters.  Ahead of me was only Phil and the relay team.  It appeared that Phil was now about 2-3 miles ahead.  I was concerned that if he extended the lead past 4 miles, that we would have trouble sharing our crew car.  But then, the wheels fell off Phil's wagon.   Paul gave me word that Phil had slowed down and was having stomach/gut problems.  I was very surprised when I reached the crew car about mile 30 that Phil was just leaving.  He saw me and did his best to keep pushing the pace.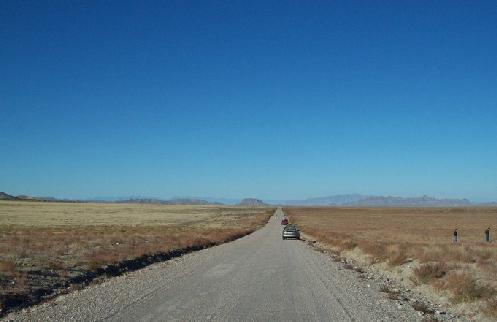 The long and un-winding road
I reached Dugway Topaz Well (mile 33.5) at 5:38.  I was now 31 minutes ahead of last year.  Near that location, Scott Dakus of Henderson, Nevada, caught up to me and took the lead.  I told him he was now in first place.  He laughed, slowed down to let me pass, "now am I in second?"   "Yes."   He yelled to his passing crew car, "Look, I'm in first, now I'm in second, now in first."  We had a good laugh.  I watched him become a small figure far down the straight road heading toward the Dugway Mountains.   Soon, I overtook Phil.  He needed to take a long break to try to solve his problems.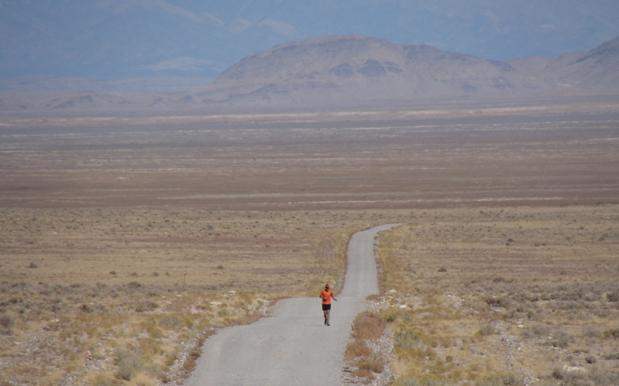 Scott (facing forward) climbing up to Dugway Pass
Scott recalled:  "As the real climb started, I decided that we would try to gap Davy and leave his crew car behind.  We ran the whole way up Dugway and when we hit the top, we could see a good way back.  Neither Davy nor the car was in sight.  This was a small victory, because I was pretty sure that we would see him again."  
Next up was the only significant climb of the first 50-miles, a fairly steep one-mile road assent to Dugway Pass (5068 feet evelvation).   I could see far below Jarom Thurston's crew car pull up to Phil, who was moving very slowly.  I wondered if Phil would get in the vehicle and call it quits.  But he didn't and continued on slowly up the hill.   I reached to top of Dugway Pass (mile 37.7) at 6:42, 31 minutes ahead of last year.  Paul and I discussed what to do about Phil and we agreed that Paul would stick with him to give him aid.  I would take enough with me to run far ahead and probably would see Paul for another 4-5 miles.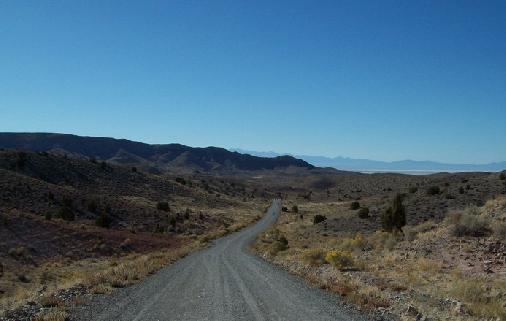 Its all downhill, baby
The next section was among my favorite.  A nice long downhill winding through a valley that even contained trees!   I found a nice downhill rhythm.  By mile 41.2 (Geode Beds), I felt very isolated.  Paul was three miles behind helping Phil Lowry as he continued to struggle with stomach problems.   Scott was now about three miles ahead.   All the other runners were miles behind, spread across the massive desert valley.  As a race director, I started to get very worried feelings.  What have I done?  I've led about 60-70 people (including crews) out into the wild remote western desert, a place most had never seen.   The responsibility seemed daunting.  Just at that moment I almost stepped on a coiled snake in the middle of the road.  It too was surprised and only started to rattle as I passed by.  Wow, that was a close one.  We were about three hours away from any hospital.
Paul arrived again and reported that Phil had recovered nicely.  He was now running like crazy, intent to "reel in Jarom" who had passed him near Dugway Pass.  I soon rounded a low mountain range and could look out clear to the horizon across salt flats.  I greeted Scott Dakus, who was already heading back from the turn-around.  He was about three miles ahead of me.  When he approached, I purposely slowed to a slow walk to make him think I was struggling.  I worried that if I was going fast, that he would push harder.  I wanted to catch him.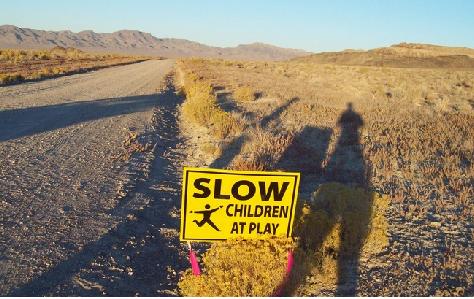 The 50-mile turnaround
Near the 50-mile turnaround, where I arrived at 9:23 (49 minutes faster than last year), the relay team who had arrived a couple hours earlier set up an amazing aid station with a party atmosphere.   My spirits were perked as their cow bells rang out across the expansive remote desert.   The turn-around point was marked by a "Slow, Children at Play" sign.  It seemed quite appropriate.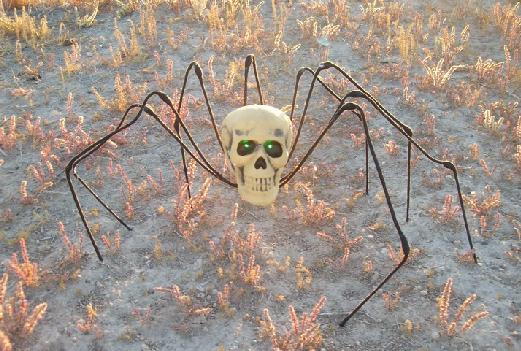 Don't mess with this spider!
Paul and I placed a Halloween surprise at the turnaround.  The glowing eyes would be an eerie sight after sunset. I now turned around and headed back, greeting all of the runners over the next six miles.  First came Phil, just about a mile behind me.  Next was Jarom, looking good, about two miles behind me.  Phil finished his 50 miles in 9:30.  He and Paul drove by as I was arriving back at Blackrock and the wild aid station.   I could tell that Phil and Paul would settle in for a nice rest and feast.   I ran right by.  I had a ton more running ahead of me.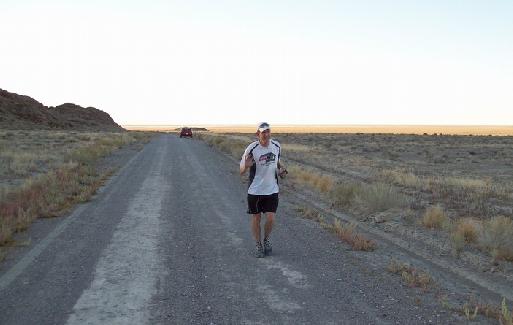 On the way back greeting runners
It was fun to greet all the runners I had not seen for hours.  They all had wonderful smiles on their faces and thanked me for the incredible experience. After three miles, there was still no sign of my crew.  No problem.  I greeted Craig and Matt and they let me raid their food stash.  When I saw Matt off in the distance (I was 7 miles ahead of him), I shouted out my heaving, moaning sound that drives him crazy.  He was moving very strong.  Then I met the last two runners, Pablo and Frank.  They were in good spirits and had formed a great partnership.  Frank looked beat up.  I cautioned his crew chief Hudson to be careful, to take care of him.  They were about 12 miles behind me.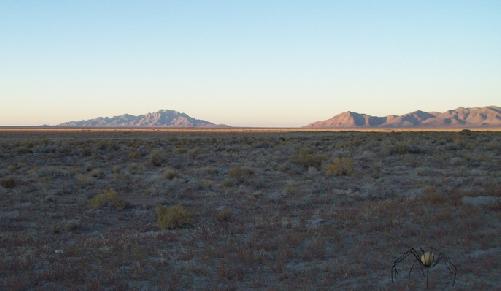 Phil got a ride back with Craig, and they passed me going up the long hill toward the pass.  Phil encouraged me to catch Scott.  I really wanted to.   Later other returning runners would drive by, including some 100-milers who had decided to call it quits.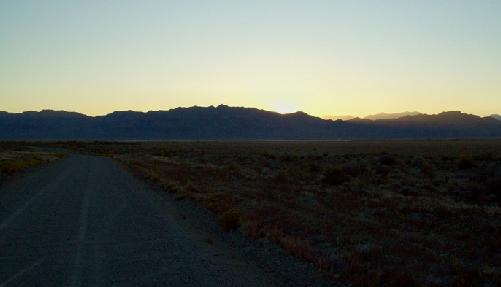 Sunset in the West Desert
The sun went down and I was presented with an explosion of stars.  One runner commented, "It soon became very quiet and serene as the stars lit up and the silhouette of the mountains surrounded me everywhere. It looked and felt as if I was entombed in one those glass bowls that you shake at the snow scatters everywhere. But instead of snow it was stars — what a treat." Without any light pollution from cities, the Milky Way was unbelievable.  At times, I would turn off my light and run along the road with my head pointed to the skies.  Shooting stars were seen continuously through the night.   I worked hard to run the long uphill back to Dugway Pass.  It seemed easier this year but still very long.  I arrived there (mile 62.3) at 12:35.  Wow, that was only a half hour off my best 100K time on a flat track.
After running down the other side of the pass, at the 64-mile mark, I could see the first place runner's crew vehicle light ahead on the long straight 18-mile stretch of road.   How far ahead was he?  Two miles?  Five miles?  It was hard to tell.   (It turns out initially he was five miles ahead). All I could do was push the pace faster and faster.   It was time to work.  I told Paul to go ahead three miles and that I should get there in under 36 minutes.  That was a good motivator. I think I got there in 33.  I kept this up for several more miles.   It seemed like I was gaining on Scott.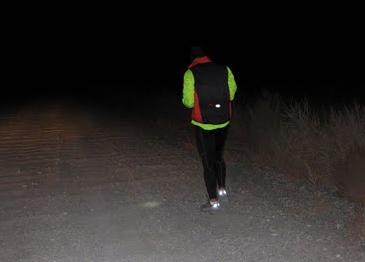 Scott moving slow
Scott later reported: "Unfortunately, when I had the lead, I tried to run like I was the leader.  I'm good at climbing and really wanted to gap you on the way up Dugway.  That worked, but I started really feeling it just before the turn-around.  I continued running until I had passed everyone still on the course and then had some lunch and walked up the back side of Dugway.  I did some running after the pass on the way down to the riverbed, but at about mile 65 I declared it a walk-a-thon, put on some warm clothes, and hunkered down for a long night of walking. "
At around mile 73, at about 11:00 p.m., I passed Scott's crew van.  Where was Scott?  Little did I know that Scott was now snoozing in the van.  I had retaken first place.  However, I didn't realize it because I thought two crews were helping Scott.   I reached Riverbed (mile 75.4) at 15:28, now 1:37 ahead of last year.   I couldn't find Scott's crew lights anymore.  My motivation was waning.  I stopped to fix a bloody toe and then was alarmed to see a runner gaining on me fast.  Who could it be?   I was fairly certain that Jarom had been fading back and knew that Matt couldn't have caught up this fast.   Finally it dawned on me that it must be the relay team heading back.   Sure enough without a few miles they caught up to me.   Frank also drove by, his day was done at mile 52. 
For the last 25 miles, I took it somewhat easy, thinking that I had no chance to catch Scott.   The nighttime temperature was strange.  There were pockets of cold air dipping down into the low 30s, and just a mile later it would jump into the 50s.  Layers on, layers off.   It was a lonely feeling running in the dark desert at night.  But looking behind me I could see crew car lights up to 18 miles away stretched across the dark desert floor.   There were still about 9 other runners moving forward.   Jarom drove by, his race was finished at mile 80.  I felt bad for him.  He's now DNFed here three times.
My pace was slowing due to the cold breeze near Government Creek.  I wished I had a warm coat with me, but Paul was still a mile ahead.  It never failed, by the time I would reach him, the temperature would be warmer.  I reached Government Creek (mile 90.9) at 19:49.   After three more miles, I noticed the reflection of some headlights over the crest of the road behind me.  There was no doubt, it was the crew for another runner.  I knew it must be Matt Watts.  I did calculations and figured that he must be about 4-5 miles behind. 
I had agreed to use a Satellite phone to call into an outdoor radio show at 6:00 a.m.   So, at about mile 98, I paused for 25 minutes to make the call.   I was impatient and worried about Matt catching me, but when we turned on the radio, the hosts were already talking about me!  It took us several minutes to figure out how to use the phone and then when I called, they said they would call me back.  I waited and rested in the car, working with the phone to get good reception.   Finally they called back.  I wished I could at least walk up the road, but when I did the signal got weaker, so I had to find a place to stand still.   They put me on hold again and when I finally got connected, the signal faded and I couldn't understand their questions.  Finally, I knew they could hear me so I just started talking.   
You can listen to the interview here. 
After the call, which delayed me at least 25 minutes, I attacked the final climb back up to Lookout Pass.  Now, I could see Matt's crew car, Anne, down behind me.  I looked at my watch and pushed very hard to finish in a faster time than last year's course record.  Each time I slowed, I told myself, "You will regret this!  Speed up!  If Scott didn't finish, you want the course record."  I was pushing myself very hard, running up that very steep hill.  
At one point three ATVs drove up behind me using the entire road, side-by-side.  They almost made me dive off the road.  I yelled after them. Our biggest annoyance during the run was the very rude recreational drivers who had no desire to share the road with us.  Some would drive by going 60 mph. kicking up the dust.   They disappeared during the night, but once 5 a.m. arrived, they started charging down the road again, big trucks towing trailers with ATVs. 
I was very worried that I wouldn't make it in time.  I could see the finish up ahead, but groaned when I saw one last turn.   I was running out of time!   I pushed forward with one last sprint. Paul was waiting at the top.
I finished in a new course record time, at 22:58.  (beat it by four minutes).  I also beat my time from last year by 1:28, even with that radio delay. There was no sign of Scott at the finish and I didn't find out until two days later that I had indeed won the 2009 Pony Express Trail 100.  Anne Watts soon drove up, telling us Matt was about three miles away.  We cheered his finish.  I considered waiting for all the other runners, but estimated that the next runner be five hours from the finish.   I couldn't get cell coverage to call my wife, so I decided to just head home. 
My desert run was finished.   It was an experience that I would relive in my dreams for days.   Four other runners would cross the 100-mile finish line later in the morning.  Join us next year on October 15, 2010, when we plan to transform this race into a premier 50 and 100-mile race.  To get more information including history of the Pony Express Trail in Utah, visit www.ponyexpress100.org
100 mile results
1. Davy Crockett   22:58:19 (Course Record)
2. Matt Watts      23:31:54
3. Scott Dakus     26:09:00
4. Don Landry      28:05:00
5. Olaf Questereit 28:45:36
6. Gary Stosich    29:18:00
50-mile results
1. Phil Lowry      9:30:30 (Course Record)
2. Jarom Thurston  9:42:00 – reached mile 80
3. Matt Ricks      10:42:49
4. Craig Lloyd     10:42:49
5. Rand Nielson    11:54:00
6. Frank Bott      12:39:00 – reached mile 52
6. Pablo Riboldi   12:39:00
8. Quintin Barney  13:12:02 – reached mile 66
8. Marilynn Phipps 13:12:02 – reached mile 74
10.Leslie Peterson 13:19:00
11.Gary Horlacher  13:30:00
12.Steve Gray      13:45:00 (time not reported)
13.David Loveland  13:57:00 – reached mile 62
Runner comments:
Scott Dukas
Ten miles to go: I was trying to avoid the van as much as possible; I was still trying to just stay on the course every second that I could.  I know how creative an athlete can get when they are looking for reasons to sit down and I hate being that guy.  My crew and busted their asses for me and I wasn't going to have them baby-sitting me over the last 10 miles because I was uncomfortable.  I knew this wasn't going to be easy and for once in my life, I was correct.
The last mile: When we passed Lookout Pony Express Station, it felt like a huge weight had been lifted.  From this point, I could crawl or roll uphill and still make it.  Everything was light and jovial and I actually ran the last 100 yards or so.  When I hit the top and was done, I snapped my hat to the ground and stood in that familiar bent over stance that real runners have after finishing a real race.  Done and in the books, you can't take it back… 26 hours, 9 minutes.
Watch video of Scott's finish.
Gary Stosich
Running the Pony Express 100 was an amazing experience. There is nothing like it when it comes to your crew. My 22 year son, Aj, agreed to come crew for me. He knew nothing about it and I tried to give him a few pointers as we drove from his home to the start. He hadn't slept much that night and at mile one asked if he could drive up 20 miles and take a long nap until I got there. I laughed and told him I need him to drive from 3-5 miles and then do that again for the next 50 miles until my wife would get there to relieve him. When the sun came up, and he could see the beautiful surroundings, his attitude change somewhat.  Later he told he me he saw a herd of horses and asked why they would be there. I was jealous and told him he had seen a herd of wild horses. Soon he was sitting in a lawn chair and taking pictures. By mile 15 he was getting out of the car and taking pictures of me as I would come up the road. To my surprise at about mile 33 he drove the car just a mile and ran back to me and ran back with me. We had a delightful time chatting along the way. He repeated this a few more times. He then drove to the top of Dugway pass and when I was approaching he started yelling and screaming at me. He ran down the road and when he got there he told me he had seen a tarantula. When I got to the 50 mile mark, there was Aj taking more pictures and cheering me on. My experience of running the Pony express 100 was a great personal achievement but my experience with Aj during this time was beyond anything I had ever dream of.
Frank Bott
Around mile 35 if my memory recalls correctly I caught up with a fellow runner Pablo who I raced with last year. Pablo was hurting a bit so I got him up and going and we decided to work together and get the best time we could to the 50 mile mark.  An amazing friendship formed in our team effort to reach 50 miles. We pushed each others bodies and minds as well as talked about several complex subjects in a way that you would think we had started our own TED program in the middle of the Utah Desert. It was a blast. Heck with the race we are having way to much fun teaching each other so much thought and idea.
Susanna Lew
I had a FANTASTICALLY WONDERFUL birthday doing what I love with my favoritest people.  We drove back on the trail and was amazed at HOW FAR we had run.  We stopped at Simpson Springs to be tourists.  There were other tourists at that Pony Express Station.  They had seen us and other runners along the trail and asked what we were doing and WHY?
Leslie Peterson
At that point (mile 35), I lost my running mojo, my gut felt horrible and I basically speed walked for the next few miles, during this time we went over the one and only big pass (Dugway Pass), probably a mile of a very steep incline.  I was getting a little down.  At the top of Dugway Pass Jana (my daugher) took a few pictures and I headed down hill and met up with Don a 64 year old ultra runner from Canada, he was adorable, his wife also an ultra runner and was crewing him. He had the biggest grin on his face and was so happy to be out in the desert running that you couldn't help but feel better.
Full Runner Reports
Frank Bott
Craig Lloyd
Matt Ricks
Randall Davis
Susanna Lew
Leslie Peterson