August 4-5, 2007 – 70 miles
The Uinta mountain range in Utah is one of the few ranges in North America that runs east to west.  The highest continuous established trail in the Uintas is the Highline Trail (#025) that runs the length of the mountain range.   This very remote trail is one of the most remarkable trails in the nation.   In its entirety, the trail is more than 100 miles long, however the most easterly section is not maintained, very difficult to navigate and less impressive.   Most highline trail end-to-end hikers start at Chepeta Lake and end at Hayden Pass, a distance of about 65-70 miles.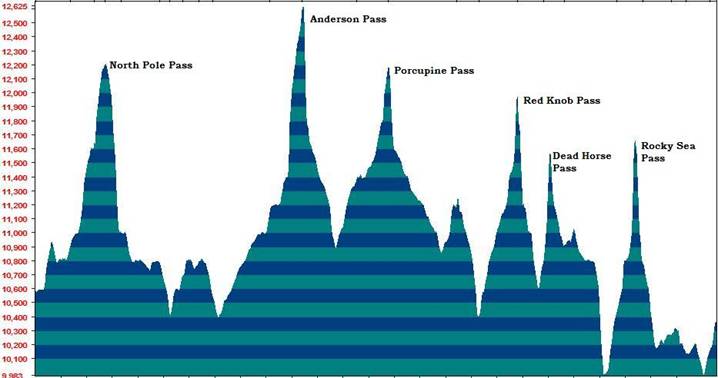 Elevation Profile for the Highline Trail 
The altitude for the Highline Trail between Chepeta Lake and Hayden Pass stays above 10,000 feet the entire distance.   There are long stretches over 11,000 feet and eight passes to climb.  The highest point it at Anderson Pass, 12,600 feet.  The lowest point is at the Rock Creek crossing (our most frustrating point of the run).   The climbing elevation is about 15,000 feet.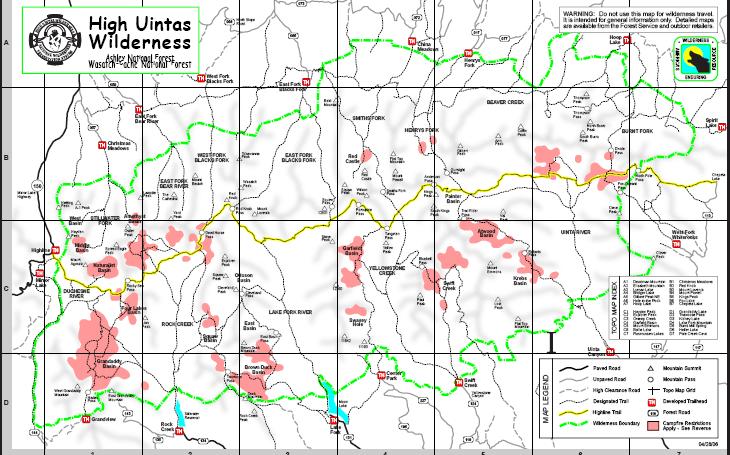 Highline Trail (in yellow).   Chepeta Lake on east, Hayden on west. 
I have always had a desire run the run the Highline Trail end-to-end.   In 2003 I made an attempt.  (Read about it here).    I started at Chepeta Lake but ended up aborting the run half-way at Tungsten Pass because I failed to bring extra flashlight batteries and could not navigate during the night.  I camped for the night and returned to my starting point.  It was much tougher and took much longer than I ever imagined.
I had unfinished business.   I still wanted to make this end-to-end run.   Groups have fast-packed the trail before, but I have never heard of anyone achieving a "continuous" attempt (without stopping for the night).   Two days is probably the fastest that anyone has traveled the trail.   I believed that a sub-24-hour crossing was possible.  Backpackers usually take six days or more.
Matt Watts from Colorado was interested in joining me for this crazy adventure run.   He made me promise that I wouldn't race it.   We would go at a "leisurely" pace, taking plenty of pictures.   I warned him that Davy Crockett running adventures were always longer and tougher than advertised and that the unexpected almost always occurs.   I made him promise that he wouldn't kill me if it ended up tougher than planned.    Also I warned him that we would see some rain on this trip.  Both of us were training for Leadville 100 in two weeks and believed this high altitude adventure run would be some great training for that race.
I really had no idea how long this adventure would take.  One experienced runner thought that probably only someone like Karl Melzer could complete it in less than 24 hours.   I didn't believe it since I had already been on about 40 miles of the trail.   Even though we planned to take it easy, I decided to construct a pace chart to keep us moving.  Getting good mileage information was a real challenge, but I did my best using mapping software and also consulting trip reports of backpackers using a GPS.
Also in preparation, I set 40 waypoints in my GPS at the various trail junctions and passes.   This task ended out being the most important preparation I did.
Matt flew in on Friday afternoon.   Taking two cars, one for the start and one for the finish, we drove up to the Mirror Lake recreation area to drop off a car at the finish, Hayden Pass.   On the way we picked up a Satellite phone that I rented for only $30.  That would really help to remove some stress from being in such a remote area.   We also stopped at Taco Bell to get some bean burritos for the trail.  I almost busted up laughing when Matt ordered eight bean burritos.   He said something to the cashier about being hungry.   I followed Matt's example willing to try fueling on these during a long adventure run.
The things I hauled with me on this run included:  Two waterbottles, waist pack, camelback pack without the bladder, camera, GPS, Satellite phone, MP3 player, flask of hammer gel, 5 bean burritos, ten packets of Instant Breakfast, about ten Reeces cups, several cereal bars, mini-recorder, two jackets, rain jacket, poncho, garbage bag, extra insoles, extra socks, reusable emergency blanket, elastikon tape, knife, whistle, matches, flint, TP, extra batteries, and other odds and ends.  My pack was probably about 8-10 pounds.
After dropping off the car, we made the long 100-mile drive to the town of Roosevelt, the closest "large" town near the start.   We checked into the Frontier Motel and had a nice dinner at the Frontier Grill.   We hit the hay at 9:00 p.m. and set the alarm for 3:00 a.m.   I woke up excited at 2:00 a.m. and couldn't get back to sleep.   We got up at 3:00 a.m. and started driving at 4:00 a.m.   I miscalculated how long it would take us to drive to trailhead.  It took us 90 minutes.   (Note that there are two driving routes to choose from.  We drove the route through Neola.  The quicker route (but more miles) goes through Whiterocks).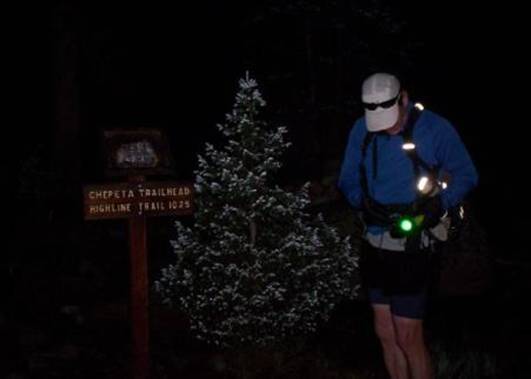 Me, getting ready at the trailhead. New growth on pines look like snow 
We arrived at the Chepeta Lake trailhead, 10,600 feet, at about 5:30 a.m.  I knew that the original Highline trail started at the lake and I read a sign that explained that the trail had been relocated in 1999 to this trailhead about a half mile south of the lake.   But I also knew that this section would be very difficult to navigate.  At 5:40 a.m. we were off on our adventure!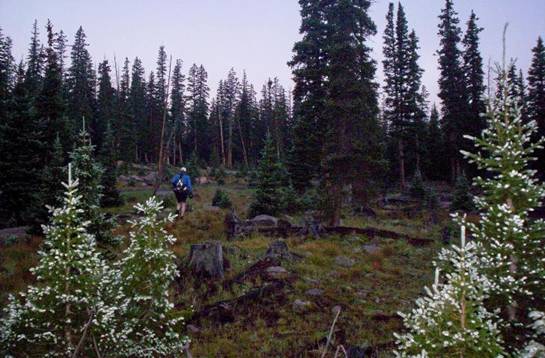 Making my way through the forests and marshes 
Within 100 yards we lost the trail!  Yes, this was a great way to start and a sign of things to come.   The trail was marked with blazes cut into tree bark.  They were impossible to see in the dark.   With eight years the trees had partially healed the blazes making it almost impossible to see even during the day.   Rather then spend a lot of time searching tree bark, I quickly decided to instead use my GPS to get through the first couple miles.  I knew the official trail just zig-zagged through the woods, trying to avoid the marshes.   We did end up getting our feet wet in a couple swampy fields.   We could tell that yesterday the whole area had been drenched in rain.  The wet grass quickly soaked my shoes.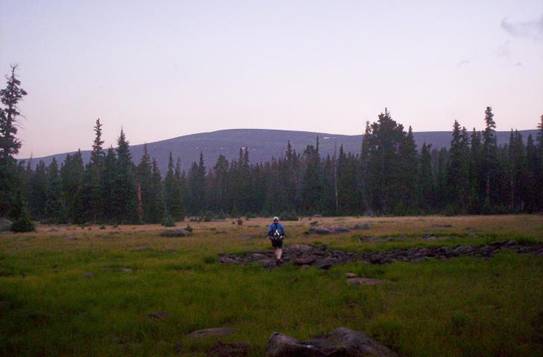 On the trail again crossing a meadow 
Matt settled into his usual steady, very quick, power-walk pace.   I needed to be careful not to get too far ahead of him because my GPS and I were the only thing keeping him on course until we found the trail again.   Finally we reached my first waypoint which was indeed on the trail.  More meadows appeared and we had an easier time spotting the massive cairns marking the trail.  We reached the Reader Lake trail junction that indicated we were two miles from Lake Chepeta.  That didn't make any sense because we had be "running" for nearly an hour.  I concluded the mileage was much longer with the trail relocation.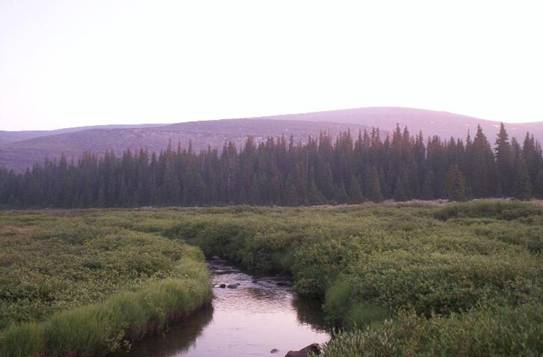 A Typical water source 
Before the run, we decided that we would chance it and not take the time to filter water.  We would carefully choose water from clean-looking high wilderness creeks.  There would be no water up on the passes, so we tried to always fill up before large climbs.   Two water bottles would be plenty.  At times I only filled one and later ran out, begging water from Matt.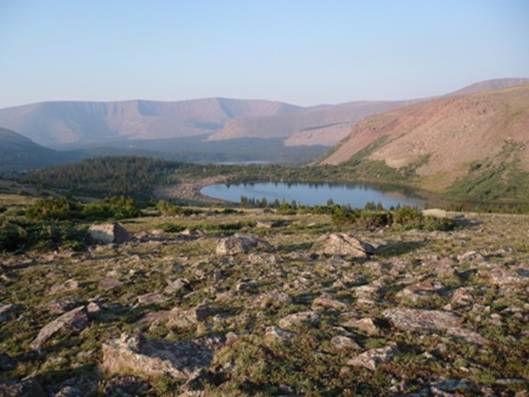 Taylor Lake 
We pressed on climbing up above the treeline, giving us good views below of nearby Taylor Lake and Queant Lake.  The trail became very rocky and rough.  I quickly discovered that it was much easier to run beside the trail on the grass.  Matt would go on ahead and I would run fast to catch up.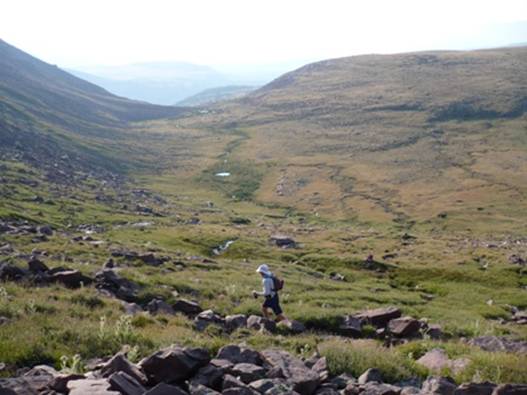 Matt climbing a switch-back up to North Pole Pass
Our first physical challenge was to make a 1,200-foot climb up to North Pole Pass at 12,200 feet.   At the base of the steep climb, I mentioned to Matt that this was the location where I was forced to camp for the night four years ago when I was attempting to return trip to Chepeta Lake before night.  A storm and the darkness forced me to quickly put up my tent behind a rock to shelter me from the raging wind.  This morning, things were much more peaceful.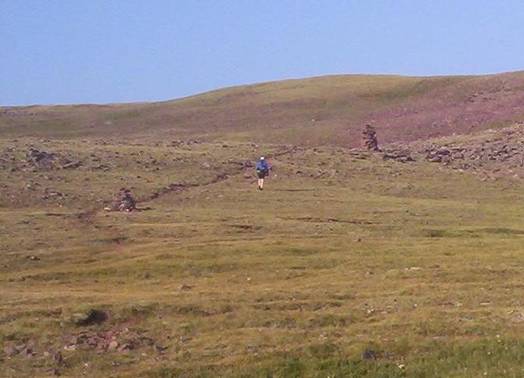 Me running ahead between two massive cairns
I felt fast and strong, pushing the climb fast, at time avoiding the switch-backs and instead climbing the grassing slopes.  The views became more and more impressive.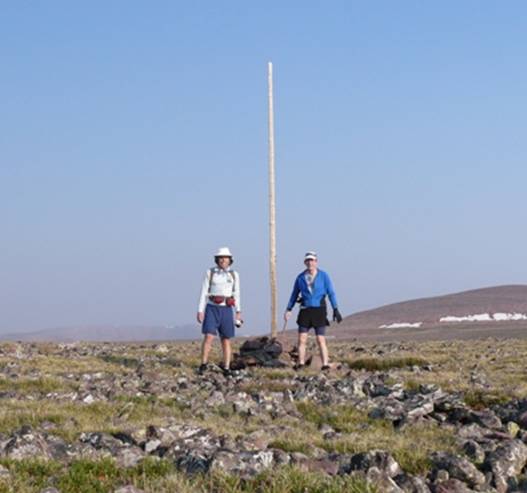 Matt and Davy at the North Pole 
We arrived at North Pole Pass (about mile eight) at 8:15 a.m.   Given our late start and slow going through the Chepeta trail relocation, we were already 1:15 behind schedule.  I was confident that we could pick up the pace.  North Pole Pass is an amazing place.   The pass is massive and desolate.  It really seems like something out of the Arctic.   The Cairns built are enormous and high.  They can be seen from a long way off.   Matt declared it was time for bean burritos.   It really hit the spot.   It wasn't too long later, that the after-effects of Matt's burrito could be heard from far and wide across the valleys.    Matt later summed up the trip with, "After all those bean burritos you could hear us coming for miles."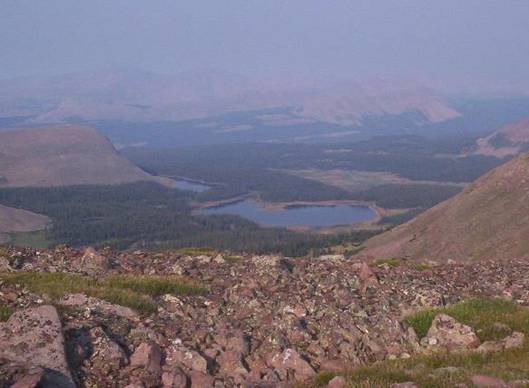 Fox Lake, our next destination 
The descent down the other side of North Pole Pass was a technically challenging, rock dodging effort.  I had a blast on the 1,400-foot descent toward Fox Lake.  At times I would run far ahead of Matt as he was picking his way down the rocky trail.  I tried to keep him in sight.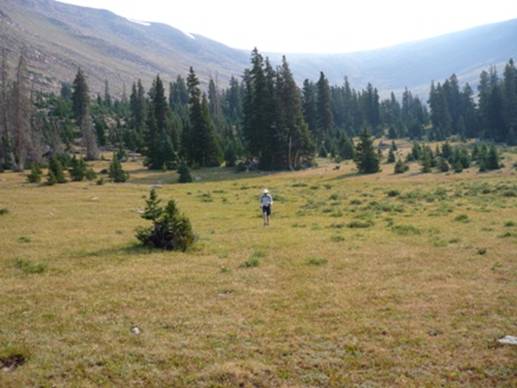 Matt running through a field below North Pole Pass 
As we reached the grassy slopes I really kicked it into gear and was delighted to prance down into the valley.   The small pack on my back was a bother because it would bounce a little and the straps started to chafe against my shoulders.  I stopped to tape my shoulders.  That did the trick.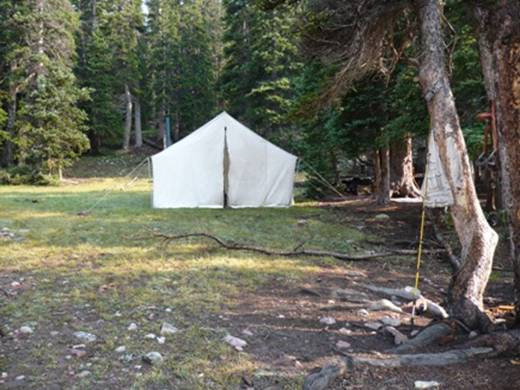 Camp at Fox Lake
.As we approached the lake, we were surprised to see many horses grazing nearby.   We looked around and soon spotted a large camp.  I boldly approached the camp and greeted the campers. I asked, "Is breakfast ready?"   They laughed and said they had just finished but offered me a granola bar.   I assured them that I had plenty.  They had a large tent with a stove pipe out the top.  They had been up for several days and another group would be arriving to take their place.   They certainly were camped in a piece of wilderness heaven.  We arrived at Fox Lake (about mile 11) at 9:20 a.m.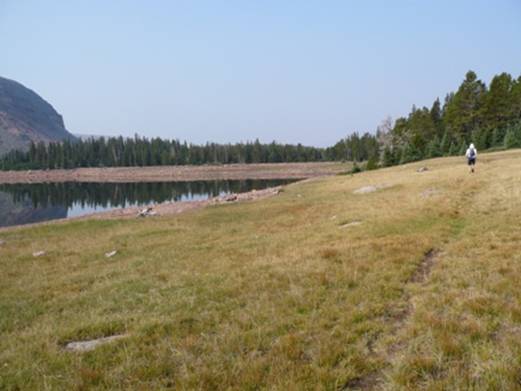 Matt running on a slope above Fox Lake 
It was strange to see humans so far out in the wilderness.  We ran into several others with horses.  They seemed surprised to see us traveling by foot instead of horse.  We noticed that the skies were becoming very hazy.  Two groups of riders were very concerned about the smoky haze and wondered if we had seen any fires.  We assured them that we had not.  They asked where we were headed.  I tried to explain but they couldn't comprehend how far away our destination was.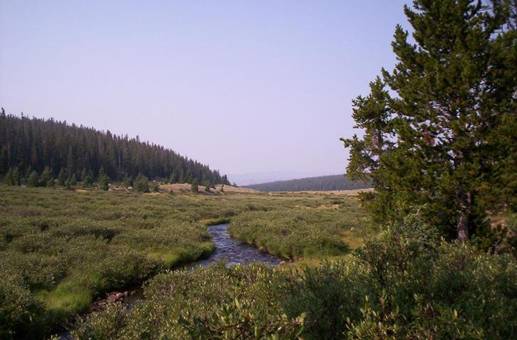 Beautiful brook running through a meadow 
For the next four miles we made our way through the valley, running next to meadows with bubbling brooks.  Matt pushed a good fast pace making it more challenging for me to keep up at times.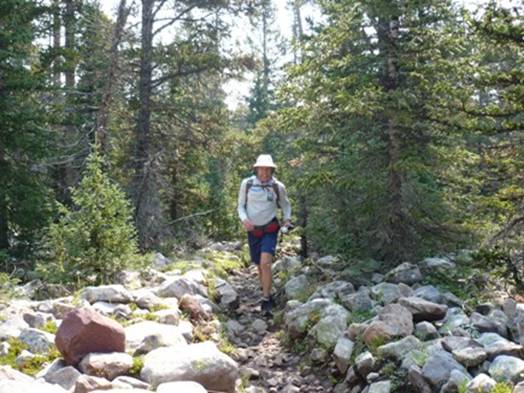 Matt working his way up the rocky forest trail 
After nice pleasant runs through fields, the trail took us into the forest again to travel up and down very rocky slopes.  After awhile I had a deja-vu moment, commenting to Matt that it felt like we on the H.U.R.T 100 course.  At least these rocks weren't slippery.  Other times the trail looked just like sections of the beautiful Bear 100 course.   We both were in awe with the scenery.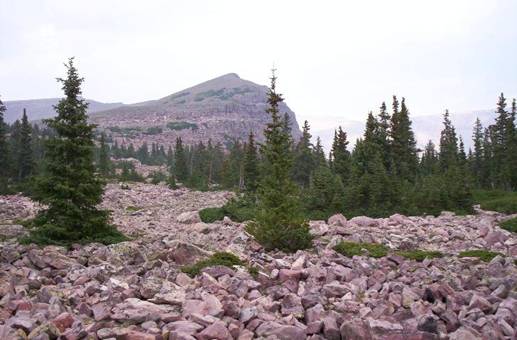 Rocks, rocks, everywhere rocks
The Uinta rocks are a sight to see.  They are the greatest challenge of the trail.  They were always there trying to reach out and tear apart our feet.  My feet were already in pain and I did my best to try to keep them happy.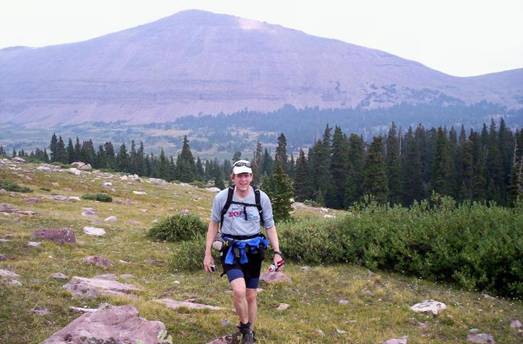 Making the climb up above the Uinta River Valley 
The trail made a long climb up above the Uinta River Valley toward the Kidney Lakes.   We arrived at the Kidney Laeks trail (about mile 17) at 11:00 a.m.   Since North Pole Pass we had not lost any time toward our goal pace.   We had a good view of the massive Kings-Emmonds Ridge off in the distance.  We would run with it in sight for the next several hours.   Just a few weeks ago, I summited the seven 13-er peaks on this ridge.  As I continued to look at it, I just could not believe I really accomplished the Seven Summit feat in one day.
I dreaded the next section, a rocky descent into the Gilbert Creek drainage.   I remembered the painful descent four years ago hopping rocks as the trail went down small creek drainages.  I warned Matt that it would be tough, but it wasn't.  It was fun and felt easy.  The big difference is that now I have much stronger downhill muscles.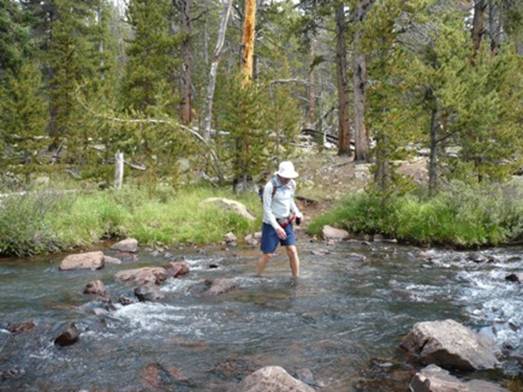 Matt crossing Gilbert Creek 
At 11:55 we arrived at the North Fork of Gilbert Creek.   I carefully walked across a tree trunk fallen over the Creek.  Matt decided to just blast across the water, soaking his feet.   I really enjoyed the next section running through forests and meadows.  I listened to my MP3 and sang out loud as I ran fast ahead.   I stopped and waited for Matt to catch up.  After about five minutes of resting, there was no sign of Matt.  I let out some whoops but didn't hear a response.  I finally decided to head back.  Right after that Matt appeared.   He had lost the trail and blew on his whistle but I didn't hear it.  Finally he went around in circles until he found the trail.  I needed to make sure I kept him in sight.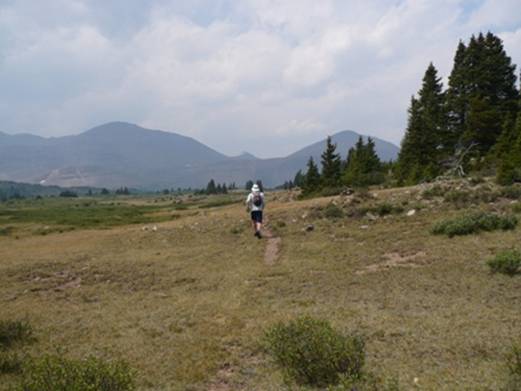 Matt running in Painter Basin 
The trail descended and brought us into the spacious and beautiful Painter Basin.   We refilled our bottles in the mountain brooks.  I knew that we would have plenty of stream crossings over the next few miles.  At 1:50 p.m. we arrived at the Painter Basin trail junction (about mile 24).  We passed by a tent but saw no campers.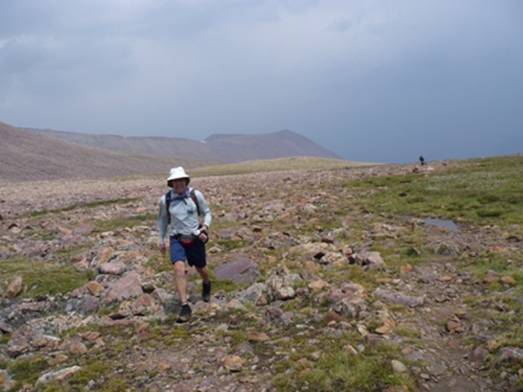 Matt running across Anderson Basin below Kings Peak 
The clouds rolled in and there were very dark clouds up on Kings-Emmons Ridge.  Sounds of loud thunder could be heard and the wind picked up.  It looked like the worst of the storm would pass us by, but as we started the steep climb up to Anderson Basin at the foot of Kings Peak, the rain started to fall.   I quickly took out my garbage bag and made a nice rain suit.  Unfortunately I left behind my sun glasses, just one of several things I left behind on the trail.  We did dodge the worst of the storm.  It gave us a good soaking, but it wasn't too bad.  It lasted on and off for about an hour.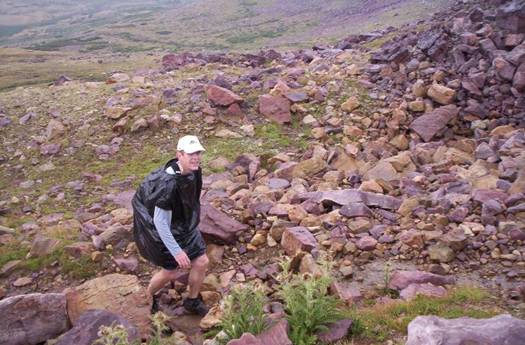 Climbing up to Anderson Pass in my rain gear
As expected we ran into many hikers making their way to Kings Peak from Henry Fork.  We had fun chasing and passing a couple groups.  We also had fun trying to explain where we started and where we were headed.  I saw looks of disbelief, but they watched us pass on by and press forward quickly up toward Anderson Pass.  At 3:10 p.m., we arrived at Anderson Pass (about mile 27).   It was an incredible view.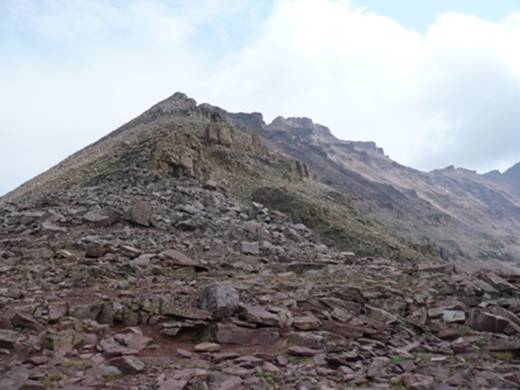 Looking up to Kings Peak summit
We looked up and could see several hikers making their way up the rocky slopes of Kings Peak, the highest peak in Utah.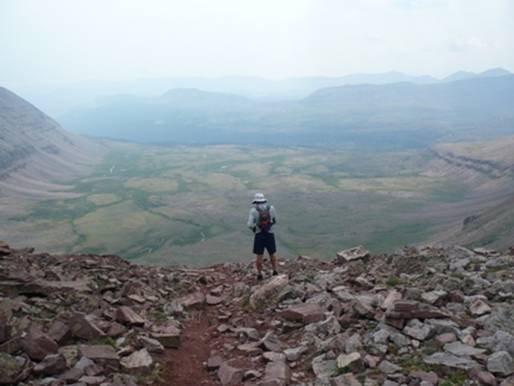 Matt on Anderson Pass looking down into Yellowstone Basin 
Next up was a steep 2,500-foot descent into Yellowstone Basin.  I knew the trail would be a quick, long, steep run down.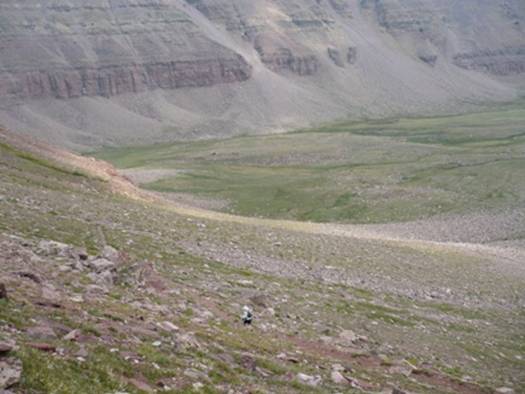 Matt far ahead descending into Yellowstone Basin 
Matt took off down the trail as I took off my garbage bag rain poncho and made other adjustments.   Matt was moving fast down the trail going back and forth on rocky switchbacks.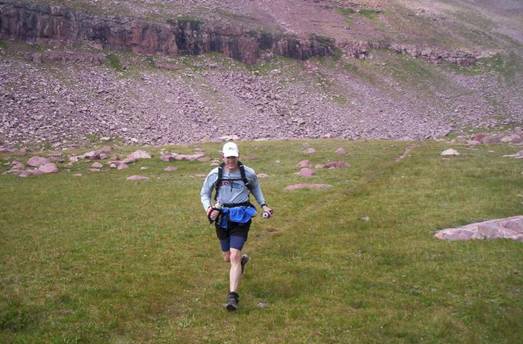 Running fast on the grass in Yellowstone Basin 
I pushed hard to catch up but didn't overtake him until we reached the grassy slopes in the basin.  We had made it down the steepest part in less than 30 minutes.  I loved running on the grass again and sprinted fast to catch up.   We were having a great time.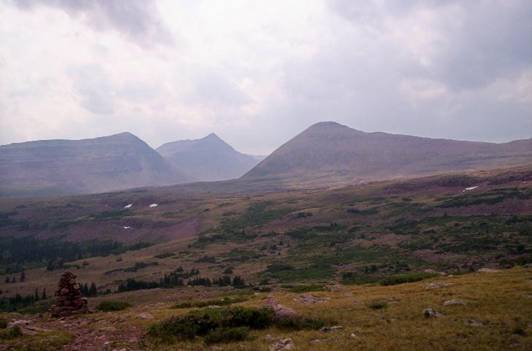 Yellowstone Basin 
I think Yellowstone Basin is one of the most breathtaking portions of the Uintas.  The beautiful valley lies at the base of massive Kings Peak.  It is very green with grassy fields and pine forests.  Lakes and streams dot the landscape.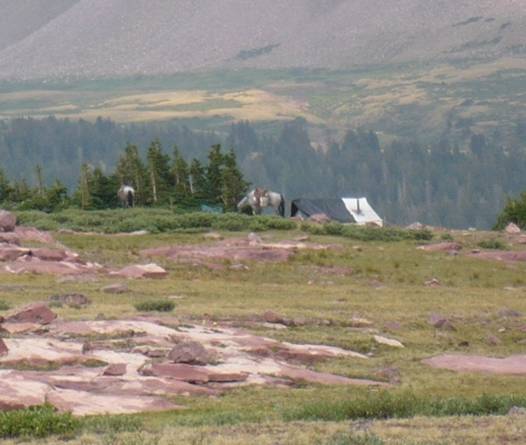 Beautiful camping site on a ridge overlooking Yellowstone Creek and the slopes of Kings Peak
As we neared the center of the valley, we came across an elderly hiker with a teenage boy.  The man was moving pretty slow.  We discovered that they also had come from Chepeta Lake.  They started six days ago.  Wow, we covered the same distance in less than 12 hours!   They were planning to next head down the Yellowstone Creek to the trailhead many miles away.   We wished them luck and started the climb up to Tungsten Pass.  As we climbed, we passed by a stunning camping site on a ridge overlooking Yellowstone Creek valley.  There were several horses and a very large tent.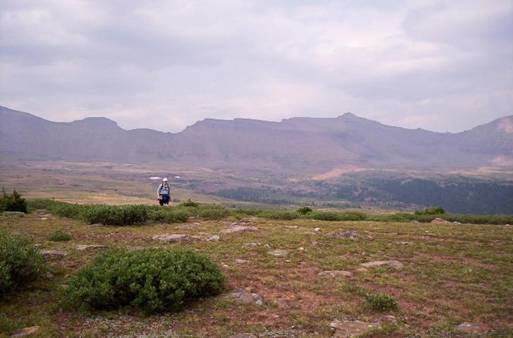 Climbing toward Tungsten Pass
As we made our way up to Tungsten Pass, I pointed out to Matt the steep slope that I scaled in the dark without a flashlight back in 2003 searching for the pass and the trail.   I finally gave up for the night and pitched my tent after about 19 hours of hiking on my own.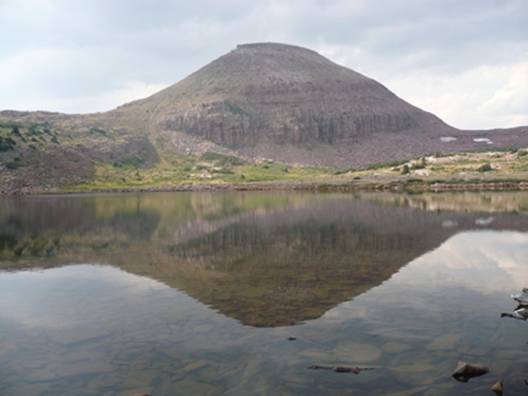 A beautiful lake below Tungsten Pass 
We arrived at Tungsten Pass (about mile 33) at 5:20.  We were at about the halfway point of our journey and been at this for almost 12 hours.  Because of the altitude and rough trail, the effort seemed like we had completed 50 miles.  We were now entering new territory.   I had never hiked the next 26 miles or so.   I hoped that we could stay on the trail.   That answer came quickly.   After visiting Tungsten Lake, filling up our bottles, the cairns took us in the wrong direction.  I quickly noticed our mistake and set our course to the next waypoint at North Star Lake.   Within a half mile we linked up with the right trail.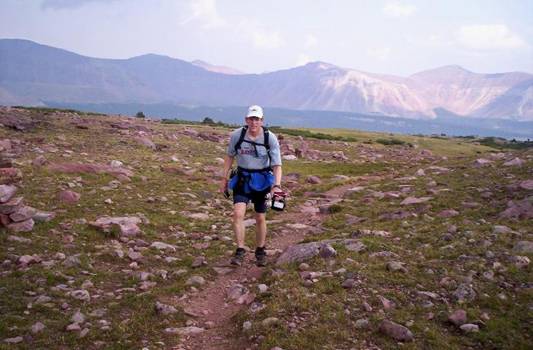 Pushing up the trail to Porcupine Pass 
We continued past North Star Lake and pressed on up the trail climbing to Porcupine Pass.   I was at a low point energy-wise and I took it easy going up at steep switchbacks ascending the last 400 feet to the top.  Matt climbed strongly ahead.  We had very nice views of high wilderness lakes far above the tree line.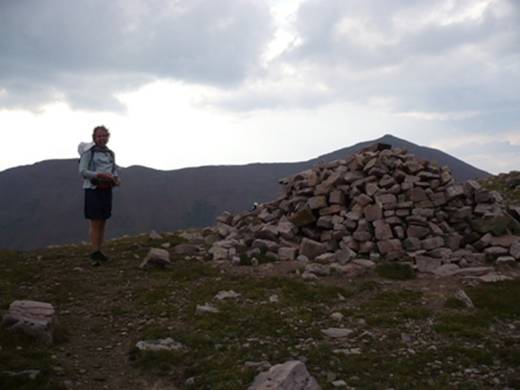 Matt standing next to pile of rocks on Porcupine Pass
We reached 12,200-foot Porcupine Pass (about mile 36) at 6:30 p.m.   It is always a great experience to climb over a pass because we were always greeted by some new fantastic view.  The wind was a little chilly up there.  We had climbed four passes, with four more to go.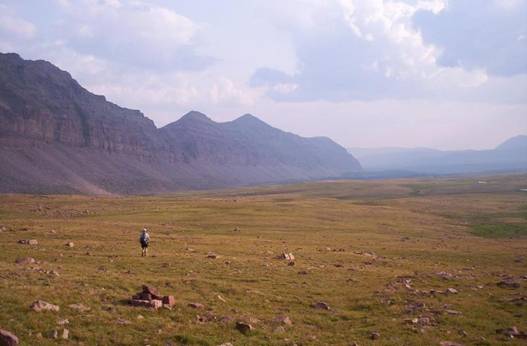 Running ahead on the grassy slope 
The trail down on the other side was narrow along a steep slope.  We marveled that it was possible for horses to travel along this part of the trail.  We wound our way down the switchbacks and were dumped out into a beautiful grassy valley, still far above the tree line.  There was absolute silence in the valley.  The only noise was the sounds of our footsteps.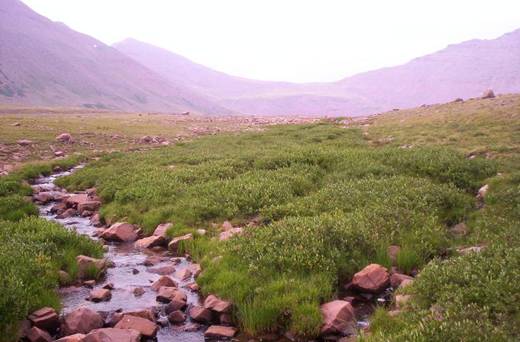 Our first water stop since Porcupine Pass off in the distance
Our pace really picked up because of the soft trail surface and straight trail.  We set our sights on huge cairns off in the distance.   I kicked it into a higher gear and had a blast running quickly down the valley on the grass.  Our spirits soared.  We were having a great time.  Matt commented that this valley was the most beautiful part of the trail so far.  He also believed the trail was much easier since we went over Anderson Pass.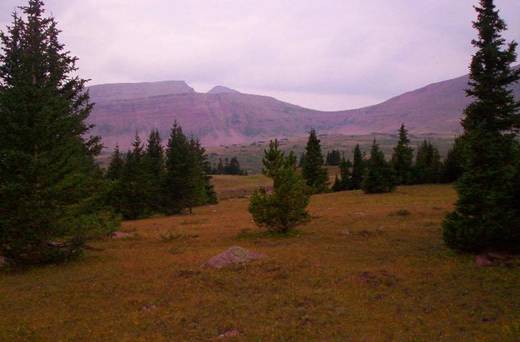 We arrived back at the tree line 
We made good time and we soon reached the tree line again.  The mixture of meadows and forests were a beautiful sight.   The sun was setting quickly.  I knew that navigating after dark would be a significant challenge, so I wanted to make the best use of the light and put as many miles as possible behind us.   I felt an uncomfortable urgency about the challenge of navigating in the dark. As we descended into a meadow, I spied some large animals off in the distance.  I stopped and waited a few minutes for Matt to catch up.  As we slowly continued forward, they spied us and in unison, about ten elk turned and ran away up a slope.  Wow, very cool.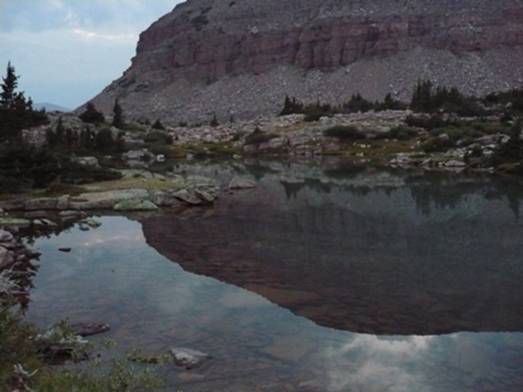 Last picture of the day A clear lake at the base of Mount Lovenia
When we arrived at a meadow near Oweep Creek, we again lost the trail.  We looked far and wide for a cairn, but just couldn't find the next one.   I turned on my GPS and headed us in the correct direction toward the next waypoint.  Within a half mile we again found the trail.   The trail progressed up some switchbacks to the base of massive Mount Lovenia, a 13-er.   The light was fading fast.   We struggled somewhat with some route-finding in the low light and finally stopped a little after 9 p.m. to get out the flashlights.   We also pulled out the satellite phone and called our wives to let them know we were doing fine.   We were still on pace to finish at about dawn.
As we turned on our flashlights, I asked Matt, "How many minutes do you think I will have to pull out the GPS?"  We both thought we would lose the trail within the first five minutes.   To our delight this didn't happen.  I quickly discovered that our concentration on the trail instead of the scenery increased.  With our lights, we could clearly see the foot and hoof wear on the trail.  Another clue that we were on the right course was seeing logs beside the trail with chainsaw cuts.  To our delight, an entire hour passed by without us losing the trail once.   This was a high point.  I felt great and started to run fast down the trail through the forest.  We reached a junction and started the long climb to Red Knob Pass.  I slowed down and Matt continued a strong pace.  
We climbed along Lake Fork River and could hear it roaring down valley to our left.  We eventually crossed it and then lost the trail.  Since we were above the treeline, we could easily make our own route, so we didn't spend any time searching for the trail.  We pushed forward up the mountain using my GPS as a guide.  Matt was usually ahead and I was very impressed how he could stay right on course in a straight line.   After a mile, the slope became very steep going up to the summit.  We both wished we now were on a trail, but we still couldn't find it.  I wanted to get the steep climb over with so climbed up ahead of Matt, stopping now and then making sure I didn't lose him.   We climbed over rocks, through bushes, all in the dark.   Finally with about five minutes from the top I found the trail!  We summited Red Knob Pass (about mile 49) at about midnight.   Losing the trail probably cost us a half hour delay.
On the trail again, we descended into the next valley.  Our next major destination was Dead Horse Lake.   As the trail dumped us out onto grassy slopes, still above the tree line, it became more difficult to stay on the trail.   There were large cairns ahead and it took a good eye between us and the use of the GPS to stay on track.  After awhile I ran ahead quickly and then sat down on a rock to rest.   I lifted my flashlight high in hopes that Matt could see it, but he couldn't.  Soon I heard his whistle calling for help.  I back-tracked until Matt saw my light.
I wasn't eating enough and losing energy.  I was dragging as we finally arrived at Dead Horse Lake and sat down to try to regroup.  Across the lake we could hear a dog barking at us as it saw our lights.  Matt took the lead and pushed up the steep trail up to Dead Horse Pass.  I thought the trail was fascinating with all its switchbacks making its way up the mountain near some cliffs.  It was cool to watch Matt's light going back and forth above me.
We arrived at Dead Horse Pass (about mile 53) at 2:15 a.m.   Matt arrived about five minutes before me and flashed his light down to me in celebration.  The wind was chilly at the top.   I said into my recorder, "Dead Horse Pass, 2:15, monster climb!  (Matt laughing in background) up, up, up, switchback, swichback, switchback.  (Matt says, "he made me run every step.")
For the next half hour, we were frustrated trying to find the trail down the other side.  The slope was very steep and it would be foolish for us to descend without a trail.  We took out the map and it was not helpful.   We followed faint trails along the ridge but just couldn't find the descending trail.   I had visions of us needing to stay up there until dawn.   Finally I checked the GPS and discovered that the waypoint for the pass was actually about a hundred yards further along a ridge.  We went that direction and finally Matt discovered the trail.  That was a relief.
Matt took the lead and successfully navigated us down into the next valley.  He went off course a couple times, but the GPS helped me guide him forward.  I was still dragging and soon I started feeling very sleepy.   For the next hour our pace slowed as Matt had to keep waiting for me to catch up.   Finally I had to solve the problem.  I ate more, took some caffeine and a pain-killer.  Fifteen minutes later I still was dragging.  Finally I decided to pull out my MP3 and fill my ears with peppy music.  Next, I tried to sprint as fast as I could down the trail to wake me up.  I was amazed how much better I felt.  I blasted by Matt.  After losing sight of his light, I would sit down and wait for him.   I now felt super and looked forward to using this energy for the next few hours.
My hopes were dashed when we reached the next trail junction.   At that point, the main trail was not the Highline Trail, but a trail to Lightning Lake.   The Highline Trail veered to the left and was much fainter.  It took us about ten minutes to convince ourselves that we were on the right trail to Rock Creek.  The problem with this trail is that the cairns were much smaller and it looked like it didn't receive any horse traffic, so the tread was faint.  When we reached a meadow, we couldn't find the continuing trail all the other side.   We could either search for awhile or use the GPS to guide us cross-country toward the Rock Creek waypoint, 1.8 miles away.  What I didn't realize was that we would need to descend 1,000 feet to the lowest point of the trail.   Our cross-country adventure initially worked out, but it became very tough to stay headed in the right direction because of deadfall and dodging brush.   Matt started to slow his pace as he dealt with feet challenges.   I would have to stop many times to let him catch up.  If he lost sight of my light, he wouldn't know the right direction.    We eventually came across a trail but couldn't believe it was the right one because it was headed 90 degrees in the wrong direction.  (Turns out it was the Highline trail).   We continued cross-country.
Finally we were within a half mile of the Rock Creek waypoint but we hit a terrible obstacle.   I called back to Matt, "Oh know!"   My worst fears were realized.  We came to a steep chasm and could hear the creek down below.   There were huge boulders on the slope, some a big as cars.  We initially tried to hop down them, but it required two-hand descents — pretty tough with a hand-held flashlight.   After a few minutes of this, I told Matt that this just wouldn't work.  It wasn't safe and would take forever.   I noticed a tree line toward the north which meant it would be possible to descend through a forest slope.   We climbed back up and headed further up the valley using the GPS to guide our route.  If we would have continued up further, we would have eventually hit the trail, but we didn't know that.    So, we began a steep descent through the forest. 
We had to climb over more than 100 deadfalls.   It was slow going.   It seemed like an hour passed and we were still 2/10th a mile from the waypoint.   We both were getting frustrated and grouchy.  I couldn't understand why Matt was moving so slowly.  I couldn't go too far ahead, I had the GPS.   Matt was suffering from feet challenges.  Climbing over the deadfalls was tearing up his feet.   Finally the morning light appeared.  We both were wondering if we would ever get out of this nightmare.   Adding to our stress, we knew that we would no longer finish in time to go retrieve my car at the starting point.  Matt had a plane to catch at 6 p.m. and it would take about 8 hours to go fetch the car.
Finally we reached Rock Creek.  I was not thinking clearly and read the GPS wrong, making us cross over the deep creek.  A few minutes later I told Matt we needed to go back over.   He was not a happy camper.  His feet were waterlogged.   Once over, I finally found the Rock Creek trail, but again I didn't read the GPS right.  We weren't at the Highline Trail.   I sat down, consulted a map and tried to figure out where the trail might be.   Would we ever get out of this?   Matt was griping, I was griping.   This was our low point.
Finally, I looked up the trail and noticed what looked like a sign.   I quickly ran up and discovered the junction of the Highline Trail.   Adding to my frustration, I realized the trail was probably only a few hundred yards to the north while we were hopping over all that deadfall.   The morning light was now bright and we knew we no longer would lose our way.   To add to Matt's misery, we had to cross Rock Creek yet again.  I'm glad I wasn't in swinging distance of Matt's fists at that point.
Back on the trail, we now were on track.  As we thought back through the night, we probably wasted about four hours due to losing the trail.    This is the #1 challenge of trying to do this trail in under 24-hours.   If I ever tried to do this again, I would make sure I had waypoints set at least every 1/10th of a mile for the night sections of the trail.
Matt discussed the possibility that he could change his flight without penalty in order to retrieve the car.   I doubted that and concluded I would need to have my wife meet me in Heber to go get the car.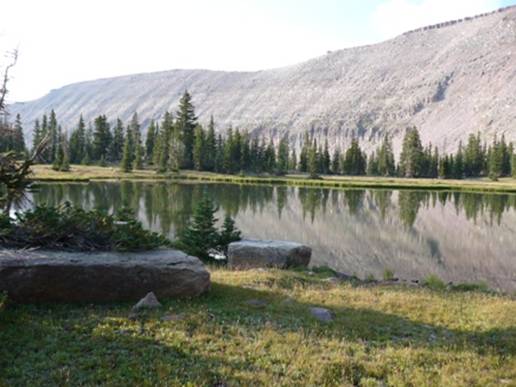 Lake below Rocky Sea Pass
On the bright side, the morning was beautiful.   We should have been at the finish by now, but we still had about 12 miles to travel.  We were in no hurry.   The Lightning Lake trail rejoined the Highline Trail and now the trail was very well-defined.   As Matt says, "The mountain doesn't care."  In this case the rough section of the trail to Rock Creek kicked our butts.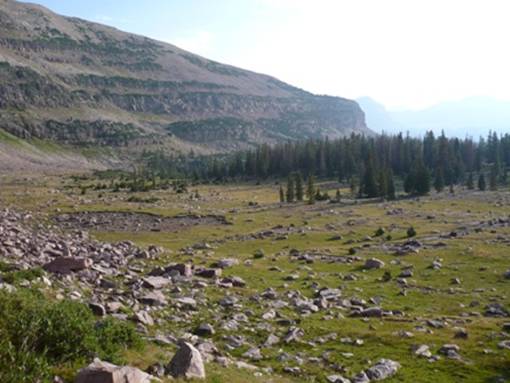 Morning view while climbing up to Rocky Sea Pass 
We again climbed above the tree line and Matt took the lead to climb up to Rocky Sea Pass.   I still wasn't eating enough and slowed to a crawl going up the switchbacks.   Matt was waiting for me at the top.   I arrived at about 8:15 a.m.  I had told Matt that the next eight miles would be smooth trail because it received so much traffic.   Boy was I wrong.   This portion of the trail was the worst because it was so torn up by horses.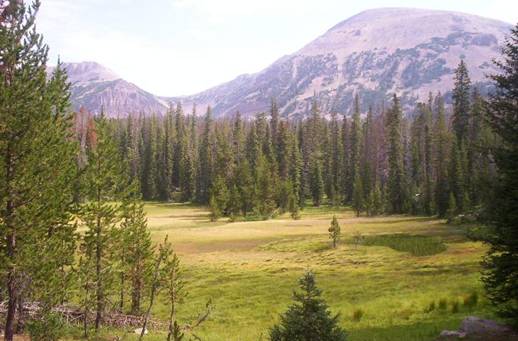 Valley we went through near the finish 
After descending into the valley, some campers asked where we had come from.  They were very impressed and mentioned that another group had been through the day before from Lake Chepeta.  This group had taken 38 hours to get to this point.  Matt told him we were at 27 hours.  They said we were "flying."   We shook our heads.  No, we were no longer flying.
The last eight miles were pretty much a death march.   I called my wife on the satellite phone and she kindly agreed to help me retrieve the car.  Little did she know that it would take her 11 hours.    We met several hikers and they always wanted to know where we came from.  I guess we looked thrashed so they knew we had come a long way.   Matt pushed on ahead.  My feet started to hurt like crazy on the horse-torn trail and I lost my motivation to keep up.  I now just wanted to enjoy the last few miles as much as possible.  
Finally, with about a half mile to go, I was in the home stretch.  I checked my watch and knew I would really have to push hard to beat 30 hours.  I was out of water and my throat was very dry.   It got worse and worse.  I opened my bottles and got every remaining drop out.  I didn't want to get unfiltered water out of these streams in this high-use area.  Soon if I tried to swallow I would start to choke.   I checked my watch, only four minutes until 30 hours.   I ran as hard as I could and reached the trailhead at 29:58 (11:38 a.m.).    The car was gone which wasn't a surprise.  I thought Matt went to find a pay phone to call about his flight.  After about ten minutes he drove up with some nice cold water from a campground.  I gulped a water bottle down and felt much better.
We had done it!   Matt finished at 29:44.   As far as I know we set the speed record on the Highline Trail from Chepeta Lake to Hayden Pass.  Looking back, I think the mileage we covered was close to 70 miles.   We both agreed that the adventure felt like a tough 100-miler.   The toughest thing about the trail was navigating by night.   Matt asked if I would consider ever doing it again.  I quickly said no, but later I knew I would try again.  Now that I knew the trail, a second attempt would be easier.
We drove to Heber where we met my wife, Linda.  She couldn't believe how badly we stunk.  She quickly gave us soap, water, and towels.  After a quick burger, we said goodbye to Matt who headed for the airport.   We had a long nine-hour drive to retrieve the car.   I never made it all the way home.  I had to stop at Heber to spend the night.  Linda continued on home arriving very late at night.
What an adventure!   This was one of greatest adventure runs I had ever experienced.  If we ever do it again, we would need someone to do the shuttling for us.   It is just too much to also retrieve the car.   The Uinta Highline Trail is indeed one of the most incredible trails in the country.