Could it be done?  Once I set a goal it eats at me to complete it. The highest peaks in Utah are found in the Uinta mountain range, but the most impressive peaks that rise from the valley floor to the sky are found in the Wasatch Front.  Could the top six be summited in one day?  After sumiting numbers 1-3, 5-6 in one day a week ago, I was determined to do it right, all six.   I decided to take work off on Friday and head up to the mountains Thursday night to get it done.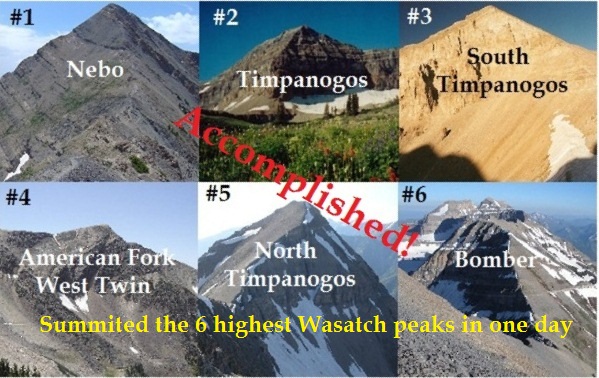 These mountains are in three different locations, requiring a 1.5-2 hour drive between them.  With my experience summiting five of them last week, I now had the knowledge of the trails to do it much faster if I wanted to push it.  But speed wasn't my part of my goal, just finishing was what it was about.
| | | | |
| --- | --- | --- | --- |
| 1 | Mount Nebo | 11,928′ | Above Nephi |
| 2 | Mount Timpanogos | 11,750′ | Timpanogos Ridge |
| 3 | "South Timpanogos" | 11,722′ | Timpanogos Ridge |
| 4 | American Fork Twin Peak – West | 11,489′ | Above Snowbird |
| 5 | North Timpanogos | 11,441′ | Timpanogos Ridge |
| 6 | "Bomber Peak" | 11,347′ | Timpanogos Ridge |
First up, was the highest peak, Mount Nebo.  I now knew the trail pretty well and made fewer wrong selections on the high ridges. Dusk arrived right before the final summit push.
The sun went down and produced a spectacular sunset.   I reached the summit a little faster this week, in 1:50.  I quickly turned around and started to head down.  There was a full moon rising and the moonlight made a huge difference this week lighting up the ridges.  My time down was much faster, finishing the round trip in 3:14
Next up, I would need to drive to Mount Timpanogos.  I would need to summit four peaks along that high ridge top.
On the way to the trailhead, I stopped at McDonalds in Payson and feasted on a big burger.  A nice feature of these summit sections is being able to rest while driving between them.   At Timpooneke, I took quite a bit of time dressing warmly for the chilly night ahead.  I pushed the pace up Timpanogos a bit harder this time. Near Scout falls I greeted a couple making their way down, pleading to know how much further they had to go.  The guy asked me, "Are you going all the way to the summit tonight?"  I replied, "yes."  He had no idea what I was really doing.  Their dog was really freaked out by my green light and ran up ahead of me to get away instead of down with the couple.  I finally calmed down the dog and he got by me to rejoin the couple. I next ran into Nancy Russell and another runner soon after that, coming down from their evening run.  From there, I had the mountain all to myself.   The small basins were very chilly, frost already forming and the water pools freezing.  But on the ridges it would be about ten degrees warmer.
Once up on the Timpanogos Ridge, at the saddle, I would do an out-and-back (total of four miles) to summit both Bomber Peak (twice) and North Timpanogos.  I concentrated on picking the right routes to keep my speed up, but the rough ridge kept slowing me down.  The lights of the city below were spectacular.  I always wonder if people can see my crazy green light from down below.
The climb up North Timpanogos was steep and tough (class 2), but I made it there at the 8:58 point, about a half hour quicker than last week.  The trail (boot wear) up stays close to east ridge and cliffs down to the right.  There is a false summit, but the true summit isn't far from that.
On the way back to the saddle, I ran into a huge porcupine on the trail.  Why was it all the way up there?  It waddled ahead of me on the trail with pretty good speed, but not fast enough for me.  It just wouldn't leave the trail.  Finally I found a point where I could take a different route and rushed on to get ahead of it.
Near the saddle, I could see lights ahead of a couple hikers making their way up to Timpanogos summit.  They flashed their headlamps toward me and I knew they say my mysterious green light.  Next up for me would be another out-and-back on the south ridge to summit the main Timpanogos summit (twice) and South Timpanogos.  So essentially, I was covering the entire Timpanogos ridge twice by doing out-and-backs.   Are there better routes to do this?  End-to-end on the ridge would be much faster, but you would go up and down the mountain without using true trails and you would need someone to pick you up.  But I did detect one route to save about 20 minutes by bypassing the saddle on the way up.  Next time.
I passed the two hikers on the summit push and arrived at the true summit at the 10:52 mark.  This was my 79th career Timp summit. Now I needed to navigate the trail over to South Timpanogos.  It was much easier and faster this time.  The trick is, at any junction, always take the lower defined trail.  You have to keep an eye out for these lower trails.
The push up to South Timpanogos this week seemed much easier.  I knew what to expect, a steep climb up loose talus.  I arrived at the summit at 11:37, ahead of my last week's pace by 1:37.  I hoped to find the gloves I had left up there last week, but they were gone, probably blown down the mountain by the wind.
This time, instead of going down the much shorter route through the giant rock slide valley to Emerald Lake, I decided to complete the out-and-back to the saddle.  It probably takes longer, but I was unwilling to subject my feet and body to all the loose rock/boulder hopping through that valley
Dawn arrived and it was spectacular watching the sun hit the top of mountain.   I climbed up, again reaching the Timpanogos summit and from there it was all downhill to my car.  My pace was lazy and I was getting dehydrated.   I took up about 80 oz of water, but that had to last for more than nine hours and it didn't.  I ran out half way down which made the joints ache.   I saw several other runners going up and ran into several friends who I would stop and talk with for a few minutes, so my pace was pretty leisurely.  I reached the trailhead at the 14:43 mark.
Five summits accomplished!  But I had one more to go and it would be the toughest — American Fork West Twin.  I stopped again at McDonalds on the way to Snowbird and felt pretty recovered when I reached the resort.  My task was pretty clear.  From the resort bottom, all I needed to do was to climb to the top of the highest peak above, higher than the peak that the tram goes up to.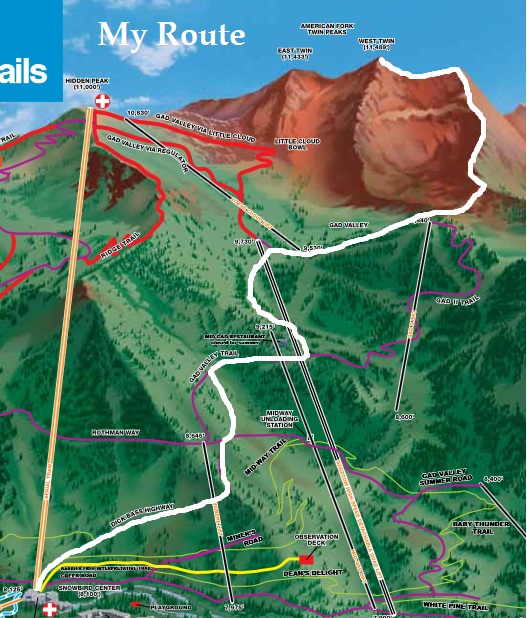 I started out running up a dirt road named Dick Bass highway and from there would make my way over to Gad Valley.  It was pretty fun running on the slopes I have skied down so many time.  But then I ran into a problem.  Signs were posted that Gad Valley was closed.  They were doing some massive construction, replacing the two lifts.  I could hear many construction vehicles in the distance.  What should I do?  I needed to get to the top of the Gad II lift and then climb up to a saddle above.   First to avoid any trucks going up, I climbed straight up a black diamond slope.  I then checked my map, ran up above the mid summit lodge, looked toward Gad Valley and decided to just run through the woods, avoiding the construction roads.  I ran on ski slopes and through wooded ski routes and finally reached the base of the slope I need to head up.
The way up was tough, first doing a long boulder hop and then up a steep 400-foot grassy slope to a saddle.  But I made it.  I then looked up the ridge I would need to take to reach the summit.  It looked challenging and it was.  There turned out to be a few short class 3 sections to climb up along the ridge, but I eventually reached a nice grassy slope.  I looked down into the next valley, White Pine and could tell that I should have taken that easier approach.
I pushed toward the summit and was pleased to finally arrive.  But when I looked to the north, I saw another summit about a half mile away that was higher.  I checked my Garmin and sure enough, I wasn't high enough to be on the West AF Twin.  It turns out I was on Red Top (11,378).  I groaned.   I needed to finish this.   There was thankfully a pretty defined trail between the two.  I descended down a couple hundred feet and then pushed the final 400 feet of climbing to the AF West Twin summit arriving at the 19:30 mark.  It had taken me just under 3 hours to reach to the top of this peak.   The views were spectacular, but I had forgotten to bring up my camera.  I was anxious to complete my adventure and pushed the pace down fast.  But as I reached the steep slope above Gad II, I discovered that it doesn't get the sun much and it was very slippery going down.  I fell a dozen times and came away with cuts, bruises, and pulled muscles.  That took the wind out of my sails and I took it easy going down the dirt roads to my car.
Mission accomplished.  I reached my car at the 21:33 mark (includes four hours of driving).  I felt pretty thrashed, especially from all the falls going up and down that last tough peak.  I should have bagged that peak first, rather than last.   My Garmin indicated that I had ran nearly 40 miles and had climbed about 18,000 feet during my crazy run.  While it wasn't very far, it was very rugged.  It felt like I had just finished a 100-mile race.  The damage was mild, a pulled rib cage muscle, hyper-extended knee, new cuts on the fingers, a big scape on the butt, and a mild sprain of a finger.  No blisters.
So I had accomplished another first.  The first time the highest six Wasatch Front peaks have been summited in less than a day.  Here are my split times compared to last week.
| | | |
| --- | --- | --- |
| | 9/13/13 | 9/19/13 |
| Nebo trailhead | 0:00 | 0:00 |
| Nebo summit | 1:56 | 1:50 |
| Nebo trailhead | 3:36 | 3:14 |
| Timpooneke trailhead (driving) | 5:35 | 5:23 |
| Bomber Peak summit | 8:38 | 8:11 |
| North Timpanogos summit | 9:35 | 8:58 |
| Timpanogos summit | 11:40 | 10:52 |
| South Timpanogos summit | 13:00 | 11:37 |
| Timpanogos summit (again) | | 12:23 |
| Timpooneke trailhead | 16:27 | 14:43 |
| Snowbird center (driving) | | 16:33 |
| AF Twin Peak West summit | | 19:30 |
| Snowbird center | | 21:33 |
This adventure did involve a ton of driving.  Starting from work in Salt Lake and ending at home in Saratoga Springs, I drove about 270 miles.