Probably the toughest 100K race in the country is held in Utah, in August each year. It is called Kat'cina Mosa 100K but its name has nothing to do with the geography. The race director has interests in the Hopi culture from Arizona, so he named the course after it. A more apt name would probably be Wasatch Back 100K. The course runs a huge loop behind the Wasatch Mountains that rise above Provo and Springvale. Nearly half of the course shares the same course as Squaw Peak 50, but in the opposite direction. Kat'cina Mosa runs clockwise and includes about 17,000 feet of climbing along the way over its 62 miles.
For the past ten weeks, I have been doing very long weekend runs instead of daily workouts. I have accomplished eight runs of 50 miles or more during those ten weeks. By doing so many very long runs in close succession, my body is adapting and recovering very fast, getting ready for the next run. This weekend, I chose to run the Kat'cina Mosa course solo and unsupported, through the night.
When I went to the store to buy my food for the run, I ran into a friend who was stocking his van for this weekend's Wasatch Back Ragnar Relay. I chuckled as I observed the huge amount of food and drink stocked in the van for their series of 10K runs, and then looked down at the little bag of food that I would stuff into my small cammelback, for my entire 62 miles.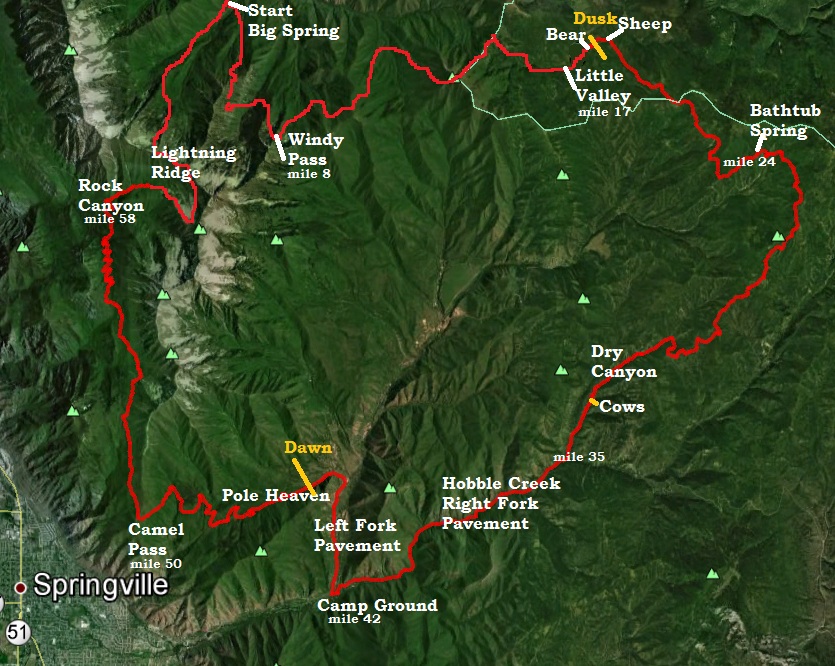 Instead of starting in Hobble Creek Canyon, I started closer to home at Big Spring up the South Fork of Provo Canyon. I started at about 4 p.m. on Friday and ran up an extra 1.5 miles to reach the course. But that is OK, I could avoid the little out-and-back that the course contains at Little Valley to reach its length of 62 miles.

For the hot afternoon, my pace was pretty easy, just enjoying the run. The climb up to Windy Pass was fine. The brush has really grown since two weeks ago and now is a bother on the single track sections, really slowing things down. I was able to stay on course the entire way using my memory. I have run the race once and paced 25-40 miles three other times so I knew the course pretty well. But also, there is still flagging up from past years in several sections.
For food, I was carrying: Candy, gels, bacon, a burrito, and some powdered Heed. I brought just the right amount, running out right before my finish. I retrieved my water from springs and never had to purify it. My first water stop was at about mile 16 at the spring on the road that descends down to Little Valley. I ran through Little Valley and there were a few campers there for ATV fun or horseback riding.
Dusk hit me about a mile after Little Valley and right at that point a big black bear ran 30 yards ahead of me, across the dirt road. It must have heard or seen me coming. Wow! That is the first bear I've run into while running in Utah. As it got darker I kept looking behind me, fearing that the bear could be tracking me. But it wasn't.
In about another mile, I heard more noises, moaning. It turned out to be a massive sheep herd. I no longer worried about the bear. If it was hungry, it would snag a sheep. The herd covered about a half mile and they weren't very happy about my green light. Soon dogs barked. Great, I hoped they wouldn't chase me. I didn't notice them coming, but soon I was nudged from behind which really startled me. There were two big white dogs who looked friendly. They kept nudging me, maybe herding me. But then one of them kept trying to nudge my left pocket. Then it clicked. That pocket had bacon in it. The dogs kept following me, hoping for a handout, until I reached the edge of the herd and then they stopped to stay with their charges.
As I passed the bath tub spring (mile 18) around 11 p.m. a family was camping nearby with a huge bonfire. They called out greetings. I'm sure they wondered what I was doing. I filled up and continued on.
All was pretty uneventful until I started descending the narrow Dry Fork canyon. It had been taken over by cattle and they were destroying the nice trail. They didn't like my light and would run down the trail ahead of me stirring up a massive cloud of dust. Most of the cattle eventually left the trail but not a cow with two calves. They insisted on staying on the trail. It was a real bother, a constant dust cloud and I just couldn't get around them. After 1.5 miles of this silly chases, they finally became tired and stopped running, just walking. I tried to prod them off the trail, but the cow started to get protective and made movements to go after me. So we were at a standoff, they were just walking down the trail slowly. Finally the cow left the trail. The calves didn't want to, but finally followed the mom. I eventually reach Hobble Creek road. My shoes were full of dust. The cows had chewed the trail into soft dust. I had to stop for 15 minutes to clean my feet well. Because it hasn't rained in quite awhile, the course was very dusty. I would have to stop four times to clean my feet.
The six-mile run down the paved right fork of Hobble Creek was very pleasant. When I reached the campground (mile 42) at the fork of the Canyon, I stopped to fill up on water at a bathroom.
Dawn arrived as I was climbing the Pole Heaven road that goes to the top to Cammel Pass. I had only covered 25 miles during the shortest night of the year. The nearly full moon sure was great. But it was nice to have the sun rising. I was getting chilled and drowsy. I had stopped twice to take short naps.
The morning was beautiful and I was in no hurry. A few people were on for an early morning car or bike ride on the high road between Squaw Peak and Hobble Creek Canyon. The view of the valley and cities below were great. I enjoyed the very tough climb up to the highest ridge, Lightning Ridge, above Big Spring Canyon, at about 9,700 feet. Over the top, the steep descent was tough on my tired legs but I finally made it back to my car, accomplishing the 100K run It had been a great adventure. I sure love running at night but can do with out the wildlife and farm stock.