In 2005 I ran across the Grand Canyon and back for the first time.   At that time, only a few runners could be found running rim-to-rim-to-rim.  Now during some weekends it is almost like a super highway of runners who experience the amazing beauty of the canyon.   It had been about 2 ½ years since I had run in the canyon and four years since I had run a traditional R2R2R using the corridor trails.  It was time to return and I had my sights on attempting a quad crossing, repeating what I had accomplished back in 2006.
The only known quad crossings are: Jim Nelson (1999) – FKT 22:48, Wally Shiel (1987), Dana Miller (1993), Susan Gimbel (1994), Davy Crockett (2006), Jason "Ras" Vaughan (2013) – did sextuple crossing.
After Thanksgiving dinner I headed to the canyon and spent the night at Kanab.  I got up very early and drove to the North Rim for a 5:00 a.m. start.  As I drove through some fields near the National Park entrance, I noticed that my car thermometer was diving  10, 5, 0, -5, and then to -10!   Three years ago on the same weekend I aborted a run starting at the North Rim because the temperature at the same spot was -20 F.   I was amazed and worried.  The heater in my car couldn't keep up with the cold coming in from the outside.   I hoped that my car wouldn't break down.   This time, I kept driving and thankfully it was warmer at the trail head, a balmy 11 degrees.
I still dressed in shorts because I knew it would be much warmer below.  There were no cars in the parking lot and it felt very lonely as I walked over to the trailhead  in the dark to start my very long run.  There was about six inches of snow at the top as I started running down the North Kaibab trail.   Down I went and the trail was pretty slick in spots for the first mile.   Curiously it wasn't getting warm as fast as usual.  I later figured out that there was an inversion going on near the rims, with very cold air that was spilling into the canyon.  I saw frost on the trail all the way down to Roaring Springs.
Lately I had been worried about soreness in my bad leg near the area of my bad fracture in 2012.  Again, the pain was felt and I became to doubt that I would be able to do the quad crossing.  It just wasn't worth a bad injury.  But I kept going and tried to keep the pace up.
As I was filling up my bottle at the facet in front of the Roaring Springs house (about mile 6), I saw a light coming up the trail.  A backpacker came up to me and we chatted.  He was heading up to the North Rim.  I told him what I was doing.  He predicted that he would be seeing me again in the afternoon.
I reached Cottonwood Campground (mile 6.9) in 1:20 and was surprised to see that the water was still on there this late in the year.  Finally it was starting to feel warmer and dawn arrived by the time I entered The Box at mile 10. (The Box is a slot canyon that Bright Angel Creek roars through with the North Kaibab trail on the side.) My pace now was fast and I was ready to shed my jacket.   I stopped and stashed my light, jacket and some gels and then ran on.
I arrived at Phantom Ranch  (mile 14, the bottom of the canyon) at the 2:40 mark.  My best time from that North Rim in the past was a speedy 2:24 for those first 14 miles.  I was now more than 6,000 feet below the North Rim. While filling my bottles, I noticed two groups of R2R2R runners who were heading in the opposite direction.  I tried to greet them, but they didn't respond much, too focused on their tasks.
I continued on and headed over Black Bridge to run up the South Kaibab trail toward the South Rim, towering above more than 4,400 feet.  I usually go up Bright Angel Trail which is a mile longer, but if I was going to run a quad, I needed to reduce the miles.   Looking up the river, I could see a river rafting group eating breakfast as they watched me run across the bridge over the Colorado River.   The river color was unusually muddy red.  As I ascended the steep trail, I realized I made a mistake leaving my jacket and gloves stashed back in The Box.  A wind kicked up and it was chilly.  I hoped that the sun would hit the trail soon to start warming things up.
I think there is a no more beautiful place to watch the morning light than from the bottom of the Grand Canyon.  I love to watch the light, colors and shadows on the monoliths above.  There were a few day hikers coming down and I greeted them all as I did my best to jog up the trail and keep a good pace going.  At one point I looked ahead and noticed a round rock that looked like it had a tail.  But then it moved.  It was a tame big horn sheep.  It barely moved as I ran by just feet away.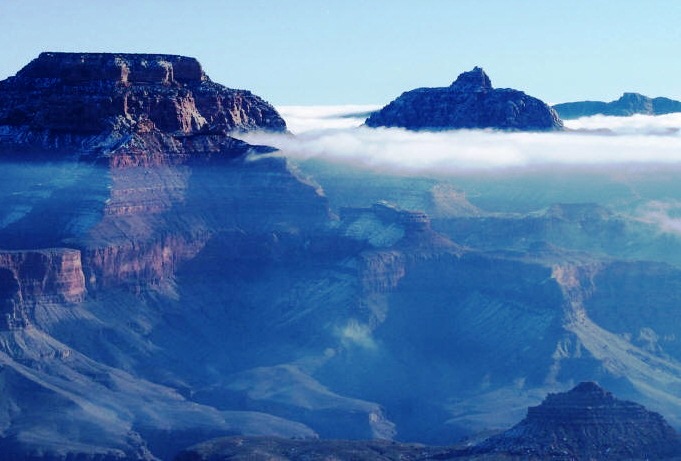 When I reached Lift Off and the Tonto Trail junction, the wind was pretty stiff and cold.  I was glad that I wasn't running the Tonto trail today.   The weather just seemed very odd.  Coming from the rims above were thin layers of clouds, inversion.   As I climbed higher, it was an amazing thing to see.  I wished I would have taken pictures but it was too chilly to stop.  As long as I was moving hard, I was OK.  The higher I went, streams of day hikers appeared.  They were all bundled up in winter coats and there I was going in the opposite direction with short sleeves and shorts.  I received many curious looks.  Only a couple people asked me what I was doing and I would explain that I had run from the North Rim.   I left them stunned.
I started to have leg issues.  This time it was bad cramping in a quad muscle.   I had to keep stopping and roll it out with my water bottle.  That was slowing things down.  I hoped that it would settle down.
I soon reached the cloud layer and sure enough it was a layer of ice fog.  The temperature dived about 10 degrees, well below freezing as I ran through it.  But once over it, the warm sunshine was nice.   I reached the South Kaibab trailhead in 5:26.   I had hoped to reach the top by the 5-hour mark, but still I was pleased to beat my personal record by a minute.  I didn't stay long and turned around and headed back down.   I passed about 100 day hikers who were amazed and alarmed to see me running.  One let out a cry as I tripped a little on a rock but it was no big deal.
One guy heading back up saw me coming and asked, "Are you Davy?"   I stopped.  I'm always amazed how people can recognize me from my pictures on my blog.  We talked briefly about my past adventures and he was very kind.
The morning was finally warm and even the day hikers were starting to shed some over coats.  The river came closer very fast and I could now see another river rafting company stopped for lunch.  They watched me as I ran by the river back toward Phantom Ranch.   I arrived there at the 7:14 mark which is my fastest time by nearly an hour.  I took a long stop there to eat plenty, refill my bottles, and visit the bathroom.
I would now run back up the trail with a trekking pole in my right hand and water bottle in my left.  That worked out great and I enjoyed running up the trail along Bright Angel Creek.  I reached my stash and it was good to have my jacket and gloves again.   I had been debating internally if I would continue and do another R2R2R.   I had plenty of good energy, but with the leg issues and the cold weather, I was pretty sure that I would finish at the top.
I tried to predict when I would see the other R2R2R runners coming back down and my prediction was nearly exactly right.   The first group was moving good.  They had 11 miles left and I also had 11 more miles to reach the top.  Others came later and I counted a total of nine R2R2R runners for the day including me.
The higher I went, the colder it got.  If I pushed it hard, I would sweat plenty and then feel even colder.   Near Roaring Springs, I met the backpacker from the morning.  I asked him if it was still cold on top.  He explained that even at noon, it was frigid up there.   I wasn't looking forward to the rest of this cold climb.   But if I kept pushing, I would arrive back to my car by dusk and avoid the big plunge in temperature.
I started noticing frost far below Supai tunnel and then the ice started to appear.  It was already below freezing.  I pushed on but the cold was slowing me down. During the final mile, hypothermia started to set in.  My feet and hands were freezing.  I knew I would be OK, but I worried about the group of R2R2R runners who would start in the morning.  I sure wouldn't want to finish after dusk in this frigid air.
I never needed to get my flashlight out and reached the trailhead at the 12:56 mark.   This was a PR for a North Rim start by 16 minutes.  My best time for a South Rim start 12:47.  I believe starting from the North Rim is tougher because you have to end up with a much longer climb.
It was easy to quit with one trip.  Making another trip through the night would be just too cold and miserable.   My leg was sore so the wise thing was to stop, warm up and start heading home.
It had been a great day running across the Grand Canyon and back.  Certainly because of the weather, this was one of the most unusual R2R2Rs that I had run.   This was my 14th double crossing.  I've now been up or down the North Kaibab trail 30 times and I know every turn well.   I also now have logged 1,004 miles in the canyon.