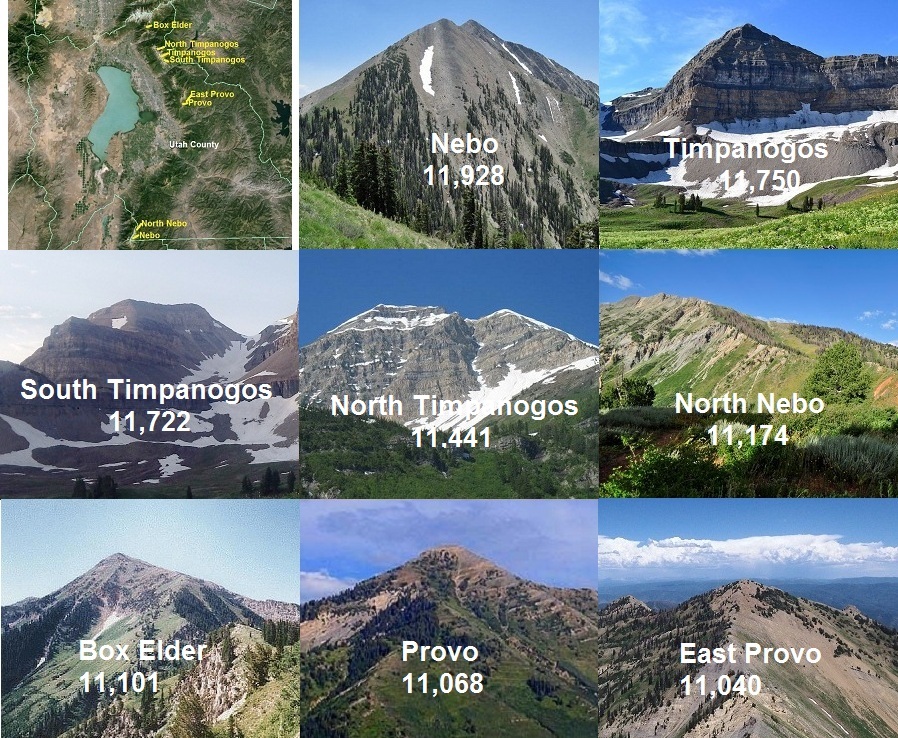 Last year I set a crazy goal to attempt summiting the eight highest peaks (300+ feet prominence) in Utah County, all more than 11,000 feet, in a single adventure run.    The peaks in order are:
Mount Nebo 11,928
Mount Timpanogos 11,750
South Timpanogos 11,722
North Timpanogos 11,441
North Peak ("North Nebo") 11,174
Box Elder Peak 11,101
Provo Peak 11,068
East Peak ("East Provo") 11,040
If successful, this would be the toughest adventure run of my career, even tougher than my Quint Timpanogos. This new adventure would involve about 22,000 feet of climbing in about 50 miles. This could be done using four trailheads.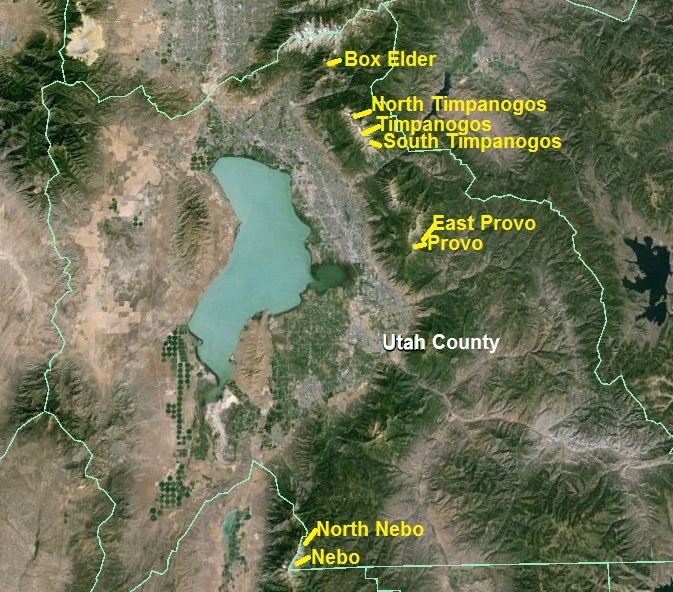 Usually on July 4th I run a 5K or 10K.  This year, I would attempt this tough adventure.  I got up early and after a 1.5 hour drive started my adventure at the Mount Nebo trailhead (on the North end).  I've summited Mount Nebo (11,928), the highest peak in the Wasatch Front, three times before and knew the trail well. I've even climbed it twice in the dark.
On this day, I started at 5:00 a.m. in the dark, but soon a beautiful sunrise appeared.  I took the pace easy, worried about my sore leg (after effects of stress fractures).  The leg complained but after a few miles calmed down.  I passed by North Nebo (North Peak), deciding to bag that peak on the way back because the climb is easier on the south side at Wolf Pass.  The climb up to Mount Nebo from Wolf Pass is steep and to get to the actual summit involves some hiking over some narrow ridges with cliffs on each side. But I knew the route well and got over those hairy sections just fine.
I reached the Mount Nebo summit in a slow 2:15 (my best was about 1:30).  The views were great.  I found a wallet near the top with a driver's license and $29 lost by an 18-year-old kid from Missouri.  I put it in my pocket and would try to find its owner.
On the way down toward North Peak (11,174), my feet slipped out under me on a steep slope and sharp rock stabbed me hard near a kidney.  Earlier I had also be stabbed hard by a bush (arm and upper leg).  Already, I was a wounded, bloody mess, but not enough to stop me.
The run up to North Nebo was easy. (On maps this is "North Peak" also sometimes referred to as "North Nebo.")  I returned to my car after a slow 4:09 round trip.  (The fastest I have run it is about 2:30). Two peaks with six to go.
After a quick stop at McDonalds in Payson, I drove to Provo Canyon, up the Squaw Peak Road and parked my car above Rock Canyon campground. The drive had taken about two hours.  First up was a four-mile run to the trailhead at the next pass above Slate Canyon.  I first tried a trail above Rock Canyon that I thought would connect to the main dirt road, but it didn't, so I did an extra 1.5 miles.  Finally headed on the right route, I arrived at the Provo Peak trailhead at about 12:45 p.m.  The trailhead isn't marked at all, but from the pass you start your climb on a double-track ATV road.  In about a half mile, there is a large cairn marking the single track trail to the summit, but somehow I ran right by it, continuing on the ATV road until it ended.  From there I followed a motorcycle track that eventually ended.  I knew I needed to go up the West Ridge and bushwhacked slowly for a while until I finally connected to the right trail.
Finally confident that I was going the right way, the trail was steep all the way to the top.  It was only about 1.2 miles from the trailhead, but it took me 1.5 hours to climb the nearly 3,000 feet to Provo Peak (11, 068) because of my route blunder.
The views from the top were fantastic.
I looked over to my next destination, East Provo (11,040) and my heart sunk. I knew there would be a steep descent to the pass between the peaks, but "holy cow" it was really steep on loose talus.  I looked down and could see some backpackers looking up.  I had read in a trip report that you could bypass the steep descent by going down a ridge to the south and then traversing over back to the ridge between the two peaks.
This was a bad mistake.  Yes, you could exchange a steep decent with a traverse, but the traverse ended up going across slopes just as steep and takes much, much longer.  It took me nearly an hour to cover only a half mile.  Several times I found myself in very precarious situations on very loose talus on steep slopes trying to pull me down.  I finally rejoined the ridge and needed to work my way around some class III obstacles but finally reached the East Provo summit (11,040) in another hour. (On maps this peak is called "East Peak." It is also referred to as "East Provo") It was now 4:30 p.m. and it had taken me a very slow 5.5 hours to reach this point from my car.
I was pretty beat up from several falls.  I stood on the East Provo summit and considered how I should return.  I first ruled out the direct route, looking over to that steep climb to Provo Peak summit.  I looked to the north along the ridge to Freedom Peak, and then over to the Lightning Ridge trail which I knew well.  But I ruled that out, not knowing how tough it would be getting over to Lightning Ridge.  I decided to descend down in the valley to the south and make my way over to a slope near Coral Mountain.
For the next hour, I descended down 1,000 feet to a trail that I thought could help me, but the trail turned out to only be a game trail.  I looked toward the slope I hoped to take, but it looked steeper than any I had been on.  I had no choice but to head back up and just take the direct route back.  It took me another hour to hike slowly up a steep slope and then do a traverse over to direct route.  A backpacker looked down watching me on this steep slope, probably wondering what that idiot was doing there. Occasionally I would cause a loose round rock to roll down the slope for 1,000 feet. As I neared the ridge to take me up, I had to cross a very steep loose section.  As I carefully made my way across, I slipped.  "Oh no", I was heading down.  I desperately grabbed rocks and after about 20 feet slid to a stop.   I now had a bad case of road rash on my arm.  I paused for a while to rest and then continued on finally making it to the bottom of the steep slope back to the summit of Provo Peak.  I looked at the slope, and shook my head, not because it was terrible, but because it was much easier than all the slopes I had taken.  From there, it was only 30 minutes to the top, with no problem.
Back on Provo Peak, feeling very beat up, I considered that it had taken me 4:45 to go out and back to East Provo Peak with all my route blunders.  Knowing the quickest route now, I believed it should take about 2:30.  I had wasted another two hours. The sun was now low on the horizon.  I had hoped to be at the Timpanogos trailhead at this point. Because of all the time and effort, I ran out of water on the way back and was very dry and thirsty when I finally reached a spring.  Dark came as finally reached my car.  This leg of my journey had been 15 miles and took me a painful 10.5 hours.  But I learned a lot.  Doing it again, I should drive a high clearance vehicle all the way to the trail head at the pass, and should take the best route than I now understood.  Instead it should be only about 5 miles, and take about 4.5 hours round trip, five hours faster.
Even though I felt thrashed with many wounds, I was still determined.  Next up were the three peaks on Mount Timpanogos.  On the way, I stopped at various view points on the Squaw Peak road to watch the firework shows down in the valley.  This was quite an event up there with police directing traffic and parking.
I arrived at the Timpooneke trail head at about 11:15 p.m.  I took the next half hour trying to re-tape my beat up feet and eating plenty.  During my Provo Peak ordeal, I had eaten very little.  Feeling somewhat recovered, I was on the familiar trail at 11:47 p.m.  I've gone up this trail nearly 100 times, so it was comforting to be on home turf, knowing what to expect. Along the way up, several groups of hikers were coming down who had watched the fireworks from the top. I felt better, but my progress was slow.  It took me three hours to reach the saddle, a trip that normally takes me less than two hours.  There were a couple hairy steep snow fields to cross with icy snow.
Next, I needed to go north along the top of the Timpanogos ridge to go bag North Timpanogos (11,441).  The out and back is only 3.8 miles, but very rough.  I had accomplished this route twice before, both in the dark. My first mistake was that I had a hand-held light.  I should have also taken a headlamp to help me stay on the right route.  Compared to last year, the route was much, much harder because of more loose rock.   At night, I marveled how difficult this was. You can make pretty good time if you can stay on the correct faint trail through the rocks.  But I kept losing it over and over again and made slow progress with very little running.
Finally after another 1:48 from the Timp saddle, I sat down on North Timpanogos.  It was now 4:30 a.m.  The wind was kicking up and I longed for the sun to rise.  My trip back to the saddle was rough, taking me nearly two hours.  A terrible blister on the bottom of my foot greatly slowed me and I hadn't brought any tape with me.  By the time I reached the Timp saddle, my determination left me. The next two summits (Timpanogos and South Timpanogos) would be fairly easy but with the sore foot, high wind, and the hot sunshine ahead, I decided that five summits would be enough for this adventure.
The trip down took me 1:45, but I enjoyed the morning.  I reached my car at 9:00 a.m. in a lot of pain.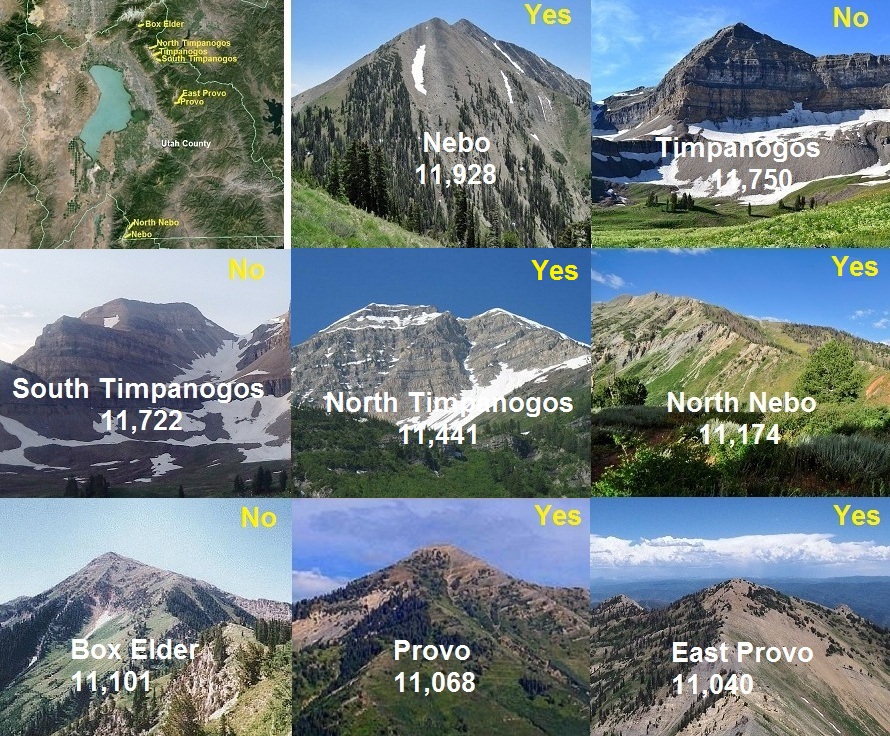 My entire adventure including about five hours of driving took me 28 hours.  I climbed about 16,000 feet and traveled about 42 miles.   I had bagged five of the eight highest peaks in Utah County and did the most difficult ones.
Despite all my suffering, I still believed that next time I could do all eight in less than 27 hours.  If I did it right, for all eight peaks, the total amount of climbing would be about 22,000 feet in about 40 miles (saving 8 miles by driving all the way to the Provo Peak trailhead).  The toughest peaks (Provo, East Provo, North Timp) should be done in the daylight. I should start a couple hours earlier, doing the climb up Nebo in the dark, the Provo peaks during the mid-day, North Timp during the late day, the other two Timp peaks during the night, and Box Elder during the early morning.  But all of this is for another day.  For now, I'm just content in the effort I made and the things I learned along the way.
View video I took along the way