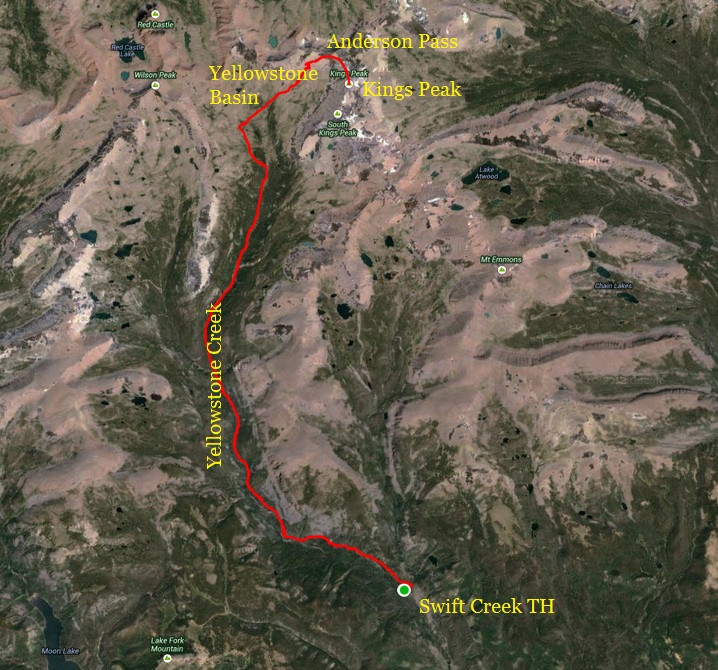 I summited Kings Peak, the highest peak in Utah for the 15th time. But this time, I did it from a trailhead on the south slope, instead of from the north. The challenge is that this route is a 41-mile round trip with 6,580 feet of climbing instead of 26 miles and 4,300 feet of climbing. I believe I'm the first person to accomplish this in a day. Typically this longer route is a four-day backpack trip.
I arrived at the Swift Creek trailhead on Friday evening. The trailhead is located north of the town of Duchesne, UT. It took an hour to drive from the town because of some miles of rough dirt road. I camped for the night and was on my way at 4:00 a.m. The first 15 miles climbed through the Yellowstone Creek drainage which is similar to the first 6 miles of the Henry Fork drainage. It was a typical rough Uinta trail with bowling ball sized rocks in the trail with areas of marshes.
As I tried to push the pace harder, I tripped and took a nasty fall as I crashed into rocks. It seems like the older I get, the more I fall. I groaned on the ground but picked myself up. It looked like I didn't break anything, but I did badly sprain a finger and bruised an arm. I was still good to go.
The morning light came and I had some nice views of the Yellowstone Creek, deep in its gorge. The creek was much more like a roaring river. Eventually the trail required me to cross the river and it was thigh deep and quite a challenge to cross without falling in. Finally I climbed up out of the trees into beautiful Yellowstone Basin. I reached the Highline Trail junction at the 16-mile point. There must have been a sheep herd further up the basin because several sheep dogs started barking at me in the distance and came to make sure I wasn't messing with the sheep.
Once across the basin, I had to make the big climb up to Anderson Pass. Several forest service guys were doing trail work on the switchback trail. I stopped to talk for a while. They had been working since Monday and went through some pretty rough storms. They were amazed to hear about what I was doing and were very impressed.
As I reached 12,000 feet, I reached snow patches. Snow in August! Snow had fallen overnight and also some previous nights. Looking up to the snow covered Kings Peak, I could see several hikers going up or down the ridge. When I reached the pass I received some curious looks from people wondering why I was coming up the wrong way. I put on my jacket because there was a cold wind and didn't terrible look forward to the remaining steep climb to the summit.
The summit climb was rather slow because of the snow. I had the wrong shoes on for the snow and they were acting like skis. But I did my best to boulder hop instead of using the tracked down snow. I encountered about 20 hikers either going up or down. As happens often when I encounter a group of hikers or runners, I get asked by someone, "Are you Davy Crockett."  I'm always blown away how someone I have never met can recognize me.  In this case, I met Rob, a runner who has attempted Bear 100.  I stopped for about five minutes and we had a nice talk. I finally made it to the top, my 15th Kings Peak summit. Looking the west, I could see a series of rain storms coming so I didn't hang out long, wanting to get down as low as possible before the rain hit. Coming down I took several falls because of the snow but didn't receive any injuries.
The rain hit me as I was running down the switchbacks to Yellowstone Basin. It was mostly drizzle with a stiff wind but not bad and only lasted for about 30 minutes. I greeted the forest service guys again who were still working hard the rain. They told me again how impressed they were.
The sky eventually cleared and presented a beautiful afternoon. My long 20 miles back were pretty uneventful but fun. Usually the end portion of all of my Unita adventure runs turn into a death march, but no so today. I was pretty amazed that my legs still felt great, even on the rough trail. As I finished, after traveling 41 miles, I was somewhat disappointed that my adventure was over.
The round-trip to the summit from the Swift Creek trailhead was 41 miles. As usual on adventure runs, I don't try to race the pace and take my time enjoying the wilderness. I took 15.5 hours, but I had plenty of stops because my moving time was 12.5 hours.