In 2013, I discovered if I did a very long run each week instead of a series of shorter runs that my body adjusted and I recovered from these long runs much faster than if I only did one about once a month.  My recovery from 100-mile runs was faster and the pain felt during them was decreased.  I never do "back-to-back" long runs (two runs in two days) because I believe it is important to recover between them to avoid injury, but once recovered, another long run seems to be very beneficial.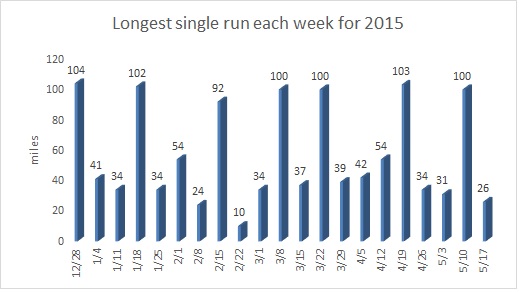 Again in 2015, I have been doing weekly very long runs.  So far this year I have run at least a 50K run every week except for three.  In addition I have been doing mid-week training and have so far run further than any year before during the first three months of the year (1,120).  This March I ran 453 miles which is my highest mileage month ever.
The results have been positive.  A week ago I finished Pickled Feet 100 on Saturday and I was pretty astonished how well I felt on Monday with almost no soreness and not the usual low energy.  Recovery was very fast.  Just one week later I went out and did a 39-mile run and felt great the entire time.
To motivate me to do these long runs, I find new adventures, new places to run.  Yesterday I went about an hour from my home to the west desert of Utah and ran in the little known Onaqui and Sheeprock mountain ranges in Utah.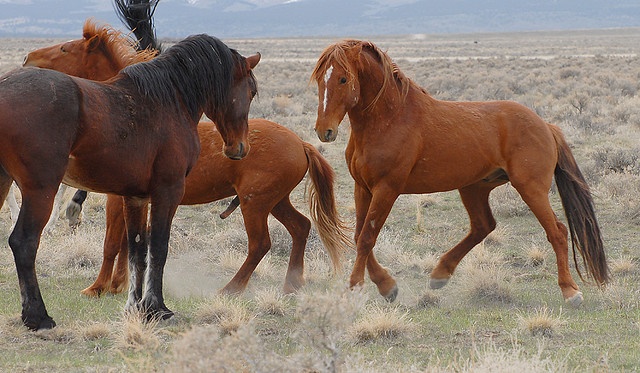 The Onaqui Mountains lie just north of Lookout Pass and are known for its wild horse herds. They have occupied these mountains since the 1800s.  In 2012 the population was estimated to be about 160 horses.  BLM manages the population to keep it between 121-210 horses. The Sheeprock Mountains lie just south of Lookout Pass and are 24 miles long.  Both of these ranges are normally only visited by hunters and recreational ATVers.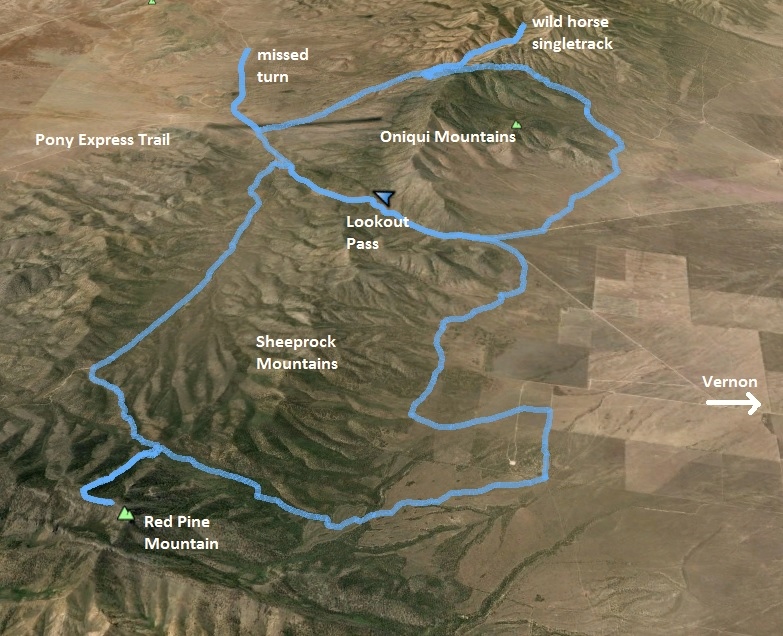 I was anxious to explore these mountains for the first time.  My Pony Express Trail 50 and 100 race starts right between these ranges near Lookout Pass.  I traveled there, parked my car at Lookout Pass and was away running at 3:20 a.m. down the west side of the pass on the Pony Express route.  To prepare for these type of runs I do some planning.  I lay out a proposed route on Google Earth and then make a list of turns and junctions, recording the mile-mark and altitude for each.  Typically, especially in the dark, I will make mistakes, but that doesn't concern me, it is all good training.
My first mistake was as I was entering massive Skull Valley with the faint lights of the town of Dugway off in the distance.  I made my turn correctly but failed to also read that there was another quick right turn.  Instead I continued north on the road and ran by several quiet ATV camps.  The temperature was fine for running but there was a strong inversion going on.  While driving out, the temperature at the lowest portions of the valleys was a chilly 12 degrees F. But up on Lookout Pass it was in the upper 20s.  I would discover that another 800 feet up, it was in the 30s.
A full moon was out and I ran without turning my light on.  I looked up, expecting to see a full moon but the shape wasn't totally full.  I was puzzled. My initial pace was quick, about 10-minute miles.  Finally when the next junction didn't arrive, I checked my notes and saw that I missed a turn.  Oh well, it would be an extra 5 miles.   I ran back and found the turn to take me climbing up near Dry Creek.
When I next looked up at the moon, I stopped and looked close.  Lunar Eclipse!  Wow!  For some reason I had heard nothing about one for this morning.  How lucky was I?  After climbing about 800 feet in a couple miles I entered Dry Creek canyon in the Onaqui Mountains.  The creek bed was washed out and I lost the road I should have been on, missed a turn and continued up the canyon.  I ran on an on odd double track while occasionally looking over my shoulder to view the almost total eclipse.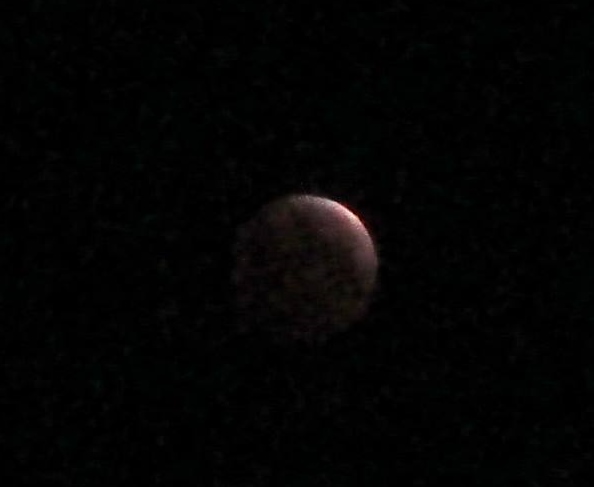 After a mile, I started to doubt if I was on the right route.  The double track turned into a nice single track.  Since I entered the canyon, there were no ATV tracks at all, but there were horse tracks.  It finally occurred to me that the single track I was running on had been created by wild horses.  The hoof marks didn't have horse shoes, were too small to be cattle, and there was horse poop everywhere.  I was running on wild horse single track, how cool was that?  After another mile, the single track continued, but I was sure that I was not on my planned route to take me over a pass to the east side of the mountains, so I turned around and had fun galloping down the wild horse trail while watching the lunar eclipse on the setting moon.
I found my mistake but was glad I had made it.  Some other day I need to come back here during the daylight and run that entire canyon.  It continues to the north and then descents back into Skull Valley, so it looks like a route the horses like to run.
My correct route took me up to a pass as dawn arrived and I descended down a rough 4WD road into Rush valley.  It was a beautiful morning.  I ran along the foothills back to the Pony Express road and climbed back up to Lookout Pass to my car.  I had run 20.7 in exactly five hours.  I stopped to change into shorts and short sleeves for the rest of the run.
Next up was to explore the Sheeprock Mountain Range.  I again ran down the west side of the pass and took a left-hand turn into Little Valley, a place that I had always wanted to run.  The first portion had fire damage from a thoughtless camp fire about a year ago, but I followed the road on a steady climb south with my destination, Red Pine Mountain looming above in the distance.  ATV camps were waking up for the morning, looking at me as I ran by.  I noticed several deer standing in the road up ahead watching me approach.  They eventually leaped away.
Off of the main road, I headed up a rough 4WD road to the pass at 7,050 feet.  The mountain above looked pretty snow covered and at first I decided to skip the summit attempt, but next I found myself running toward it.  A rough road took me up a little but soon dead ended.  I again considered turning back, but my legs started to go up the steep slope.  I was now listening to the LDS General conference.  My concentration was intense and the messages inspiring.  As I approached the summit, the conference sang "High on the Mountain Top."  There I was, on the mountain top, it seemed very appropriate and again extremely inspiring.
The snow became deep in patches near the top and the wind was stiff and cold on the summit ridge.  I pushed on slowly and reached the top of Red Pine Mountain, about 8,500 feet.  The views were amazing in all directions.  I didn't stay long, and quickly descended.  Back on a runnable road, I ran down the east side of the pass into Rush Valley with the town of Vernon seen off in the distance.  I ran the foothills to the north and back up to my waiting car.  I had run nearly 39 miles and felt great.  It had been a wonderful morning training run.