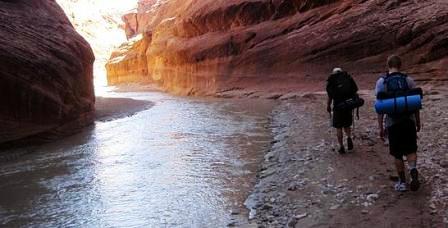 My great joy in running isn't experienced in the races, but rather in doing adventure runs.  At times, these adventures can be amazing experiences when there is a perfect balance of challenge, solitude, and scenery.   I was thrilled to again experience this feeling while running through the Paria Canyon near the Utah/Arizona border.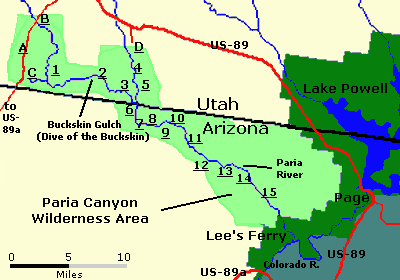 The Paria Canyon crosses Rt. 89, the highway between Kanab, UT and Page Arizona.   The Lower section of this river then travels through a spectacular giant slot canyon making its way to the Colorado River, at Lee's Ferry.   The BLM protects this wilderness area and only issues a few limited number of over-night permits each day to preserve its beauty and solitude.   Many believe this is the most spectacular slot canyon in the southwest.
The entire length of this end-to-end route is about 40 miles.  For the first 25 miles or so, there is really no trail, but you can't get lost.  You just follow the river through the canyon and pick your best route as the canyon snakes back and forth with high cliffs on both sides.   The great challenge of this run is the river.  The higher the river is, the more challenging the run becomes.   River crossings are constant.   I estimate there are more than 400 crossings to make. 
Normally this route is accomplished with a 3-4-day backpacking trip.  On this occasion, my brother Bob, was guiding his sons, sons-in-law, and a friend on such a multi-day trip through the canyon.   I had hiked/run this route three times before during the past 15 years and I longed to again return. 
I made plans and decided to put together a truly unique experience in the Canyon.   I decided to run the canyon at night and join up with my brother's group on Saturday morning near the 25-mile mark.   This turned out to be one of the most unique, challenging, and exciting adventure runs I had ever experienced.
I arrived at the Whitehouse trailhead on Friday afternoon.   The weather was perfect for running with clear deep-blue skies.   I set up a tent in the campground and then checked out the river level.  I was nervous at what I saw.  The river was running pretty strong.  The warm weather was melting the snow upriver that fell a few days earlier.  The water was brown and silty, which is normally the case.   However, this was the deepest I have seen the river during my several times there.   I knew it would be a challenging obstacle.
I went for a late afternoon warm-up 9-mile run through spectacular washes to the north, to the Paria Rimrock area, a remarkable run in itself.   After that, as dusk arrived I tried to get some rest, waiting for midnight.  But little sleep came, because hiker after hiker arrived at the trailhead and a large group of young adults enjoyed a lively, loud night party at their camp until 11:30.   But all was quiet as I broke my camp, made preparations, and went to the trailhead.
I started my amazing run at 12:30 a.m.   If I timed the run correctly, I would find my brother's camp after dawn and then hike with them through the remainder of the canyon.  If I went too fast, I might pass by them in the dark.   But with a 12:30 a.m. start, I would have to push a fast, tough pace to reach them by dawn.
I arrived at the river, and was pleased to discover that the river depth had dropped a foot or more because of cooler night-time temperatures.   It was in the upper 40s and I never felt too chilly.  I traveled very light, with less than five pounds on my back.   I started with just one hand-held water bottle.
The night was so peaceful and quiet.  I would hear the sounds of the river for hours.  The stars in the sky were astonishing, but those would soon be obscured by high cliffs.   As the river made a turn, I was forced to make my first of hundreds of river crossings.  With each turn of the river, the beach would disappear from one side of the river to the other.    To continue to run fast, I needed to cross the river and continue running on the other side.  "OK, here we go!"   I dipped my foot in and was pleased that the temperature of the water was cool, but not bitter cold.  For the first few miles, the depth of the river was only about calf deep, but that would soon change.
Listen to the audio clip around mile 2.
My pace would be very good to begin with as I ran with good speed on the sandy beach dodging rocks and bounding across the river over and over again.  Soon the canyon closed in on me as I went through the Paria Narrows.  At times it was so narrow that the river covered the entire width of the canyon.  I had no choice but to plow through the water straight ahead for long stretches.   In my previous hikes/runs through the canyon, this section was completely dry, without any water.  Not so tonight, it was knee-deep.  
Listen to the audio clip recorded in the Paria Narrows
I shined my light up the cliffs above my head and could only see a sliver of sky above.  The walls soared above more than 500 feet.  The sounds I made echoed off the walls.  It was slow going through deeper water, but I continued to push the pace hard. At times it felt like I was running through a dark cave.
After  1.5 hours, I reached the confluence of Buckskin Gulch and the Paria River.  These two slot canyons come together at about mile 7.5.   Once before, I had hiked through the 12-mile Buckskin Gulch, the longest slot canyon in the world.   At this time of the year, it is pretty impassible, with deep pools that are bitter cold.
The canyon became a little wider, but the river flowed a little deeper.   Within a half mile, I passed by a large group of tents set up near the riverside.   I was making quite a bit of noise as I sloshed quickly through the river.   I wondered if they could hear me, wondering who in the world was running down the canyon at 2:00 a.m.   I sang out to my music after I passed, giving them something else to wonder about.
I soon developed a good river running skill.   It was impossible to detect how deep the river was by seeing through the water to the river bottom.  The water was totally brown and murky.  However, I could detect the depth by observing the ripples in the water.   I did my best to cross where it looked like the depth would be only calf deep or less, rather than thigh deep.  I tried hard to maximize my time running on dry ground, and then would choose good crossing locations to bound across the river quickly.
I was soon faced with a new challenge, I was running out of water.   The river water was undrinkable. How in the world was I going to find one of the few springs along the way in the dark?   I had the spring waypoints marked in my GPS, but getting a signal in these narrow sections was probably impossible.  So, for the next few miles, I kept careful watch on the cliff walls for the tell-tale signs of stained walls due to seeping springs.   I found Wall Spring, but it wasn't dripping fast enough, so I decided to continue on, hoping for a fast flowing spring.   Just after I finally ran out of water, I came upon the gushing Big Spring.   I put my hand in the waterfall and was very surprised at how warm the water was flowing from the cliff walls.   It tasted just fine, so I drank up and filled my bottle.
I made my first stop (mile 12) at that point to clean out my shoes.  The river water, containing fine silt, flowed into my shoes and socks, leaving fine sand behind.  Eventually the sand gathered so much that it cramped my toes.   It took me ten minutes to clean things out and to put my wet socks and shoes back on.   The chilly air and water started to affect me, so I wanted to quickly get on my way again.  My feet felt much better and I was able to pick up the speed.
The canyon became wider and the cliffs above my head became hundreds of feet higher.  The river would make hairpin turns as the canyon snaked its way back and forth.  It became an incredible challenge to navigate the best and fastest routes along the riversides.   At the turns, occasionally there would be a trail that would cut off the turn, cutting its way through brush, reeds, and cottonwood groves.   Those sandy trails that climbed up and down were a nice change, and I ran through plenty of those sections.  But they were difficult to detect in the dark at the speed I was going.  I know I missed dozens of these short cuts.
The further I went, the deeper the river became.   Soon, almost every crossing involved thigh-deep water.  It was impossible to move quickly through those crossings and they began to really tire me out.  There were long stretches without beaches on either side, just thick reeds.  I was forced to slosh slowly down the river through the deep cold water.   I groaned as I reached these sections.   
One of the most challenging sections was some very calm deep pools.   I would have to very carefully test the depth and at times would have to back-track and find better ways to cross — all of this in the dark.   Twice I dipped down and became wet up to my waist, nearly falling completely in the water.  But I kept my balance and never did take a face plant in the water.
I began to worry about how challenging and slowly I was progressing.  I thought about my brother and his group with heavy packs.  How did they do in these sections?   Could they really have covered 25 miles in two days?   Was it possible that they turned back?   Could I be running right by their camp in the dark?
Eventually the canyon started to become wider.  I turned on my GPS and was surprised to discover that I was much further than I realized.  I was already at about mile 21.   With the dark, every turn in the river seemed to be the same.   I sloshed on and took advantage the best I could of the nice sections where I could run fast along the river.
Listen to the audio clip recorded at dawn.
Finally dawn arrived and illuminated the high red walls all around me.   I knew that there were only two springs left on my route and I was pleased that I was able to find the hidden shower spring based on my memory.   I filled up my camelback for the long hot final 18 miles.  I also ate my breakfast snacks, feeling much better.
My legs had held up very well.  They felt strong and fast.  But my feet were taking beating from the sand and the very uneven surfaces.  My ankles were getting a tremendous workout.   At one point, I was in a very reflective mood, thinking about the experience that I was having.  All the hard work and training made this possible.  I wished others could share what I was experiencing.  I knew that was impossible, but if others could somehow get a glimpse of the joy I was feeling, perhaps they would work harder to make similar experiences possible.  I felt very grateful as I pranced through the rocks, bounded through the river, and scrambled up and down sandy trails, pushing aside high reeds.
I now focused on finding my brother and his group.  At the end of the adventure, they would be my 150-mile ride back to my car.   I was also feeling lonely after seven hours of solo night-running and was anxious for company.   I passed by known campsites, but there was no sign of campers.  I diverted off the river several times to inspect camping areas, but there was no sign.  At times it sounded like I could hear voices echoing off the cliff walls, but I concluded it was just sounds from the river.  Finally, I knew I had one last hope, reaching the last spring and the camping spots there.   That is where I had told my brother that I hoped they would reach by their second day.
As I reached the area, I saw human life!   But it wasn't my brother, it was another group.  As I ran into their camp, a guy asked, "Are you the marathoner?"  My spirits rose.  He had obviously been in contact with my brother.  "Where is my group?"   "They should still be right around the next bend."   I bid good-bye and then ran ahead.  Sure enough I could see my brother up ahead and I let out a whoop as I ran into their camp.  His sons had looks of astonishment on their faces as they realized that I really made it.   I looked at my watch – 8 hours.   I had covered their two-day trek in just 8 hours.
My timing was perfect.  They were working at breaking their camp and filling their water containers at the nearby spring for the final long hot 15 miles.   I was very excited as I shared some details of my amazing night-time run through the dark, spooky, spectacular canyon.    What an adventure it was.  Words really do not do justice in describing the challenges I had faced.
Now I could finally rest.   For miles ahead, I enjoyed the company hiking with my brother, his sons-in-law, nephews, and a friend.  We swapped many outdoor stories as the canyon came to brilliant life and spilled out into wide open desert.   At times we hiked along the river, and other times took high-water trails that climbed up the slopes far from the river.   There were many different options to take.
Finally as we again were faced with river crossings, some of the guys wanted to take many minutes searching out dry ways to cross the river.  Bob and I tried to convince them that there were many crossings still ahead, but the guys were getting very weary of wet feet, so even took shoes and socks off to make the crossing.
All the slower hiking caused my right hamstring to tighten up pretty bad, making we worry about seriously pulling it.   I decided that I needed to push ahead on my own to keep the muscle loose.   I couldn't risk running any more, but I could push on ahead at a good pace.   The pace was frustratingly slow compared to running, but I eventually finished the long miles and arrived at the Lonely Dell Ranch at Lees Ferry.
I had covered the 40-mile adventure in 13 hours and arrived about 50 minutes ahead of the others.  My previous best time doing this route was about 22 hours, so I was very pleased how quickly I had traveled, even with hiking the last five hours.   I believe I could have finished in about 11.5 hours if I would have continued to run.  
I rested in the shade of the ranch as I waited for the others.   Lee's Ferry is a very remote, historic Colorado River crossing location where travelers were ferried across the river in the 19th century.  There are several historic buildings still standing.
The others soon arrived in good spirits.  They had accomplished the route in just 2.5 days, an amazing accomplishment with packs.   We were soon on our way in Bob's car and had a great feast in Page, AZ.
My running experience at night through the narrow portions of Paria Canyon, in high water, was one of the most challenging, spooky, invigorating runs of my life.   I long to return very soon to do it again.   The problem is logistics.  To get a ride back on the 150 miles of roads to the trailhead, you either need to shuttle a car, hire a $170 shuttle service, or hitch-hike.   I've done all three methods and they are a bother.   So next time, I may just run a 50-mile out and back, running the canyon first at night and then return in the morning light.  This can be accomplished during hotter months because of the high canyon walls that keep things cool.