August 5, 2006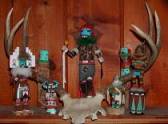 I ran in the 5th edition of the Kat'cina Mosa 100k Mountain Run in the Wasatch Mountains of Utah, near Provo.   Race Director John Bozung uses this name for the race to honor the American Indians.   Kat'cina Mosa 100K is still a hidden jewel among mountain ultra races.  

This is called a "Mountain Run" for good reason.   It isn't just a trail race; it is truly a grueling mountain run with more than 13,000 feet elevation climb along the way.  There are four major climbs of more than 2,000 feet.  I recall three years ago hiking a portion of the Great Western Trail and noticed weatherworn trail ribbons along very rugged sections of the trail.   I marveled to think that anyone would attempt to race along these tough trails, but here I was in 2006 ready for the challenge.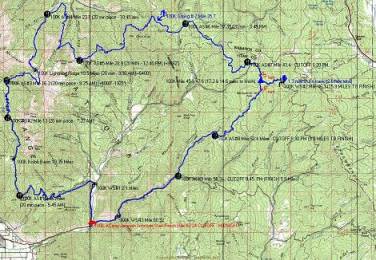 The course is a full circle.   At the race briefing, RD John, announced that the course this year would be the same as year one, including a route by beaver ponds without the need for any out-and-backs.   The beaver pond route would add at least 500 feet of elevation.   About thirty miles of the course is the same as Squaw Peak 50, but in the opposite direction.
My goals for this race were to run the course in under 16 hours and to place in the top ten.   I felt confident that this would be possible, but you never know – the mountains are in charge.
Thirty-five starters gathered bright and early at the start/finish area in Hobble Creek Canyon for the 3 a.m. start.   John gave us final instructions and then we were off.  Our first two miles were on a paved road up the canyon.    No one was anxious to play "the rabbit" and shoot into the lead.  Instead about ten of us near the front joked around with Dave Hunt and formed a pelaton, daring each other to break away.   No one did, we just enjoyed starting out together as friends.   Dave would weave around and tell us all it was time for everyone to do cartwheels.   Soon we turned onto a dirt road and were faced with a 3,500-foot climb over the next eight miles.    Things got a little more serious and the group started to spread out.  
I decided to try hanging with the leaders for a while.  Four of us (Brian Beckstead — finished 1st, Dave Hunt — finished 2nd, Tom Schlosser – finished 18th, and myself) were in the lead group.  I enjoyed listening to their conversation and they were interested in hearing about my Quad Timpanogos accomplishment a few weeks ago.  Dave Hunt asked about my weekly training, asking if I did much in-between my crazy runs.   I explained that during the past month I pretty much took it easy between my Quad Timp, Tahoe Rim 100, Deseret News Marathon, and Millcreek 50k last Saturday.   It has been a crazy month.  I overheard them talking about possible sub 13-hour finishes.  I knew I was out of my league with my hope for a 15-hour finish.  Soon they got even more serious and picked up the pace, creating some more distance between those behind us.   The road switched back and forth up the mountain, giving us views of the city lights of Springville, UT, and also of the lights of runners chasing us below.  
Race Director John Bozung drove up in his truck and talked to us for a few minutes before going ahead to the aid station.   How cool was this – running with the leaders!  We arrived together at the Camel Pass aid station (mile 8.4) at about 1:41 (elapsed time).  The pace was nine minutes ahead of my pacing goals (see chart at end). Craig Manscill was helping out at this aid station.  He mentioned that his son, Dallen, had successfully matched my Quad Timpanogos last Friday-Saturday, but did it much slower.  He accomplished it with aid and pacers.   I said, "Well, I'll have to do five now."  
We left the station at different times but eventually regrouped again as a lead group of four.   John drove up again and followed behind us like a media car following the leaders in a major race.   His truck lights lit up the trail for us.  John now knew who I was.  He pulled up beside me and asked me about my Quad Timp.   I told him Phil Lowry dared me to do it, but now I would have to do a Quintuple Timp because Dallen Manscill matched my Quad.   Speaking of Phil, we could see Phil's red lights below chasing us and could hear his occasional hoots of nonsense.
At the top of the long climb, we arrived at the Slate Canyon aid station (mile 13.1) at about the 2:35 mark.   Brian, Dave and I ran together fast on the downhill into Rock Canyon.   Their foot speed was faster than mine and they created a gap of about a hundred yards.   The dawn light soon appeared and I could finally turn off my light.   I took inventory and was pleased that despite my quick start, I was feeling great, with no real pains or blisters appearing.  I did realize that because of my fast aid station stops, I wasn't eating or drinking enough.
We cruised into the Rock Canyon aid station (mile 16.9) at the 3:05 mark.   I was now 40 minutes ahead of my pacing goal.   Yes, I was going out very fast.  But I was really enjoying rubbing shoulders with these front-runners.  Brian left quickly, and was soon out of sight.  I left next.   How cool was this, at 17 miles I was in second place!   We now had a very grueling 2,500-foot climb over the next 2.6 miles.  It didn't take long for Dave Hunt and his pacer (Dave Fike) to catch me and pass me for the last time.   I hung with them for a while and kept them within view for most of the climb.   As we neared the top, the switchbacks offered a great view of those chasing us from behind.  I could see that training buddy, Phil Lowry was hot on my tail.  (Phil recently summited Mount Timp for the 350th time, taking over the all-time record.)
The view at the top of Lightning Ridge was incredible.   We could see mountain ranges that seemed to go on forever and had a great view of the valley floors below.   Phil caught up with me at the top and snapped a picture of me.   We reached the top (mile 19.5) at the 4:20 mark.  Next up was a steep 3,500-foot descent over the next 3.7 miles.   As the downhill began, I cruised past Phil.   My downhill muscles felt great and I wanted to put some distance on Phil because I knew he would catch me on the next major climb.   As I bounded down the mountain, I let out hoots of joy.   I was having an incredible time.   As I was pounding the downhill pretty hard, I felt a pain in my right rib cage.   I didn't think about it much, but after about 20 minutes the pain was still there so I knew it was more than a passing minor pain.
I ran fast into the Big Springs aid station (mile 23.2) at the 5:00 mark, thirty-five minutes ahead of my goal.   Wow, I was still in third place!  The station volunteers let me know that I was about five minutes behind Dave Hunt and about fifteen minutes behind Brian.   I chowed down quickly and left before Phil arrived.   I knew he would be hot on my tail.
The trail next weaved through meadows and thickets of mountain trees, making its way over to the next canyon for another grueling 3,000-foot climb up over the next 5.8 miles to Windy Pass.   As I turned the corner into the Shingle Mill Canyon, the heat of morning sun hit me hard.   It reached out slamming my brake pedal.   I realized how hot the day would become.   I tried my best to quickly get out of this section of exposed desert scrub oak, looking forward to the shady pines ahead.   But with my slower pace, after a couple miles, Kirk Dyches (finished 3rd) passed me, quickly followed by a fast-moving Phil Lowry (finished 4th).  Phil let out a "TURDS" cheer.   (TURDS:  Timpanogos Ultra Running Dudes.)   I realized that I probably wouldn't see Phil again unless I could catch him with a fast finish on the long ten-mile downhill at the end.   I was now running in 5th place.   I struggled to find my uphill energy.  Dehydration was now also a battle as I emptied my bottles before arriving to the next station.   Right before arriving, Dave Hunt's pacer greeted me at let me know that Dave was about 25 minutes ahead.  I had faded poorly during this climb.  
I arrived at Windy Pass aid station (mile 29) at 7:01.   Roch Horton was helping at the station and introduced himself to me (Roch placed 4th at Bighorn 100).  It had taken me two hours to make the climb.  Despite my slower pace, I was twenty-four minutes ahead of my goal.   I arrived right behind another runner, Steven Kral, overtook me.   The volunteers there had backpacked in a bunch of things.   I made sure I gave them special thanks for their kind service.  Roch told me that I was running in 6th place and had a great race going.
Finally more downhill arrived and I was able to pick the pace back up.  But the condition of the trail was poor.  The overgrowth of all the bushes required me to push many bushes aside and made it very difficult to keep any rhythm going.   Many times branches would knock my headphones off my head.    It was a lonely section because I couldn't see or hear anyone ahead or behind.   Finally as the descent to Little Valley arrived, Charlie Vincent caught up with me and introduced himself.  He recalled seeing me pound down past him during last week's Millcreek 50K.   Soon, running buddy Lyle Nye also caught up.   I was pleased to see Lyle.  He and I ran together for several miles during Zane Grey 50.  I repassed Charlie and he commented that he should have figured that I would pass him on the downhill.   I laughed but let him know the downhill gear wasn't quite working.   I was out of water again and dehydration was starting to set in.  Charlie, Lyle and I leap-frogged for a little while down a road winding its way through the aspen groves into Little Valley.   With Lyle up ahead, and Charlie back behind, I took a pretty bad face plant that sapped the energy out of me and bloodied up my elbow.   Charlie asked if I was OK, and I told him I would be fine.   I watched the other two disappear ahead.
At a slow pace, I arrived at Little Valley (mile 38) at the 9:17 mark, with still an eight-minute buffer ahead of my pace goal.   Lyle and I took a long 20-minute stop there to regroup.   RD John, kindly helped us, trying to cool us down.   The heat of the day was getting intense.   I changed one of my shoes and put on a clean sock.  That turned out to be a good move because that foot no longer experienced hot spots.   Lyle left with his pacer and I followed closely behind.   As Lyle started a run, I tried to do the same but quickly discovered that my strained ribcage muscle was now a major problem.   When I tried to run, I would end up screaming because of the intense pain.   I knew my desires for a strong finish wouldn't happen. 
The next section was punishing.   The climbs along this section were unexpected.   Despite my slower pace, I didn't see a single runner along this stretch.   I passed by the beaver ponds that were very cool to see.   The heat of the day was really affecting me.   I realized that I really needed to do more heat training if I wanted to run at the next level.   The hills just wouldn't end.   It seemed like I was heading in the wrong direction.  Why weren't any runners catching up with me?   I became worried that I was off-course but still I would see an occasional flag.  Could someone have moved the flags?   It was taking much longer than expected to reach the next station.  Silly worries were slowing me down.  I again ran out of water and could tell that I was very dehydrated.   A jeep soon came toward me.  I asked them if they had seen runners ahead.   The lady said that she did, but they weren't running, they were hiking slowly.   That would probably be Lyle and his pacer.   OK, so I was indeed heading the right way.
Finally, I arrived at Bathtub aid station (mile 43.5) at the 12:07 mark.   This station is in a beautiful valley and gets its name from a spring that empties into a bathtub.   I had taken almost three slow hours of walking to cover this last section.  I worried that the back of the pack would really suffer during this long section.   Lyle was leaving the station as I arrived.  I yelled at him, telling him that I thought that last section was cruel.  He told me that Charlie had taken a complete dip in the tub.   The station there didn't have any sports drink, so I did my best to take in salt and drank as much as I could.   As I left, another runner arrived.  So there actually were some people behind. I was now "running" in 8th place.
Feeling much better, I power-walked up the road, the last climb of the race.   Any attempt to run or jog was stopped because of the rib pain.  OK, I had 19 miles left and I couldn't run anymore.   My legs felt fresh with no pain.   Rather then get upset about my rib injury, I decided that it would be very good to put in an intense power-walk workout for the rest of the race.   I would essentially be walking in the last 24 miles of the race.   I set a goal to cover the next nine-mile section in two hours.   That would be a 4.5 mph power-walk.  As I reached the top of the ridge, I knew that it was all downhill from there.   I made failed attempts to run, each time the jarring in my ribs would cause me to scream in pain.   My legs were very willing to go into a sprint, but there was no way.   Three runners passed me during this section.  One of them (Andrew Henrikson) walked with me for a while to hear about my plight.   I explained that I had been walking since Little Valley (the last ten miles).   He was very surprised to hear that.  "Wow, it took me that long to catch up?"   I explained that I started out pretty fast.
My power-walk was working great.   I arrived at Dry Fork aid station (mile 52.5) at the 14:04 mark.   I had beat my two-hour goal.  At the station, two runners were lounging around, rubbing their legs, looking pretty tired.   I felt great so I made a quick stop and was again in 9th place.  On the steeper descent into Dry Canyon, my power-walk pace worked great on the more rugged single-track.   I set a goal to cover the next 4-mile section in one hour.   I almost made it, arriving at Corral Aid Station (mile 56.5) at the 15:05 mark.   Andrew finally caught up with me at the station.   We left at the same time.   There was now six miles of paved road left.   I watched the runner ahead disappear as I tried over and over to sustain a run.   Eventually, the pain in the ribs let me at least do a slow jog for short stretches.    Otherwise, I felt great.  I enjoyed the walk down the canyon and looked at all the sights that I passed. 
After about three miles, a car passed me and let me know that I was way ahead of the next runner, more than a couple miles.   That was comforting.   Soon, Phil Lowry drove by in his car and asked what happened.   I explained my problem but he agreed that the power-walk workout would be great for Wasatch 100 preparation.   He let me know that I was at least 1.5 miles ahead of the next runner who was doing the ultra shuffle.   He wouldn't catch me.   During one long stretch I could see Andrew only about a half-mile ahead.   I made one last attempt to kick it into a very fast gear but failed.
Finally, to cheers, I arrived back at the start/finish area at the 16:27 mark, in 10th place.   Even with walking in the last 24 miles, it was still a respectable finish time for a very difficult course.  Lyle commented that any finish before dark was very good.  John mentioned that there had already been eleven runners drop out of the race (DNF).  I had an odd feeling at the finish.   My legs weren't really sore or tired.   I wasn't doing the funny walk like others at the finish area.  Gee, this didn't seem right.  Oh well, I can look forward to another painful ultra finish in the future.   Next up for me is to heal my injury and get ready for Wasatch Front 100.
The tough race and hot day took its toll.   Of the 35 starters, only 21 finished.   All the runners who finished ahead of me were younger.
Overall

Place

#

Name

Sex

Age

From:

Finish Time

1st

41

Brian Beckstead

M

24

UT

12:53:25

2nd

3

Dave Hunt

M

47

UT

13:59:25

3rd

35

Kirk Dyches

M

40

UT

14:26:05

4th

4

Phil Lowry

M

39

UT

14:43:18

5th

58

Steven Kral

M

44

TN

15:14:26

6th

50

Charlie Vincent

M

45

UT

15:25:00

7th

59

Lyle Nay

M

44

UT

15:38:14

8th

64

Shaun Christian

M

33

UT

15:53:41

9th

55

Andrew Henrikson

M

34

UT

16:21:30

10th

49

Davy Crockett

M

48

UT

16:27:35

11th

46

Jarom Thurston

M

32

UT

16:40:39

12th

0

Pete Petersen

M

47

UT

17:08:50

13th

51

Garret Christensen

M

26

UT

17:10:50

14th

57

Jill Bohney

F

42

UT

17:20:58

15th

37

Mariella Botella

F

40

TX

17:47:15

16th

10

Jody Aslett

F

38

ID

18:15:51

17th

38

Colleen Ford

F

44

UT

18:26:17

18th

67

Tommy Schlosser

M

26

UT

18:33:20

19th

56

Thomas Clark

M

52

CA

18:37:49

20th

61

Ellen Ives

F

52

UT

20:24:46

21st

36

Heather Miller

F

24

UT

20:35:30