The Antelope Island 100K is a new race held on the largest island in the Great Salt Lake in Utah.  The state park there is very supportive of this and the other trail races that Jim Skaggs puts on there because it introduces this unique park to so many people.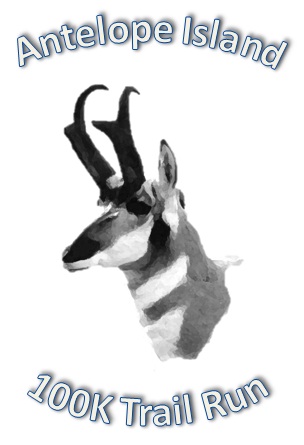 The course that Jim put together for this race is my favorite among the races out there.   I enjoyed it because of its variation of dirt roads, single-track, mud flats on the lake, rough old wagon roads, and four tough, but runnable climbs.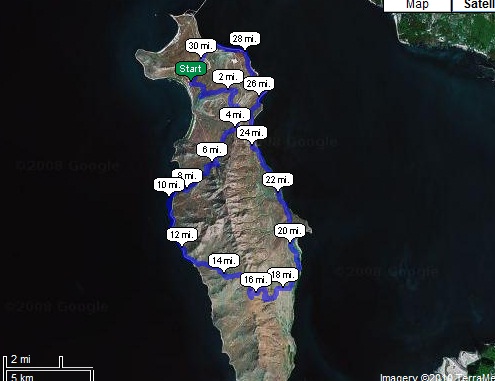 The course runs a large circle, twice, around much of the island, climbing about 3,000 feet each time and enters into some areas that are normally closed to the public. Plenty of wildlife was seen along the way including stubborn buffalo that didn't want to be bothered by runners.
I arrived at the Island the day before the race and helped Jim set up his race headquarters at White Rock Bay.  The weather would be nearly perfect, cool with some overcast clouds and not much wind.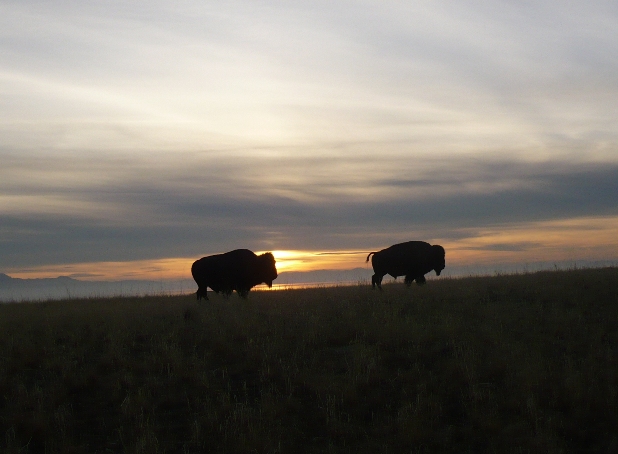 Some buffalo wandered into the start area near dusk. I camped out at the start and got up about 4:30 a.m. as runners started to arrive at that island.  Jim had a nice fire going to greet everyone along with a huge tent pavilion all lit up with lights.   All the runners were excited and anxious to start running.
We began running in the dark at 6:00 a.m. as we faced our first 600-foot climb in two miles up to the top of the first ridge.  I looked forward to a fast start so I quickly took the lead for the first half mile until Brian Beckstead (finished 3rd) and Scott Dickey (finished 1st) caught up and passed me.  I looked below me and could see the lights of the 41 starters making their way up the mountain.  Phil Lowry (finished 4th) also soon caught up and roared at it me.  (This was a recurring joke from 2009 Wasatch 100 when I jumped out behind a tree and roared at him when he passed me at mile 20).
I kept the front-runners in my sights as we continued the climb.  I noticed another light joined them, Golden Harper, who for the next 20 miles would take pictures of the leaders.  As we neared the top, I was feeling very fine, so I increased my speed and went ahead of Phil.  We all kept a good pace going running on the ridge line and down into a large valley where I could look behind and see the dozens of lights chasing us.  We made a short steep climb near Lone Tree and I noticed that I was closing in on the two leaders.   I didn't stop at the Elephant Head aid station (mile 5.4) at about 0:52.  
I continued in the dark, as the trail weaved in and out of drainages.   I wasn't purposely trying to catch the leaders, but I noticed the distance continued to close.   When I reached a short, technical downhill, I blasted down it and was surprised that at the bottom I almost ran right into Brian and Scott.  For the next half mile, I kept up with them but soon Brian stepped aside and let me pass.  When we reached the downhill switchbacks, I turned on the jets and very quickly passed Scott.   It was mile 7.5 and I was leading the entire race.  How weird is that?  
I came into the Death Valley aid station (mile 9.0 at 1:19) still in first place.  Jim Skaggs was there, was surprised to see me arrive in first place, and said, "Wow, you made good time."   The next section would be all new, and Jim tried to quickly describe it to me as Scott arrived.  I pushed on ahead down toward the shoreline and quickly discovered that this would be tough.  The trail was not well-defined and the little flags were tough to pick out in the dark when moving fast.   I slowed and really didn't look forward to navigating for the entire race.   But I stayed on course and continued in the lead for another half mile until another runner caught up with me as we ran on the mud flats on Great Salt Lake.  We ran side-by-side as we were following some vehicle tracks Jim laid down a couple days earlier.
But at mile 9.5, the little flags led us through a patch of rocks, and at the other side we couldn't find the tracks any more (Actually the flags and tracks took a sharp right turn there that we didn't notice in the dark).  We continued on, realizing we were a little off course and when we hit some standing water, we naturally turned toward the shore.  Soon Brian and Golden caught up and we all found ourselves slogging through muddy marshes.   Others behind us we following our blunder.
I never really became frustrated and soon it became comical as we all started to scatter through the marsh and brush, following Buffalo trails, hoping that they would lead us to the marked course.  We would yell out to each other, discussing where the right course might be.  I was pretty sure it was out on the lake somewhere, remembering the map, but because of the standing water near the short, none of us wanted to turn that way.  Soon we were all slowly running across rough river rock along the shore.  Chad Carson (finished 6th) caught up, expressing frustration.   Soon, I could only laugh as I was having a great time running with these guys.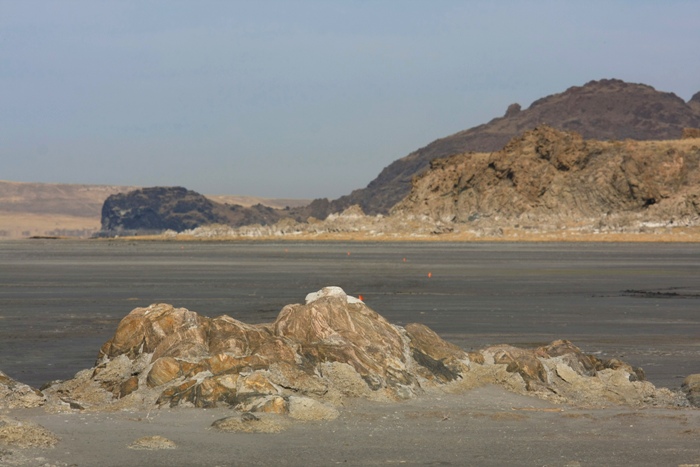 Dawn approached and we looked back and could see a runner (turned out to be Phil) way out on the lake.  I told the others that I thought that runner was on the correct course.  Once we made a turn around a point, we all spilled out onto the lake bed.  (Phil would later describe to me that it looked like Pickett's charge at Gettysburg.  It looked like we formed a line charging out onto the lake with our lights.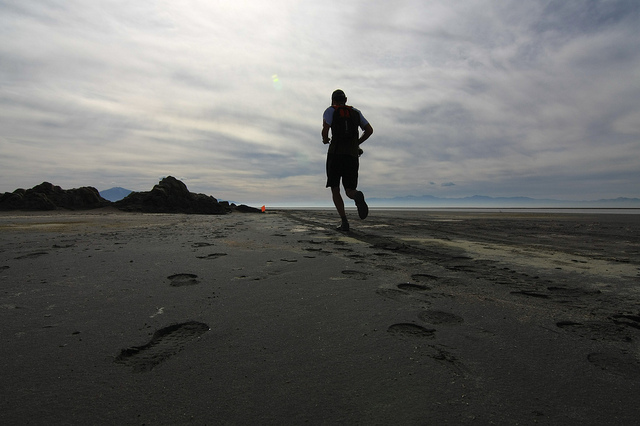 I pushed out further onto the lake and soon found flags marking the course.  I yelled to the others.  I was now in first place again at about mile 11.   This was the latest I had ever led a race with a large competitive field.  Brian and Scott soon went on ahead as we reached the wagon road with Golden taking pictures.   Our off-course blunder only cost us about five minutes.
The sunrise was spectacular as we made a climb up an old wagon road toward Sentry Peak.  Phil caught up again and we reached the North Sentry aid station (mile 15.0 at 2:30).  The next section is a fun single-track that took us around Sentry and gave us wonderful views from the south end of the island.   I was starting to slow because of foot blister problems.   Last week I ran a fast downhill half marathon and developed a terrible blister on the bottom of my right foot.  It still had not healed all the way and now it was slowing me down.   It really started to bother me as we began the long downhill toward the ranch.  Chad Carson and others caught up and finally I had to stop to make some adjustments.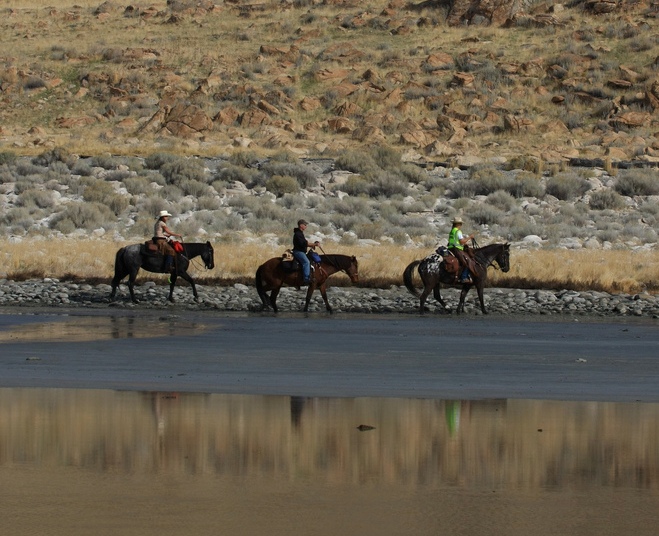 I caught up with Phil as we ran toward the historic Fielding Garr ranch (mile 18.8) on the east side of the island.  We arrived there about the 3-hour mark.   Phil led this second pack of runners for the next few miles and I fell behind as my energy level decreased.   I knew that the remaining miles of this first 50K loop were mostly flat, so I tried hard to keep my pace up.  I reached the nine-mile gate aid station (mile 21.2) at 3:30.  Charlie Vincent was managing this station and gave me a nice friendly greeting.
I pushed on ahead but my pace was slowing. Rob Landis and Travis Vandenburg passed me as my pace slowed to a 12-minute mile.  I started to become frustrated, gave myself a kick in the butt, and found the energy to start running again.   I concentrated hard keeping my pace below a 10-minute mile pace.   Soon I re-passed Rob and Travis and pushed ahead as we approached the north end of the island.  There was no sign of the runners ahead.  Once we reached a fence-line, we went up a steep slope and finally a descended a dirt road back to the start/finish area.   It was interesting to run by the Buffalo pens where hundreds of buffalo had been rounded up.  There were many spectators there, not watching the runners, but watching the buffalo.
I ran into the start/finish area to cheers, at 5:14, just 14 minutes slower than I hoped for.   I stayed only for about five minutes and then was off for my second loop.   As I made the first climb again, I could see Rob and Travis on my tail, and soon Steve Kirkland also came into view.   That was a great motivator for me and I found good strength to run the uphills and stretched my lead on them.   I reached Elephant head again at 6:30 and Death Valley at 7:11.  The early afternoon heat was becoming a big concern but once down on the shoreline things cooled down.
Out on the mud flats again, I soon understood how we went off course earlier that morning.   Now there were dozens of foot prints to follow and easy to stay on course.   Kendall Wimmer (finished 5th) came by running very hard.  I tried my best to try to match his strong pace.
This stretch out on the lake bed is amazing.   There was a cool salty breeze coming off the lake and it truly felt like we were running along an ocean beach.   It was incredible.
As I reached the shore and the wagon road, I finally had to stop for five minutes or so and take care of my painful foot.  I cleaned it up, took off the tape that was causing more harm than good, and went on my way just as Steve Kirkland almost caught up.   I felt much better and was pleased that I could run uphill pretty fast, putting good distance on the runners behind.   I reached North Sentry aid (mile 46.1) at 8:40.  I knew that the last long uphill was now behind me, I just needed to keep my pace up.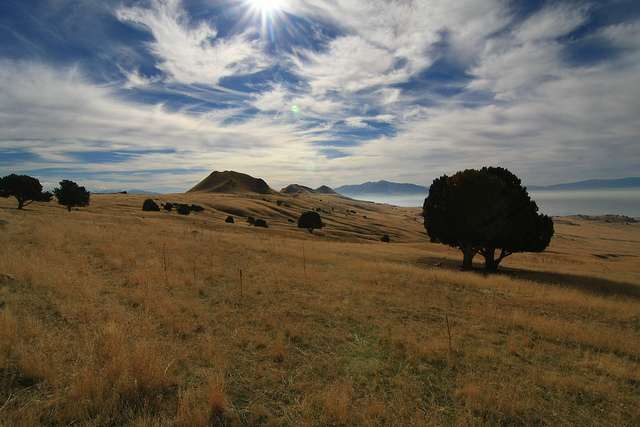 On the downhill, as I was approaching the ranch, I felt incredible again.  The foot was now feeling fine and my energy and speed was good.  I sang out to my music, now in good spirits as I ran at a sub-9-minute pace.   I looked at my watch.  Reaching my goal to finish in under 12-hours was still possible, but I would have to really push it.
Pablo Riboldi's family was at the ranch and they gave me great cheers.  (Pablo was three hours behind me).  I reached nine-mile gate aid station at 9:53 and had fun seeing Charlie and Eve's new baby.  Charlie did a great job taking care of me.   At Lower Frary aid station at about the 10-hour mark, my stomach started to rebel and my pace was slowing.  Steve caught up and passed me.   All I could do is keep him in my sights all the way to the finish.  (He would finish three minutes ahead of me).
I came across a small herd of five buffalo standing ahead of me on the trail.   I recalled that Jim Skaggs mentioned that they didn't round up the most stubborn and mean bulls.   Great!  Here they were ahead of me on the trail.  They looked at me, but had no intention of moving.   Finally I had no choice but to run off trail, making a big detour around the beasts.   I watched them closely, making sure I didn't get them angry at me.
Looking behind me, I took a close look and could see the small figures of some runners over a mile behind.   I didn't want any other runners catching me.  I focused on the 12-hour finish, using my Garmin to keep my pace steady, under 11-minute pace.  This was going to be very close.   I knew that the steep final uphill was going to bite into my time, I pushed very hard.  At the top I had a little over one mile to go with just 14 minutes to spare.   I knew I could do it.
As I ran into the finish area, I could hear Phil Lowry yelling out, making noises, mocking my singing with ear phones (which he had to endure for 60 miles in 2005 while I paced him at Wasatch).   I laughed and crossed the finish line at 11:57 in 12th place, a new 100K race personal record.  
I sat down next to Phil and other friends, including Anne Watts who ran one loop.   I felt great and was still bubbling with excitement about the fun day running 62 miles on the island.   I was anxious to get home, so I quickly broke camp, bid good-bye to everyone and drove to nine-mile gate aid station to retrieve a drop bag.  Dusk arrived and as I drove in the dark, I could see runner lights.  I honked my horn, giving them a greeting.   At the aid station, Charlie and Eve were still working.  Charlie was out on the trail guiding in some runners who didn't have flashlights.   He came in with Colleen Ford who asked me what I was doing there.  I sheepishly admitted that I had finished an hour ago.  She still had about ten miles to go but would finish fine in 15:49.   I left as Charlie was taking care of all the runners.   It had been a wonderful day.   Jim did a great job on this new 100K.   I believe it will grow to be very popular.  I look forward to returning next year.