January 14-15, 2006
I knew that running the H.U.R.T. 100 mile race in Hawaii would be the toughest ultra experience I have ever attempted.  It indeed met my expectations.   After a relaxing five days in Hawaii with my wife, Linda, celebrating our 25th wedding anniversary, it was time to get off of my beach towel and do some slipping and sliding in the rain forest jungles above Honolulu.  H.U.R.T. stands for Hawaiian Ultra Running Team, but I fully understood that H.U.R.T also would mean pain.
A couple days before the race, we previewed the aid station locations.   Linda learned the directions to each location well and would have her first experience serving as a crew for me.  While at Paradise Park, the rain fell in buckets — so much for a wish for dry trails.  On the next day, the race briefing was held during another downpour.   The race director joked that they greased up the trails for us.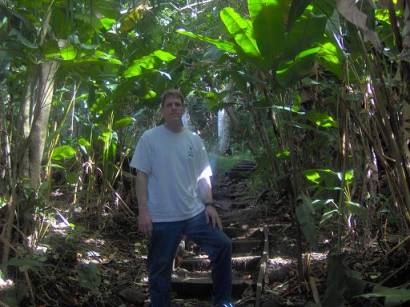 Checking out the trail near the beginning a few days before the race
At the briefing they stressed the difficulty of the course and that no one had yet beat 24 hours.   But I knew Karl Meltzer, also from Utah (Hardrock 100 record holder) was here and that the 24-hour barrier didn't have a chance if Karl ran his usual race.  My goal?  Finish and don't kill myself.  
The course is a 20-mile loop, with out-and-backs to two of the three aid stations.  Between each aid station would be a serious mountain climb and descent.  So each loop would have three difficult climbs.  For 100 miles, I would have to complete five loops.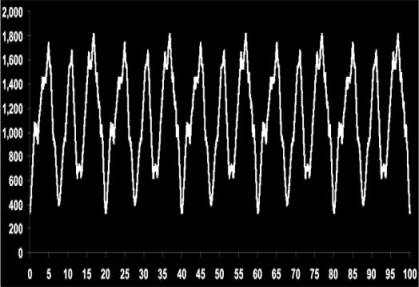 Elevation profile of the entire race
My training had gone pretty well, lots of mountain/hill climbs in October and November.    But with the cold December weather, I had been driven to the valley floors and many mornings could not drag myself out into the cold.   But I felt ready.  My pre-race taper period (a week of rest) was filled with the usual worries about any aches or pains.   These pains usually never amount to anything during a race, so I tried not to worry about a sore hip, sore toes, sore back, etc.   Usually after 20 miles all such minor pains are gone.
The instructions for following the course were simple.  First follow white flags to Paradise Park, next follow green flags to Jackass Ginger, and finally follow orange flags back to the Nature Center.  A "simple" 20-mile adventure.   Then repeat it another four times.
I hoped for loop times of:
1.      5 hours
2.      6 hours
3.      6.5 hours
4.      7 hours
5.      8+ hours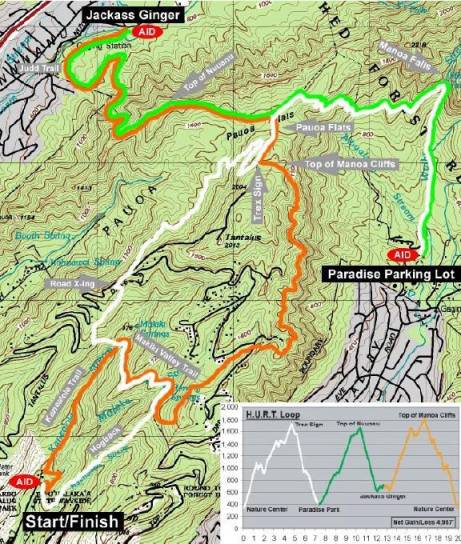 Race morning arrived.   With 86 starters, the Nature Center was a noisy bustle of activity.  There were many runners from Hawaii and I could tell they were a fun group that knew each other well.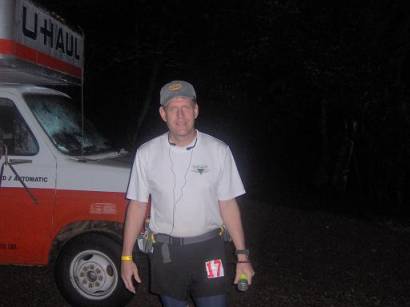 Me, smiling, ready to run
Loop 1: Time – 5:15
As 6 a.m. approached, Linda gave me a kiss goodbye and we made our way to the bridge to receive last minute instructions, and a traditional Hawaiian prayer.   Almost the entire course would be single-track trail and I knew passing people would be difficult during the first part of the race, so I made my way into the first third of the pack.   At the blow of the conch shell we were off and running in the dark.   Dawn wouldn't arrive for another hour.   There would be no wimpy level-warm-up section.  We immediately started the first tough climb.   Looking back I could see a parade of lights, following me up the wet trail. 
I quickly became acquainted with the roots.  Not just a root or two, but hundreds in a just a short stretch of trail.  They looked like a spider web covering the trail.   When I made the mistake of stepping on root, my foot would always slip.   I kept making the same mistake until my brain finally got the message:  "Don't step on the roots."    The strategy was to dodge the roots, step in-between them.  Stepping on rocks was also a dangerous exercise.  They were almost as slippery as the roots.  Avoiding mud was a silly strategy and I quickly concluded not to worry about the mud.   Up we went.   Picking a route on the trail with the fewest roots seemed to work well.
I kept pace with the runners ahead of me for awhile, but I quickly discovered that I did much better if I just went at my own pace, picking my way through the numerous obstacles.   So, I started to let people pass me and the runners soon were spread out much more.   I was feeling fine, but amazed at the difficulty of the course.   As we climbed a ridge, I noticed that a full moon was peeking through the dense forest, adding a minimal glow on the trail.   I could also see at times glimpses of the lights of Honolulu far below.
I reached the top of the first climb and noticed that the flags changed colors.  Was I heading the wrong way?  No, there were both white and orange flags.  I was on a portion of the trail that I would see again on the way back.   I reached the downhill portion of this leg and was delighted to see that I could run it fairly fast with my bright 14-bulb light.   Others were struggling to see the obstacles with their dimmer headlamps.
The dawn soon arrived and the sound of tropical birds in the jungle was a wonderful noise to hear.   I soon reached a long series of switchbacks.   I could hear very chatty runners behind me.  Their voices would come and go as we progressed through the switchbacks.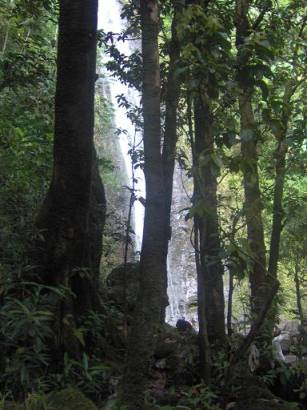 Monoa Falls
I soon reached the very impressive Monoa Falls and had to stop to take in the stunning sight.  Wow.   Yes, I could tell that I was really in Hawaii.   The trail finally started to level out a little allowing for faster running.   At about the six-mile mark, I saw the front-runners heading toward me.   I looked for Karl Meltzer, and saw him close behind a leading pack of four runners.   They were already about a half hour ahead of me.   I arrived at Paradise Park (mile 7.3) at the 1:50 mark, about five minutes behind my goal.   It was great to see Linda there.  She quickly filled my water bottles, encouraged me to eat, and away I went. 
I now knew what to expect.  For half of the next leg (green flags), I would simply retrace my route back up to the top of Monoa Cliffs.   I noticed that the runners at the back of the pack were going pretty slowly, already an hour behind me.  Above the falls I climbed the never-ending switchbacks.  I was surprised when they came to an end sooner than I expected.  I was already at the top again.   "That wasn't bad," I thought.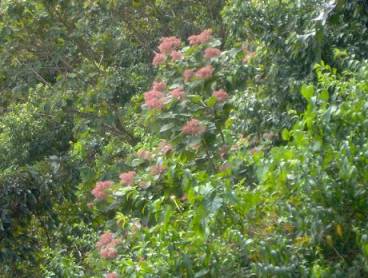 As for my initial physical problems, I was inflicted with what I think was a bad case of Morton's Neuroma.  The nerves in the ball of my foot were being irritated causing terrible pain to radiate in my toes.   I was hoping that they would soon go numb, but the pain kept getting worse.  I had to alter my foot pronation to reduce the pain, but I knew that would spell trouble to my knees and muscles, so I did my best to "grin and bear it."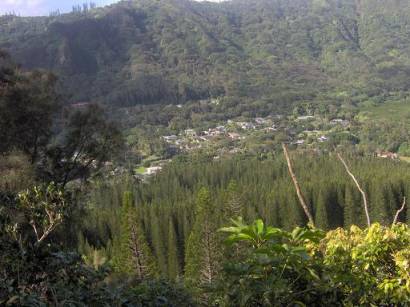 Looking down to valley below, my next destination
The views at the top of Nuuanu were incredible.   The trail took us along some ridges with wonderful views into the steep valleys below.  As I headed down a steep section of Nuuanu, I was shocked to already see Karl Meltzer, now in the lead.  He was already about an hour ahead of me.   Further down the trail, Darcy and Bob Africa, from Colorado, who I met at Leadville, greeted me, told me I looked great, and asked where Karl was.   I told them that he was about fifteen minutes or so ahead of them.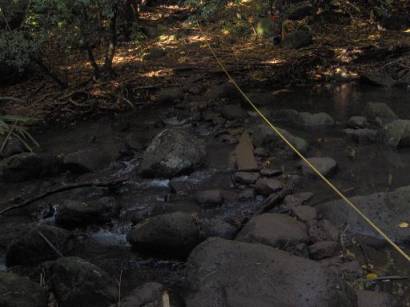 Stream crossing
Right before the Nuuana aid station (Jackass Ginger) is a fun stream crossing.   A rope was stretched across the stream to help us cross the slippery rocks.   I arrived at the aid station (mile 12.8) at the 3:15 mark, about ten minutes behind my goal.   I told the race director there that I was really enjoying the trail.  He mentioned that I would really enjoy the next orange leg once I reached the top because the trail would become very runnable.   That was very encouraging news.
At 10:15 a.m., I pulled out a mini audio recorder and said,  "I'm on mile 16.  Coming up the climb, I'm starting to feel it and was passed by about eight people.  We are starting to spread out.  I haven't seen anyone for quite awhile.  It is beautiful in this amazing jungle.   I'm holding it together.  These uphills are pretty grueling.  I'm only on my third major uphill and I have to do a total of fifteen.  I'm keeping the pace going.  I'm going to try to finish this loop in 5:15.  Ok, time to run again."
The run down to the Nature Center was nice.  I didn't push it very hard, but did pass a few runners.  I kept getting worried that I was off the course.  At one point I ran into a blue ribbon on the side of the trail.  Blue ribbons were supposed to mean that you were on the wrong trail or should not head in that direction.   I headed back until I ran into two runners who assured me that I was on the right trail.   I pointed out the blue ribbon that didn't make sense, but we continued on and I soon felt better when I saw orange flags again.
I finished my first loop in 5:15.  I felt pretty hammered.   Linda greeted me, helped me refill and mentioned that I looked very tired.   Thoughts of "how in the world will I be able to do that four more times" went through my head.  But I felt confident that I could bounce back from this temporary low.   The temperature was getting warm.   I changed into a clean shirt and headed out for loop 2.
Loop 2: Time – 6:30
I now was able to experience the white flag leg again, this time in the light.   Of the three major climbs, this one was the hardest for me.   There is a fairly steep, long, rooty section up a ridge (Hogsback) that seems to never end.   The roots had dried out a little bit but were still tough obstacles.   From the first loop I learned that the real challenge of this course is not necessary the climbs, but instead were all the obstacles.   The roots, rocks, mud and bamboo caused you to slow on the uphill.  To keep pace, you had no choice but to try your best to pound the downhills to gain back time.  I vowed to try harder pushing down the hills.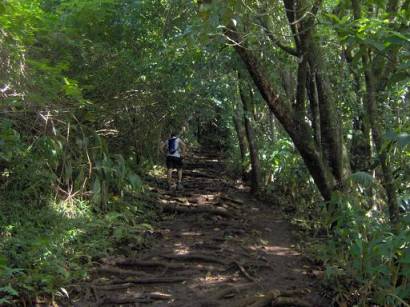 Following a runner up the rooty trail
At 12:42 p.m. I pulled out my recorder and said, "I'm almost to the top of the white leg.  I feel much better now.  I'm at about mile 24 or 25.   I've slowed down, letting people pass, more are coming.  That is OK.  I think if I go at a slower rate on this loop I can save it for the tough third loop.   No rain yet.  The muddy parts are getting worse because so many people have passed over them now.   Some parts are getting really slippery."   I took inventory and noticed that the pains causing me problems in the first loop were now gone.   With the cooler temperatures at the top I felt much stronger.   Shortly, where the white leg and orange leg overlap at the top, who came running toward me?  Karl Meltzer.   Wow.  I said, "Hi Karl."  He was now two legs ahead of me, on about mile 36, over ten miles ahead.  Incredible!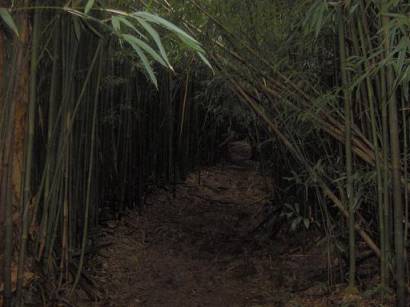 Trail through thick bamboo
My fueling strategy seemed to be working well.   At each aid station I ate sandwiches, bananas, drank a can of Coke and an Ensure.   In-between, if I remembered, I would eat some Hammer Gel.   During the day I drank Gatorade and took an e-cap about once per hour.   Things were working well.   One strange difference on Loop 2 is that I swear they added a bunch of switchbacks on all the hills.   The trail legs seemed much longer but I was feeling much better without the pain.   I reached Paradise Park (27.4) at about the 7:37 mark.  
On the return trip, back at the top, at the junction of the trails, I again met Karl Melzer!  I yelled, "Go Karl Go!"   He was on mile 44 and I was on mile 30.   I did some quick calculations and realized that I was in danger of being lapped by Karl before I finished loop 2.  I reached Jackass Ginger aid station (mile 32.8) at about the 9:30 mark, 45 minutes behind my goal.   The volunteers were very helpful and I washed up, changed my shirt and prepared to press hard on this final leg of loop 2.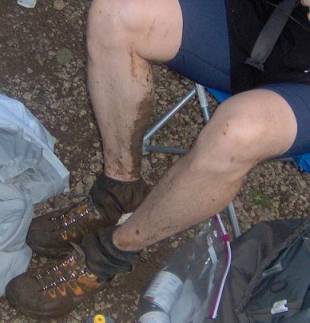 Muddy legs and shoes
After I reached to the top, my second wind came.   I felt amazing!   I started to pass people!   As I ran with a couple guys, they mentioned that their goal was to finish the second loop by 6 p.m.   I said that my goal was to not be lapped by Karl on this loop.   They laughed and said that was a good goal.   I ran strongly ahead.   When I passed the next runner, he asked if I was on my third loop.   I laughed and said, "No way, Karl is in the lead."   He said that he was very impressed with how strong I was running.   I cruised on by, feeling very strong, running faster than any point in the race so far.   With about one mile to go in the loop, it happened, Karl Meltzer lapped me.  Since I still felt so good, I decided to try to hang with him for a while.   We were in a fairly technical section and I was stunned at how fast he was running through it.   I was able to stay with him for about a quarter mile and then had to watch him disappear.   He finished his loop six minutes ahead of me.   I completed my second loop (40 miles) at about the 11:45 mark.
I felt wonderful as Linda greeted me, much better than after the first loop.   Darkness would soon arrive.   My flashlight was at the next aid station, so I had to grab my backup headlamps.   I saw pacers preparing to meet their runners.  I would be going it alone.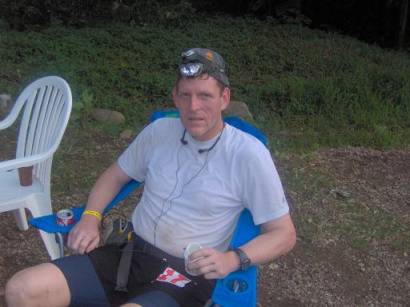 Taking a brief rest after 40 miles.
Loop 3: Time – 7:30
The next leg was very frustrating because I didn't have my bright flashlight; it was at the next aid station.  It took me about three hours to do the white leg.  My headlamp, even with four bulbs, was not doing the job.   I don't like running with headlamps.   I had plenty of energy still but couldn't use it effectively because I couldn't see the obstacles well enough.   Despite this problem, I was able to pass several runners on this leg, including two who had earlier been over a half hour ahead of me.  I arrived at Paradise Park (mile 47.3) at the 14:48 mark.   I was frustrated and felt down, but I was now delighted to have my flashlight again.   I had lost some time, but would try to make it up.   Linda bid me goodnight.  She would get some good sleep back at the hotel.   I assured her that I would be fine.  I love running at night.   I carried my bright green flashlight and turned on my red headlamp.  All night long, runners would complement me about my lights and tell me that I looked like a confused traffic light or a Christmas tree.
As I approached the top of Nuuanu, funny signs appeared every quarter miles warning runners that there was something coming up.   Sure enough, I arrived at a camp of young fans that had hiked up to cheer on the runners.   They had hung a glittering disco ball over the trail, which I promptly bonked my head on.  (I later learned that they were amazed when Karl ran though.  He was running so fast and hit the disco ball so hard that it made him drop a water bottle.)   I ran down the hill to Jackass Ginger pretty hard.  With the out-and-back, I was disappointed to discover that the closest runner was about an hour ahead of me.   I would have loved to have the challenge of catching runners on the next leg.   I reached Jackass Ginger (mile 52.8) at the 16:51 mark. 
As I left the station and huge group of runners arrived.  I didn't want to be passed by any, so I pressed ahead hard.   But on the trip back up I was surprised that two runners were gaining on me, one with a cool blue light.   I was pushing hard, how could this be?    They finally passed me near the top and complemented me on how well I was cruising.  I thought, "Man, you are doing better than me!"  They looked stronger than the runners I had been running with, and I concluded that they were on their 4th loop.  (Sure enough, it was James Kerby who finished in second place, running with his pacer.)   About a mile later, on another tough uphill, they were surprised that I caught up and passed them.   They were very complementary about my pace, said that I was a climbing machine, really doing great on the hills.   That was very nice and helped me gain some confidence.
With the runnable downhill section, I again received my second wind.   I was able to take the lead and set the pace for those guys for a couple miles.   At times I would sprint fast ahead and gain a nice lead.   I was feeling very fine and was pleased that I was gaining back some good time.   We leapfrogged each other for a while and it was nice to have some good strong running company.   With about a mile to go in the loop, my energy depleted (should have been eating) and I wished them well as they ran ahead.   I finished loop 3 at about the 19:15 mark.
Loop 4:
Well, three loops in the bag.  I knew that many runners would pack it in at this point and opt for a final short triangle to reach the 100K distance.   I was still feeling fine, ready for another loop.   My friends with the blue light left the station before me and I wished them well.   I quickly regrouped and refueled.  Despite my strong finish, that loop had been too slow.   I had lost another hour on my goal and was only two hours ahead of the cutoff.   If I was going to finish 100 miles, I would have to at least have another 7.5 hour loop.   I believed I could do it.   The next leg was pretty lonely because I didn't come in contact with very many runners.    I reached Paradise Park (mile 67.3) at 22:53.   I realized that if I didn't do the entire 100 miles, that I was now an official 100K finisher.  They would use my 67.3-mile time as my 100K-finish time.  I was now almost three hours behind my goal.    I would need to kick it into gear.   At Paradise Park, I was disappointed to discover that they had run out of good solid food (like sandwiches.)   My mind was pretty mushy and I failed to gather some solid food from my drop bag.   I ate bananas, and Ensure, and went on my way.
As I again approached the falls, disaster happened.  I bonked.   This usually happens to me after about 24 hours into a 100-miler.   Sure enough it happened again.   I felt horrible and my energy was gone.   I plodded along for a little while longer but finally had to sit down on a stump to regroup.   Several runners passed me and asked if I was OK.   I ate some more and considered what was wrong.    I concluded because that last leg took me more than three hours, I made the mistake to not eat between stations.   Three hours was too long with just Gatorade.   Even though I had a full stomach now, the damage had been done.  I knew I was doomed.
After the short rest, I felt a little better and plodded slowly along.  The climb up out of Paradise Park was long and hard.  I had to stop two more times.   I could hear the clock ticking.   I did some calculations and realized that the best I could do on this loop was nine hours.   That would mean I would have to do loop 5 in only 7.5 hours.   Even if I pulled out of the bonk, I knew I didn't have another 7.5 hour loop left in me.   It was depressing to be passed by runners who I had been ahead of all day for more than an hour.   I pushed on ahead.  My energy level just didn't bounce back.   The HURT course had claimed another victim.
Dawn appeared and I slowly descended Nuuanu arriving at Jackass Ginger (mile 72.8) at about the 25.5-hour mark.   I decided to pack it in.   The volunteers wanted me to think about it for a while but after five minutes I cut off my race bracelet.   It was the right time to quit.   HURT was tough.   I had an amazing experience, but if I continued on, I knew I would torture myself and go home in sad shape.   Sure enough, within a half hour of stopping, my bad knee started to swell up.  That helped me to accept defeat better.   I iced it well and spent the next two hours recovering at the aid station.
I was credited with an official HURT 100k finish using my 67.3 mile time of 22:53, for a 25th place finish among the 49 100K finishers.   There were only 23 100-mile finishers.   Karl Meltzer finished first, with a course record of 22:16.  
I was in pretty bad pain for the next 24-hours, but woke up Monday morning feeling better.  After a wonderful relaxing day resting on the beach, we flew home Monday night.   At the airport, Karl Meltzer approached me and asked if I had run HURT.  We had a fun conversation.   He said HURT was really tough, even compared to Hardrock.  I'm of course disappointed that I didn't finish the entire 100 miles, but I really enjoyed my day and night running through the rain forest in Hawaii.