Kings Peak is the highest peak in Utah at 13,528 feet.   All of Utah's peaks over 13,000 feet are located in the Uinta Mountains.  I've summitted ten of them.   Kings Peak gets the most attention and each weekend in the summer dozens of hikers make the trek to the top.
Back in 2001, before I was a runner, I did the normal 3-day backpack with my brother and our sons to reach to top.  I remember seeing a guy with a daypack running.  I asked what he was doing and was amazed to find out that he was doing a Kings Peak summit in one day!  That really inspired me and just a couple years later I accomplished the same thing.  Now I had been to the top eight times and been to Anderson Pass, right below the summit an additional four times.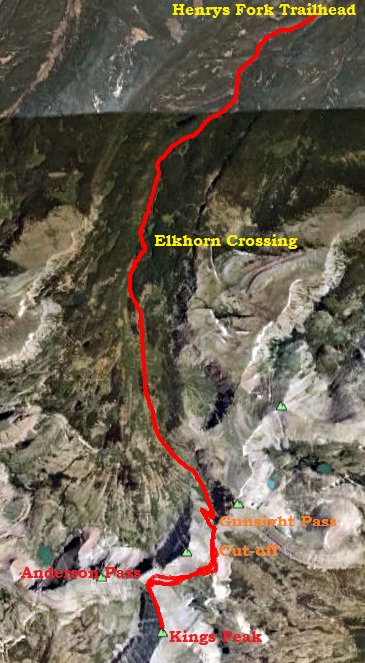 Would it be possible to summit Kings Peak twice in one day, a double?  This would involve running from the trailhead to the summit and back twice, a run of about 52 miles and about 10,000 feet of climbing with almost all if it above 10,000 feet.   I heard that several people were going to attempt it so this weekend, so I decided to join in.  With all my experience doing multiple Timpanogos summits, I knew it would be tough, but very possible.
Craig Lloyd organizes an informal run each year, Quest of Kings.  This year, this idea of accomplishing a double took hold and there were five of us who made the attempt.
But could it be done THREE times, a triple?   I knew I could do it if I wanted it bad enough.  So secretly I put plans together to possibly to do it three times.   I planned to start about eight hours before the others, do one trip, and join them for the second trip.  If all went well, I should have time and strength to do a third trip.  I didn't tell anyone about this idea of doing it three times.  It would be a nice surprise if I did it.
I arrived at Henrys Fork trailhead a little behind schedule and scrambled to get my things together fast and get out on the trail.  I left about 5:30 p.m. on Friday.  It had been two years since my last Kings Peak run.  That one had been my fastest.  I reached the summit in 3.5 hours and back to the trailhead in just under seven hours.   If I wanted to join in with the others starting at midnight, I would need to make the first trip in 7.5 hours.  I set that in my mind and pushed ahead.
The late afternoon was wonderful as I started running through the forest.  The parking lot had been full of more cars than I had ever seen before so I knew there were tons of backpackers up in the valley.   At mile 1.5, I saw a guy jogging down the trail with a backpack, an unusual sight.   I said hi and then he stopped, "Davy?"   It turned out to be Pete, a friend from work, a very fit biker.  He asked what my plans were and I told him I was running 2-3 times to the summit.  He wished me well.
I I reached Elkhorn crossing at 1:17, which I knew was about ten minutes slow.  I had been slowed by stopping to make adjustments and I was also confused by the new bridge at Elkhorn.  I finally paid attention to the signs there that directed me to the new bridge about 400 yards up the trail.
Just past Dollar Lake, I again said hi to a backpacker with his kids.  "Dave?"  I laughed, it was my friend from work, Bryan, who had helped me do my planning for my Skyline Drive run a couple weeks ago.  He had seen me running up the trail and said, "I knew there were only a few crazy people who do this, so I knew it could be you."   I stopped and talked for awhile.  He offered any support for me since he would be camping at Dollar Lake.  I told him I would be fine.  I did look up the mountain and wondered if I made the wrong choice to not bring a jacket for the first trip.   I was only in short sleeves, and shorts and as the sun was going down, it was already getting chilly.
On I went.  I knew my pace was slow.  I always slow down when I wear a little back pack.  I carried a hand-held water bottle in each hand and had my flash light and headlamp in my little pack for later.  I reached Gunsight Pass (mile 10.4) at the 2:40 mark which I knew was more than a half hour slower than my pace two years ago.  With my late start, I already knew it would be pretty hard to finish this first trip by midnight.
Up until that point the trail is pretty nice, very runnable.  The first six miles in the forest are covered with bowling ball sized imbedded rocks, so it is an obstacle course at times, but up in the meadows it is smooth and fast.
Now I was faced with the most difficult section.  There would be no more trail, just a route.  Instead of taking the long trail down into Painters Basin, I took the much shorter cut-off route which is marked with occasional cairns.  There were a couple kids at Gunsight Pass and they watched me as I started running the cut-off.
I was first faced with a new challenge – a very big steep snowfield.  There were foot tracks across it and the snow was a little mushy so I could dig in a little.  It was somewhat scary but I made it across.  I made a mental note that on the way back I better take a longer way around this thing because it would be icy.
I made it up through some scrambling rock climbs onto a shelf.  I always have hard time finding the route on the way back and I knew it would be in the dark, so I looked around carefully to memorize the right place to descend this cliff area.
From there to Anderson Pass, you just pick your route.  There are really two choices.  1. A more direct route that involves more boulder hopping, or 2. A lower, longer route that involves grass running.  I usually run the grass, but this time I opted for the shorter route since I was feeling good and strong.
Dark arrived right before Anderson Pass and I had difficulty finding the Highline trail below it.  No problem, I just went straight up.  I arrived there at 3:45, a half hour behind schedule.  I stopped to send a text message home (which never arrived until the following day.)
Now, was the toughest part.  It was still almost a mile to the summit and this involves serious steep boulder hopping.  And this time it would be in the dark.  I had once before done it in the pre-dawn, but never in complete dark.  I used both a flashlight and a headlamp.  But within a minute my headlamp went dim.  I guess I had forgotten to change the batteries and I didn't have any spares with me.   This really made it tough because the only light I had was in my hand.  At times I had to use that hand to balance me or pull me up a rock.  So many times I was making a step without light.  There was a full moon rising so that helped somewhat. Thankfully, I knew the best route to the top very well.  Other than light issues, I didn't have any major problems and I was pleased that despite the high altitude, I was breathing well and didn't need to stop for rests.   I reached Kings Peak summit at the 4:27 mark.  It was about 10 p.m.  My Garmin showed almost exactly 13 miles. That is a pretty slow half marathon!
I was struck with a very remote and lonely feeling.  Here I was, all alone at night at the highest point in Utah.  It was chilly, but not as cold as down in the valley.  This seemed pretty crazy to be up there alone at night, several miles away from anyone.
I didn't stay long and started to head back down.  As I descended, I saw a very bright light shining up to me near Anderson Pass.  Someone else was nearby.  This was very odd.  Perhaps someone was camping near the pass.  But soon the light disappeared.  I finally figured out what it was.  The full moon was rising over my shoulder and had reflected on some water just perfectly to make it look like a very bright flashlight.   I arrived back at the pass at the 5:05 mark.
I ran back across Anderson Basin, this time taking the lower, longer route to run on more grass.  When I reached the shelf above the cliffs I needed to descend, I became confused.  I just couldn't remember the location I had tried to memorize.  I had seen a cairn, but I worried that I was starting to descend a little too soon.  Sure enough, I was in the wrong place.  It wasn't more dangerous, it just meant I would have to do a long boulder-hopping traverse to get to the right place.  I did reach a steep slope with loose scree that was a problem getting around.  It was slow going in the dark.  I probably wasted 15 minutes because of that blunder.
I next reached the snow field.  Should I go across it?  I took a couple steps and it seemed OK.  But the further I went, the more icy it got.  I was now in serious trouble.  It was impossible to dig in better foot holds and there were no hand holds.  I looked down and in the dark the steep snow slope looked like it would dump me off onto rocks at serious speed.  With each step, I knew I was in great danger of slipping.  It was impossible to turn around, I just kept going, very, very slowly.  I tried to see if my flashlight could dig in to slow me if I fell, but the slope was solid ice.
This turned out to be the most terrifying experience I had had for a long time.  I was also wearing Hoka shoes, which have very little tread and were not helping much to get solid footholds.  Finally, I discovered there were little holes in the icy slope.  I could use my finger to dig a little and at least get a finger hold as I made each step.  The helped, but each step I wondered in my next thought would be, "Here we go, down to the rocks."  The slope was about 150 feet across and I must have been out there for more than 10 minutes.   The last 10 yards were the worst, but I finally made it.   I was so relieved and shaking with stress.
I reached Gunsight Pass at 6:14, about 11:45 p.m.  I knew long ago that it would be impossible to finish my first trip by midnight when Scott and the others should be starting their first trip.  I now wondered where I would see them on the trail.   I was out of water and getting very thirsty from all the hard work.  I missed the spring somehow below Gunsight Pass, but planned to dip into the first stream within another mile.  I found it and drank an entire bottle before filling.
Up ahead, I could see some lights not far ahead.  Could it already be the other runners?  Maybe they started early.   But this group was moving slowly.  It turned out to be a couple guys, each with a dog.  I wondered what they were doing going up the mountain in the middle of the night. I'm sure they wondered the same thing about me.  In another mile, I met a couple young guys also hiking up.  Wow, the trail was pretty active for the night.
Finally, below Dollar Lake at the marshes, I could see ahead the lights of runners.  It was Scott and the others.  We stopped for a few minutes to talk.  I warned them about the icy slope to avoid.  I apologized for being so slow and not running with them. Scott said that they were also going more slowly than planned. They were probably 12 miles ahead of me (or I was 19 miles ahead of them, depending on how you want to look at it.)  They must have started well before midnight anyway.
I reached the forest and just had six miles left.   I was now feeling fantastic.  I reached Elkhorn Crossing at 7:30 and reached the trailhead at 8:49, about 2:10 a.m.   It was somewhat discouraging about how slowly I had gone, but I didn't care too much because I didn't want to push it very hard.
Next, I spent 25 minutes in my car with the heat on.  I was shivering and discovered that it was 37 degrees at the trailhead.   I dressed in warmer clothes, ate plenty, and tried to warm up.  I never considered quitting at this point, because I felt so well.  I decided for the second trip to do it without the pack, and just put food in the pockets of my biker jacket and go with one water bottle.  I now knew were all the water stops were.
I pushed myself out the door, back in the dark, and started to trot up the forest trail again.  For the next hour or so, I battled uncomfortable gut issues and made a couple long stops in the bushes.  It took me 1:45 to reach Elkhorn Crossing, compared to 1:17 on the first trip.  I felt better as I went passed Dollar Lake.
At the marshes below Dollar Lake, I noticed frost on the grass as I ran through some very cold pockets of air.  I looked around me and it was an amazing sight to see the entire valley glowing in the full moonlight.  My shadow extended to the east as the moon set to the west.
I wondered when I would greet Scott and the others as they were coming back down.  I predicted that it would be around Gunsight Pass, but I had been moving so slowly, it could be sooner.  At times I could run very fast, but on this trip the altitude was getting to me.  I had been concentrating on breathing deeply, but over the hours this left me with sore lungs.  My stomach had started to shut down as it did at Tahoe Rim because of the altitude, but the deep breathing and eating plenty kept that problem away.
Dawn arrived.  I turned out my lights as I almost reached the pass.   I reached Gunsight Pass again (mile 37) about the 12:45 mark.   There I greeted the other guys.  Even with my long stops, I was now 21 miles ahead of them.  They all looked pretty thrashed.  Scott had been hit by the altitude and threw up near the summit.  I asked them if they still planned to do a second trip.  They didn't commit and I didn't think they would.  We wished each other well, and I pushed on ahead.
I love morning in Anderson Basin.  I've been there several times in the mornings.  It is a sight to see the sun rising over the mountains to the east, shining on mountains around and reflecting on the springs.  When I reached Anderson Pass, I was out of gas.  The altitude was now thrashing me and I had not been eating much.  I looked above and just concentrating on moving ahead to the top.  It took me over an hour to get up there and I had to stop many times to catch my breath.  I would get dizzy at times and stayed away from the cliffs to the right.   As I was moving so slowly, I concluded that there would not be a third trip this time.  My body just couldn't handle yet another climb at this altitude today.  At the pace I was going, I wouldn't be able to finish a third trip before sundown.  With my backpack trip next week which would involve 100 miles of backpacking and running, I didn't want to put that at risk.
I reached the top of Kings Peak for the second time at about 8:15 a.m. or 14:45.  I knew that the Quest of Kings runners had just started their run and were now chasing after me.  I had originally hoped to finish my second trip when they started.  I was no longer in any hurry.  I reset my plans and just hoped to finish before the first runner did at about 1 p.m.   I stayed at the top for about 15 minutes, getting out of my warm clothes, eating, and enjoying the morning at the top of Utah.
I looked to the east and marveled that a few years ago I traversed the entire Kings-Emmons ridge in about five hours, climbing up six other 13er peaks.  I looked at my bloody knee that I had knocked on boulders three times.  Certainly if I ever attempted to do that crazy ridge again, I would bring knee pads and shin guards.
OK, it was all downhill now.  I boulder-hopped back down the Anderson Pass and started to feel better at 12,600 feet.  I greeted many early-morning hikers.   One guy said to me, "Only 20 minutes to the top?"  I did a quick calculation in my head and from the point where we were at, the best I had ever done was nearly an hour.  I replied, "A lot longer than that, unless you run all the way."  I noticed more hikers on the way taking a long direct slow boulder route from the cut-off.  I could see that they were watching me move much quicker than them over the Highline Trail.  I then cut over to the grassy slope.  I was sick of the boulder hoping and wanted to avoid as much of it as possible.  The Hokas just aren't made for boulder hopping because your feet move around inside of them too much.
This time I made my way through the cut-off perfectly, and avoided the snow slope.  There were some kids sliding down an edge of it.   I wondered where the runners were.  As I was running back down the other side of Gunsight Pass, I greeted the first runner coming up, Aaron, who holds the fastest known time for a Kings Peak summit.   He knew who I was and asked how my double was going.  I told him I felt thrashed.   I continued on and met another few runners going up.
I filled my bottle at the stream but failed to fill up my stomach with water.  That was a big mistake because my bottle would run out with about five miles to go.   The trail was filled with backpackers heading down.  I passed group after group, but still my pace was very slow as I became badly dehydrated.  Finally, either I needed to beg water off of backpackers, or dip my bottle into questionable steams.  I chose a couple streams that looked OK, coming down from ridges.   I immediately felt much better and could at least trot again.   I ran into my friend Bryan again and I stopped to talk for a few minutes.  He had heard me singing as I went by his camp during the night by Dollar Lake.  That is a scary sound to hear during the night.
Another guy saw me and asked, "Are you the guy going up Kings Peak twice?"   I laughed, the news was spreading on the mountain, just like it had when I did the five Timpanogos summits.  Many others would ask if I had already been to the top.  To most of them, I would just say yes, that I had been to the top.   I explained to a couple of them that I had been up twice.  It was now after noon, and I probably looked pretty silly with a flashlight in my hand and a headlamp on my hat.  The last three miles seemed very long.  I was anxious to just finish.
I finally finished the first known Double Kings Peak in 19:44:10.   I knew that was a terribly slow time, but still, I was the first person to do it.  I think a good time would be around 15 hours.  The four others who attempted a double this weekend all quit after one trip.  I knew how mentally tough it is to go back out after one trip, so it wasn't surprising.   So, I was the last one standing (or stumbling).  As I was drinking an ice-cold drink at my car, Aaron finished his speedy summit run in just under 5 hours.  That is amazing to me.  He ran it twice as fast as my second trip.   He congratulated me on my double and I congratulated him on his fastest known time.
Will I ever attempt a Triple?  Perhaps.  If I did, I would start it a little earlier to reach the first summit before dusk, reach the second summit for the sunrise, and make sure the third trip finishes before the second sunset.  I would also use better shoes for the boulder hopping.  And finally, I would need more altitude training before the attempt.  Altitude it the real barrier to these multiple summits.