Usually the day after Thanksgiving, I find myself down in the Grand Canyon.  This year I decided to stay closer to home and not risk injuring my problem knee from steep pounding downhills.  For this year's Black Friday adventure, I chose to travel two hours to Price Utah, and run up on a mesa north of the town, on the Western Book Cliff Mountain Bike trails.  These trails have been developed by the Price Area Single Track Society (PASS).
I left home at about 4:30 a.m. and as I drove through Spanish Fork, I chuckled to see huge crowds of people in line out in the dark, cold, in front of the local Kmart.  I just don't understand it.  But I guess most of them wouldn't understand what I was going to do.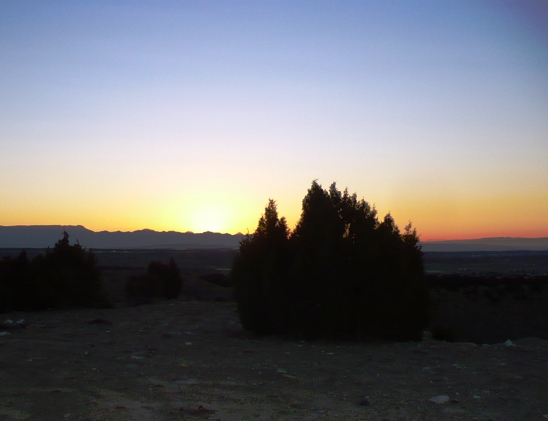 At 7 a.m., I was at the Luke's Trail Trailhead about 500 feet or so above Price.  The trailhead is only about a mile from town, very easy to drive to.  The temperature was chilly, 25 degrees as dawn arrived, so I dressed pretty warmly.
I planned to run the largest loop on the mesa.  It runs out on the rim and circumnavigate most of the mesa, presenting great views of the valleys below.  Most of the trail is rolling, twisty, single track that runs through juniper and pinon pine.  I planned to run in a counter-clockwise direction.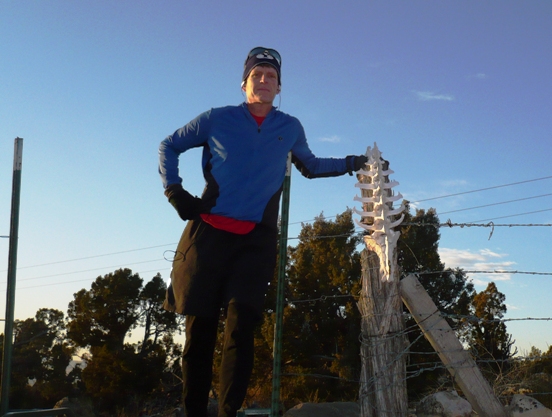 I quickly found the right trail.  There were many small signs along the way identifying the trails by name.  I started out on the Knott Petes Rim trail that winded on the south rim above the neighborhoods of Price.  After a couple miles, I discovered that I forgot to put my map in my pocket.  Oh well, I would have to do this by memory.  That makes it a little more challenging and fun.  I just made sure I was aware of all the directions, where the sun was rising and I knew that I should generally heading north toward the Book Cliffs.
I was having a wonderful time, all alone on the trail.  My pace for solo adventure runs is typically pretty easy.  I take time to see the sights, take pictures, and just enjoy the day.  My average pace for the day was 13-minute pace, although at times I was speeding down that trail at 7:30 pace.
The trail rolled up and down, but as I headed north, there was a constant slight climb.  My start altitude was about 6,000 feet.  My high-point would be 6,800 feet.   I climbed about 3,000 feet total along the way.
At about mile 3.7, I took a wrong turn at a very strange looking sign that pointed in every direction.  In about a mile, I realized my goof, but I didn't mind.  This would be fun to just explore.  It turned out I ran on a rough road just a few feet away from the single-track I should have been on.   I generally stayed on course and the few signs helped me figure things out.  By the end of my run I knew the area very well.
As I reached the far north end of the mesa, I could look down on the small town of Kenilworth.  This is a small coal-mining town.  The mine is no longer in operation and the town is in decline.  180 people live there now.  At its peak, over 1,000 people lived there in 1947.  It is a beautiful location at the base of the Book Cliffs.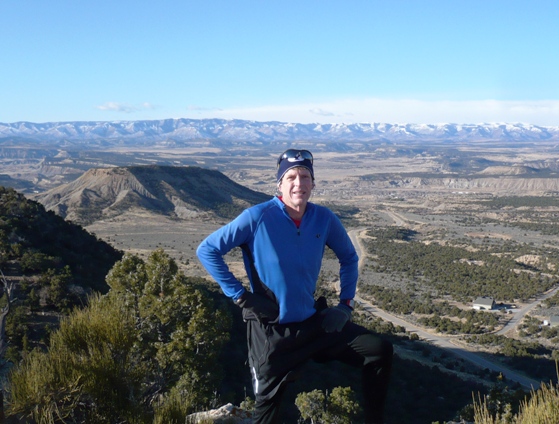 My favorite sections of my run were on the Shamrock & Roll trail that runs along the northern rim, offering spectacular views.  On the way back, I ran on Yoo Hoo which had the most technical sections, some steeper ups and downs and nice rocks to jump on and around.  I knew that I was running that section far faster than mountain bikes could.  I was having a blast.  It dumped out into a gorge that winded downhill with a wash and eventually the trail headed back up to the top of the mesa.
I was uncertain of my exact location but just soon found the "Bonus Loop" which clued me in where I was.  I couldn't find Luke's Trail that I knew connected to the loop, but I eventually connected back to a trail called Smo Joes and noticed my own foot prints.  So for the last few miles of the morning I just ran back the way I came.
I reached my car after a 16-mile run and took a 20-minute break, eating, drinking, and changing my shoes.  By 11:30 a.m. I was running again, this time on Luke's Trail, on the west side of the Mesa.  The wind was really kicking up and since I was now in shorts and short sleeves, it felt somewhat chilly, although it was now 50 degrees and partly sunny.  Luke's Trail gets lots of bike use and is fast, smooth, and pretty straight.   I ran the Alan's Alley Loop that runs right on the rim above Warehouse Canyon.  Great views!
I continued on and connected to IMBAtween, a trail that connects the west side to the east side.  On the east side I got better protection from the wind.  I reached the location where I took the wrong turn in the morning and continued north until I got to the junction for Meads Rim, a very long trail that heads south along a narrow rim.   With the gradual descent, it was great fun.  I really cranked it.  Once I got to the end of the rim, I stopped to consider what to do next.  I opted to descend down a very steep slope, a trail that on the map was labeled as Sick, Idiotic downhill.  I reached the valley floor near one of the many petroleum pumps that I saw all day.   I ran down Meads Valley until I connected with a road to take me back up to the mesa, connected to Knott Petes Rim trail, and back to my car.   My afternoon run was an additional 10 miles.   I made sure I ran exactly 26.2 miles, to get in a marathon for the day.
I'm glad I discovered this area.  I'm sure I will run it again because it is so easy to get to and offers something totally different from the trails close to home.