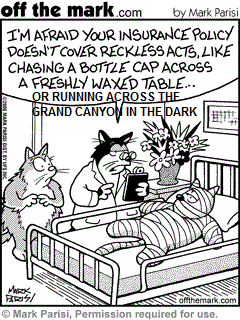 For the serious runner, an injury that causes you to halt the activity that you love, can be a pretty frustrating experience.  But if you push the limits often, injuries are bound to happen, and right now I'm dealing with it.  Across The Years 48-hour run has left me with a sore knee/leg that really taking its time to heal.   I drive down the road and see happy, healthy runners going by, looking at them in envy.  But I tell myself, "rest is good, be patient."  Nevertheless, I have nagging irrational thoughts that my competitive running days may be over. 
As an older (53-year-old) runner, I think I've been extremely lucky in avoiding injury over the past several years.  During my first two years of running back in 2002-2003, injury was common as I was trying to build up my mileage base and trying to go further than I should too soon.   But I've learned from my mistakes, learned a lot about training, learned a lot about my body, and have been mostly injury-free.   In fact it was been 20 months since I had to cut my monthly miles below 200 miles because of an injury and even that month I ran 197.  This month will very likely come in less than 200.
When I started pressing for distances in 2002, I was over-weight and under-trained.  My first injury was typical, terrible ITB and bad knee-cap bruising (underside).  My next injury was major, I tore my meniscus, probably skiing – just too overweight.  After surgery and impatient recovery, I discovered my ITB problem was finally gone.  But for the next two years, my knee made me believe I would never be able to run fast.  In fact the surgeon told me to give up any running.  In mid-2004, I discovered ultrarunning, finishing or DNFing in dead last place.   After my first 100-mile attempt, my other knee was terribly sore for more than a month but didn't have serious damage.   I began to wonder if running just wasn't in the cards for me.
But instead of feeling sorry for myself and giving up, I instead got smarter.  I learned how to carefully train, ease up my miles, and listen to my body more.   Since that time my injuries have been fairly minor, even with running more than 50 100-milers.   My knee has always been a limiting factor, but I've been careful and have had long periods of months where it hasn't bothered me at all.   Thinking back, I've only had a few injuries that have cut back my training for more than a couple weeks.  In early 2010, I jumped off a rock while training in the dark and twisted my ankle pretty bad.  Later the peroneal tendon became badly inflamed.  I've spent time in a boot several times resting that, and if I step on a rock the wrong way, it can again be a problem.  But I deal with it.   My knee has been an issue.  After one of my 80-mile Grand Canyon adventures, running with a 10-15 pound pack, my knee came away with fluid.  It took a good month or so to calm down.  In 2011, I busted my hand during Bighorn 100.  No big deal, I don't run on my hands.
Here are some of the things I do which help keep me mostly injury free
I always rest at least one day per week.  For most weeks I rest two days.  In 2011, I rested about 150 days, so averaged nearly three days per week.  But I still nearly ran 4,000 miles.
I don't follow a regimented training plan that maps out the miles I "need" to run each day.  Instead, I run when I feel like it, and rest when I don't.  I will go into a week, hoping to run a certain amount of miles during the week, and certainly will push myself toward that goal.  But I'll change plans if it seems like I should do less, or increase plans if it feels like I can do more.
I avoid doing long runs (over 15 miles) in worn-out shoes.
I've learned the difference between discomfort and true injury, and generally know when I can keep pushing through something without doing real damage.
I try to have good running form, watching myself run on a treadmill with a mirror helps.
I DON'T run barefoot, I haven't bought into that craze.  Why should I, if I don't get injured much? But I have developed tough feet that rarely blister if I have good shoes.
I avoid getting too dehydrated. I know the signs that warn me. However, I have trained my body to handle dehydration well.  Avoiding dehydration helps avoid injury.
Possible injury?  When in doubt, rest.
I rarely stretch before and after running and think it is a waste of time.  I can warm up and cool down while running.
If I have a badly sore muscle after a long run, I don't risk a muscle pull.  I rest until most of the soreness is gone.
I don't use orthotics, but I rarely use standard insoles that come with new shoes.  I alter insoles to fit my feet better and help my right foot avoid over-pronating.
I gave up my favorite sports of my youth, basketball and skiing.  Too much risk of injury.
I do some cross-training for upper-body and core.
When I have been injured I do this:
Try not to get depressed.  Do other things.
Swim.  I keep my fitness by hitting the pool and stretching toward ultra-distance swimming, up to 4 miles in one workout.  I also use floats to do "pool running" do kicking to keep the leg muscles happy.
When I swim,I put sleeves on my knees (simple knee brace) to keep the knee caps firmly in place.   All the kicking tends to get the knee caps loose which cause problems when running….knee caps won't track right and get sore.
Patience.
Don't try to start training again too soon.  But at times easing into it soon helps the recovery and healing speed up.
Go help with a race.  Help other people be happy running.
Get help from a doctor that understands long distance running.  My current doctor even reads my blog.  I have a general practitioner, a podiatrist, and an orthopedic specialist.  I haven't used a physical therapist nor a chiropractor.
I do consult the Internet and call that using Dr. Crockpot….me and the Internet.
I avoid cross-training with elipticals or stationary bikes.  The models in my rec center all position the feet too far apart, much further than when I run, causing the wrong angle for knees and hips.   Using them for long periods would start hurting.