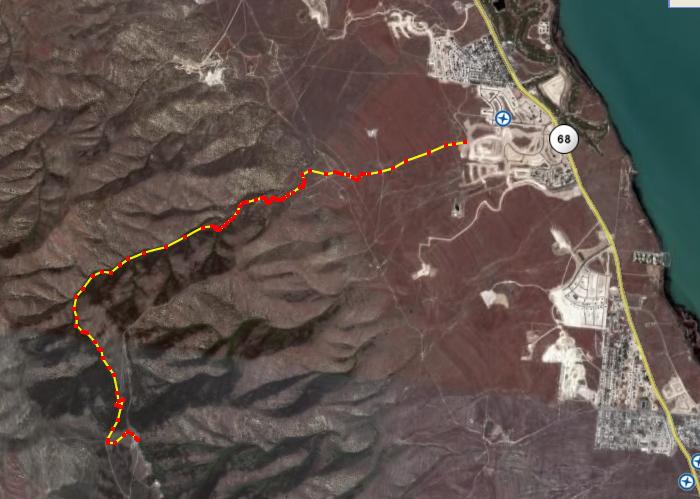 Towering behind my home is a mountain on the west side of Utah Lake called, Lake Mountain.  The cities of Saratoga Springs and Eagle Mountain reside around the northern half of this mountain.  I do much of my training running numerous ATV and 4WD trails in the foothills of this mountain.   On any given early morning when the trails aren't muddy, you may spot my green light traveling in the foothills.
For some tough hill training, I like to summit Lake Mountain by running up a dirt road through Israel Canyon to some towers at the top.   This run is about nine miles and has an elevation climb of 2,800 feet.   The road constantly climbs and is very steep and rocky in several spots.  It is a very good for mountain training and nice that it is so close to my home.    I will typically start this run at 3:30-3:45 a.m., be home by 6:00 a.m., and catch a bus for work at 7:00 a.m.
Description
To get to the starting point, I drive south on Redwood Road past the Jacob's Ranch development.   I turn right (west) on the next road, a new development.  The road includes a sign for Access to Israel Canyon Rd.   I follow that new main road until the pavement ends and then begin my run.   The first mile or so is a constant climb up the foothills, passing wide open sage and scrub brush.   New developments are climbing higher and higher into these foothills.   The road continues under some powerlines and then heads into a narrow canyon.  Cedars (Juniper) start to appear and trees begin to align the road.   In the winter, the road is typically covered in an inch or two of snow at this point.   There is a streambed below the road, but it rarely flows with water.  
The road switches back several times and eventually heads north toward the top.   It becomes significantly steeper, some nice calf-straining stretches.   There are two ways to reach the summit of the mountain on the east side.    You can just continue on the main road, it takes a couple more major switch backs and then heads to the top.  When you reach a sign, you can turn left up a very steep but short ATV road directly up to the utility towers.   An alternative, that adds a mile to the run is to much more scenic.   Before the last set of switchbacks, there is an ATV trail the heads north (left) off the main road.   This trail gradually climbs and takes you out on top of a ridge with great views of Utah Valley.   The road then turns south and heads directly up to the towers.
The run down is pretty steep but very runnable.  The loose rock on the steepest sections make it pretty challenging to keep up a fast pace.  During the winter, bounding down in several inches of snow is a blast and you don't have to worry about loose rocks.   In the early morning hours, bats like to sit on the road, so as you run down the road fast, they will detect you coming just in time to take off in flight right before you arrive.   Hopefully they won't fly up into your face.  The 4.5-5.5 mile run down can be a great quad-trashing training exercise.
My PR is 1:15 up, 0:35 down, total: 1:50:52
| | |
| --- | --- |
| 1 | 9/2002 |
| 2 | 1/2003 |
| 3 | 4/2004 |
| 4 | 6/23/2004 |
| 5 | 10/3/2005 |
| 6 | 11/11/2005 |
| 7 | 11/16/2005 |
| 8 | 11/22/2005 |
| 9 | 11/24/2005 |
| 10 | 11/24/2005 |
| 11 | 11/25/2005 |
| 12 | 11/26/2005 |
| 13 | 12/10/2005 |
| 14 | 4/14/2006 |
| 15 | 4/18/2006 |
| 16 | 5/26/2006 |
| 17 | 5/8/2007 |
| 18 | 5/17/2007 |
| 19 | 5/18/2007 |
|  20 |  5/21/2007 |